Ever wondered what it's like to taste the rainbow? Now you can with these decadent and colorful Unicorn Party Rainbow Brownies Recipe.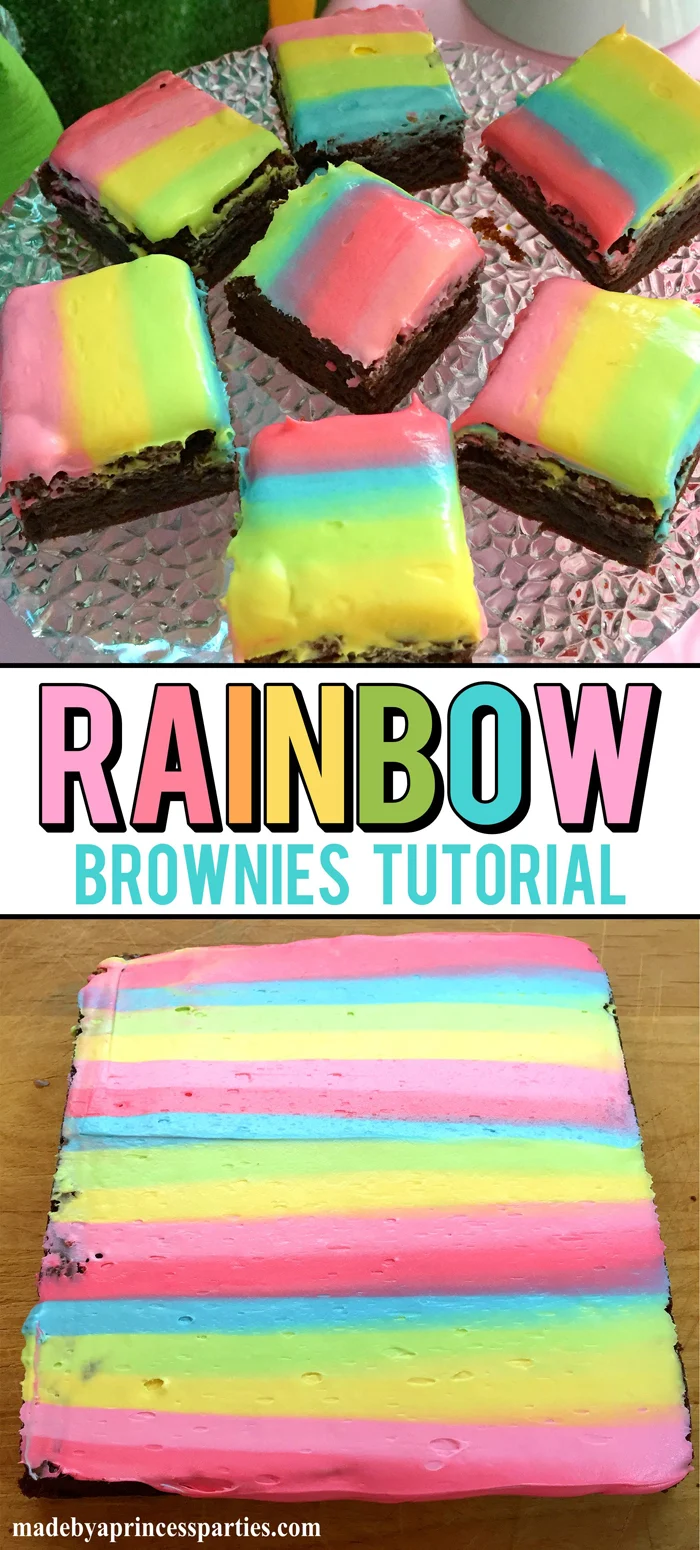 Who says rainbows only belong in the sky? Not this girl! I like my rainbows any way I can get them…especially on my desserts. Now everyone can taste the rainbow using my Unicorn Party Rainbow Brownies Recipe. No decorating experience needed!
Unicorn Food Trend
Awhile back I styled a Trolls birthday party photo shoot (with some of the cutest Trolls party supplies) that featured several Trolls party food ideas, including these rainbow brownies. I thought about using Little Debbie Cosmic Brownies because they've got pretty rainbow sprinkles but they didn't exactly fit my vision. I'm so glad I went with these!
Unicorn parties and unicorn themed food are still hot hot hot so I'm sharing my rainbow brownies recipe because I think it would be perfect for a unicorn birthday party as well. Poppy Troll would totally approve of this unicorn party food aka troll food.
There are so many unicorn inspired food ideas out there and lots of really really cute unicorn desserts as well. I want to show you how easy it is to take something as simple as brownies and transform it into something your little rainbow seeker will love. You can either make homemade brownies or use store bought brownies, it really doesn't matter. I have a really great brownie recipe but in the interest of time I went the box of Betty Crocker brownie mix route.
How to Make Rainbow Brownies
Typically if you were going to make homemade brownies you would need melted butter, brown sugar, chocolate chips or semi sweet chips, maybe some cocoa powder, flour, and vanilla extract. If you intend on making your own add those items to your shopping list but if you want the quick and easy route just pick up a box of your favorite brownie mix and prepare according to the directions. All you will need for those are eggs, oil, water, and a large mixing bowl. Preheat the oven to 350 degrees. Pour brownie batter into an 8 in square pan and bake for about 30 minutes.
While your brownies are cooking, prepare your frosting. I make my own but you can use store bought frosting if you prefer.
Pro tip: Add powdered sugar and a pinch of salt to store bought frosting. The powdered sugar will help firm it up and the salt will help to cut some of the sweetness.
Fill Disposable Decorating Bags with Frosting
Divide your frosting into five equal portions and place each portion in a bowl. Use food coloring to color your frosting according to your personal preferences. My Trolls themed party featured colors that were bright and happy and more on the pastel side.
Fill disposable decorating bags with frosting and cut a small portion of the tip off the bottom.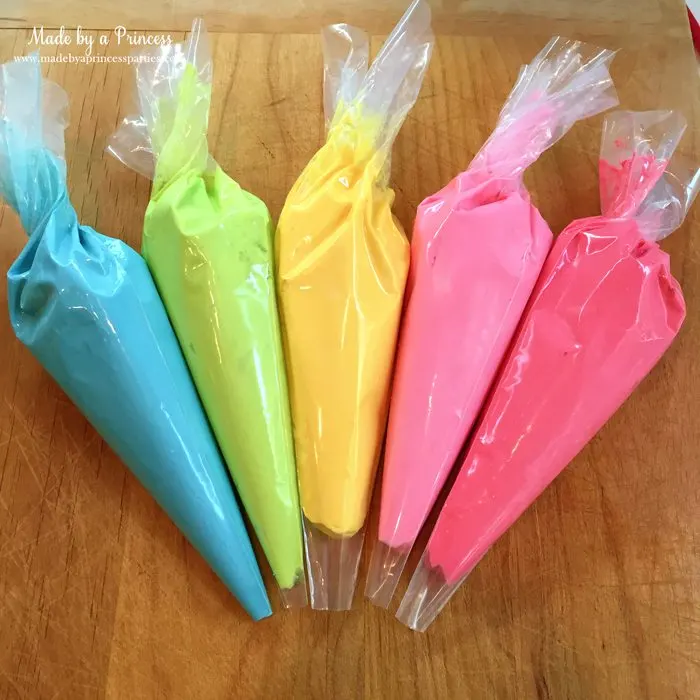 Decorating Rainbow Brownies
Once your brownies have cooled, turn the pan over and place it on a cutting board.
Start with the first color in your rainbow, make a line straight across the cooled brownie. Repeat with each color until the whole block of brownie is filled.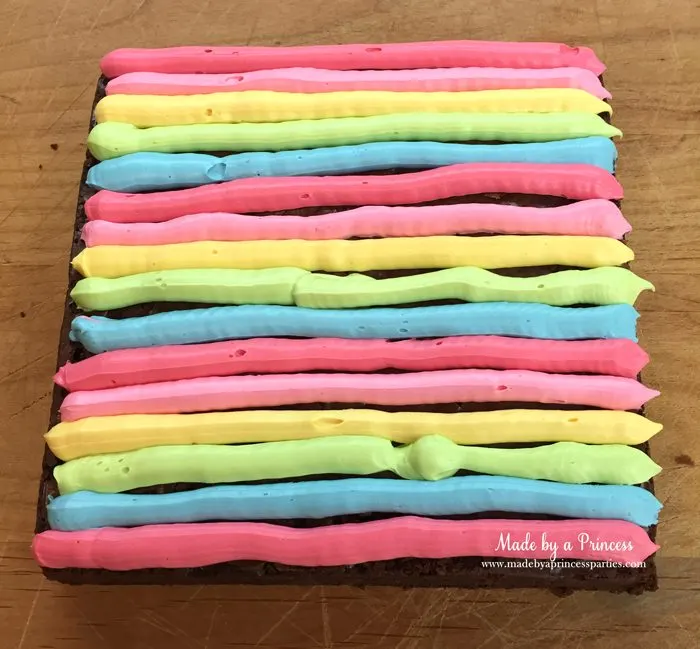 Take a pastry scraper and carefully pull it across the frosting. You don't want to press too hard, just apply enough pressure to blend the colors.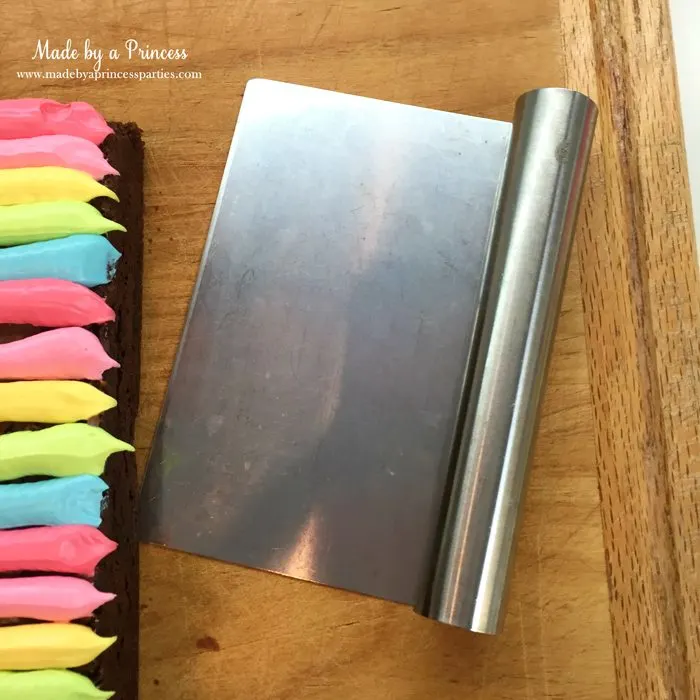 I just love the way this rainbow looks…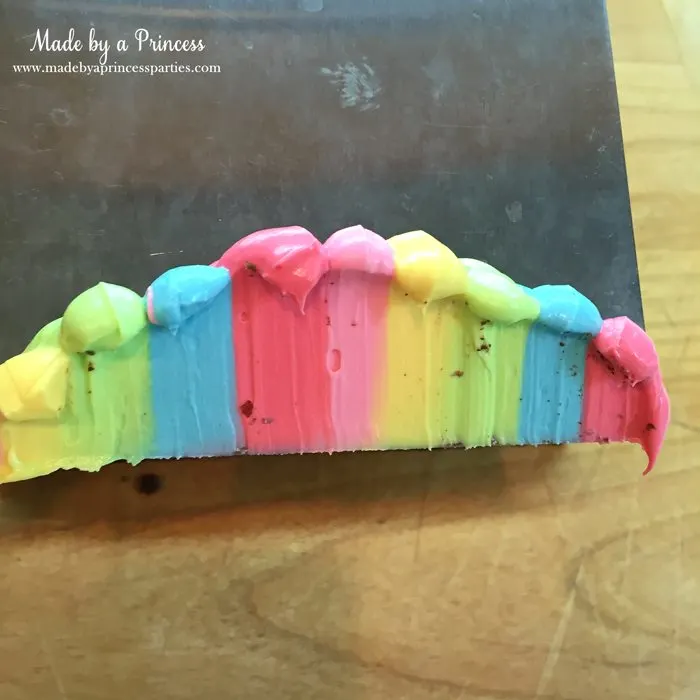 Scrape excess into a bowl. It's a shame to waste all this frosting so I suggest using it to make rainbow cupcakes.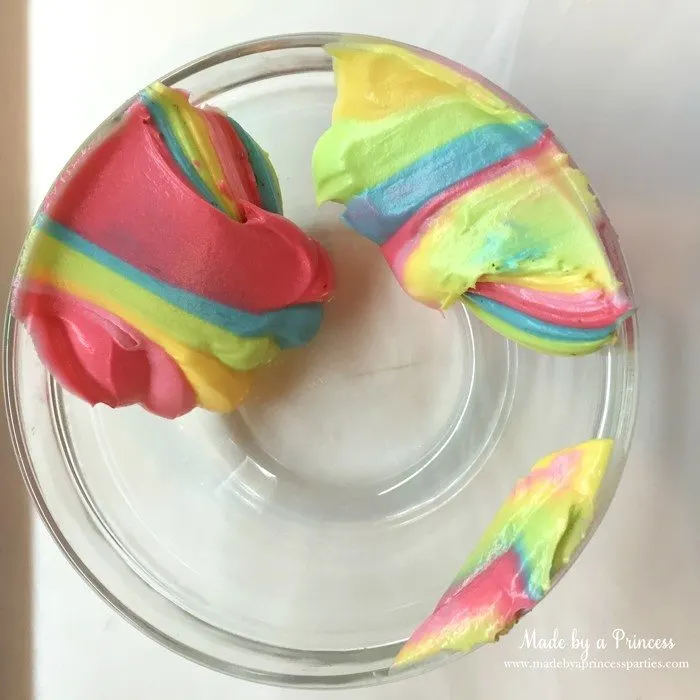 Now you have beautiful rainbow brownies! Trim the edges and set aside to eat later.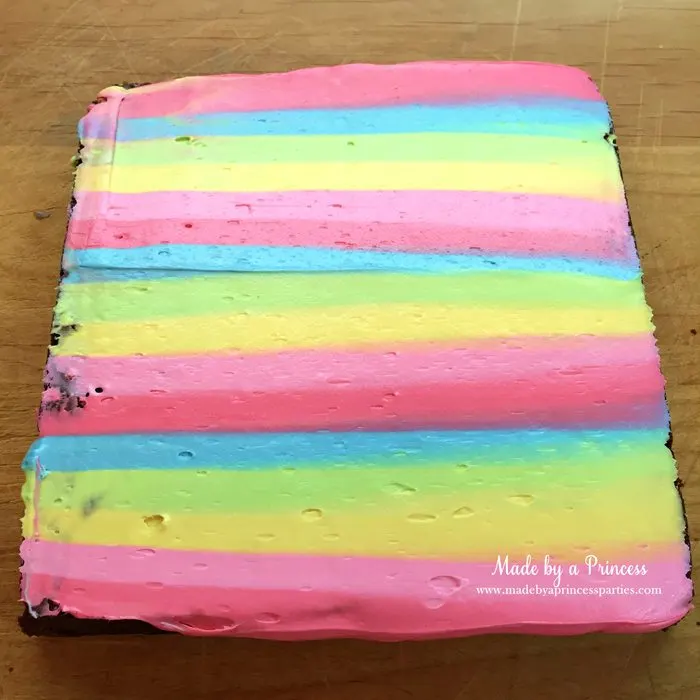 Cut into squares and serve. These will keep in the refrigerator overnight so if you need to prepare ahead of time they will be fine.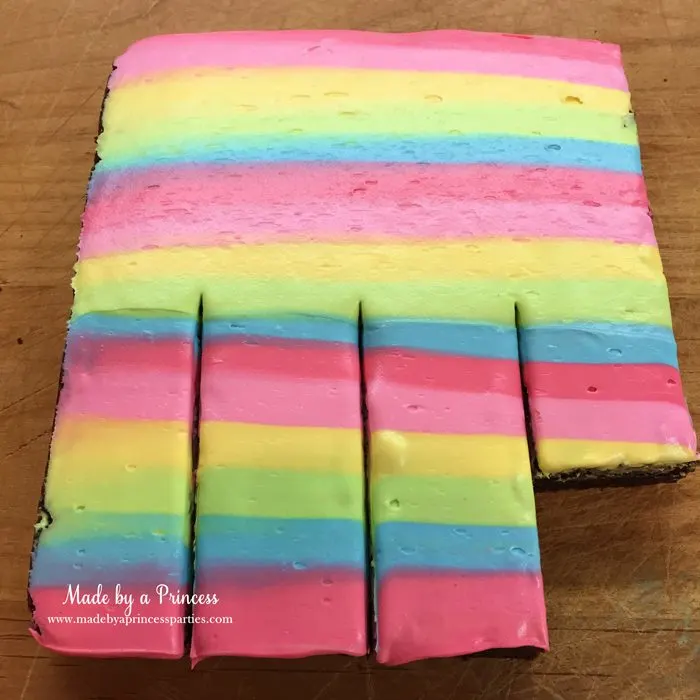 This is a photo of the Trolls themed party I designed. My daughter and her friends loved the rainbow brownies so much she has requested them for her birthday party this year. I will be sharing more Trolls party ideas so make you sure bookmark or subscribe so you can join the party!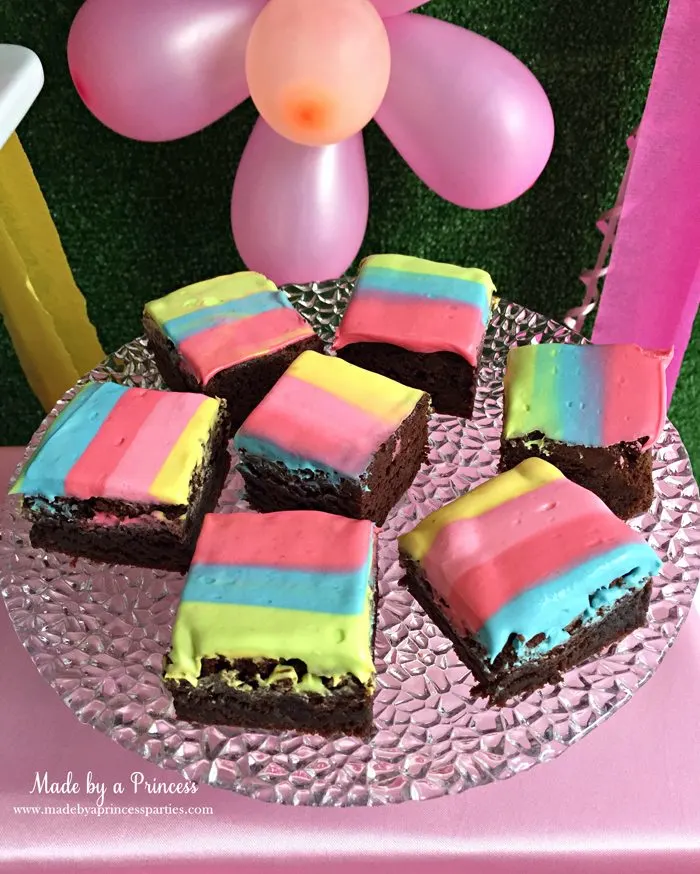 Need more unicorn food ideas?
MORE UNICORN & RAINBOW IDEAS YOU'LL LOVE
Cotton Candy Unicorn Milkshake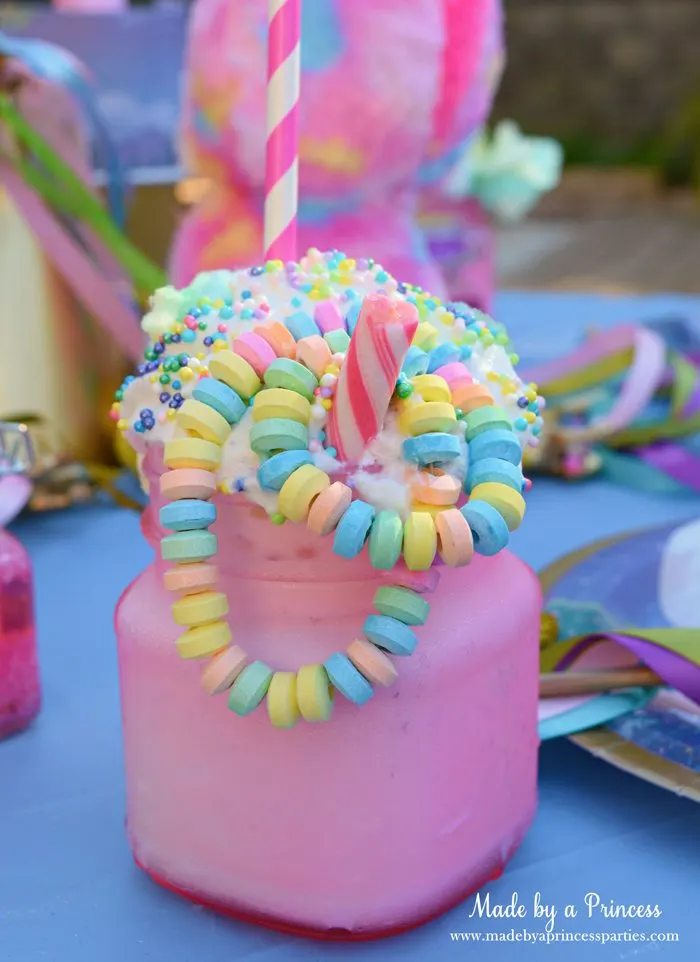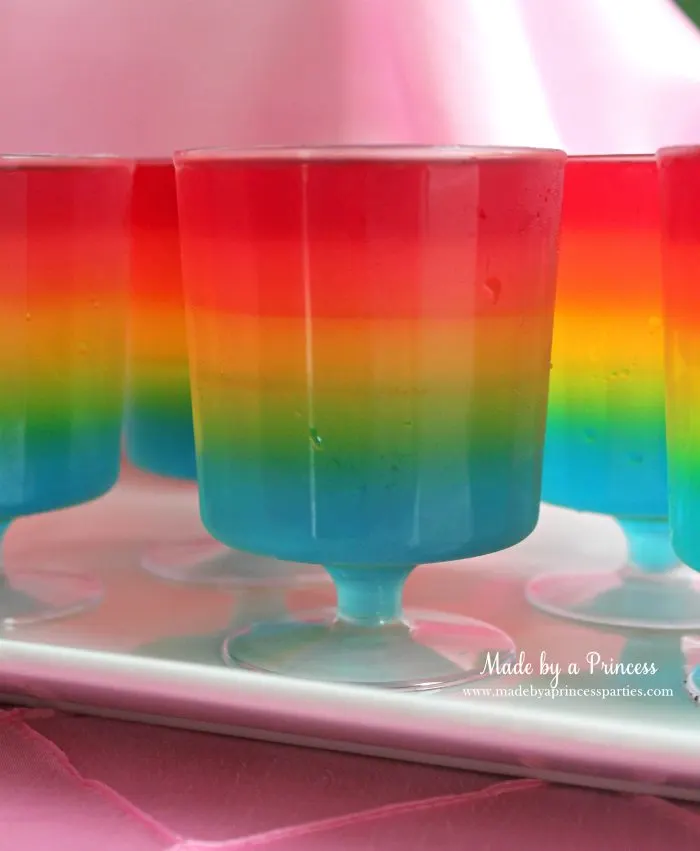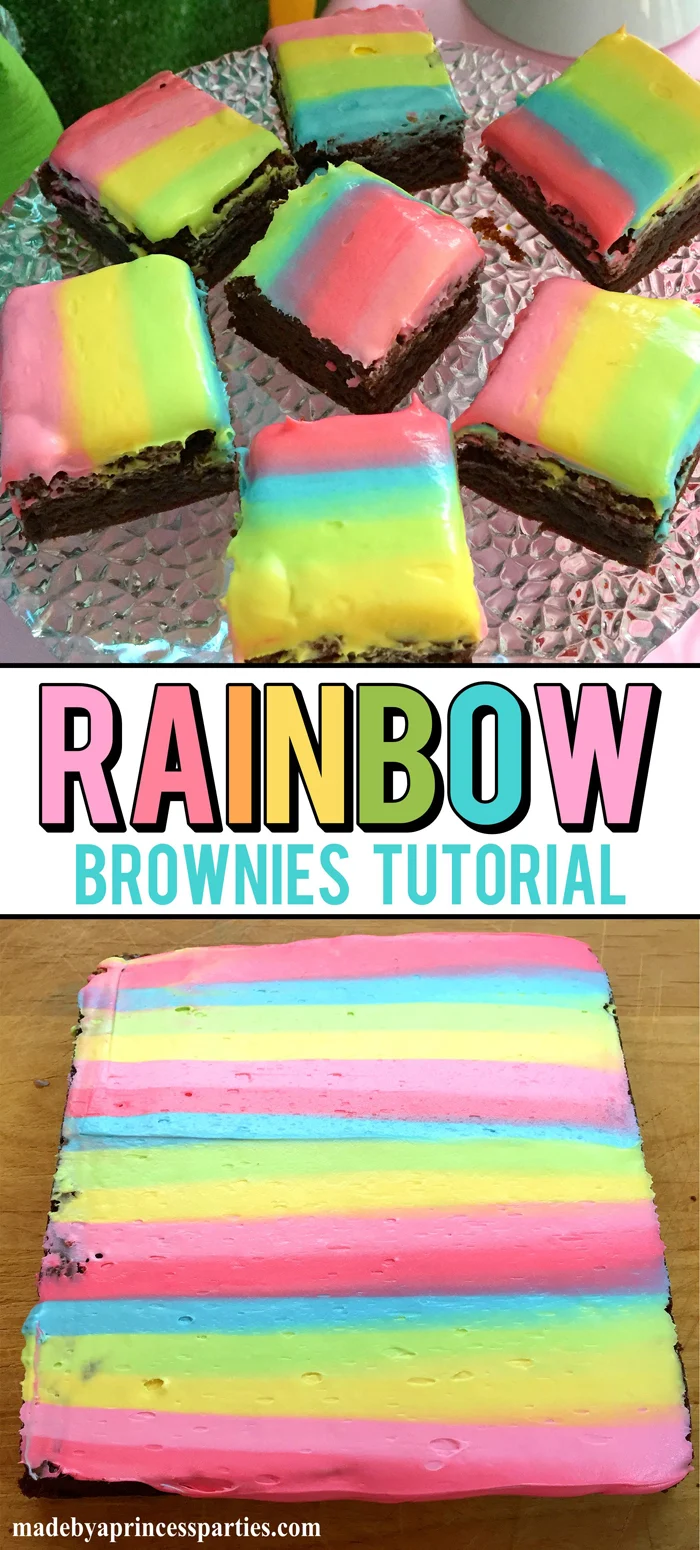 Originally published March 24, 2018
Updated April 8, 2020