Make a colorful and fun Rainbow Slushie with flavored popsicles for your next party! Want to make a tipsy slushie? Just add champagne and a fireball cherry!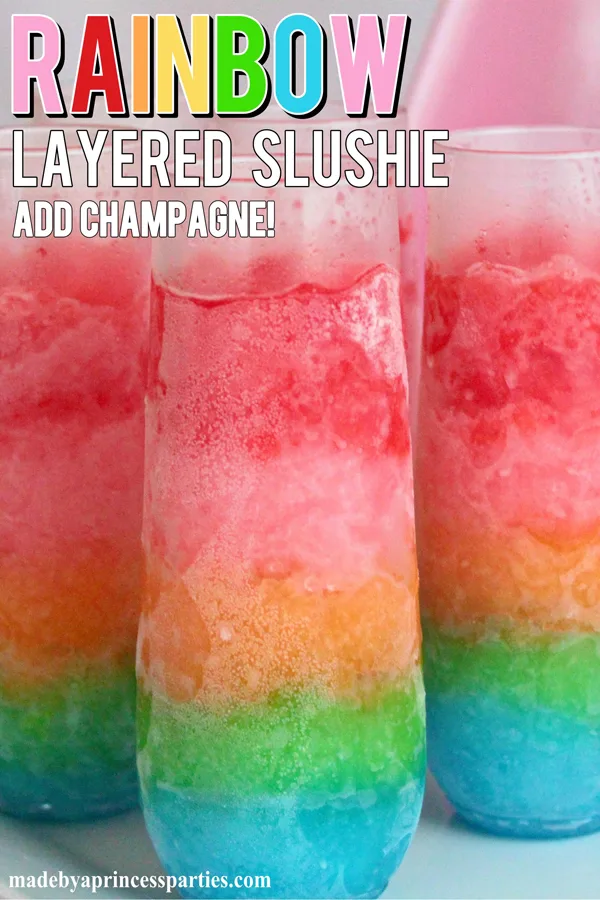 Rainbow slushies are fun, they just are. They're colorful, sweet, pretty, and really really tasty. TIPSY rainbow slushies on the other hand are uh-mazing! I originally made these for the kids at our Trolls party but I decided to adult them up a bit and add champagne and a fireball cherry…mind blown! Keep reading for the recipe for my Unicorn Party Tipsy Rainbow Slushie…
Rainbow Slushie Party Idea
Trolls Movie inspired party food
When I styled the Trolls party for Birthday in a Box I wanted to go all out on the rainbow food since Princess Poppy is all about rainbows. The rainbow Jell-O was a big hit with the kids and really wasn't hard to do, just time consuming. The rainbow cupcakes turned out exactly as I envisioned and I think pretty Poppy worthy (for the mere fact that they looked like a swirly rainbow and they were cupcakes). The slushies on the other hand…after the third layer I realized that my little friends were not going to appreciate all the work that went into making them so I decided to add champs and give them to my mommy friends. Best decision ever! The moms totally loved them and appreciated the time it took to make them.
The Fireball Cherry on top was, well, the cherry on top. Literally. I let the maraschino cherries soak for about a month in a jar of cinnamon whiskey and the results were nothing short of super yum. I had intended on doing a little tutorial on how to make them along with a fun recipe buuuuutttt my hubby finished off the jar before I could photograph them! Nothing is sacred in this house. I'm sure you can relate!
How to make a Unicorn Party Tipsy Rainbow Slushie
Ok, here is what you need to make these Unicorn Party Tipsy Rainbow Slushie glasses of pure bliss…
Package of Ice Pops (like the kind in the Walmart freezer section) or a box of Otter Pops
Bottle of champagne
Jar of cinnamon whiskey soaked cherries (pour out the juice from a jar of maraschino cherries, fill with cinnamon whiskey, place in refrigerator for about a month – enjoy!)
How do you make a slushie without a blender?
You can definitely make a slushie without a blender. It's not hard but it does take time. Make sure your pops are good and frozen and then dump your bottom flavor in a plastic bowl. Quickly mash up so no more chunks remain. Distribute mashed ice pop into freezer safe glasses and place in freezer until frozen. Each layer takes about 15 minutes to set. Repeat with each layer. If you take out too soon the colors will start to run together. I filled (6) 9oz plastic flutes and used two of each color. If you want to ensure that your slushie goes to the top of the glass I would use three of each color. Keep in the freezer until you need them.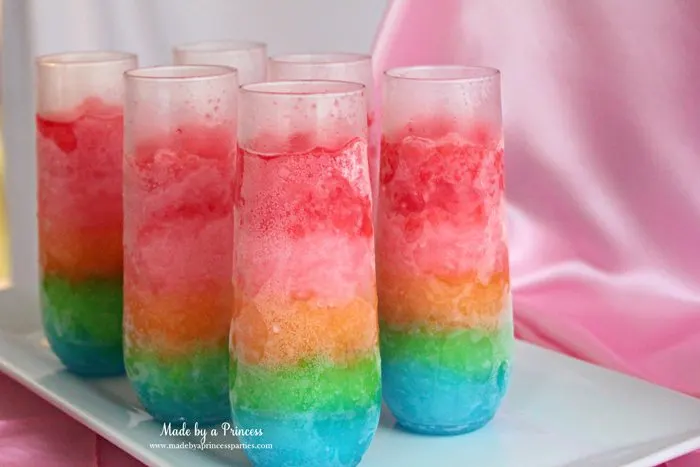 Now the fun part…add champagne and Fireball Cherry and enjoy!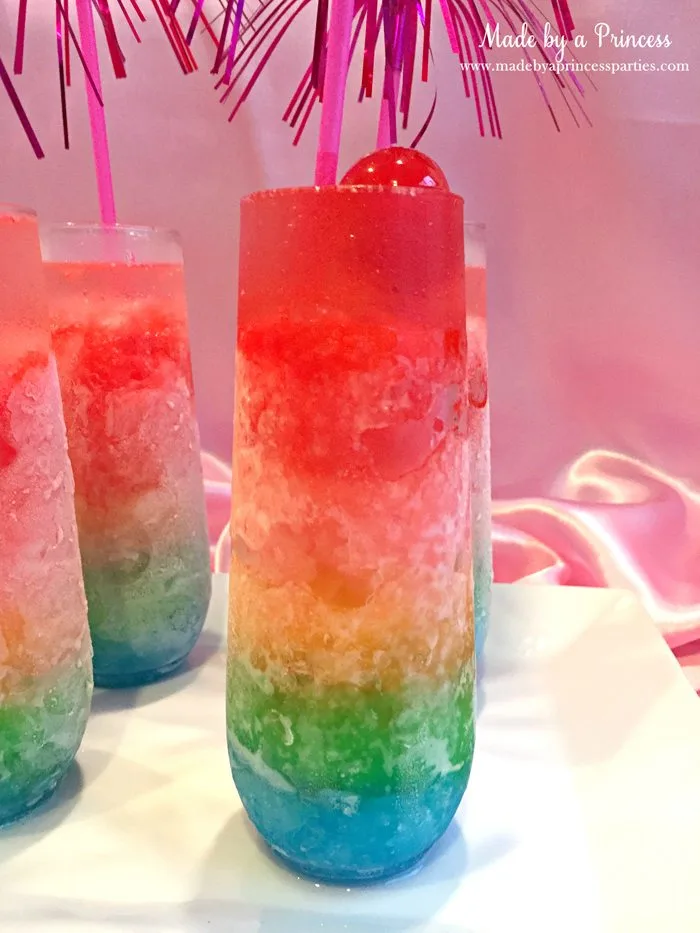 How long does it take to make a boozy slushie?
This is definitely something you want to do at least a day before your party. They are time consuming only because you have to wait for each layer to freeze. I made mine two days before the photo shoot and they were perfectly fine.
I hope you enjoyed my Unicorn Party Tipsy Rainbow Slushie recipe. Have you ever had one? I think they would taste really good with rum too!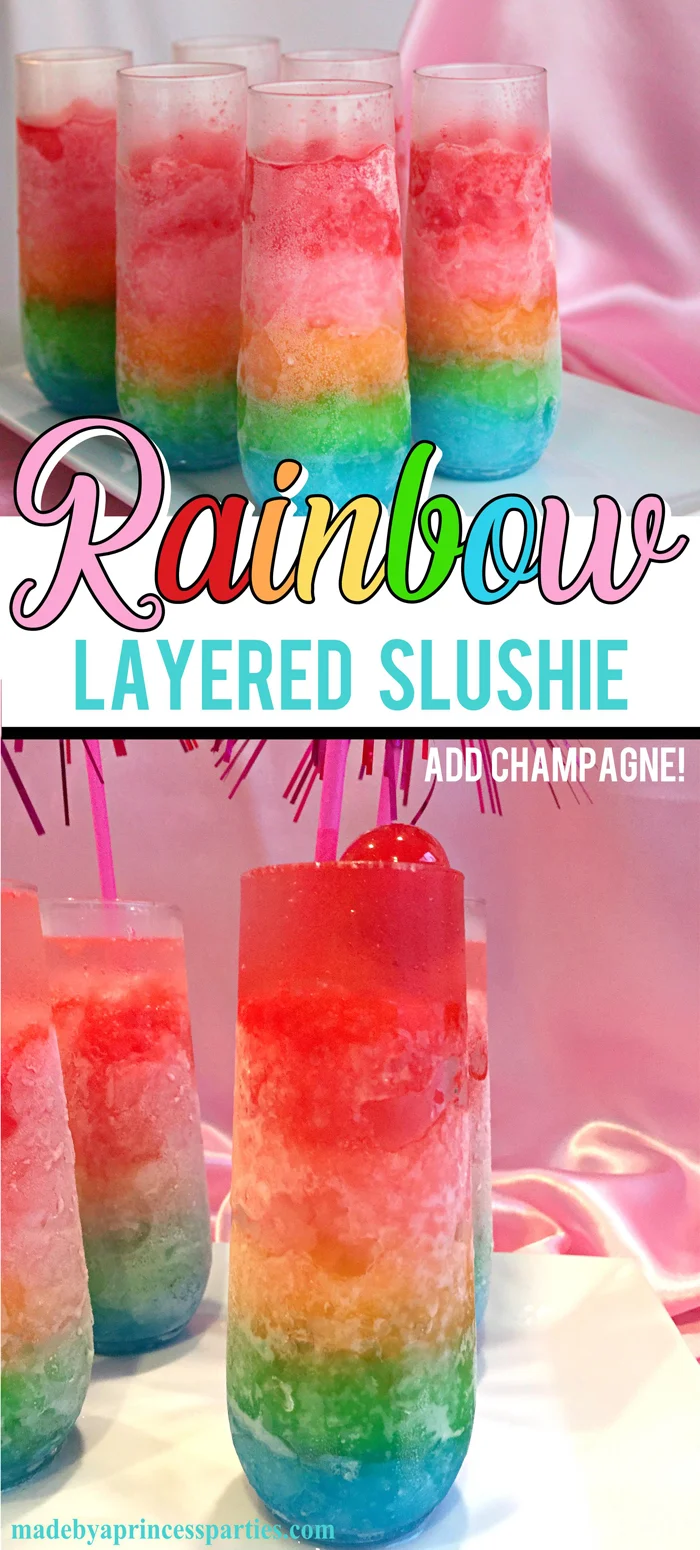 Originally published February 7, 2017
Updated April 8, 2020