Go ahead…EGG your neighbors! You've Been Egged Poem Printable Easter Activity is a fun tradition your neighbors will love!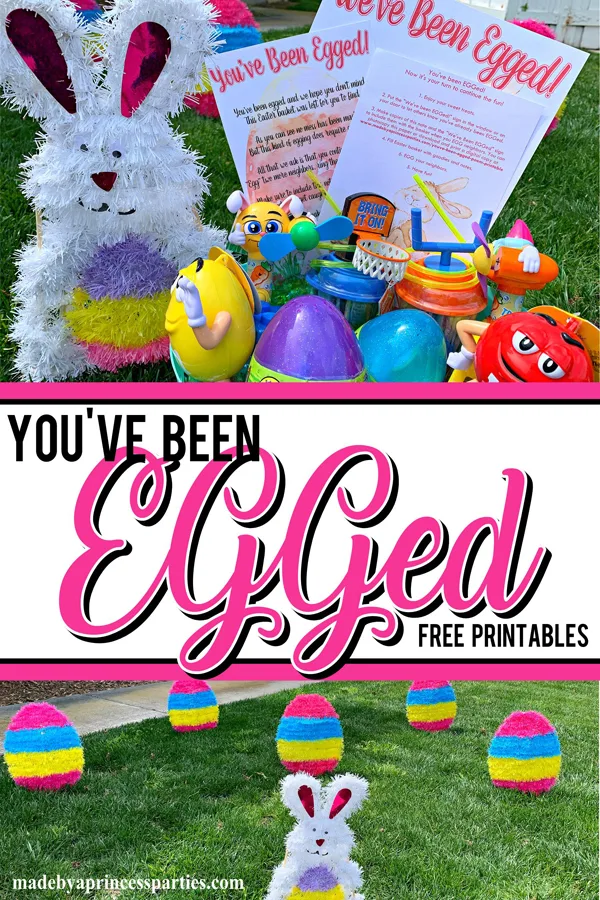 Have you ever egged someone? Yes, it's a little mischievous but it's oh so fun! Just so we're clear…I'm talking about the messy raw egg kind either. I'm talking about decorating their lawn with eggs and leaving a basket of Easter candy on your neighbor's doorstep. Download my You've Been Egged Poem Printable Easter Activity today and EGG your neighbors tonight!
You've Been EGGed Easter Activity
If you have ever been the recipient "You've Been BOOed" or the ever popular "You've Been BOOZEd" you know how fun this holiday tradition is. All you need to create this "You've Been EGGed" Easter activity is a basket of goodies, some decorations from the dollar store, and my free "You've Been EGGed" poem printables.
Budget Friendly Easter Lawn Decor
Your local dollar store has great decorations just waiting to be discovered. To make these Easter Bunny wall hangings stand up, grab some wooden skewers, and weave through the fringe. Leave about 3″ sticking out on the bottom, then place in the yard. Do the same with the egg decorations. You can really go crazy with this Easter yard decor. My local store only had 5 eggs left so I am now on the hunt to find some more to fill our lawn.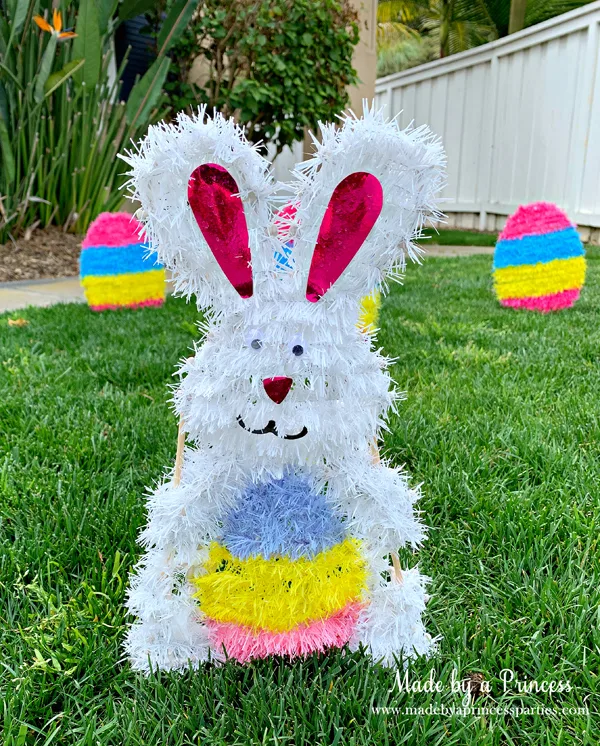 This will look so festive in your neighbor's front yard!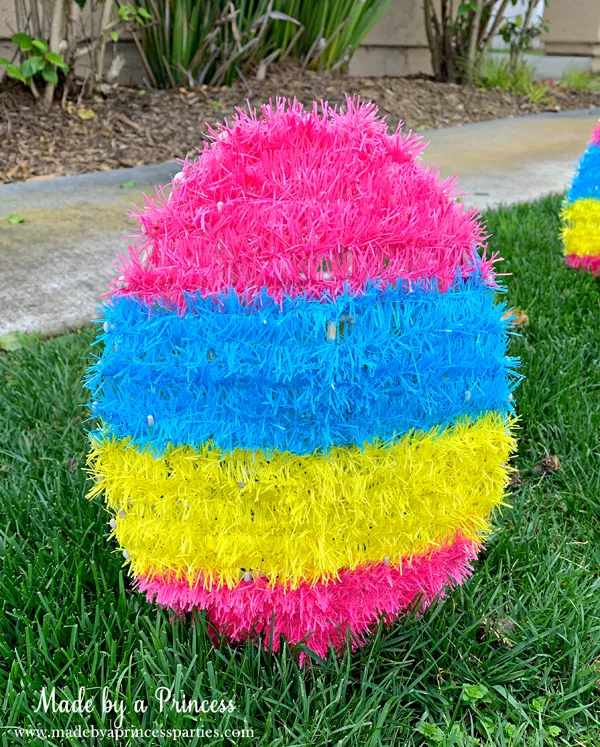 You can also purchase dozens of plastic eggs and place them all over your neighbor's front yard…just like the Easter Bunny. Fill with small toys or candy.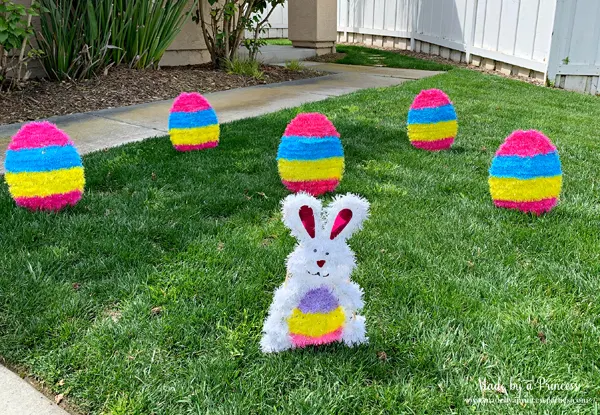 Create the You've Been EGGed Easter Basket
Now it's time to fill your You've Been EGGed Easter basket! CandyRific has made it really easy for you. They have adorable Easter basket fillers that your kids and neighbors will love! Choose from a variety of candy, including Poop Emoji Easter Candy Fans. Yes, that's right, Poop Emoji Easter Candy Fans. The giggles alone will make you smile 🙂
My friends at CandyRific sent me all you see here and let me tell you, my daughter and her friend went NUTS over it. You can watch the whole unboxing on YouTube. If you want need a little pick me up watch one of our out takes below.
CandyRific Easter Candy Unboxing
You've Been EGGed Instructions
Step 1. Download and print my "You've Been EGGed" original poem and "We've Been EGGed" sign. (download below)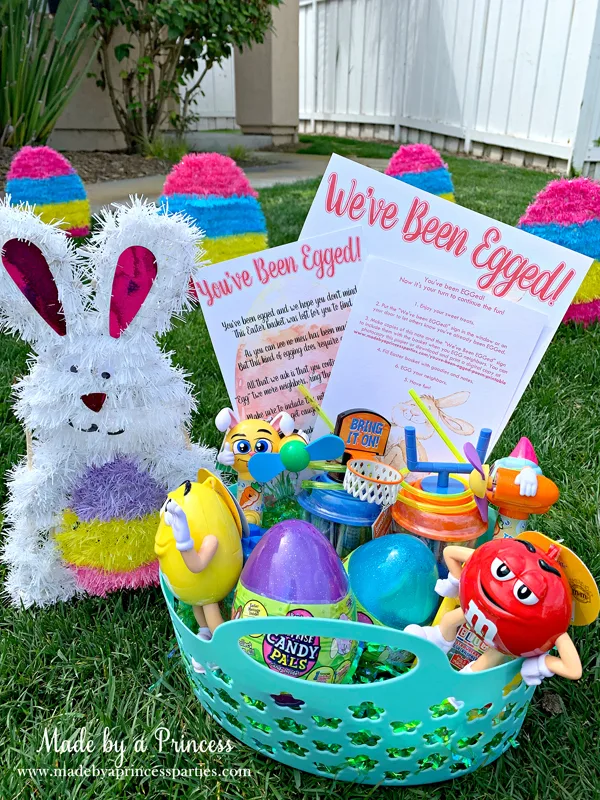 Step 2. Purchase a couple of Easter baskets with Easter grass, plastic Easter eggs or Easter decorations from your local dollar store.
Step 3. Purchase candy to fill Easter basket.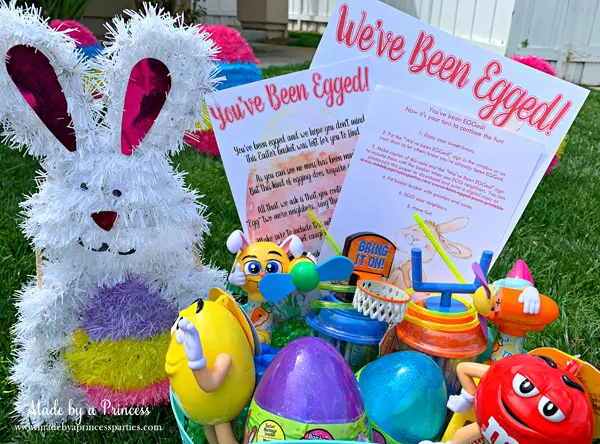 Step 4. Fill Easter basket with candy.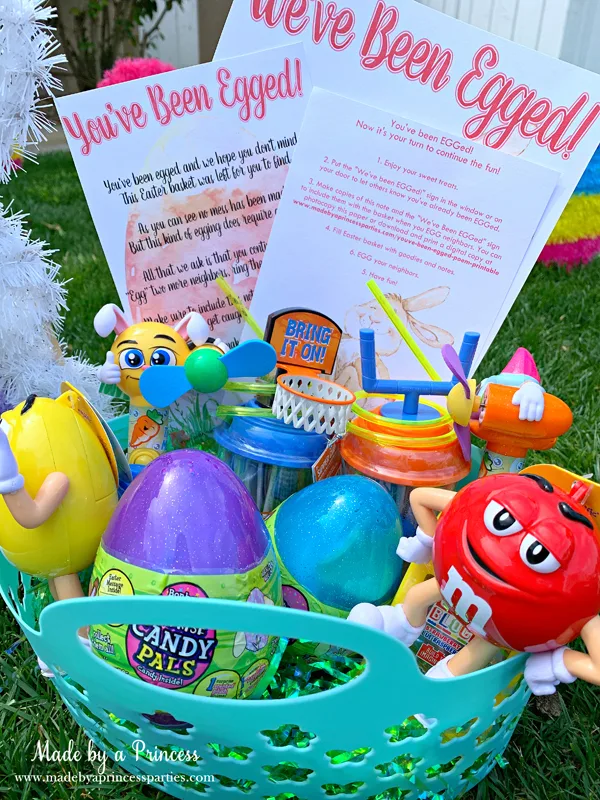 Step 5. Place poem, instructions, and sign in the Easter basket.
Step 6. Decorate neighbor's lawn with Easter eggs or plastic eggs.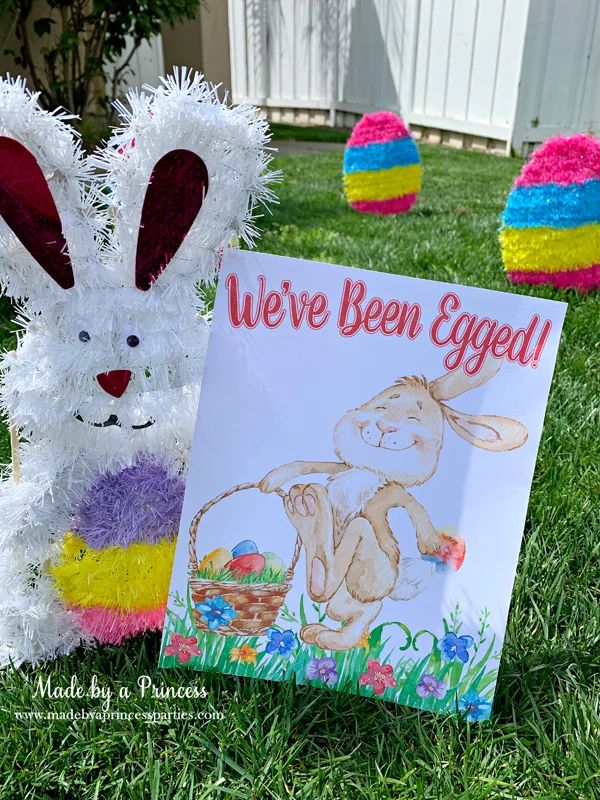 Step 7. Leave basket on their lawn or front porch, ring the doorbell, then hide!
Step 8. Watch your neighbors' faces light up when they find their Easter basket surprise!
Download You've Been EGGed Printables Featured Here
ENTER TO WIN YOUR OWN BOX OF EASTER CANDY FROM CANDYRIFIC!
One lucky winner will receive a box of Easter candy like the ones shown here just in time for Easter! Enter below for a chance to win. Open to US residents only. Winner will be selected at random via Giveaway Tools. Must be 18 or older to win.
Where to Purchase Easter Candy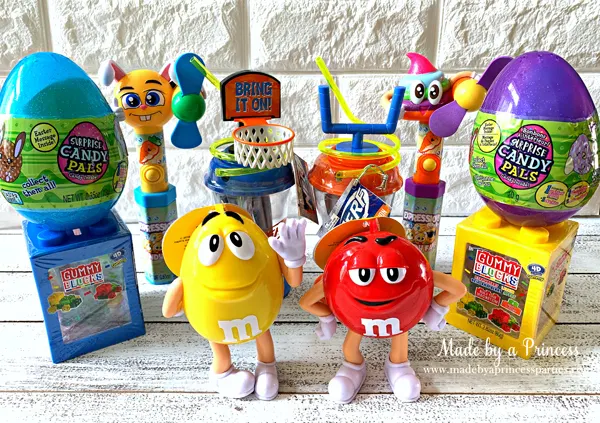 Here is a handy list of what you see here along with links to purchase:
Place all your goodies in a basket (from the dollar store) along with the printables, ring the doorbell, and hide!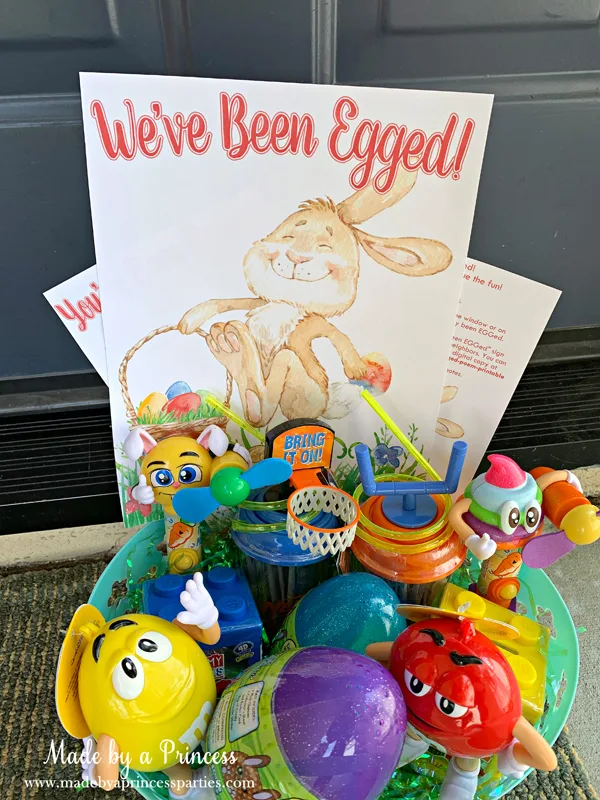 I hope you enjoyed my You've Been Egged Poem Printable Easter Activity idea. Please let me know if you EGG your neighbors. I hope you have fun with this Easter EGG hunt poem!
Happy Easter!
*Easter candy provided by CandyRific for review. All opinions are my own.