Surprise your neighbors with a BOOzey treat with this You've been BOOzed printable set!
Would you rather be BOO'd or BOOzed? Personally I would rather be BOOzed! If you have played the BOO game in your neighborhood you are probably already familiar with how it works. Fill a bucket with treats, include some notes, ring the door, and run. It's kind of like ding dong ditch but the person you're ding donging gets a nice surprise. BOOze some neighbors because I'm pretty sure they wouldn't mind opening the door to a little BOOzey surprise! Download all the printables to get your neighborhood BOO on!
You've Been BOOzed!
Tonight I BOOzed my neighbor, Carrie. I know she enjoys a good cocktail now and then so she was my first BOOzed neighbor. I am definitely doing this again!
How to BOOze Your Friends and Neighbors
First of all, pick up a bottle of champagne or wine from your favorite BOOzy spot. Next, peel the labels off or just stuck this one on with packing tape. Decorate the bottle with some spooky spiderwebs that you probably have lying around the house or in a box of leftover Halloween decorations. If you don't have spiderwebs don't worry…all your friend wants is the BOOze anyway!
*Note: The printable version available for download below says "BOOzey Brew" because it's more generic.
Finally, add a cute little tag…
Print You've Been BOOzed and Surprise Your Friends and Neighbors
Furthermore, when you BOOze your neighbor leave a note so they know why someone has put a bottle of something pretty yummy (and so well deserved) on their doorstep. Instructions are available for download at the bottom of this post.
Leave a "We've been BOOzed" sign to put on the door or in the window so other neighbors know they have been "hit" with the BOOze.
You've Been BOOZEd is a Great Way to Surprise Your Neighbors and let them know that you are thinking of them and that you think it's time they had a cocktail.
Certainly you need a "You've Been Boo'd" version as well, right?! Click the link to download the non-alcoholic set.
Happy Halloween!
You can download the Tag & Bottle Label here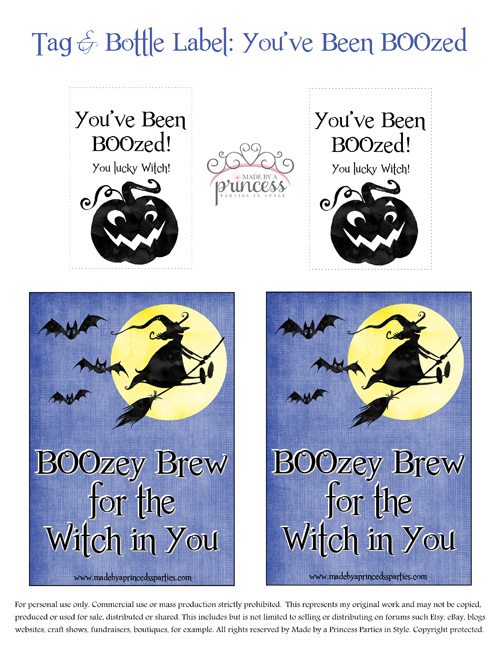 Download the You've Been BOOzed Poem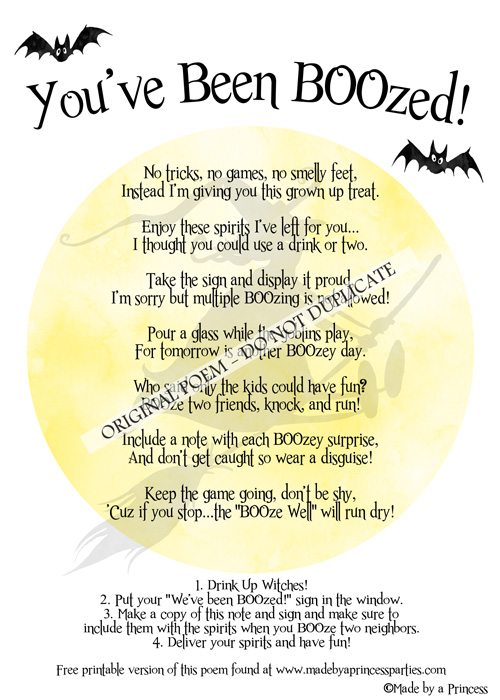 Download the We've Been BOOzed Sign