Oriental Trading Co provided me with some products but all opinions and thoughts are my own.
Happy Pink-o-Ween! It's not all goblins and ghosts at Halloween…sometimes you've got to get your pink on with a Pink Pumpkin Halloween Party.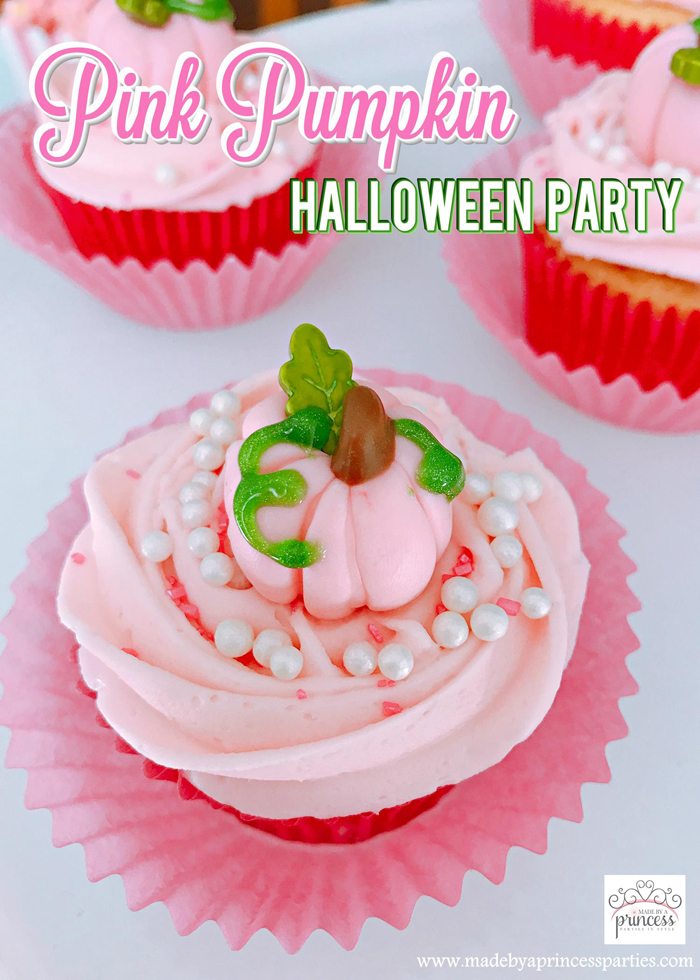 In this house we don't just celebrate Halloween…we celebrate Pink-O-Ween! This year I threw a Pinklacious inspired Pink Pumpkin Halloween Party and it is perfectly pink in every way. I'm sharing lots of pink pumpkin Halloween party ideas with you today so get ready to get your pink on!
I love Halloween, mostly because I love making costumes for my kids. I used to make really elaborate costumes for myself…but then I had kids. I am not really a fan of orange and black but I get that those are the colors we are supposed to use so I play along. This year I wanted to make a pink splash to welcome Halloween so I threw my daughter a Pinkalicious inspired Pink Pumpkin Halloween Party! The decorations were pretty simple and since it was a little later in the day I served snacks instead of a full meal. My daughter was tickled pink and couldn't wait to greet her friends!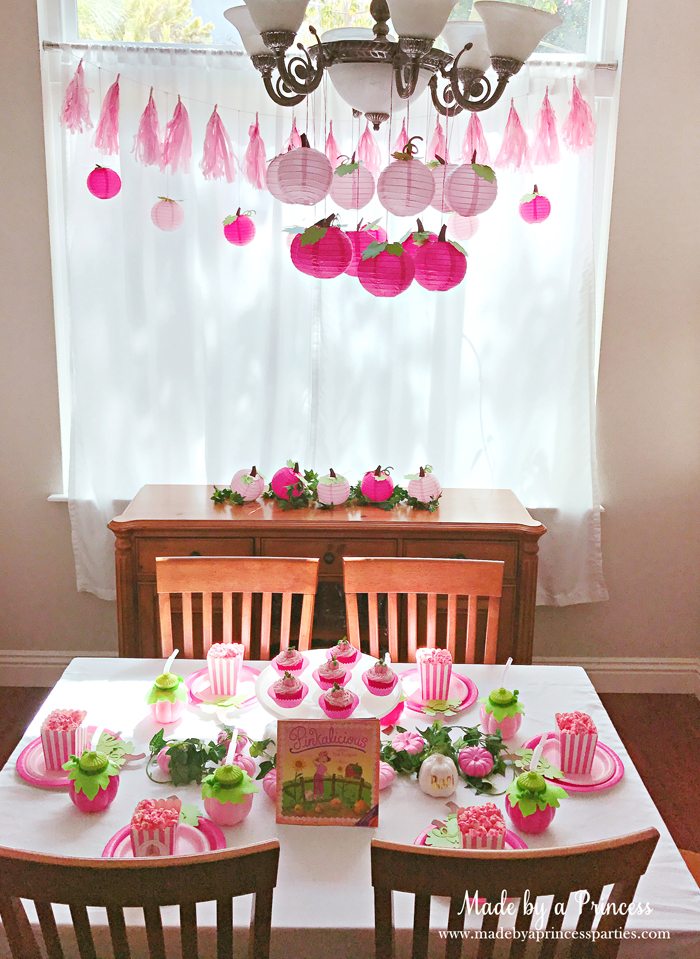 I had already decided on a pink pumpkin party theme when I found this Pinkalicious book. It was so perfect and meant to be!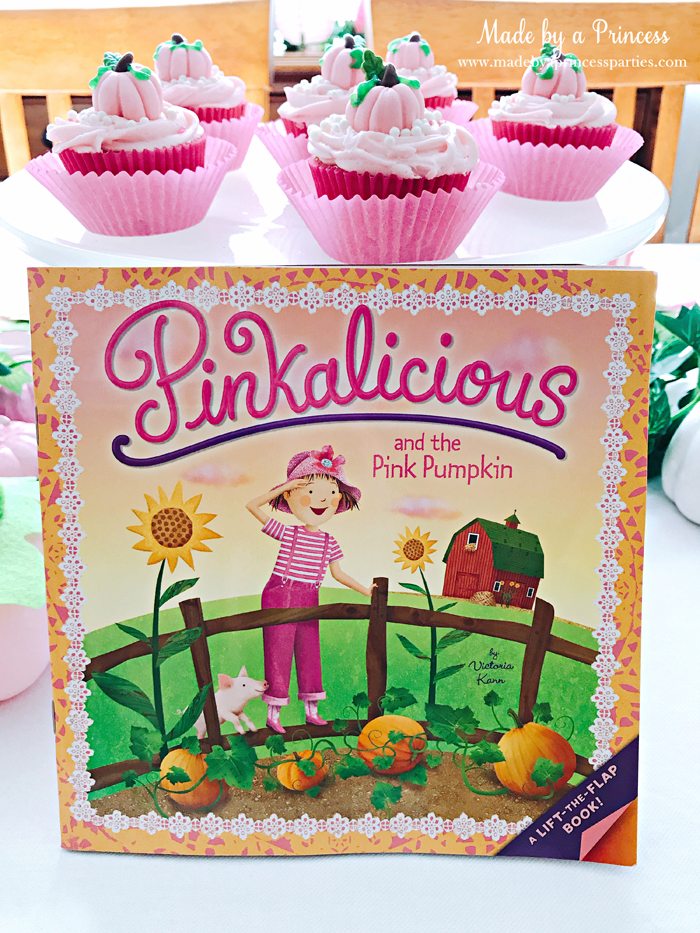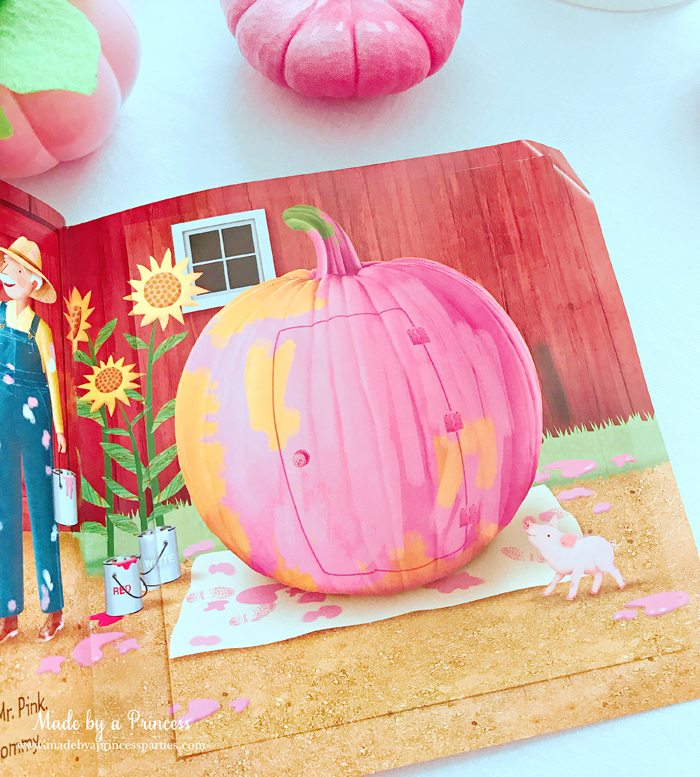 I made pink pumpkins out of mini paper lanterns in pink and hot pink and some leaves I cut out using my paper cutting system.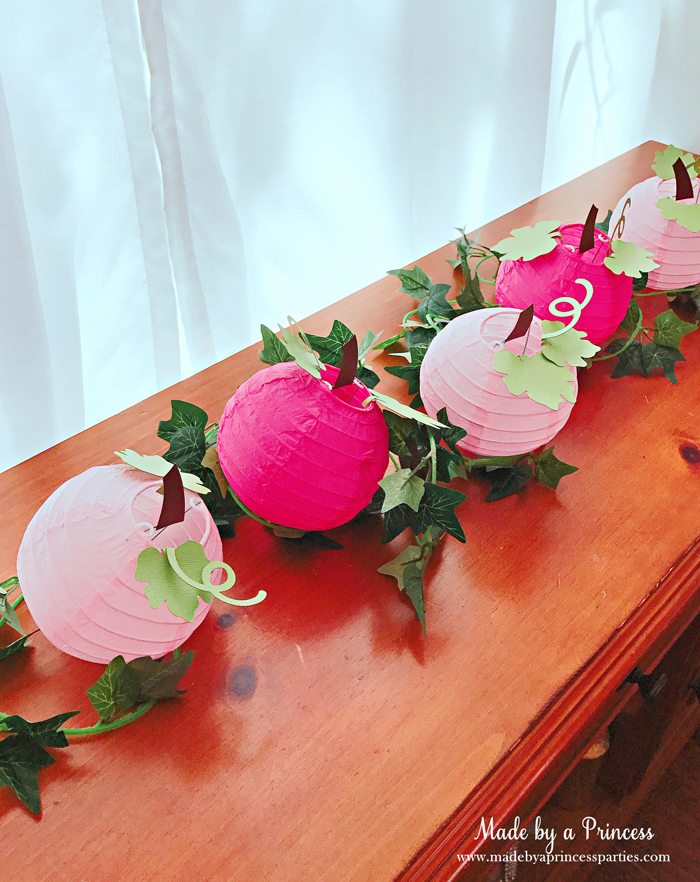 Mini pink pumpkins hung from the chandelier over the table.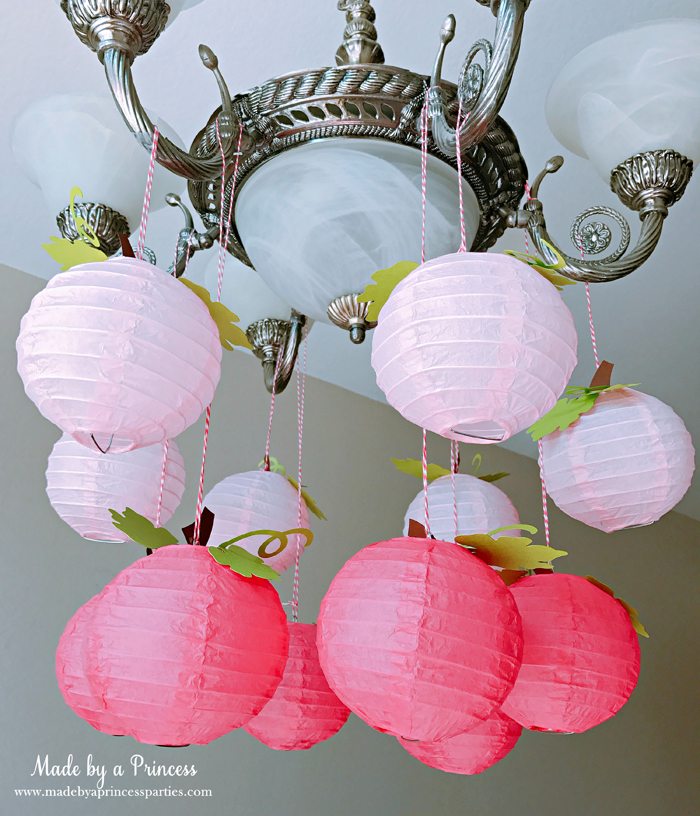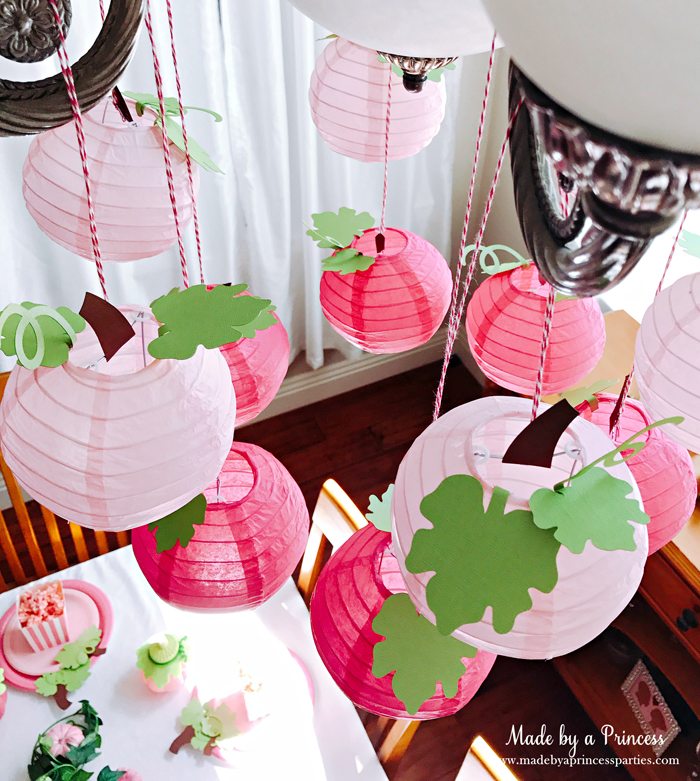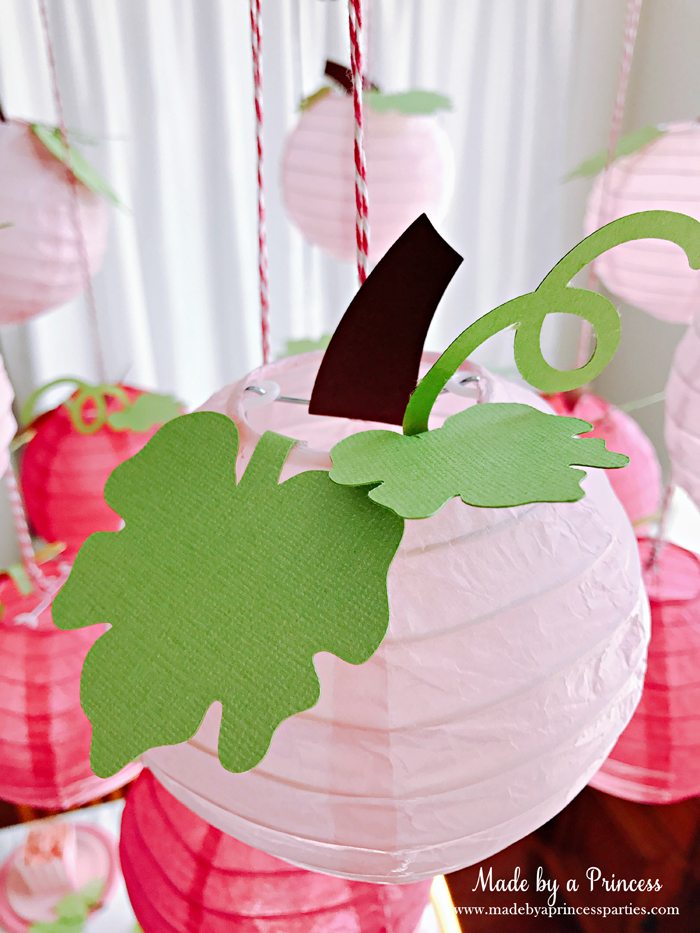 I spray painted mini pumpkins from the grocery store in two shades of pink and set them in a vine garland from Oriental Trading Co.
TIP: In order to avoid getting paint on your tablecloth glue a small piece of felt on the bottom of the pumpkin once it has dried.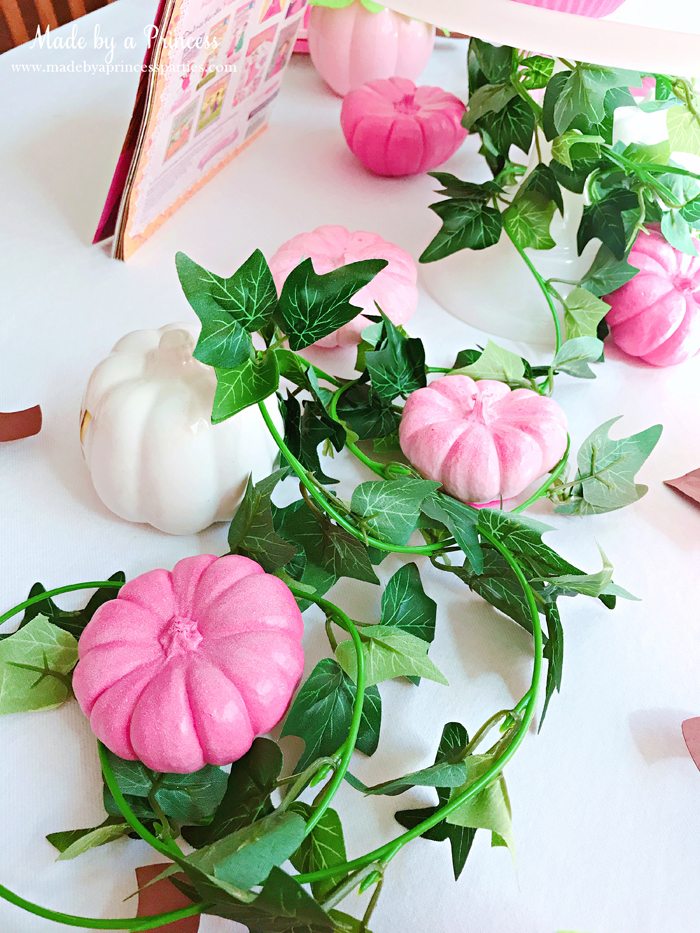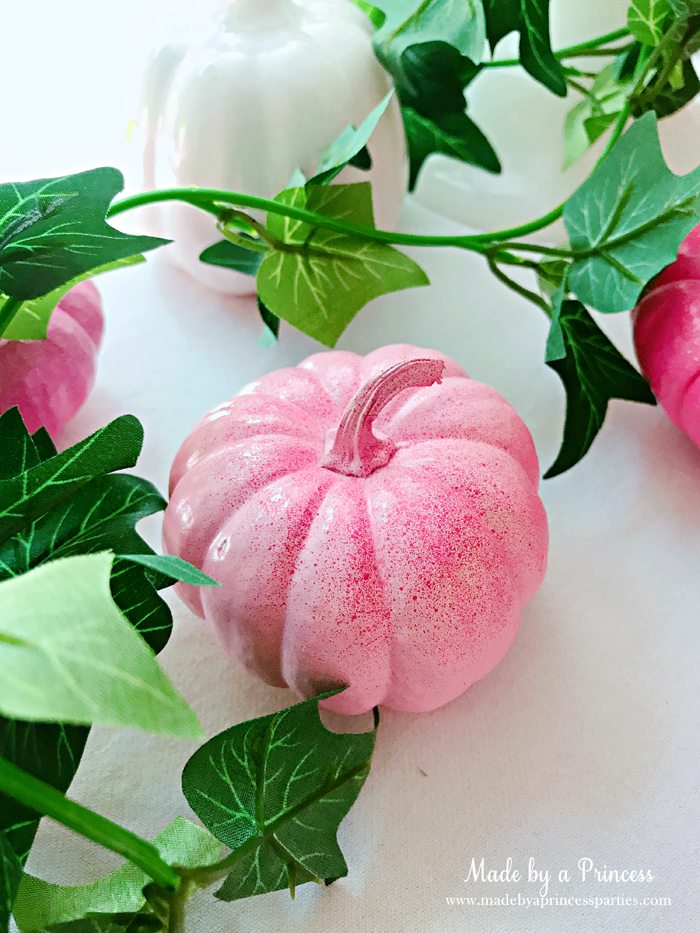 You must have pink pumpkin plates at a pink pumpkin Halloween party but since I couldn't find any I created my own to plain pink plates by adding paper stems, leaves, and vines.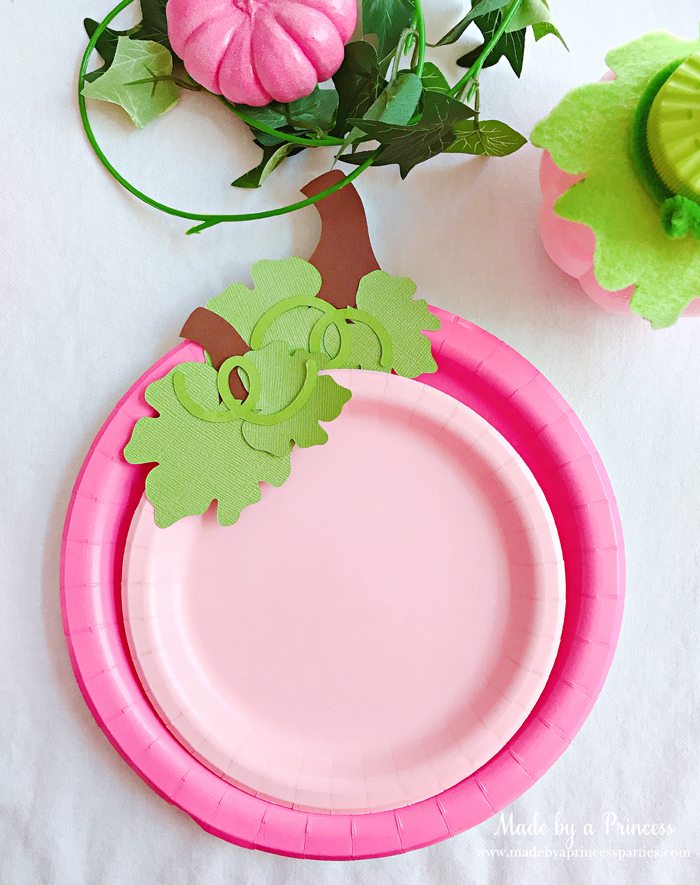 Chocolate popcorn is always a hit at parties so I filled this pink striped popcorn box with pink chocolate popcorn covered in sprinkles.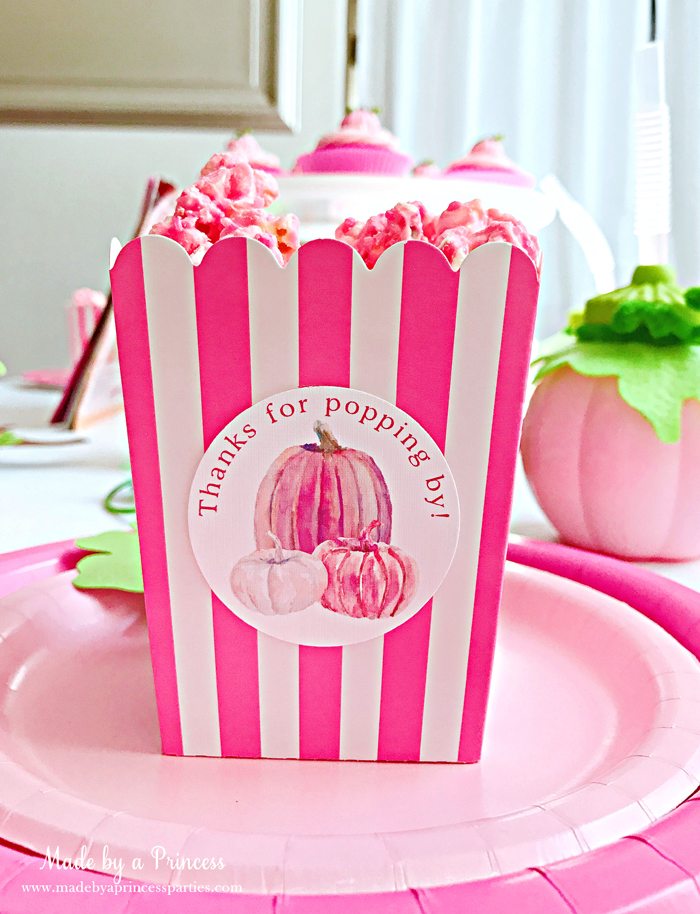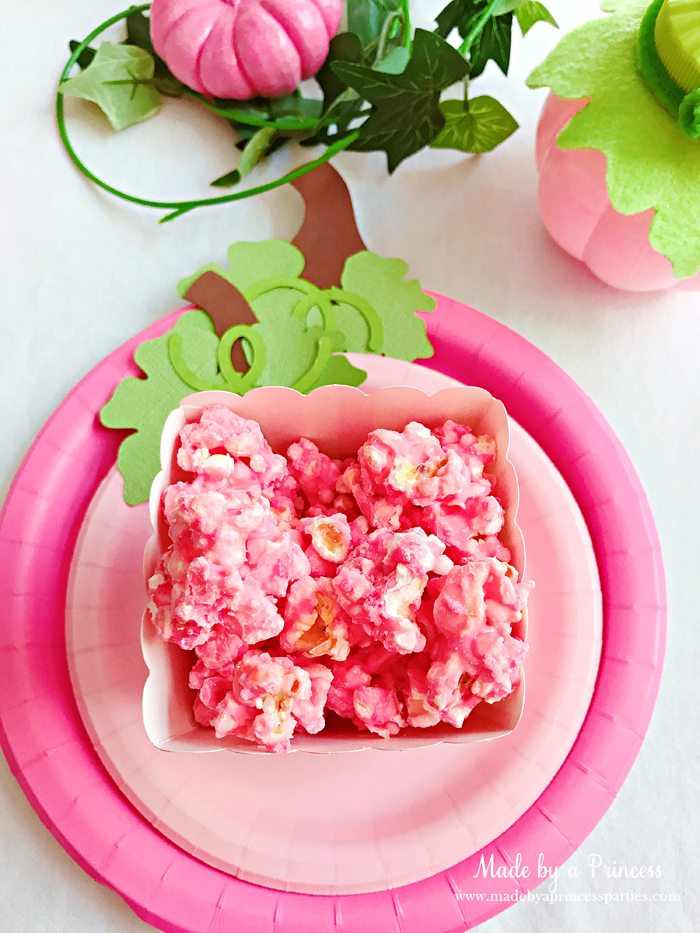 These are actually molded pumpkin cups from Oriental Trading that I spray painted pink. Tutorial coming soon for this one.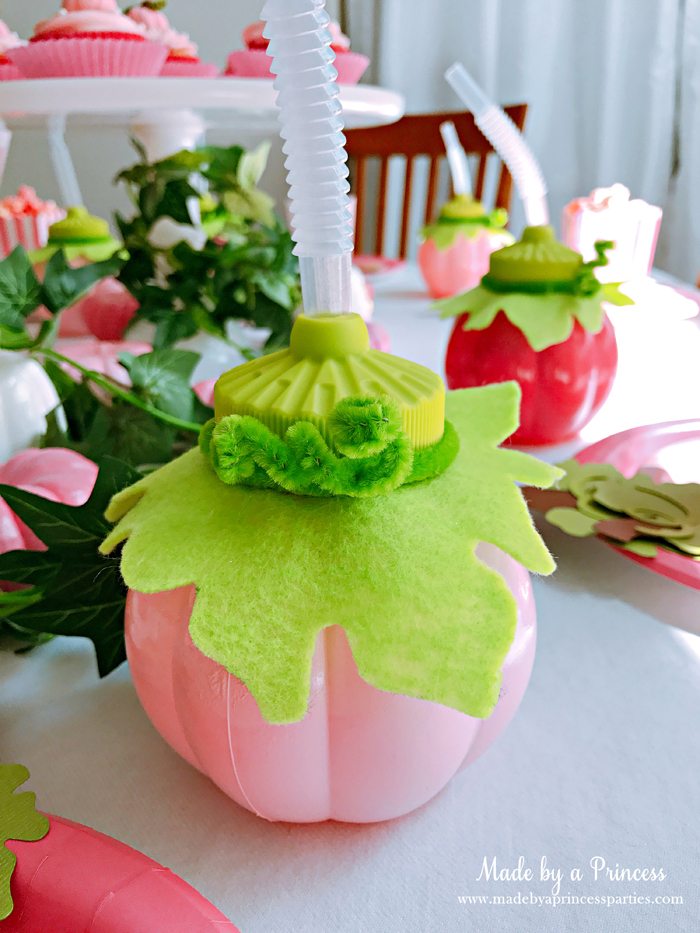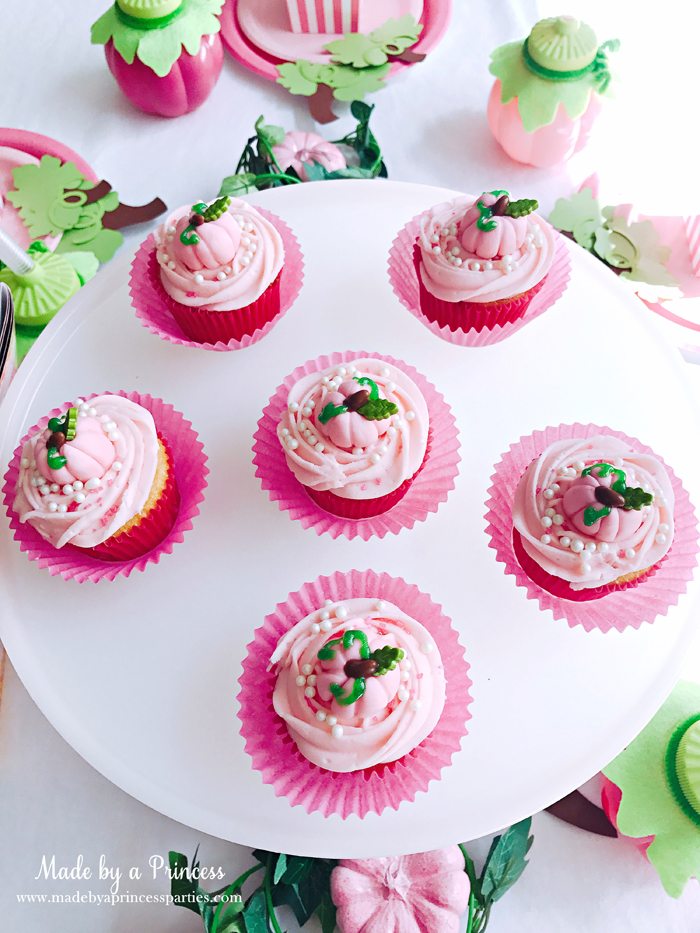 I made pink pumpkin cupcake toppers using fondant, Wilton Sparkle Gel, and Wilton sprinkle leaves.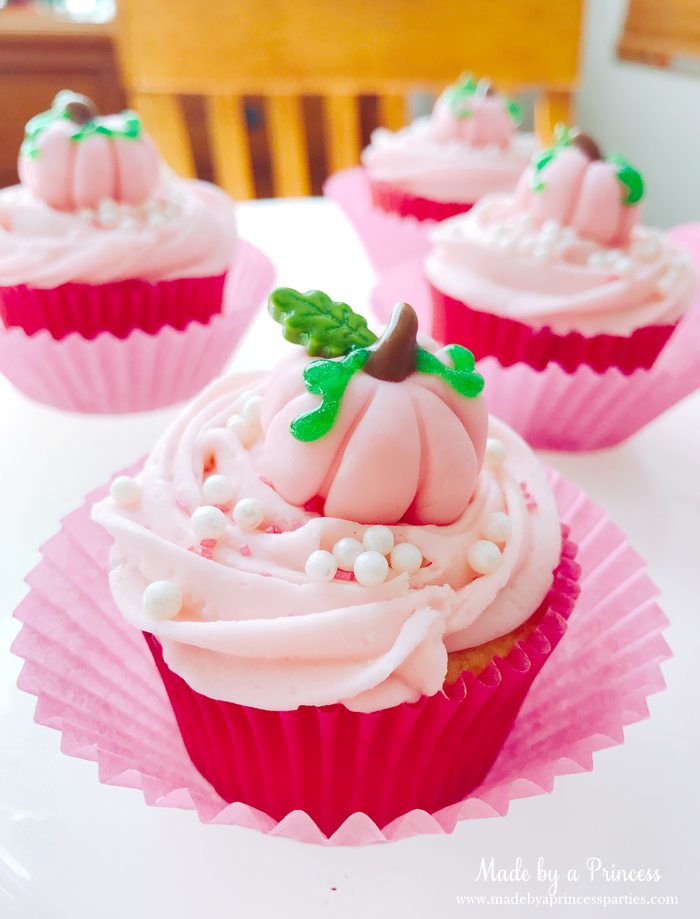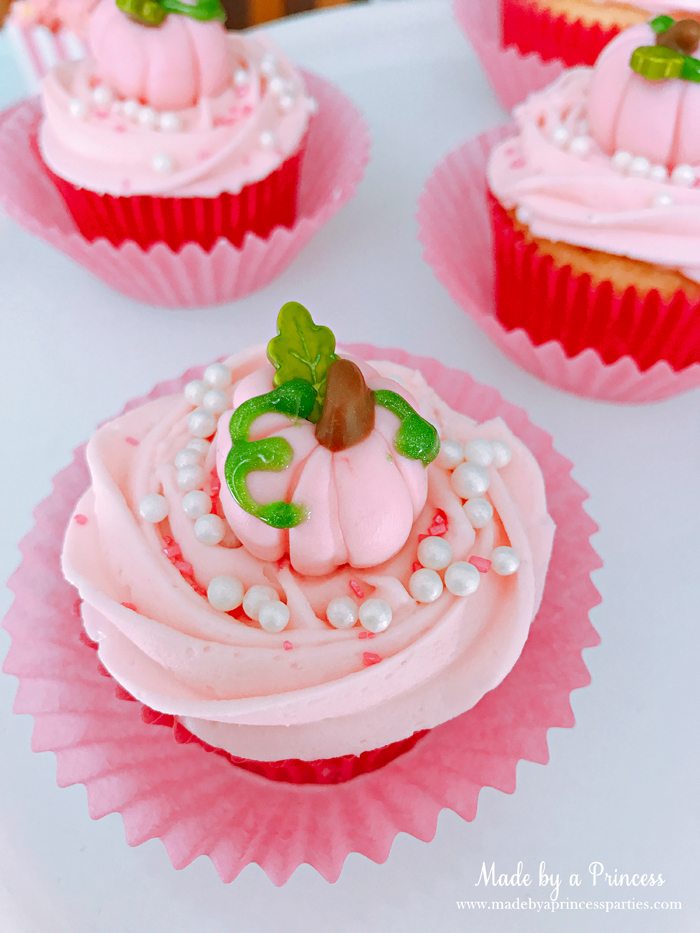 Super simple food table.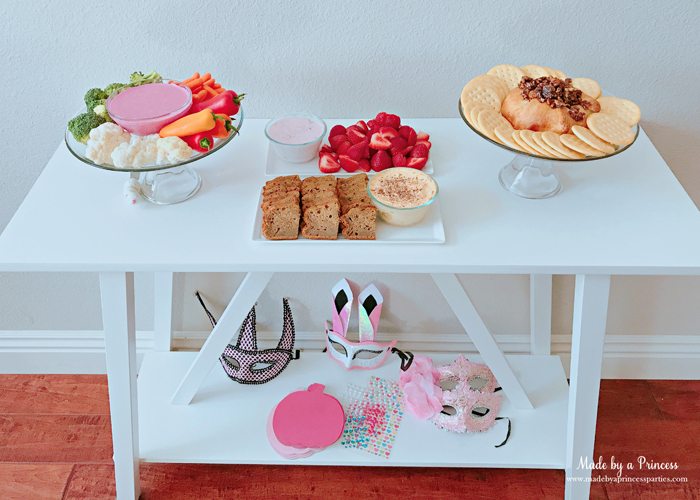 I really wanted something pink so I created a sweet beet yogurt dip. The girls weren't too sure about this one but the moms liked it.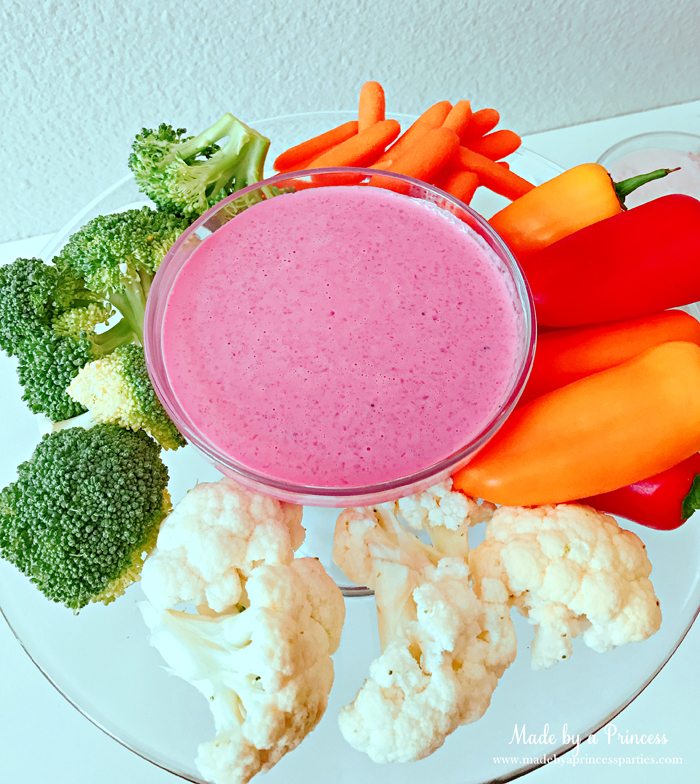 Strawberry fluff dip with fresh cherries and strawberries for dipping.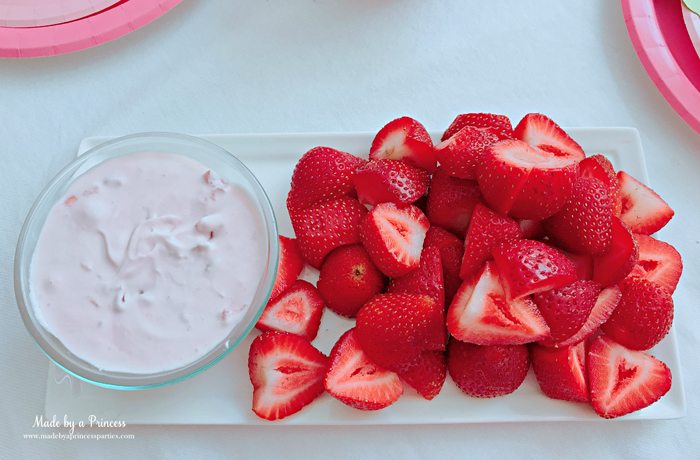 Pumpkin banana bread with pumpkin pie spread.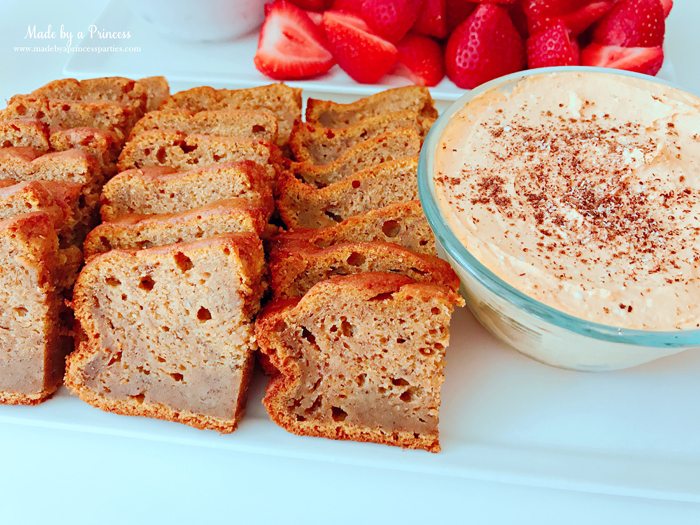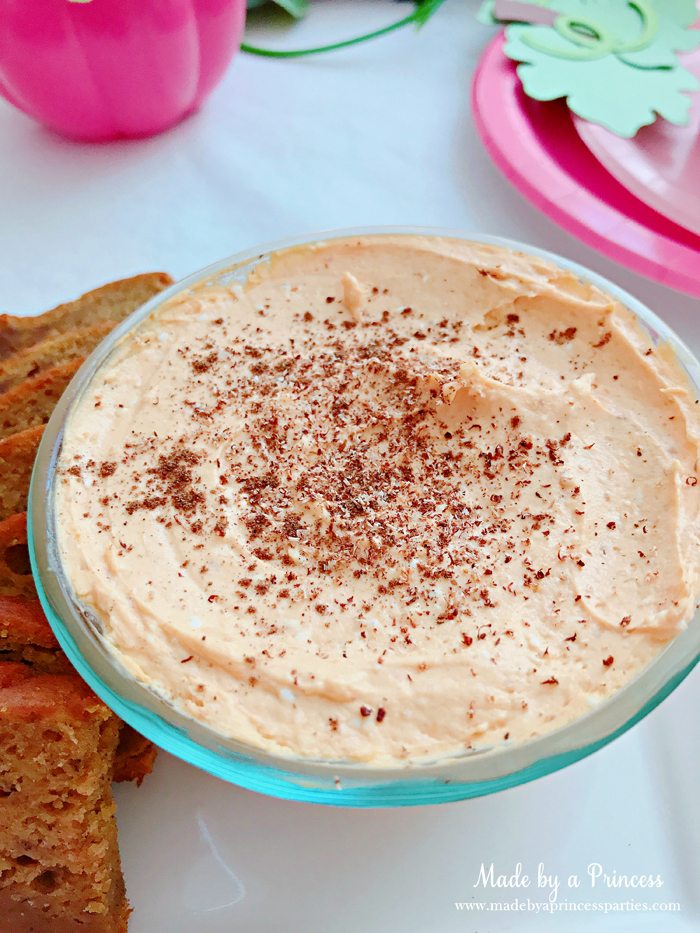 Brie wheel with candied pecans.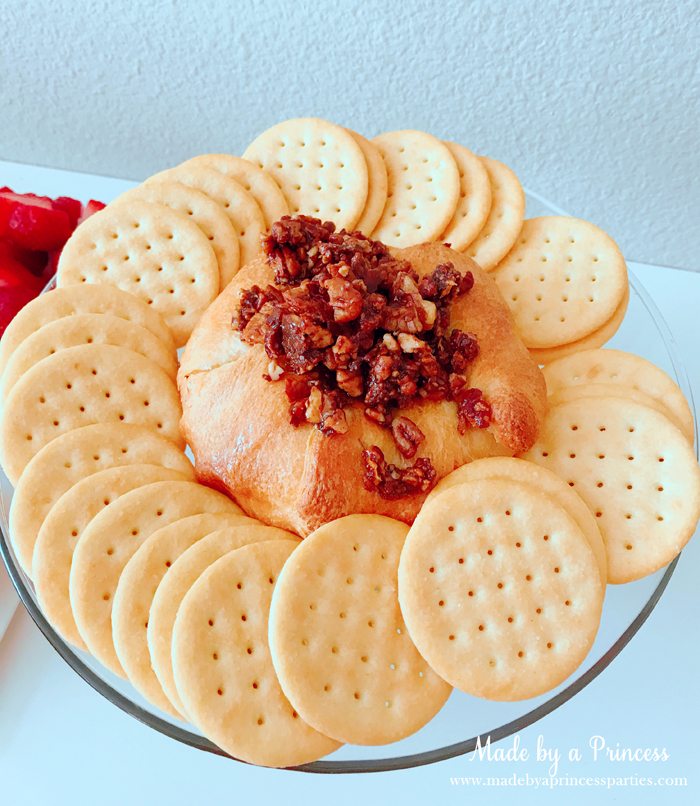 I went kind of crazy with the spray paint! I also painted these wooden pumpkin shapes from Oriental Trading and then the girls decorated them.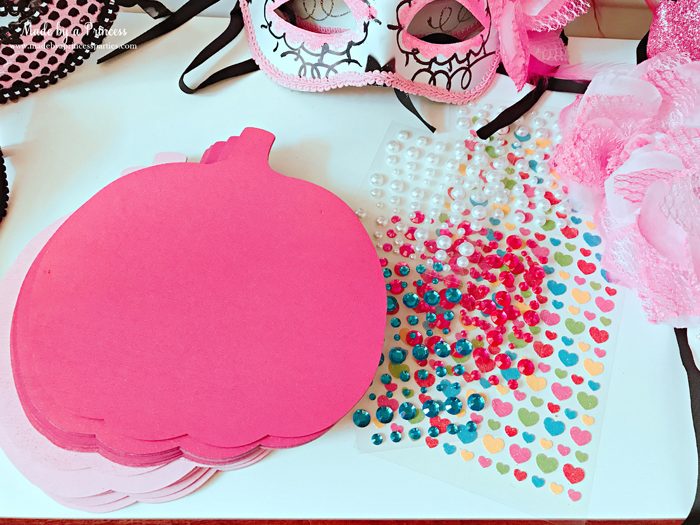 I found a bunch of cute pink masks at a local dollar store. Each girl had a different mask that showed off their personalities.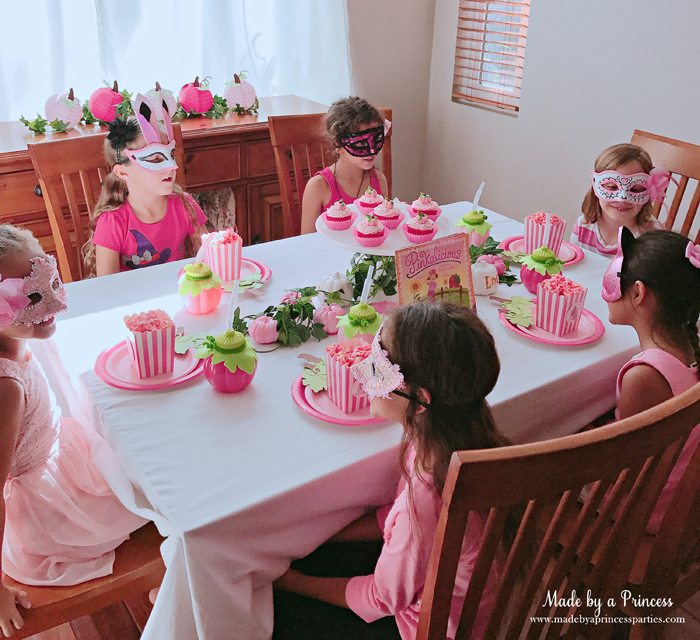 "Cheers!"…it's so much cuter when you cheers with a pink pumpkin cup!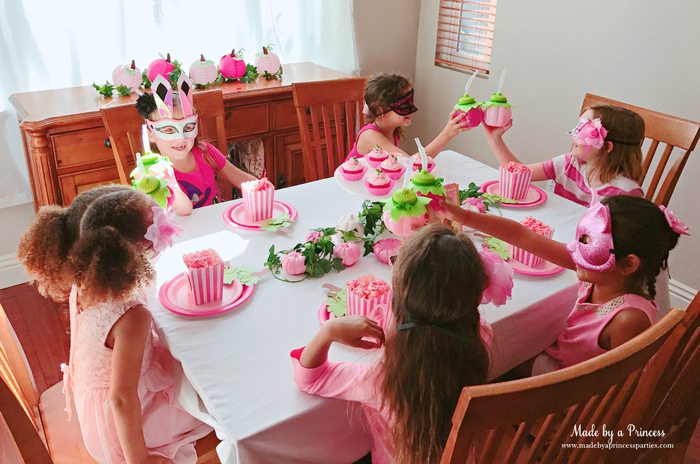 I always have bling stickers on hand so each girl got a stack of pretty bling to decorate their pumpkins with.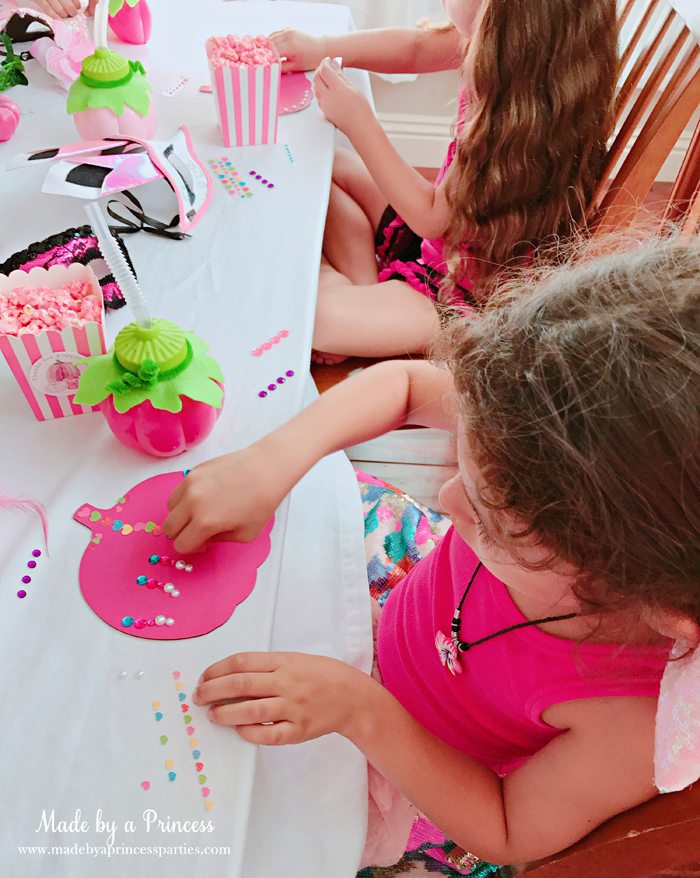 Silly girls having fun with their masks.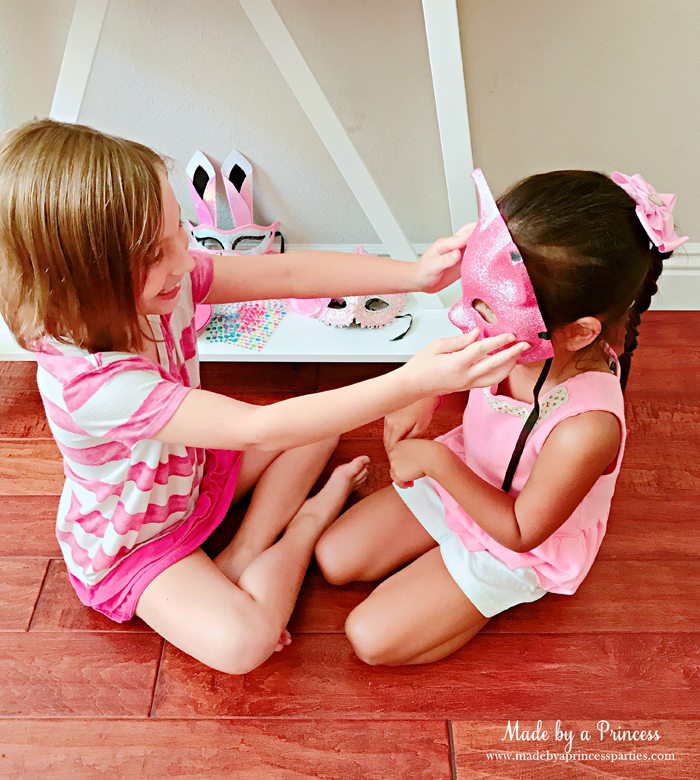 I hope you enjoyed our Pinkalicious inspired Pink Pumpkin Halloween Party! Have a pinktastic Halloween!