Happy Pink-o-Ween! It's not all goblins and ghosts at Halloween…sometimes you've got to get your pink on with a Pink Pumpkin Halloween Party.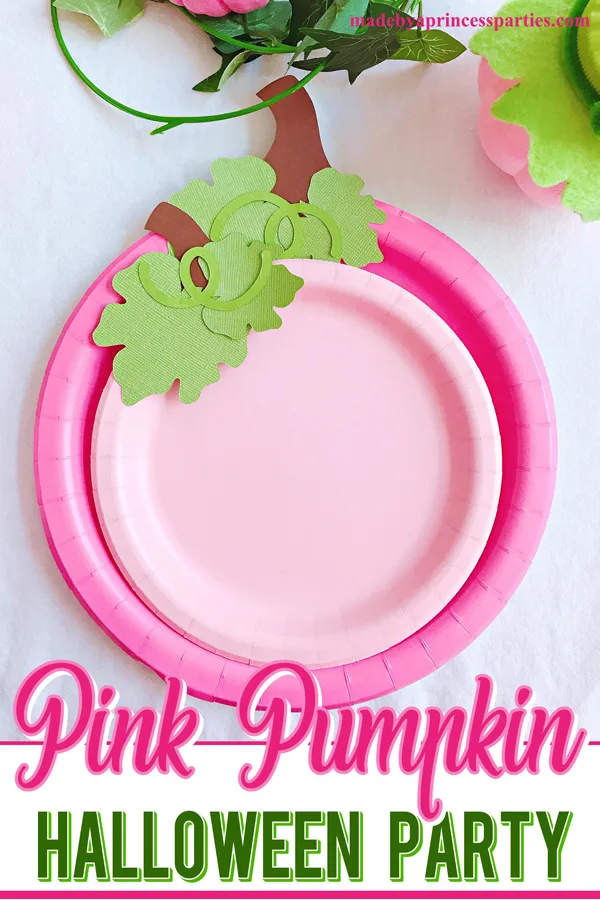 In this house we don't just celebrate Halloween…we celebrate Pink-O-Ween! A Pink Halloween Party is perfectly pink in every way.
Celebrate Pink-O-Ween with a Pink Party!
I love Halloween, mostly because I love making costumes for my kids. I used to make really elaborate costumes for myself…but then I had kids.
Pinkalicious Inspired Party
I wanted to make a pink splash to welcome Halloween so I threw my daughter a Pinkalicious inspired Pink Halloween Party! The decorations were pretty simple and since it was a little later in the day I served snacks instead of a full meal. My daughter was tickled pink and couldn't wait to greet her friends!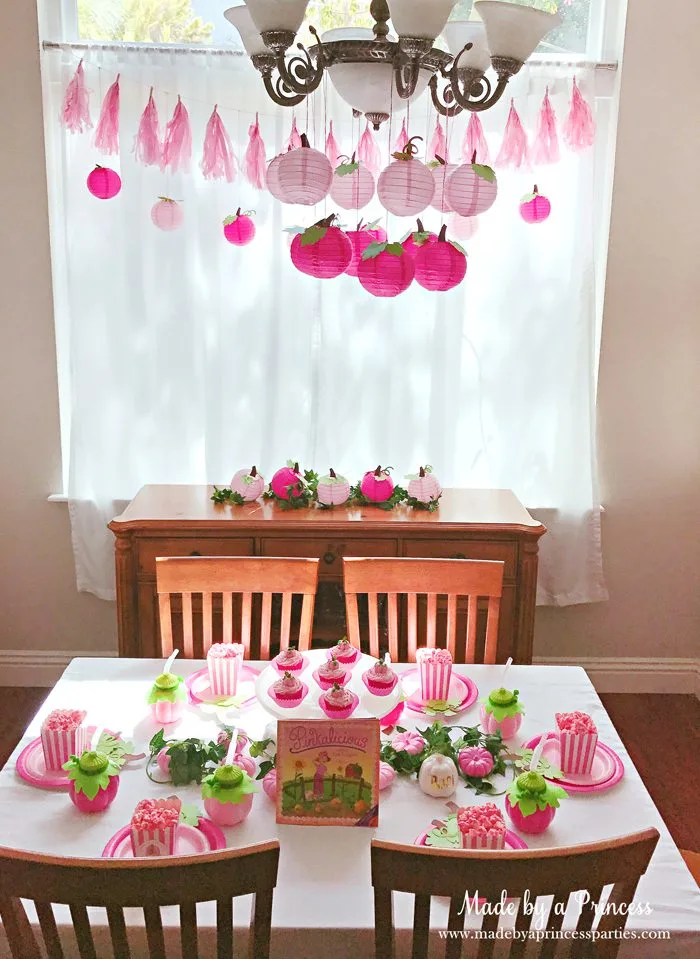 I had already decided on a pink pumpkin party theme when I found this Pinkalicious book by Victoria Kann. It was so perfect! It was definitely meant to be that we have a Pinkalicious Party!
We are big fans of Pinkalicious books…because…well, pink. You can start the party by reading the book…it's one of our favorites!
Normally I would go all out and make matching Pinkalicious party invitations but I opted not to and sent a cute text instead. I totally made up for it with all the pink pumpkin DIYs though!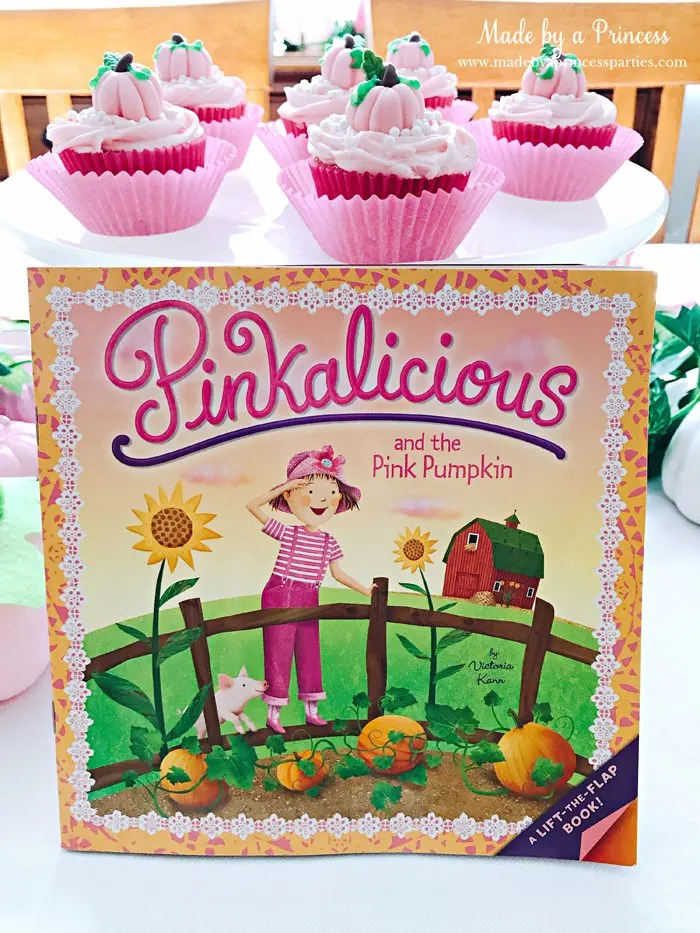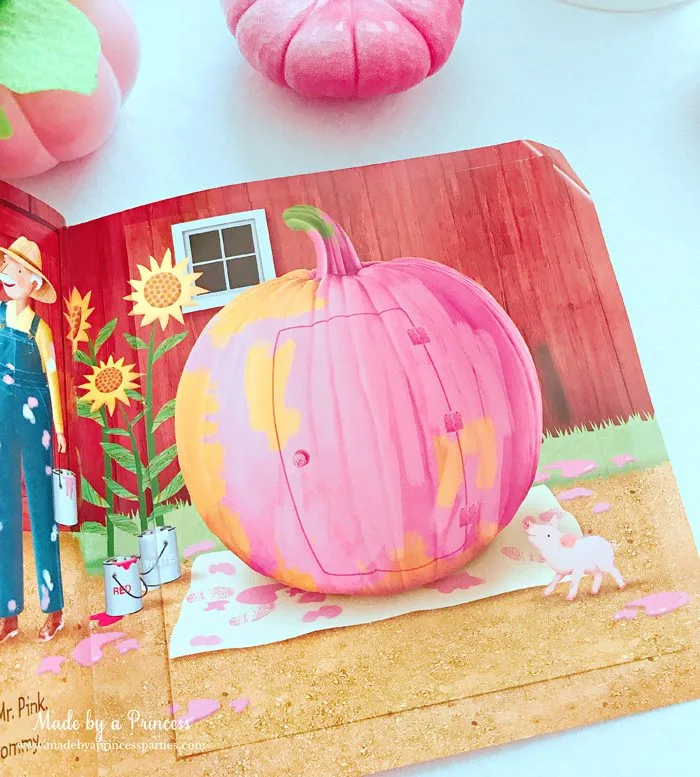 Pink Halloween Party Ideas
Make Pink Pumpkins Out of Paper Lanterns
Make pink pumpkins out of mini paper lanterns in pink and hot pink. Cut some leaves using my paper cutting system like Silhouette or Cricut.
If you cannot find small pink paper lanterns you could easily make a pink balloon garland and tape leaves to the top of each balloon.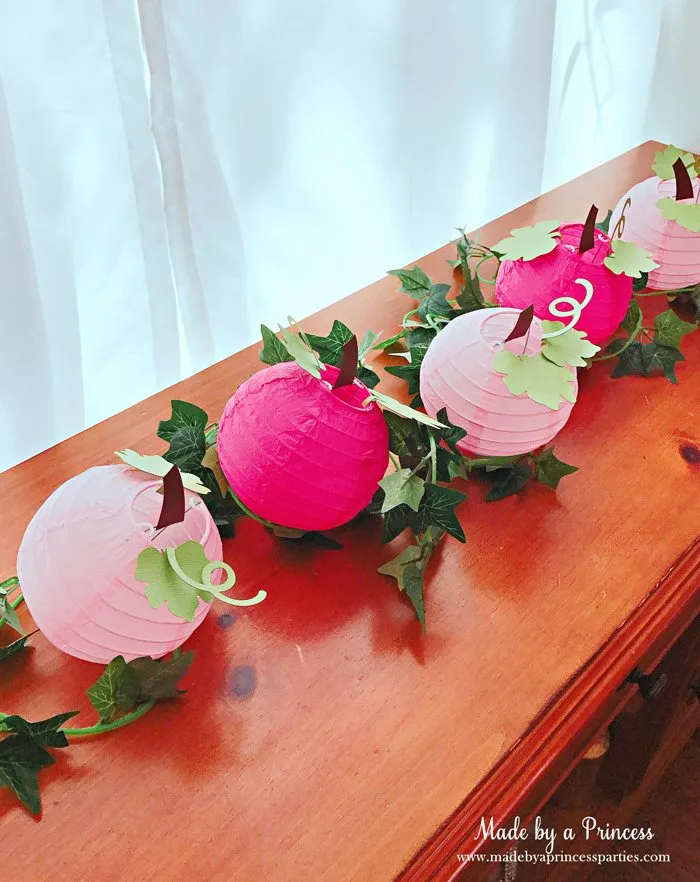 Hang mini pink pumpkins from a chandelier over the table.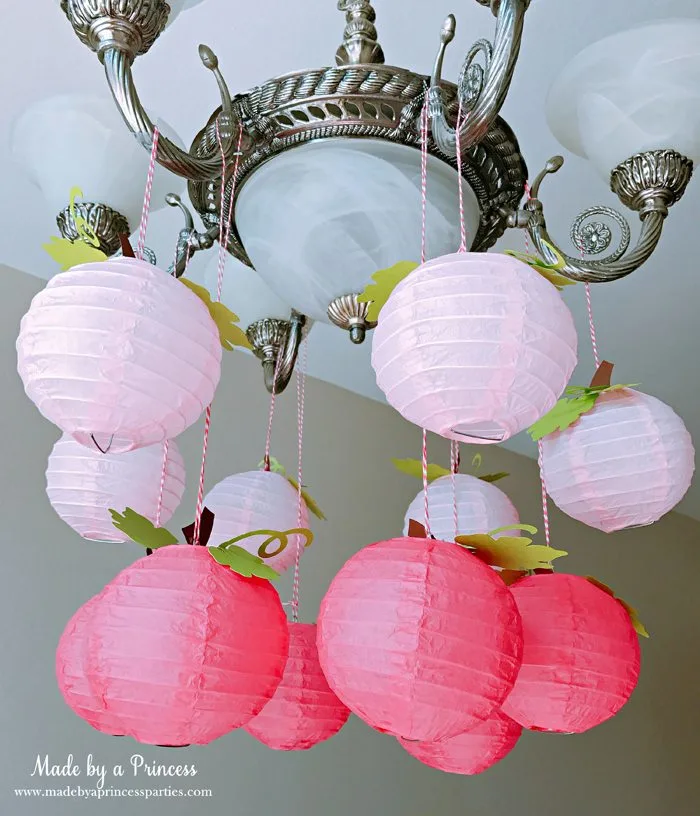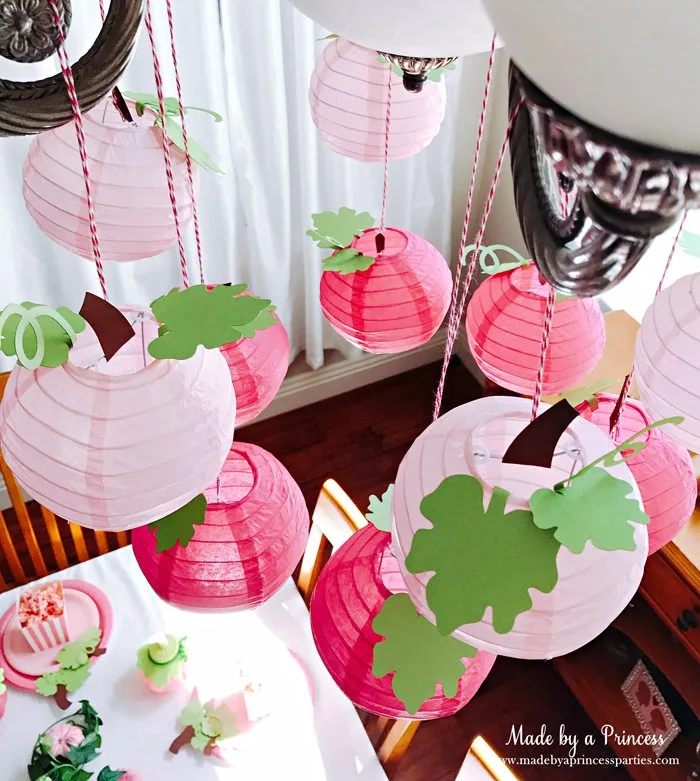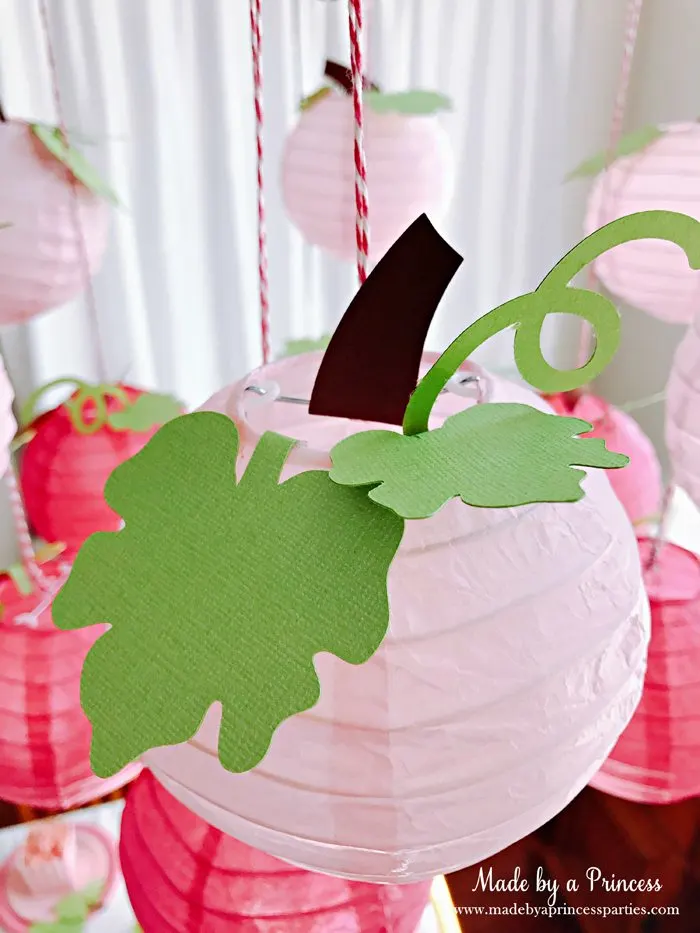 Spray paint mini pumpkins from the grocery store in two shades of pink and set them in a vine garland from Oriental Trading Co.
Pro Tip:
In order to avoid getting paint on your tablecloth glue a small piece of felt on the bottom of the pumpkin once it has dried.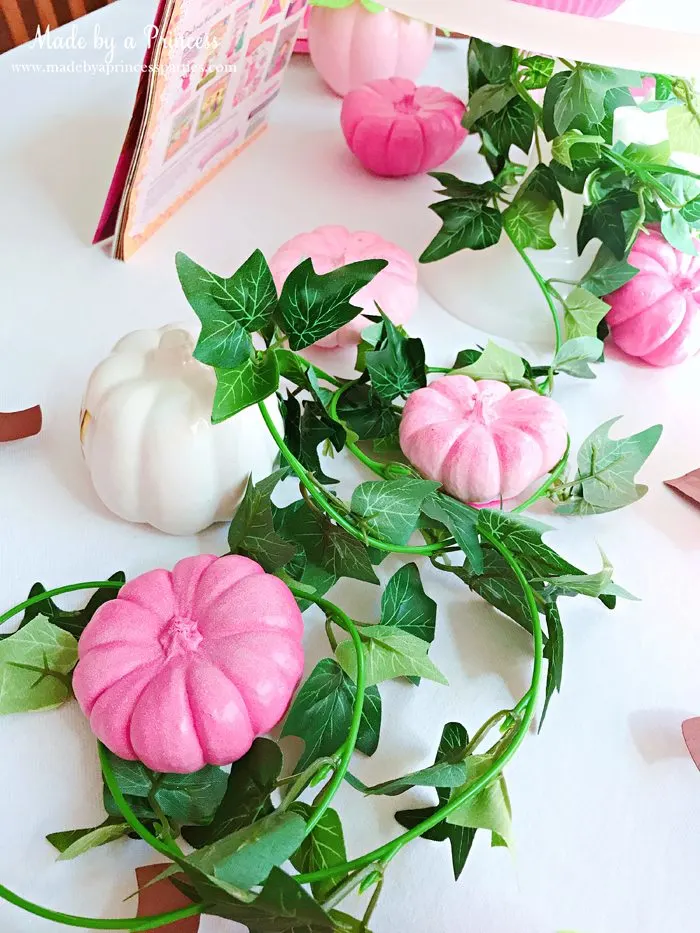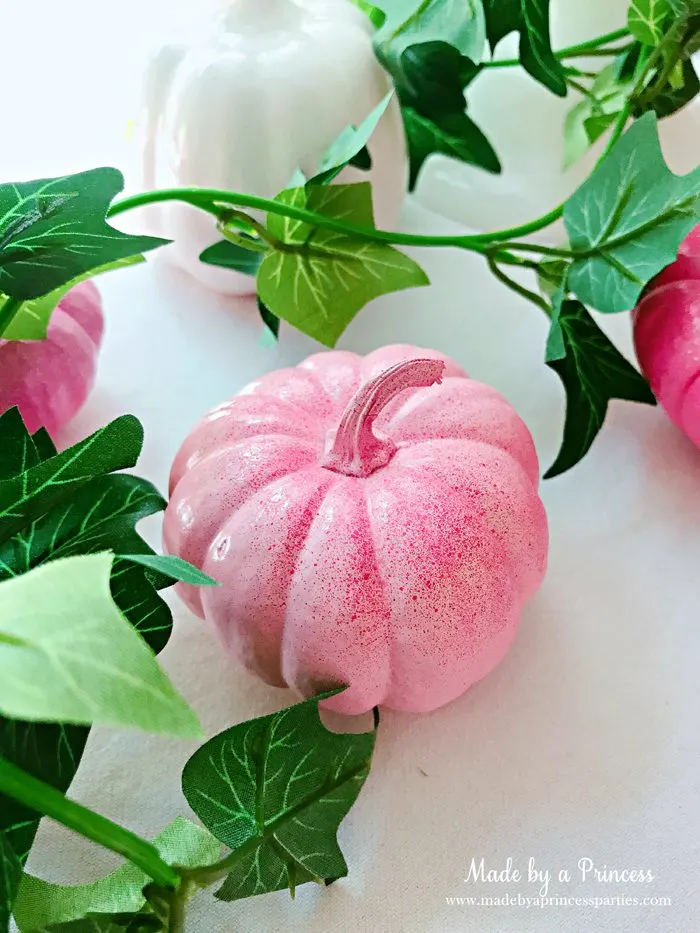 Create Pink Pumpkin Plates Out of Plain Paper Plates
Create your own pink pumpkin plates by adding paper stems, leaves, and vines to plain pink plates.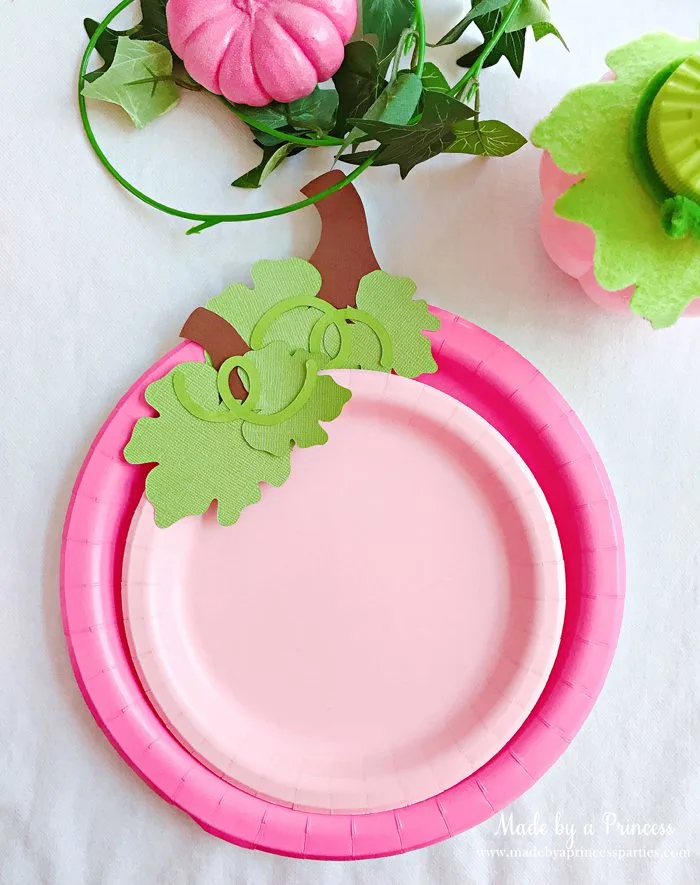 Serve Pink Chocolate Popcorn
Chocolate popcorn is always a hit at parties! Fill a pink striped popcorn box with pink chocolate popcorn covered in sprinkles.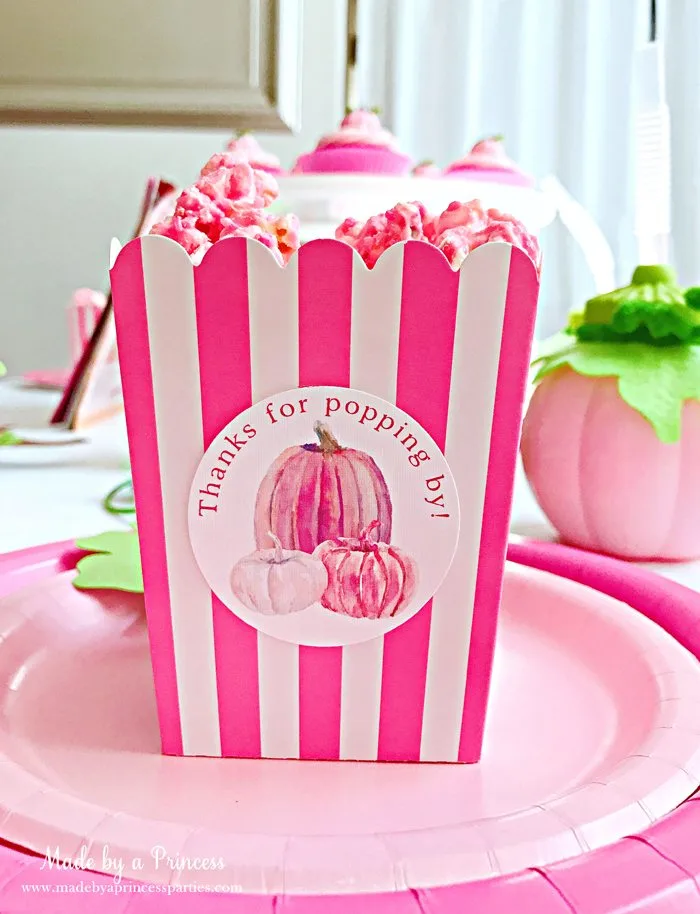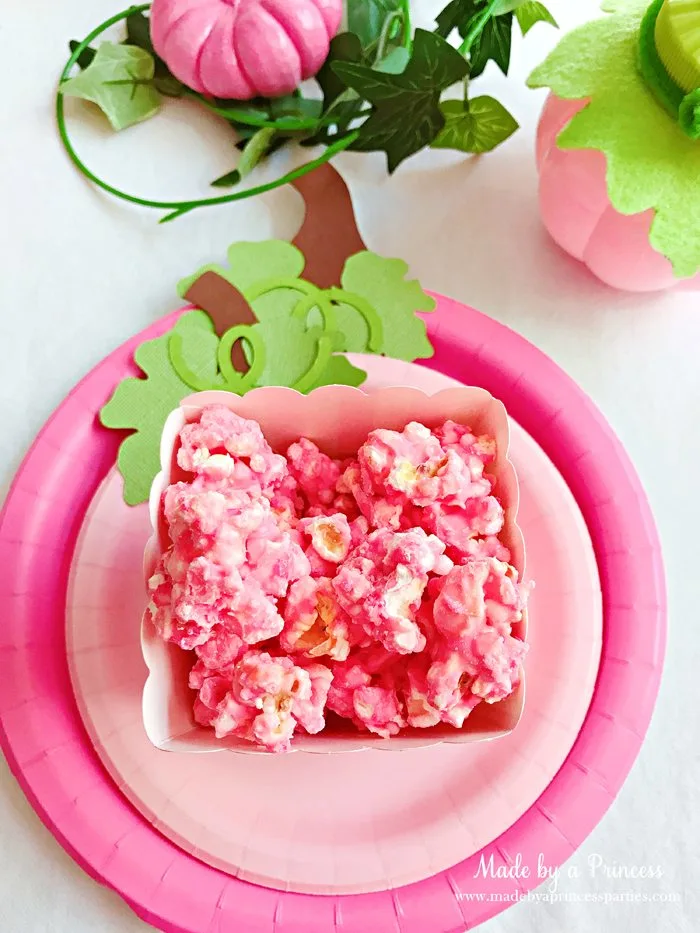 Make Pink Pumpkin Sipper Cups
Paint molded pumpkin cups from Oriental Trading with pink spray paint! Cut out pumpkin leaves from felt and finish with a green pipe cleaner to look like a vine.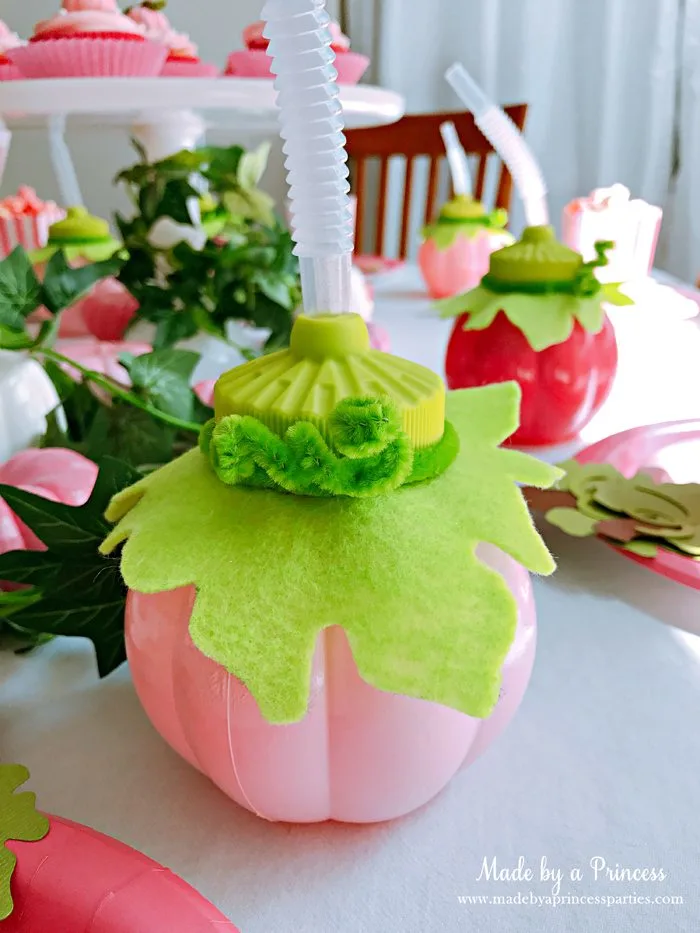 Pink cupcakes are a must at a pink girls Halloween party! Make pink candy pumpkins out of fondant and stems out of Tootsie Rolls. Create vines with Wilton Sparkle Green Gel and finish with a candy leaf.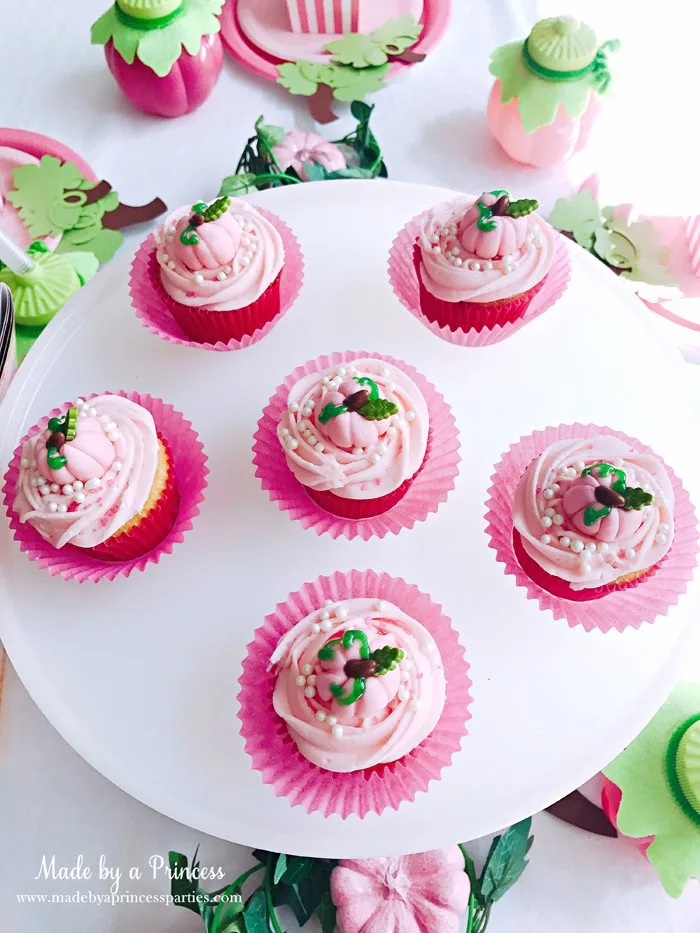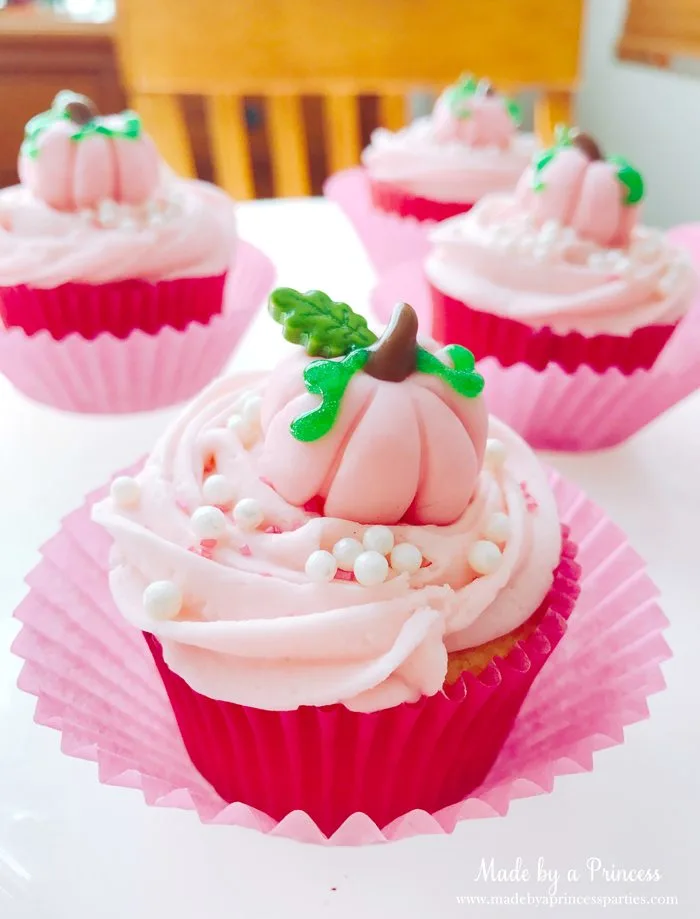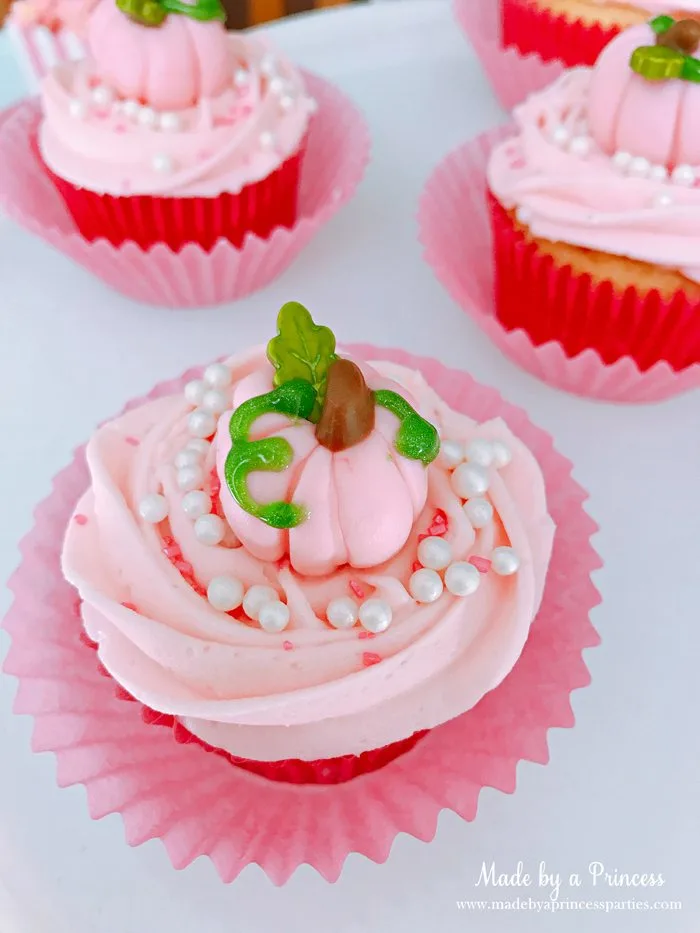 Super simple food table.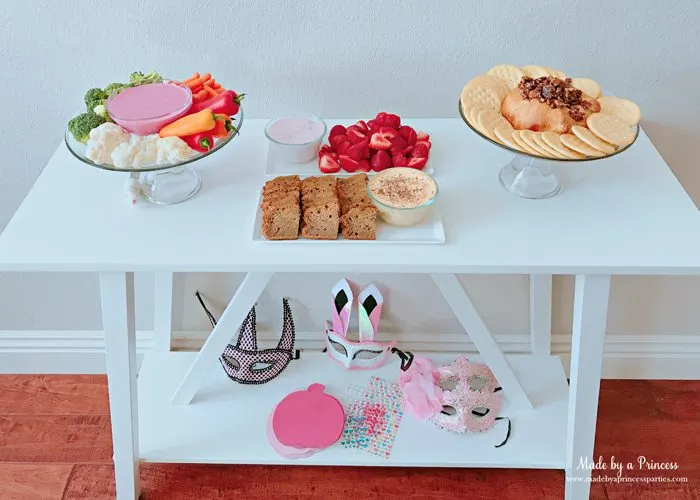 Serve Pink Food at a Pink Halloween Party
I really wanted something pink so I created a sweet beet yogurt dip. The girls weren't too sure about this one but the moms liked it.
Recipe: Beet yogurt dip is very easy to make. Place a 1/2 cup of plain Greek yogurt in a small food processor, add 1/4 cup canned beets, 1/2 tsp salt, and 1 tsp lemon juice and puree.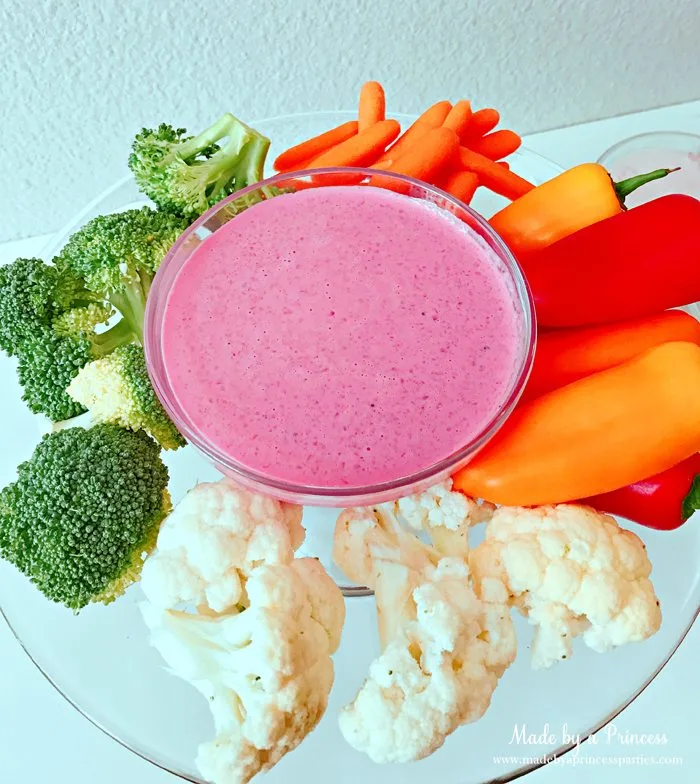 Strawberry fluff dip with fresh cherries and strawberries for dipping.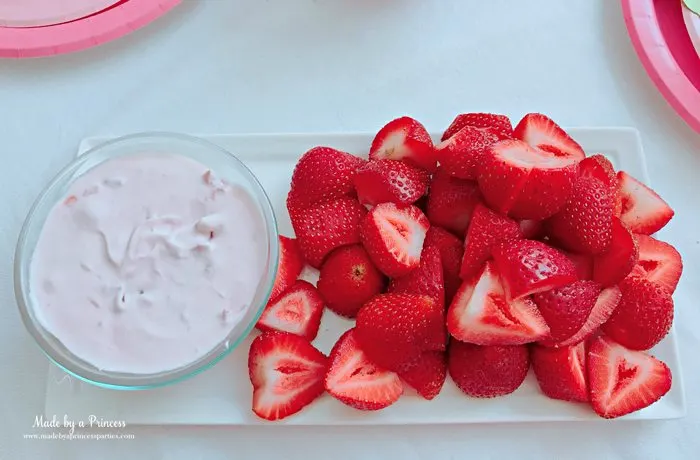 Pumpkin banana bread with pumpkin pie spread.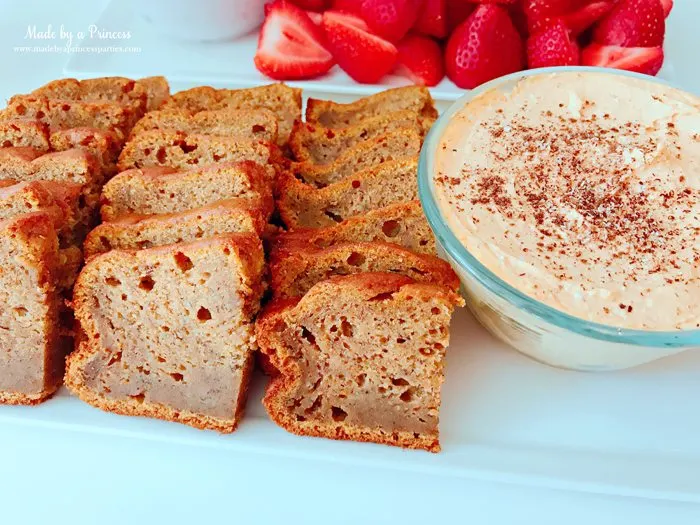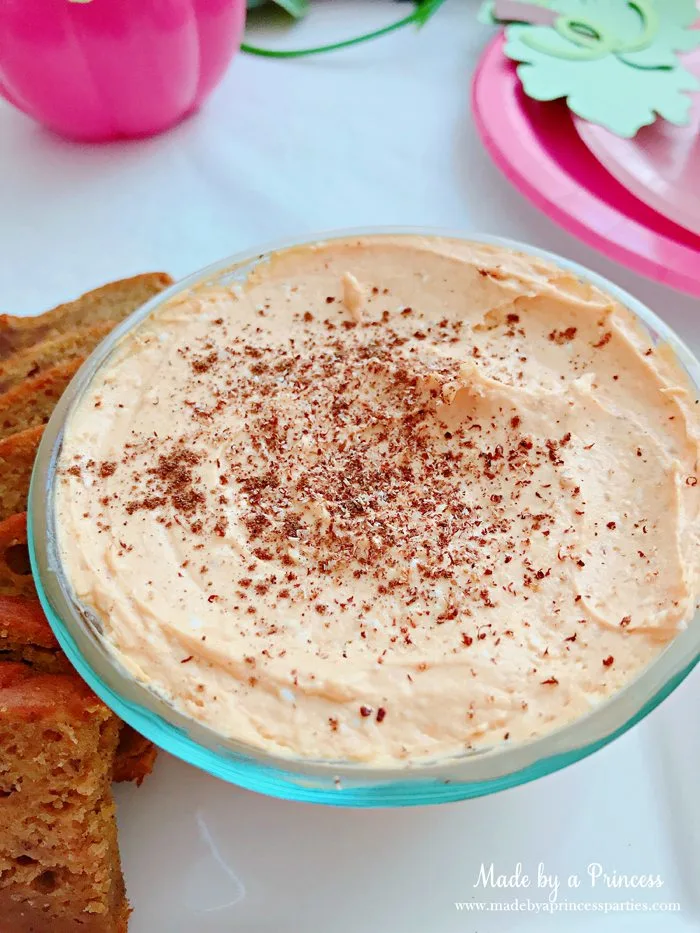 Brie wheel with candied pecans.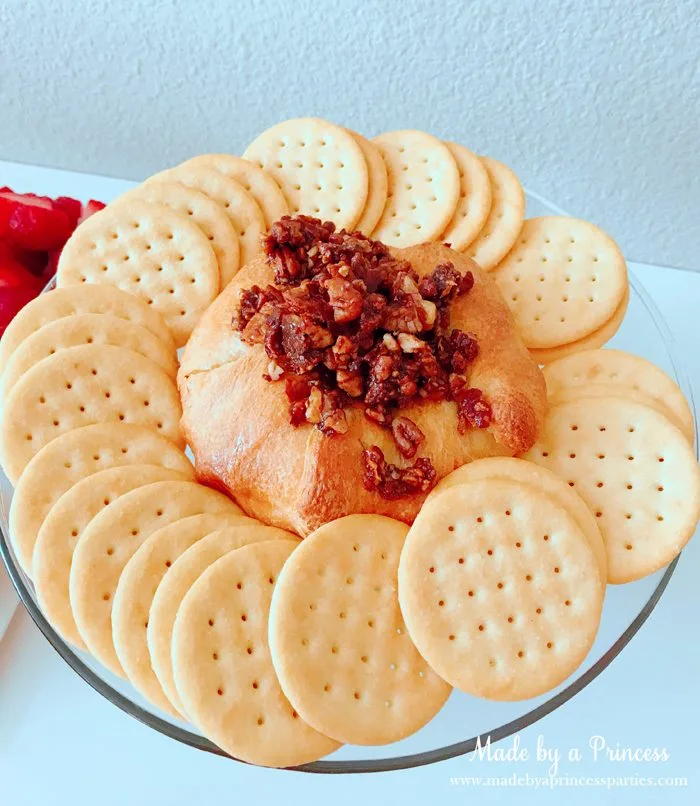 Paint wooden pumpkin shapes from Oriental Trading and then have guests decorate them.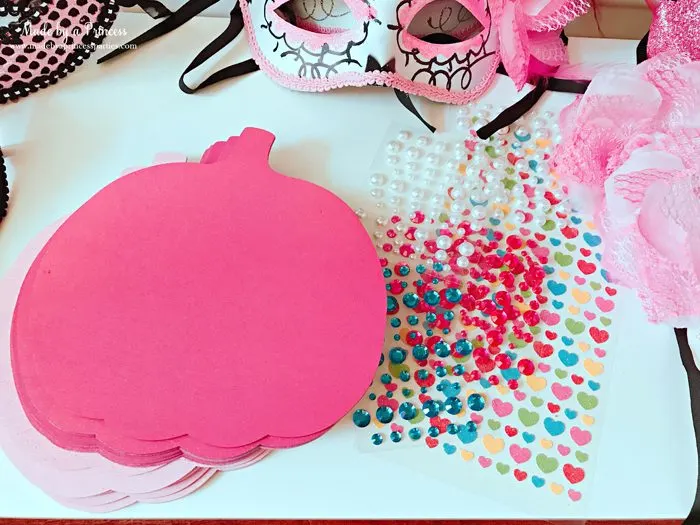 I found a bunch of cute pink masks at a local dollar store. Each girl had a different mask that showed off their personalities.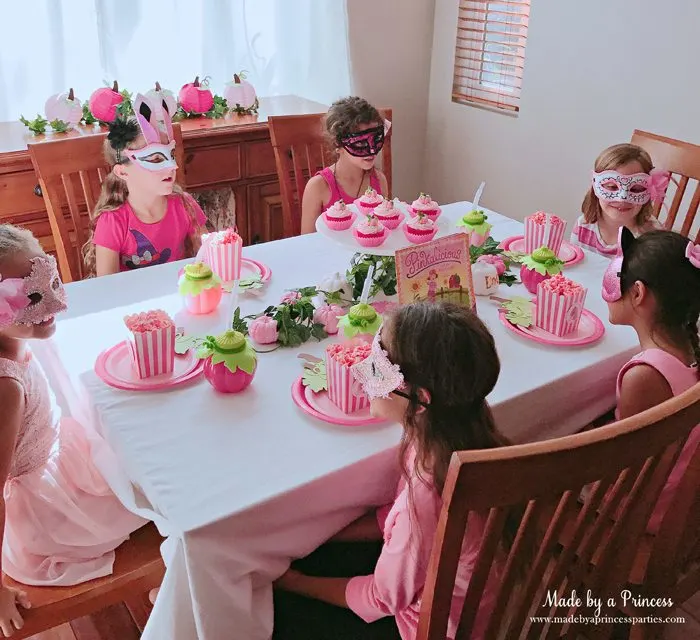 "Cheers!"…it's so much cuter when you cheers with a pink pumpkin cup! These girls had so much fun talking about their Halloween costumes, trick or treating, Halloween games they wanted to play, bobbing for apples (and how yucky that sounds), and how much fun Halloween is because they get to eat #allthecandy.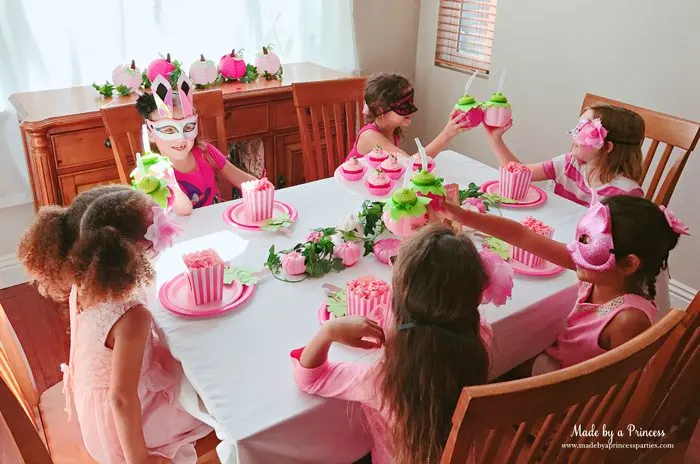 I always have bling stickers on hand so each girl got a stack of pretty bling to decorate their pumpkins with.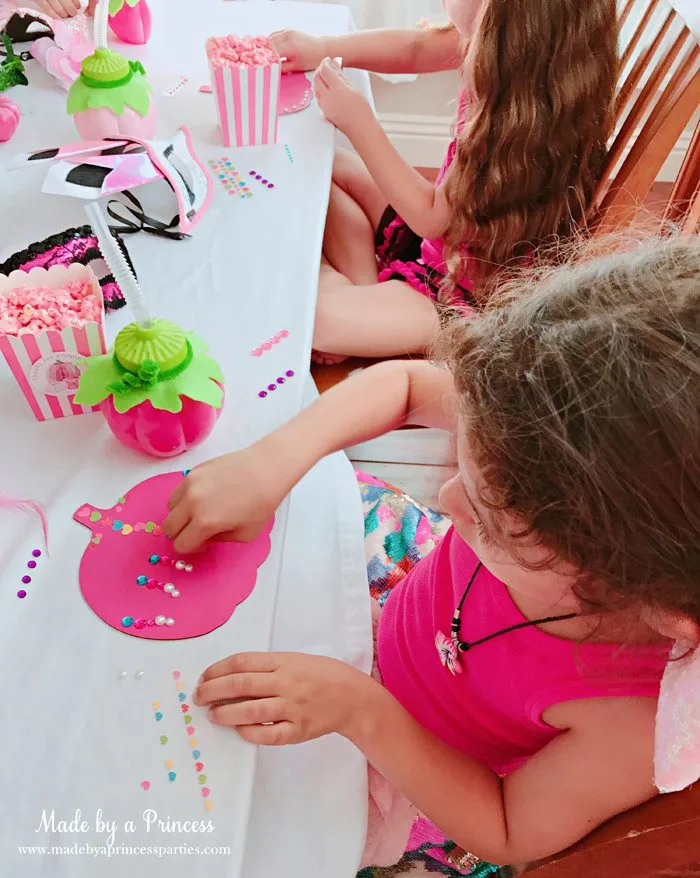 Silly girls having fun with their masks.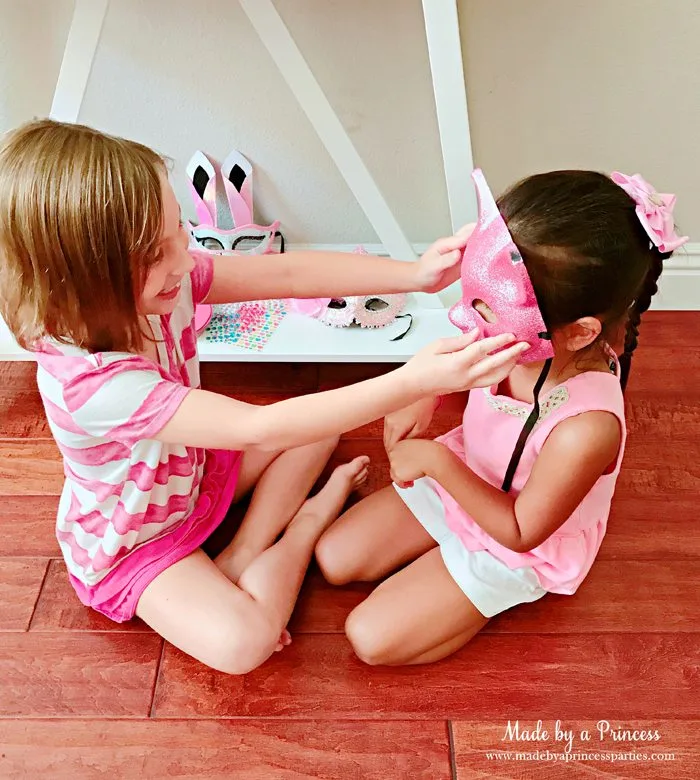 Pink Halloween Party Favor Ideas
Send your guests home with a bag full of all their party favors: pink masks, pink wooden pumpkin, pumpkin sipper cup, and pink chocolate popcorn Halloween treats.
Have a Pinktastic Halloween With a Pink Cherry on Top!
Ok, maybe not a cherry on top…how about pretty please with a pink pumpkin on top?! I hope you enjoyed our Pinkalicious inspired Pink Pumpkin Halloween Party! If you have an October baby this would be perfect for a birthday party theme.
Oriental Trading Co provided me with some products but all opinions and thoughts are my own.