My mom gave me this recipe and said I HAD to try it.  Rum? Good.  Cake? Good.  Butter?  Good.  I'm in!  This cake is so moist and so flavorful it's sinful.  I made this for my friend Marisa and she loved it and then I made it again for my Favorite Things party and it was a hit.  My friend Andrea took some home to share with her boys and she texted me the next morning and admitted she ate the whole thing with coffee for breakfast…good girl!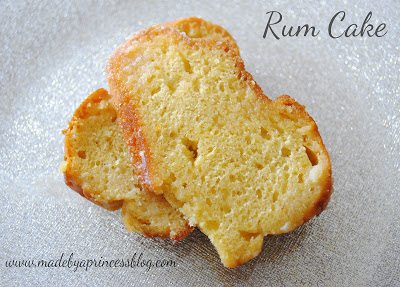 Bake 350
35-40 minutes

Ingredients:
1 box yellow cake mix (I used Betty Crocker Super Moist)
1 small box vanilla instant pudding
4 large eggs
1/2 cup water
1/2 cup rum (Krakken spiced rum recommended)
1/2 cup Wesson oil

Directions:
Put all ingredients in a bowl and incorporate together with a hand mixer.  Mix for 3 minutes.  Pour into a very well greased and floured bundt pan.  Now, you don't have to use a bundt pan but my mom and I both agree that this is the kind of cake that just needs to be in a bundt pan.  Make sure you get all the nooks and crannies covered with butter so that your cake pops right out.  Bake until golden and cooked through until a toothpick is clean.  When you take it out of the oven it will be domed but it will deflate and be perfect.  Once the cake has cooled turn it over onto a pretty plate for serving.  I took a long toothpick and poked holes all around the top and sides so that the glaze could get into the cake.

Glaze:
1 4oz stick salted butter
1/8 cup water
1 1/2 cups sugar
1/2 cup rum for later

Directions:
Boil over medium heat until butter and sugar are melted.  Remove from heat and add the 1/2 cup rum, mix well.  Pour slowly and carefully over the cake.  You won't use all of the glaze on a bundt cake but I ended up putting a bowl with the remaining glaze out with the cake so guests could add more glaze to their slices.

Enjoy!