Create a beautiful Easter centerpiece with a bright and festive table runner, terrariums, and moss. Check out these Easy Easter Entertaining Ideas.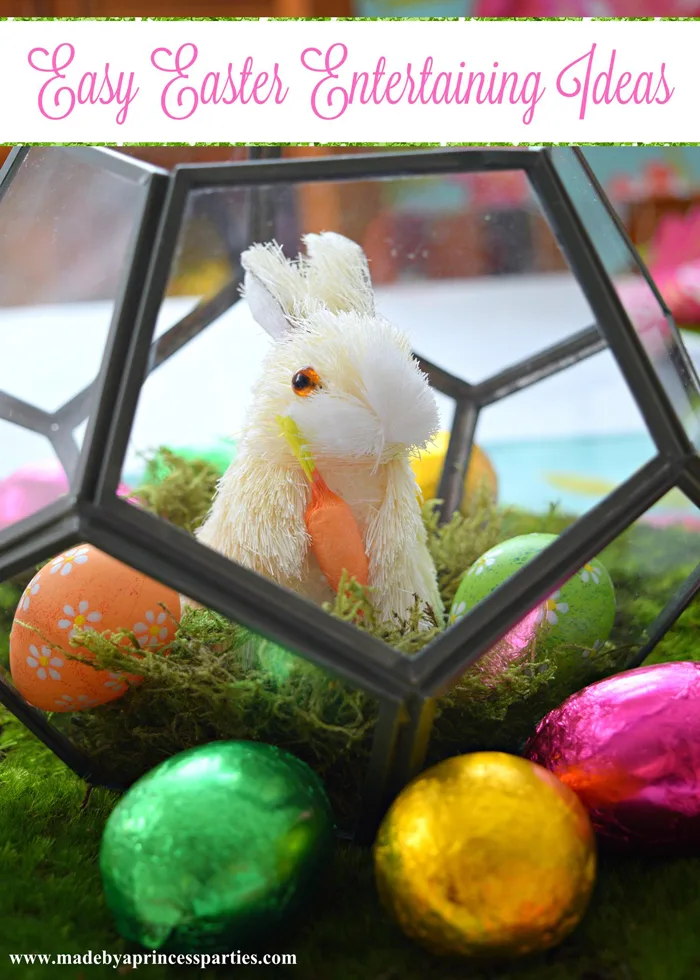 Need some easy Easter entertaining ideas? I'm sharing how to decorate your Easter table this year with bright aqua & pink florals and terrariums.
*this post contains affiliate links
Easy Easter Entertaining Ideas
Easter Traditions
I've always loved Easter. I remember running downstairs to see what the Easter bunny brought, getting dressed up for church, bringing flowers from our garden for the cross, and eating Honey Baked Ham. Sometimes we would go out to eat but no matter where we went I made a beeline for the honey ham. It's just not Easter without honey ham! Well, that and dyed Easter eggs. A few days before Easter my kids and I will decorate eggs together but this year I decided to introduce a new tradition…decorating marshmallow bunnies! This is definitely an easy Easter entertaining idea!
Here is a collage of my table in progress…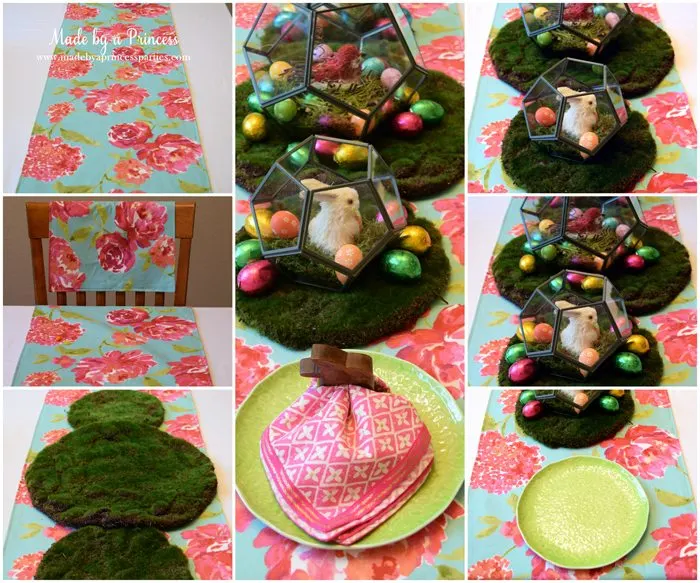 Start with a white tablecloth and add the Aqua & Pink Floral table runner. Placemats aren't only for setting plates on…they also make great chairbacks. Use some double stick tape on the chair so they stay in place.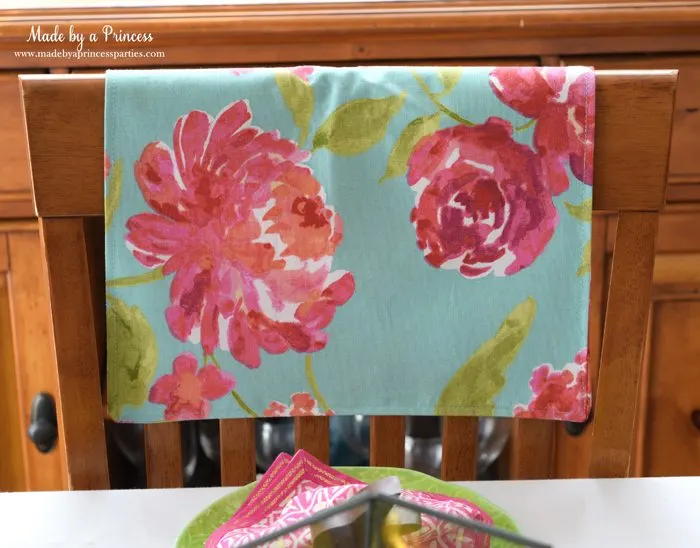 DIY Centerpiece
We typically have fresh flowers on our Easter table but I really like the geometric terrariums. They look really pretty sitting on moss mats. Fill the terrariums with moss, painted eggs, and a few little Spring time friends.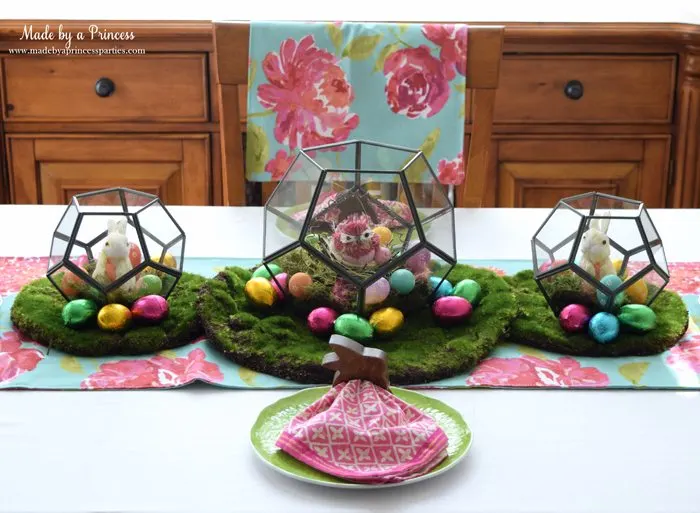 It's a pink bird…I had to have her!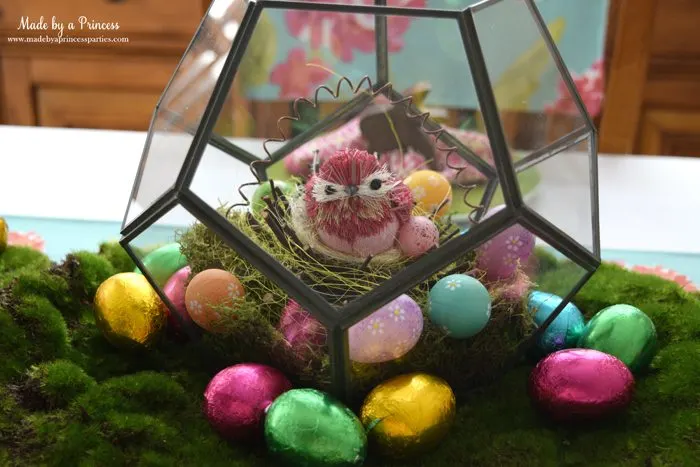 Fun Fact: How is Easter Determined?
Do you know how Easter is determined? My son asked me this question as we sat down to decorate our marshmallow bunnies so I thought I'd throw this fun fact in here. The date of Easter Sunday shifts every but it is typically the first Sunday after the first Full Moon occurring on or after the March equinox. According to the Bible, Jesus Christ's death and resurrection occurred around the time of the Jewish Passover. This is celebrated on the first full moon following the vernal equinox. The vernal equinox is fixed as March 21 so Easter can never occur before March 22 or later than April 25. Interesting right?!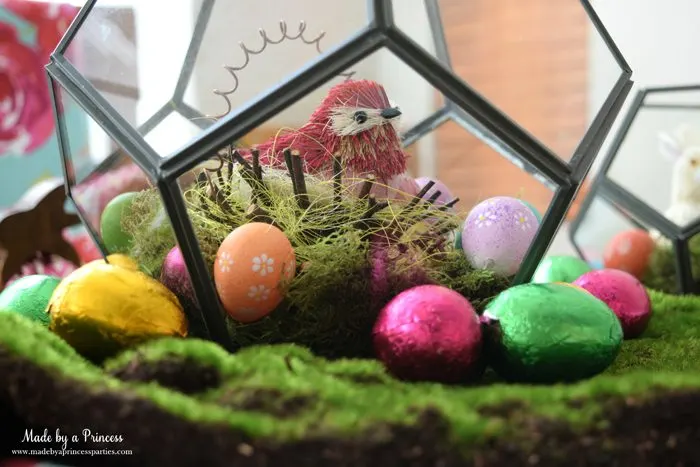 Next, place some colorful Riegelein hollow chocolate eggs on the moss for a pop of bright color.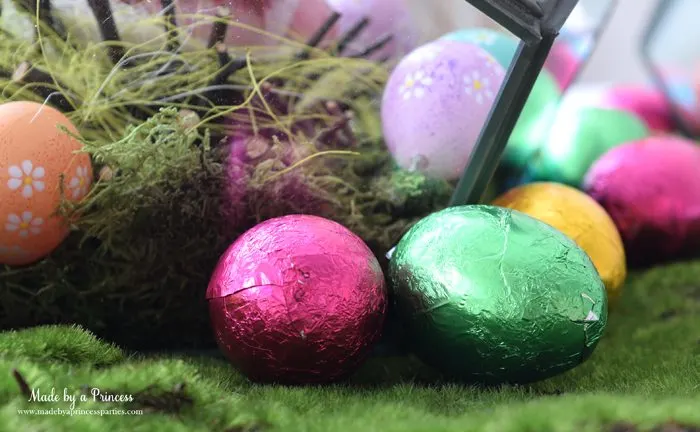 Choosing bunnies can be really hard because there were so many cute ones. This one is too sweet…she looks like she is cuddling her carrot.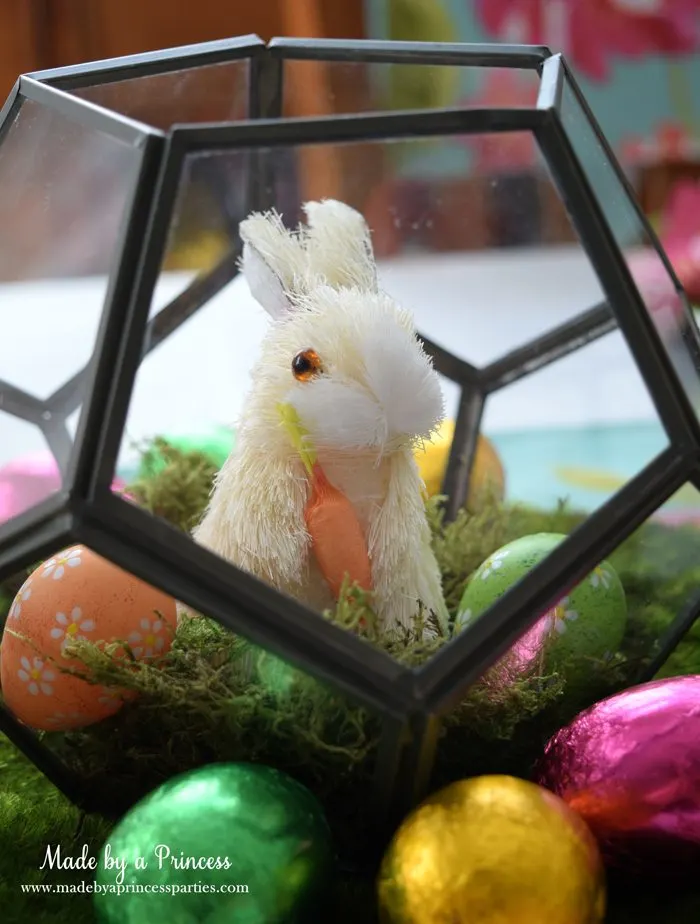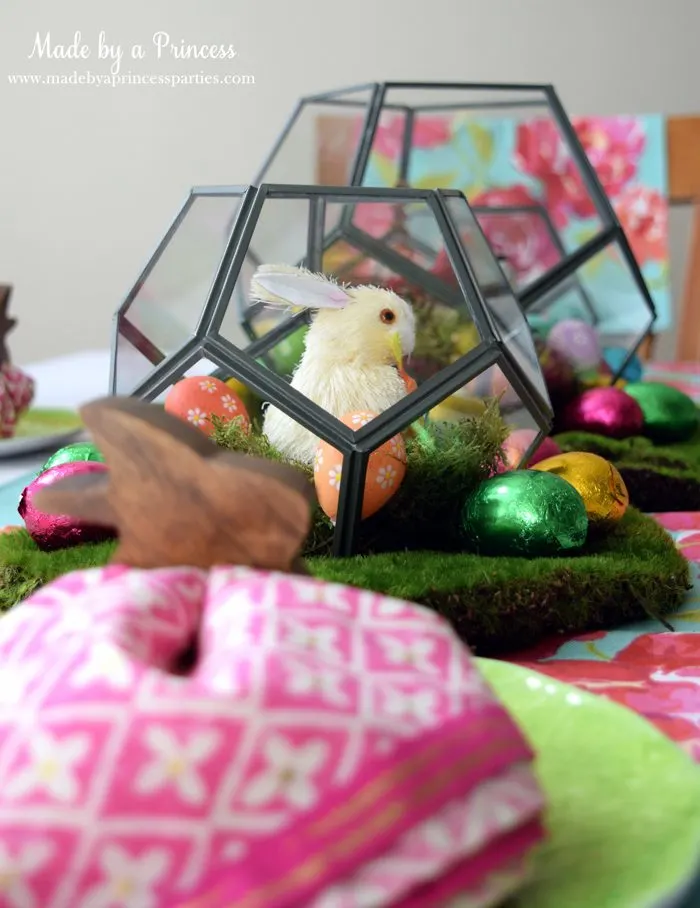 Next, add these bright green 9″ Aegean melamine plates. They match the table runner perfectly. These pink Foil Geometric Sheila Napkins are a bright happy pink and I love the gold trim.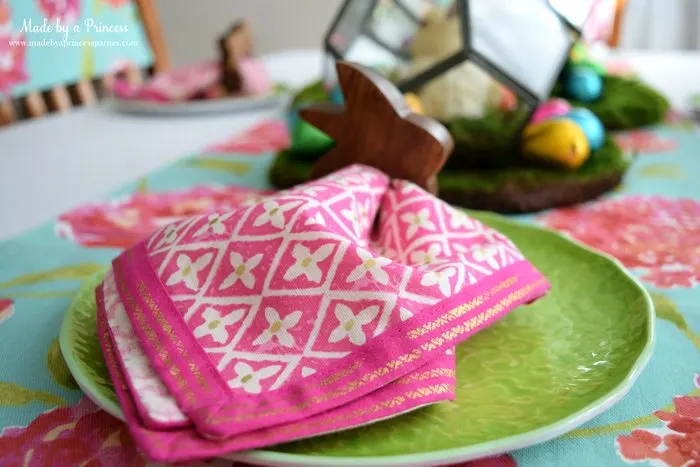 Finally, add a pretty napkin and napkin rings. The wooden bunny napkin rings are adorable!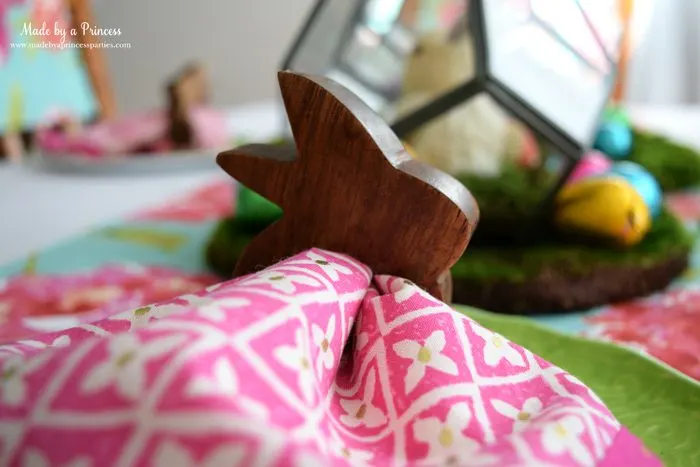 This is such a happy looking Spring table…I love it!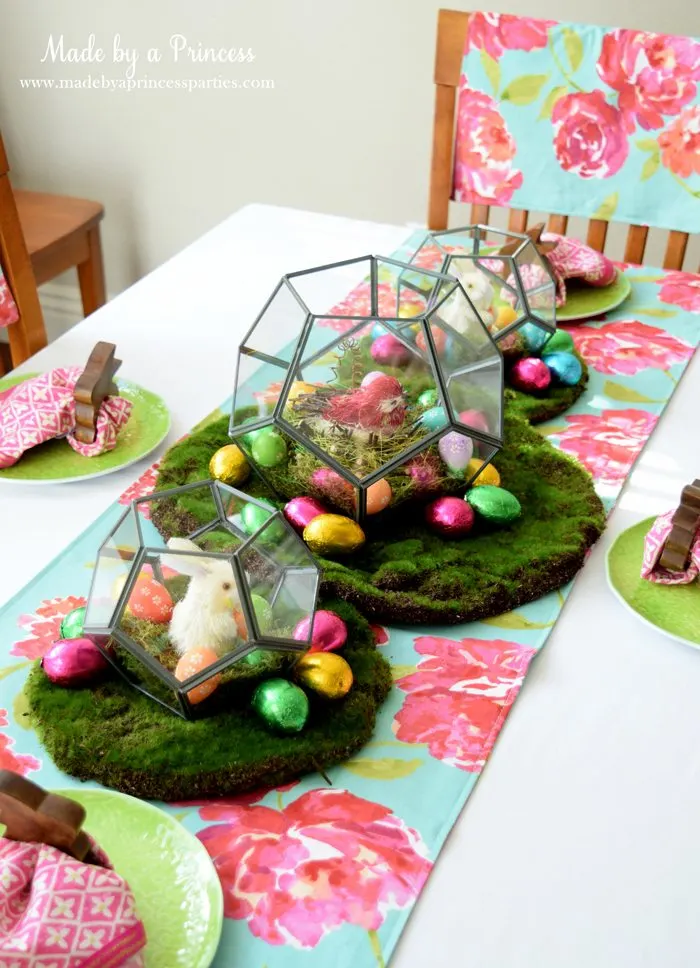 Shop the post
Want more Easter ideas?

I hope you enjoyed some of my Easy Easter Entertaining Ideas. This table took about 30 minutes to put together and I am so pleased with the way it all came out. The colors are bright and cheery…the perfect way to welcome Spring.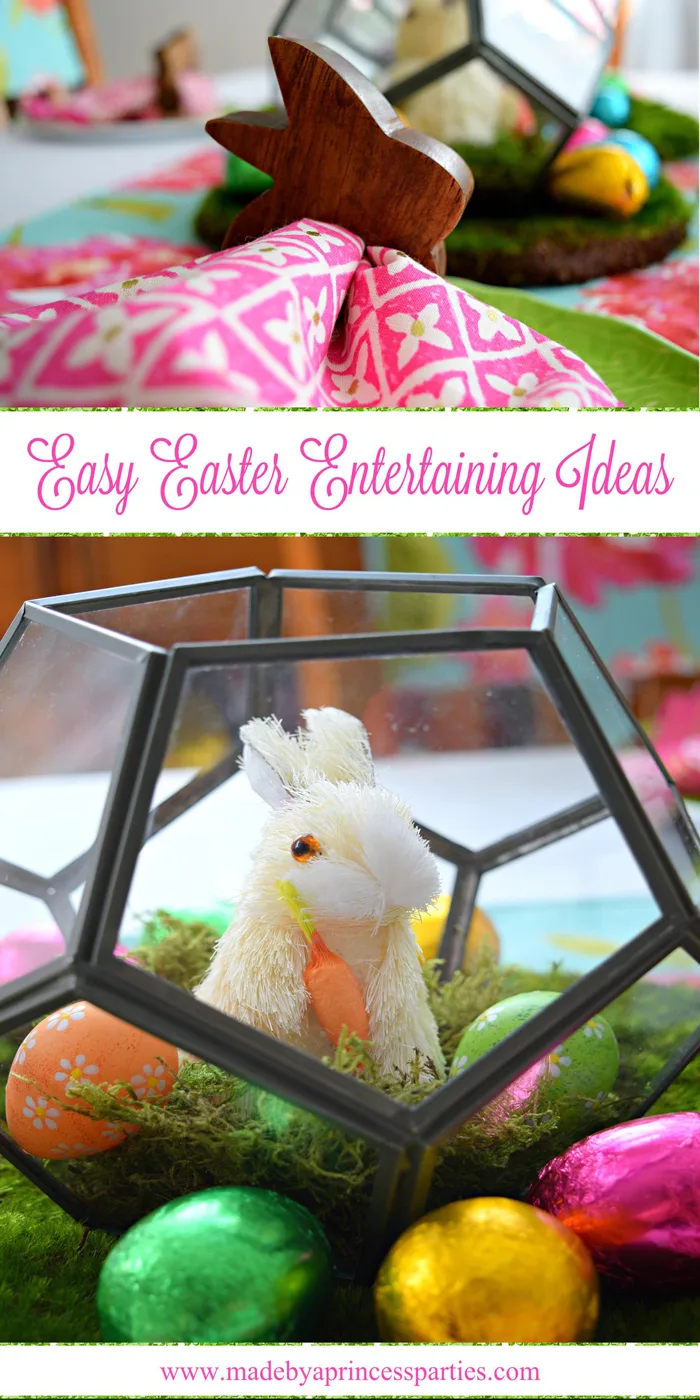 This post sponsored by World Market. All opinions are my own.
Originally published: 3/23/18
Updated: 3/27/19