Unicorn anything especially unicorn milkshakes. Step into my castle and I'll tell you all about my Cotton Candy Unicorn Milkshake Party Food Recipe.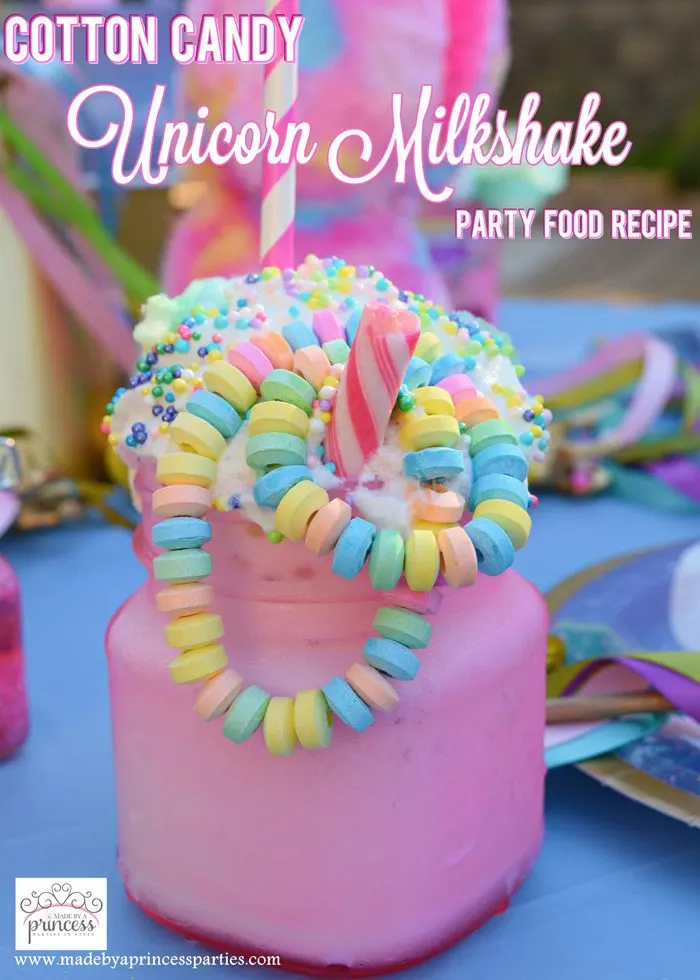 Want to feel like a total MomHero at your next unicorn party? Serve unicorn milkshakes…seriously. The moment I brought these out my little guests were squealing, clapping, jumping up and down. Unicorn anything is going to be a hit but unicorn milkshakes? Yaaaaas darling. Step into my castle and I'll tell you all about my Cotton Candy Unicorn Milkshake Party Food Recipe…
Unicorn party food idea
I have done quite a few party photo shoots in the past year and have loved each one for different reasons. Trolls was awesome because I couldn't wait to see the movie with my little girl and Shopkins was near and dear to my heart because my little was so into it. This unicorn one though…oh I really really really love this one. The colors are dreamy, the decorations so much fun, there was a unicorn sitting on a cloud on the table, and the food. Oh my goodness I had so much fun with the food!
I knew as soon as I got this theme I was going to go big and have fun. I also knew there wouldn't be a single healthy thing on the table. It's a unicorn party…calories don't count.
Unicorn milkshake ingredients
Unicorn milkshakes are awesome. They are decadent and over the top and completely obnoxious but they're so fun to make. Here is what you are going to need before you get started:
Vanilla Ice Cream, Milk, Sugar, & Salt (recipe below)
Whipped Cream
I found these adorable pink mason jars in the dollar spot at Target and I don't think they have anymore but you can use any small mason jar or cup. I wouldn't suggest using anything larger than a 6 or 8 oz capacity because kids really don't drink that much. They are going to eat the cotton candy first, then the candy necklace, and then get to the drink.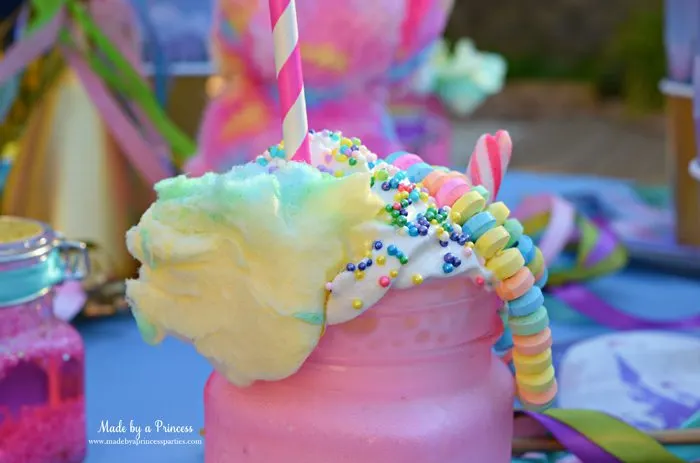 There really is no rhyme or reason to putting these together…I just grabbed my goodies and starting creating. You do have to work really quickly though because the whipped cream starts to melt right away. There isn't any wrong way to decorate these either. Just make them fun and colorful…the kids are going to love it!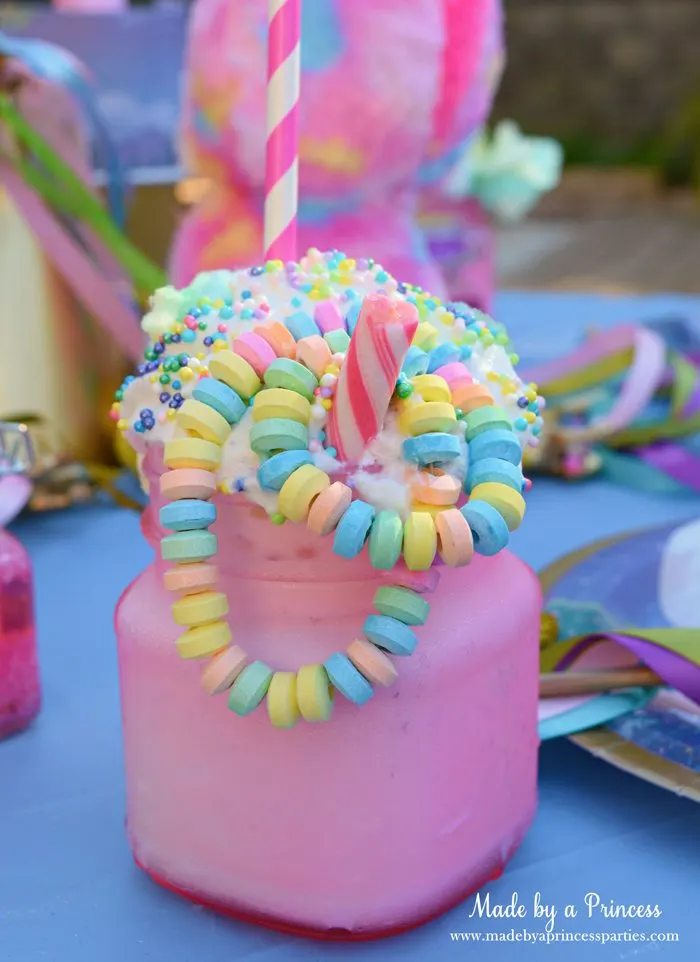 Cotton candy is a must, however. I think that was the favorite part of the whole thing because it was covered in sprinkles.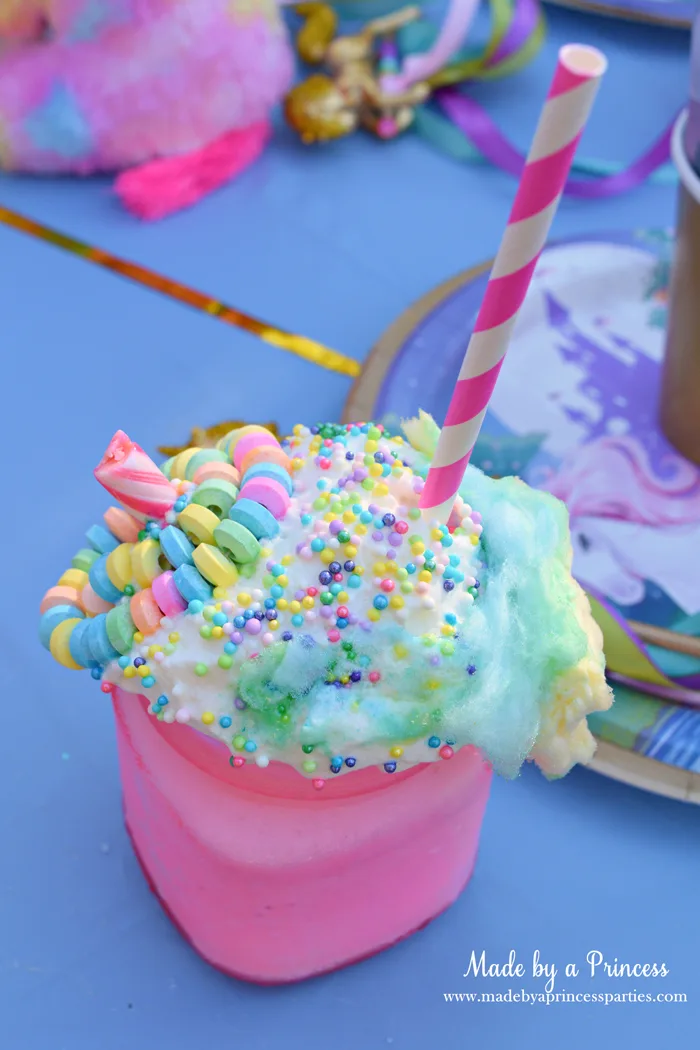 This is my sweet little unicorn party girl. I will be sharing tutorials for this custom hat, glitter hair, and ruffled tablecloth you see the in the back.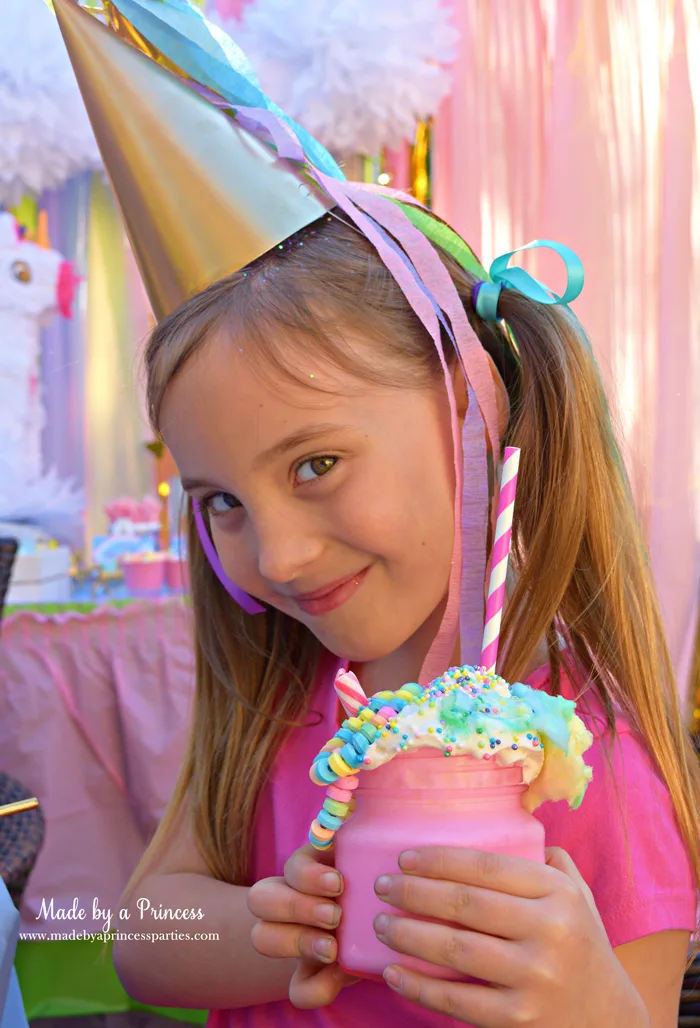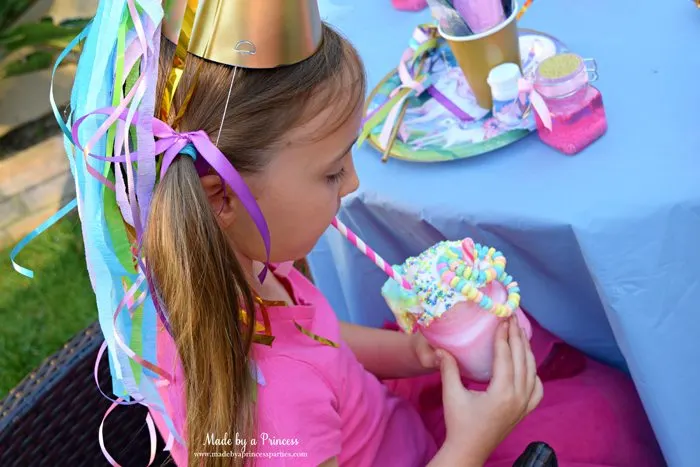 How to make a Cotton Candy Unicorn Milkshake Party Food recipe
Here's a tip from one Party Princess to another…add rum…just putting it out there…
I hope you enjoyed my Cotton Candy Unicorn Milkshake Party Food Recipe…now get out there and make yourself a batch!