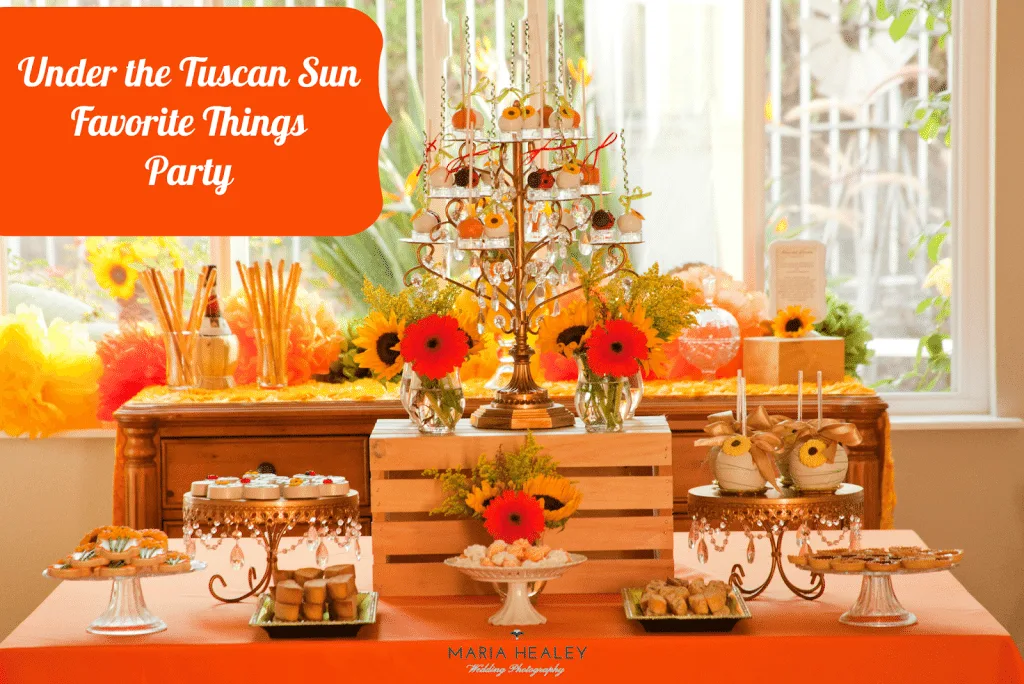 One of the things I look forward to most every year is my Favorite Things Party. The first year was a colorful rainbow theme, then I did another that Christmas, and last year the theme was Marie Antoinette. One of my favorite things about Favorite Things is I get to see friends, family members, and sorority sisters that I may not see very often. "Under the Tuscan Sun" is one of my favorite chick flicks. I love the scenery with all the sunflowers. To me it's not a story of divorce but of freedom, liberation, and finding one's true self. I had so much fun preparing for my "Under the Tuscan Sun" inspired party and hope you find some Italian inspiration here too.
It started with the Limoncello. I have made my own Limoncello before and I have to say it's pretty darn good. This summer I had some girlfriends over for a "Make Your Own Limoncello" party and we had so much fun. Limoncello, at least my recipe, takes about two months to prepare. Believe me, it's worth it! Mine actually set for about three months…so good! I found small bottles online, made some labels, and added a bright yellow fabric square to finish the look. Your guests will love you if you send them home with homemade Limoncello!
All of the beautiful photos you see here were taken by my very good friend, Maria Healey. She is a spectacular photographer and I am so grateful she flew here to be with us and to capture all of these moments. Thank you my friend!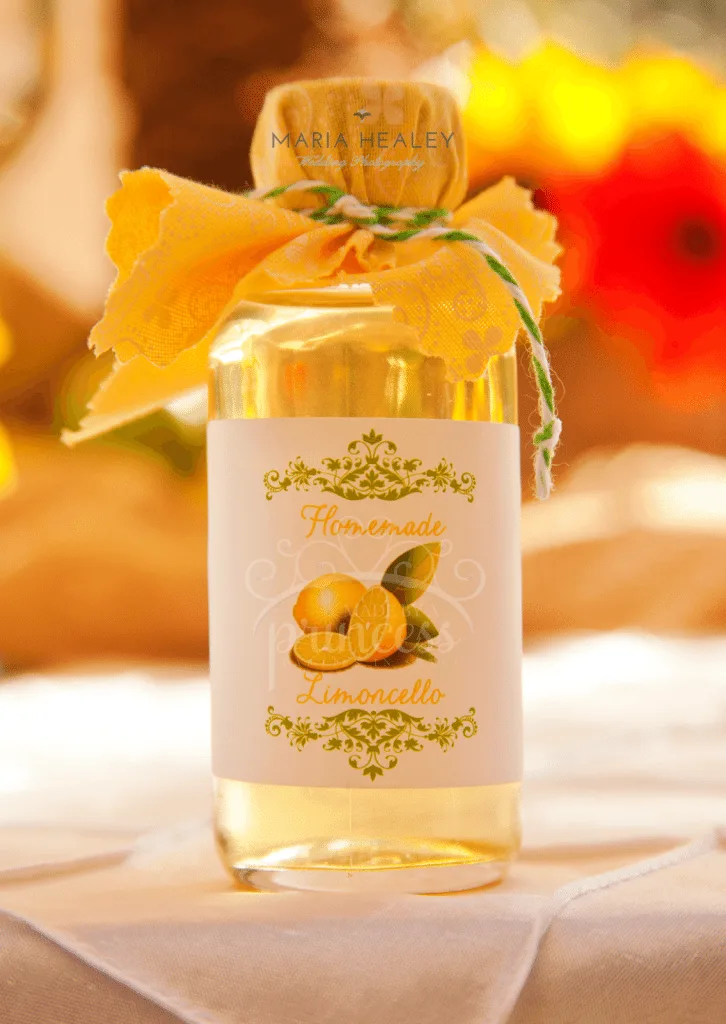 My guests walked in and were greeted by this "Welcome" sign I created with my Silhouette Cameo. I had some sunflowers left over from my wine glass project so I added a few to go with the overall sunflower theme.
October in Southern California is still pretty nice so I set up the tables outside under the pergola. It was blazing hot leading up to the party but Mother Nature gave us a break…the weather was perfect.
I kept the tablescape fairly simple with vases of bright sunflowers and greenery, and fresh lemons, oranges, and limes. Koyal Wholesale has the best party decor so it wasn't hard finding all the key pieces I needed for my table there.
The Twig Vases were filled with rocks from Dollar Tree to add some weight and then I added a bright yellow Paper Parasol.
Flowers from my local wholesale floral mart were gorgeous! I wrapped vases from the dollar store in lace burlap.
This chandelier is one of my favorite Craigslist finds! I bought it for $20 last year for my Marie Antoinette party and really wanted to use it again but didn't want it to look the same. Amber Princess Garlands from Koyal were the perfect addition. I just loved how the amber color tied in so nicely with all the yellow and orange and of course, I loved how sparkly they were!
Bright orange, yellow, and green pom poms hung from the pergola and surrounded us in bursts of color. I love that Koyal has so many colors and sizes to choose from.
Pom Poms lined the back of drink bar along the window sill. This is one of those things I didn't plan but I really loved. I had a bunch of pom poms sitting on the floor right before my guests were set to arrive so I picked them up to get them out of the way and the window sill was the nearest spot. It was one of the "oh sure, I totally meant to do that" kinds of things!
Gold serving pieces from HomeGoods were used for treats. Oh…the treats! I have said many many times that I the most talented friends and I really do!
My friend, Des, of Design Cakes & Cupcakes made her grandmother's traditional biscotti (pictured on the green platter on the left) and oh my goodness…best almond biscotti I have ever had! It's no surprise really. Des is Italian and she is a Cupcake Wars winner. This girl knows what she's doing!
MKR Creations made cake pops for me that fit the theme perfectly. In addition to sunflowers she also made little oranges and ladybugs. If you have seen "Under the Tuscan Sun" you will understand that little nod to ladybugs. I have worked with Maria several times now and her cake pops are always beautiful and tasty. I sent her a set of my Original Twirly Clear Sparkle Sticks™ and just love how they look like vines.
Sugar Studio 31 made these beautiful candy apples. Every bit as tasty as they were pretty! Rosario is an artist and loves creating works of edible art. The gold bows were the sweetest touch and matched the decor to a tee.
Il Tocco Kitchen creates authentic Tuscan treats. The owner, Chiara, is from Tuscany! Her page is full of pictures of the most delectable Italian goodies! She really spoiled me…she sent tarts, meringues, and traditional Tuscan cookies called Cantucci (pictured above on the green platter on the right). She suggested we dip them in coffee or Vin Santo, which means "Holy Wine." It's a good thing I did a "taste test" of these treats because they disappeared! My friends snatched these up right away.
Katherine of Creating Awesomenessity created these sunflowers cookies for me and they were gorgeous and so yummy! I have a weakness for boutique cookies. I really really do. I so admire cookie and sugar artists. I can make a table look pretty and I can bake a yummy cookie…but I can't do both. Looking at this picture I so wish I had a cookie to nibble on as I write.
I made a utensil pouch using the same lace burlap ribbon I used on the vases and embellished the wooden forks and spoons with glitter washi tape and mini sunflower stickers. I would normally sew something like this but I found that my glue gun worked just fine for this project.
I am so glad Maria took a photo of the food! Those date rumakis are a must at every party! My friends have told me if I don't have rumaki they are leaving…I don't think they're kidding! On the right is my friend Shelly's marinated cheese and on the left my friend Leslie's pistachio pesto salad. These are all pretty much must haves now to be honest. Shelly now brings a platter of marinated cheese for the party and a small batch just for me. I love my friends!
I purchased green tinted wine glasses from Dollar Tree for the party but they needed a little extra something. I bought a few bunches of sunflowers and a beaded garland from Michaels. I cut pieces that were about 7″ using wire cutters and stuck one end into the bottom of the sunflower. A little dab of glue was all I needed to secure. Once dry I just wrapped around the stems. This was really easy so I would definitely do again.
Pictures of the Bacio del Limone. A very refreshing and light drink that really packs a punch!
My son made this watercolor last year in art class and thought it was the perfect centerpiece for the gift table. He was really touched that I wanted to use it for my party. This painting makes me happy every time I look t it.
Doesn't our gift table look wonderful?! My friends bring the best stuff to exchange! I think I need to do a whole post just on the gifts.
My mom doesn't consider herself a very crafty person but I think she did a great job making these luggage tags. One of my sorority sisters brought the game "Blink" and it turned out to be one of the hottest gifts of the night. I did hear some trading going on over it.
Love this shot of the chandelier at dusk.
Some pictures of some of the goodies. Everyone was packing up and getting ready to go but I'm so glad Maria captured these images of the loot. The one of the right is my bag. My friend Shelly brought Stella sparkling wine and a Scrub Daddy, Anne gave me a Neutrogena body wash, my Aunt Carol found the cutest nail kits tucked into an eye glass case, Andrea made cute little boxes filled with a Halloween candle and ornaments, Amy brought fun girly wine glasses, and Maria put together a little bag of lotion of gloss from Bath & Body Works. I actually had quite a haul because many friends brought an extra gift to give me.

I always send my girlfriends home with a plate of food…this is the pretty plate Amy of Dimply Sweet put together.
I want to say a huge thank you to all of my friends for bringing yummy food and great gifts and to all of the vendors who helped me pull off a gorgeous party for my friends.
Thank you to the following companies for their generosity:
Concept & Styling
Maria Healey Photography
Decorations from Koyal Wholesale
Traditional Tuscan treats from Il TOCCO Kitchen
Cake Pops from MKR Creations
Traditional Italian Biscotti from
[Desi]gn cakes and cupcakes
Chocolate Oreos from Bella's Bakery & Bowtique
Candy Apples from Sugar Studio
Cookies from Creating Awesomenessity
Custom Plateables from Create UR Plate
Labels from Online Labels
Kylie