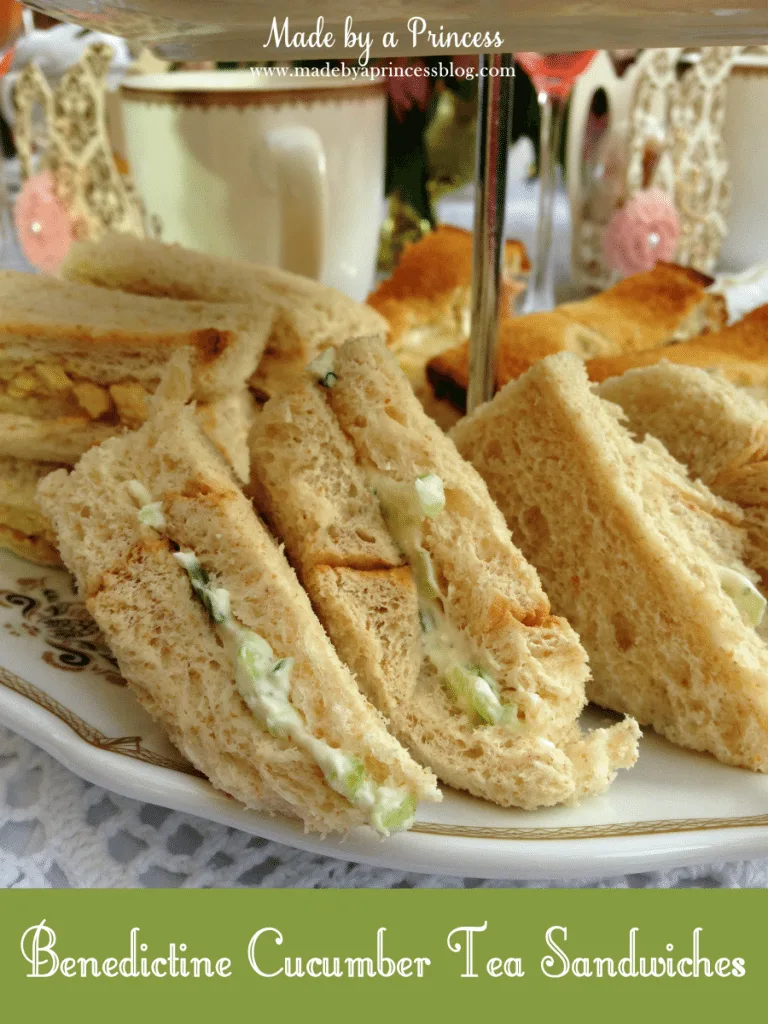 I love tea parties and tea sandwiches so any excuse to host a tea party…count me in! I recently hosted a little tea party for my friend Jen of Oh For Cake's Sake to welcome her to the Mommy Club. She is pregnant with her first baby, a girl, so a few of us got together for a "Baby is Brewing" mini baby shower. These Benedictine Cucumber Tea Sandwiches are pretty much a staple at my girly parties and are party pleaser. They are really easy to make too and can be made the day before to save time.

How to Make Cucumber Tea Sandwiches
Here is what you need:
1 whole small or 3/4 large cucumber, peeled, seeded, grated, and drained of moisture (I prefer to use the cucumbers found wrapped in plastic as they have fewer seeds)
1 bunch of scallions, white parts plus 2" of green part, finely chopped
8 oz cream cheese, softened
1 tbsp mayonnaise
1-2 drops green food coloring
8 slices white bread, crusts removed
3 red leaf lettuce leaves (I opted to not use lettuce this time)
Peel the cucumber, slice it in half lengthwise, scrape out the seeds with a spoon. Using a microplane grater, grate the cucumber into a colander and drain the moisture off. Transfer cucumber to a bowl.
Finely chop the scallions and add them to bowl with the cucumber. In the bowl, combine the cream cheese, mayo, and food coloring, mix thoroughly.
Spread a thin layer of spread onto each slice, spreading almost to the edges of the bread. Place a single layer of lettuce atop one of the slices. Put other piece of bread on top. Cut diagonally into four triangles.
Makes 16 triangles
If you plan to make ahead, put a damp paper towel over the tray or plate of sandwiches and put in the refrigerator until you are ready to serve.
I did not use green food coloring but if I were hosting a Kentucky Derby party I would definitely add the food coloring since that is the traditional way of serving them.
It worked out so perfectly that World Market was launching their Downton Abbey campaign and giveaway right as Jen told me she was pregnant! How pretty is this set?! I love the gold rimmed edges. I will be posting all of the pictures from our tea party later this week but wanted to leave you with this image of the beautiful china and food.