Help raise money for your school by creating a unique school auction basket full of things everyone needs but rarely buys for themselves.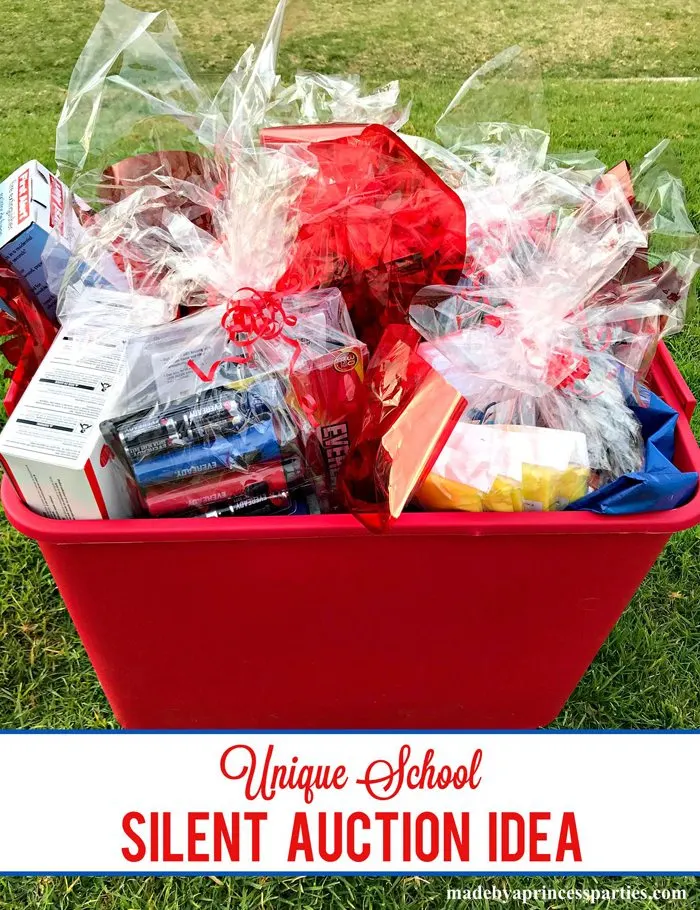 School auctions are a great way to raise money for the school and their programs. Every school has a wish list and most schools have some form of fundraising in place to purchase those much needed items or fund those much loved programs. My daughter's school is no different. Today I am sharing unique school auction ideas. One of them is something that everyone needs but rarely purchases.
Unique School Auction Idea
Have you ever been to a school auction? A painting I just adore that's hanging above my fireplace was purchased at a silent auction for an absolute steal. My daughter's school Gala, our biggest fundraising event of the year, is this Saturday and while I normally share all things party, I thought I would show you some unique school auction ideas (I've got two bonus ones below) because I really like our basket theme and can save you the hassle of having to research this yourself.
Last year we went with a craft lovers theme (totally up my alley!). I donated a Sizzix Big Shot machine and other parents donated all the other items to fill our basket. We had gel pens, scrapbook paper, glue dots, markers, coloring books, so many awesome things! I really wish I had a picture of it. This year we went with an Emergency Preparedness theme. With all these crazy fires, floods, and earthquakes here in California it got me thinking how unprepared we really are for a catastrophe. I'm a bad Californian. I know better than this. I'm determined to get my own emergency kit together because now I know exactly what I need.
I spent a lot of time (a loooot) researching what should go in an emergency kit. I have three pages of items. It's rather extensive. I have a whole section dedicated to what to leave in our cars too. #illthinkaboutthattomorrow. I knew I couldn't give our parents three pages to comb through so I came up with a much smaller list based on the basic principles of emergency preparedness: food, water, and shelter.
While this basket is not complete, it is a really really good start in getting a family prepared in the event of an emergency. A number of parents donated specific items and others donated cash. Below are all the items that were donated and that we were able to purchase.
Before I reveal all the stuff, let me just tell you about wrapping this sucker. The plastic tub is huge. Really really big. There was no way I was going to be able to wrap the entire bin in cellophane so I decided to wrap items in groups. There are four bags of goodies in the bin with just two things unwrapped: fire extinguisher and respirator masks.
Pro tip: If you need to fill some space or give some height to your basket (or bin as I have here) you can use empty boxes.
What you don't see here are two 12×12 boxes placed in the bin with a piece of red poster board over them so they blended in and made a shelf. Once I had the boxes and poster board in place I placed the filled cellophane bags on top. To fill in empty spaces I used red cellophane strips from a roll I bought at the dollar store.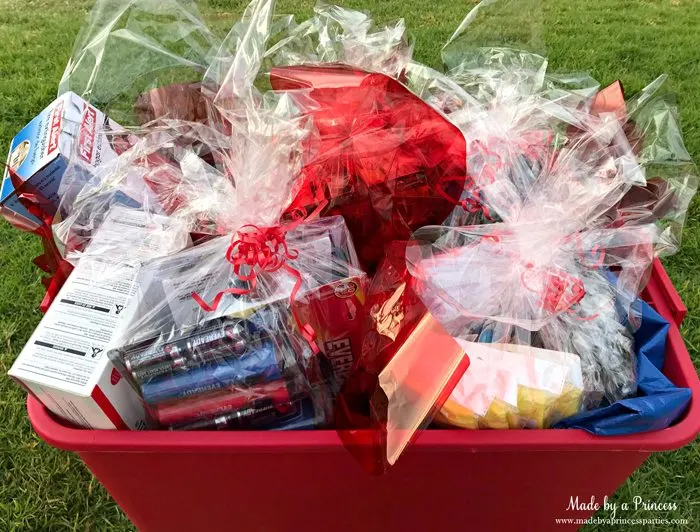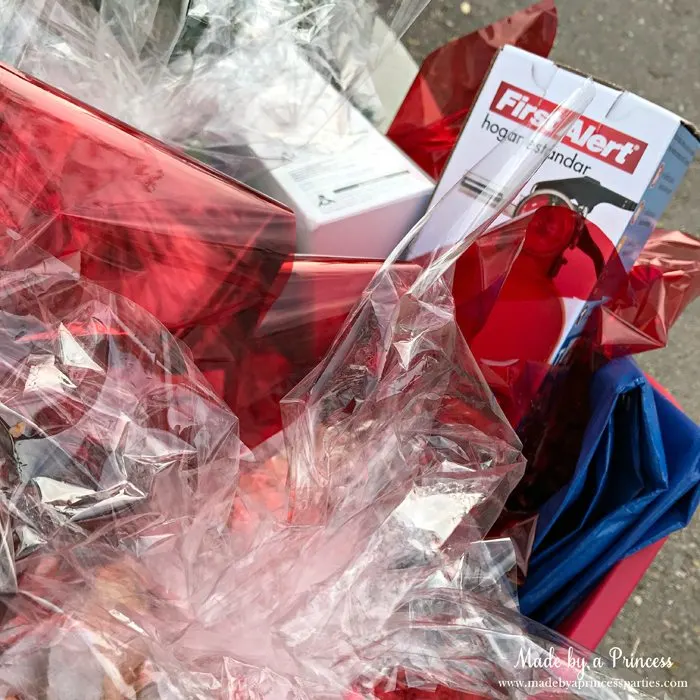 What to put in an Emergency Preparedness Kit
I laid out the items on the tarp so I could easily figure out which items to put together in cellophane. We collected $265 and with that I purchased quite a few items. The bin was on sale since it was actually part of the holiday collection at Walmart. I'll take a good deal where ever I can find it!
Below each photo is a list of items you can find on Amazon. These are affiliate links so if you click the link and make a purchase I make a tiny commission which helps keep this blog running and sometimes fills my glass full of champagne.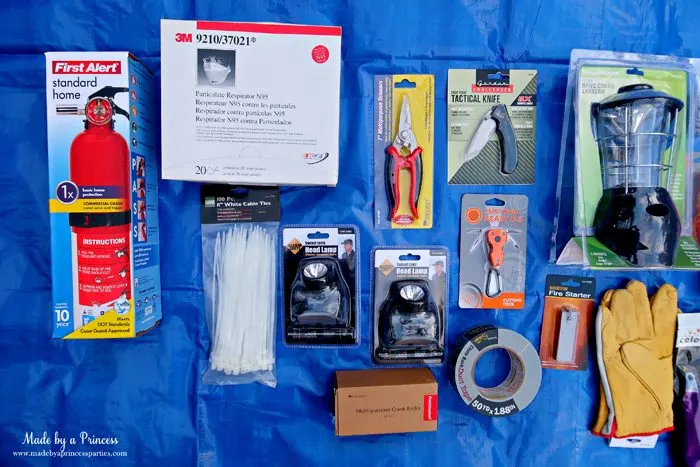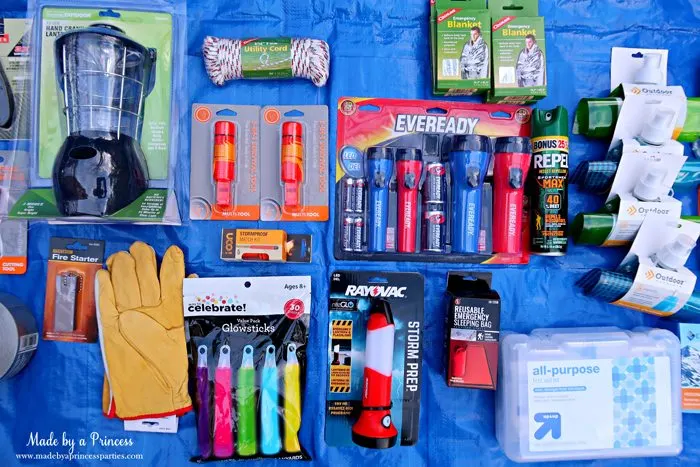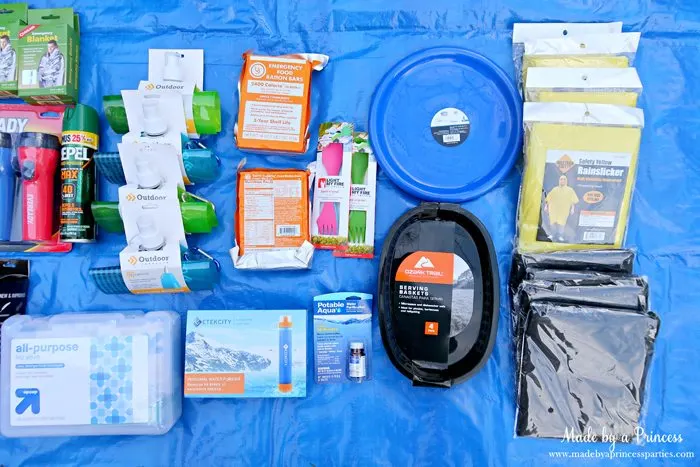 I hope our little Catholic school makes a lot of money on our school auction projects! I also hope this has gotten you thinking about your own emergency preparedness kits and what to put in them.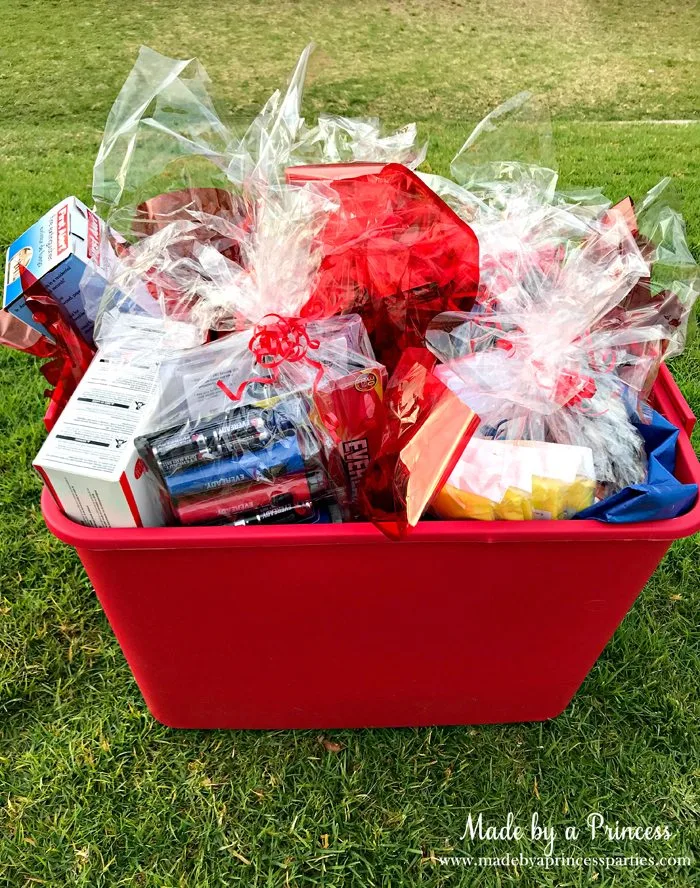 BONUS class auction project ideas for fundraising!
It is the responsibiliy of the room moms to create two pieces of artwork to auction at the Gala. The first one we did was create a photo canvas. This is a smaller version of the one up for school auction. This did take a bit of work. At first we tried to place their hands in a the shape of a heart which proved rather difficult. The teacher made a giant heart with butcher paper and laid it on the ground. The kids then placed their hands on the outline and once in place, their teacher and my other room mom slipped it out from underneath the kids. Getting (21) 1st graders to be very still while paper is being pulled out from underneath them is very very hard! The end result was adorable though.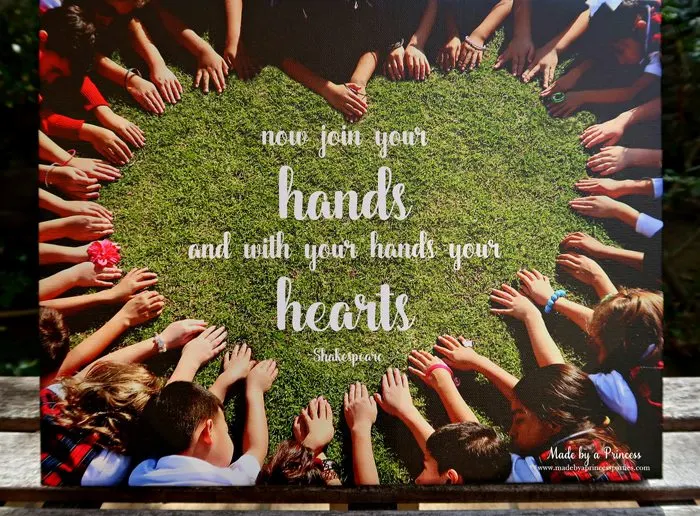 Since this is a Catholic school I wanted to do something with a quote from the bible. This also took a fair amount of time and not for the reasons you may be thinking. I loved painting this piece! I had forgotten how much I love to pain and how much I miss it after doing this canvas. I will do a separate post on how to I created it but let's just say I might reconsider lighting another painting after this!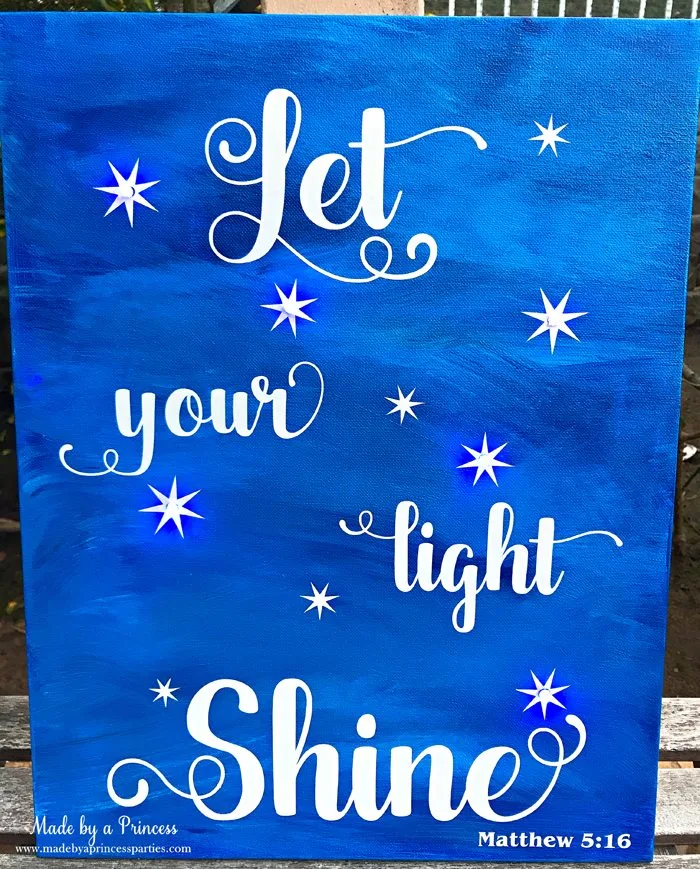 I do really like how it looks when lit though. Maybe I will try again…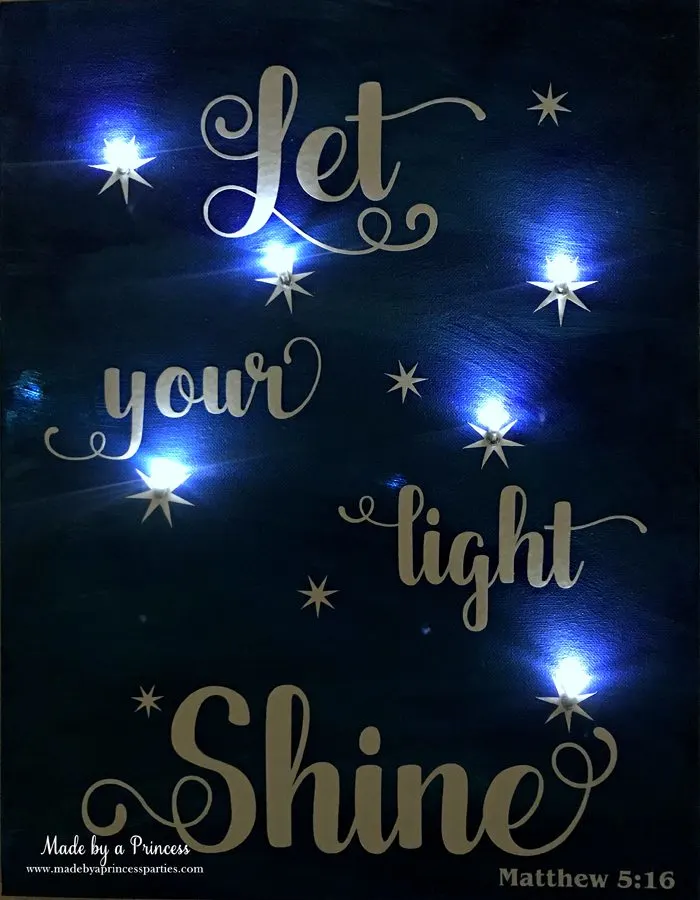 I hope you liked our Unique School Silent Auction Ideas! If you have any ideas for elementary school auction projects I would love to hear them. Please comment below.