Creamy beer cheese dip is made with just a few ingredients and your favorite beer. Makes a perfect last minute party food!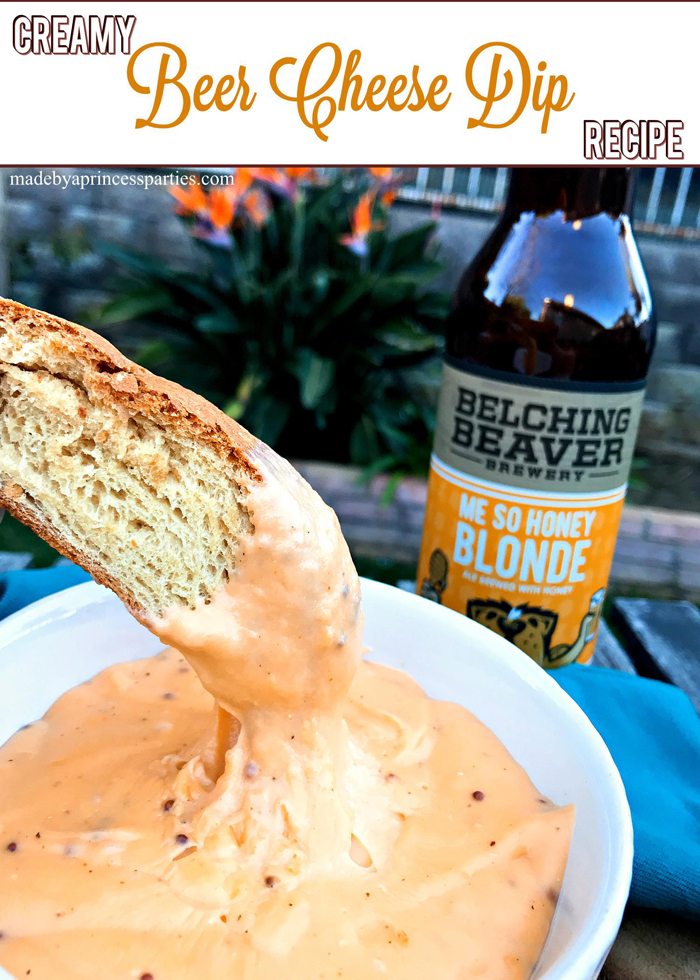 Football season brings out some of the best snacks doesn't it? Great food doesn't have to take a lot of time either. This creamy beer cheese dip was made with ingredients I already had which really made it the perfect game day food. I whipped this up in about 20 minutes and I think it was gone in about 10!
What is beer cheese?
Beer cheese, also know as beer cheese dip or beer cheese spread, is a melted cheese dip typically made with cheddar cheese, beer, and spices and served with crackers, bread, or veggies.
Who invented beer cheese?
The exact origins are not known but a Kentucky native named, Joe Allman, is attributed with the title of "Inventor of Beer Cheese Spread." Joe's cousin, Johnnie Allman, served Joe's famous, "Snappy Cheese" in his restaurant, The Driftwood Inn, on the banks of the Kentucky River in the late 1930s. On February 21, 2013, the Kentucky legislature declared that Clark County was the birthplace of beer cheese.
I've never had Allman's beer cheese so I can't tell you what it's "supposed" to taste like but I can tell you that my husband ate an entire bowl before the end of the first quarter during the Super Bowl this year. I think he liked it 😉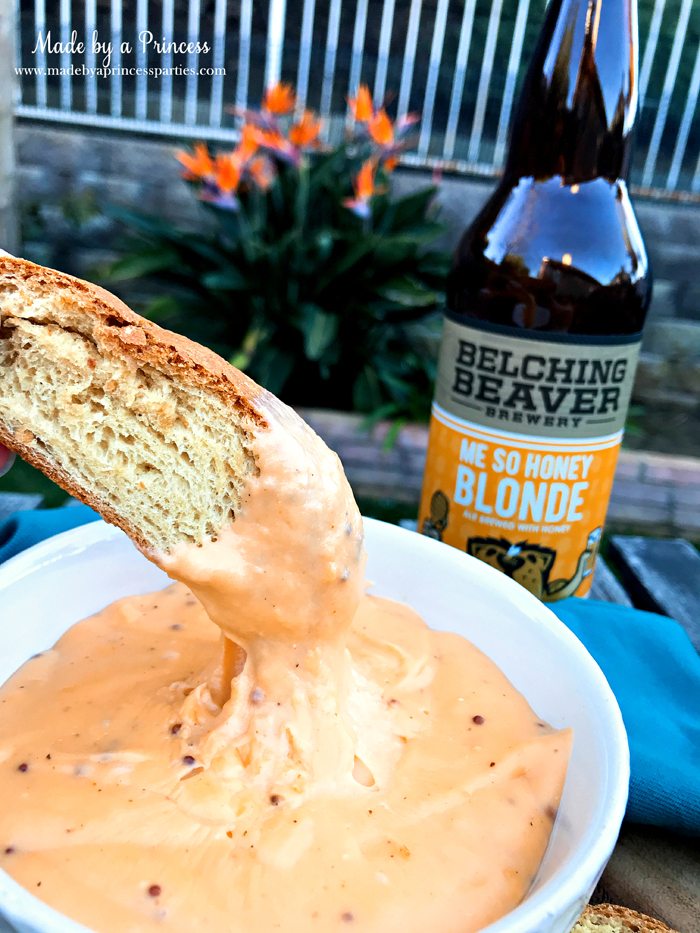 What kind of beer to use for beer cheese dip?
Belching Beaver is a local brewery and restaurant that makes amazing food and award winning craft beer. They hosted my daughter's Daisy Troop a few weeks ago so the girls could get the "snack badge" and learn about what it's like to run a restaurant. A brewery may seem like an odd place to take girls to earn a Girl Scout badge but our leader is super creative and plans the best field trips. This one is my favorite so far.
This is a picture of the "fire" built into the bar table. It is really really cool! Just in case you are wondering it is called AquaFire. We all agreed we wanted mini AquaFires in our homes. Of course mine would be pink.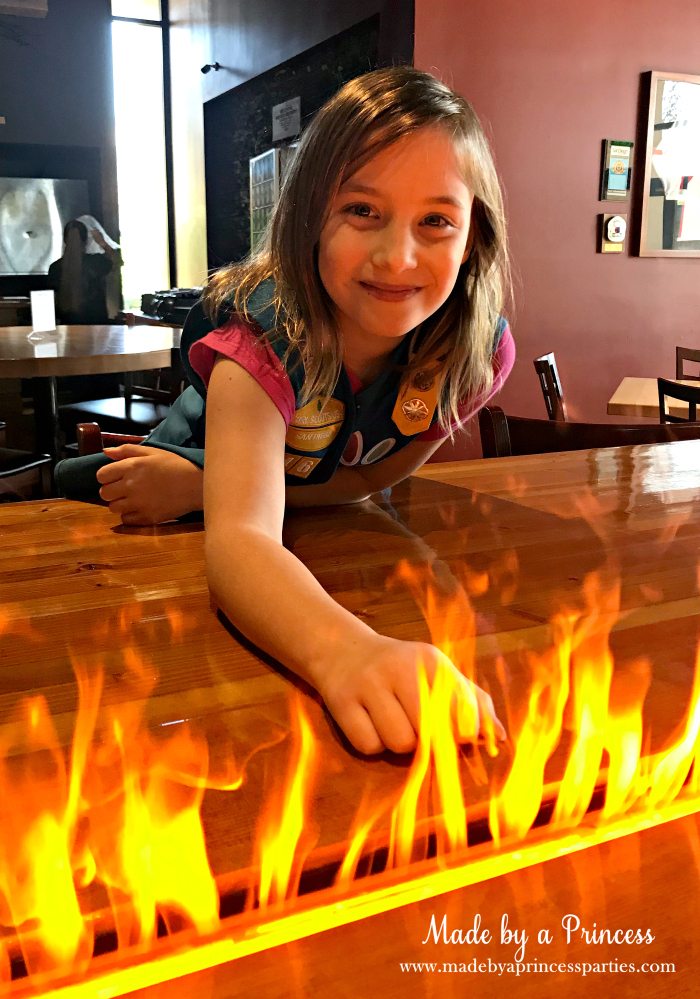 I am really more of a champagne drinker, as most of you know, but when you're at a brewery you drink beer…so I did. I personally like lighter, less hoppy beers which is why I chose this one. It's a little sweet because of the honey but not in an overpowering way. I added a little honey dijon to the beer cheese mixture and it was so tasty. If you like really strong beer I would suggest using a porter or a stout.
You can see the mustard seeds in the beer cheese dip. If you want a smooth dip try a dijon without big seeds like this or just a plain yellow mustard would work as well.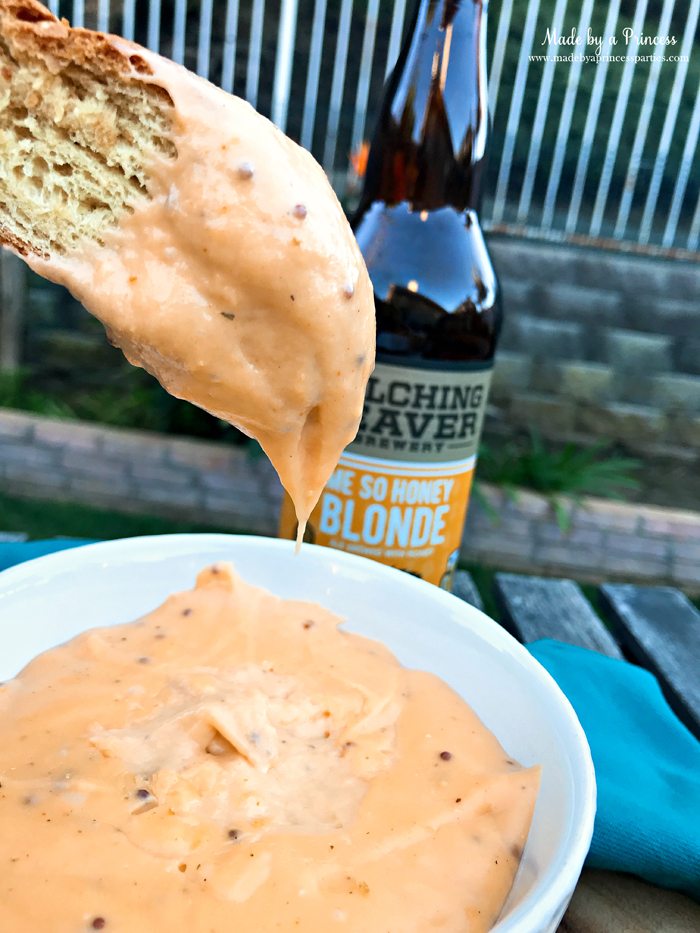 Fresh sourdough tasted great with this creamy beer cheese dip.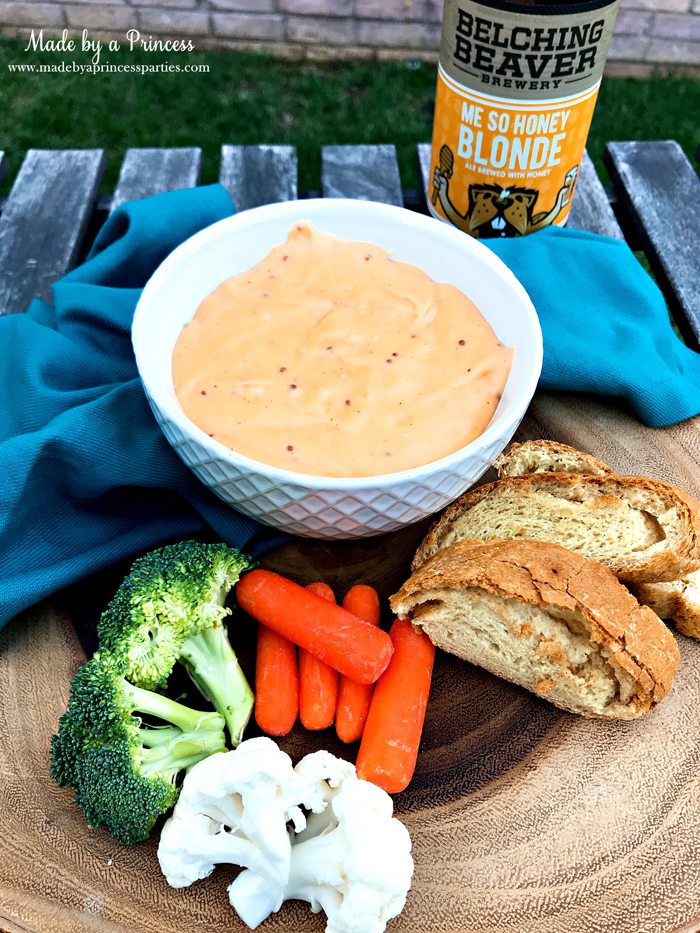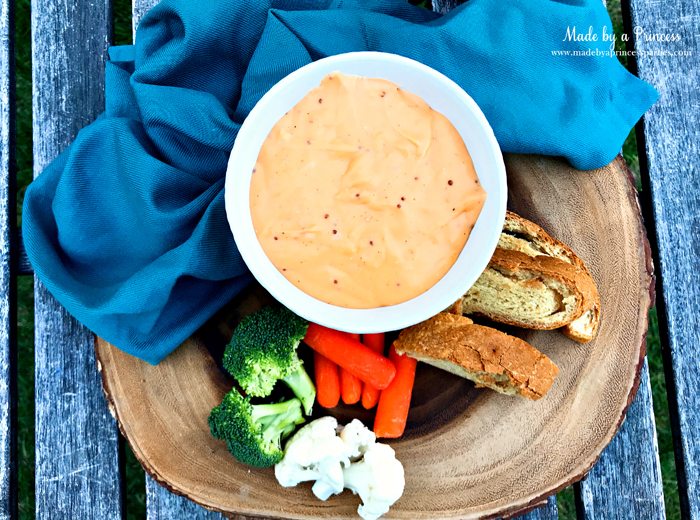 How to make beer cheese