Bring your favorite classic storybook characters, Peter Rabbit and his sisters, Flopsy, Mopsy, and Cottontail, to life by hosting the ultimate Peter Rabbit Tea Party.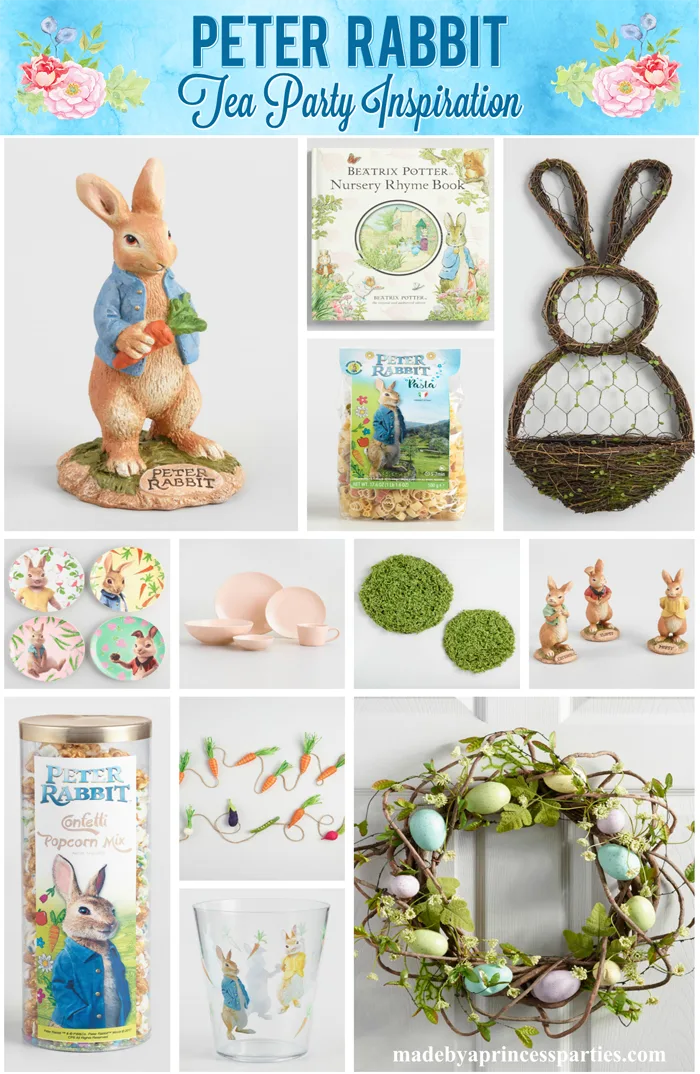 Who doesn't love the mischievous and disobedient little bunny created by Beatrix Potter? You can't help but cheer him on even when he's stealing vegetables from Mr. McGregor's garden. This classic tale of Peter Rabbit, his sisters, their friends, and the ever grumpy Mr. McGregor has been read and enjoyed by children all over the world since 1902. Whether you're hosting a baby shower, tea party, or baby's first birthday, Peter Rabbit is a lovely theme and filled with so many possibilities. Read on for Peter Rabbit Tea Party Inspiration ideas and tips.
*post contains affiliate links
The Tale of Peter Rabbit
The Tale of Peter Rabbit was one of my favorite books growing up. I distinctly remember curling up in our blue velvet rocking chair carefully choosing which of the 23 stories I was going to read next. My godfather and his wife, probably the most well traveled, well mannered, and well read people I ever knew, gave me classic books for my birthday. I always looked forward to their gift because I knew it was going to be something no one else would give me.
When was The Tale of Peter Rabbit written?
I was not aware of exactly how old the tales of Peter Rabbit were until I watched Renee Zellweger's portrayal of Beatrix Potter in, "Miss Potter". I had no idea The Tale of Peter Rabbit was created in 1893 and first published in 1902. This little bunny is a little long in the ears now at nearly 125 years old!
Peter Rabbit Tea Party Inspiration
Since I'm not having anymore children a Peter Rabbit 1st Birthday is out, and since none of my friends are having anymore babies a Peter Rabbit Baby Shower is out, that means I will have to throw a Peter Rabbit Tea Party. Who's with me?! Cost Plus World Market has the most adorable Peter Rabbit collection out right now which is where I found all of my Peter Rabbit Tea Party Inspiration.
Table Decorations
Start with a couple Faux Boxwood Table Mats, place some Moss Filler on the mats, set one of the Peter Rabbit figurines on the moss, and then cover with a Glass Cloche. Those glass cloches are so versatile and can be used again and again. You can also add some Easter candy or Easter eggs next to the figurines if you are hosting Easter brunch.
If you are using a buffet table or drink station, you can add some beautiful Glass Candleholders to decorate your table. The Misty Blue Taper Candles complement the Peter Rabbit beauitifully. Tealight rings are a great way to dress up a table as well. Cost Plus World Market always has a nice selection of seasonal and everyday designs. I chose this Egg Nest Tealight Candle Ring because the colors are soft and work so well with everything else.
I think my favorite item though is the sweet little Metal Wheelbarrow. You can fill it with candy or mini carrots, which Peter Rabbit himself would approve of I'm sure.
Hanging Decorations
Don't forget to dress your walls or your door too! I really love this Vine and Wire Bunny Wall Decor piece. You can fill it with fresh flowers, silk flowers, party favors, or fresh vegetables. I think an arrangement of vegetables and florals would be beautiful. The Carrot Garland would look really pretty hanging behind the buffet table or used as a table decoration. If you didn't want to hang the wreath you could also use it as a tray by setting a platter on top. I think one of the pretty Blush Stoneware Bowls filled with salad would look so nice sitting in the wreath.
Table Setting
Layer your table setting with Cost Plus World Market's Round Fiber Placemats, then use one of the Blush Stoneware plates as a charger, and finish with one of the Peter Rabbit Round Melamine Veggie Plates. You can use some of the nice linens Cost Plus World Market offers or if you are looking for cute but disposable I suggest the Peter Rabbit Floral Lunch Napkins. Complete your place setting with one of the Peter Rabbit Acrylic Tumblers and you're nearly done!
What to serve at a Peter Rabbit Tea Party
I love tea party food! I think mostly because it's small and there are so many choices. My daughter's absolute favorite tea party sandwiches are Benedictine Cucumber Sandwiches. They are really easy to make and very very tasty. My personal favorite are Coronation Chicken Tea Sandwiches which disappear in a matter of minutes every time I put them out. Cheese Straws are also really easy and great to serve at a tea party. I shared how to make them along with some other finger foods in the post about my daughter's baptism.
One thing you must serve at a tea party is tea! The Peter Rabbit Garden Tea at Cost Plus World Market is amazing. It really really is a lovely tea that whether you host a Peter Rabbit inspired party or not I think you will really enjoy. It is the perfect mixture of orange, ginger, and mint.
You could also serve a cold pasta salad using the Peter Rabbit Pasta mixed with carrots, peas, and broccoli. For a sweet treat you can serve the Peter Rabbit Confetti Popcorn and Peter Rabbit Candied Sunflower Seeds.
I hope you enjoyed this Peter Rabbit Tea Party Inspiration post! If you haven't seen the movie you really should because it is just adorable. My daughter and I saw it the day it came out and have already pre-ordered it on Amazon.
I'd love to hear your memories as a child of reading Peter Rabbit. Please tell me in the comments below.
You can find all of these items I featured, including Peter Rabbit books and Peter Rabbit Party Supplies, at your local Cost Plus World Market. You can usually find me at my local store in Oceanside. I like to hang out in the way back…near the champagne!

This post sponsored by Cost Plus World Market. All opinions are my own.