Round up your ponies and host a colorful and fun My Little Pony party! Read on for My Little Pony party food ideas and free printables.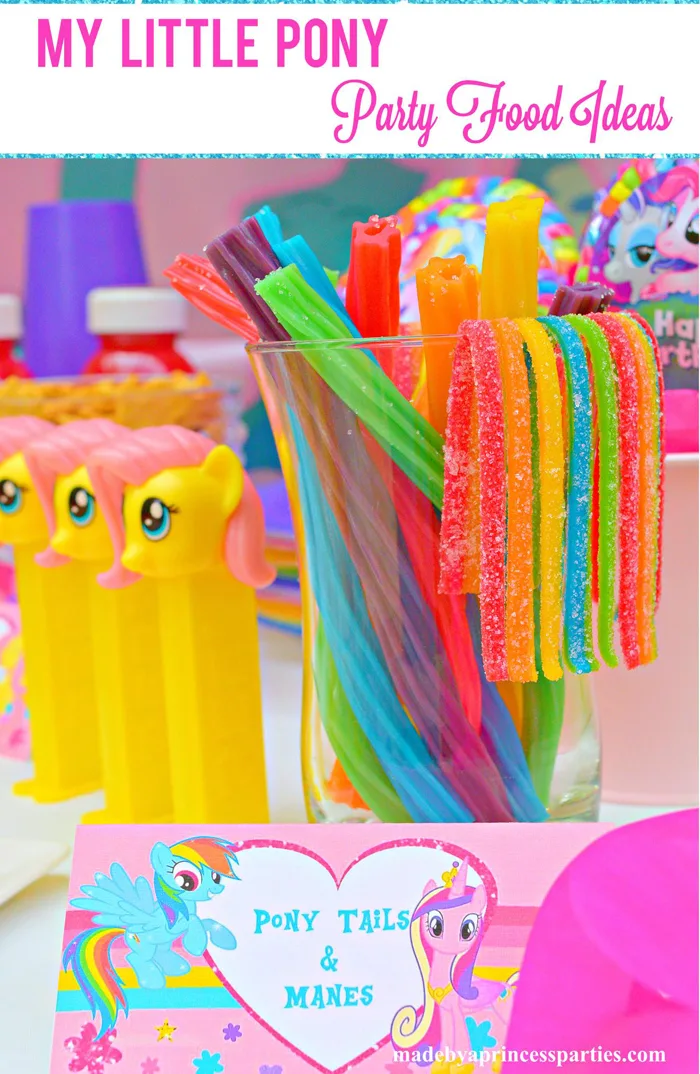 Round up your ponies and tell them to gallop on over to your place for a My Little Pony birthday party! Bring the magic of Ponyville to your party with some of my My Little Pony Party Food Ideas + Free Printables!
*post contains affiliate links
What are My Little Ponies?
My Little Ponies were first introduced in 1981. Do you remember them? They don't exactly look like they do now but the concept is still the same: colorful bodies, pretty manes, and little symbols on their rears called "cutie marks". Each pony has a unique name, color, cutie mark, and personality.
Who are all the My Little Ponies?
There are so many ponies now but the most popular and well known ones are Rainbow Dash, Pinkie Pie, Twilight Sparkle, Rarity, Applejack, Fluttershy, Princess Celestia, and Spike (Spike is actually a dragon). When creating this party and coming up with the themed food I was looked to these characters for inspiration.
What is the name of the pink My Little Pony you ask?
Well, that's Pinkie Pie and she's my favorite…because she's pink. She's a little scattered and crazy, acts as though she has a constant sugar rush, loves to plan parties, loves to bake, and is cheerful, energetic, and talkative. I'm basically the human version of Pinkie Pie.
My Little Pony Party Food Ideas
Let's talk food! Cupcakes are easy and can be purchased super cheap at Walmart. Buy a dozen plain cupcakes from your local Walmart and decorate them with My Little Pony Fash'Ems MashEms. These end of making great party favors because the guests can take the MashEms home.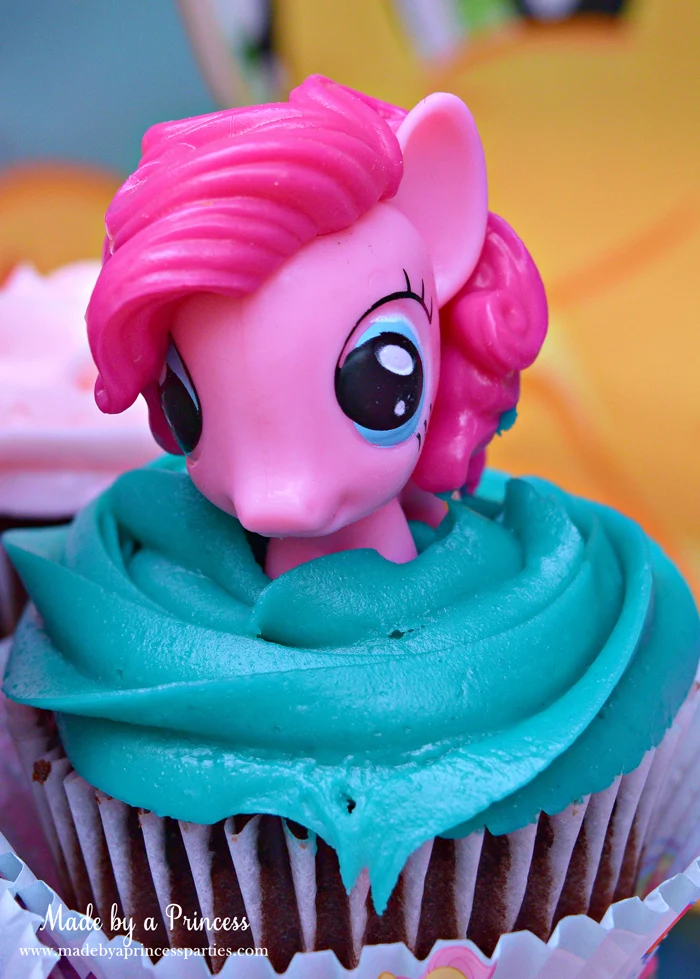 If you don't want to put toys in your cupcakes you can always stick a My Little Pony shortbread cookie in them.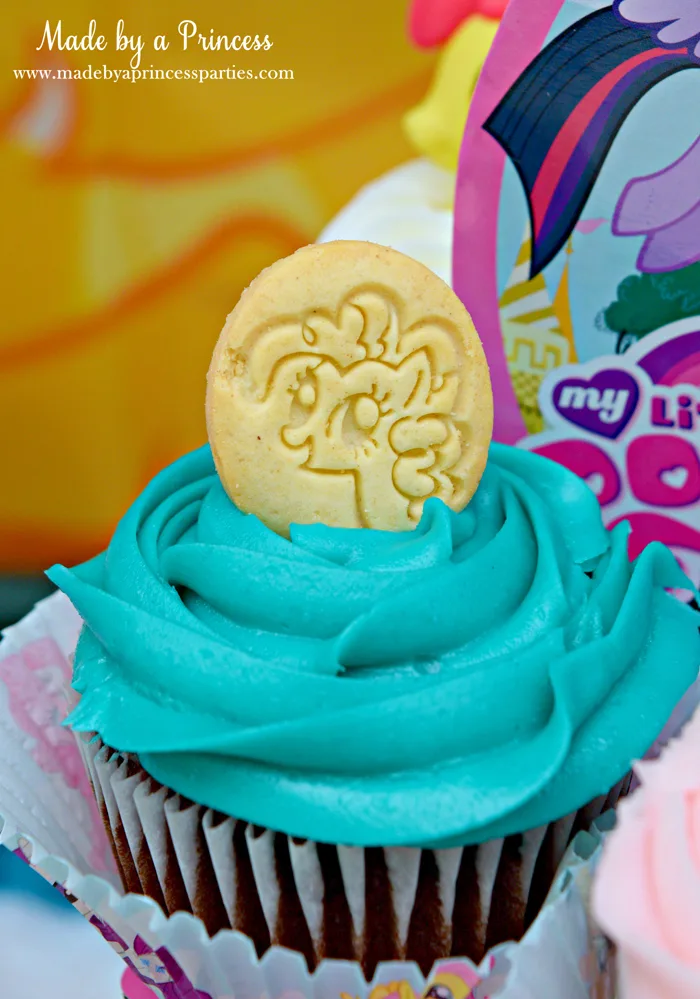 I have a thing for alliteration so lots of my themed foods are a little sign song-y. My daughter specifically requested applesauce for this photo shoot so Applejack's Applesauce just seemed appropriate.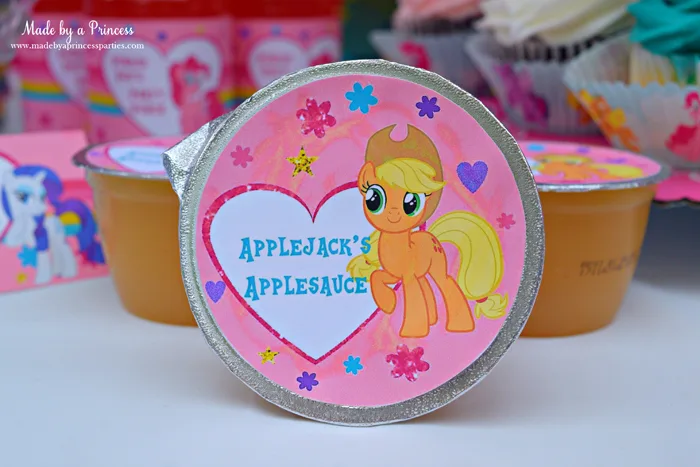 I think Pinkie Pie would totally drink pink punch. Use a circle punch to cut disks out of glitter scrapbook paper to give it a little color.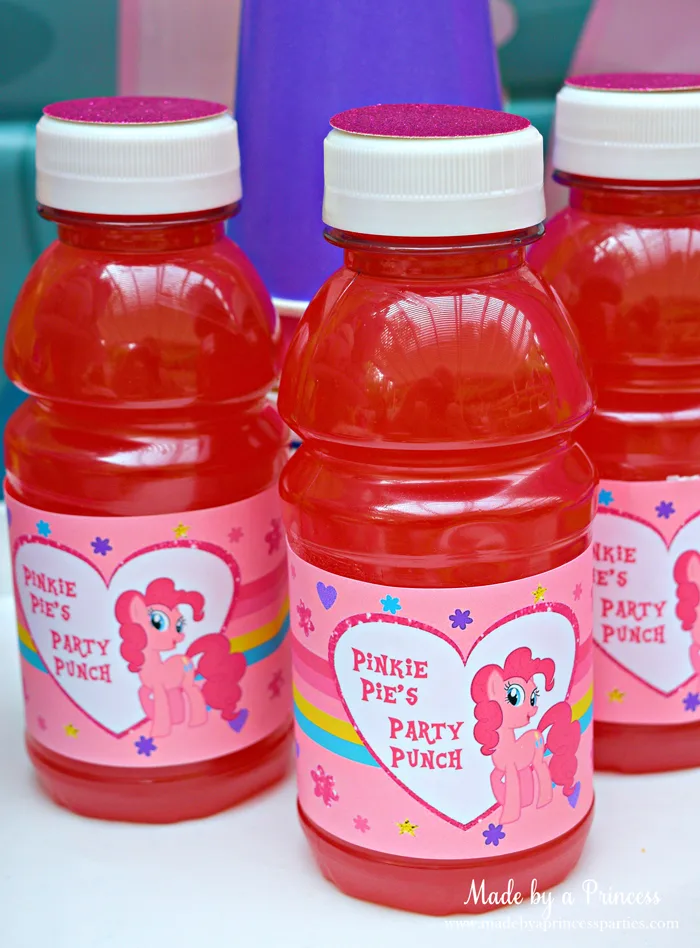 Hershey bar wrappers are a really easy way to bring a theme together. They are pretty inexpensive to make as well. All you need are Hershey bars and some colored paper, gift wrap, or printables like the one I created below.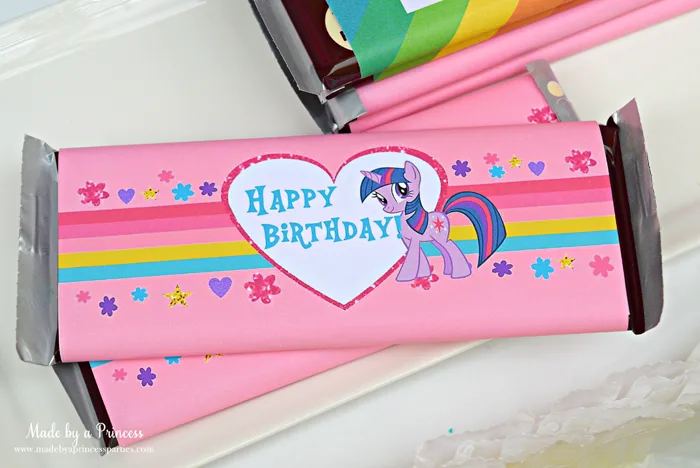 I feel like Twilight Sparkle would totally eat Twinkies.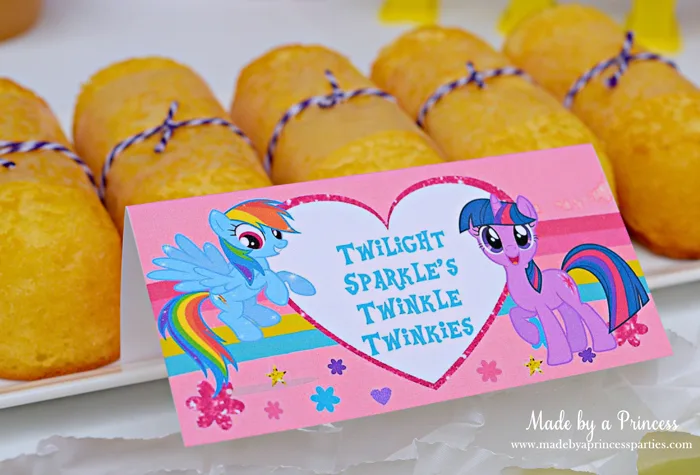 Rainbow Dash is known for creating spectacular rainbows called a Sonic Rainboom. In order to really complete the rainbow look add cantaloupe for orange and pineapple for yellow.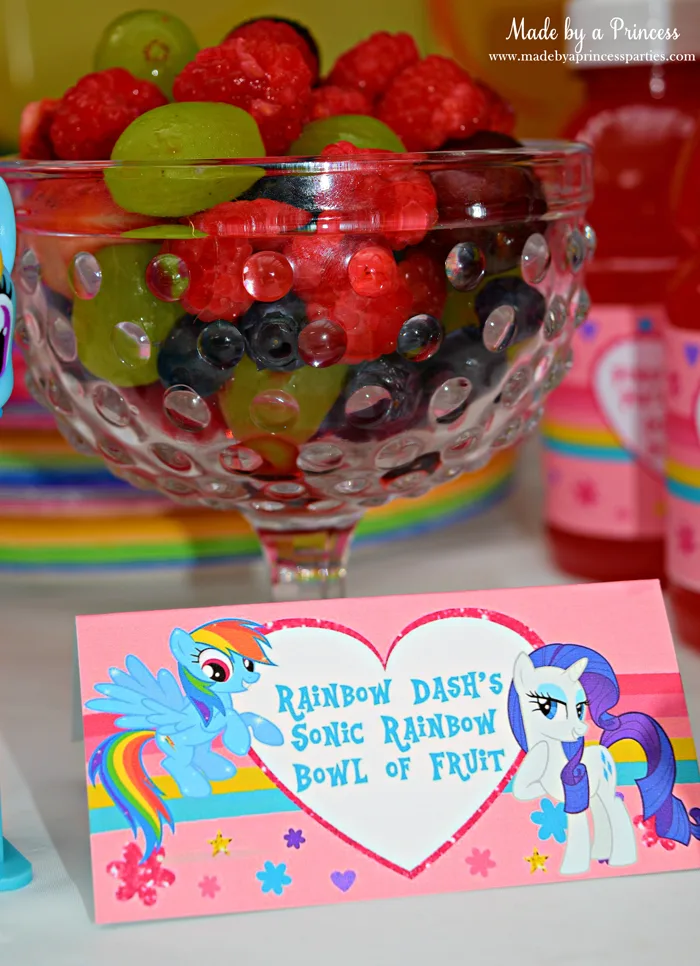 Princess Celestia has magic powers and is part of the Crystal Empire so rock candy crystals seemed appropriate.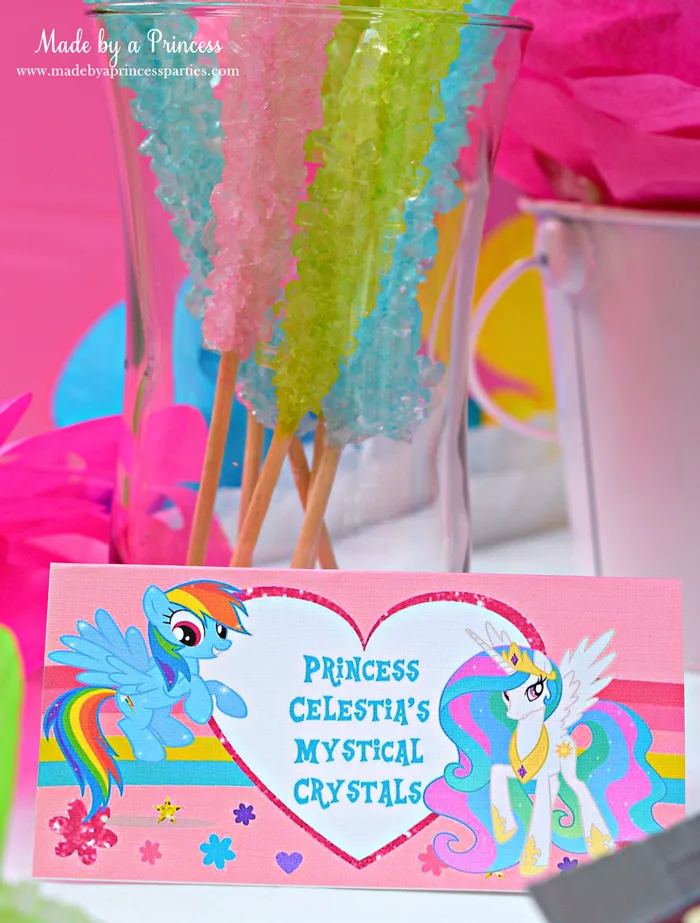 I think these are my favorite actually. Use rainbow Twizzlers for the tails and rainbow Air Head Xtremes for the manes. Cut a 3″ strip of the sour belt and carefully separate the colors with a sharp knife, leaving about a 1/2″ at the top so it stays together.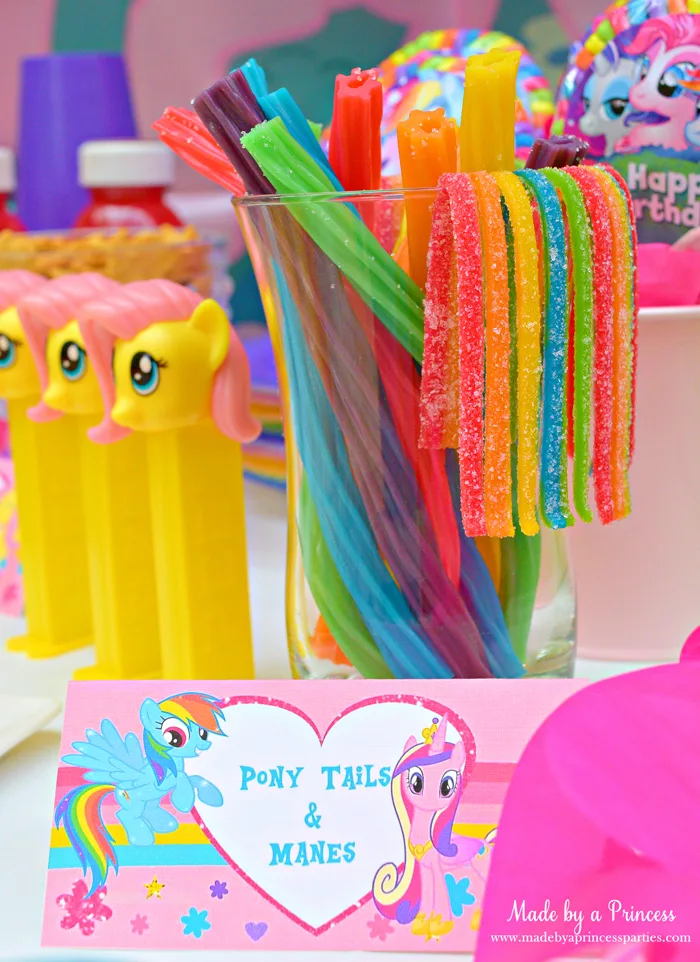 These rainbow lollipops are fun and colorful which every My Little Pony party needs.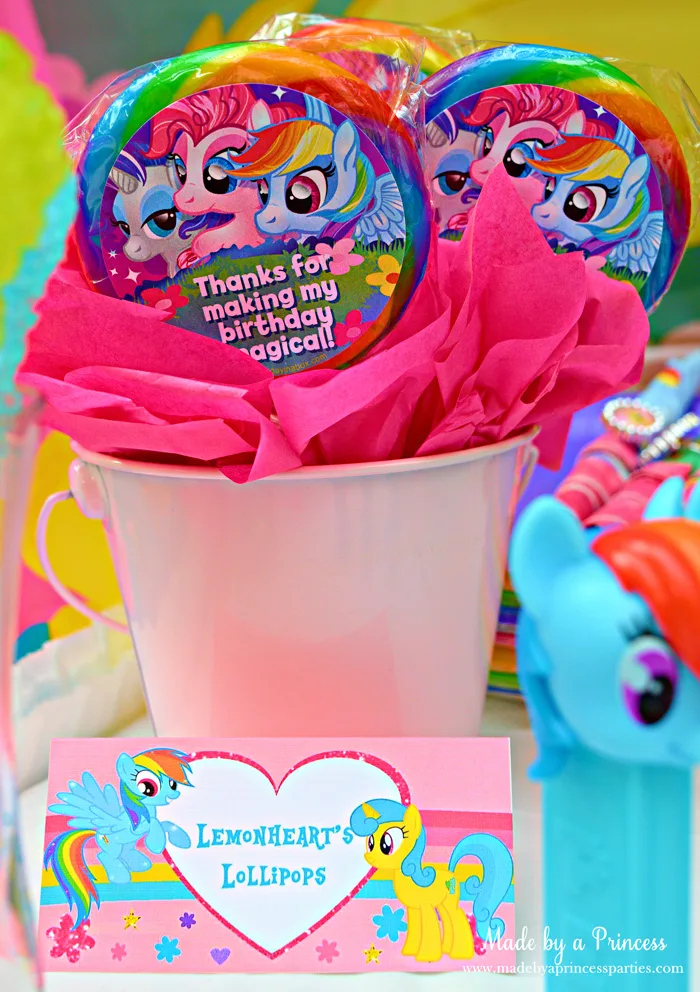 Fluttershy has a pet bunny named Angel so I thought Bunny Grahams would be perfect to represent her.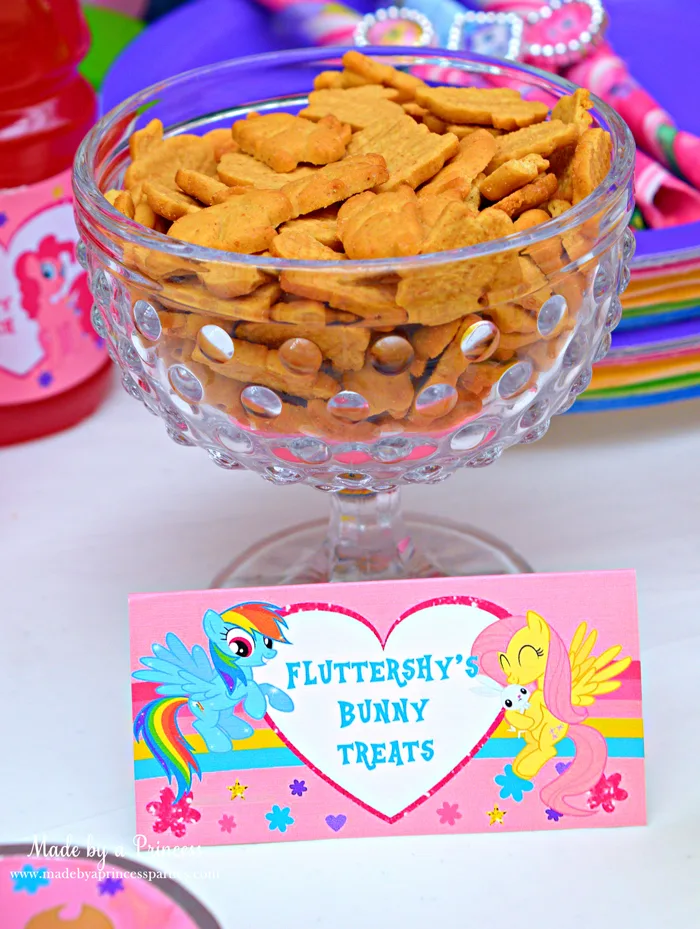 My Little Pony party decoration ideas
You can see the full photo shoot over on the Birthday in a Box website but here are some highlights.
Use colorful paper cups and plates to create a rainbow effect.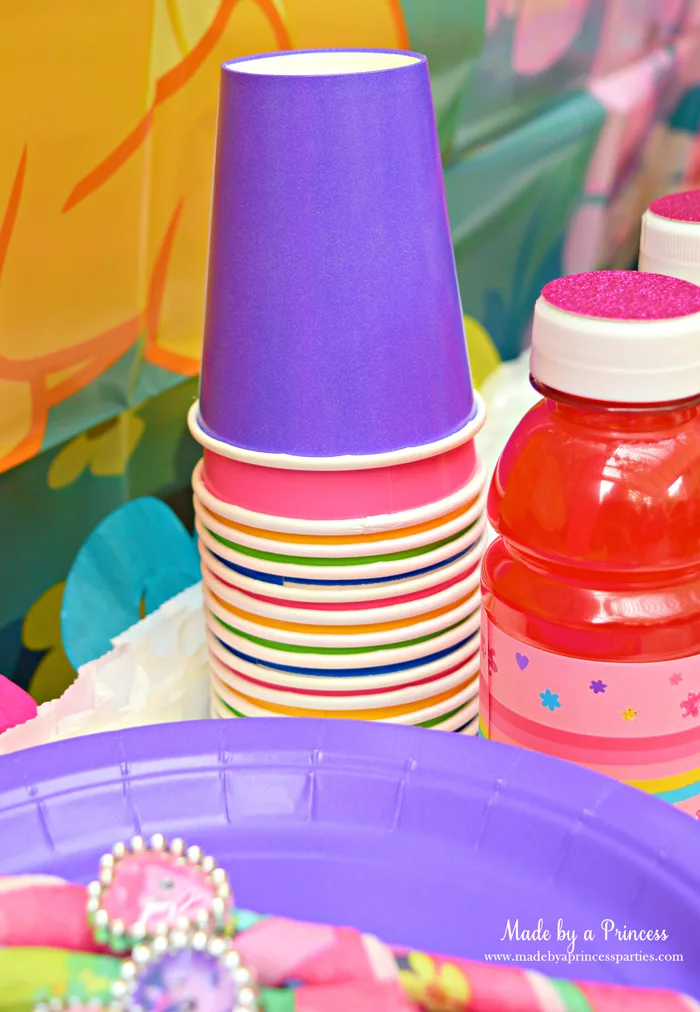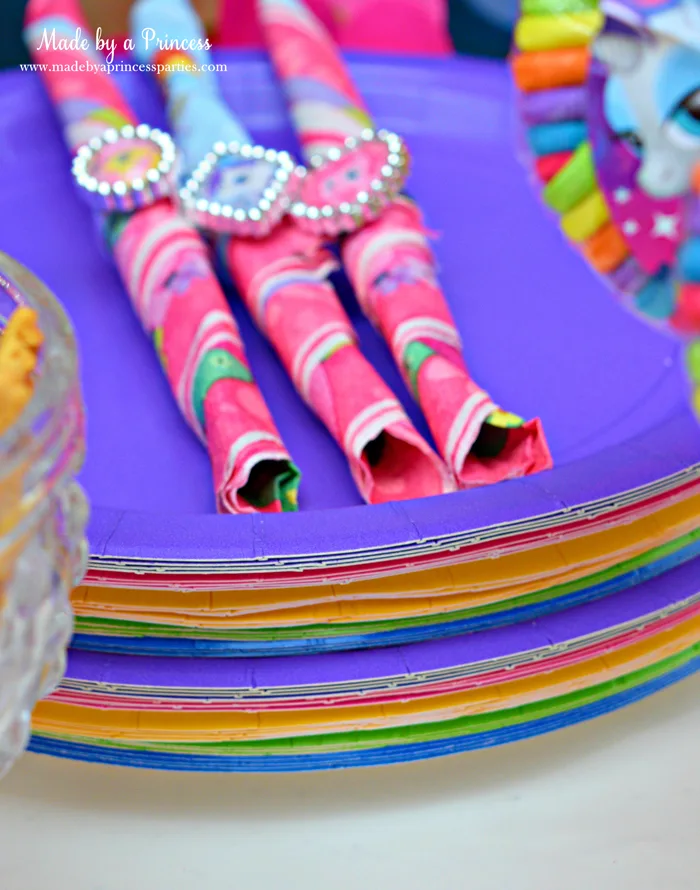 My Little Pony rings also make really cute napkin rings! Your guests slip them right off and wear them home.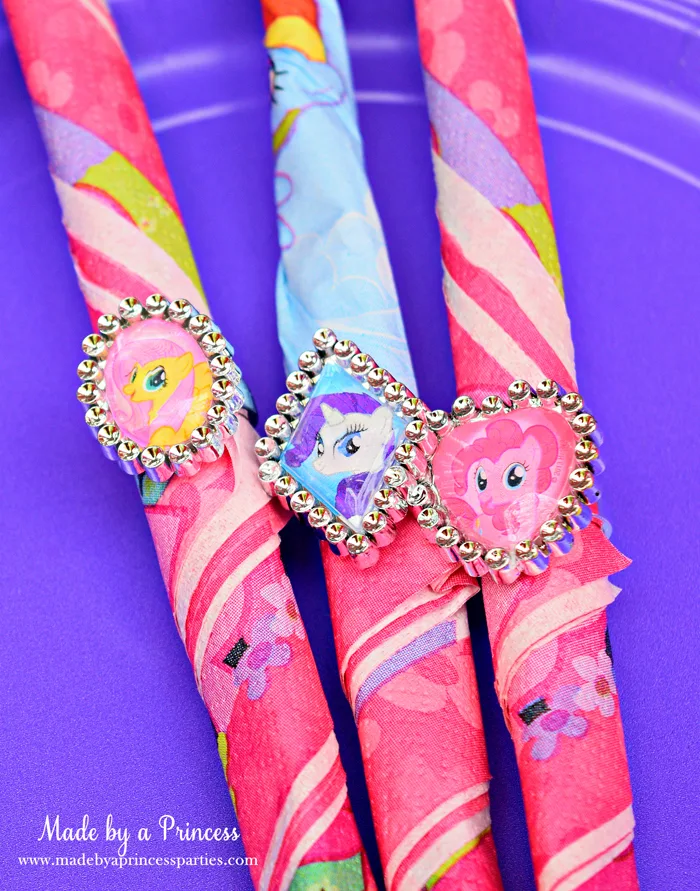 I hope you enjoyed my My Little Pony Party Food Ideas. Don't forget to download the Hershey Bar Wrappers. Want all of the printables I created and that you see here? Sign up to receive my newsletter and the printables will be delivered right to your email!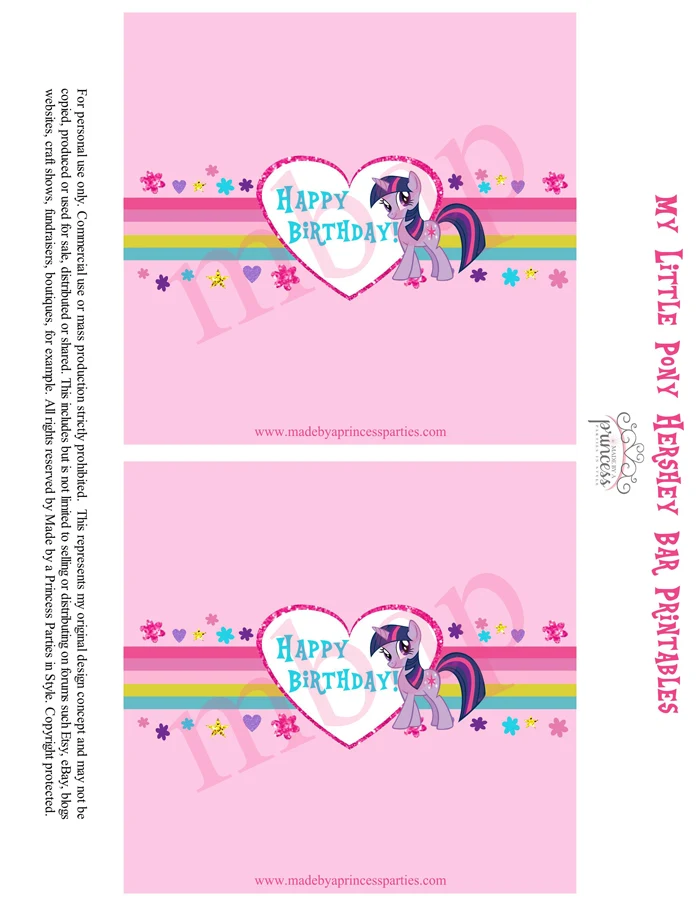 Hosting a Barbie Party? Download more free printables!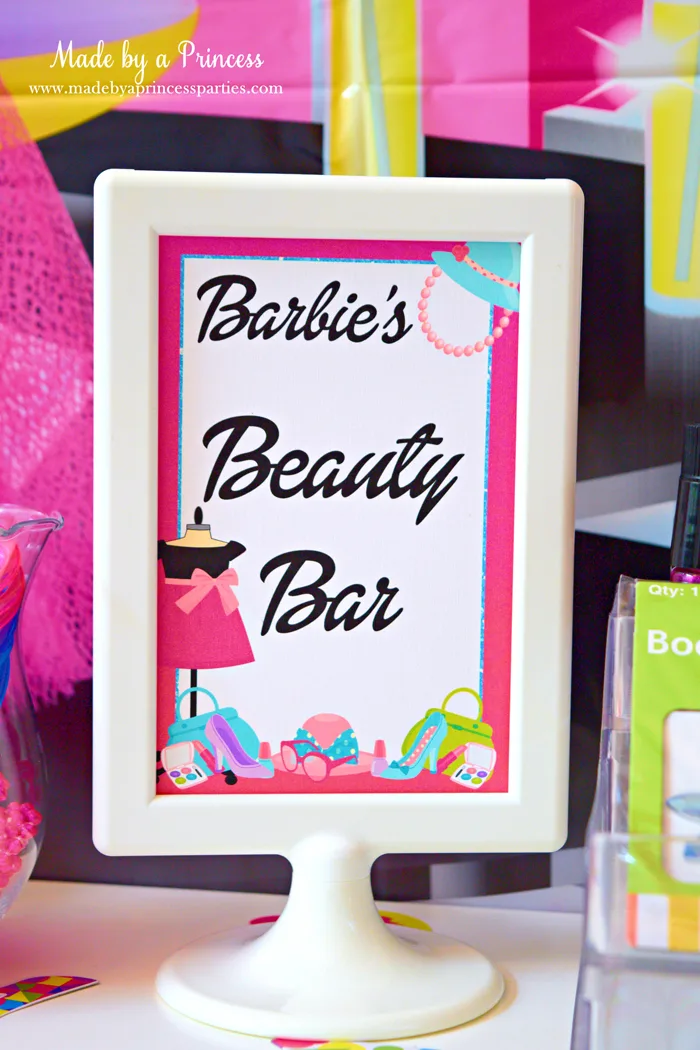 Check out more party ideas in my Unicorn & Rainbow Ideas!