This Turkey BLT Sandwich is sure to become your new favorite sandwich! Cheese bagel, fresh turkey, and candied bacon…can't get any better than that!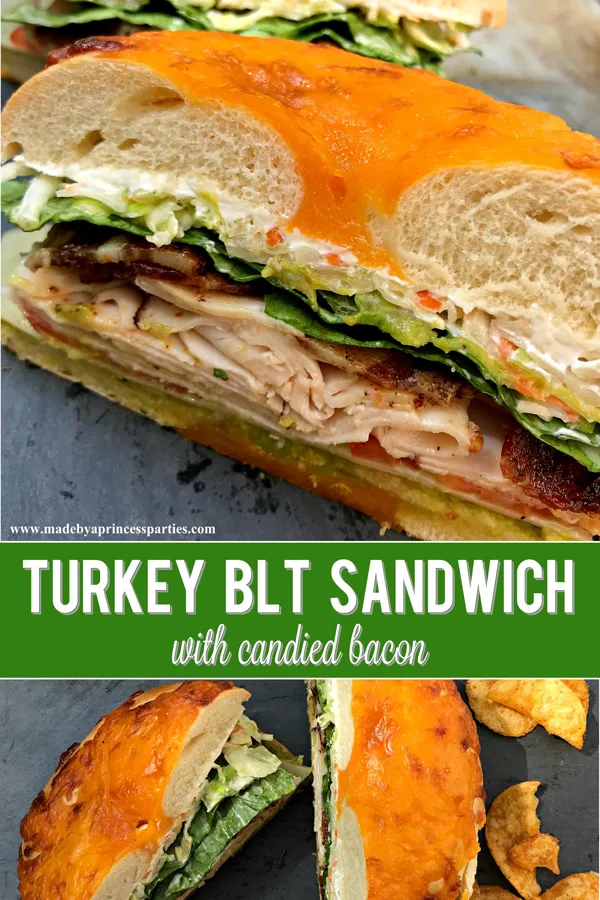 I'm going to go out on a limb and tell you that this turkey BLT recipe is going to be your new go to crowd pleaser. This is the best sandwich recipe, according to my family, and the only one everyone agrees on. Made with a cheese bagel, fresh turkey, and candied bacon this will hopefully become your new favorite turkey sandwich as well.
Weird Pregnancy Craving
When I was pregnant with my daughter there was little that didn't make me feel sick to my stomach. It was awful. One day in my 3rd trimester I woke up hungry, like really really hungry, and the only thing I wanted was a BLT sandwich. Actually, that's not completely true. It had to be a turkey BLT…on a bagel…with cream cheese.
For anyone who has ever been pregnant before you know what once you get an idea in your head about what you want to eat nothing else will do. Absolutely nothing. While this may not be the weirdest pregnancy craving ever it was for me because I have never ate BLT sandwiches. Ever. My daughter just turned 7 this month and it's still my favorite turkey BLT recipe.
What is in a BLT sandwich?
A classic BLT sandwich has bacon, lettuce, and tomato. Unlike the turkey club sandwich which has three pieces of toasted bread, lots of mayonnaise, oven roasted turkey breast, bacon, lettuce, and tomato, the BLT sandwich is a pretty no fuss sandwich. You don't even need a condiment on this one but I do recommend something as without it it's going to be pretty dry.
How to Make the Best Turkey BLT Sandwich
There are lots of ways to make a turkey BLT and you can find a ton of sandwich recipes online but I'm going to show you how I make my favorite sandwich. You will need fresh oven roasted turkey, an avocado, lettuce (you can use any kind, i.e. iceberg lettuce, Romaine lettuce, or butter lettuce), tomato slices, cheese (I prefer Swiss but cheddar cheese works well too), cole slaw, slices of bacon, bread or bagel, cream cheese, salt and pepper.
Cut your bagel in half and lightly toast it.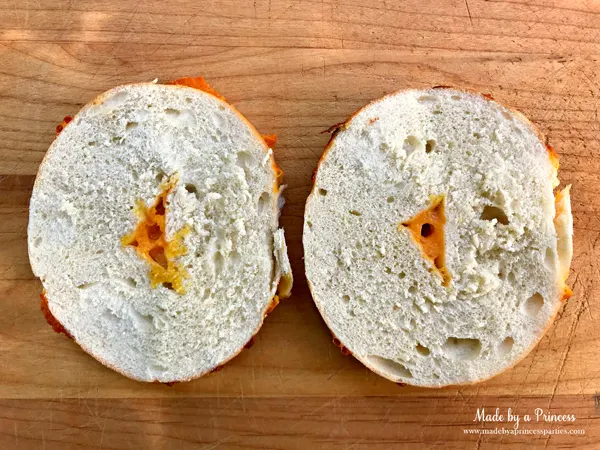 Place your avocado spread on one side and cream cheese on the other.
How to Make Avocado Spread
Avocado spread is perfect for sandwiches and is really easy to make. Slice an avocado and place it in a bowl. Using the back of a fork mash down the avocado and then stir until few lumps remain. Some lumps are fine. Add a pinch of salt, pepper, and onion powder and mix well. Avocado toast is pretty popular right now so if you are looking for a quick and easy sandwich idea, avocado spread makes a really good sandwich.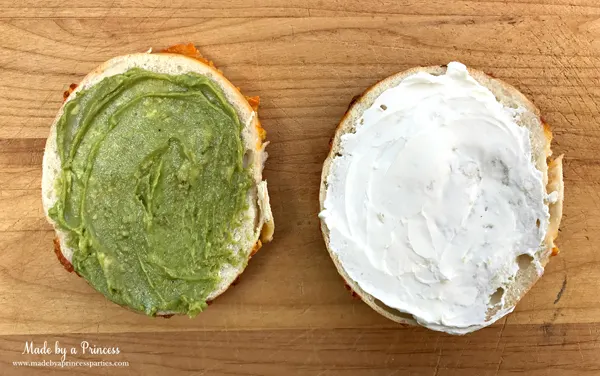 Place a piece of cheese on top of the avocado spread and cole slaw on top of the cream cheese. There really is no right or wrong here…if you want the cole slaw on top of the avocado go for it!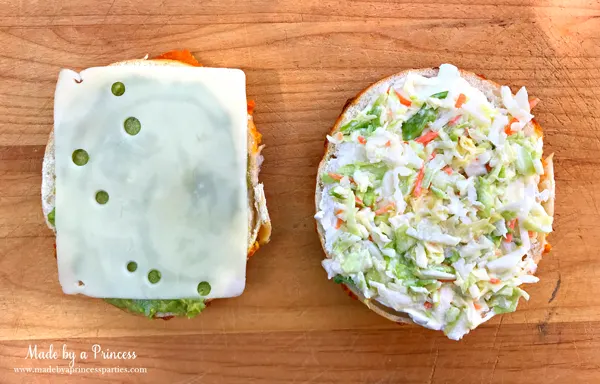 Next add tomato slices and lettuce. Sprinkle salt and pepper on each side.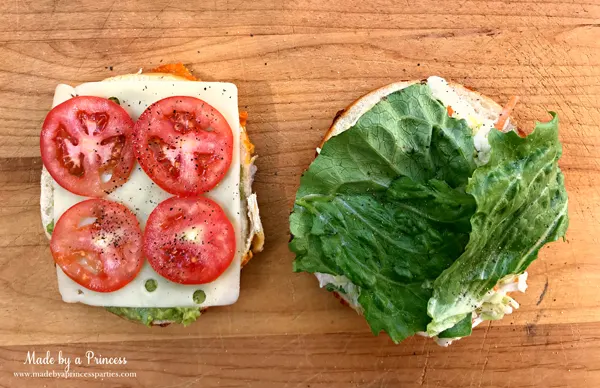 Lastly, add oven roasted turkey and candied bacon (also known as Man Candy Bacon).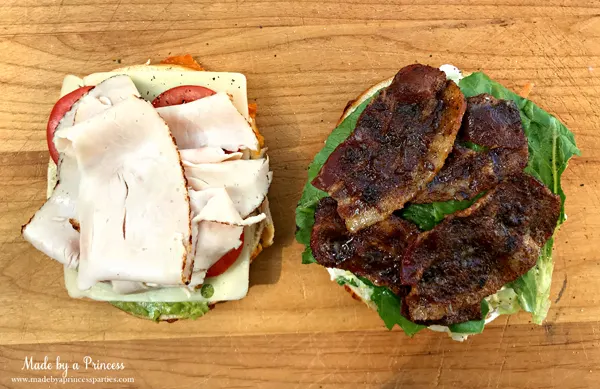 Your perfect BLT is ready to eat!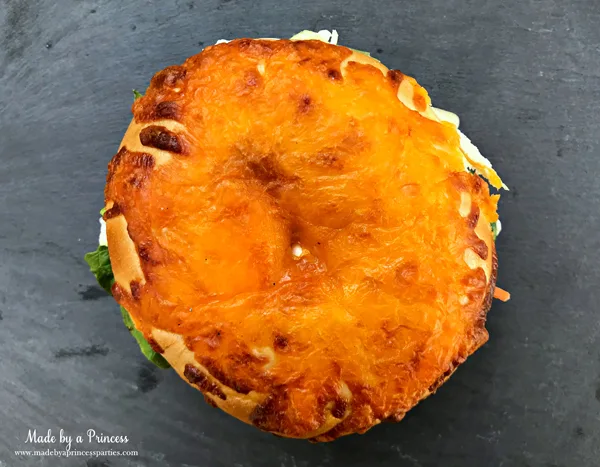 What to serve with a turkey bacon BLT you ask? I personally love baked barbeque chips but you can serve it with a small side salad, potato salad, fresh local fruit, or sweet potato fries.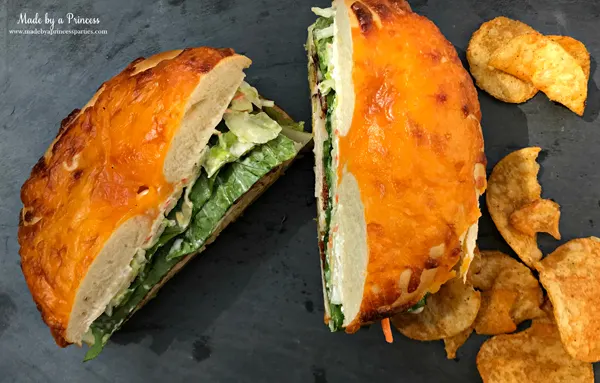 Now I'm really really hungry! Are you?! I think I'll surprise my family and make this for dinner tonight.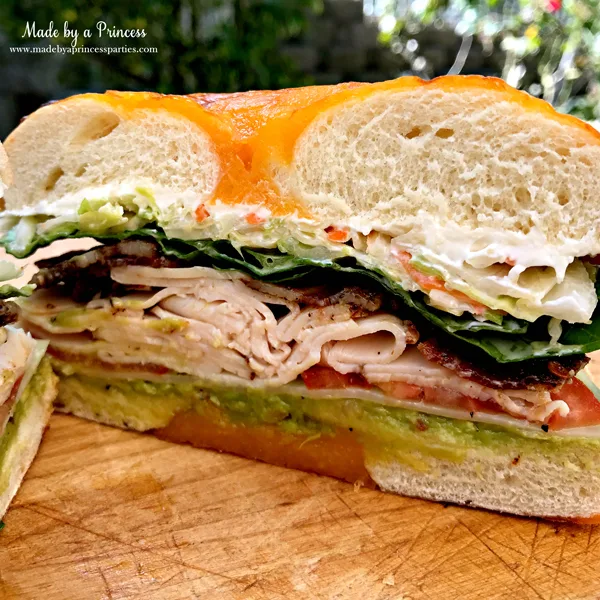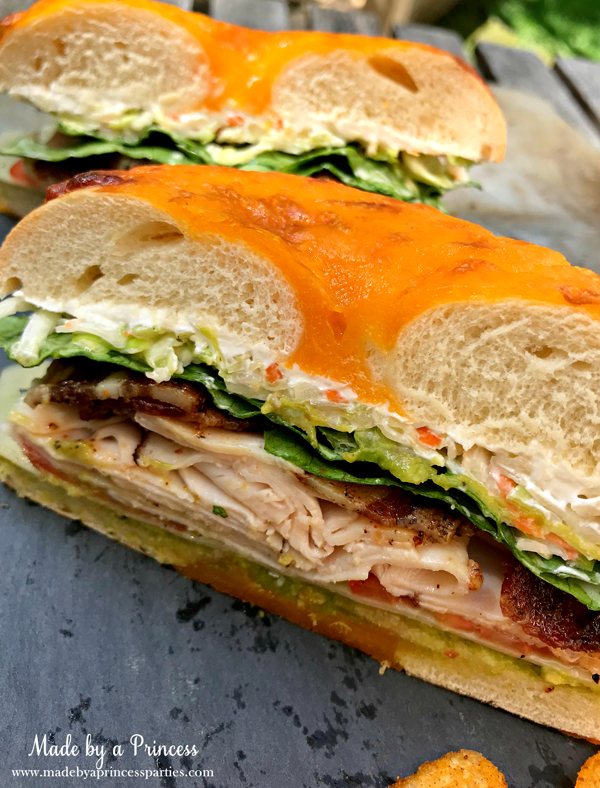 I hope you enjoyed my Turkey BLT Sandwich Recipe! Panera Bread's roasted turkey and avocado BLT sandwich on sourdough is pretty darn good but I think you're going to be a fan of this turkey BLT sandwich with candied bacon even more.