Get to Disneyland to celebrate Pixar Fest and all the fun Disney Pixar Fest food! Hurry before it all disappears September 3rd! #pixarfestfood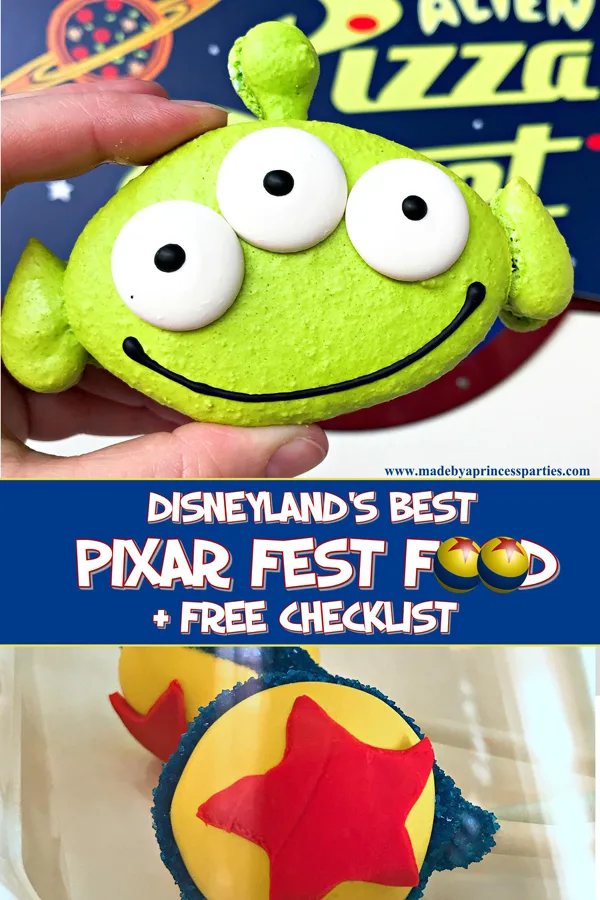 One of the many things Disney does amazingly well is create really cute Disney movie themed food. The Disney Parks are celebrating their first ever Pixar Fest, from April 13 to September 3, which means lots more adorable Disney food to be found in Disneyland, California Adventure, and Disney World.
Disneyland LA
Most people don't know this about me but I'm an LA girl. I grew up in the heart of Los Angeles in Hancock Park and attended an all girls Catholic school called Immaculate Heart. Tyra Banks was in my graduating class and the soon to be princess, Meghan Markle, graduated from there a few years later. I worked at the Beverly Center, "shopped" on Melrose during Senior lunch, and received my diploma on stage at the Hollywood Bowl. Looking back, I had a pretty fun childhood growing up in LA.
Another huge benefit to growing up in Los Angeles was being pretty close to Disneyland. My parents took us to Disneyland a couple times a year, which was always a really big deal. It never got old. We loved watching the Electric Parade and cried when it left in 1996. I've seen a lot of changes throughout the years but one thing that has not changed is how creative Disneyland food really is. Over the years I have seen such a transformation in the food at Disneyland and I swear it just gets better and better!
Can You Bring Food into Disneyland?
People are always surprised when I tell them that yes, you can bring food into Disneyland. Disneyland food prices are ridiculously expensive so we always pack Subway sandwiches, water bottles, and orange slices for lunch. You can rent a locker for $10/day now so I put our food in a soft sided cooler in the locker so it stays cool until we are ready to eat.
We don't buy a bunch of snacks and knickknacks so my kids were pleasantly surprised when I told them we were all going to ditch school and work and go to Disneyland to eat #allthefood at Pixar Fest. I kind of got the impression they didn't believe me. It wasn't until I showed them my Pixar Fest Food Checklist that they realized how serious I was. If we were going to do this I wanted to go all out!
Disneyland Eats
There are so many Disneyland eats on the Pixar Fest Food list that it is a little hard to figure out what to try first. Disneyland desserts are pretty fantastic so of all the things to eat at Disneyland that's a darn good place to start.
To heck with diets! There are no rules when it comes to food at Disneyland…especially Pixar Fest Food!
Pixar Fest Food
All over the park you will see signs like the one below. This tells you that shop, cart, or restaurant has Pixar Fest food or merchandise. I will share Pixar Fest merchandise in a separate post…here we are going to focus on all the Disneyland treats you can find.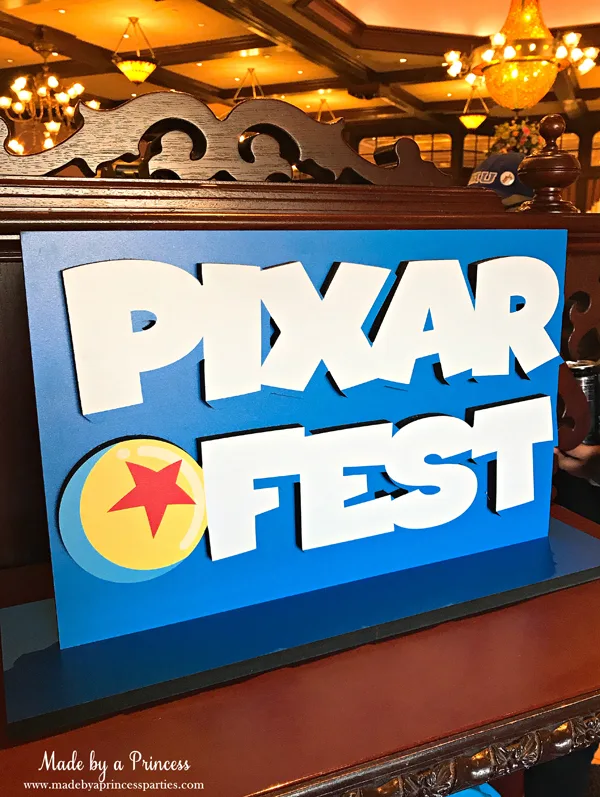 Pixar Fest Food in Tomorrowland
One thing you must try are the Toy Story Alien Macarons found in Tomorrowland at Alien Pizza Planet next to Space Mountain. They are $5.99 but it's a good sized cookie. I looooove macarons so I was most excited to try this. Isn't he just so cute?!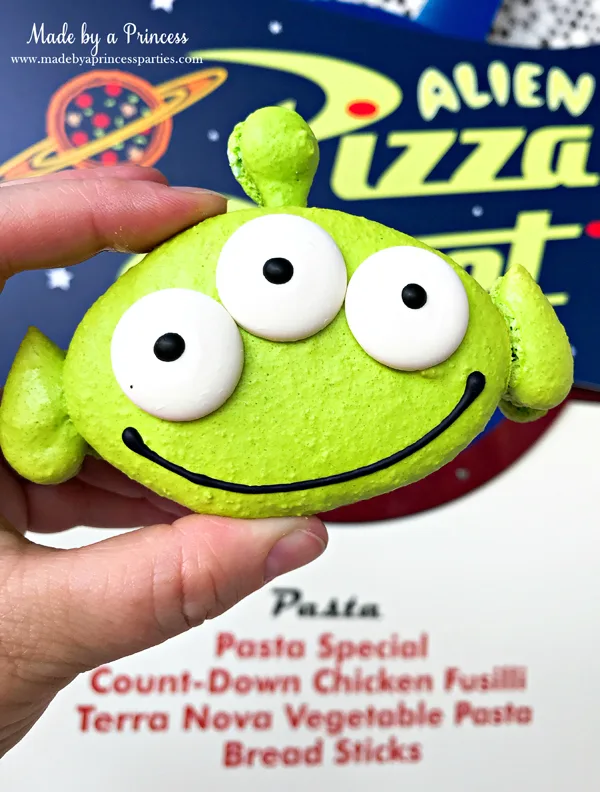 Inside you will find a lemon and blackberry filling.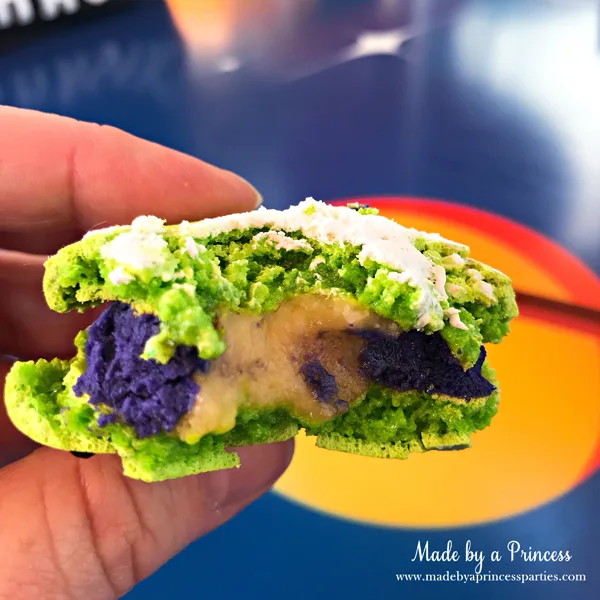 The Toy Story Alien Parfait is…different. As you can see from the picture below it is three layers: the bottom is vanilla cake, the middle is blackberry filling, and the parfait is lime. The closest thing I can liken the parfait to is a mousse. It was good. My daughter and I much preferred the macaron where as my teenage son really liked this. It is super cute though. This is also $5.99.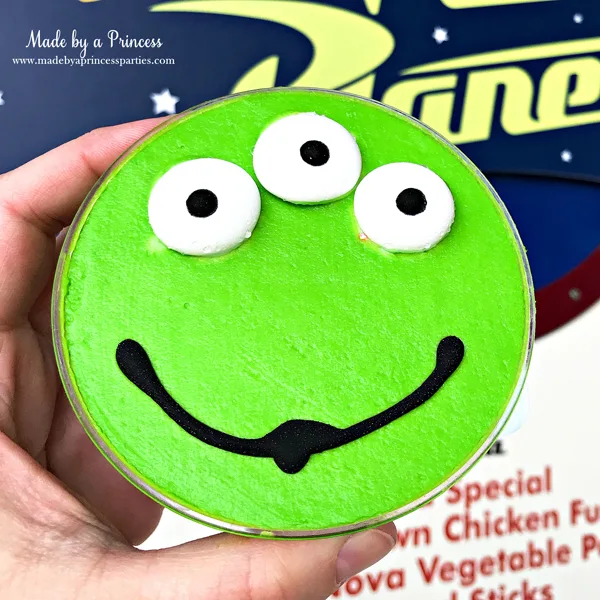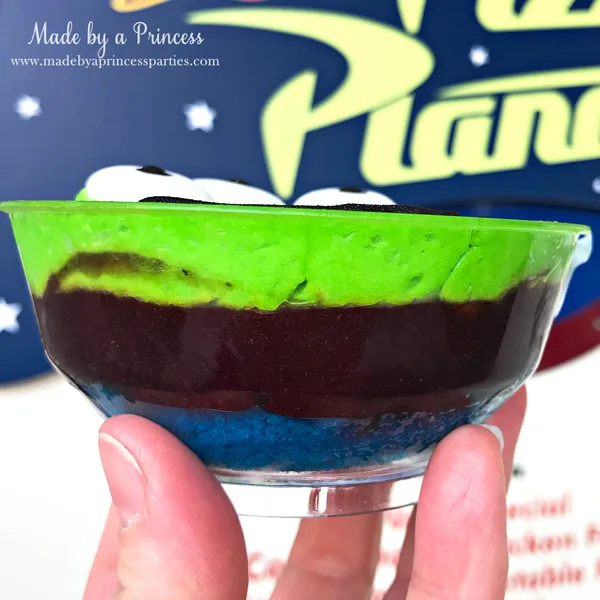 Pixar Fest Food at Candy Palace
Luxo Ball Cake Pops are really popular and can be found at the Candy Palace, Main Street USA, as well as several confectionery locations throughout the park. Pixar Fest Food cake pops are all $5.49. Luxo Ball Cake Pops are only available until June 22nd and will be replaced by Luxo Ball Candy Apples starting June 23rd.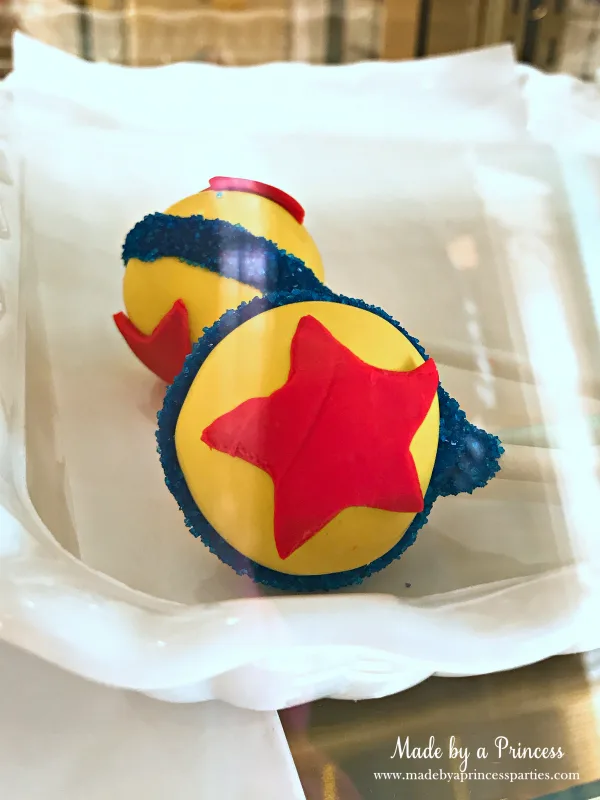 I really regret not buying one of Ellie's Grape Soda Cake Pops. We had tried so many other things that none of us could even think about eating one more thing. I will for sure get one when I go back though. These are also $5.49 are will be avaible throughout the duration of Pixar Fest. Starting June 23rd you will be able to purchase Dug the Dog and Russell inspired Cake Pops as well.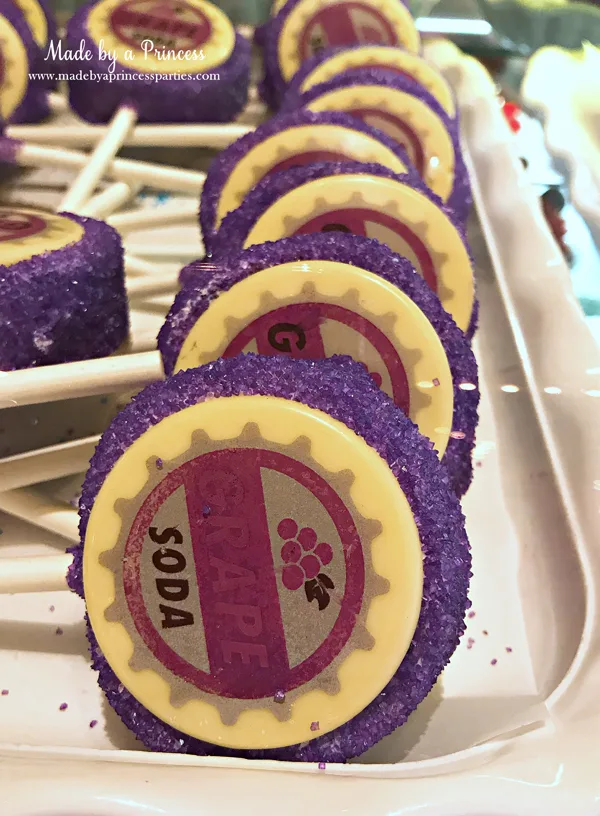 McQueen and Tow Mater Candy Apples are really popular and can be hard to find. These McQueen apples were in the Candy Palace but Mater had already sold out. Pixar Fest Food character apples are $12.99.
From now through June 22nd you can purchase Toy Story Buttercup Candy Apples as well as Alien Candy Apples. I heard they also have Hamm Candy Apples but I didn't see any and no one I spoke with could confirm this. Starting June 23rd you will be able to purchase Toy Story Alien Cake Pops.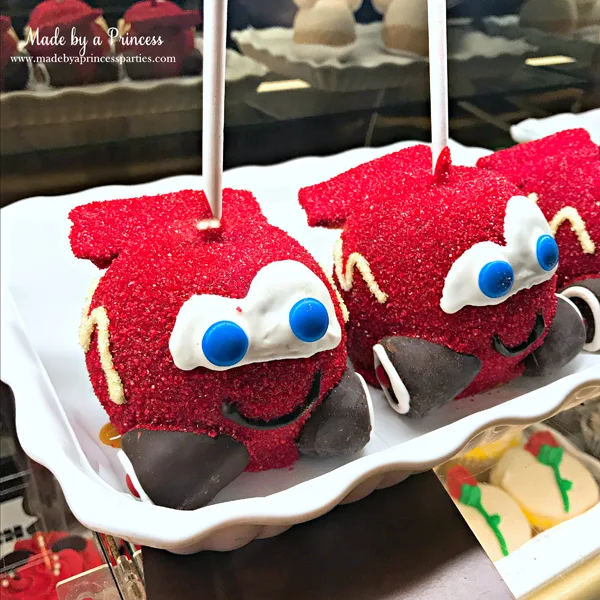 These Alice in Wonderland Cheshire Cat Marshmallow Tails are not considered a Pixar Fest Food or even Pixar themed but I thought they were really fun. You can pick one of these up for $4.99.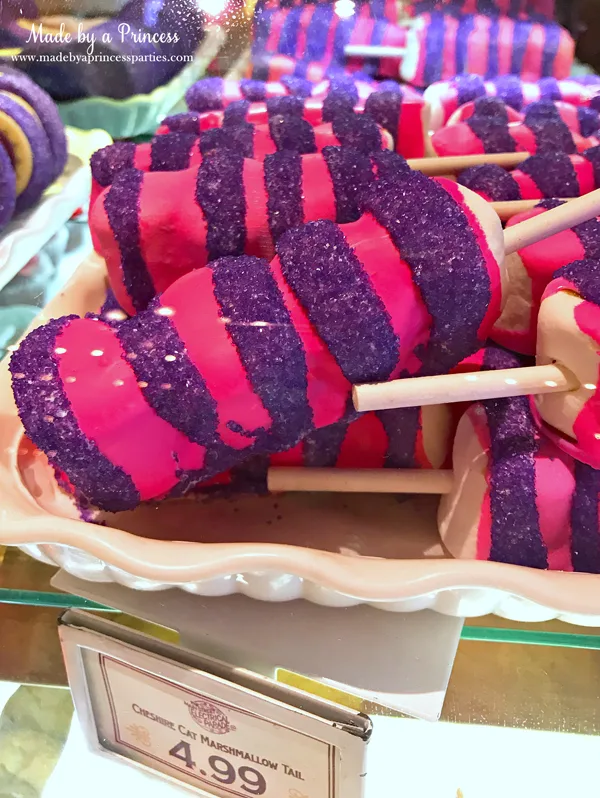 Pixar Fest Food at Cotton Candy Carts
This Finding Nemo inspired orange creamsicle rose gold cotton candy is so dreamy! It even has edible glitter. Y'all know how much I love edible glitter! If we hadn't just polished off our Baby Dory Cake Pops and Tigger Tail Marshmallow Wands I would have totally eaten this. Le sigh. Next time…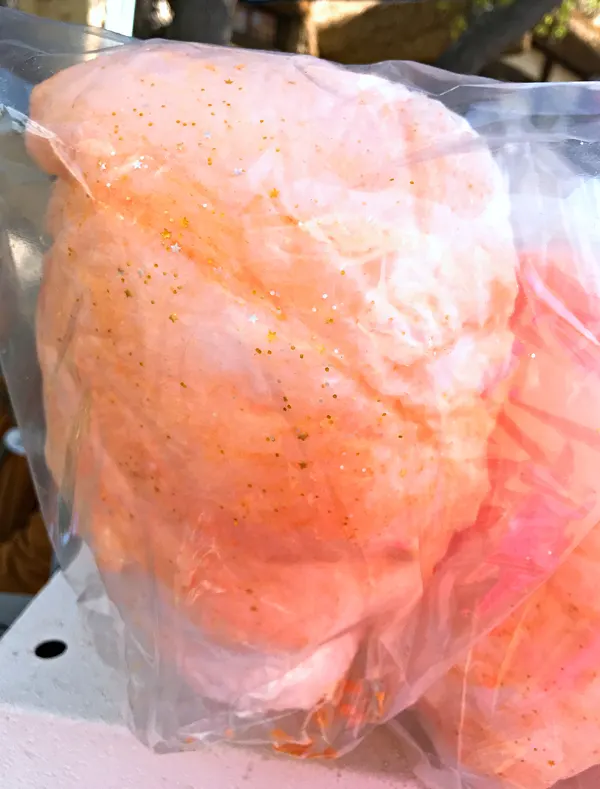 Pixar Fest Food at Popcorn Carts
There are popcorn carts throughout Disneyland Resort so if you are looking for cute popcorn buckets it shouldn't be too hard to find. This Mickey Mouse balloon inspired one was found at the cart in front of Big Thunder Mountain. Many of the carts are selling the Pixar Fest limited edition Monsters, Inc. Sulley popcorn bucket but we didn't see one all day. I wasn't really looking all that hard to be honest but from what I have seen online they are darling. A Sulley popcorn bucket is going to cost you $16.00, just FYI.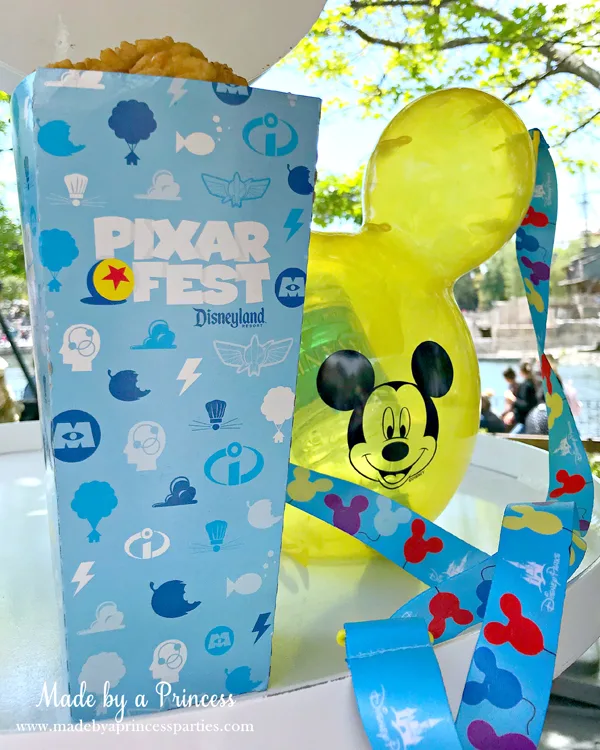 One of the coolest things about the Sulley popcorn bucket is that it fits together with this Mike Wazowski sipper cup. It's quite a bit smaller in person but really really cute. This is going to set you back $18.00 but it does come with your choice of drink of several Disneyland drinks. We found this Mike Wazowski sipper cup at the coffee cart in front of Sleeping Beauty's Castle paired with a Frozen Grape Soda Slush. While I did not purchase the Mike sipper I did buy a Grape Soda Slush and thought it was pretty good. I was afraid it was going to be too sweet but it really wasn't. Just the slush is $6.00. Yikes. $6.00 is pretty steep for a slush but what can I say…I was swept up in the moment.
This is also where we found the coveted Dole Whip Pineapple Donut. The one we waited 45 minutes in line to get? Yeah, that one. More on that later…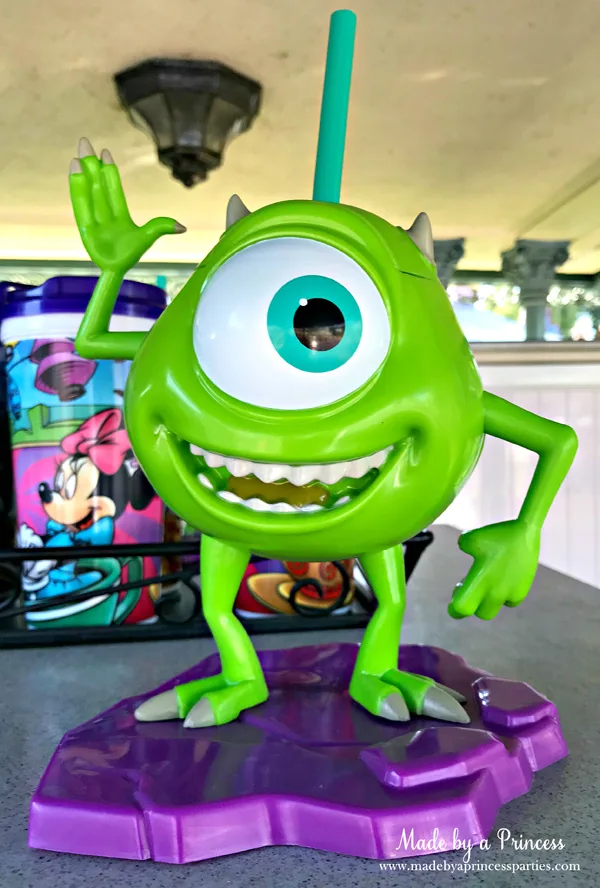 Pixar Fest Food in Pooh Corner
Baby Dory! Isn't Baby Dory just the sweetest?! I am not a huge fan of cake pops (I remembered this as soon as I took a bite) but I just had to try this out because it's so stinkin cute. You can also find Nemo Cake Pops as well as Nemo and Dory Candy Apples in Pooh Corner. Cake pops are $5.49 and apples are $12.99.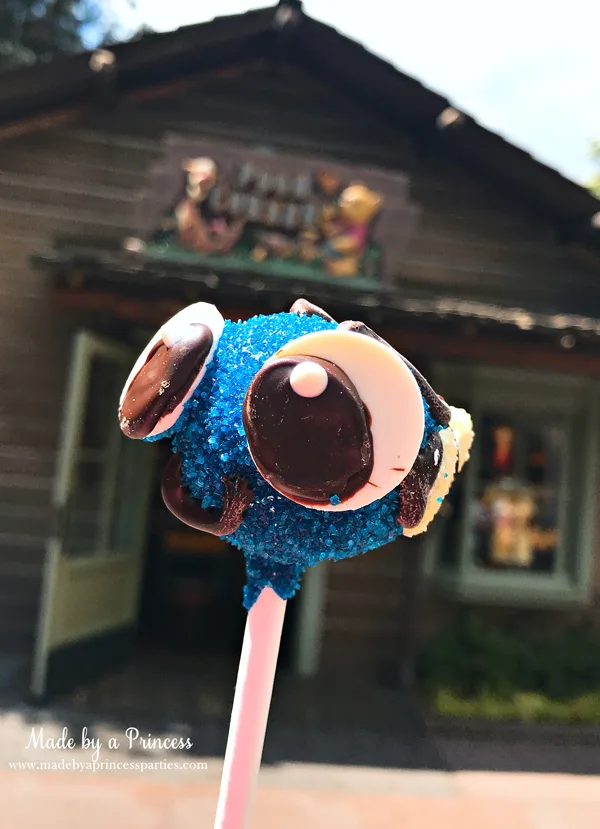 This is not a Pixar Fest Food item but I just had to share it. This is a Winnie the Pooh Tigger Tail Marshmallow Wand. My daughter took one bite and was instantly disappointed because the marshmallow is covered in caramel. Oh the horror!! I thought she knew that but whatevs. I handed her my Baby Dory Cake Pop ($5.49) and I took her Tigger Tail ($4.99). All was right in the world.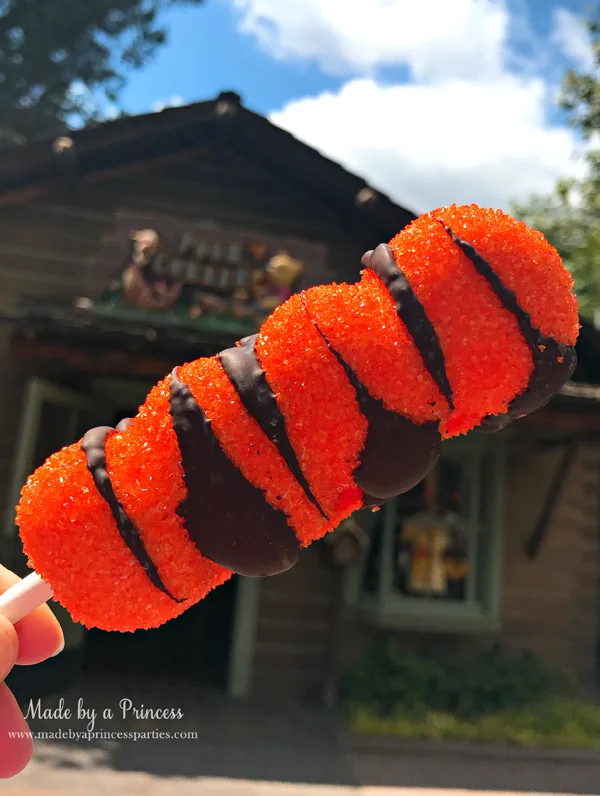 My absolute FAVORITE Disneyland treat are these Winnie the Pooh Candy Apples. You can only get them in Pooh Corner which is a damn shame. If I had one speck of energy left at the end of night I would have made my way to Pooh Corner to buy one and take it home. We closed the park down at 11p and there was no way we were going to be able to hobble over to Critter Country from Big Thunder Mountain in the two minutes we had before the park closed. Next time. There is always next time… Hunny Pot Candy Apples are $11.99.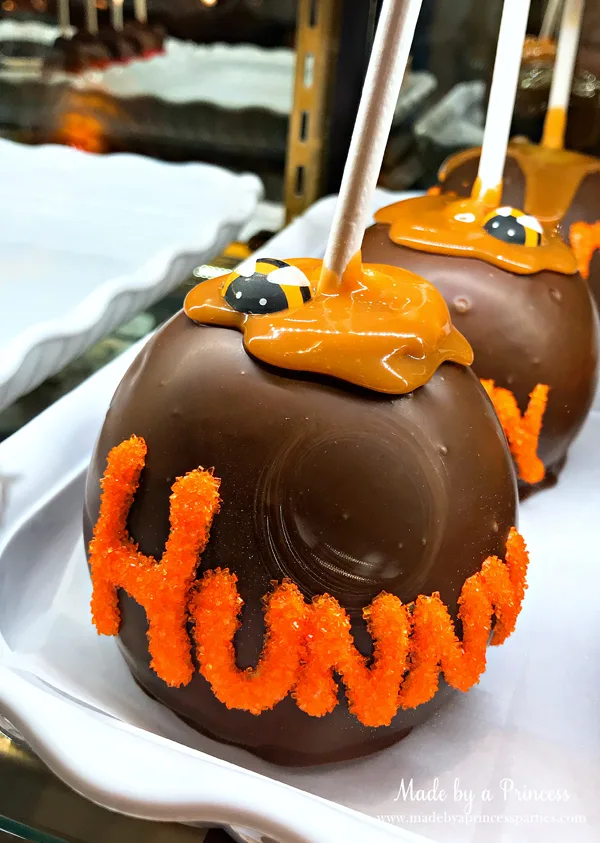 These Hunny Pot Rice Krispy Treats are really sweet too. These are a deal at only $4.49.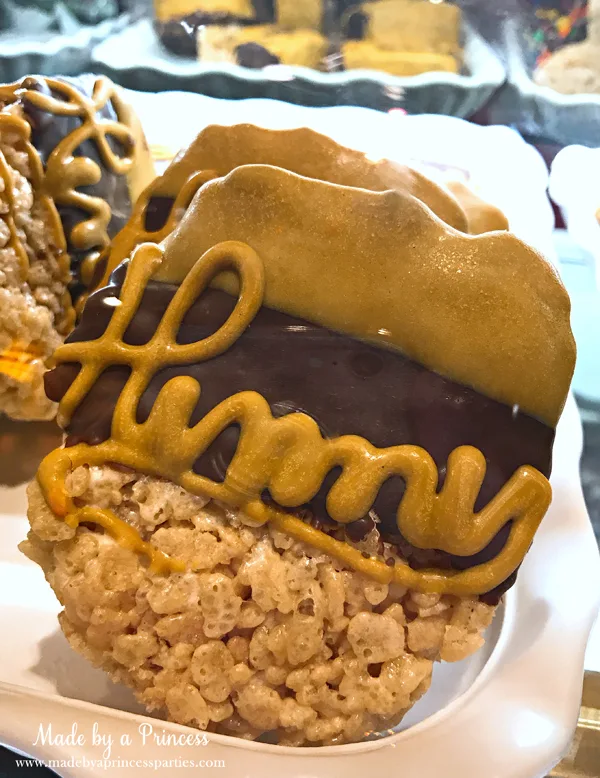 What is the Best Snack or Junk Food to Eat in Disneyland?
I don't know that I could really say what the best snack or junk food to eat in Disneyland is right now. That's a tough question because the food at Disneyland is so cute and creative. There were so many Pixar Fest Food treats that we didn't get around to trying. I was willing to give a few more a shot but my kids kept telling me they were too full. My almost 16 year old told me he couldn't wait to eat his Subway sandwich because he really needed some protein. Even teens have their sugar limits.
If we get back before the end of Pixar Fest we really want to try the Pixar Fest Celebration Cake (Plaza Inn), the Coco inspired Cocoa Churro with Mexican Chocolate Dipping Sauce (churro carts), Toy Story Jessie's inspired Berry Jubilee Funnel Cake, or Woody's Boot Beer Root Beer Float which you can get in a souvenir boot complete with Andy's name on the bottom. I am bummed we didn't make it back to Tomorrowland to try the Super Nova Cheeseburger Pizza too. It sounds weird, I know, but I heard it's really good. If you try it please let me know what you think!
What's on your Disneyland Bucket List?
Are you going to Pixar Fest? Are you looking forward to trying any of the Pixar Fest Food? I'd love to hear what is on your Disneyland Bucket List! If you have any questions about Disneyland I'd be happy to answer them.
I know there are thousands of Disney food blogs, and Disney travel blogs out there so I really appreciate you stopping here and reading my Disneyland's Best Pixar Fest Food and Checklist. Ooooh the checklist! Don't forget to print it out and take it with you to Disneyland or California Adventure. I have included all the Pixar Fest Foods, where you can find them, and how much they are so you can plan accordingly. The checklist fits perfectly in the guidemap for both parks so all you need to do is fold and slip it in your map. Take a pen so you can check them off as you eat all the fun and amazing Disneyland eats!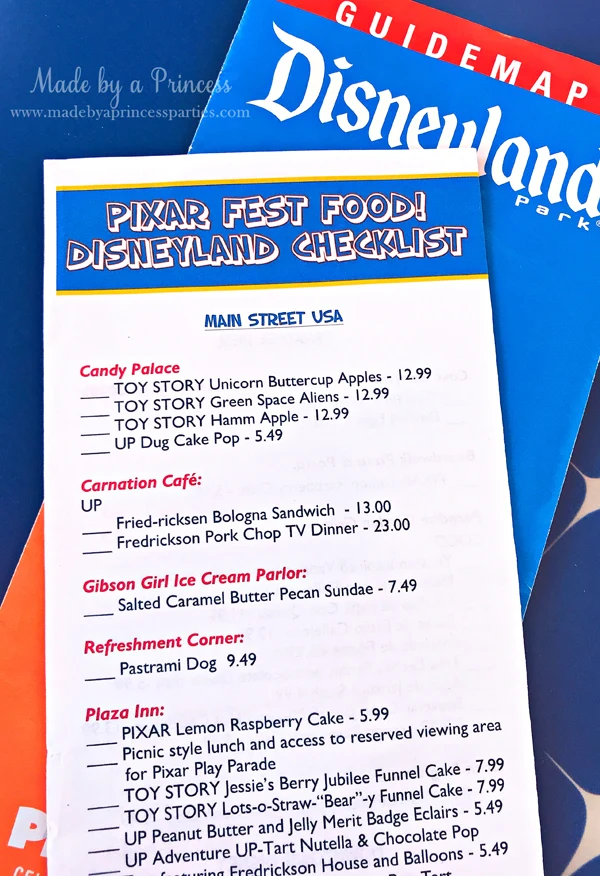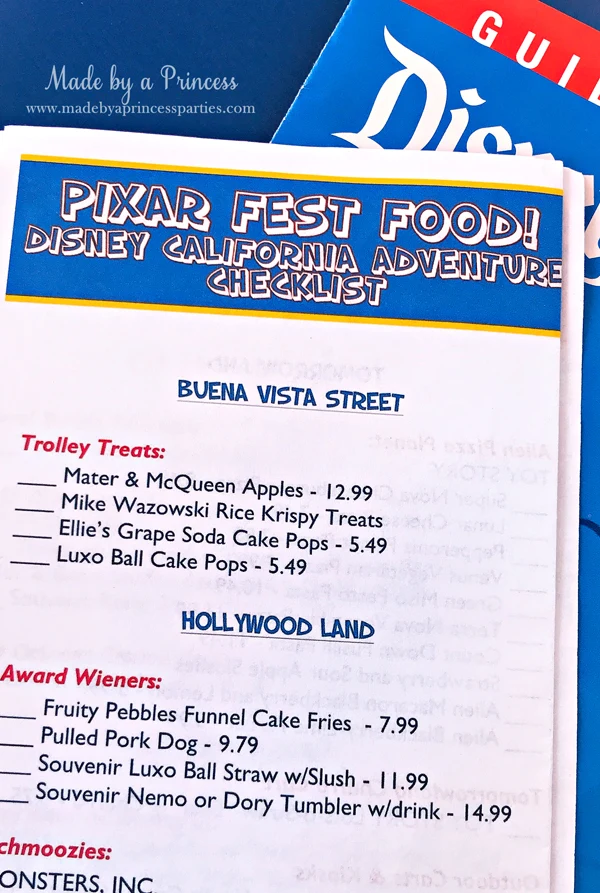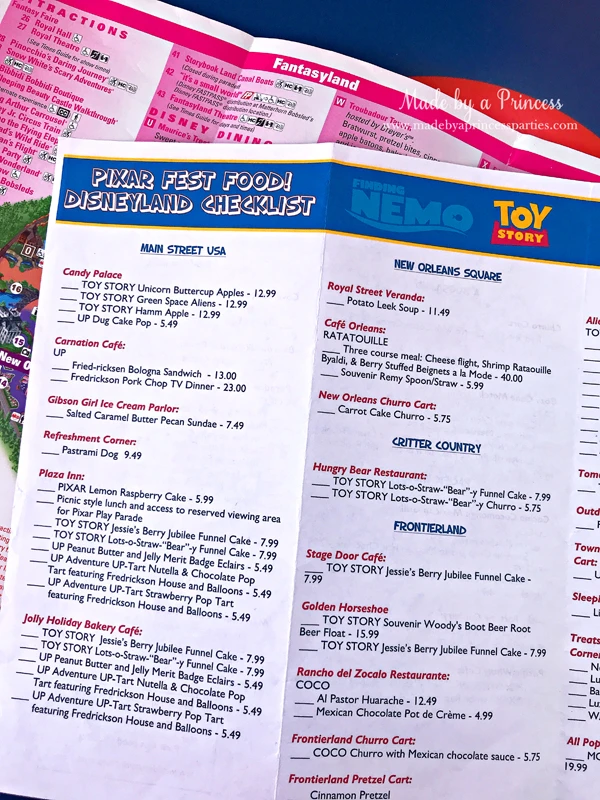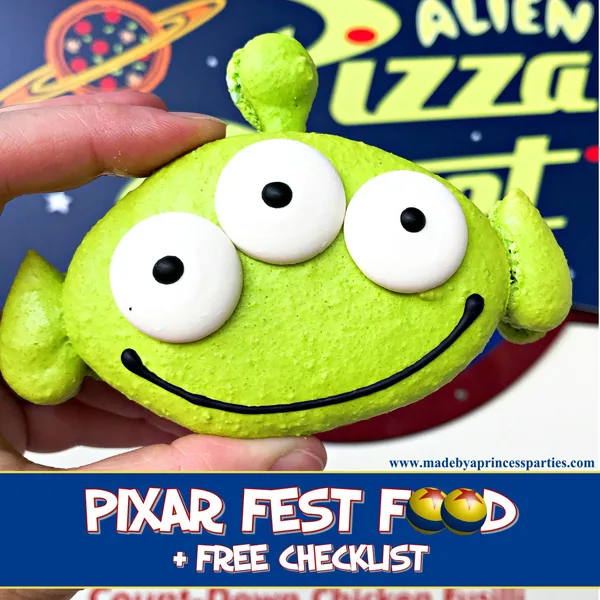 Here is your Disney Pixar Fest Food Checklist! Click the link or the picture to download and print. Page one has your Disneyland list and page two has the California Adventure list. I will update the file as I come across new information.