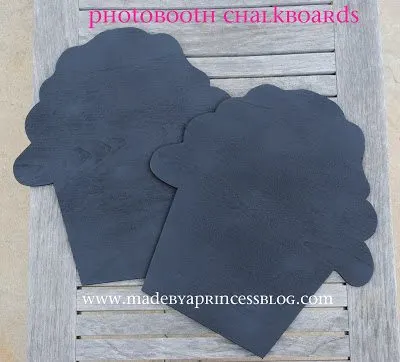 This should actually be called, "What My Husband Made Monday" because he painted these…not me. Damn I love this man. He is so good about indulging all my hairbrained craft ideas.
So Princess Cupcake's 1st birthday is next month and it is, naturally, a cupcake themed party. I decided long ago that we are doing a photobooth so of course I had to have cupcake shaped chalkboards! They are not as easy to find as you would think. I searched and searched and then searched again and ta-da! Found them on Etsy at SouthernSupply. Tammie was so sweet and responded to my question so quickly. I quickly made my purchase, she boxed them up, and I had them in my hot little hands three days later. Contact Tammie if you are looking for unfinished shapes or checkout her other shop SassySouthernCharm for adorable wedding signs.
Ok, back to my cupcake boards…I stopped in HomeDepot and purchased one can each of gray spray paint primer and another can of black chalkboard paint. One was more than enough and there is plenty left over for the next project.
Step 1 is to spray with primer.
Let dry between coats. We left them for about 10 minutes each coat.
Step 2 is to spray with chalkboard paint.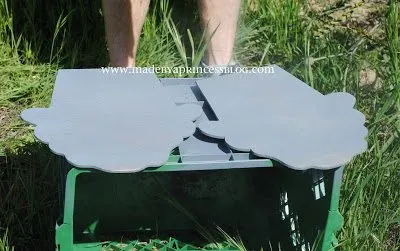 Step 3…admire your beautiful handiwork!
Step 4 write a message!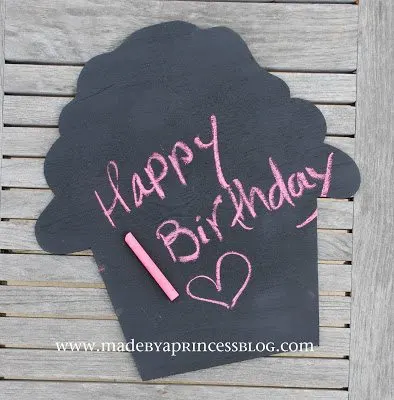 This was a super easy project (don't tell my husband but I really could have done it myself!) that took only about an hour and most of that was drying time.
Can't wait to use these adorable cupcakes for Princess Cupcake's First Birthday Party!