Hello Princesses! I'm so sorry I've been so incommunicato lately! I have been so busy getting ready for me NEW SITE that I have neglected my poor blog. I have some work to do here too but just hang in with me as I get ready for my Grand Opening!


I was supposed to get this up yesterday but it just didn't get done with traveling back from Los Angeles to see my mama. I decided to create Say it Sunday because sometimes simple words are enough. I found this on Pinterest and fell in love with it. I sing this song to my kids and it always makes them smile…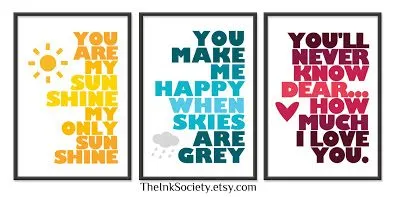 I think this would look spectacular in our hallway!


Have a wonderful week Princesses!

TO PIN YOU MUST BE IN THE ACTUAL POST, NOT THE HOME PAGE.