This past Tuesday Miss Cupcake had croup so I stayed home with her. Couldn't really do much, it's not like I could take her Christmas shopping, so I looked around my kitchen while she was napping and thought, "Hmph. What can I make that's not going to make a big mess or take too long?" Let's check the frig. Milk, Pomegranate Limeade, open jar of salted caramel sauce, pickles, eggs, sausage, cheese, Vitamin Water, greek yogurt…wait…go back to the eggs, sausage, and cheese…egg muffins in a tin! Yes! I saw them on Pinterest and have been wanting to make them. Got out my cupcake tin and was in business.
What you need:
Cupcake or muffin tin
Preheat oven at 375 degrees
Bake for a total of 16 minutes
I had a 16oz roll of (uncooked) Jimmy Dean pork sausage which was the perfect amount to make 12 muffins. I made little patties and set them in the bottom of the tin, cracked an egg over the sausage and popped them in the oven for 8 minutes on 375 degrees. I pulled the tin out and laid cheese on top of each sausage/egg cup. Bake for another 8 minutes. Because I intended on freezing the batch I only toasted one english muffin.
Here is what the tin looked like fresh out of the oven. Well, almost, I did snag one first.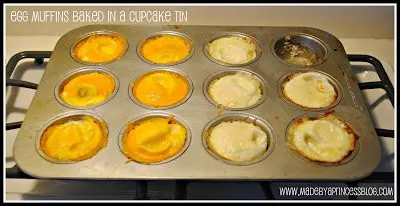 And here is how it looks after I took a big bite…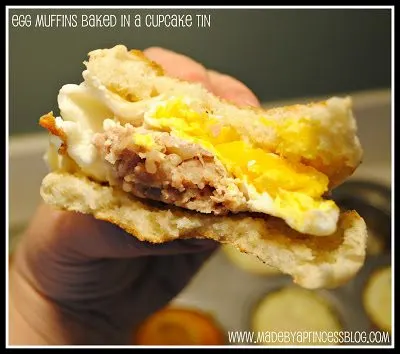 The rest are in the freezer waiting for breakfast tomorrow. I tried freezing with the English Muffin but I didn't like what it did to the muffin so now I put the frozen egg, sausage, and cheese "cup" in an English Muffin, wrap in a paper towel, and microwave for about a minute. Depending on your microwave in make take a bit longer to make sure the center is warmed as well. That's it! Healthy, easy breakfast.
Now, go make your own and come back and tell me about it!

TO PIN YOU MUST BE IN THE ACTUAL POST, NOT THE HOME PAGE.
I am really new to Linky Parties & Blog Hops so please spread the word!
Where I'm partying this week…