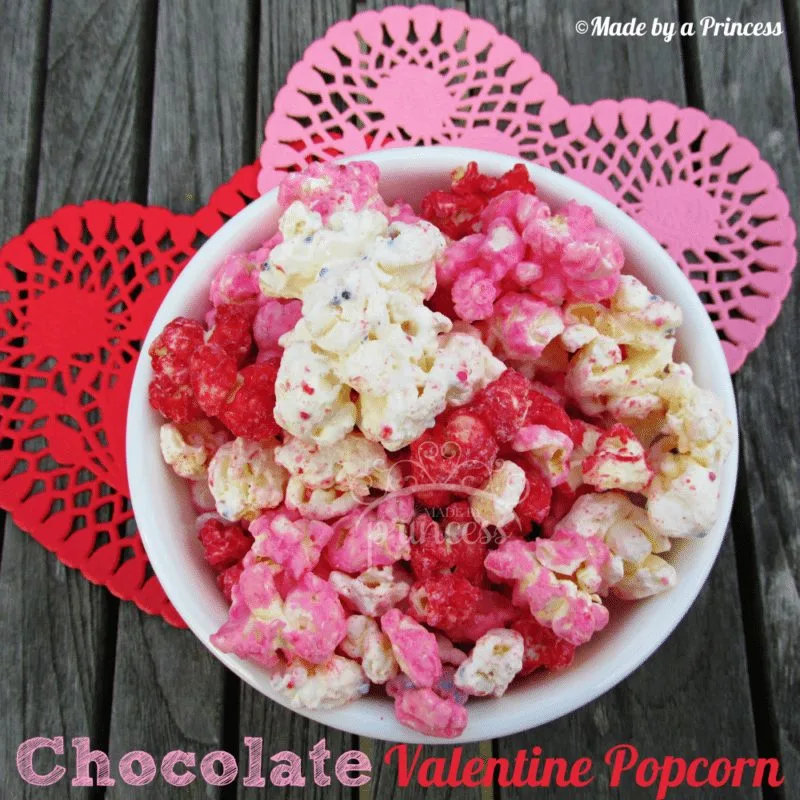 When my son told me it was his class' turn to host the Friday Fundraiser Bake Sale I was pretty happy about it because that meant I could try out my recipe for Chocolate and Candy Valentine Popcorn. I have seen recipes for candy coated popcorn for a couple years and wanted to put my own spin on it.

I gathered my supplies, put my toddler down for a nap, and started melting some chocolate.
Here's what you need:
-One bag each of white, pink, and red chocolate candy melts (I used Wilton brand found at Michaels)
-(3) packages of microwave popcorn
-Confetti sprinkles
-(3) boxes conversation hearts
-About one cup of candy hearts (I found a bag of white, red, and pink colored little candied hearts at Dollar Tree)
-Treat bags
-Microwave safe bowl
-Very large plastic bowl to put all popcorn in to toss
-Cookie sheet
Pop all three bags of popcorn, one at a time, and set two aside. Take one bag and spread the popcorn out on the cookie sheet making sure you take all of the unpopped kernels out. Put them in a small bowl. Pour the white chocolate candy melts in the microwave safe bowl and melt in 30 second intervals, stirring in between, until the chocolate is completely melted.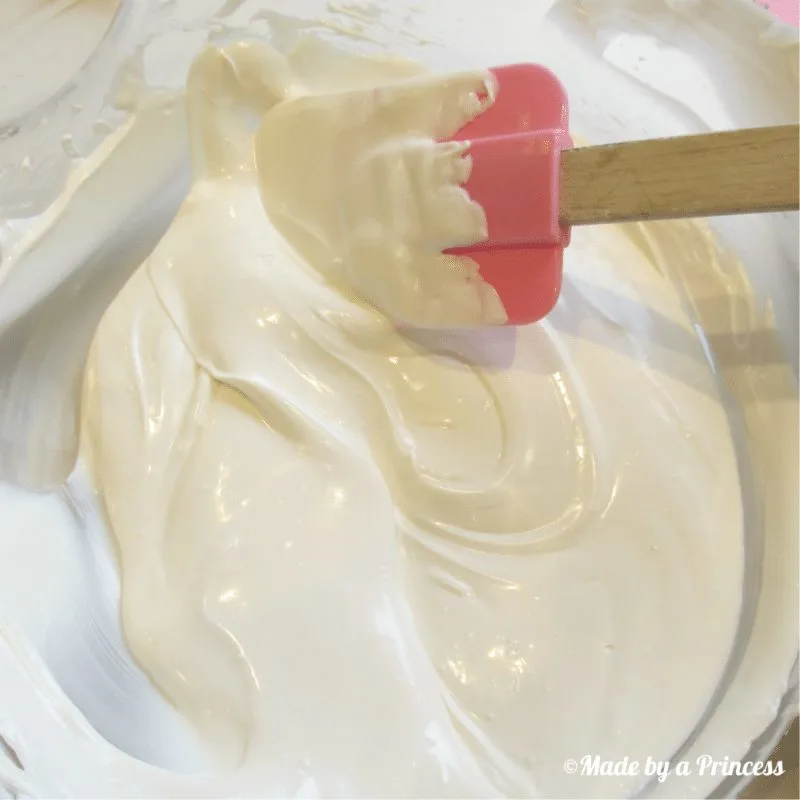 Pour melted chocolate over popcorn on cookie sheet and slowly move around with a spatula until completely covered. Sprinkle confetti sprinkles before chocolate hardens and slowly move around again until well coated.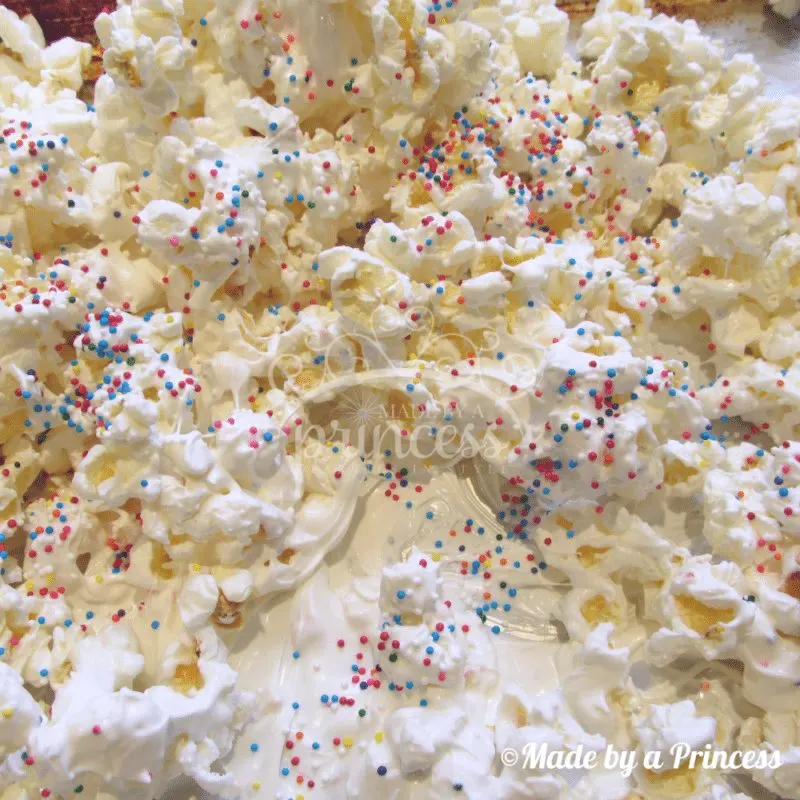 Pour pink chocolate candy melts into same bowl used for the white chocolate. Place all this chocolate coated popcorn in your large bowl.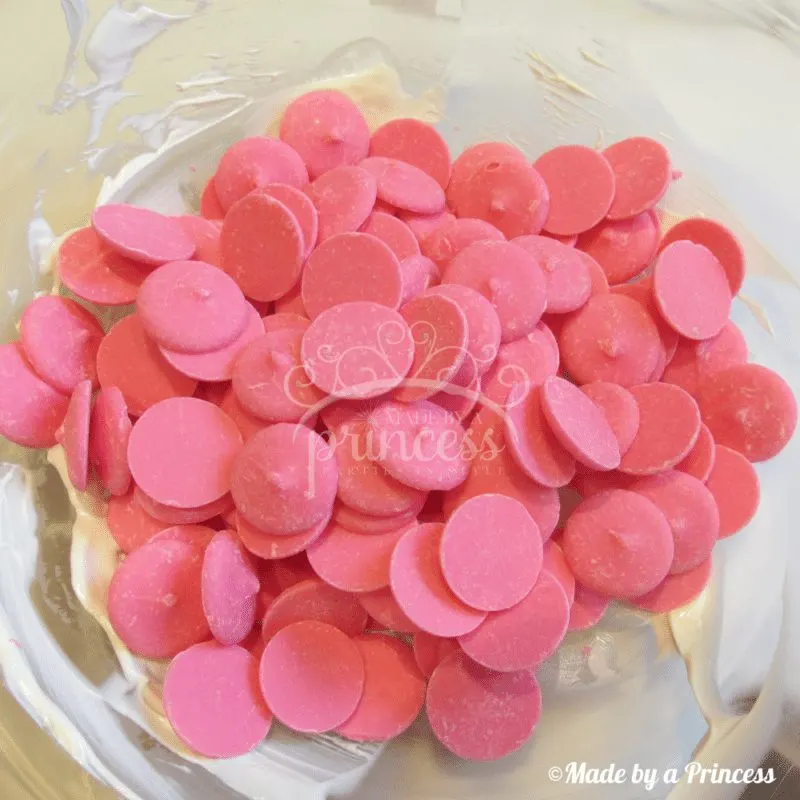 Take second bag of popcorn and pour out into cookie sheet and put all kernels in the small bowl. Spread conversation hearts throughout popcorn.
Follow same process as before and melt pink chocolate in 30 second intervals, stirring in between, until completely smooth and melted.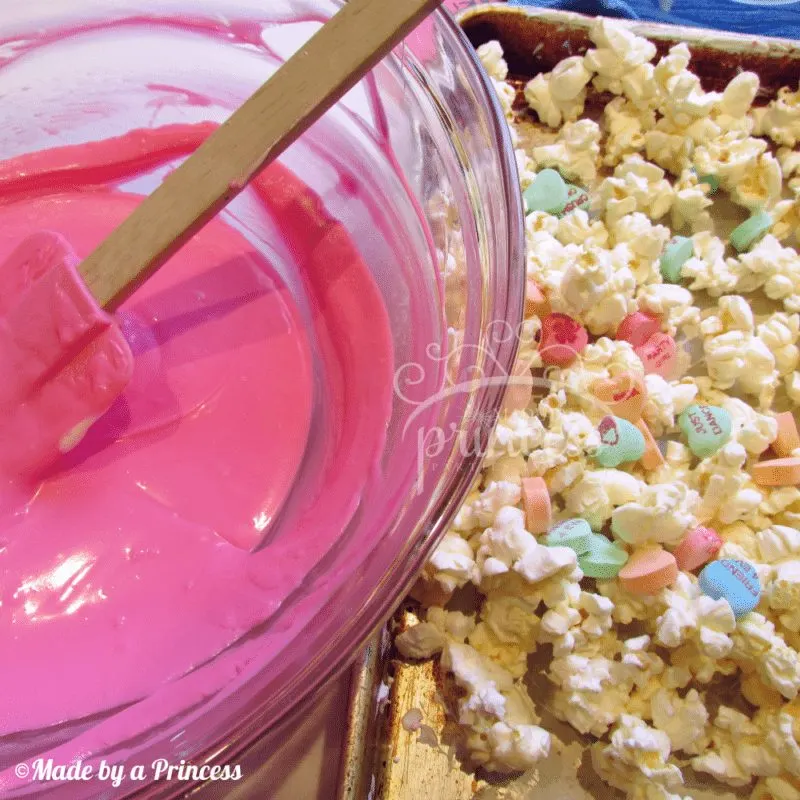 Pour over popcorn and candy and use a spatula to coat well. Place in large bowl with white chocolate popcorn.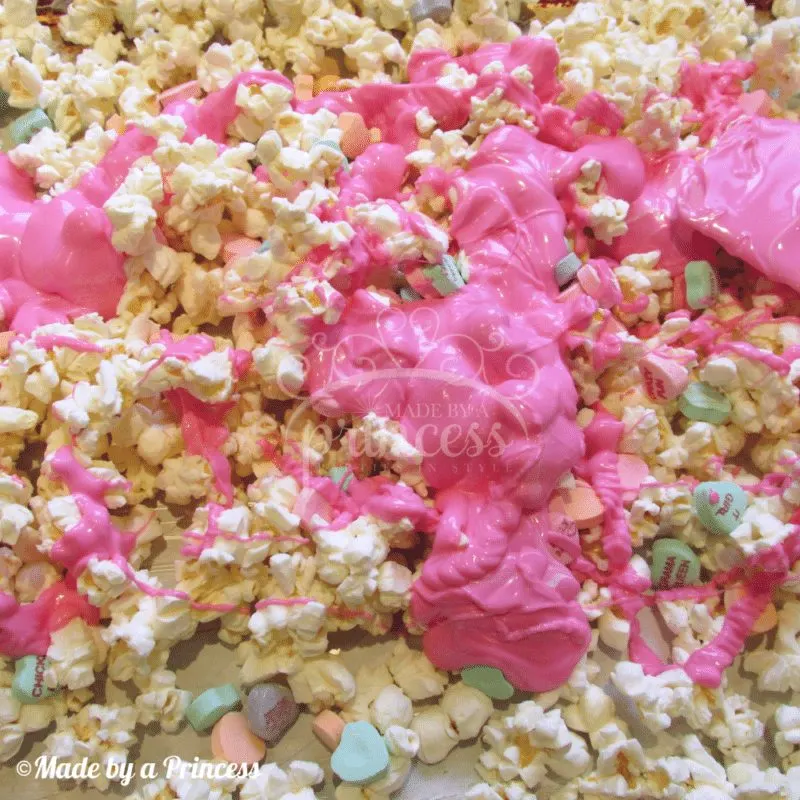 Take third bag of popcorn, repeat process from above, placing unpopped kernels into small bowl. Before you melt the red chocolate put all the kernels back in one of the popcorn bags and fold closed. Pop in the microwave for about a minute. Place newly popped popcorn on the cookie sheet. I was able to get more than a cup of popcorn by doing this. Spread candied hearts over popcorn.
Repeat chocolate melting process from above with the red chocolate and pour over candy hearts and popcorn.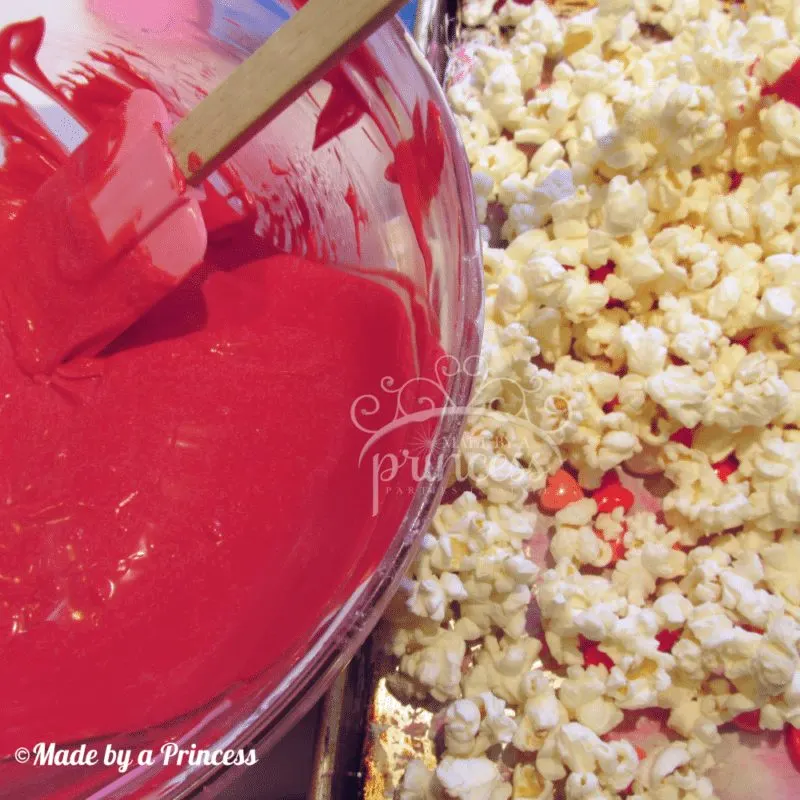 Slowly fold popcorn and chocolate until well coated. Place in bowl with white and pink chocolate popcorn. Let sit for about ten minutes.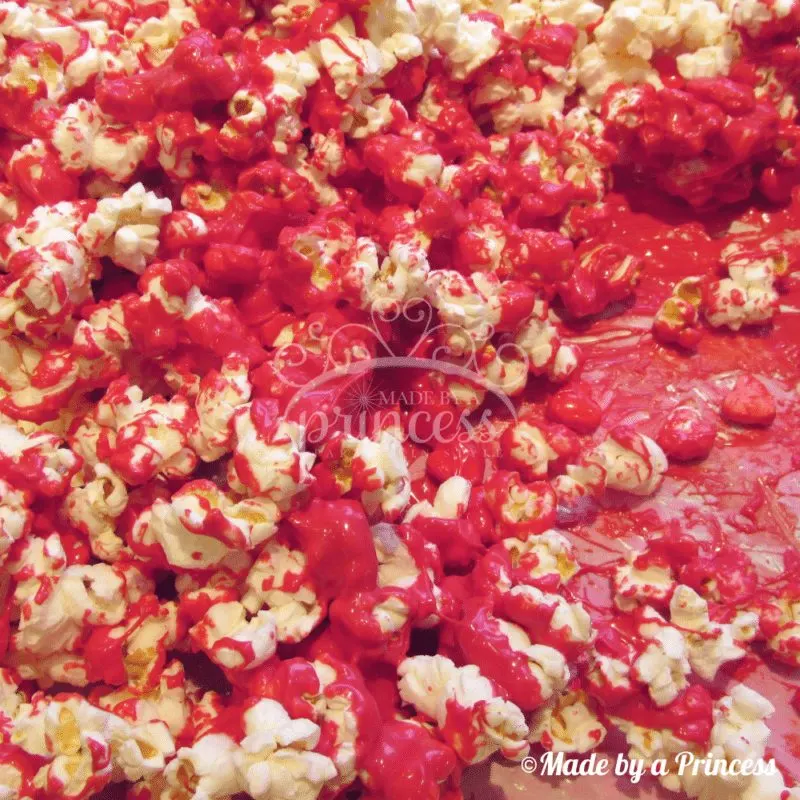 Once you are confident everything is completely cooled and dry lightly toss to incorporate all three colors.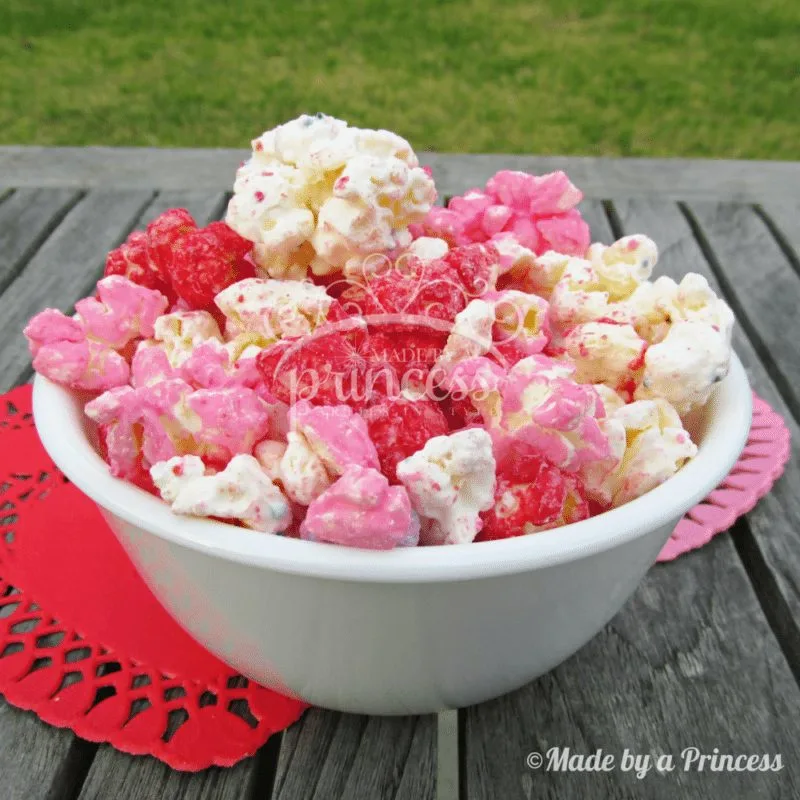 Since I was sending them to school for the bake sale I packaged them in cute Valentine themed treat bags found at Dollar Tree. I made 24 popcorn bags and there was still plenty over for the family to snack on. My son tells me these were a hit with the kids and the teachers…I guess this one stays in the recipe box!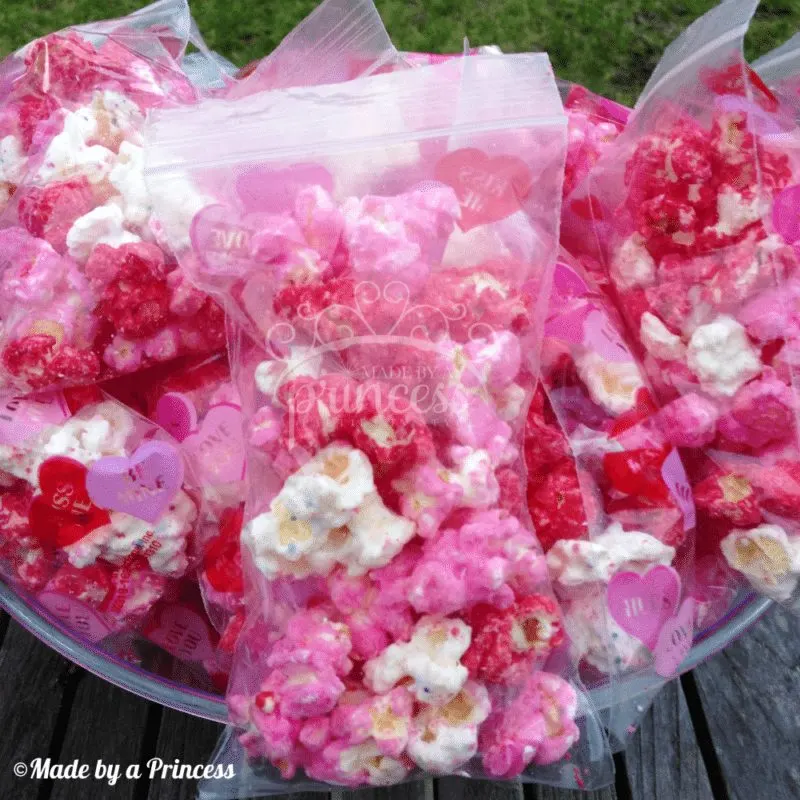 Happy Valentine's Day!