Plan the ultimate magical Frozen Birthday Party this side of Arendelle! Find out how to create an enchanted ice castle like Elsa's with a pop up tent and leftover Christmas decorations.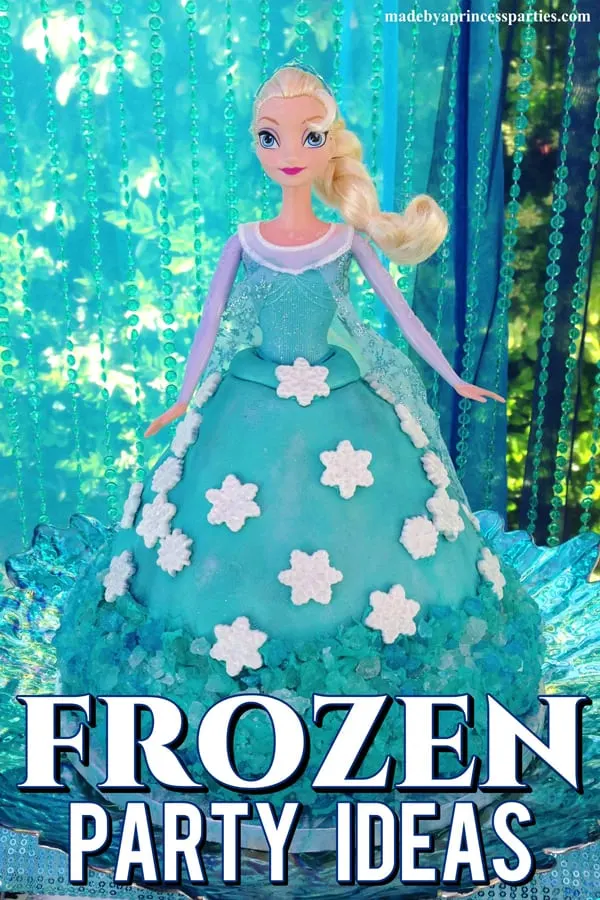 Looking for ideas on how to throw the ultimate Frozen Birthday Party? You are going to want to pull out all of your silver, blue, and snowflake Christmas decorations for this one because we are going "all out for Elsa!" This party is packed with ideas you can create in minutes but if you are a DIYer like me you are going to love some of these unique Frozen themed party details that really bring the whole thing together.
Frozen Birthday Party Ideas
Last year we celebrated my daughter's 2nd birthday with a "Sound of Music" themed party. I spent months and months working on every little detail and that night as I tucked my little "Megan von Trapp" in I was already thinking about the theme for her 3rd birthday. Any plans I had started to make went up in flames after we saw "Frozen". Once I saw the look on my daughter's face I knew we were headed in a very "frozen" direction.
Immediately after the movie we marched right to the Disney Store and quickly purchased an Elsa dress, light up shoes, jewelry, a couple dolls, some cups, t-shirts, and a book. Somehow we managed to get all of this out of the store undetected and hid it all at my mom's house until Christmas. The dress is pretty gorgeous.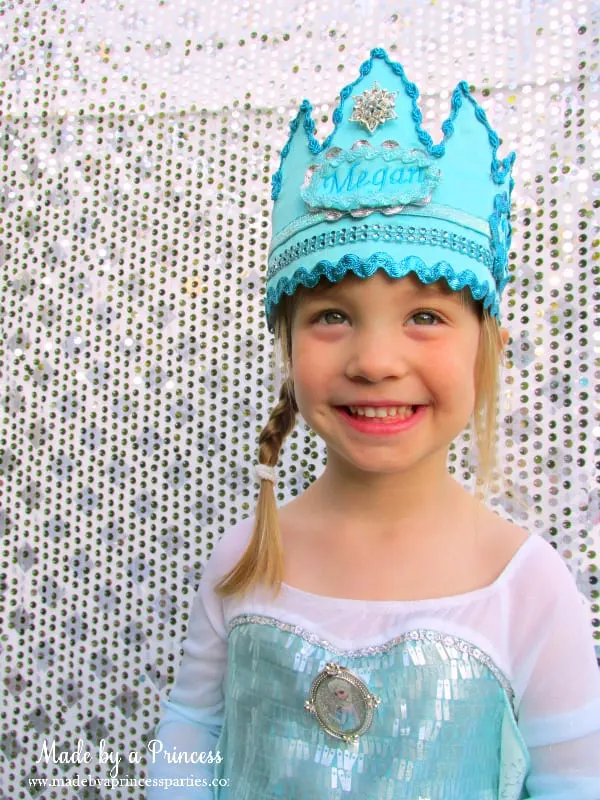 How to Have a Frozen Themed Party
Frozen Party Invitations
Early on I knew the party was going to be Elsa-centric so finding snowflakes and icicles and wintery type things was pretty easy in November and December. If you are reading this and Christmas decorations are still in the stores I suggest you stock up now. You might even find a bunch of stuff on sale.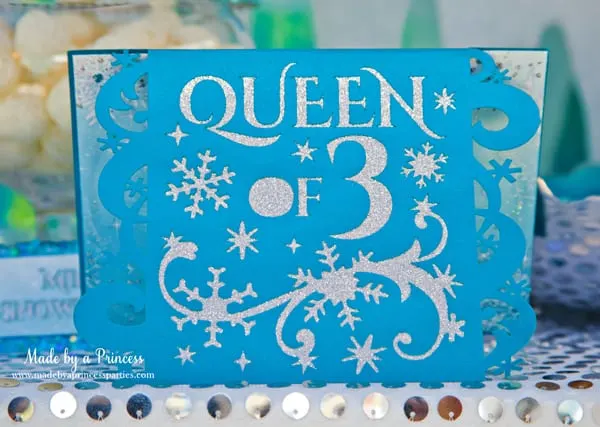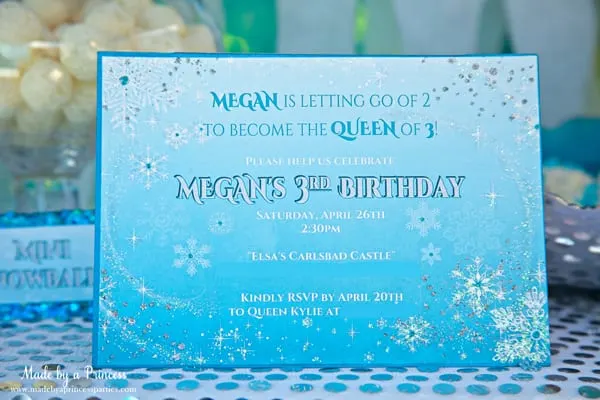 Arendelle Visitor Center
After watching "Frozen" for the 50th time (no joke) I realized that we needed a visitor center so our dining room became "Arendelle Visitor Center" which was the gateway to "Elsa's Carlsbad Castle".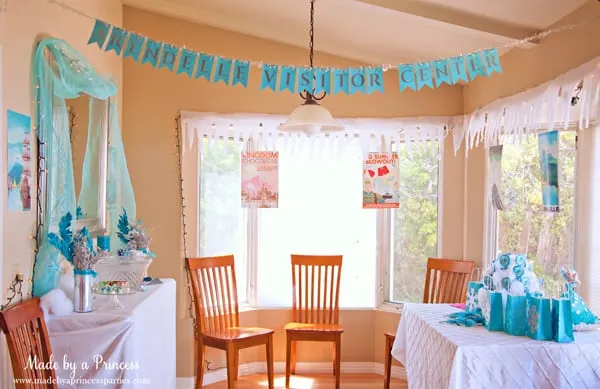 Sparkly aqua mesh from Walmart is exactly what this mirror needed to look a little frosty.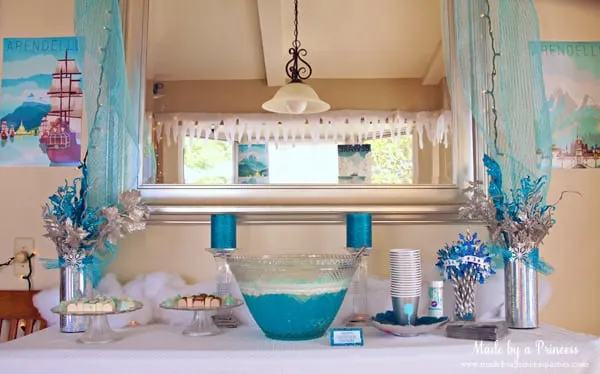 Frozen Themed Chocolate
Samantha from
Evie and Mallow
surprised me with these one of a kind chocolate castles that she hand painted with edible glitter made to look like Elsa's Ice Castle and Arendelle. I actually cried a little bit when I opened the box. She's that good and these were that beautiful. She also created "snowbanks" and "alps" because she said they needed them. I heart you, Sam.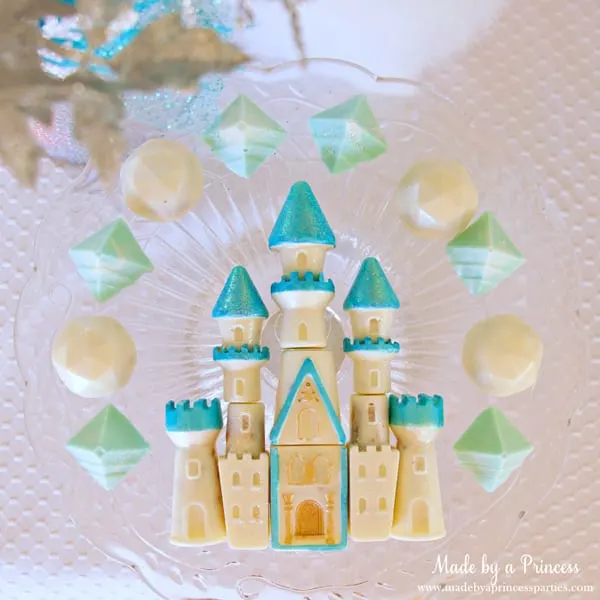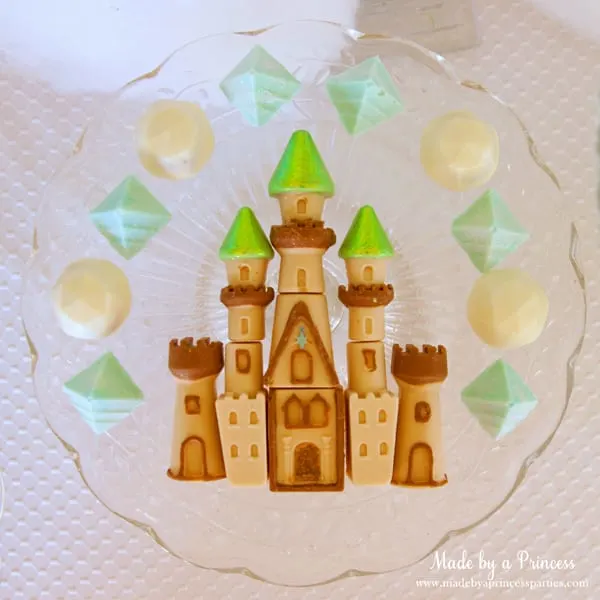 Frozen Birthday Party DIYs
I DIYed a lot of elements for this Frozen Birthday Party. Vinyl silhouettes of Elsa were used to decorate plain silver paper cups.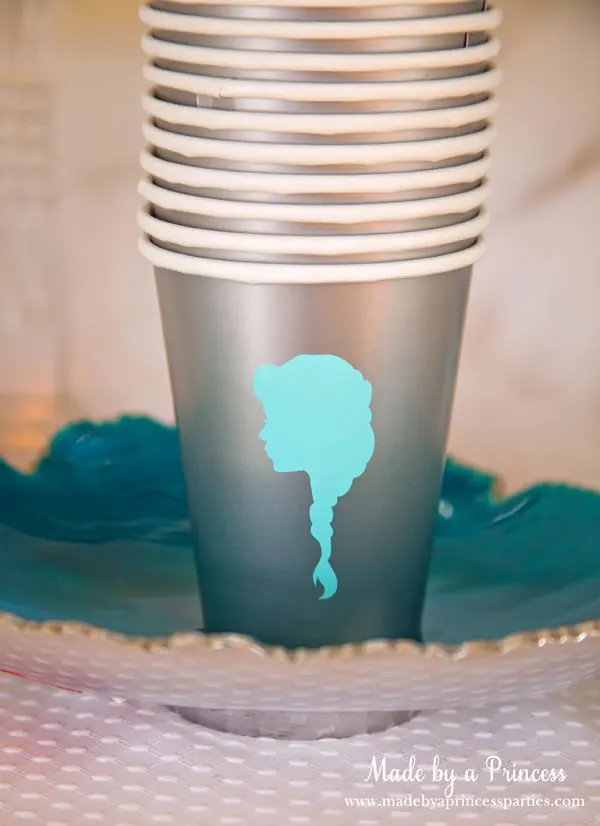 I used my Silhouette Cameo to cut snowflakes out of glitter cardstock for the straws.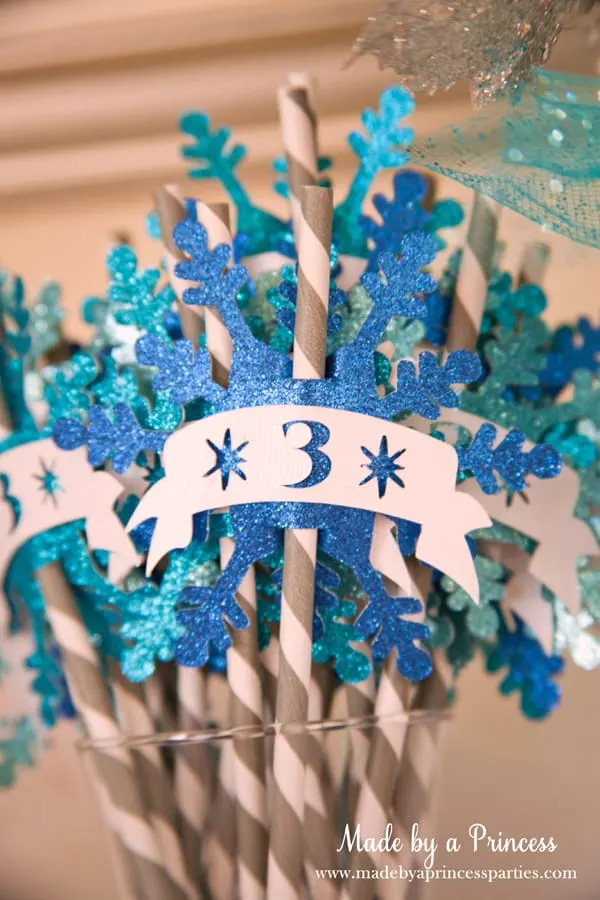 A snowflake craft punch was used to give napkins a little personality.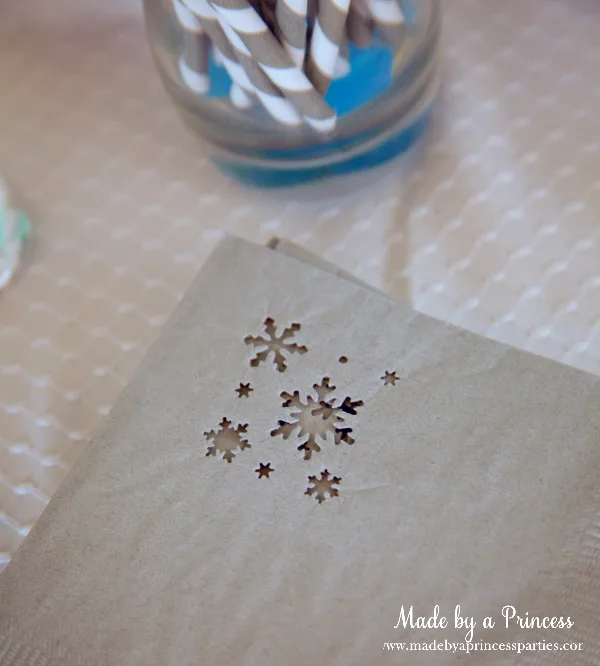 I had some really sparkly wrapping paper that I wanted to incorporate so I wrapped a glass vase with it and stuck these glittery leaves in it. Finished off the look with sparkly turquoise tulle and a snowflake.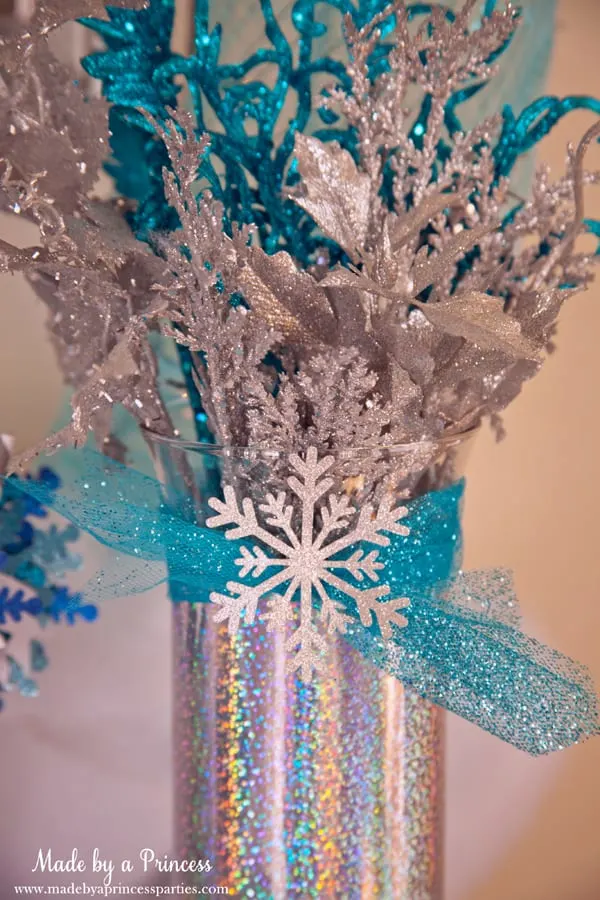 I found these vintage looking Arendelle images online so I downloaded them and had them printed at my local print shop. The colors and the look was exactly what I was going for in my visitor center. They were perfect!
Guests were able to pick up their party favors from the "Visitor Center" before they left.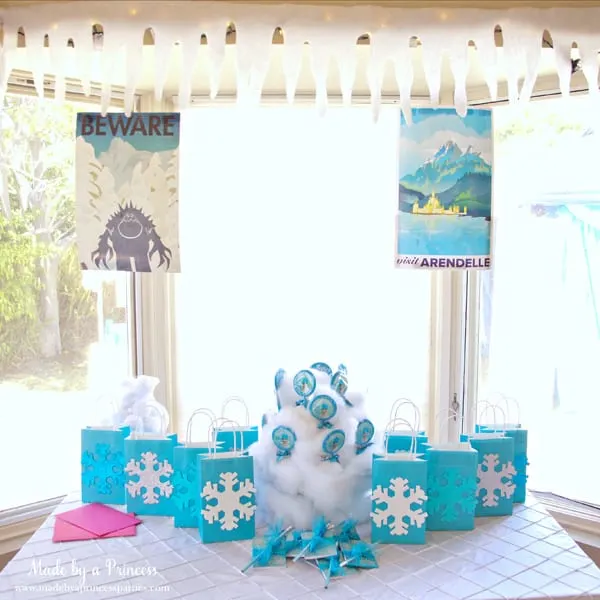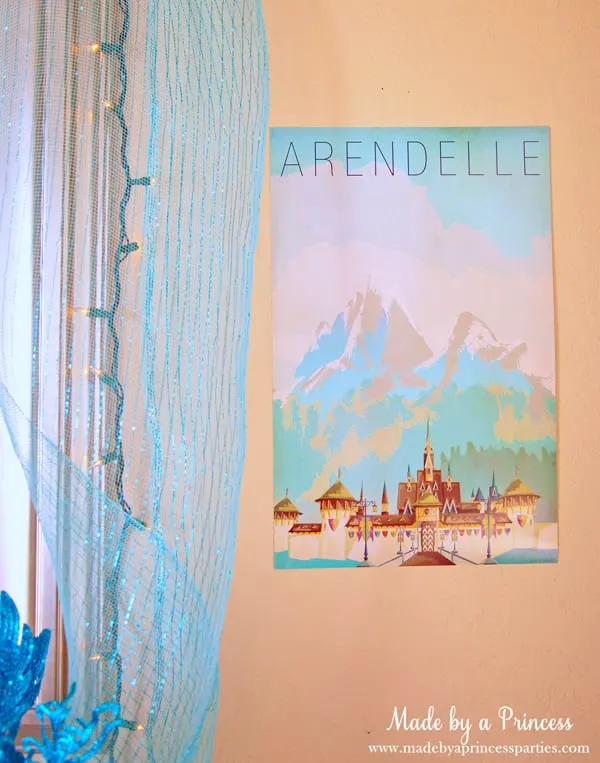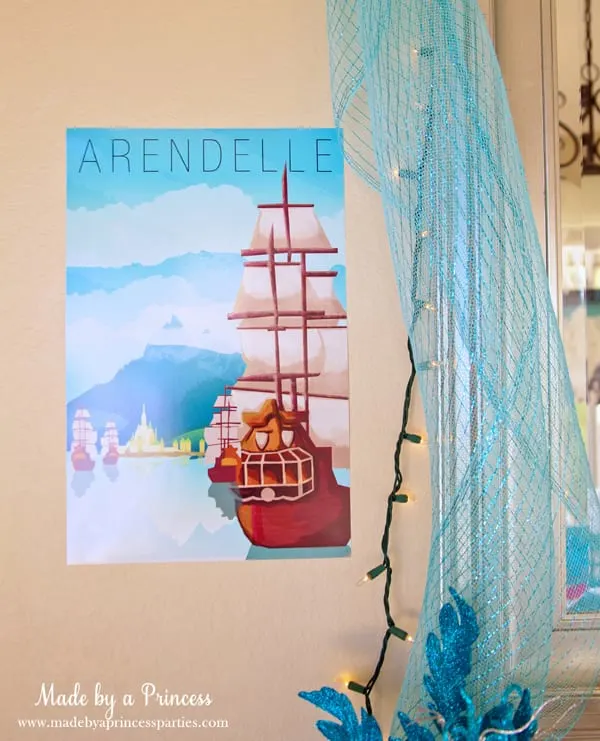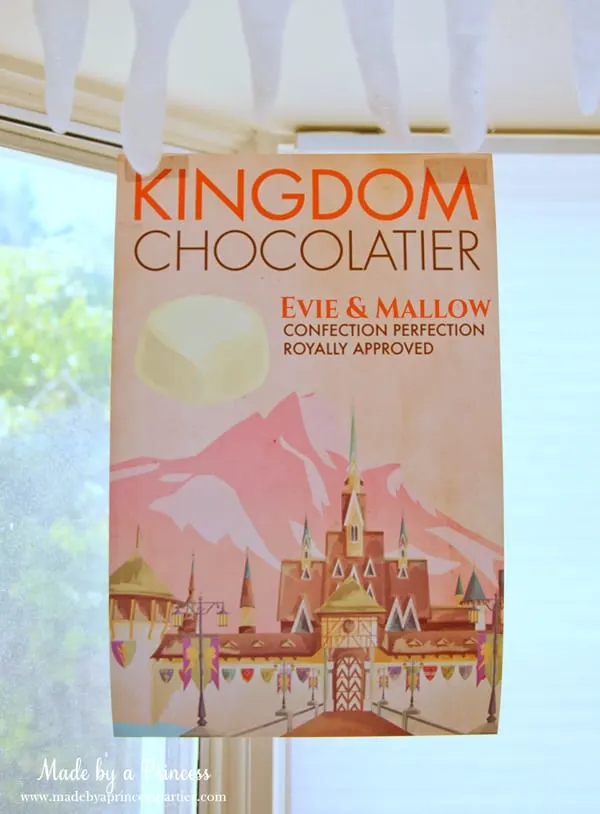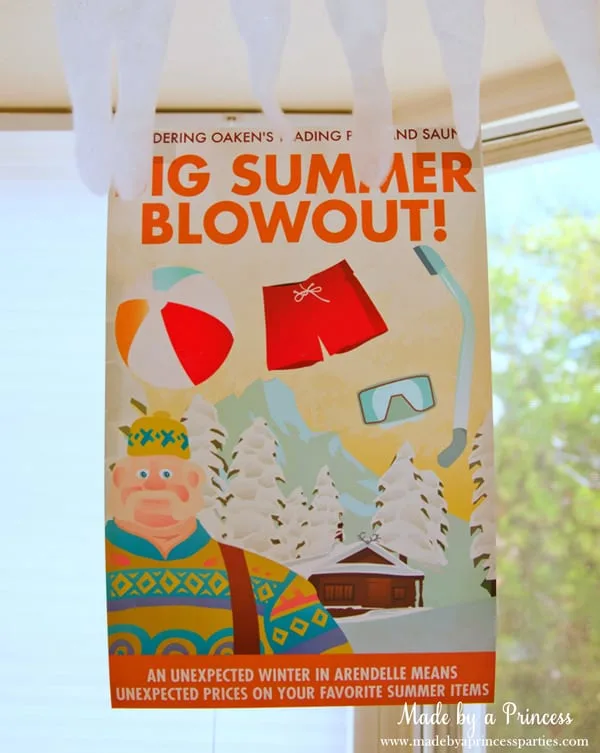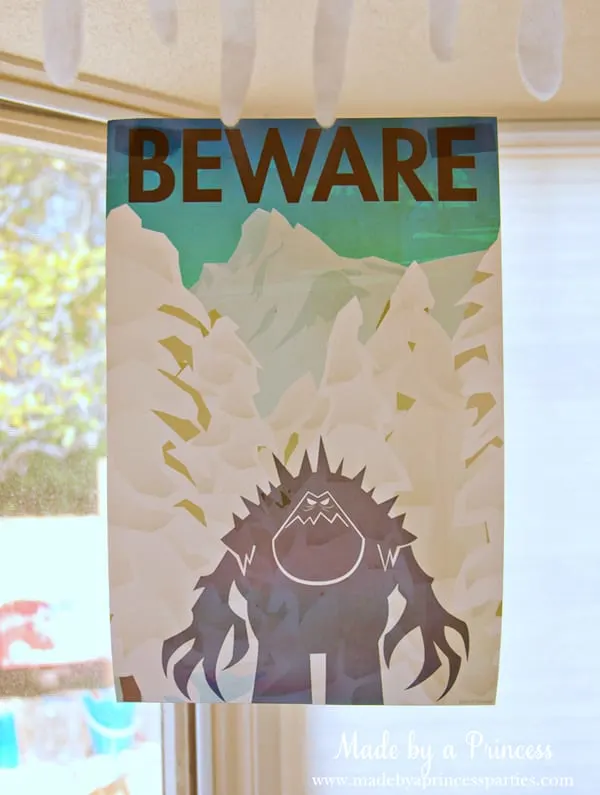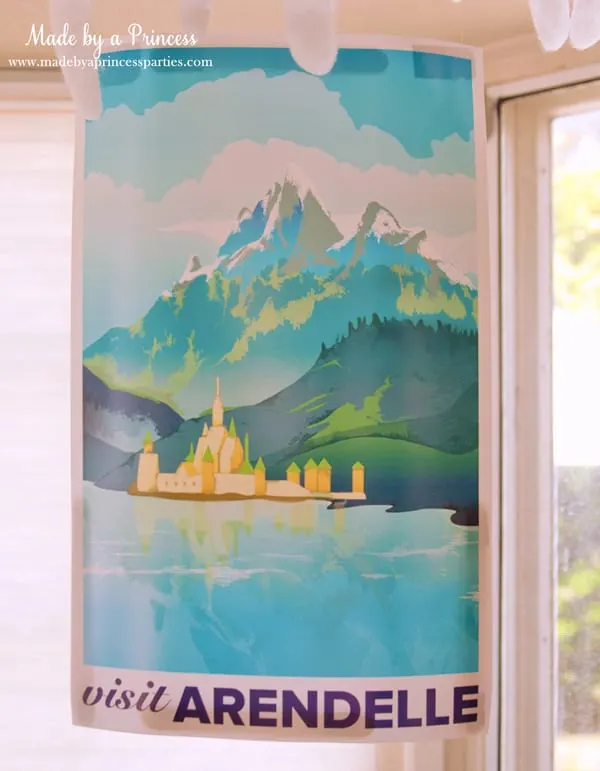 "Do You Want to Build a Snowman" Olaf Photo Prop
The kids were pretty excited that Olaf stopped by. This adorable little boy is the son of my photographer. I think he was in awe!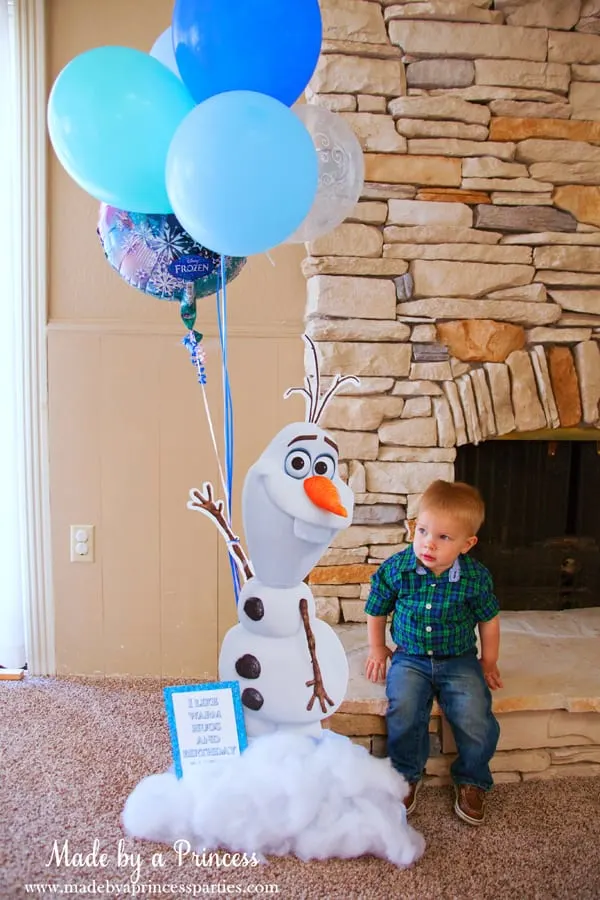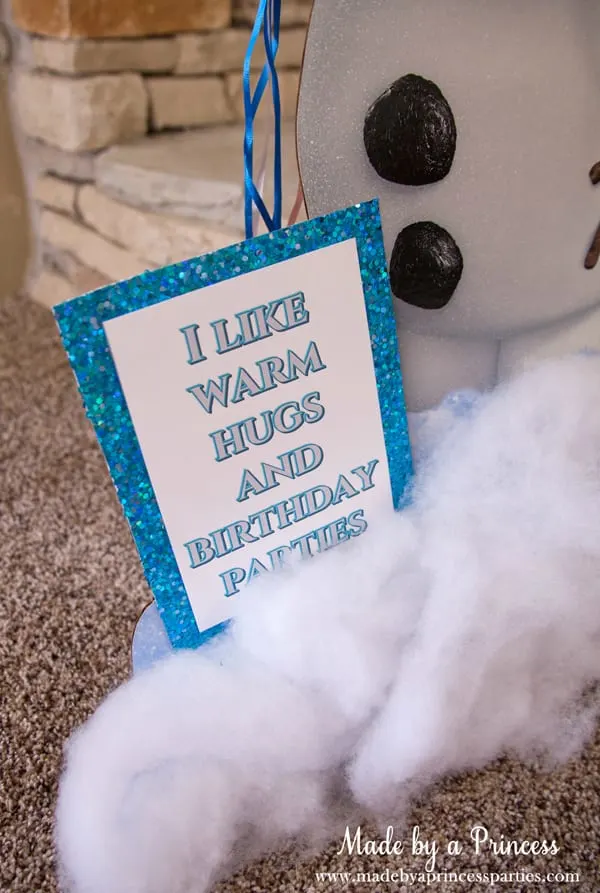 Elsa's Ice Castle
I was thrilled with the way the backyard turned out! I knew I wanted a "castle" and thought using an easy up would be the perfect solution. We connected three pop up tents to create a giant castle. Navy and aqua sheer curtains hung inside gave it an icy look.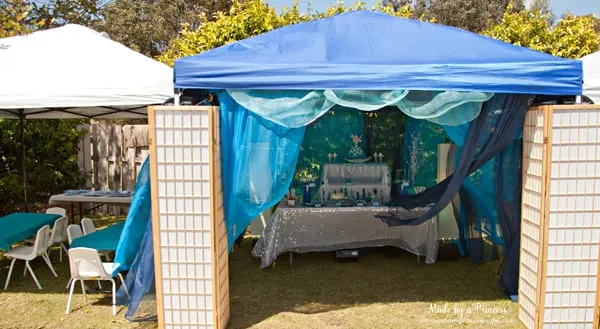 Koyal Wholesale sent me these beaded aqua curtains and I think they were stunning as a backdrop. They twinkled in the sunlight and created this very ethereal feel.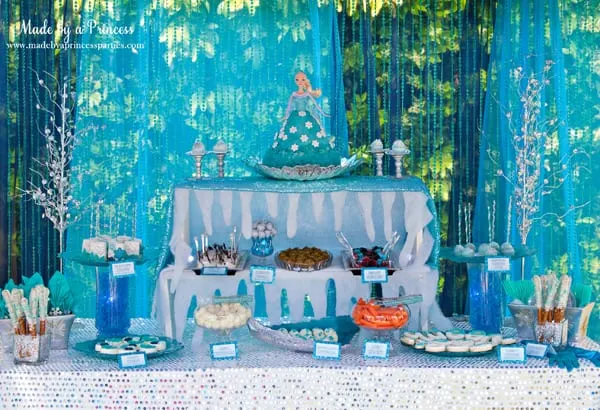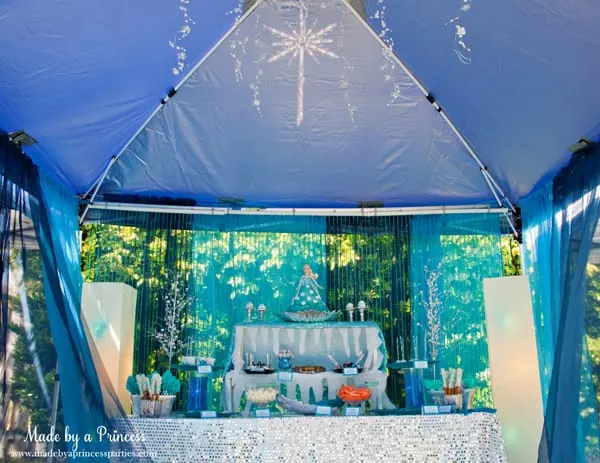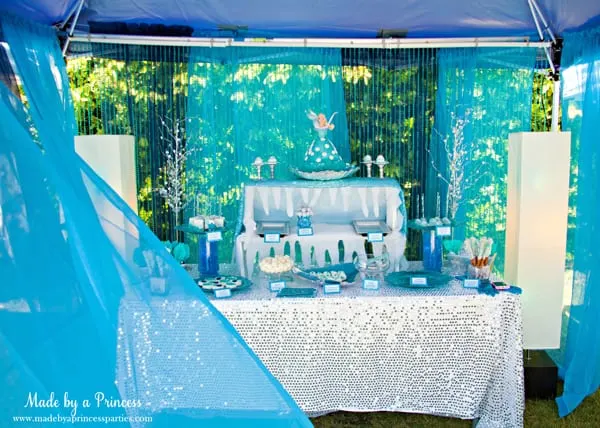 Snowflake garlands and a snowflake chandelier hung from the ceiling.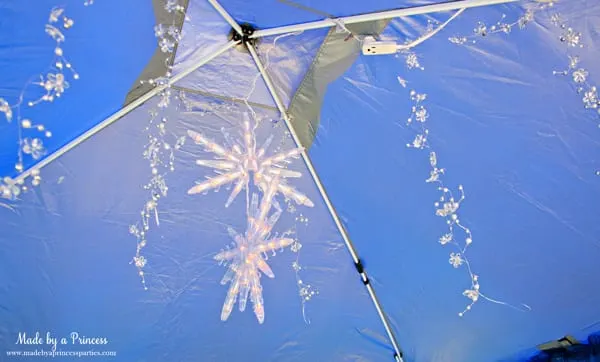 The kids had so much fun playing in the bubbles!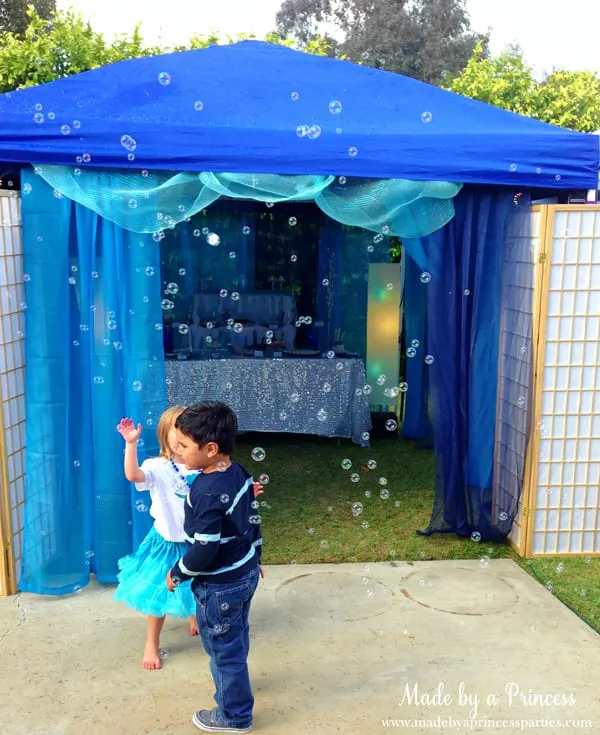 Frozen Themed Birthday Party
Frozen Summer Party
We love Olaf's "In Summer" song and after hearing it for about the 100th time I knew I had to honor Olaf in a special way. I bought this Pottery Barn Kids Tiki Bar years ago and have used it for several parties but it was the first time we actually used it as a tiki bar. Who knew we'd end up using for a snowman party?!
The pail held mini juice boxes on ice and kids cooled off with ice water in "big kid" cups which they really liked. For a three year old using a regular cup is a big deal.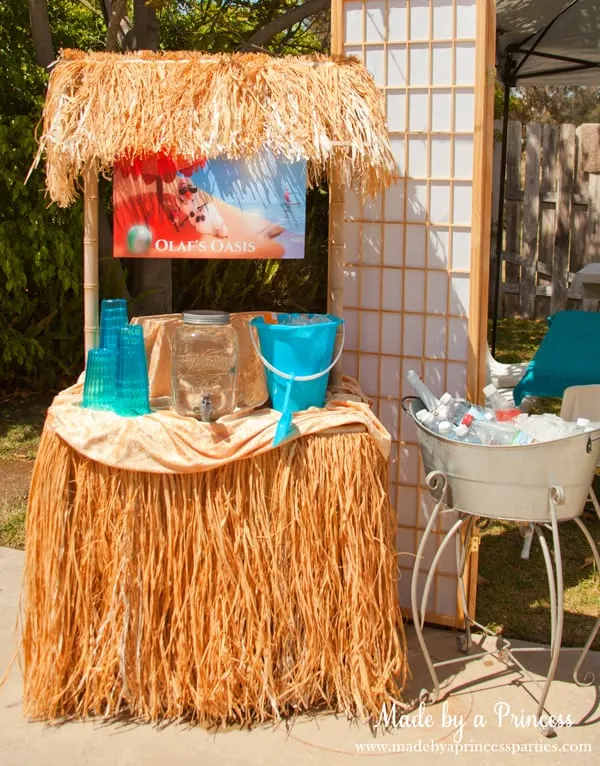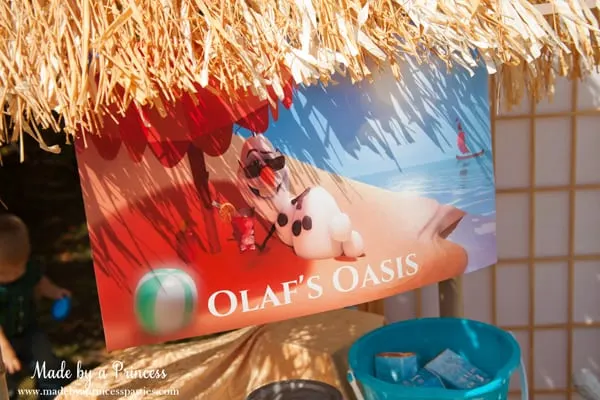 Frozen Party Printables
The theme was "Queen of 3" so all of the Frozen party supplies I designed carried out that theme.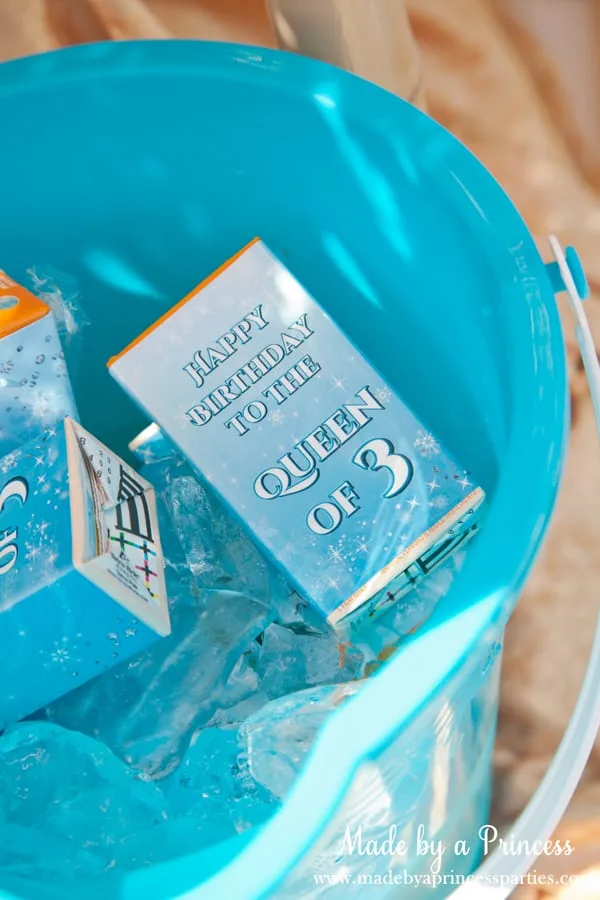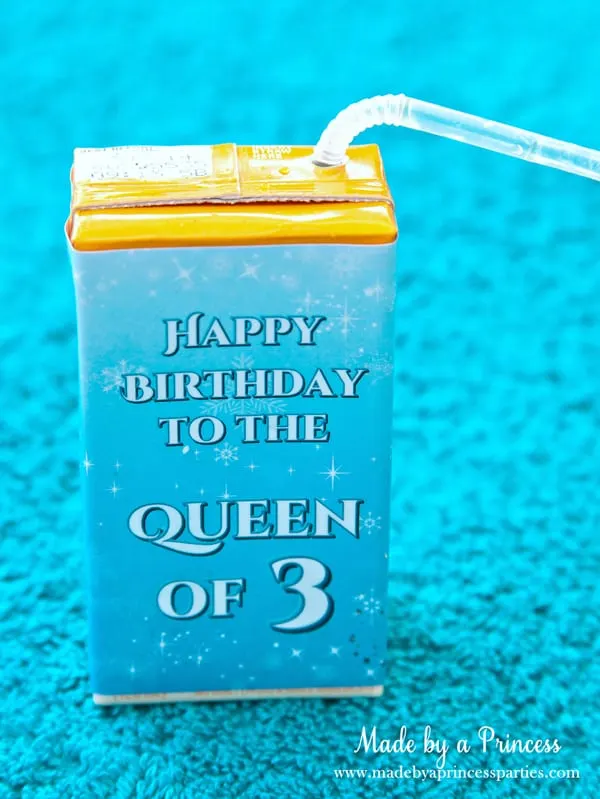 Online Labels weatherproof water bottle labels are my favorite. Our "Arendelle Spring Water" labels did not bleed ink or come off in a bucket filled with ice cubes.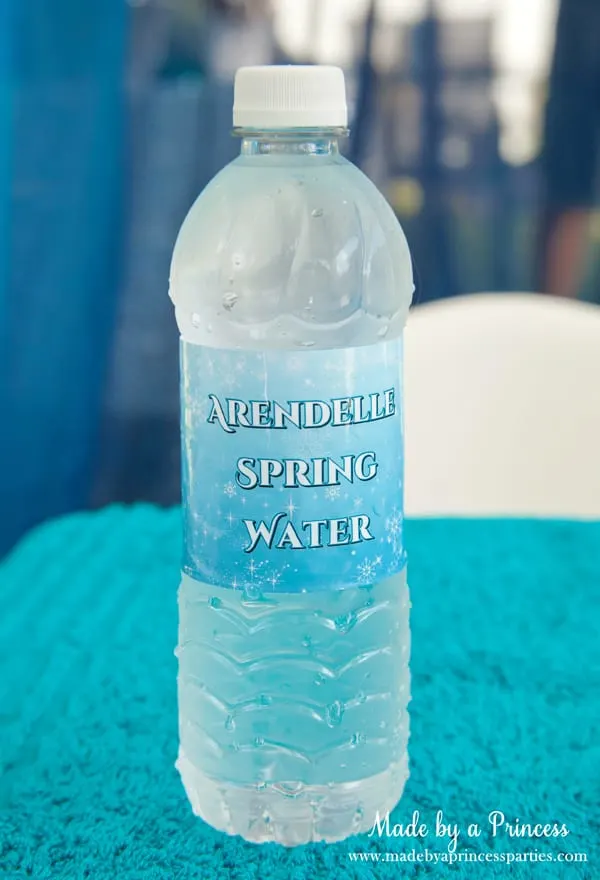 Frozen Party Food Table
The Elsa doll birthday cake took center stage and on the most beautiful platter my mom found at HomeGoods. It looked like she was stepping out of a frozen fractal!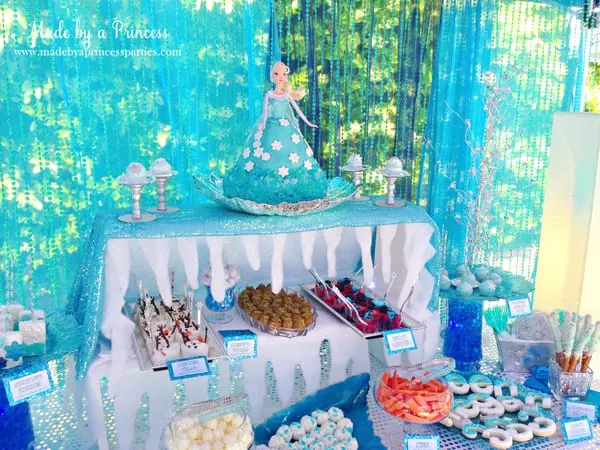 Frozen Birthday Party Decorations
Another fabulous HomeGoods find! My friend Andrea stopped by my house several weeks before the party with these gorgeous silver crystal trees. When she saw them she immediately thought of Megan's party and decided I had to have them. What an amazing friend! They were perfect on the table.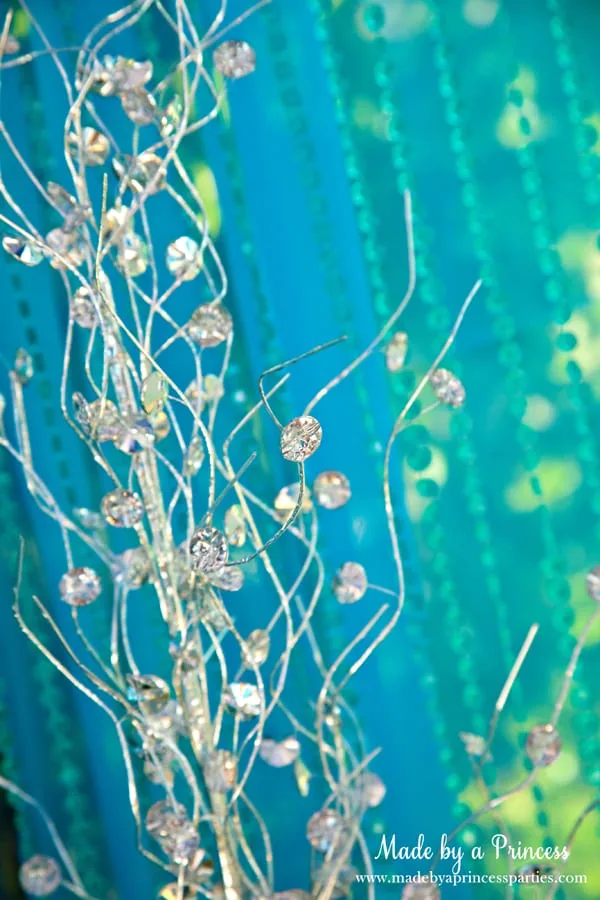 Koyal Wholesale also sent me some blue water pearls, Floralytes, and aqua sea glass. I loved the look and texture this created on the tables and tied in the deeper blue perfectly. The sea glass looked like cracked ice and we all know how important ice was in this movie!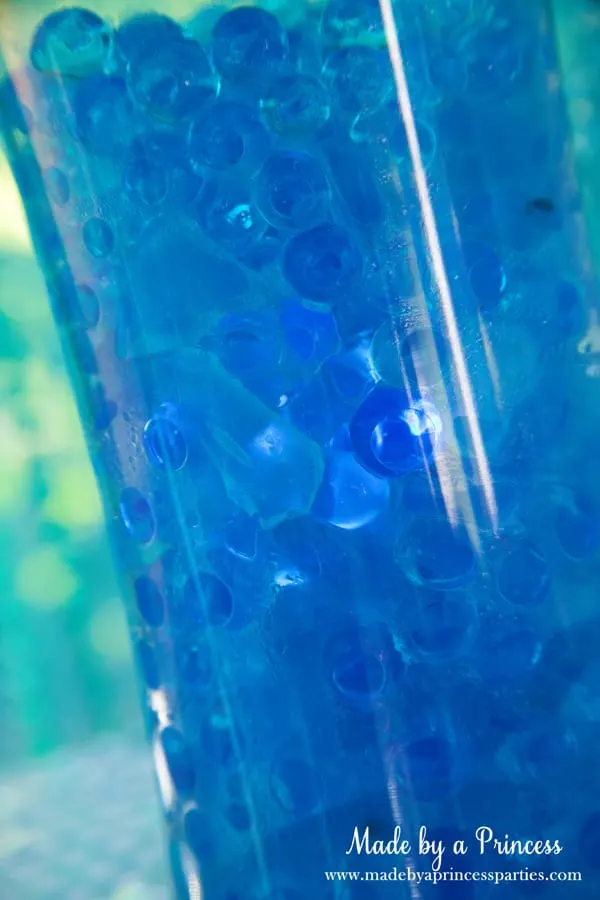 I used my Martha Stewart snowflake punch on these napkins as well and completed the look with snowflake rings as napkin rings.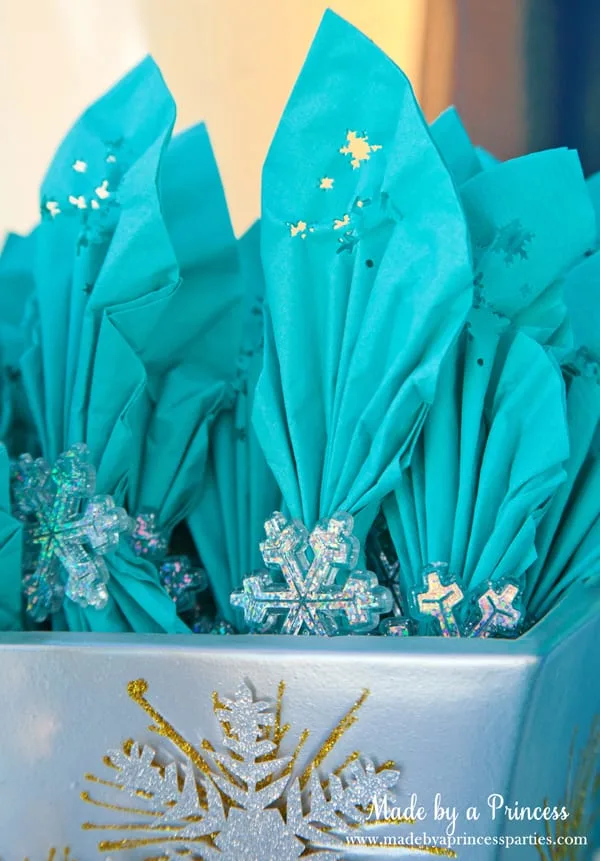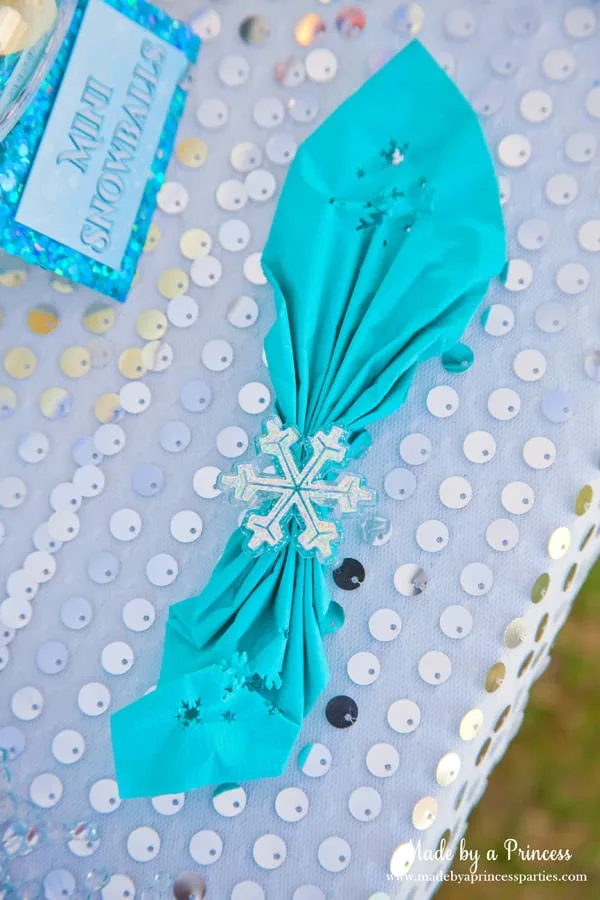 I decided the forks needed a makeover so I added a little bling to them. It is a really easy and inexpensive way to add a touch of elegance to plasticware. You can see my quick party tip
here
.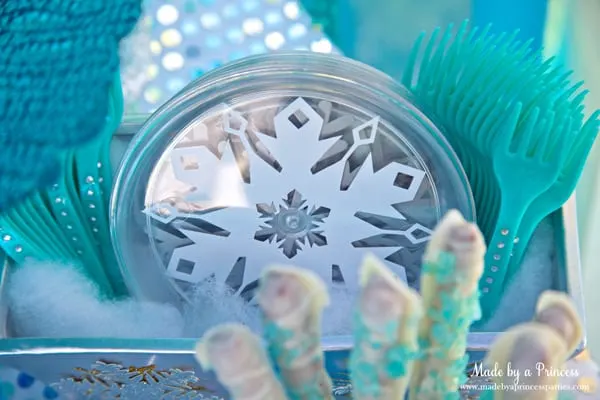 The plates are from the dollar store so great for my budget but they're pretty boring. I created vinyl snowflakes and stuck them to the underside of the plate because the vinyl is not food safe.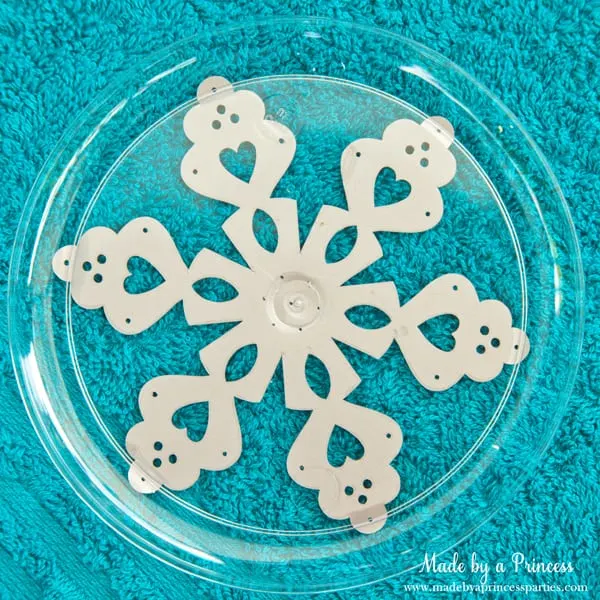 Frozen Party Food Ideas
Themed Food Party Menu
The food! Always such an important part of any event. The party was later in the day so I served a bunch of finger foods and snacks. I know Olaf Noses are popular for Frozen parties but we call them Sven Snacks!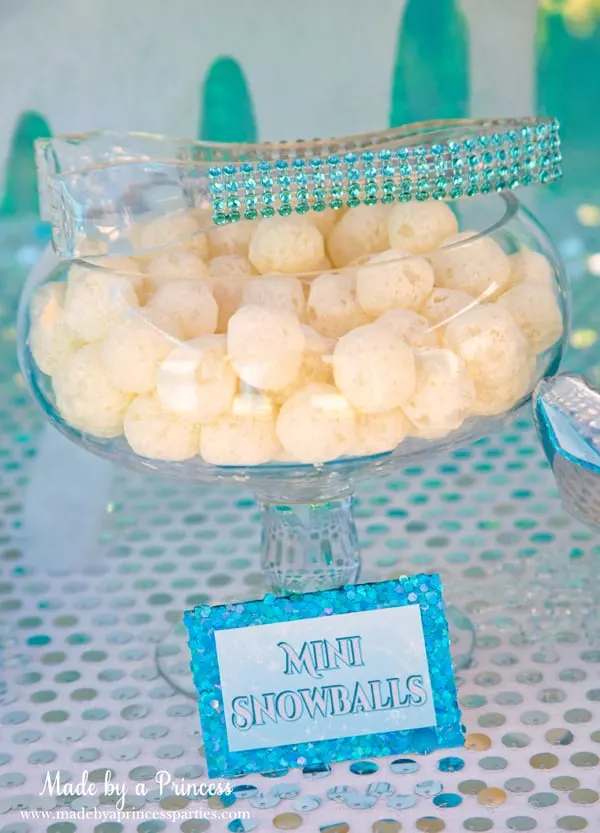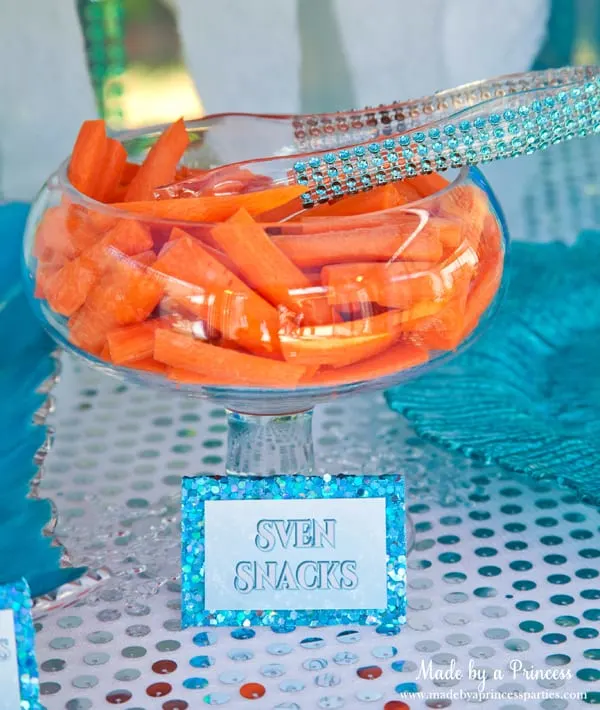 The Original Greek Yogurt Melted Olaf
Check out my easy recipe for the
original Melted Olaf
using Greek yogurt a Mike & Ike, chocolate arms, and mini chocolate chips. You could also use ice cream if you don't like yogurt.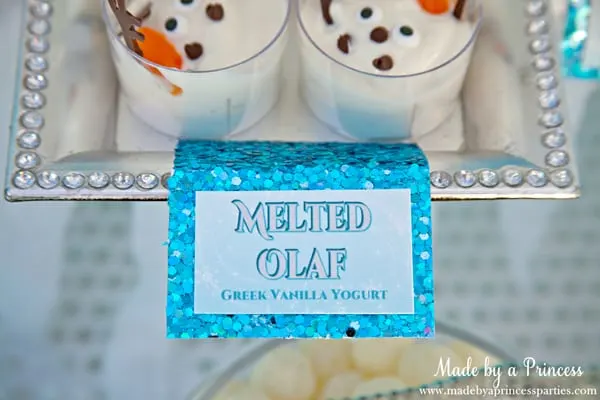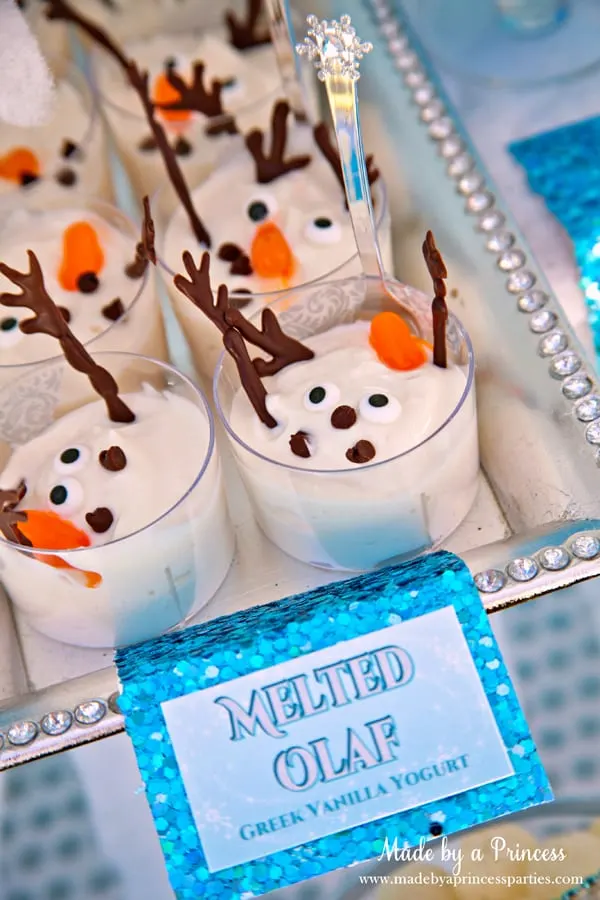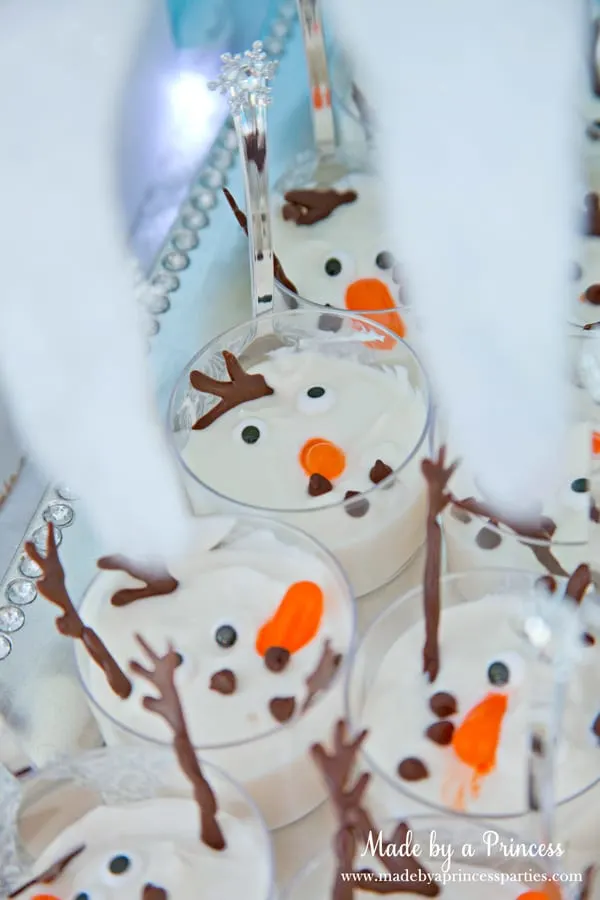 Mini Fruit Cups
We created mini Frost Berry cups with a poof of blue cotton candy on the top. The cotton candy started to melt pretty quickly but the kids thought they were really fun.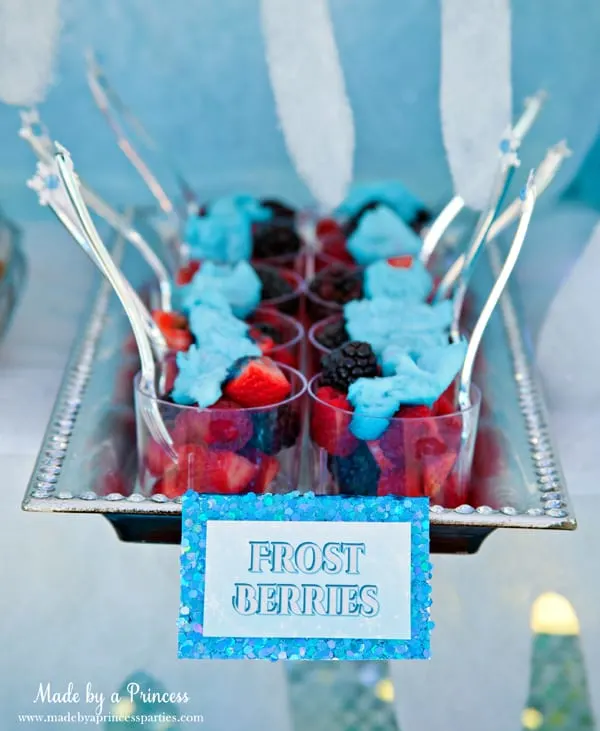 Meatballs with Pesto
The Sleeping Trolls were one of my personal favorites on the table. I used mini meatballs and a dollop of pesto to resemble the trolls when they were all rolled up and looked like big rocks.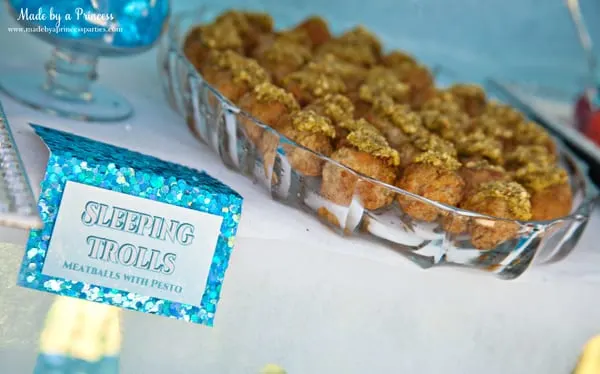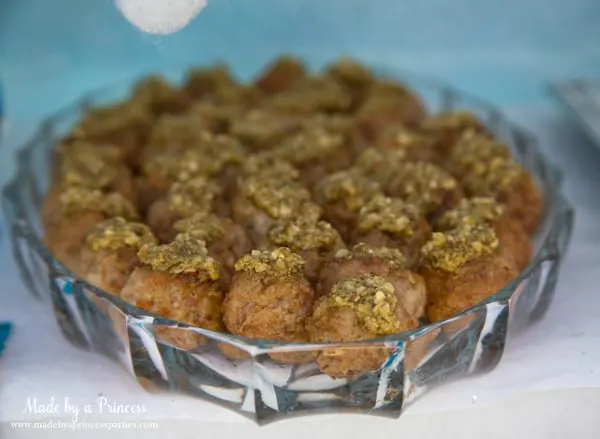 Frozen Dessert Party Ideas
Chocolate Covered Pretzels
"Elsa's Snow Flurry Wands" are chocolate dipped pretzel sticks with edible luster dust and crushed rock candy. I set them in a small vase filled with diamond confetti from Koyal Wholesale because, well, I love diamonds, and they add just a bit more bling to the table.
Do you see Elsa's gloves there? That was my little girl's idea actually. She said we couldn't forget Elsa's gloves so I made sure to include them in the decor. We were going to play a game, "Find Elsa's Glove" but to be honest, we ran out of time!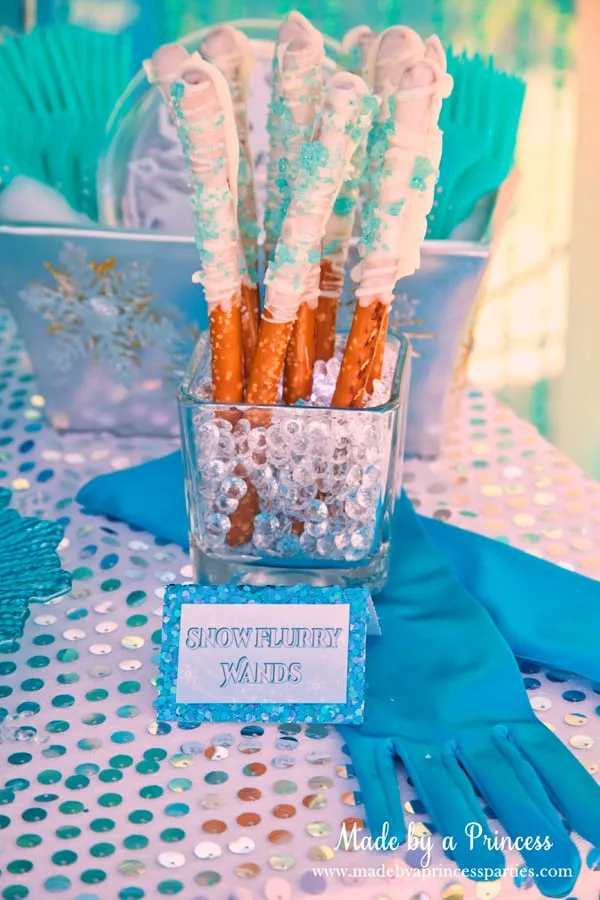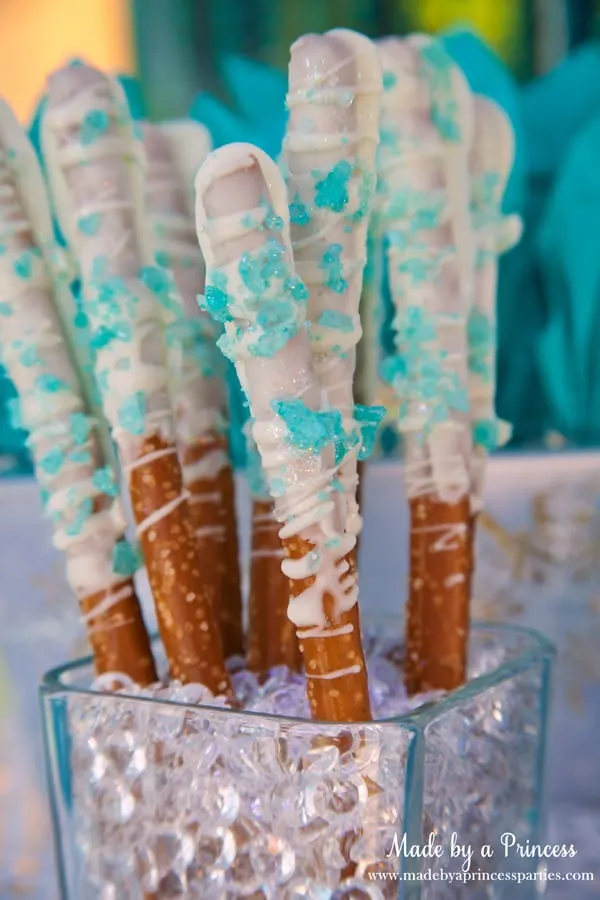 Chocolate Covered Rice Krispy Treats
May of Simply aMAYzing Sweets created chocolate covered OREOs and Rice Krispy Treats. These were absolutely perfect!! I loved the "cracked ice" and the snowflakes were beautifully done.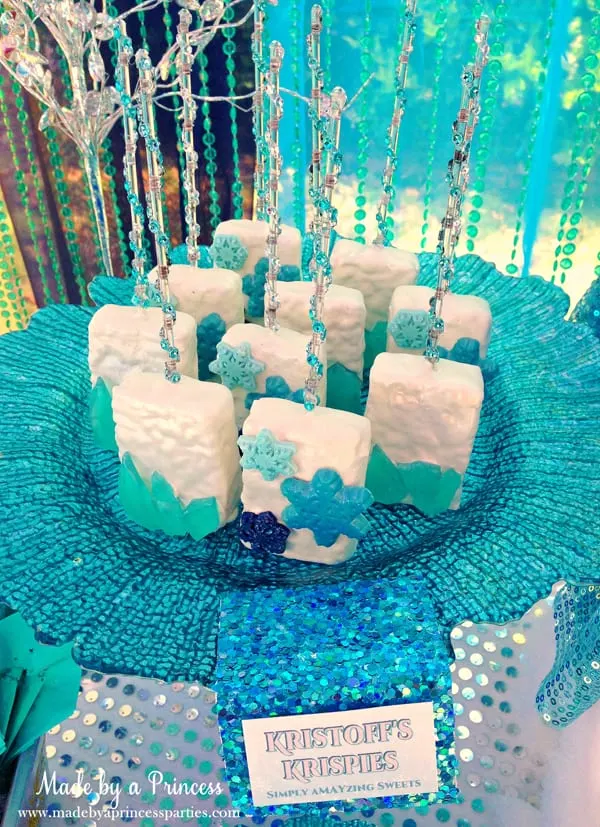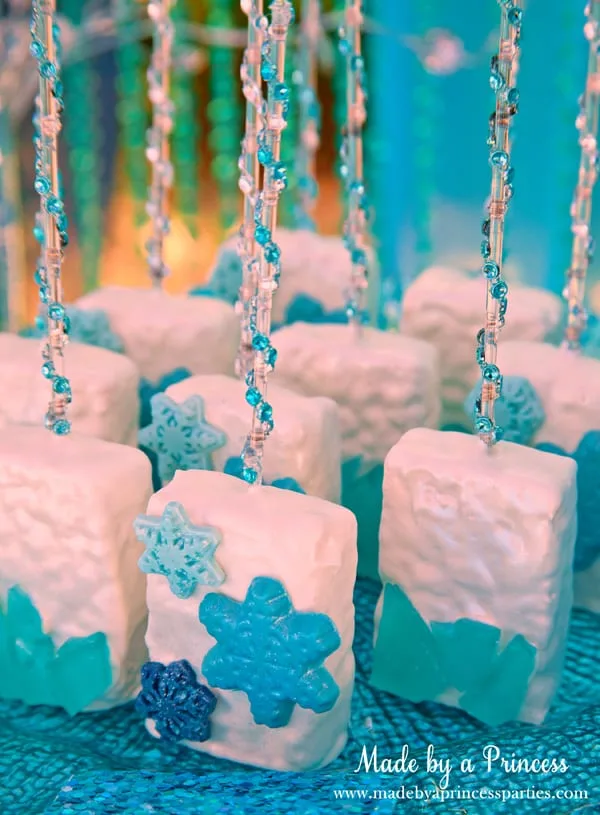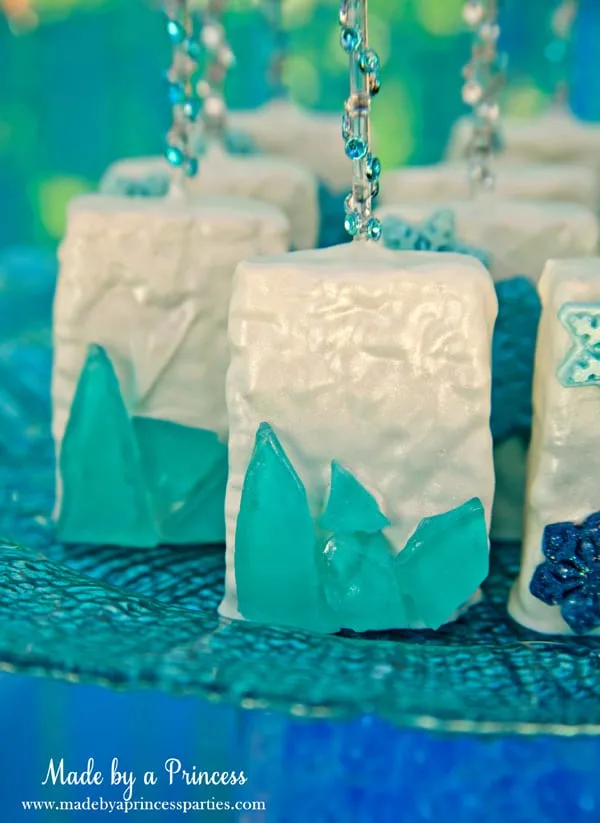 Chocolate Covered OREOs
Are these
Flora Chargers
from Koyal Wholesale gorgeous or what?!! As soon as I saw them I knew I had to have them for the party. They reminded me of the moment Elsa stepped on the snow and started creating her castle.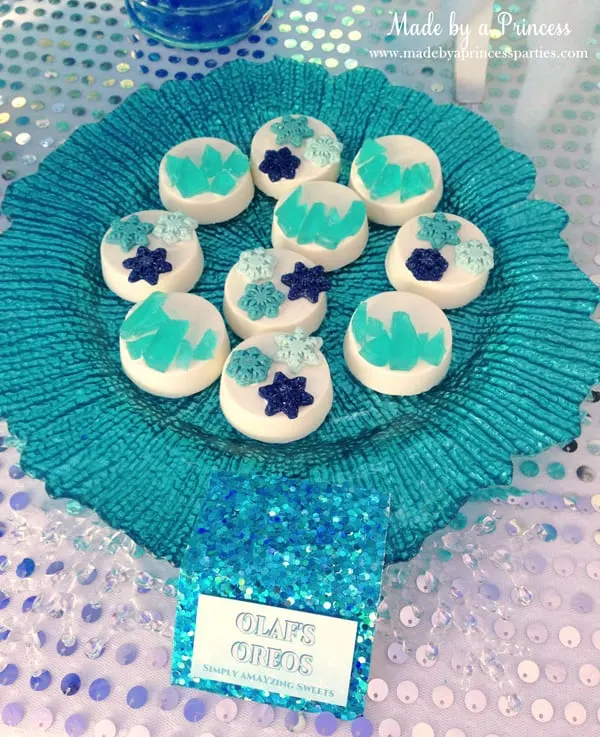 Frozen Themed Cake Pops and Cake Balls
Roni of
Roni's Sugar Creations
created these sparkly cake balls and cake pops. After seeing the invitation she came up with the idea to create glittery swirls and very sparkly snowflakes. Some even had "snow".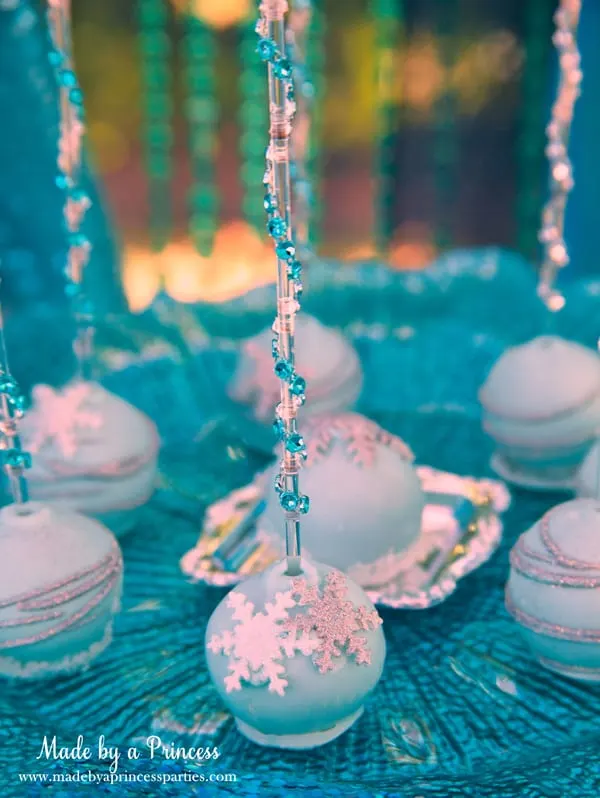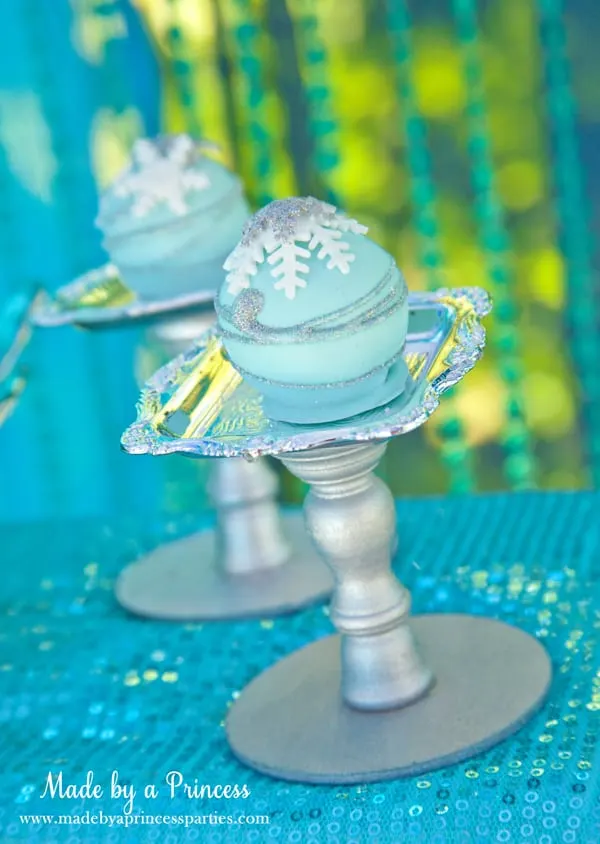 Mini Cupcake Stands
Silver cupcake stands from Dress my Cupcake turned upside down displayed the cake balls perfectly.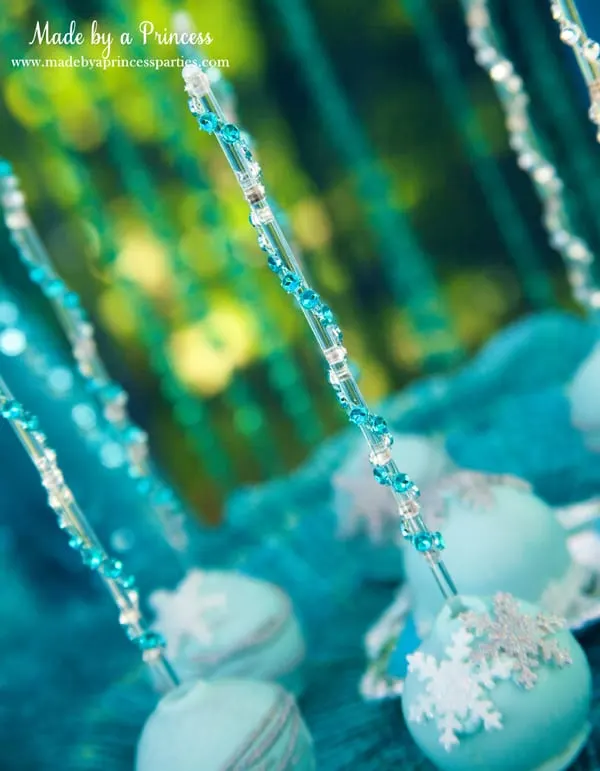 Custom Frozen Cookies
Arlene of She Wears the Crown really outdid herself this time! It's hard to tell exactly from the photos but these were so sparkly and glittery and of course tasted delicious! Arlene is so creative and talented I knew that I would love whatever she came up with.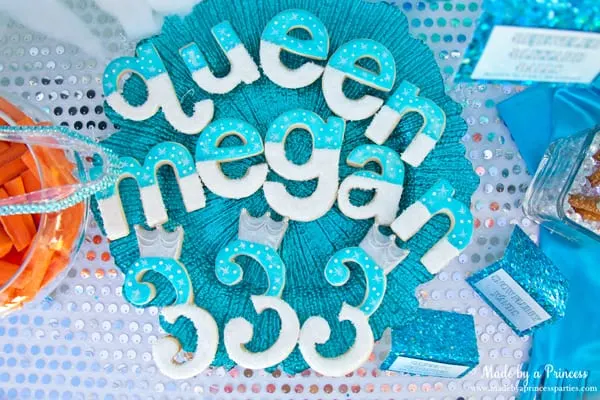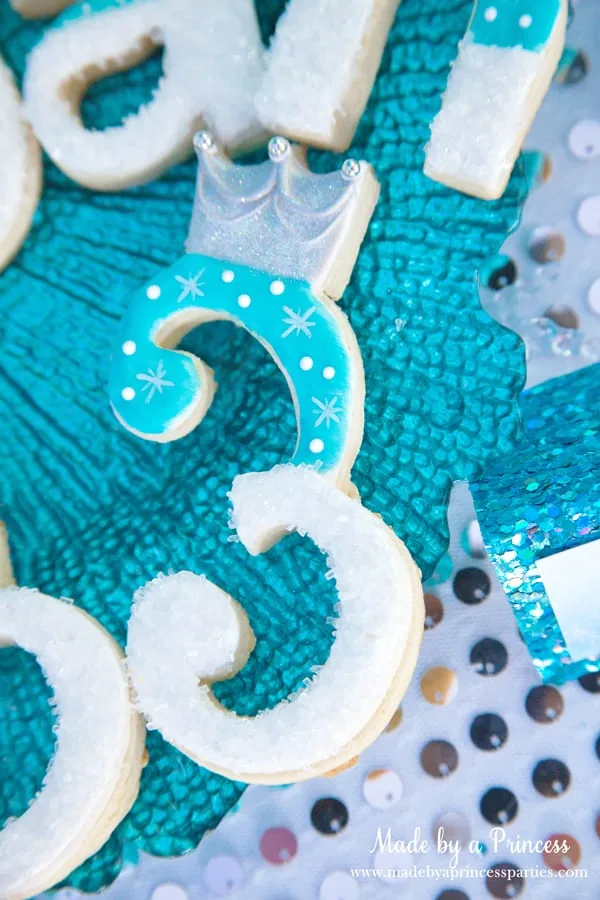 Chocolate Drizzled Donuts
My son and I thought Marshmallow really needed his own thing on the table so I came up with "Marshmallow's Snowballs" which were powdered sugar donut holes drizzled with white chocolate and sprinkled with crushed rock candy.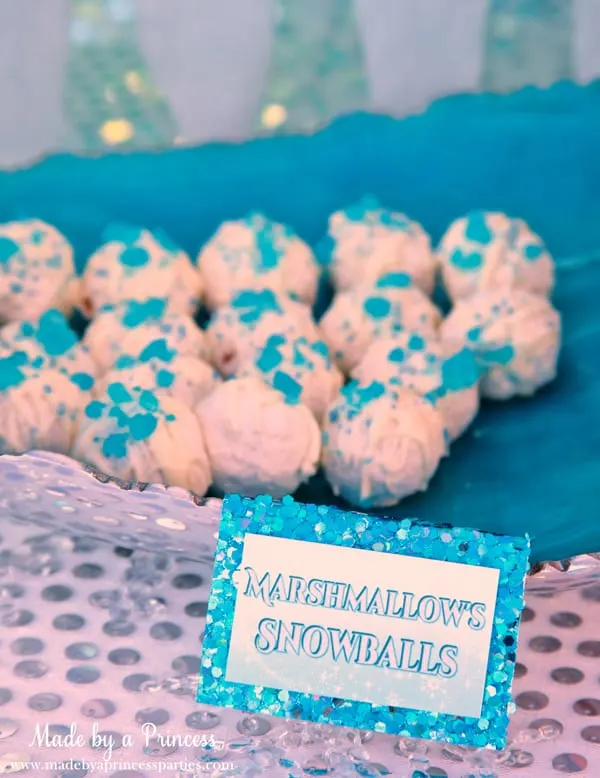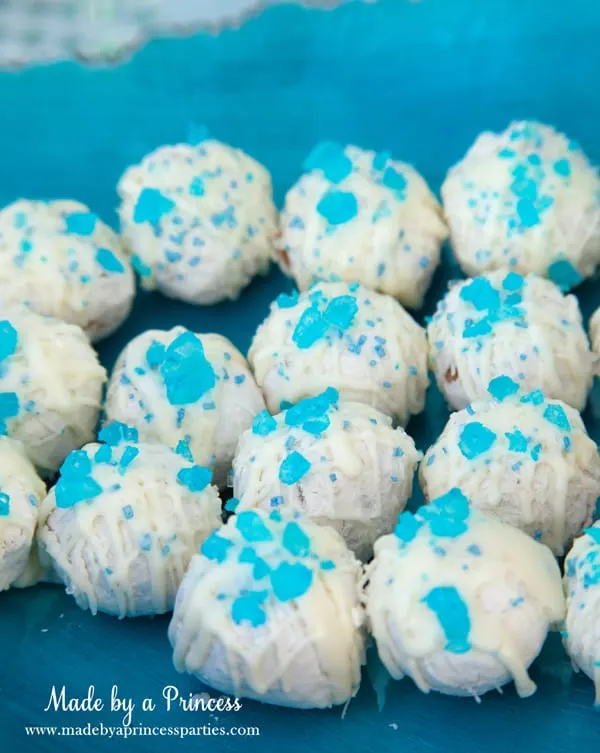 Frozen Elsa Doll Birthday Cake
I am not an expert baker by any means but I do enjoy doing it for my kids. This cake design almost didn't happen because I could not find the doll anywhere. I was kind of panicking to be honest. When the birthday girl says the only cake she wants is an Elsa doll you've got to make it happen. My mom and brother searched every toy store and found the very last Elsa doll. Phew!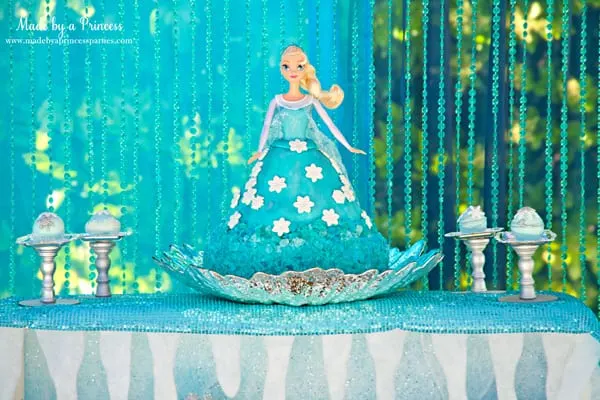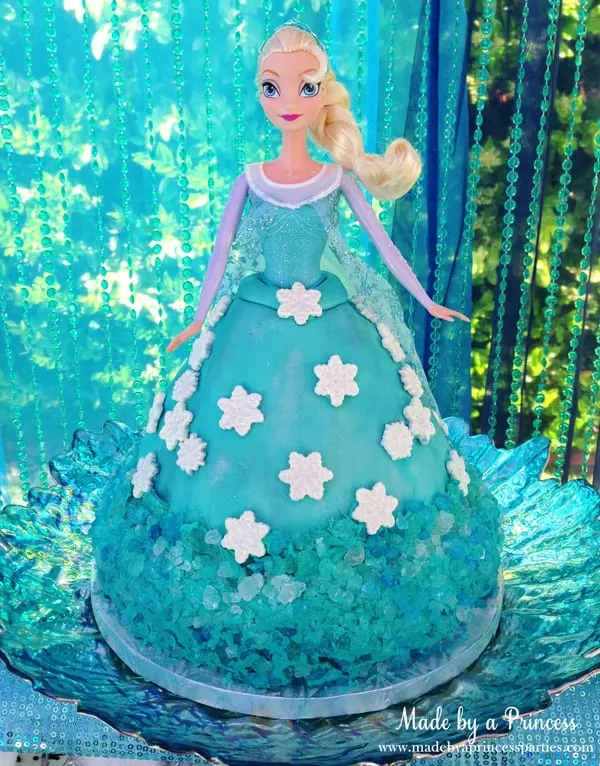 My friend, Jen, of Oh For Cake's Sake created these sparkly fondant snowflakes for the cake which was my daughter's favorite part.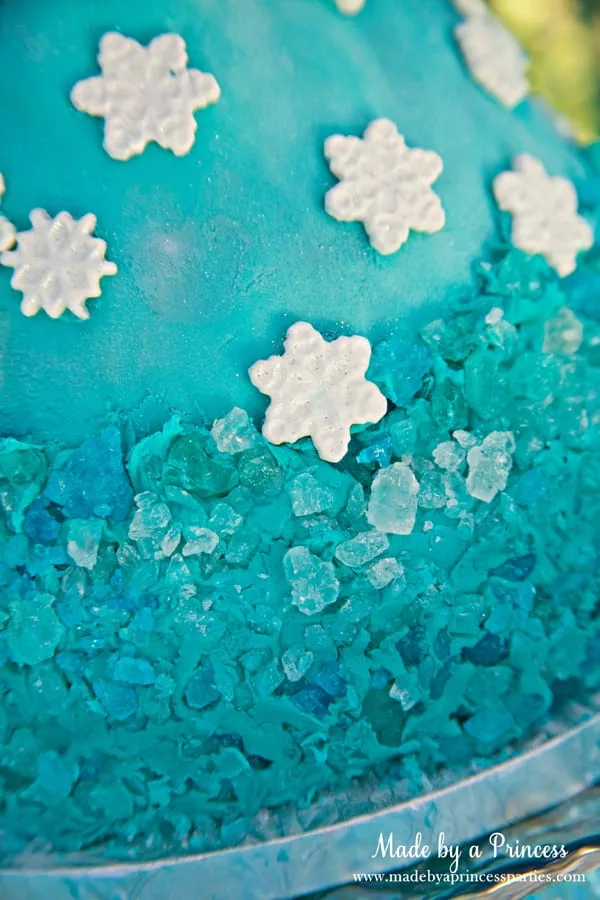 Frozen Party Games
Create Your Own Beaded Necklace
I had a number of activities planned but by far the favorite was, "Create Your Own Crown Jewels." I had a tray of beads, silver snowflakes, silver initials, and sparkly jewelry cord so each child could create to their heart's content. They could also decorate their own tiaras and reindeer antlers.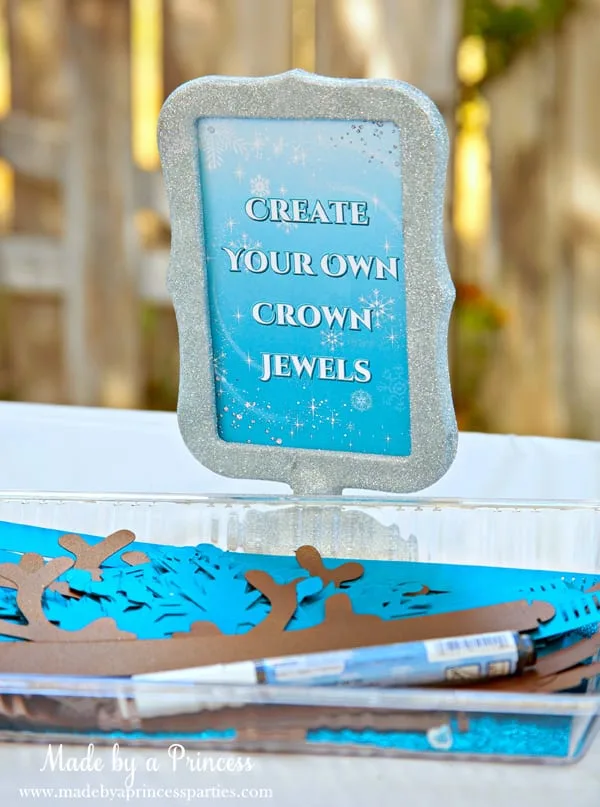 You can find the DIY for my no mess glittered trays
here
.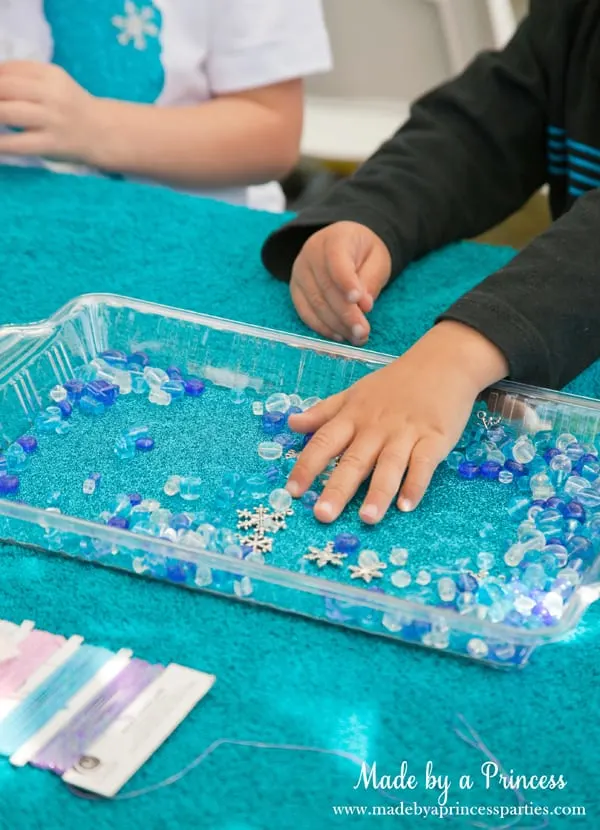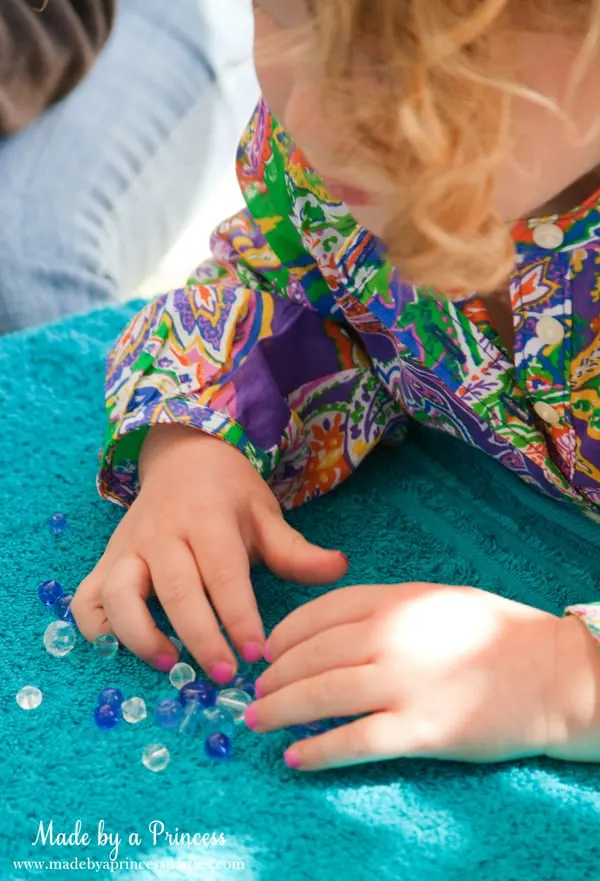 The boys got into it too!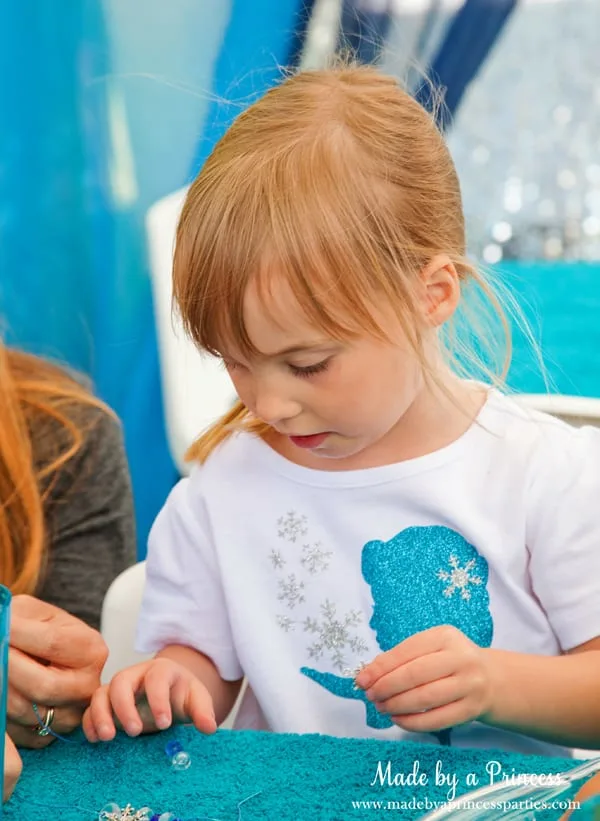 I just love this picture of my sorority sister, Tami, helping my daughter make her necklace.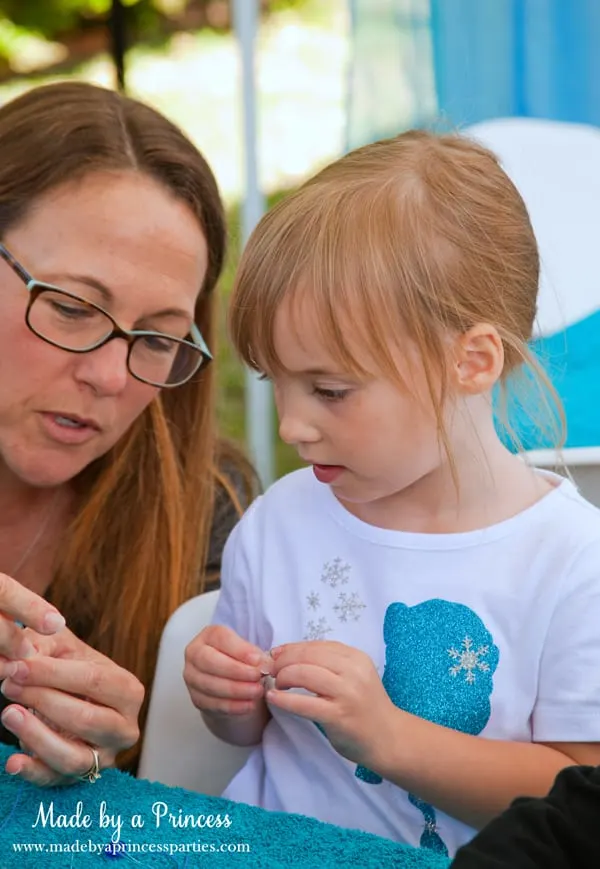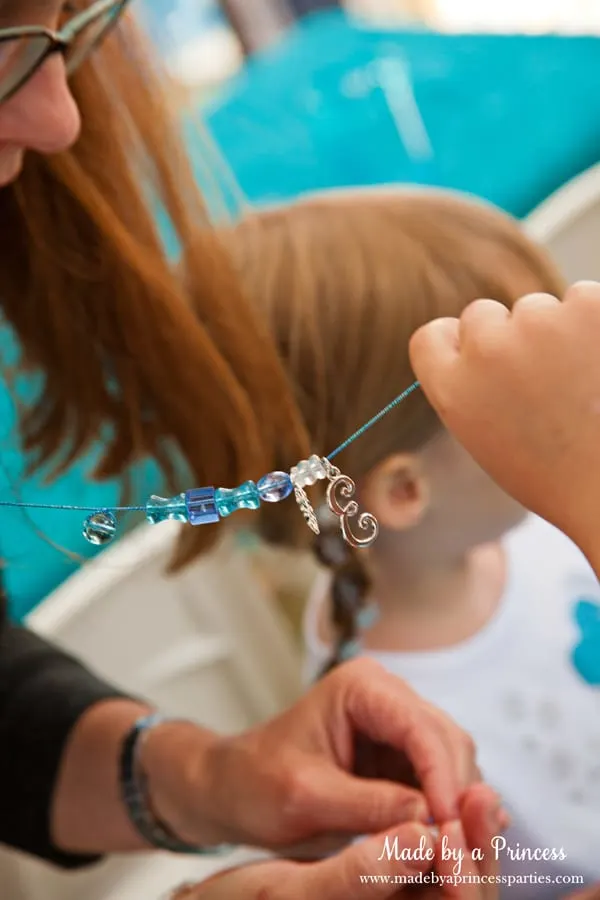 I made a really cute snowflake hair bow to match my daughter's outfit but it went missing the morning of the party. One thing about party day…you always have to be ready to improvise…I grabbed some tiny snowflake stickers and stuck them in her hair. She loved it and thought she looked just like Elsa.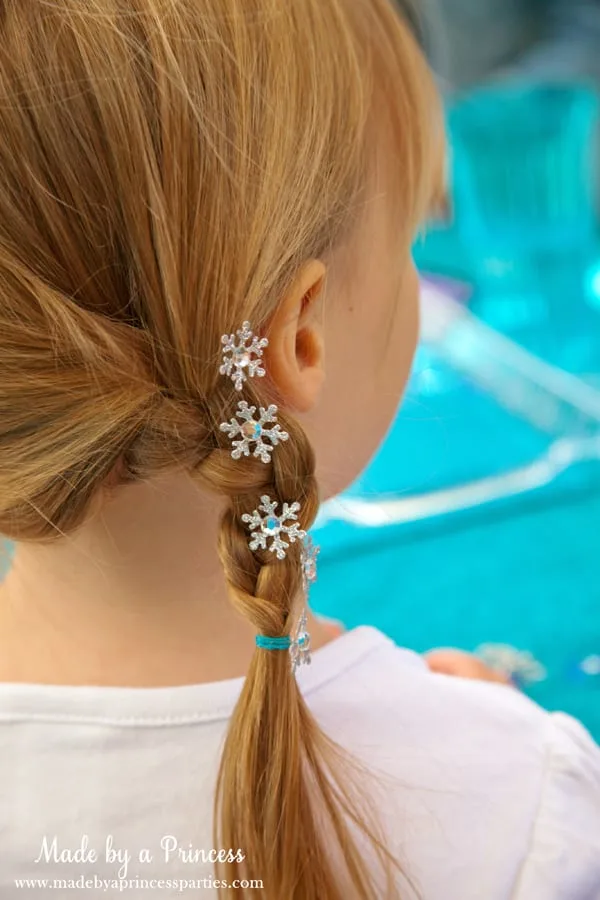 This is another favorite picture from the party. That's my friend, Marisa on the left. We have been friends since preschool. Yes, preschool! She's my oldest girlfriend, my son's Godmother, and also a fellow Panda Sister. We Immaculate Heart girls take our Panda Pride very seriously! Here we are, many many years later, and we are not only fortunate enough to remain great friends, but our daughters are only weeks apart. I think that is pretty special.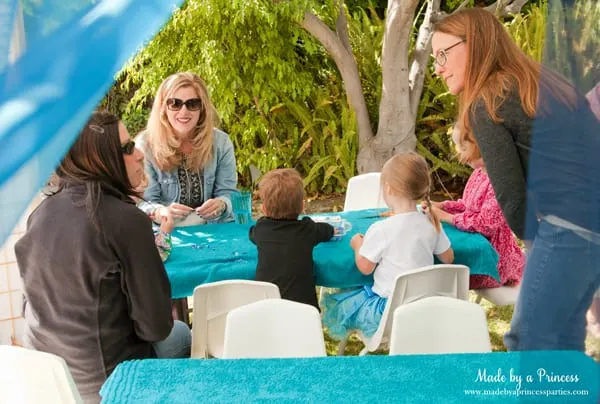 It wasn't just the mommies and kids who got into the crafting! This is my brother on the left (he's single by the way ladies – he's going to hate me for saying that!) helping Marisa's daughter (above) make a necklace. It was so sweet! I just loved seeing my brother and our cousin having so much fun together with the girls.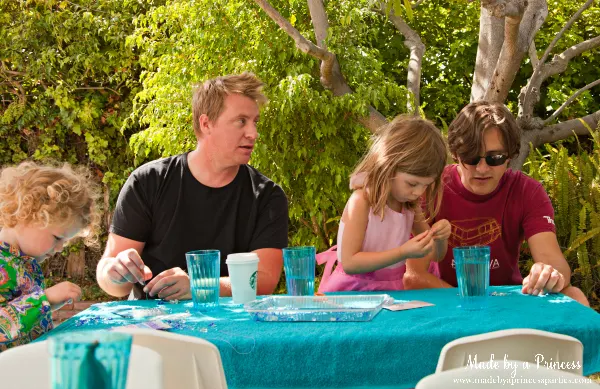 DIY Slime Snowballs
I had this great craft…making snowballs with glue, water, Borax, and glitter but with all the jewelry making we ran out of time. Oh well…will make a fun summer project!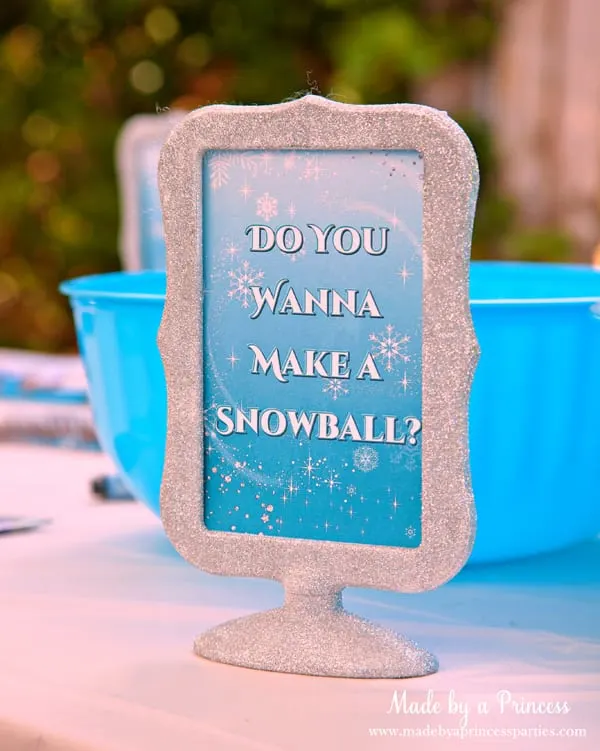 Thaw Anna's Frozen Heart
The kids loved this game, "Thaw Anna's Frozen Heart". I had some little plastic hearts leftover from Valentine's Day so I put them in an ice tray. I gave each child a cube and told them they had to thaw her heart. Some sucked on it but most wanted to watch the ice melt away in water. Make enough for each kid to have at least two turns because it melts pretty fast.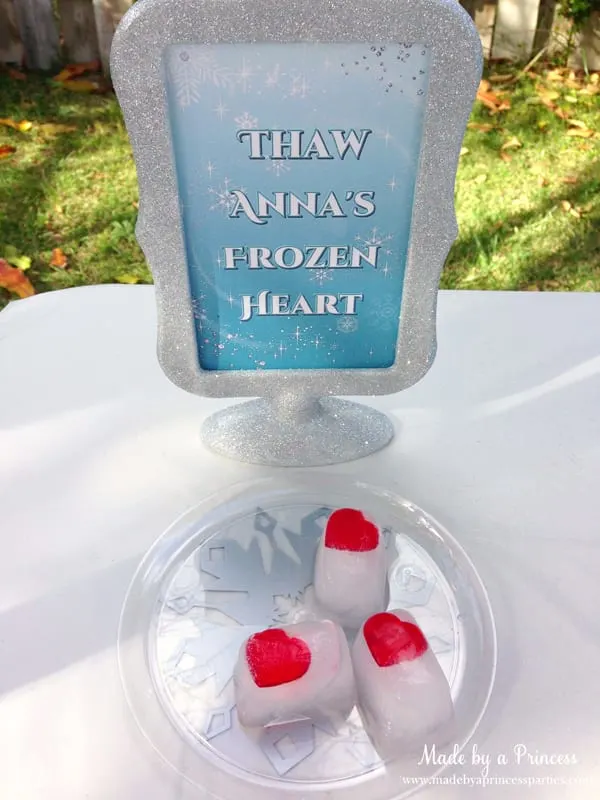 Pin the Snowball on Marshmallow
Instead of pinning the nose on Olaf which has been done a lot, we played, "Pin the Snowball on Marshmallow." I found a big image of Marshmallow online and had it printed to poster size and then cut out a bunch of circles using glittery cardstock to serve as snowballs.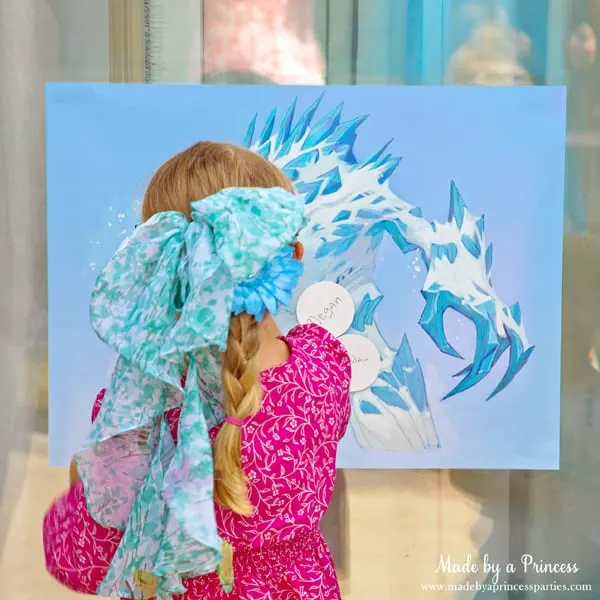 Throw Snowballs at Marshmallow
We thought about doing a scavenger hunt but I had these snowballs left over from our
Elf party
and figured we would use them in some way for this party. The kids knew something was up when the jar of snowballs came out…they just didn't know what!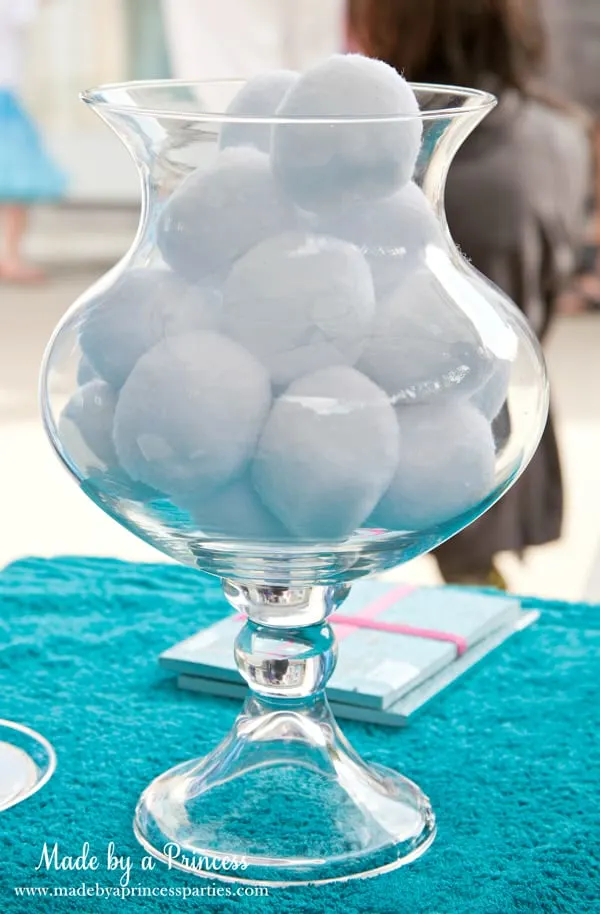 "It's Marshmallow!" Big brother decided to take the hits and become Marshmallow. The little kids loved it! My son is such a good sport…he let the little kids take shot after shot and played right along.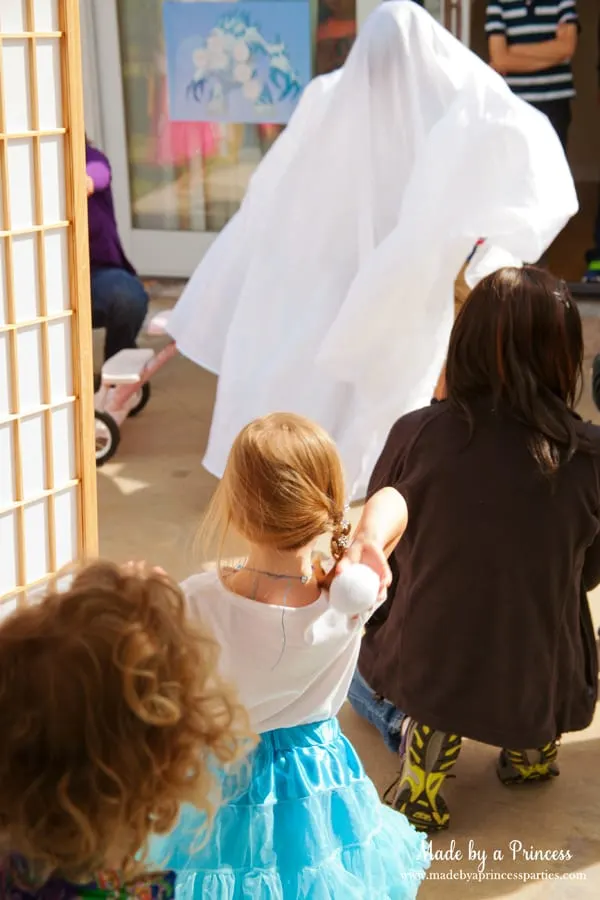 Happy Birthday to the Queen of 3!
Singing "Happy Birthday" always make her a little shy so big brother stepped in to help her out.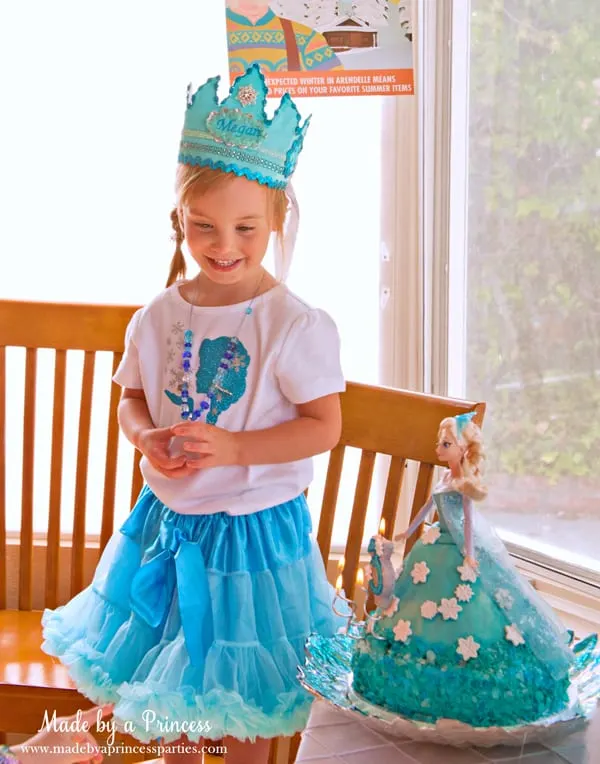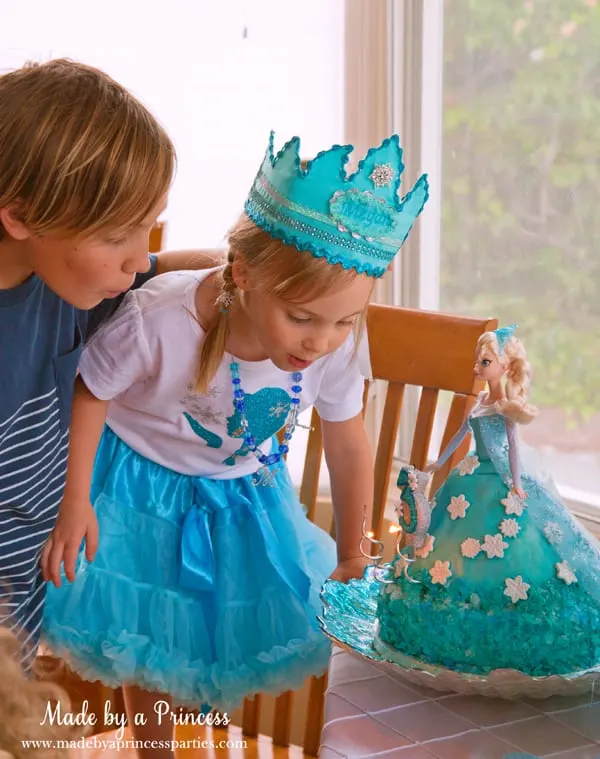 Frozen Party Dress & Custom Lollipops
I knew the fancy Elsa dress wouldn't last too long so I had a backup plan…a custom made Elsa t-shirt and fluffy turquoise tutu. The whole outfit really came together with her necklace and crown from Shawna Brockmeier.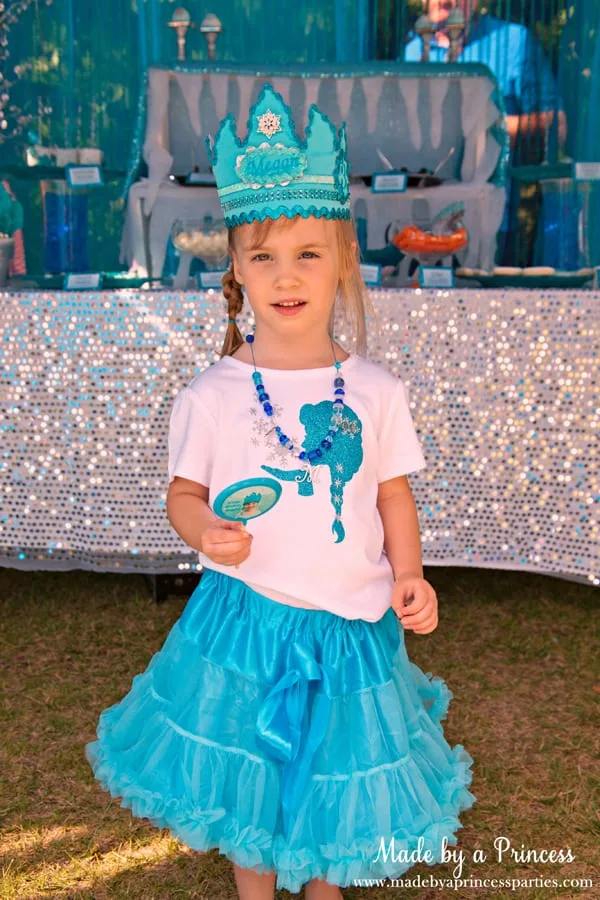 I made a Lollipics tower using a Wilton cupcake holder, styrofoam balls, and snow batting. I wanted them to look like they were sitting in the snow.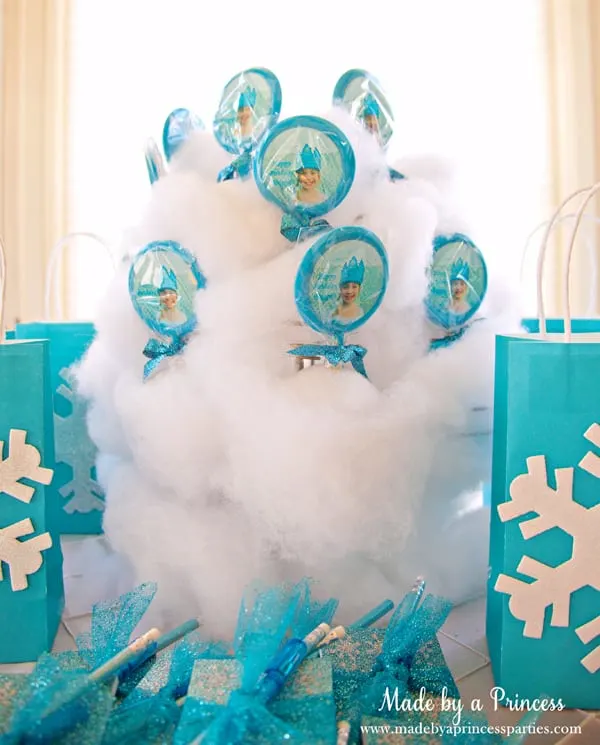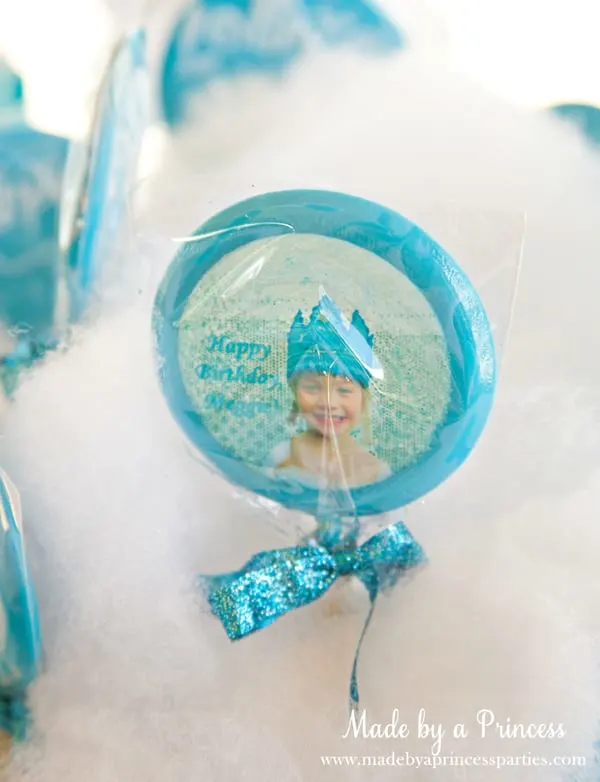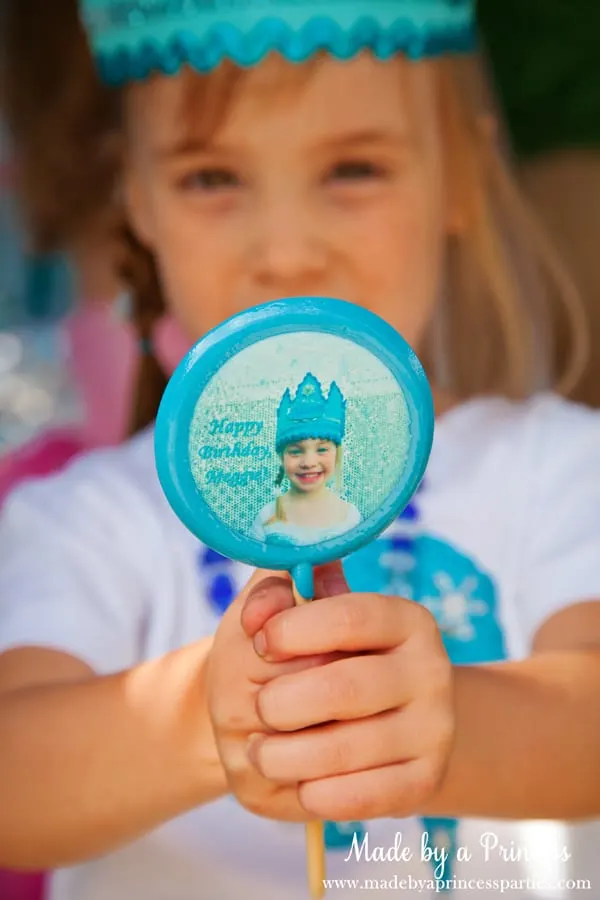 Thank you so much for checking out my daughter's Magical Frozen Birthday Party and for making it this far!
Frozen Party Vendors
I would like to say a very special thank you to all of my incredible vendors that helped bring so much beauty to my daughter's party…
Beaded curtains, aqua glass chargers, and table decorations:
Koyal Wholesale
Edible image lollipops: Lollipics
Arendelle & Elsa chocolate castles, "snowbanks", and "alps": Evie & Mallow
"Queen Megan" cookies: She Wears the Crown
Frozen inspired crown: Shawna Brockmeier Events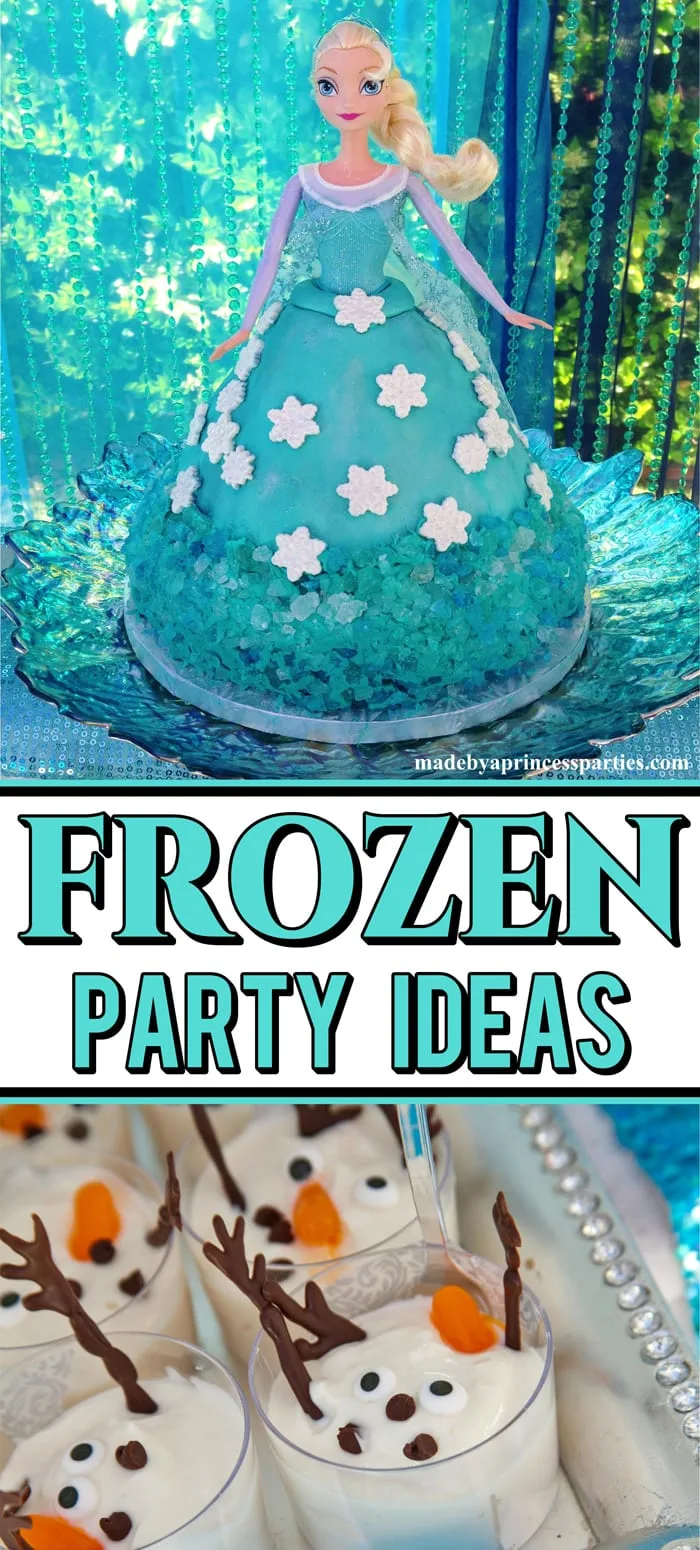 Originally published May 21, 2014
Updated November 23, 2019