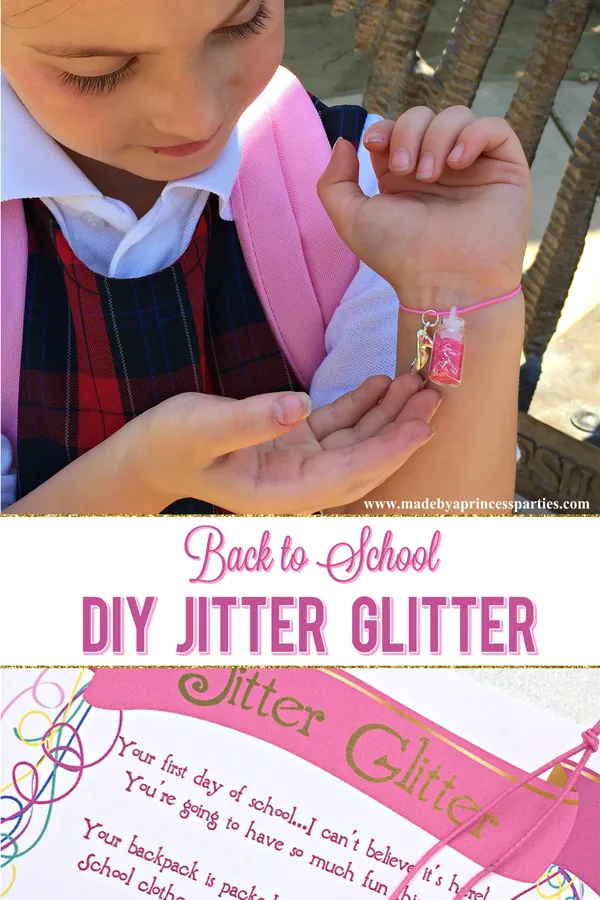 You've heard of Mommy Magic…of course you have! Have you heard of Jitter Glitter though? Jitter Glitter is something some genius mom or teacher came up with to help out with the first day of school jitters. Let me tell you mamas…this stuff works! I have created a new poem for you and a new twist on this idea that you can easily pull together for your little love before school starts. Read below for your Back to School Mommy Magic Jitter Glitter Card FREEBIE!
Back to School Mommy Magic Jitter Glitter
I wish I could give credit to the person who actually coined the phrase "Jitter Glitter" but I am not sure who that is. If you know, please tell me! There are lots of poems out there you can use but I really like writing my own poems for my kids so I took the concept and added my own twist on it.
I wanted my daughter, who started Kindergarten this week, to be able to take her Jitter Glitter to school so I knew it had to be something small. One of my tiny vials of nail glitter (from a package I got at the dollar store) was sitting on my craft table and was just tiny enough to work! Also on the table was a charm left over from her Cinderella party and some stretchy cord (also from the dollar store)…everything I needed to made a very quick bracelet.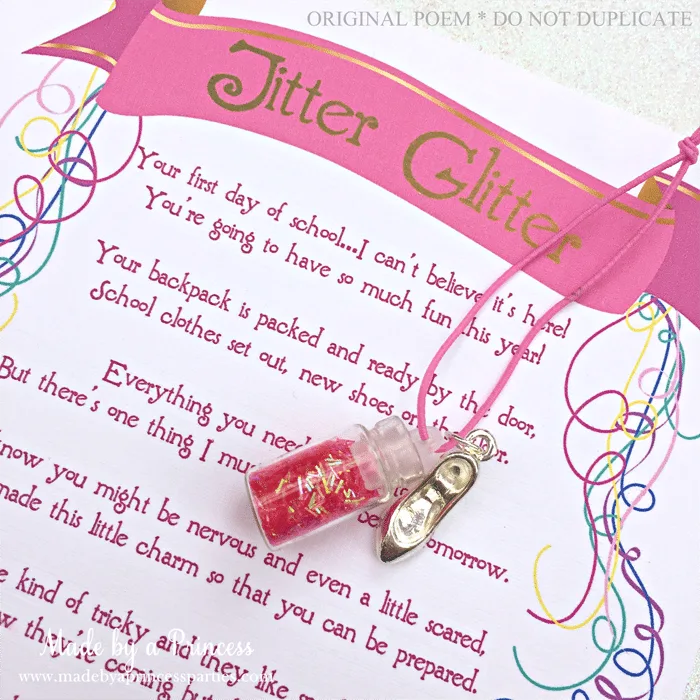 I told my little girl that after shower time we would read, "First Day Jitters" by Judy Love and that I had something special to give her afterwards. I read the book, we talked about what it meant to be nervous, I read her my poem, and then I gave her the charm. Her favorite part was that I told her it was made with Mommy Magic. She could not wait to go to bed. We sprinkled the Jitter Glitter under her pillow, then she sprinkled some under mine, we went through our night time routine, and she was off to dreamland.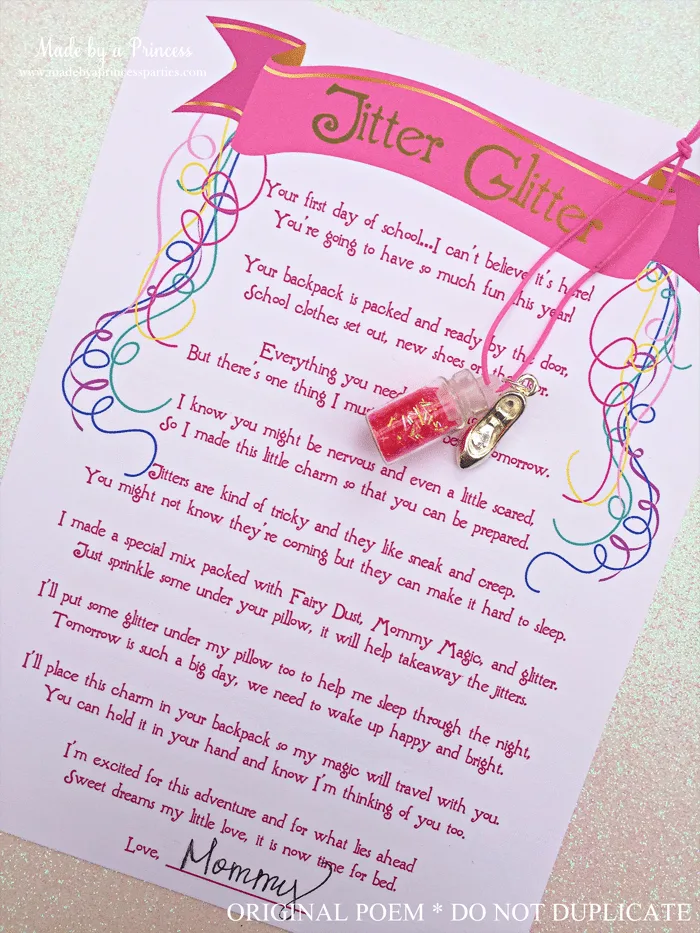 Jitter Glitter Works!
Before leaving for school we put the little charm in her backpack and I told her that if she was missing me or felt nervous she could hold the charm and know I was thinking about her right then. That's the power of Mommy Magic. When I picked her up she could not wait to tell me she had a, "GREAT!" day, didn't cry, wasn't sad, wasn't scared or afraid, and made a new friend. "Your Mommy Magic worked! I love school!" You can't get better than that!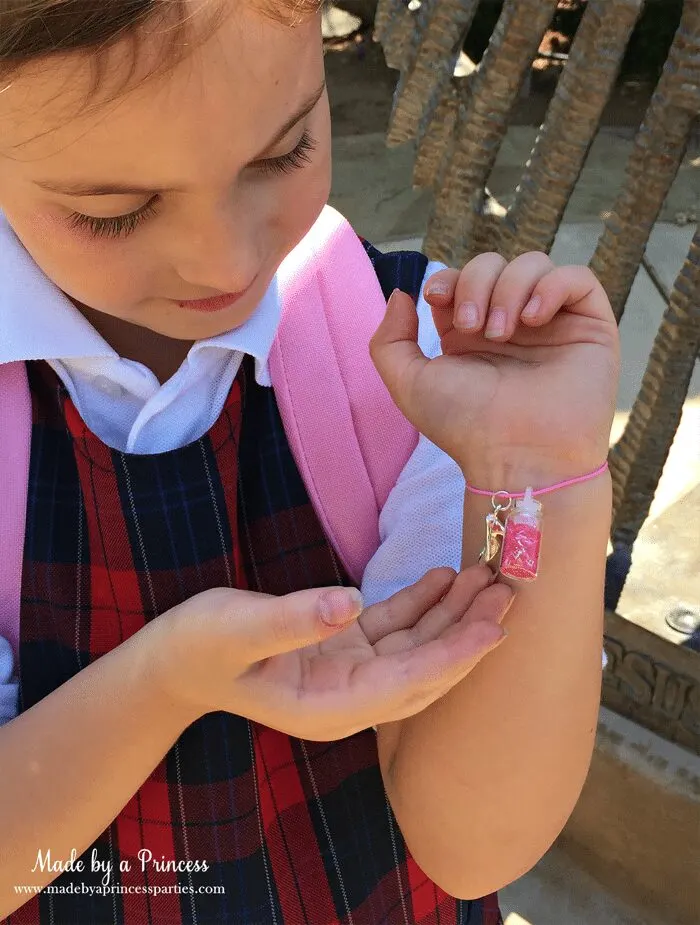 The past couple nights she has put the charm next to her bed and then in the morning puts it back in her backpack. Whatever works!
FREE Download Mommy Magic Jitter Glitter
I hope this Mommy Magic Jitter Glitter can help you and your little one too! Want the Jitter Glitter Printable? Join my Made by a Princess Castle Community and have access to my secret VIP (Very Important Princess) resource library. There you will find all of my party and holiday printables!!
*Update
The Mommy Magic Jitter Glitter was such a hit that several moms asked me about it. Apparently, several girls had gone home and told their moms about my daughter's Jitter Glitter and wanted to know if they could have some. Luckily, I had enough supplies to make a few more bracelets. Over the next few days I snuck bracelets to moms so they could create their own Mommy Magic. My little girl was so proud she had gotten through her first week of school without meltdowns or tears. She was even more proud that we had helped her new friends.
Thanks for checking out my post and Happy Back to School!
Great Books About Starting School