Shop Amazon Prime to get the best deals on my Top Must Have Tools for Bloggers!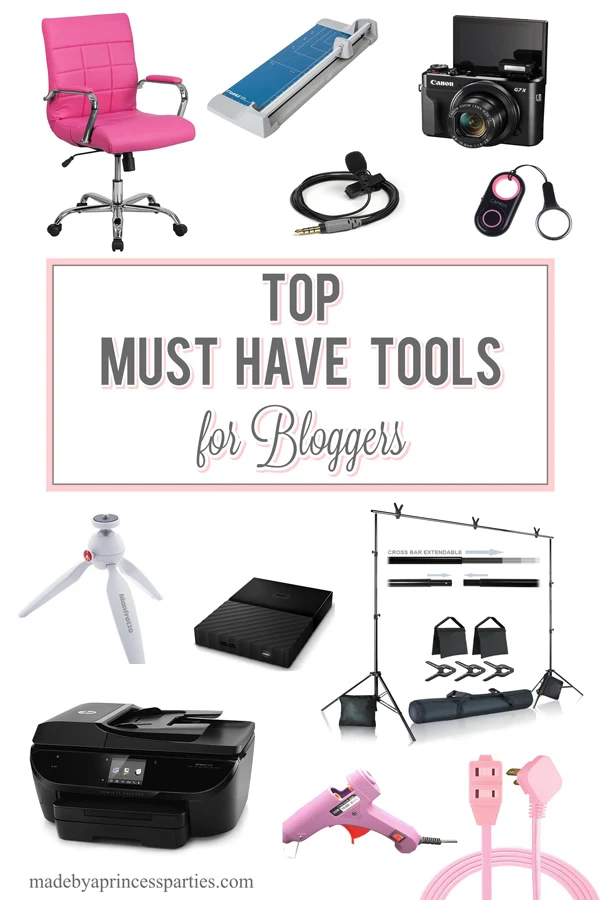 Have you ever wondered what tools bloggers use to run their businesses but are just afraid to ask? I'm pulling back the virtual curtain in my office and sharing some of my top must have tools for bloggers.
*this post contains affiliate links
Top Must Have Tools for Bloggers
Step inside my pretty pink little castle and let me show you all the things I need to run this site. This is not a complete list my any means but if you are looking to start a blog or want to add to your blogger's toolbox these are some of my favorite blogging tools!
First, I'm going to share with you some of the blogging tools I use everyday that are essential to running my business:
WordPress: My blog runs on WordPress. When I made the move from Blogger to WordPress my traffic increased and so did my income.
MailerLite: Using this has increased my subscription rate by 500%. That's insane right?! Before I was using a system that was old and antiquated and didn't allow me to customize my messages at all. With MailerLite I can easily create custom campaigns and landing pages that my readers respond to.
Pretty Darn Cute Design: I've used PDCD for many years and have gone through two design changes. Susan, the tech support and all around guru, is amazing. She has helped me out of a blogging jam more than once and I am so thankful for her customer service.
MiloTree: It's that pretty little pink box that pops up on the left hand side of the screen that quietly encourages you to sign up. It's lightweight (meaning it doesn't take up a lot of "space" on the backend) and can be customized to match my branding. It has really helped my subscriber and follower numbers to go up.
Tailwind: I LOVE Tailwind. It's definitely one of the reasons my monthly viewership is up on Pinterest which means more traffic to my site. If you sign up using my link you will get a month of Tailwind for free.
SEMRush: I am new to the SEO game but can see a HUGE difference in the posts that I have optimized for SEO. I really wish I had learned SEO years ago because going back and updating old posts is not so fun. What is fun though is seeing the increase in traffic and climbing up the Google page rankings. There is so much you can do with SEMRush that will make a big difference in your business. It is expensive but I believe it's worth it.
OrangeGeek: My site host is the best. I ask a lot of questions and Caleb answers all of them. He's gone above and beyond to help me several times and not many companies would do that. OrangeGeek is great.
Mediavine: If you have the numbers, sign up with Mediavine. They are the best ad company and really really know what they are doing. I was using a couple of ad networks before and didn't make anything with them. I made more in my first month with MV than I did in three years with the other networks.
PicMonkey: I am all about convenience and easy to use which is why I like PicMonkey for editing my photos. You don't have the same control as you would in Photoshop or Lightroom but it gets the job done and with great results.
DropBox: If you need to share large files and don't want to clog your inbox, use DropBox. I pay the $10/month because I need the extra storage but if you are just going to use it to share with family back and forth you'll be fine. If you have campaigns where you need to send hi-res photos you probably want to pay for the upgrade….it's worth it.
Other than my wish list at the bottom, I own and use all of these items. Amazon loves me because I shop there a lot. Way too much really.
Must Have Office Supplies for Bloggers
I have a pink office so I tend to buy a lot of pink colored office supplies. When I find something pink for my office I do a little happy dance. In all honesty, my office is not quite this tidy right now but I do really love walking in to my pretty in pink office every morning. You can't tell in this picture but the walls are a very light gray. On the wall behind my chair I have white ruffled curtains…so very feminine.
One of my favorite things in my pink office is the scrapbook paper stand. I bought it for $30 from a scrapbook store that was going out of business.
Pink Swivel Office Chair: My absolute favorite pink chair has been discontinued so I purchased this last year to replace it. I can't bring myself to get rid of "Dolly", seen in the photo above but I did order this chair and found it very comfortable. It's a beautiful bright pink and will make you smile every time you see it.
Mini Pink Hot Glue Gun: I could not live without a glue gun. What did we do before glue guns?! This is a high temp glue gun perfect for whatever craft projects you can dream up.
Pink Extension Cord: The hot pink one I have in my office has been discontinued but to be honest, I think I like this one even better! I love the baby pink color and flat plug.
Pink Binder Clips: You wouldn't believe how useful these are beyond holding papers together. These are perfect for when I need to make a table cloth smaller or I want to gather it without using a need and thread. Grab from the inside of the table cloth and clip together. I have these hidden all over my dining room.
Must Have Office Equipment for Bloggers
HP Printer: Up until a couple years ago I had an Epson before and loved it until I got the HP Envy. This is quiet, fast, and prints in vibrant colors. I signed up for HP Ink too which means I don't have to spend $70 on ink cartridges every 3 months. Super happy with my HP Envy.
Silhouette Cameo 3: This is not the version I have but I would recommend getting the upgrade. I use my Silhouette for so many projects and don't know what I would do without it. I've made t-shirts, favor boxes, banners, gift card holders, a VW bus, cupcake toppers, fairy wands, flowers, just to name a few.
Cricut Mat: Not a fan of the Silhouette mat so I use the Cricut mat instead. It's sturdy and will stay sticky longer than the Silhouette.
Paper Cutter: Best ever paper cutter. Best. Ever. I have used a lot of paper cutters throughout my crafty years and none of them are as good as this one. I think I paid about $60 for mine 15 years so you'd be getting this at a really good price. It's time for me to get a new one to be honest but the one I have has been so loyal and trusty I just can't part with it. You will love this paper cutter.
Paper Cutter Replacement Blade: These are kind of pricey but worth it because they last forever. Since I first purchased the paper cutter 15 years ago I only replaced the blade twice. You seriously get your moneys worth with this paper cutter.
Backup External Harddrive: My husband gave me an external drive for Christmas so I could safely backup and store all my photos and blogging files. Backup friends. Trust me…back it all up.
Eyeglasses: A good pair of eyeglasses is really necessary. I just got this pair last week and am loving them! They are so different from any other glasses I've ever worn before so it takes a little getting used to. My friend, Barbara, said they are "beautifully nerdy"…the cutest compliment ever!
Must Have Camera & Video Tools
Canon Camera: A lot of research went into this camera before I actually pulled the expensive trigger and purchased the Canon X7. I'm in a bunch of photography and business groups and a lot of bloggers mentioned how much they loved this camera. It's a great camera for what I need: taking pictures for blog posts and of my kids.
Pink Camera Strap: It's pink and I really wanted a pink camera strap. Actually, I did spend a lot of time looking for the right one and the reason I got this one is because it's thin and lightweight.
Remote Camera and iPhone Control: The one I ordered is pink (natch). There are times that it's just a lot more convenient to hit the remote than worry about messing up a shot by trying to push the button on the camera or iPhone.
Camera Filter: I don't actually use this as a filter, I use it to protect my camera lens. In one of the many videos I watched the reviewer mentioned he used this filter to keep dust out of the lens. Seemed like a good idea so I bought it. Make sure you are ordering the right size for your camera though. There is a print out you can use to figure out the right one. If you have a Canon X7 the 36mm is the one to order.
64GB Memory Card: Everyone could use a little extra memory.
Lavalier Microphone: While I have not started vlogging, it is on my list of things to learn and do. When I do get up the courage to make that leap I will be prepared with this high powered professional microphone.
Microphone Windscreen: These are also called "dead cats" but that's just seems so wrong. What they do, however,
is cut down on wind noise if you're recording outdoors. Even the slightest wind be picked up when talking so these fluffy little things will help you with that.
iPhone Splitter: In order to use that nifty little microphone listed above, you will need a splitter if you have an iPhone 7 or higher. The mic is pretty much useless unless you have one of these since Apple did away with that little hole we used before. Still kind of bitter about that. Moving on…
Must Have Photography Tools
Lightweight Tripod: The color is what first attracted me to this tripod. Once I started using it I realized how much I like it. It's lightweight, easy to use, and stores in a small pouch. This can be used for both cameras and iPhones too.
Mini Tripod: I use this more for stabilization that anything else. It would be great for vlogging, if I did that sort of thing, but I like using it along with my remote when photographing my party set ups.
Tripod Mount: The Manfrotto mini mount came with an adapter but I didn't know that so I purchased one of these. It's easy and versatile which I like. It stays in my camera bag so I always have it if I need it.
iPhone Diva Ring Light: This is the cutest little thing. I actually forget to use it but it really does work. If you're into selfies, which I'm not, you'll love the glow it gives you.
Camera Bag: This was the fourth camera bag I tried. It holds everything I need it to hold and it's lightweight. Unfortunately, none of the pink ones worked out but I did add a pink ribbon…that counts right?
Must Have Photo Props Tools
Backdrop Stand: This is a must must have tool and probably the most used. I've used it in nearly all of my photo shoots and birthday parties the past few years. It's lightweight and packs neatly in the zipper bag. The weighted bags are absolutely necessary and I'd advice using them even indoors because inevitably someone will accidentally kick one of the legs and if it's not secure the whole thing will come crashing now. It's no fun. Trust me.
Heavy Duty Clamps: These are another must must have tool. The clamps that come with kit are not enough…there are many situations where you need more than 3. They are also good for making forts. My daughter and her friends regularly use them to secure the blankets during fort making. I really should just buy her her own set at this point.
Lighting Kit: Natural light isn't always easy to find and sometimes you have to shoot at night. This lighting kit is a great starter kit for any blogger.
White 6ft Tablecloth:
White tablecloths are a must have tool for any party stylist. Actually, order a couple of them because you can always find a use for them. These polyester ones are my favorite because if you throw them in the dryer with a wet towel for about 10 minutes you won't have to iron them. They wash really well too.


Black 6ft Tablecloth: If you are going to invest in another color get black. I've got lots of tablecloths in tons of colors but white and black are my staples.

Wooden Cutting Board: I use wooden cutting boards a lot for my food photography because it looks clean and is easy to grab. So many of my props are in boxes in my garage but my cutting board lives right next to the refrigerator on the counter. I'm all about convenience.
Chalkboard: Perfect for a quick to grab backdrop for food set ups.
"Season" it with some chalk to make it look more authentic.
Top Must Haves for Bloggers Wish List
These are items I have saved in my Amazon Wish List.
Adobe Lightroom: This is probably the most popular blogger editing tool. I use a combination of PicMonkey, iPiccy, and Photoshop but what I really want is Adobe Lightroom. Hear that Santa?
White Balance Filter: I decided I'd reward myself with this white balance filter when I really learn how to use my camera. I'm not holding my breath on this one.
Handheld Stabilizer: This is truly more of a really want than a must have. It's a cool thing to have and it's pink. A really pretty metallic pink. #enoughsaid
Cricut Air 2: As much as I love my Silhouette I think I would love this even more. 1) it's pink so there's that and 2) it can do so many things! I legit need this to step up my crafting game.
Cricut EasyPress: This EasyPress would make my life so much easier when I create shirts! I make shirts with really fun quotes about champagne (of course) and desperately need this because irons are no fun. They're either too hot, too cold, or just not right. This Goldilocks needs an EasyPress to make everything just right.
Diva Ring Lighting Kit: Want to know how those vloggers get that perfect glow? They use a Diva Ring. These are just the coolest things and if you vlog they are kind of a must have for vlogging.
Softbox Lighting Kit: While I'm happy with my starter lighting kit, I'd really like to add these to my set ups. Shadows are the bane of my photography existence and these would be the perfect solution to that problem.
Camera Microphone: If you plan to take video using your camera you need something like this. The microphone on many cameras is not great, even if you use the windscreen. This is meant to mount right on your camera and be simple and easy to use. I researched a lot before putting it on my wish list so if you are in the market for a camera mic, I think you'll like this one.
Webcam: Another one of those tools that would be great to have if you vlog. The reviews say the video quality and sound are both great.
Pro Phone Stand for Videos: So many times I think, "If only I had someone holding my phone with a steady hand while I create this beautiful cheesecake, I could share it with readers." Maybe that's not exactly what I'm thinking but pretty darn close. This has been on my wish list for years…oh the fun we could have together little Arkon…
So there you have it, my top must have tools for bloggers. Are any of these on your wish list? Happy crafting and happy shopping!