Can't decide on your favorite Disney Princess? Why don't you celebrate all of your favorites?! My Disney Princess Party Ideas post is full of food and favor ideas.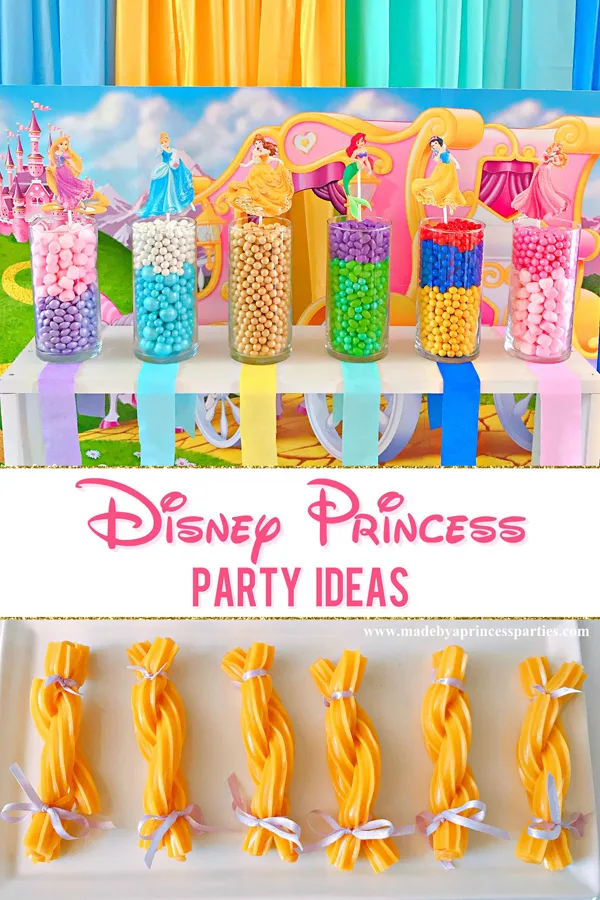 What's a girl to do when she has lots of Disney Princess favorites? Celebrate them all with a Disney Princess themed birthday party! This princess themed candy and favor bar is definitely princess approved! Check out all these Disney Princess Party Ideas sure to make your birthday girl feel like royalty!
*this post contains affiliate links
Disney Princess Party Ideas
A good old fashioned princess party never gets old. There are so many things you can do and so many ways you can decorate for a princess themed party. I love watching Disney Princess movies with my daughter…and sometimes without her (don't tell!) Live Action Cinderella has to by one of my all time favorites now.
Since we're on the subject of movies…do you know how many Disney Princesses there are? Read on to find out.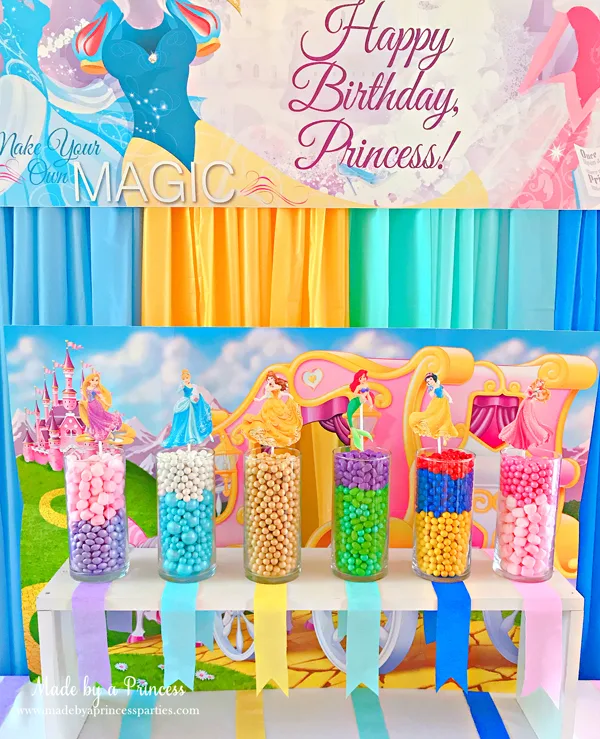 Who Was the First Disney Princess?
Snow White was the very first and original Disney Princess, the "OP" if you will. The movie was released in 1937 and was based on a story by the Brothers Grimm written in 1812.
Fun Fact: The woman who voiced Snow White, Adriana Caselotti, lived around the block from my childhood home on Larchmont Boulevard in Hancock Park, Los Angeles. Everyone in the neighborhood knew, "The Snow White House" because of the distinctive red wishing well in her front yard.
How Many Disney Princesses Are There Now?
There are currently 11 Disney Princesses:
You might be asking yourself, "Are Elsa and Anna Disney Princesses too?". Well, Elsa is a Queen so she pretty stands alone (if you don't count the villain queens) so that leaves Anna. Anna is a princess for sure but she has yet to have her own coronation ceremony. Some theorize that "Frozen" is so incredibly successful that they don't need to be added to the official Disney Princess franchise. Maybe one day.
Now let's talk princess parties…
Disney Princess Candy Buffet
As I said, there is so much you can do with a Disney Princess themed party. You can find a ton of Disney Princess party supplies at birthdayinabox.com including plates, napkins, cups, table covers, a princess carriage photo prop, candy, favor bags, and decorations.
For this princess candy bar I put together vases of candy in colors that were easily recognizable for each princess.
I found images of each princess online, printed them, cut them out, glued them to lollipop sticks, and stuck them in each vase.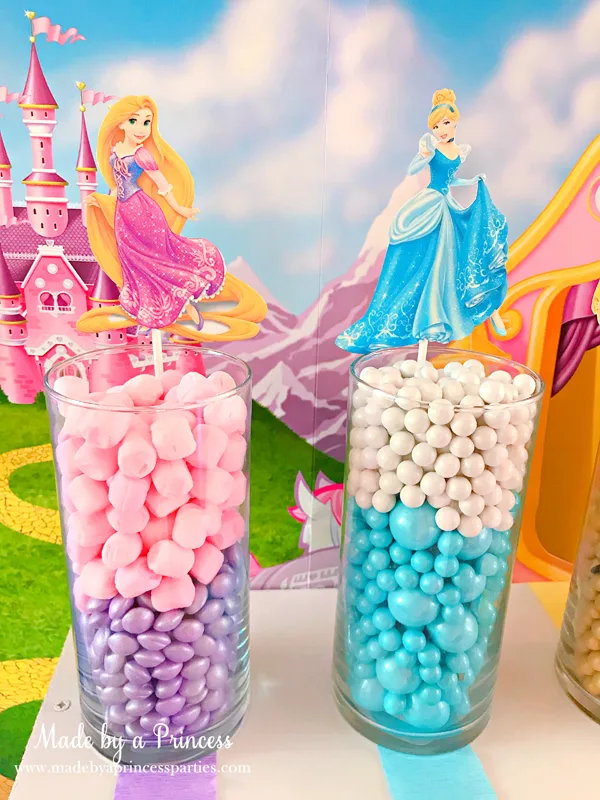 Rapunzel: Pink Buttermints and lavender chocolate drops.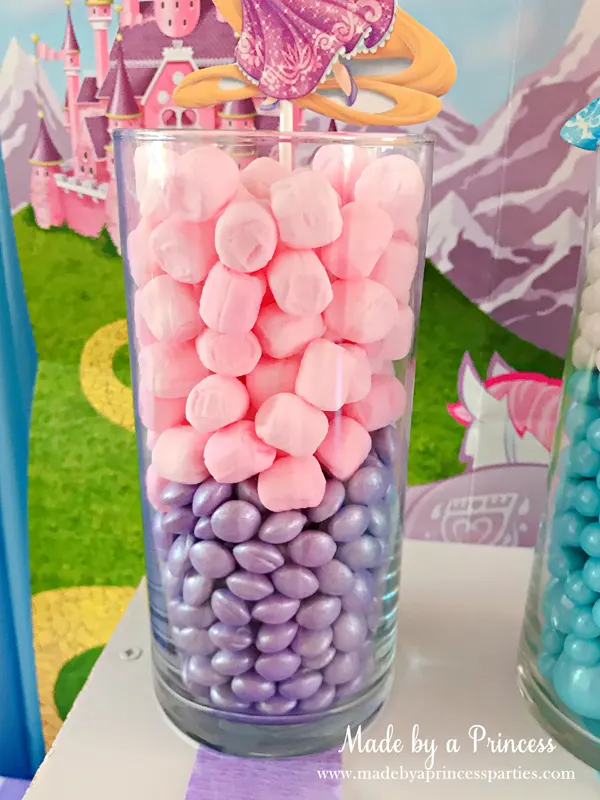 Cinderella: Blue shimmer Sixlets and Gum Balls and topped with white Sixlets.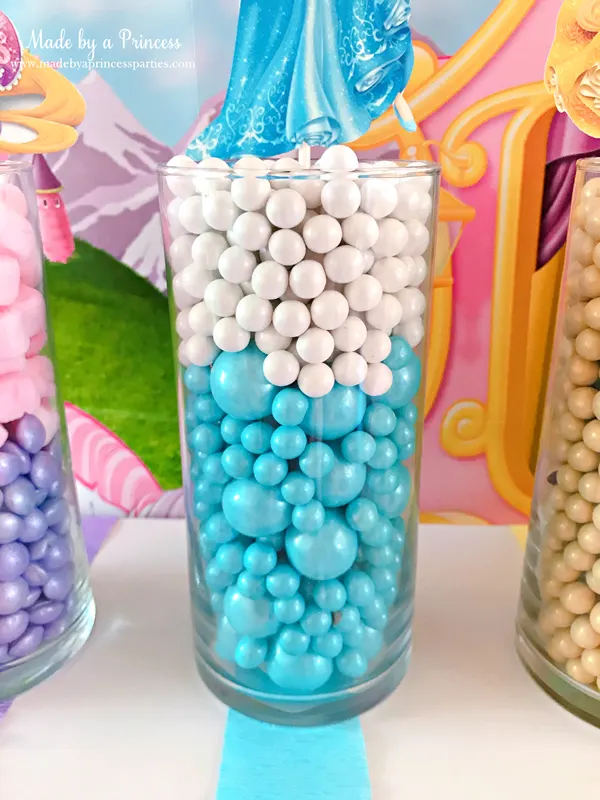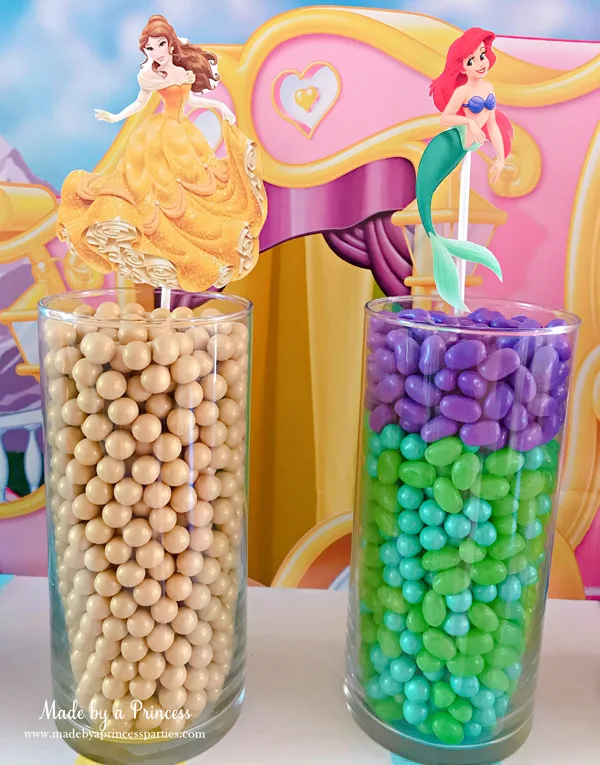 Belle: Gold shimmer Sixlets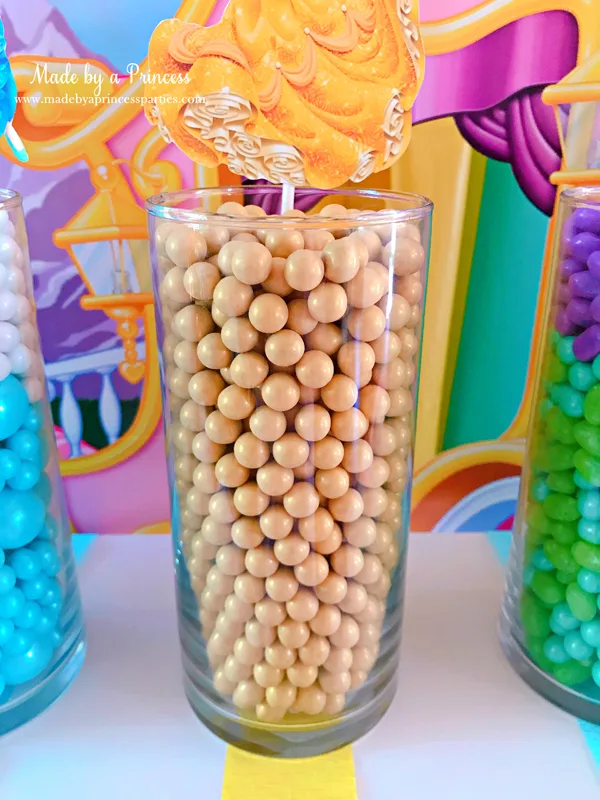 Ariel: Green jelly beans, green Sixlets, and purple jelly beans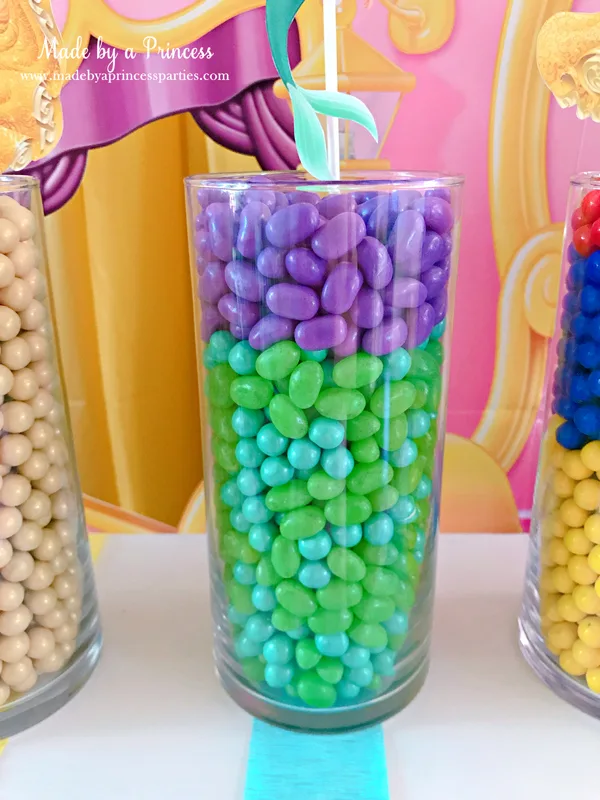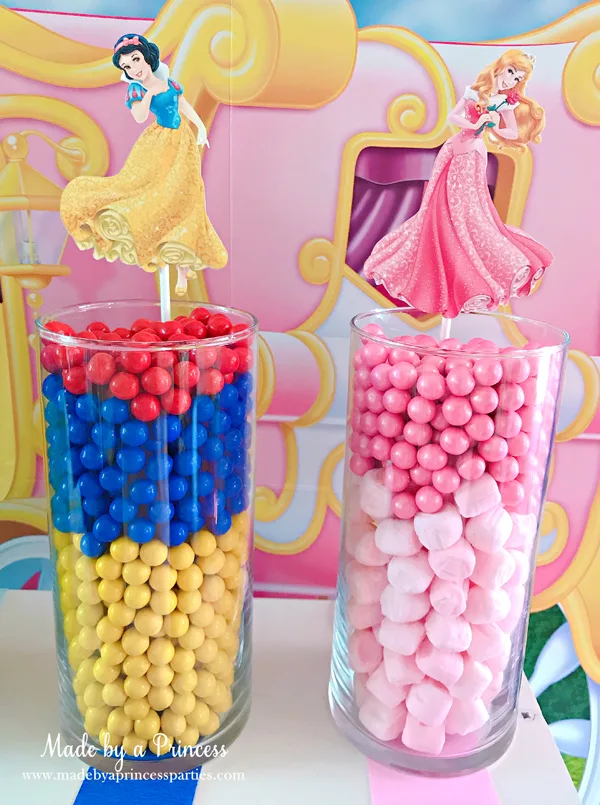 Snow White: Yellow Sixlets, royal blue Sixlets, and red Sixlets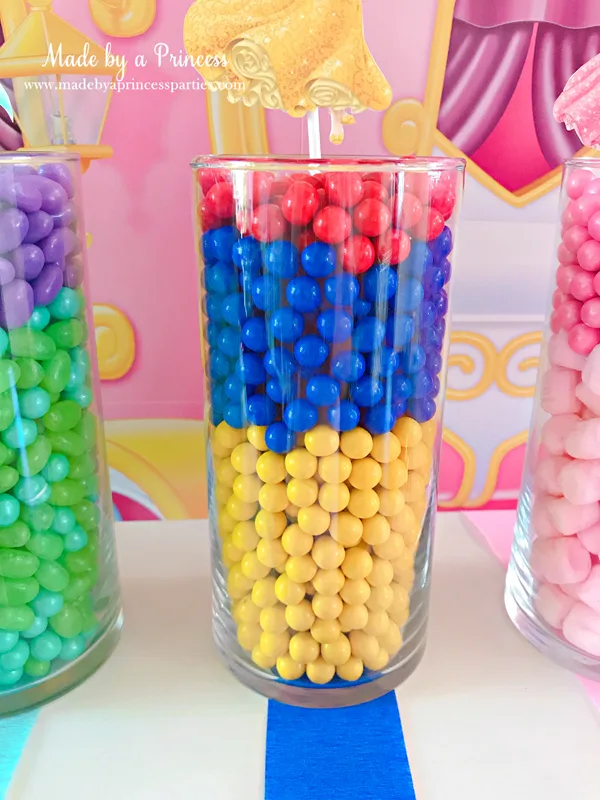 Aurora: Pink Buttermints and pink shimmer Sixlets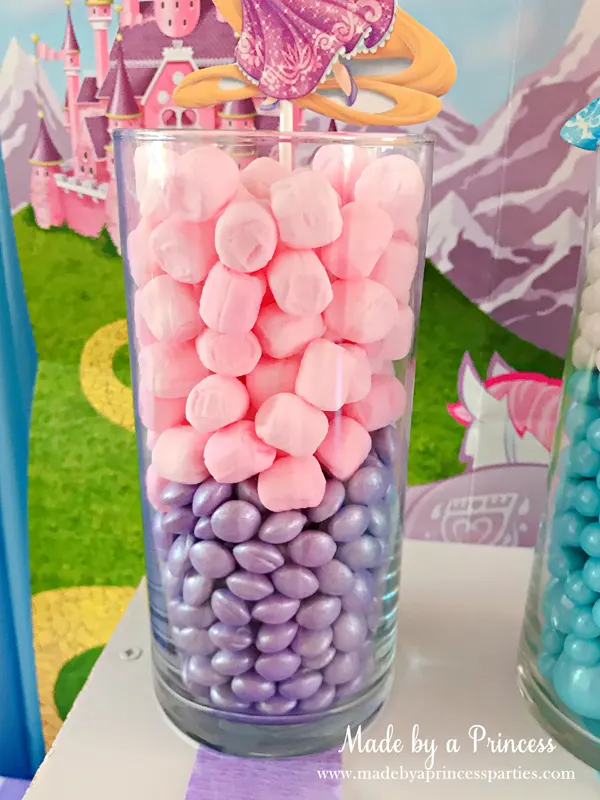 Disney Princess Treat Table
An alternative to a candy buffet is a treat and favor table. Here I created food and favors to represent each princess.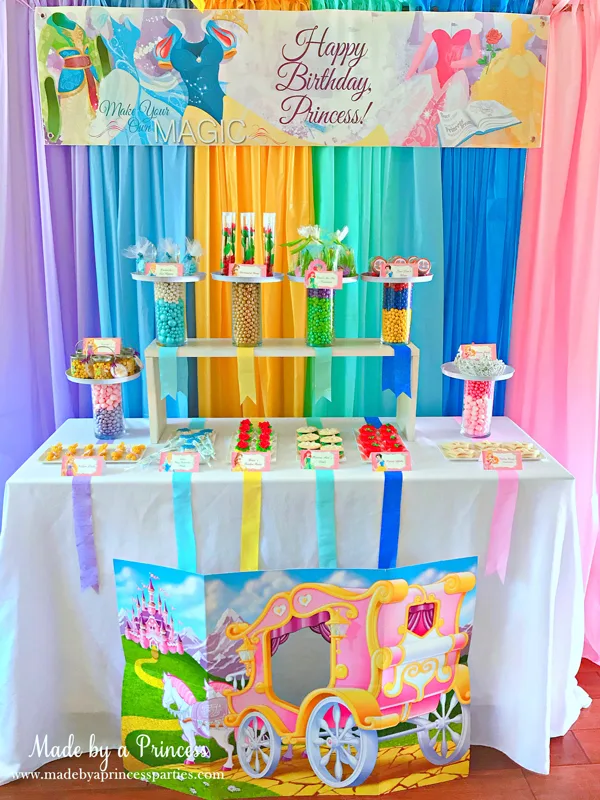 Tangled Rapunzel Party Food and Favor
Rapunzel's Golden Locks: Yellow Twizzlers tied with lavender ribbons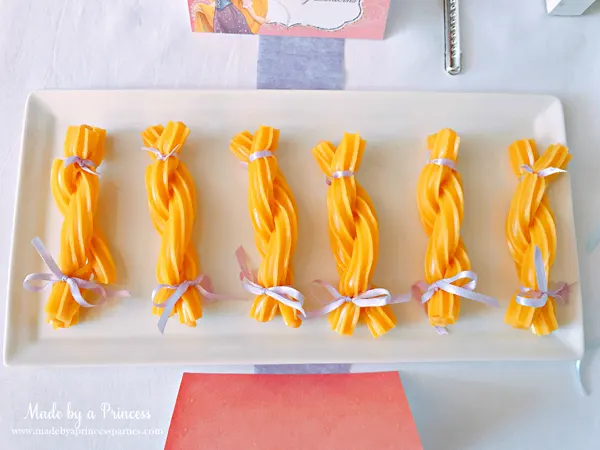 Rapunzel's Golden Lanterns: Mini paint cans filled with yellow Sixlets. I made the distinctive sun found in "Tangled" with my Silhouette machine and gold vinyl.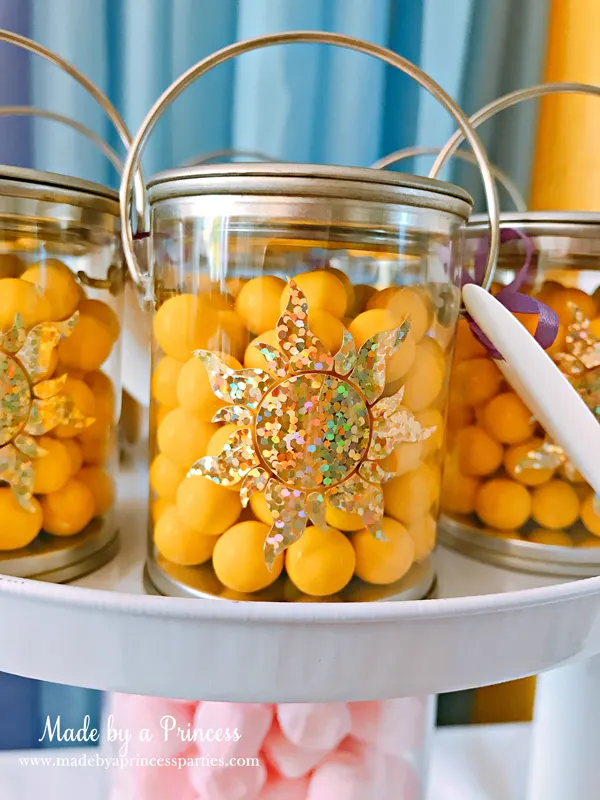 Cinderella Party Food and Favor
Fairy Godmother's Wands: Marshmallow stars created using a large S'mores marshmallow and star cookie cutter. Once cut, spritz one side with water, dip in blue edible sugar, and insert a lollipop stick. I added a blue paper straw because I thought it made them stand out.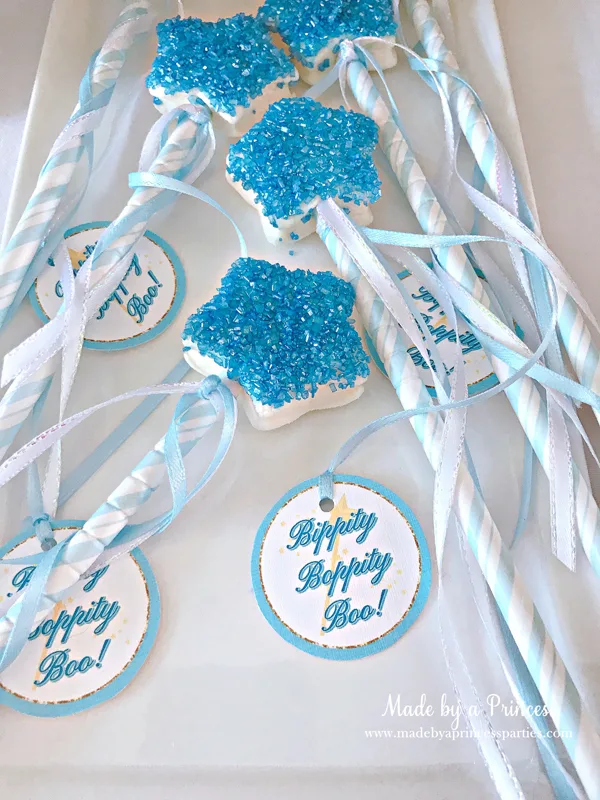 Cinderella's Lost Slipper: Tulle filled with blue shimmer Sixlets and set in a "glass" slipper.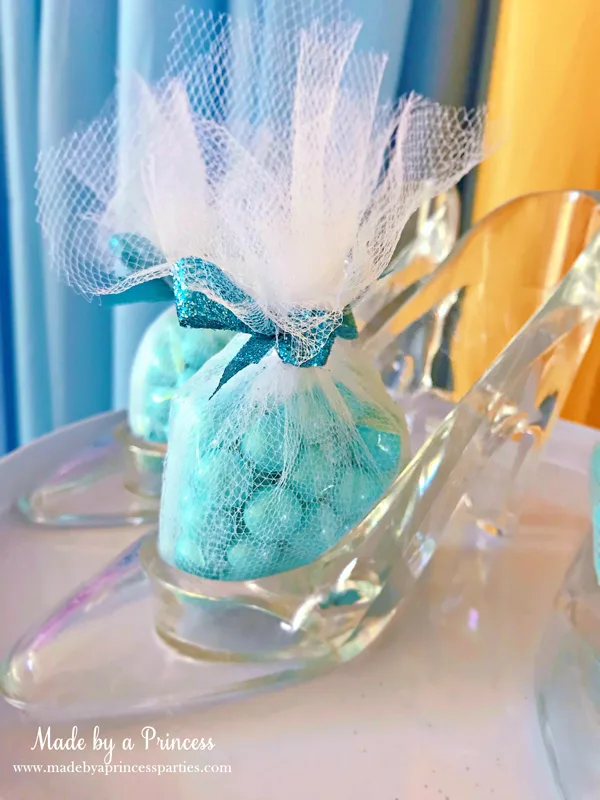 Beauty and the Beast Belle Party Food and Favor
Beast's Garden Roses: Mini cupcakes with yellow frosting and green leaves using a leaf tip. I had a stash of red Wilton roses which were perfect for Beast's cupcakes.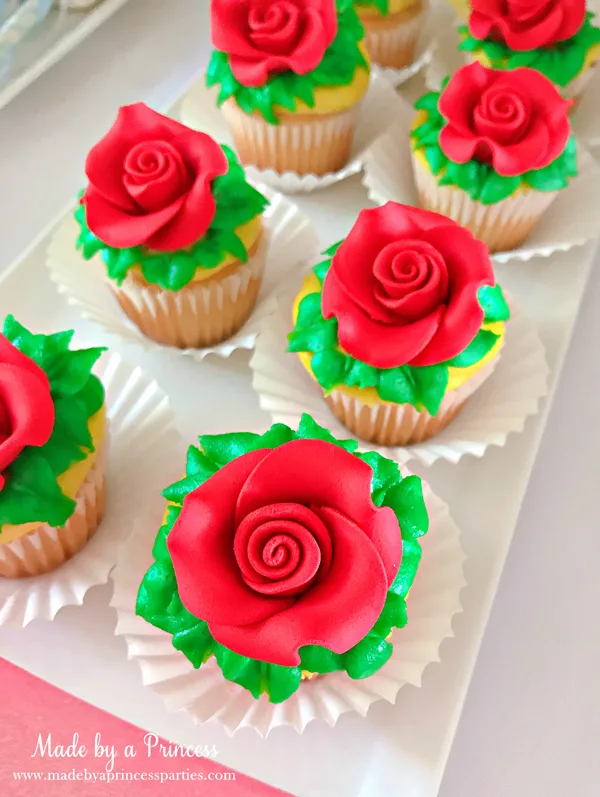 Belle's Enchanted Roses: These were a bit trickier to make. I used red and green crepe paper, floral wire, floral tape, red Hershey Kisses, and a glue gun.
First, cut out your leaves.
Next, fold the red crepe paper in half and put a tiny dot of glue on the bottom of the Kiss wrapper to secure the crepe paper to the candy.
Creating the rose is a bit of trial and error…fold, wrap, twist, fold, wrap, twist, glue…and so on.
Finally, insert the wire (I covered the top in cellophane), place the leaves, and wrap the floral tape to secure.
I'm not going to lie, these took a long time to make BUT I really loved how they came out.
Once done I placed the roses in a favor tube with red Sixlets to represent the petal falling.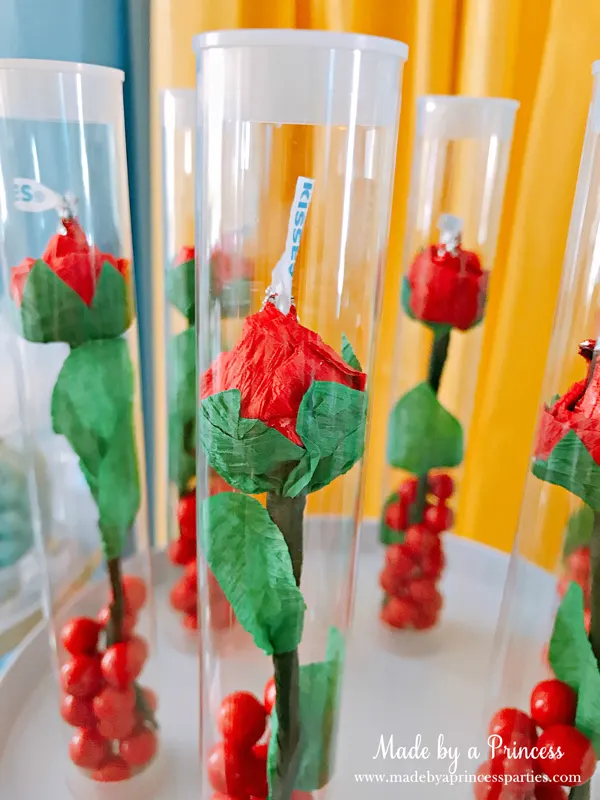 Little Mermaid Ariel Party Food & Favor
Ariel's Pearls: Shell cookies found at the dollar store, aqua tinted buttercream, and a white Sixlet. Use a Wilton Round Tip (#10, #11, or #12) and pipe long tear drops of frosting on the bottom cookie. Add white Sixlet and place another cookie on top.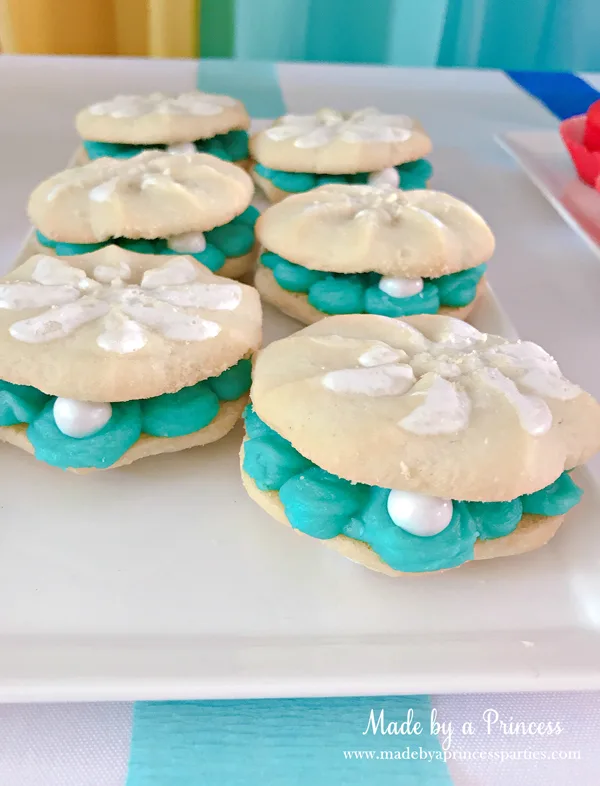 Ariel's Jewels: I designed an underwater scene, complete with Flounder, to use as the "backdrop" in this cellophane candy bag. Cut green Twizzlers various sizes (seaweed) and add green Jelly Beans (seagrass). You want them to look like they are sitting on the bottom of the ocean. Place an Ariel shell mirror party favor within the "seagrass" and finish off with green ribbon.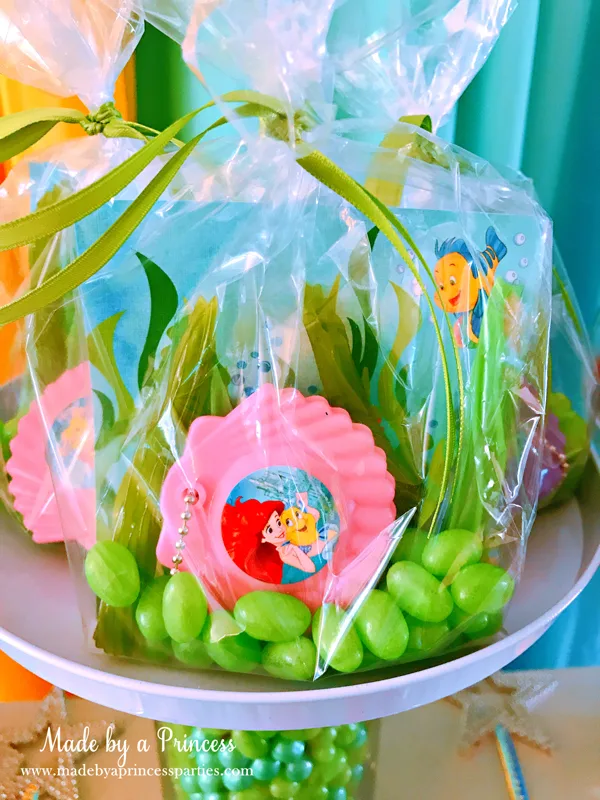 Snow White Party Food and Favor
Wicked Queen's Poison Apples: Tint white cake mix using red gel food coloring. It might take a lot of gel to get to the desired color. Create a stem using a small piece of Tootsie Roll then pipe leaves using a leaf tip.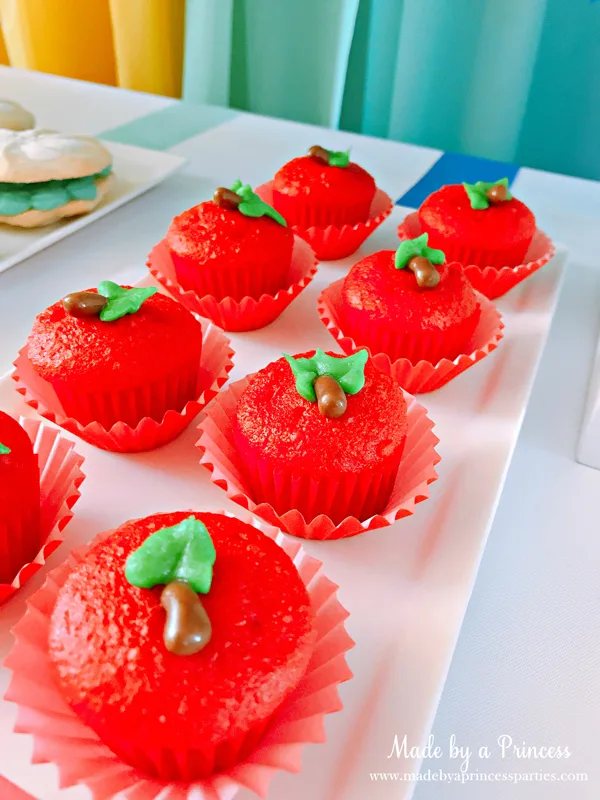 True Love's Kisses: Red Hershey Kisses placed in a small candy favor jar.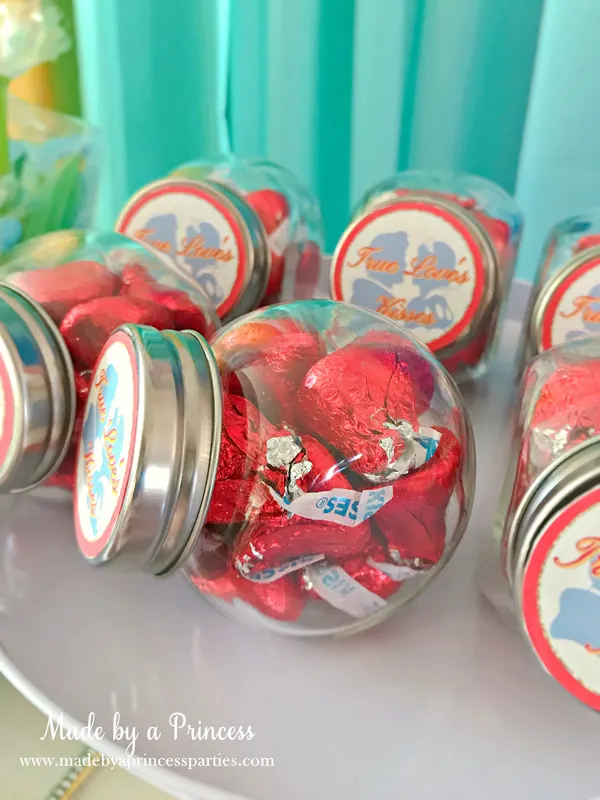 Sleeping Beauty Aurora Party Food and Favor
Sleeping Beauty's Sandwiches: Use a crown cookie cutter to cut out each shape.
Next, spread butter on a piece of white bread and sprinkle with sugar crystals in your favorite colors.
Use a small heart cookie cutter to make an impression in the butter so you know where each color will go.
Cut out small hearts (or diamonds if you prefer) and place on the buttered piece of toast.
Fun Fact: In Australia these kinds of sandwiches are called Fairy Bread or Fairy Sandwiches.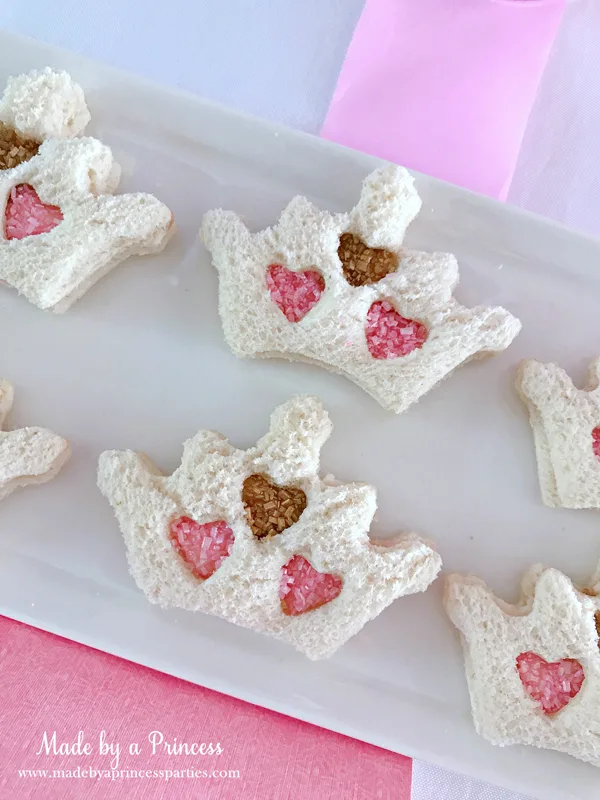 Aurora's Crown Jewels: Every princess needs a crown and Aurora is happy to share. Set out plastic crowns for each guest to wear during the party and then take home as a party favor.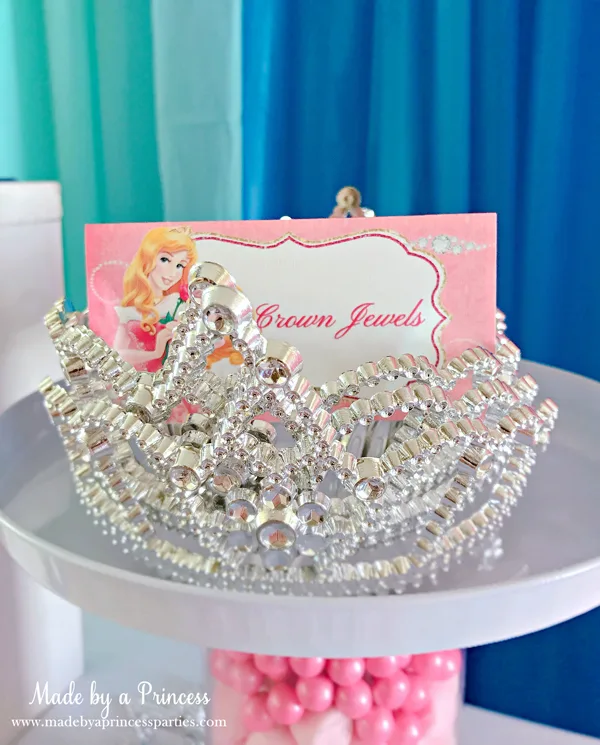 There are so many things you can do with a Disney Princess party, from decorations to food to favors. No matter what, always remember to, "Dream Big Princess!"
Want the custom printables featured in this party? Join my MBAP Castle Community on Facebook! Only members will have access to these unique printables!
Thank you for checking out my Disney Princess Party Ideas! I hope you found something in here you and your little princess will enjoy.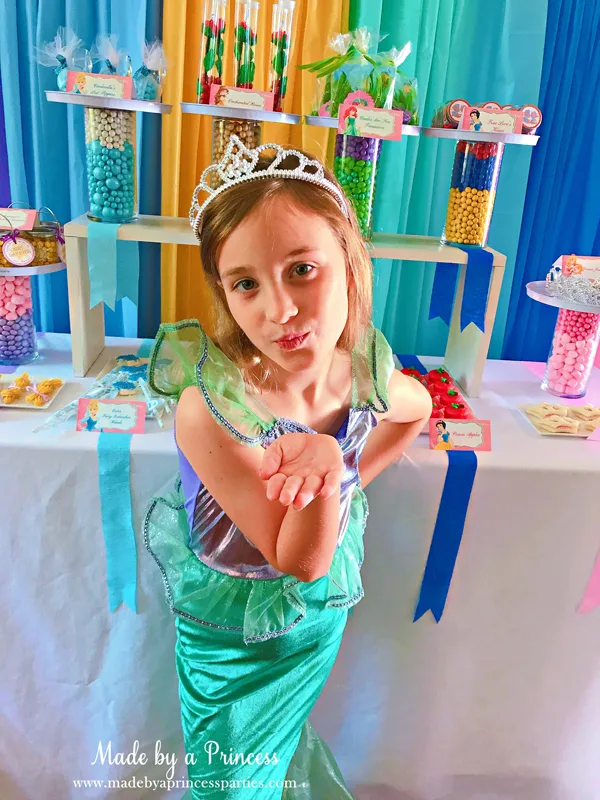 I hope you enjoyed my Disney Princess Party Ideas! To see the full party details, please visit www.birthdayinabox.com. You will find all the princess decorations, princess party supplies, and princess party favors you need to throw the ultimate princess party!
Disney Princess Movie List
Here is the list of Disney princess movies in order:
Live Action Cinderella and Live Action Beauty and the Beast are my favorite Disney Princess movies! So, who do you think is the best Disney Princess?