Creating a festive Easter tablescape doesn't have to be expensive. I'm going to show you how to celebrate this season with my Budget Friendly Easter Ideas even the Easter Bunny would love!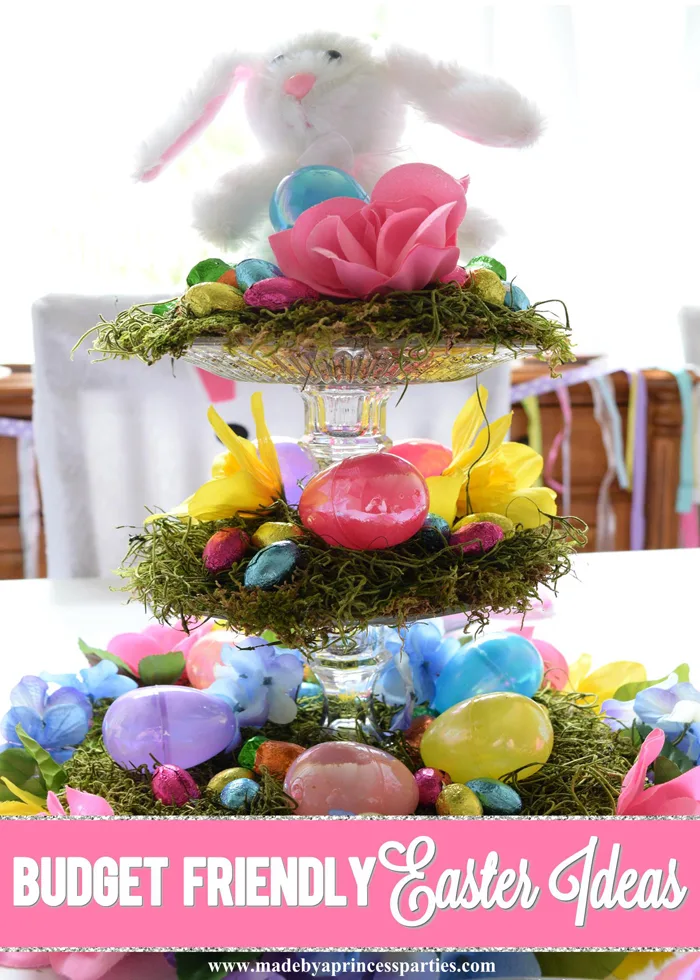 Decorate your Easter table with some of my Budget Friendly Easter Ideas. All the Easter decorations and the pretty spring centerpiece cost less than $35. Now that's something you can hippity hop about!
*post contains some affiliate links
Budget Friendly Easter Ideas
Evite challenged some of their Influencers to come up with an Easter idea that came in under $35. Challenge accepted! You don't need to spend a fortune on creating something cute and and unique and I'm going to show you how.

Invitations are so important because they set the tone for your event and let your guests know what kind of party you are hosting. I chose their "Eggy Easter" design because it features bright and happy Easter eggs.
How to Make a DIY Cake Stand
Dollar Store Supplies
This project is really easy and one I have used for several different parties. I have a nice collection of cake stands but the ones I end up using the most are the cheap cake stands.
I always stop at the dollar store when I'm planning a party because they have great stuff and it's super inexpensive. You can also find amazing stuff at the flea market. I wanted to create a statement piece that would be the focus of the table and serve as the centerpiece. I purchased three glass plates (one dinner sized and two salad) and two glass candlesticks from my local dollar store which I then turned into a three tiered stand. Total cost for plates and candlesticks = $5.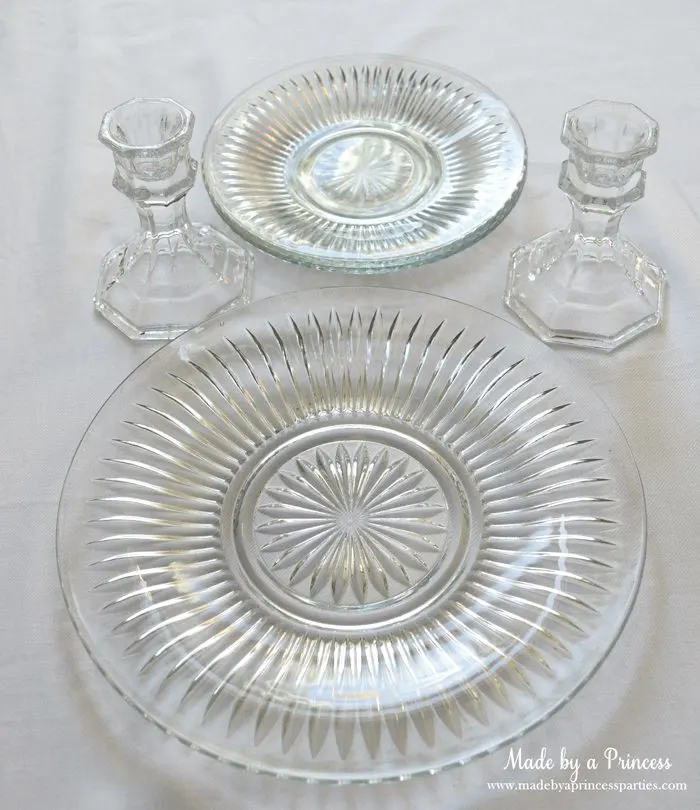 Wash your glassware and dry thoroughly before applying any glue. Apply glue to the bottom of one of the candlesticks and place in the center of the large plate. I use E6000 glue which can be purchased at your local craft store.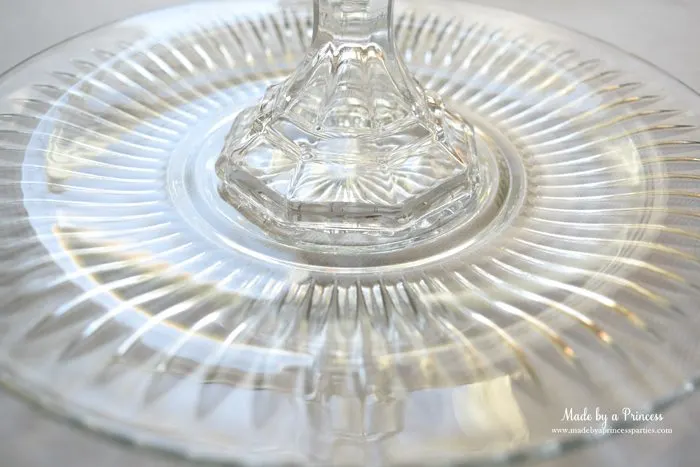 Can You Spray Paint Glass?
Yes! If you wanted to give this tiered cake stand some color you could easily spray paint it. My favorite spray paint for glass right now is Rust-Oleum spray paint from their Sea Glass collection. It comes in a bunch of different colors too like Rose, Aqua, Sea Foam, and Cornflower.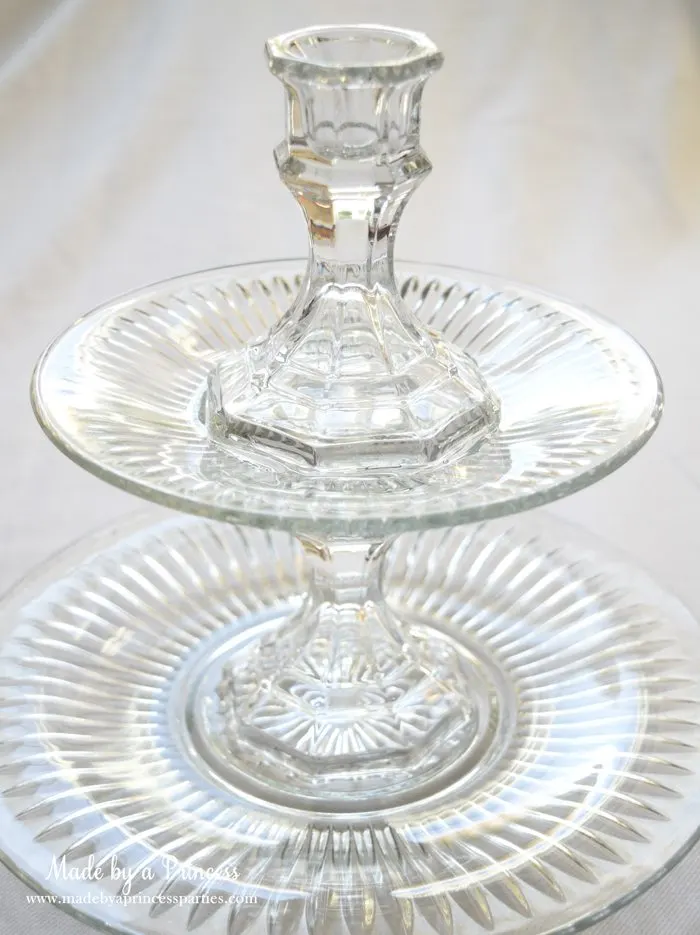 Next apply glue to the top of the candlestick and place one of the smaller plates on candlestick. Make sure it is in the middle otherwise your tiers will not be balanced. Repeat same process with the remaining candlestick and plate.
How Long Does it Take to Dry?
Let sit overnight to dry and cure. If you are in a hurry you could probably start decorating the platters after letting it dry for about 5 hours, however, in my experience it really is best to let it dry overnight.
Once your tiered cake stand has dried overnight you are ready to start covering with moss. I purchased two bags of moss from a craft store (1 sheet moss and 1 Spanish moss) and one from my local dollar store and carefully removed from the packages. This stuff makes a big mess so I suggest putting a towel down which makes clean up a lot easier. Next, apply very liberally, a thick layer of glue on the bottom plate and cover it with sheet moss. Either Mod Podge or white glue is fine. Do the same thing with the other two tiers.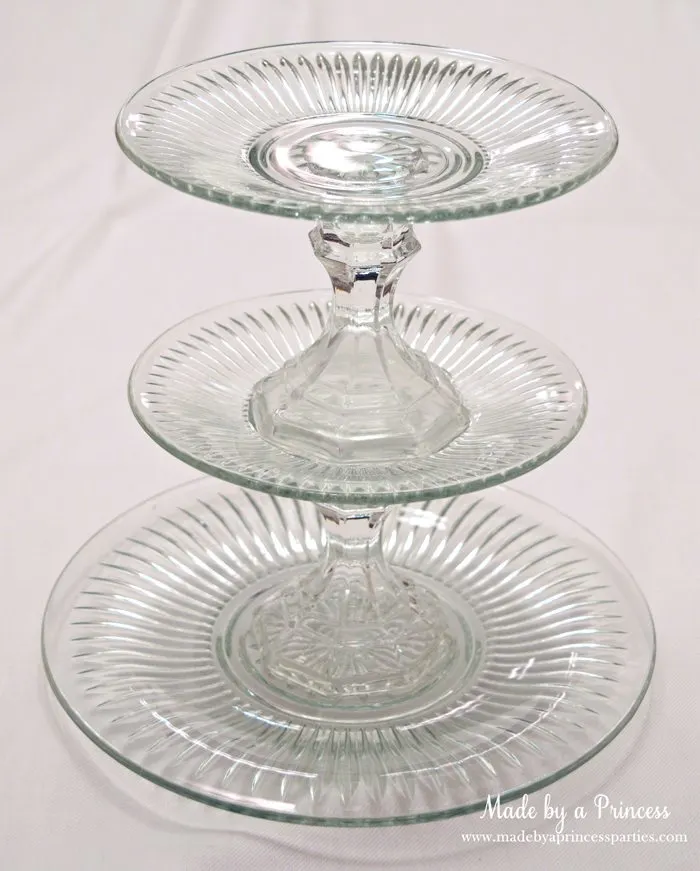 Now that your tiers are covered in moss you can place some of the Spanish moss to give it more of a grass look. I did not glue these pieces down but you could. Total cost of moss = $6.
Party Princess Tip
You don't have to use glass plates and bowls…you can also use really cool vintage items like pie plates and ceramic figurines. I saw a beautiful dessert stand that Christy of One Handspun Day created exclusively for Green Wedding Shoes that features a resin owl.
Your moss covered tiered stand is now ready to be decorated! Everything on this tier came from the dollar store. I used one stuffed bunny, bag of mini chocolate eggs, one bag of chocolate carrots, one bag of plastic eggs, and five flower stems. Total cost of decorations = $9.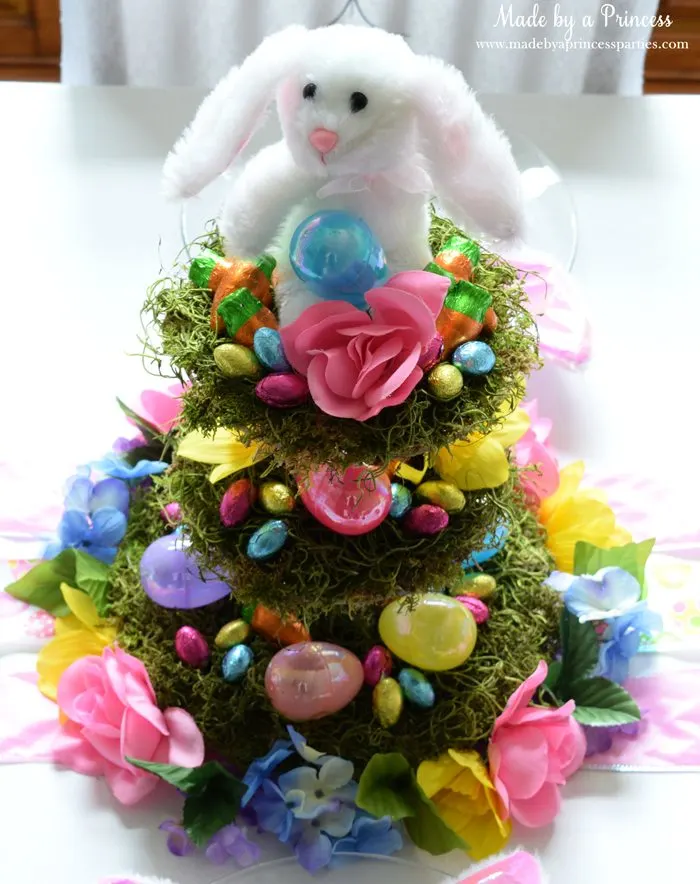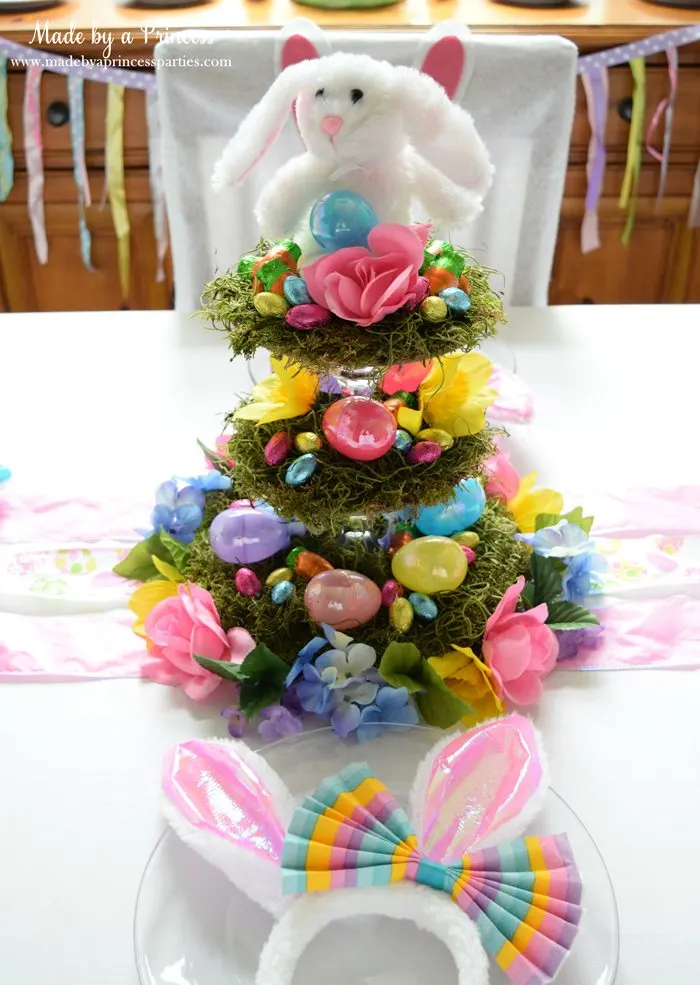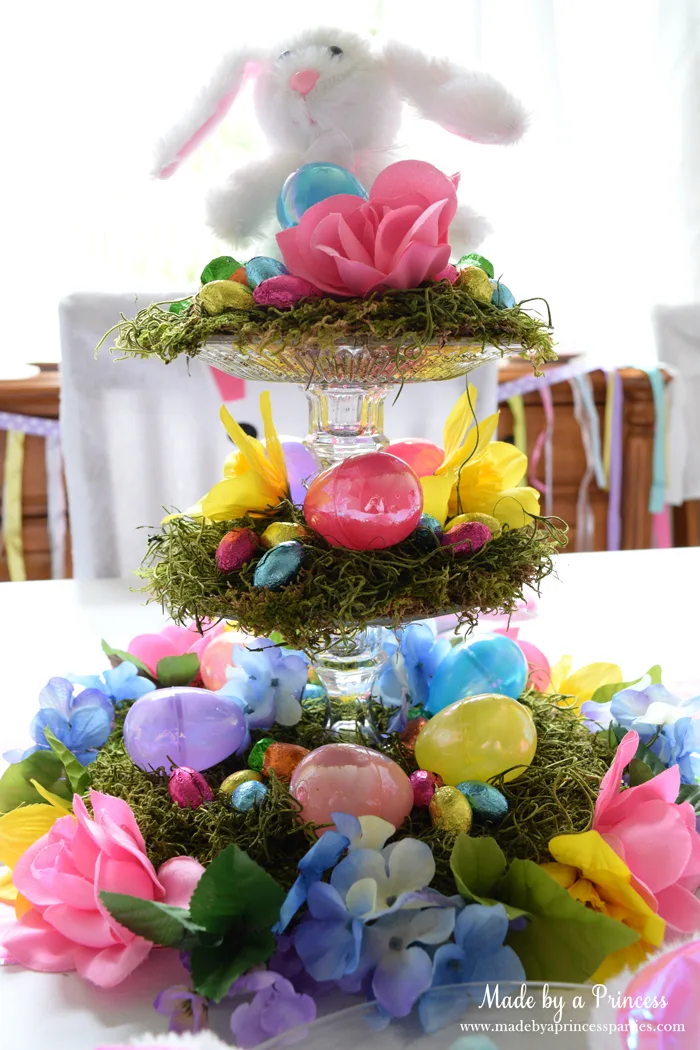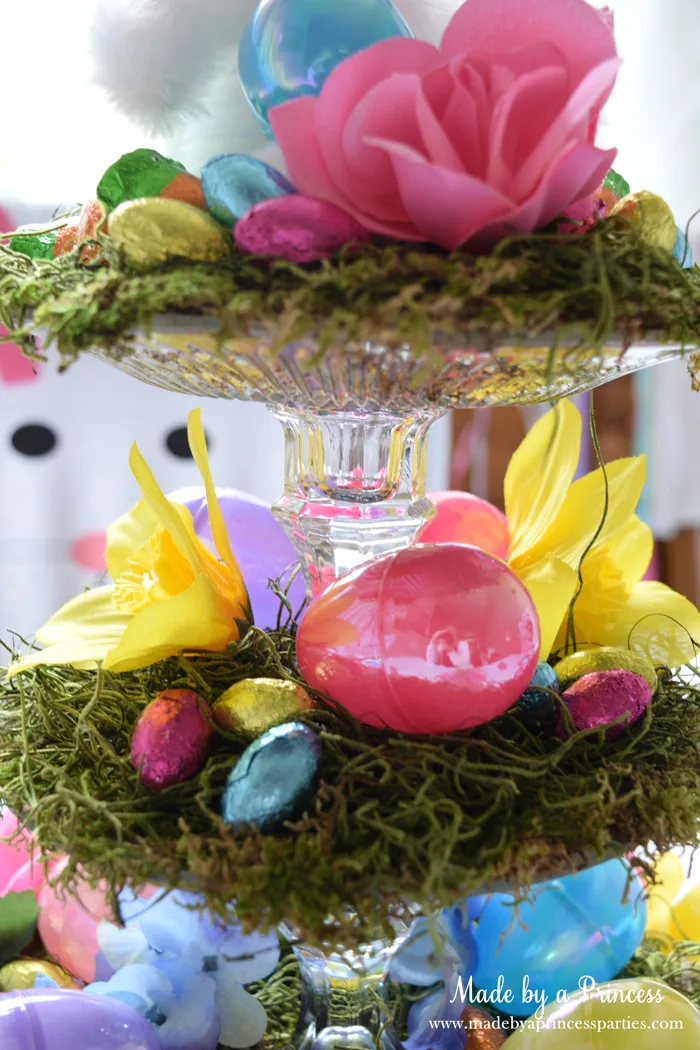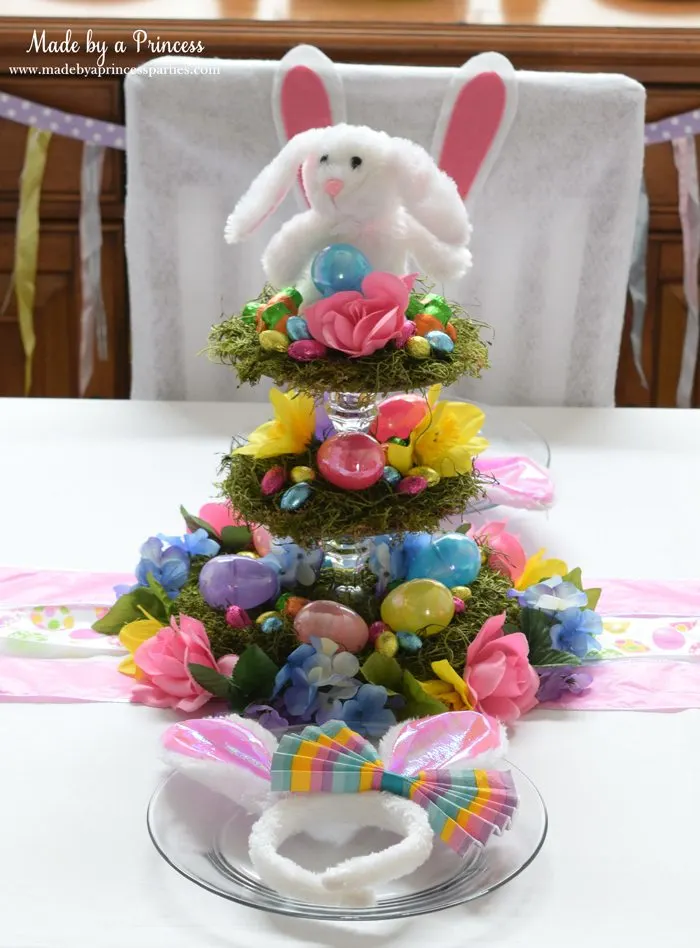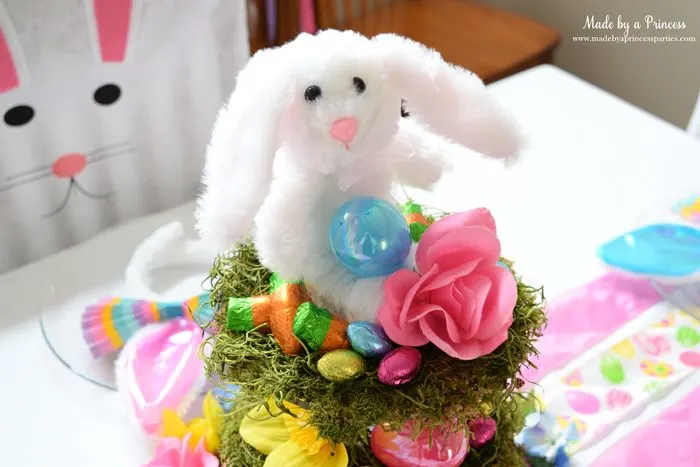 Easter Decorations
Now that my centerpiece was done I focused on the rest of the table. You do not have to go crazy and add a bunch of stuff to your table. Keep it very simple and use rolls of ribbon from the dollar store and run them across the table. I did use double stick tape to keep them in place but you don't have to. I also picked up four bunny ear headbands because, well, they are super cute and make for great photo props. The silk flowers and plastic Easter eggs were from the dollar store as well.
Bunny Bows
The bunny bows are just napkins with a little washi tape around them. A word of advice about washi tape: some washi tape is very sticky and could rip the napkin. If you're unsure a bit of ribbon would work beautifully. Total cost of ribbon, napkins, & bunny ears = $8.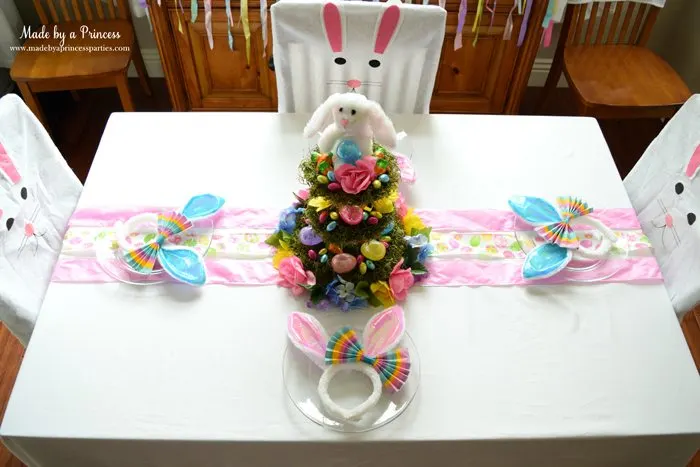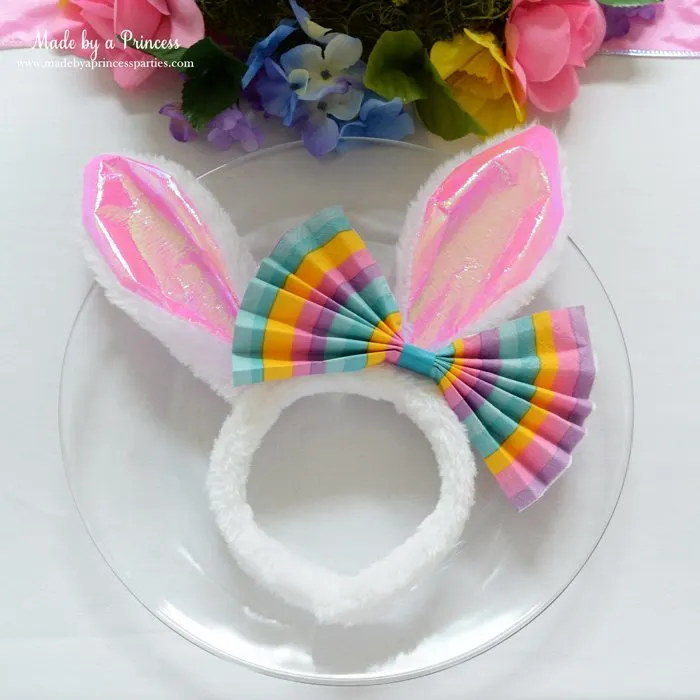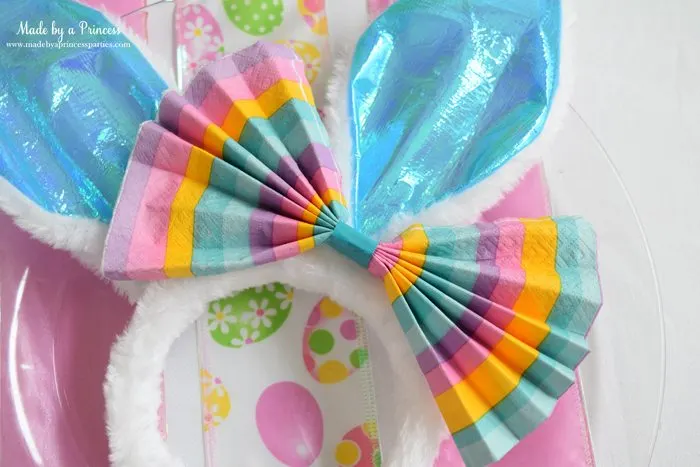 Dollar Store Bunny Chairbacks
You probably already have stuff you can use to add to your table and your space. The bunny chairbacks are from last year and purchased at the dollar store. The glass plates are from World Market and part of my party collection but you can find similar ones at a dollar store. The ribbon garland is from a few years ago and was purchased from my friend, Nancy, of A to Zebra Celebrations. The ceramic bunny bowl has been around a long time…I remember it out when I was a kid. The Easter egg plates are from Pottery Barn Kids, purchased years ago, and the little bunny candlesticks…I honestly couldn't tell you where they came from but I know I've had them for several years.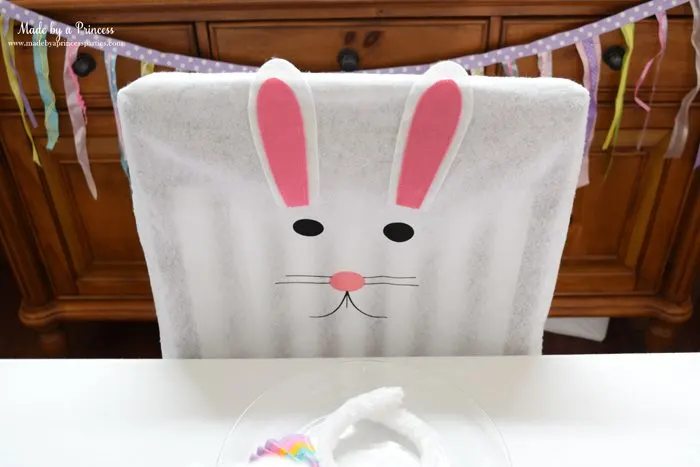 Including tax I spent $30.45 on my tablescape. If you were to purchase the bunny chair backs add $1 for each chair you need to cover.
Bonus Tip
I picked up these cute clay pots and thought they were darling little containers for carrots and celery. The pots are $1 for a package of three and the carrots and celery I already had in my refrigerator. This is a very inexpensive party food idea and perfect for an Easter theme.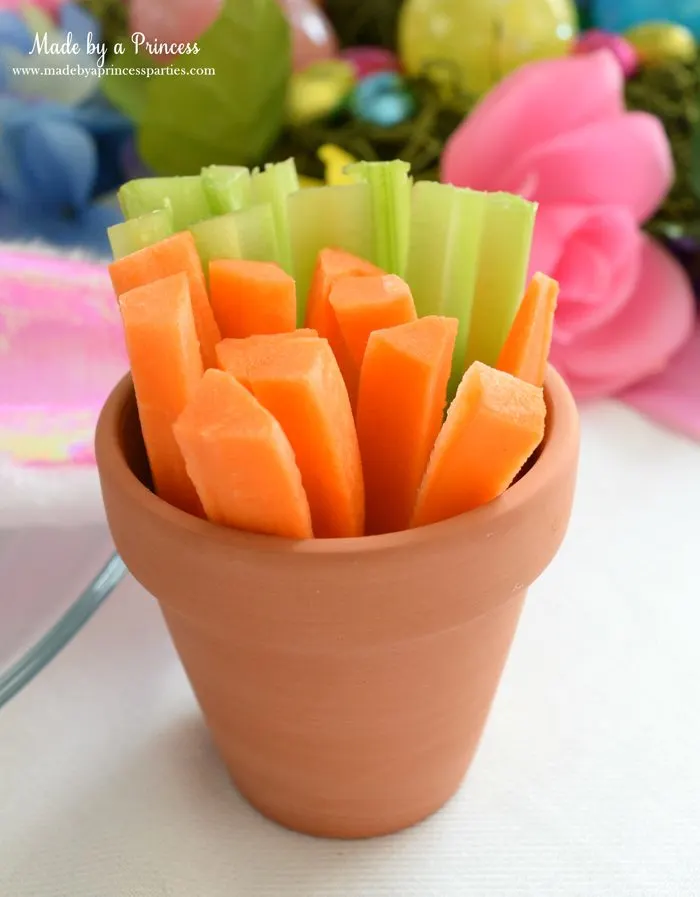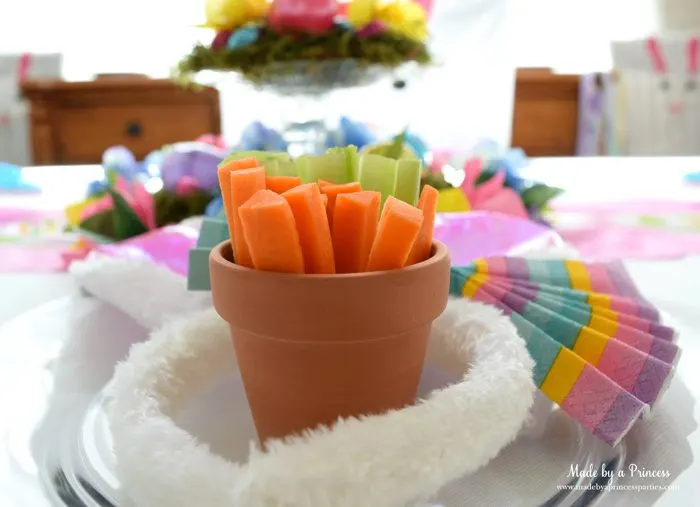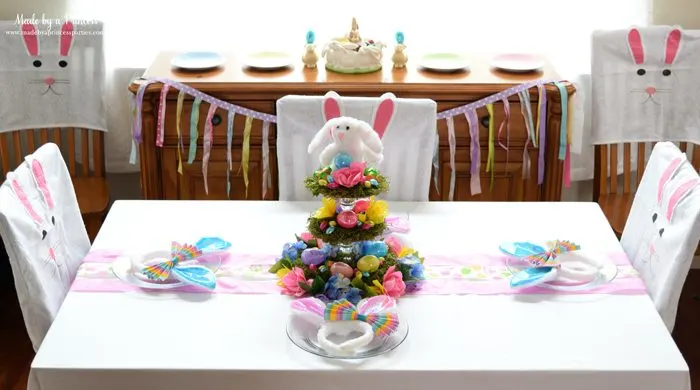 Want more Easter ideas?

I hope you enjoyed some of my budget friendly Easter ideas! Don't forget to pick up some Easter baskets for your egg hunt! What do you like to do on Easter to celebrate?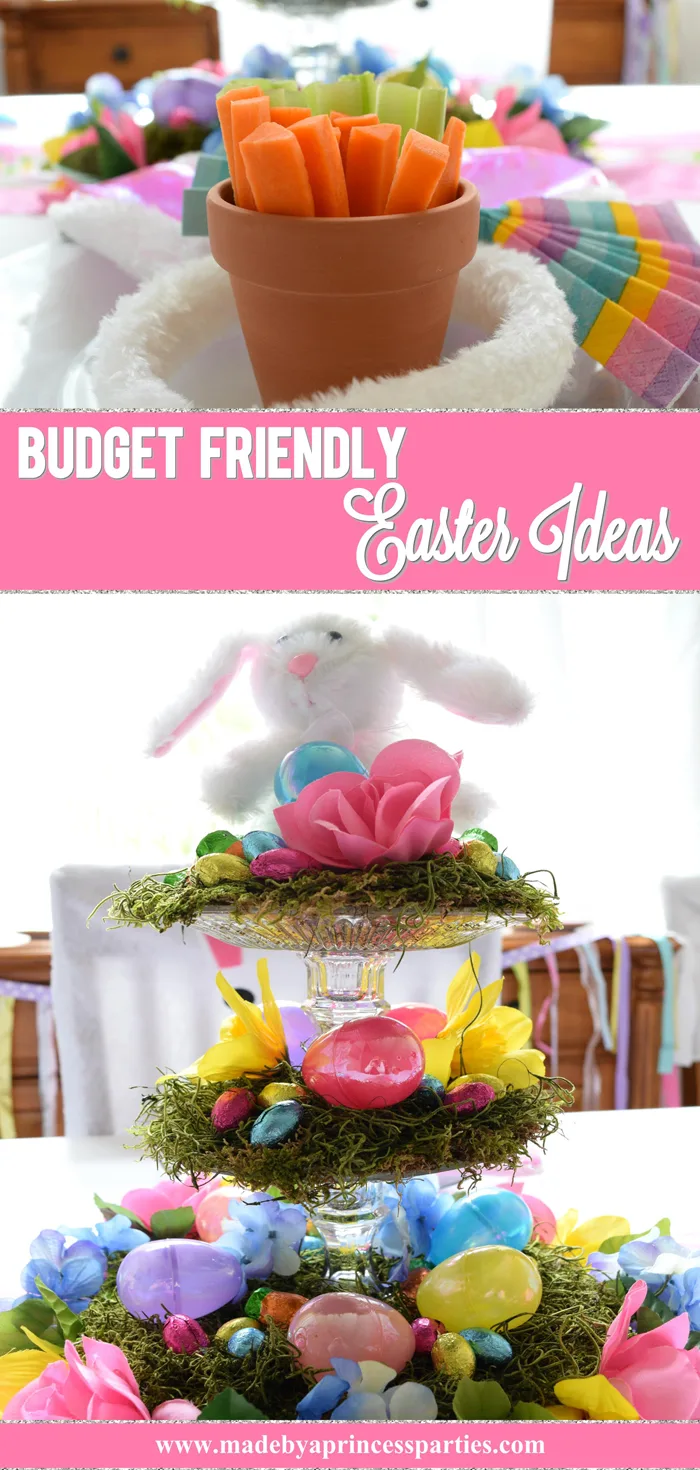 This post was sponsored by the Evite Influencer Program.