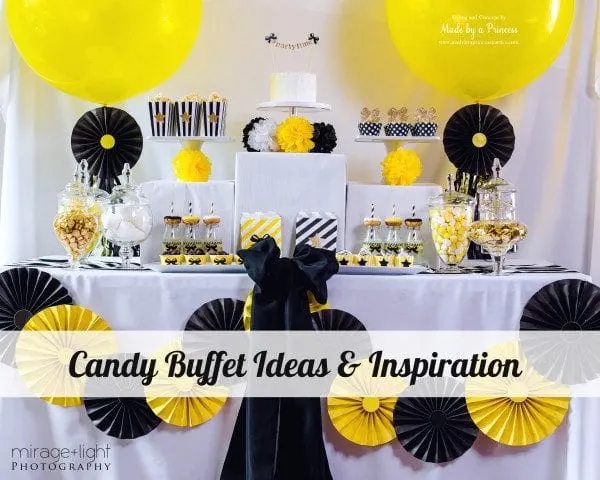 Candy buffets are still widely popular for weddings, parties, showers, and photo styling. You can put your own twist on them with a theme or with your favorite colors. Last year I created a candy buffet for Koyal & Dress My Cupcake and today I will show you how you can create a beautiful candy buffet with some paper goods, coordinating colored candy, and simple serving pieces.
Are you ready for some candy buffet ideas and inspiration?! When I design a tablescape I usually have a specific theme in mind but for this shoot we decided to go with big bold colors with simple and clean details. I love using white and clear serving pieces in my events because they are versatile, can be used again and again, and they don't detract from the overall look. I started with a crisp white tablecloth and slowly filled in with white platters, cake stands, trays, and packing boxes covered in white wrapping paper. Koyal & Dress My Cupcake have a vast variety of paper goods in bright fun colors so I really wanted the focus to be about how well their items coordinate together.
Here I took a black and yellow pinwheels and taped them together to form a chain and then secured the swag to the tablecloth using safety pins. A classic black chair sash was tied into a bow and pinned just above the middle swag.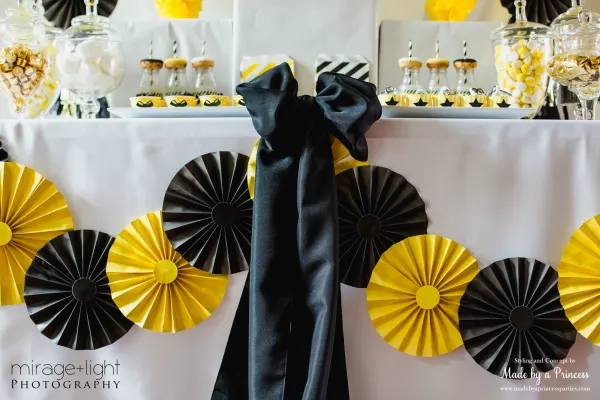 I used double stick tape but you could use a glue gun or glue dots to secure the pinwheels together. If I were going to use this outside I would use a glue gun to affix together in the event of a breeze.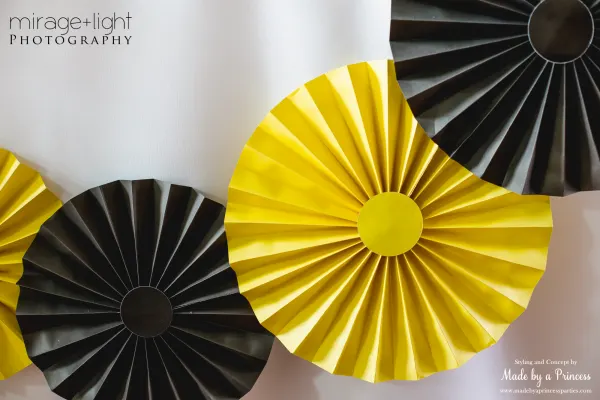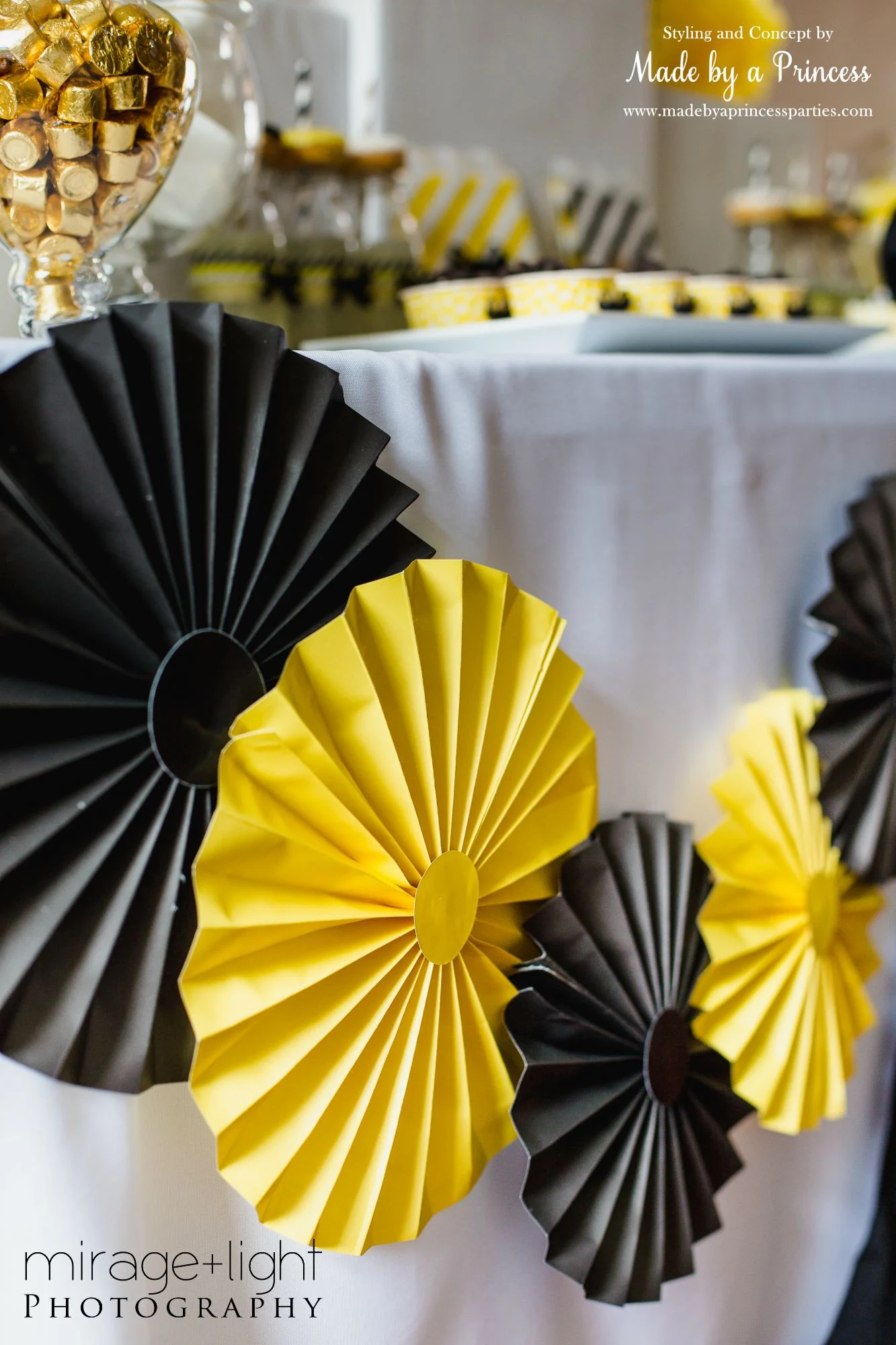 Giant balloons make a big statement and are great for filling a big space. Here I tied black and gold tassels to the balloon string and then added a pinwheel to tie in the pinwheel swag.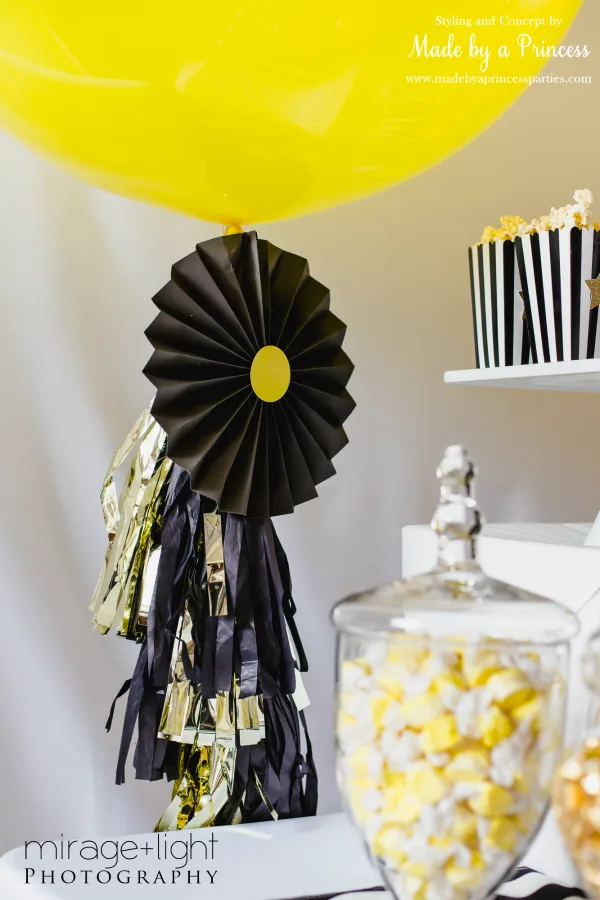 Apothecary jars are the favorite vessel of choice for candy buffets because they are clear and come in so many shapes and sizes. My friend Susan of Candy Pros picked out the perfect candies for us based on the colors of our "party". Giant marshmallows are always a hit with guests and they are a great filler because they are big and not very expensive.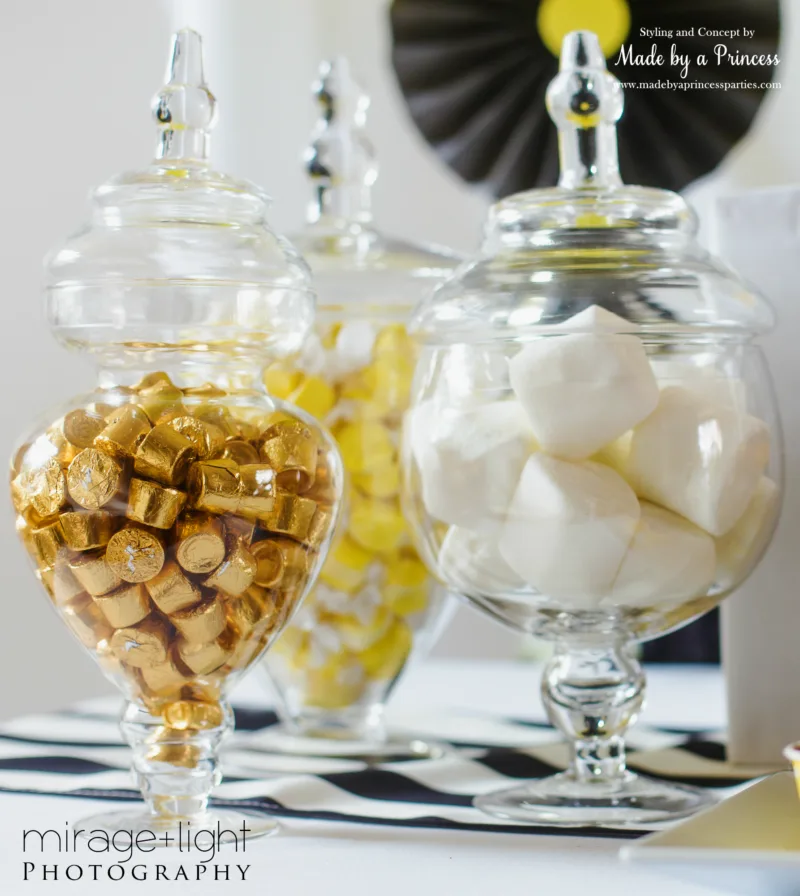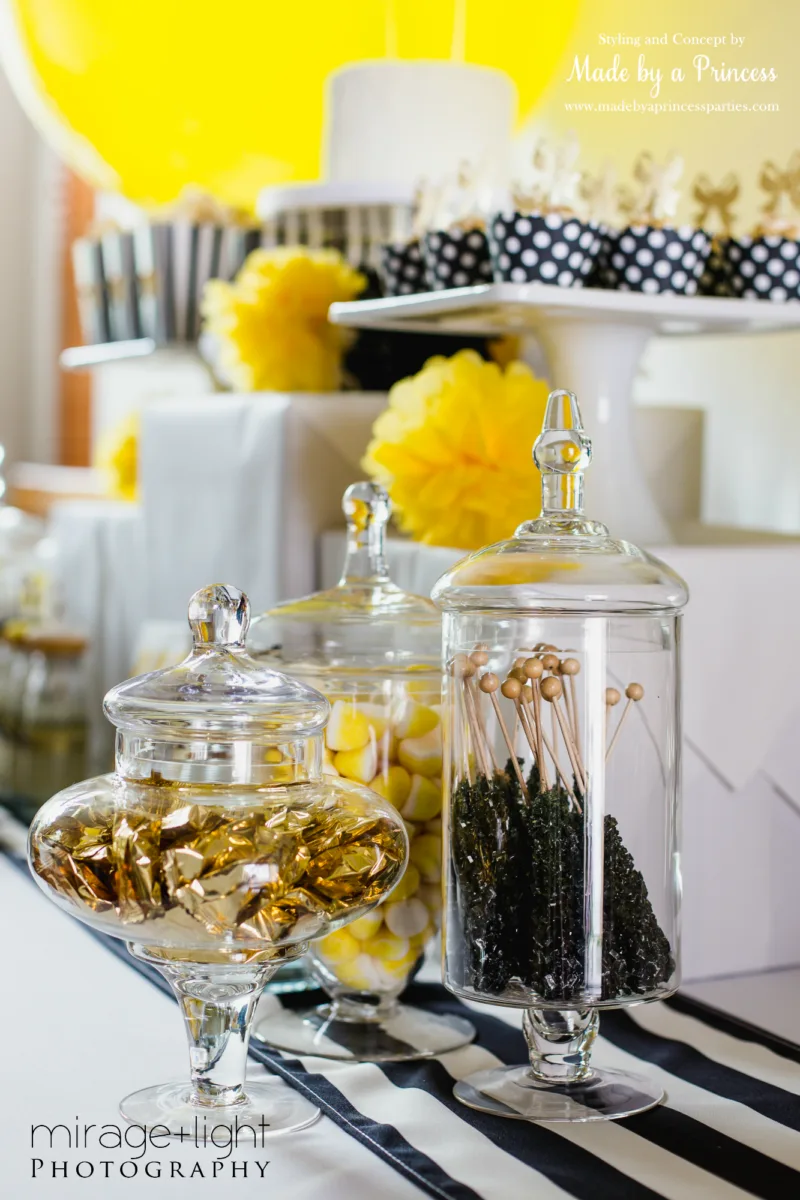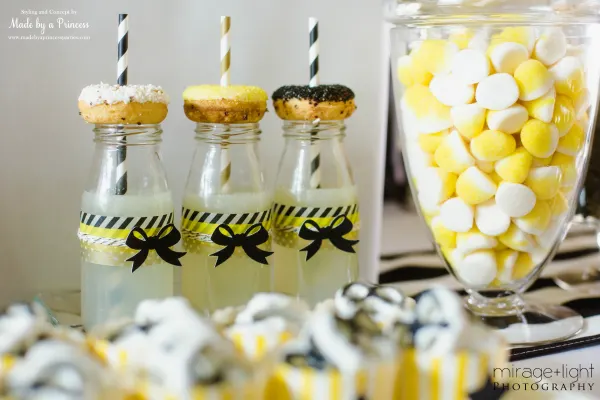 If you follow me on social media you know that I love pink and I love anything sparkly. Dress My Cupcake carries something called Disco Dust which is a non toxic glitter. I made little bows out of royal icing and dusted with black Disco Dust for extra sparkle. The yellow striped candy cups were the perfect size for these little treats. Black glittered stars were added to show how easy it is to dress up something like a candy cup to match any theme.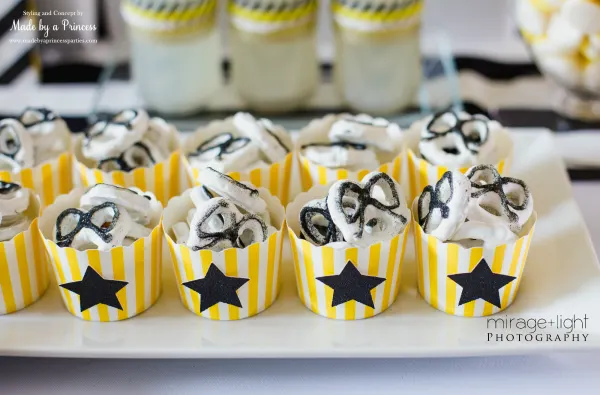 Yellow polka dotted nut cups held chocolate almonds sprinkled with black Disco Dust to add a little sparkle.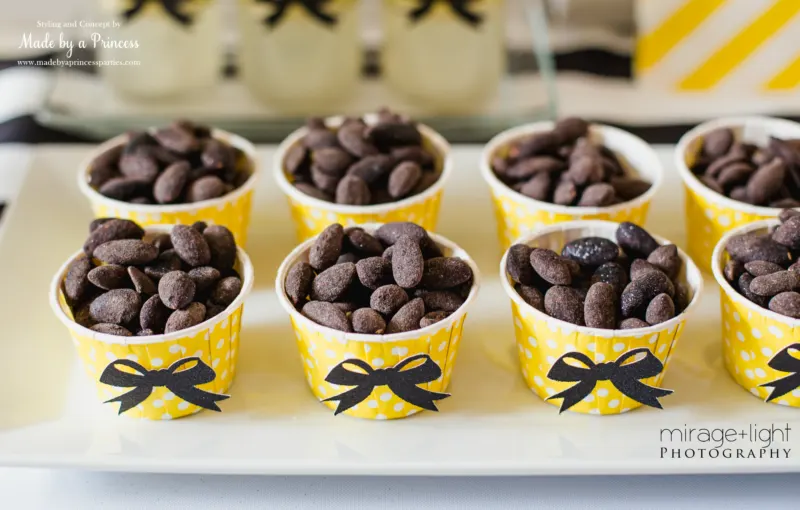 Simple store bought vanilla cupcakes were decorated with gold Disco Dust and set in black polka dotted cupcake wrappers. My signature glitter cupcake toppers with clear sticks were used to tie in the bow element used on the nut cups above. One of my new party favorites is my Cost Plus World Market cake stand. I actually have two of them because I buy doubles of everything now…I like a very balanced table so if I find something I like now I always buy two.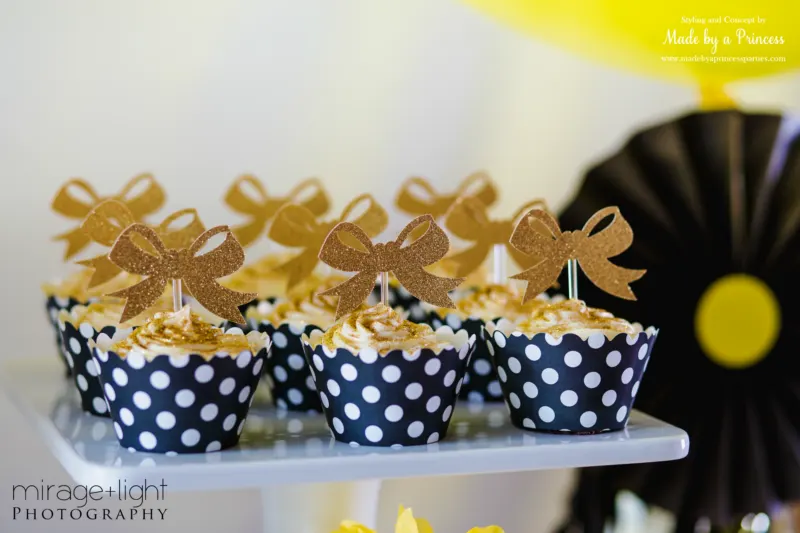 I make chocolate covered popcorn a lot for my parties now because it is fairly inexpensive, kids love it, it can be used for any theme, and it tastes really good. Here I made glittered chocolate covered popcorn using gold and yellow Disco Dust in black striped popcorn boxes. I brought the star element back by adding gold glittered ones to the popcorn boxes. You can use just about anything to embellish…ribbon, rhinestones, flat-back pearls, stickers, die cuts, crepe paper, tassels, lace, etc…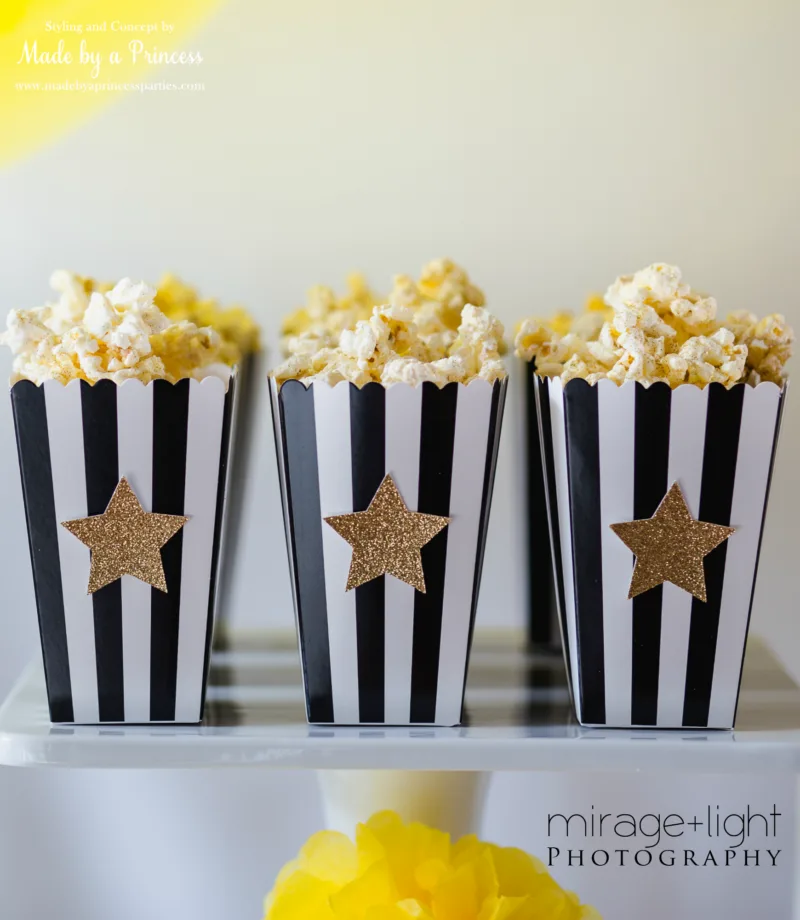 Striped candy bags embellished with a gold glittered star and the perfect take home favor filled with candy…or more popcorn!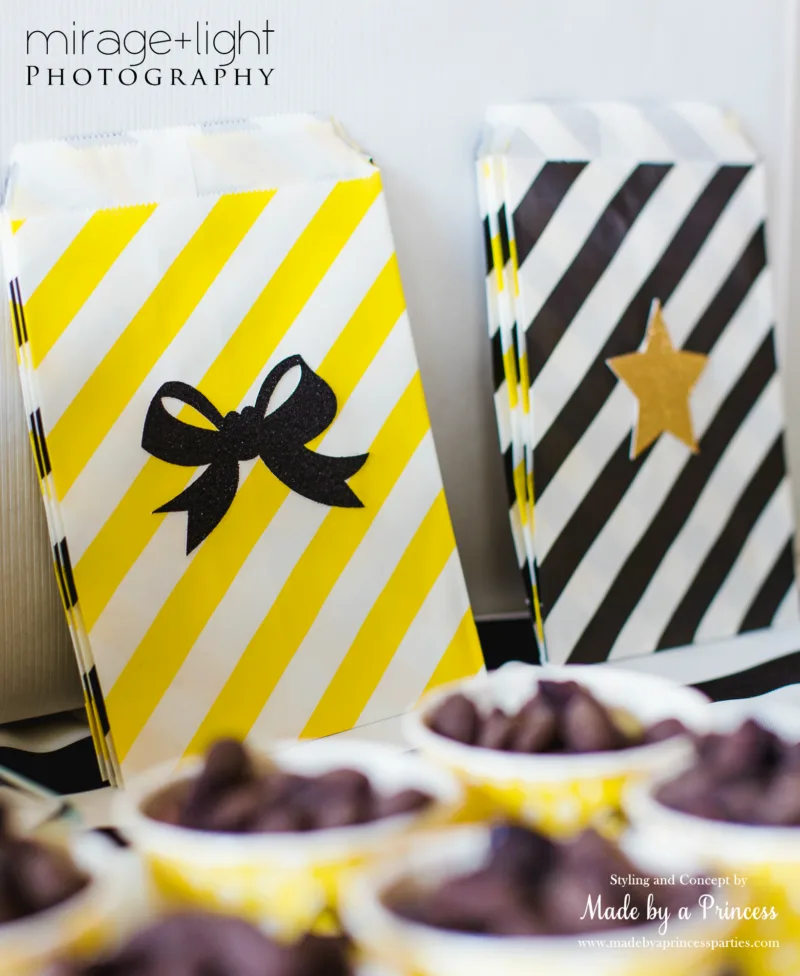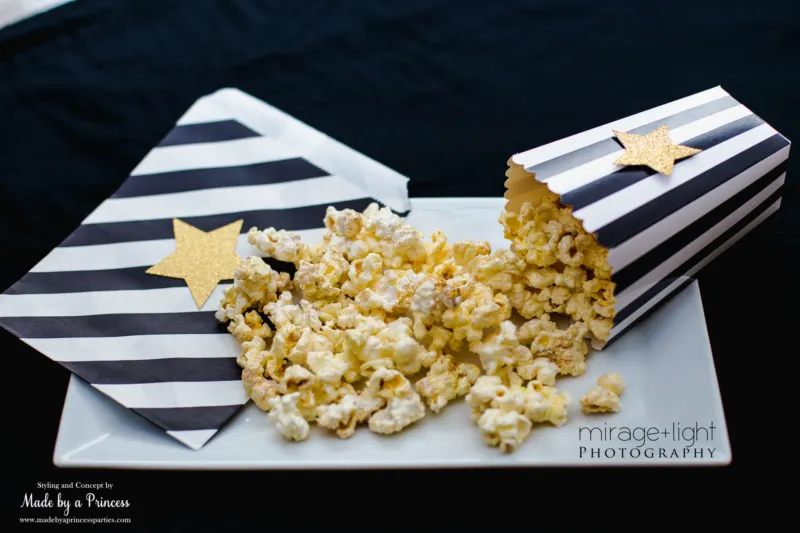 Green Mountain Baked Donuts make the best little donuts I have ever had! Debbie, the owner, bakes everything herself using the best ingredients. She created this color combo to match our shoot perfectly. Glass vintage milk bottles held lemonade and were embellished with a collection of washi tape and black metallic twine from Dress My Cupcake. Washi tape is another great party element because it can be pulled off without ruining things like glass or ceramic bottles, trays, and cake stands. Paper straws are very popular as well and Dress My Cupcake has them in a wide range of colors.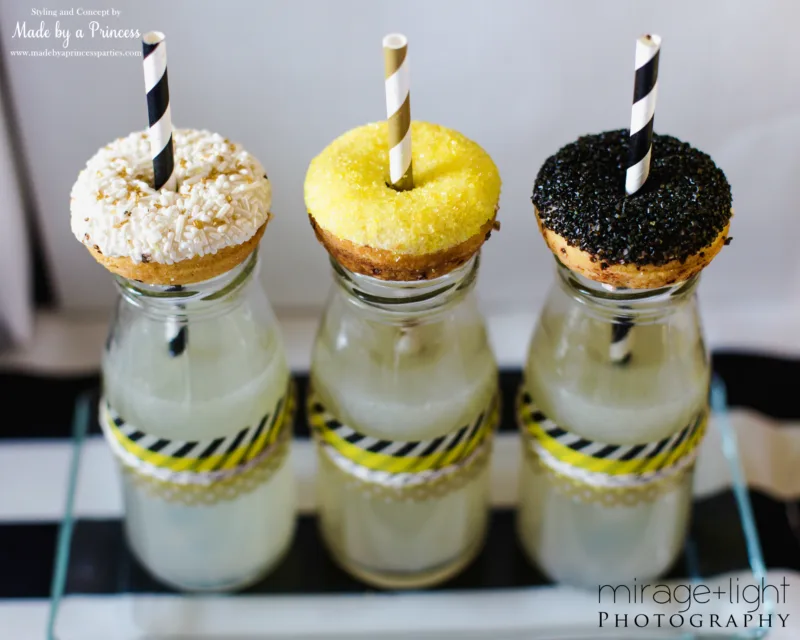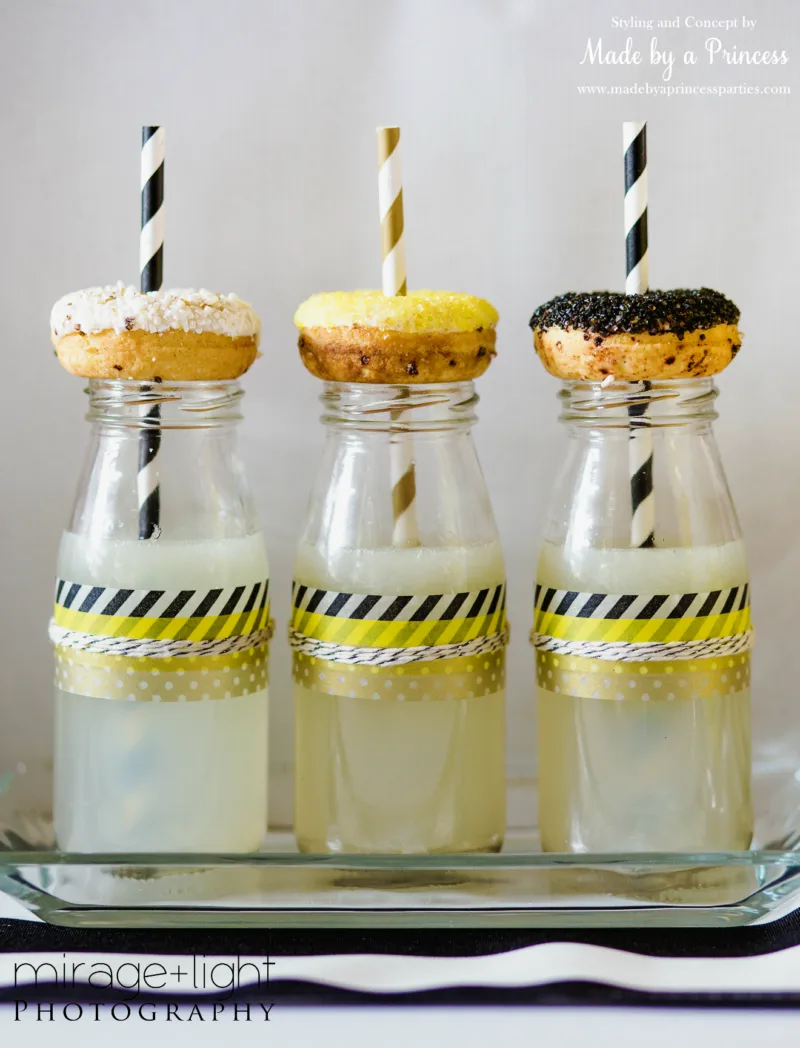 One of my signature elements on a table is height. I will always try to gain some height by using a shelf or boxes. For this shoot I purchased three boxes, two 10×10 and one 14×14 at Walmart and covered them in white wrapping paper. The white cake, a custom creation made for me by Oh For Cake's Sake, is sitting on the 6 Tier Cupcake Stand from Dress My Cupcake. I love this stand because you can use all 6 tiers or just a couple like I did here. It is very versatile and because it is clear does not detract from the overall design but complements perfectly. I added mini pom poms in our "party" colors to the bottom tier for a pop of color.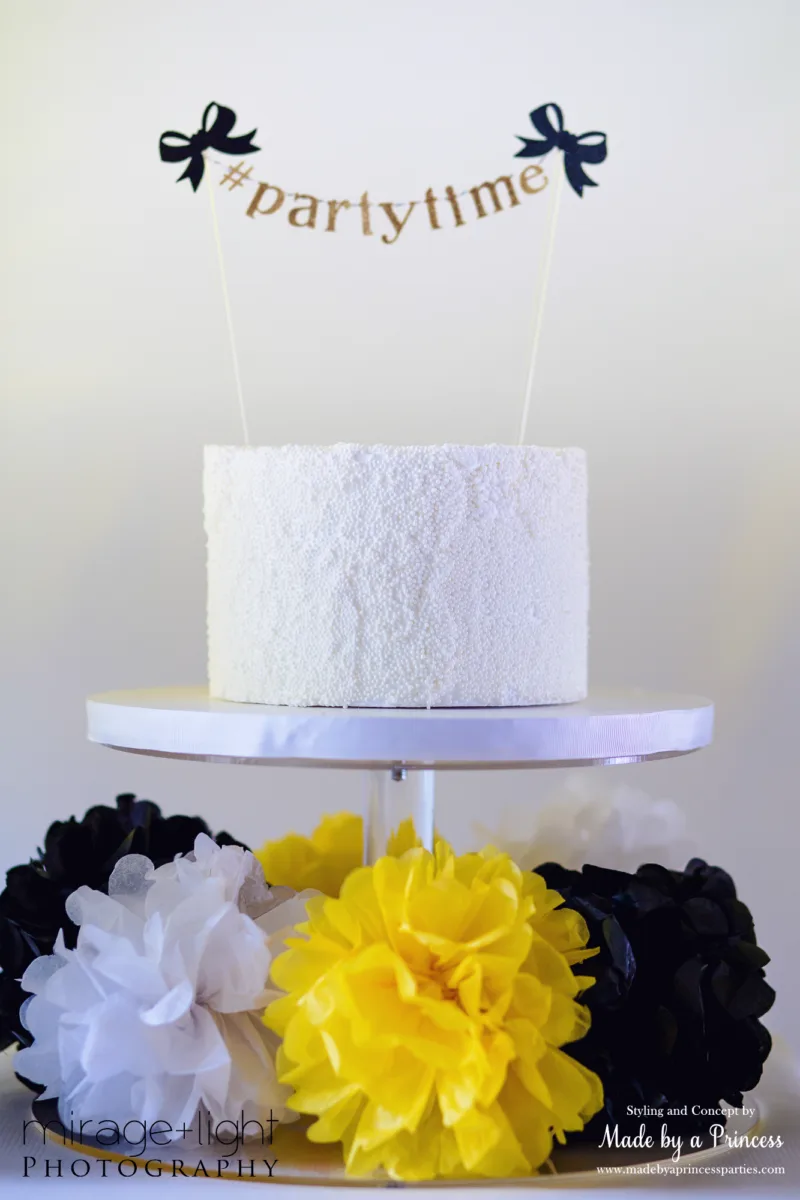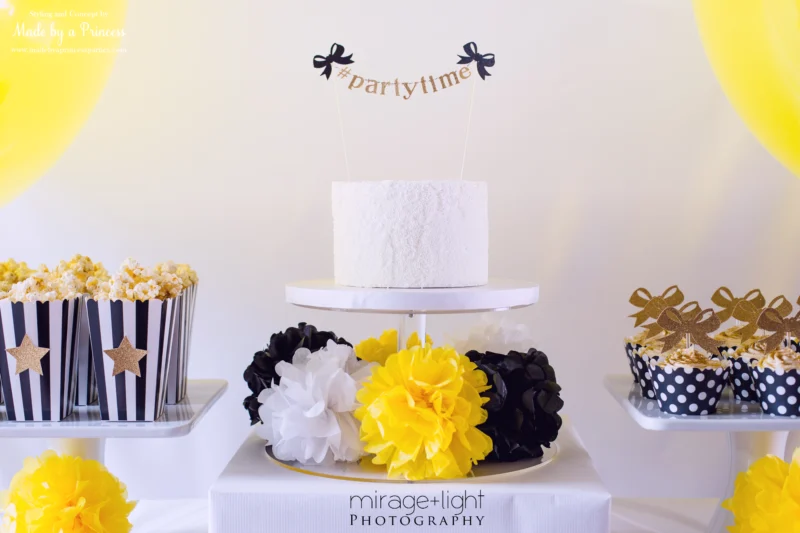 I hope you found some candy buffet ideas and inspiration here for your own party! A HUGE thank you to Amanda of Mirage + Light Photography for spending the afternoon with me and taking all of these beautiful photos. She is San Diego based photographer and shoots a wide range of subjects including wedding, baby, family, and catalog. Thank you, Amanda! (*all photos in this post are the property of Mirage+Light Photography and may not be used or distributed without their express permission.)
Don't forget to "party like a princess!"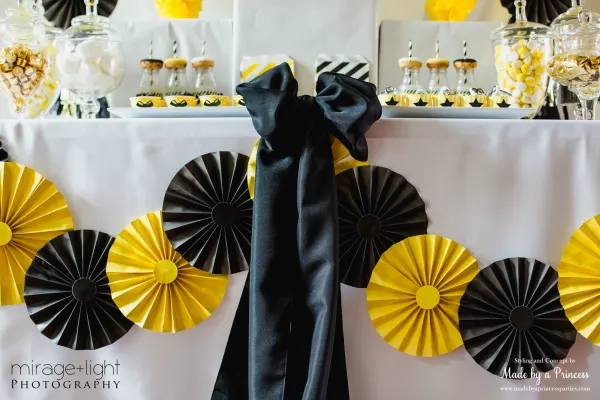 Here is the cover of the catalog with our photos!