Looking for something to do with leftover candy canes? How about make your own flavored vodka? Two ingredients and a jar are all you need to make this candy cane vodka at home.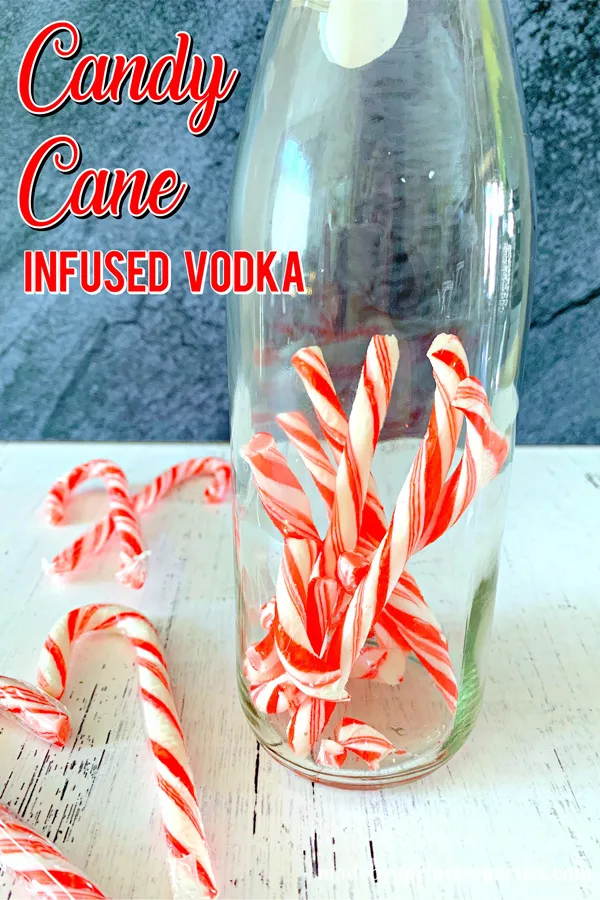 Once Christmas is over you probably have a bunch of leftover candy canes lying around don't you? Don't be so quick to toss those out. Make homemade candy cane vodka and spread a little more holiday cheer in the coming year.
Candy Cane Vodka
We've all been there…Christmas is over, you're finding pine needles all over the house, and there is a bowl of leftover candy canes. Your first instinct is probably to toss those suckers but don't discard those just yet. Those little red and white striped candies are destined for a second life as Candy Cane Vodka and you won't need to spend $20 on Smirnoff Peppermint Twist…this is way cheaper!
I know I know…they are just for Christmas and you don't want to look at another candy cane until next year. Trust me my friend, come February 14th you're going to thank me because you will have a bottle of candied peppermint vodka ready to use in a Valentine's Day cocktail or at a Sweetest Day holiday party.
How to Make Candy Cane Infused Vodka
There really is nothing to this homemade peppermint vodka recipe. Truly all you need to make this are candy canes and vodka. Did you see my Creme de Menthe Infused Vodka recipe? It's easier than that.
You will need to find a jar that can seal too. I got the one featured below from the Dollar Tree. One thing to note about this one. It's cheap. I would not advise passing it around or setting it on the passenger seat in your car because it will probably leak. This one is good for storage but if you plan on giving as a gift or transporting somewhere, buy a better quality bottle.
You will need: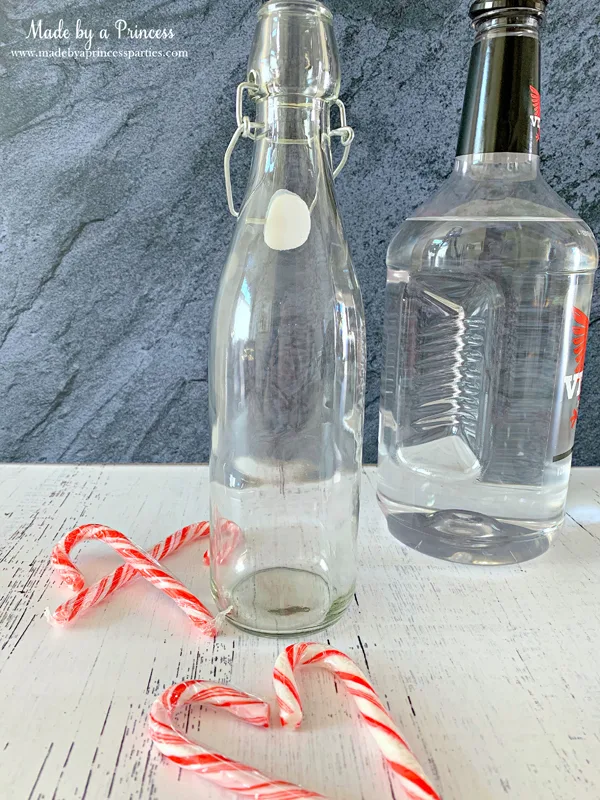 Break up some candy canes and put them in your jar or bottle. Then pour vodka over in the bottle and seal. It will take a few days for the candy canes to dissolve completely.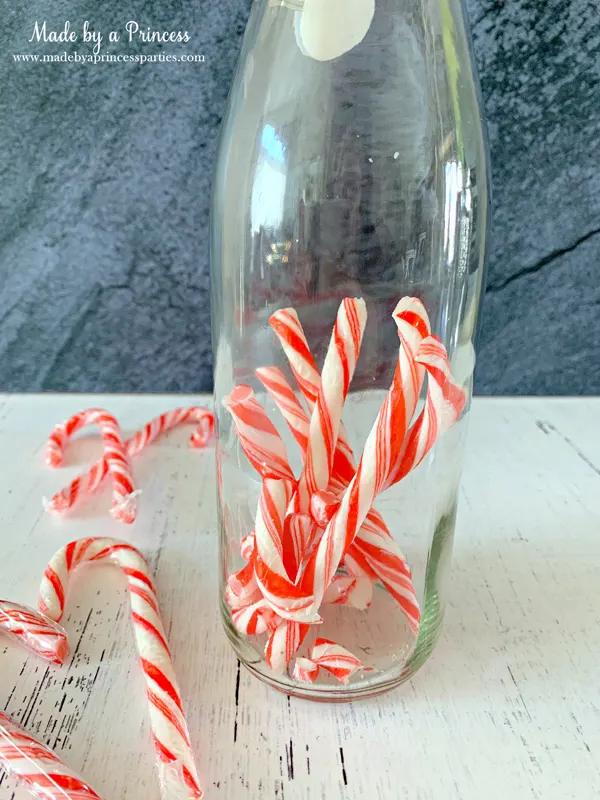 If you find there is a layer of white sugar that has settled to the bottom you can strain that out using a fine mesh strainer like the ones in a coffee machine or a nylon straining bag. Simply pour your flavored vodka through the strainer into a bowl and then pour back into your bottle using a funnel.
Not All Candy Canes Are Created Equal
Don't be surprised if your candy cane vodka is not red. Mine was a milky pink. After I strained it a few times it was less pink but definitely not red. If yours is pink but you want red you can always add food coloring. I added pink food coloring to mine which is why the final result looks so dark. Also, using both Pink Brew Glitter and Red Brew Glitter helped give it kind of a glittery hot pink appearance.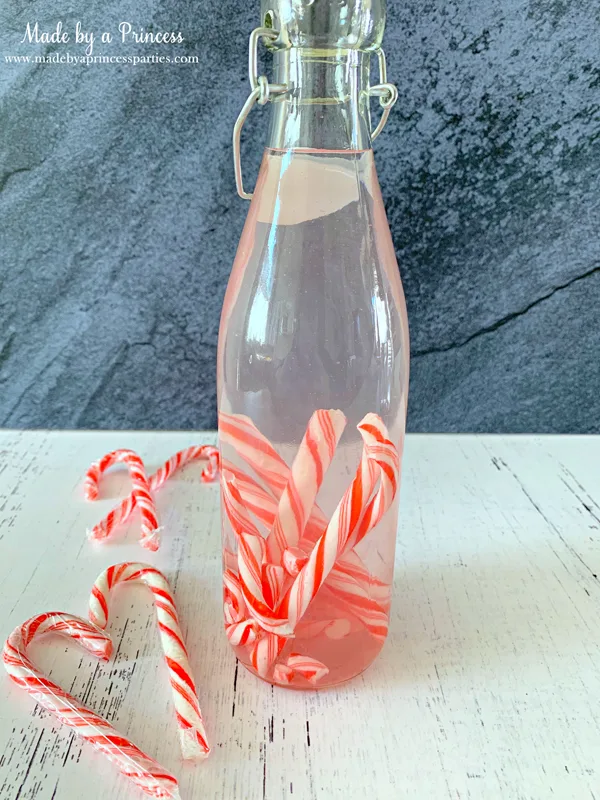 Add a gift tag and you're ready to give it to someone you love! If you make ahead of time it will make a great Christmas gift. You can put it in a basket with homemade marshmallows and hot cocoa to make a delicious peppermint hot chocolate. Don't forget to include some candy to use as a candy cane garnish.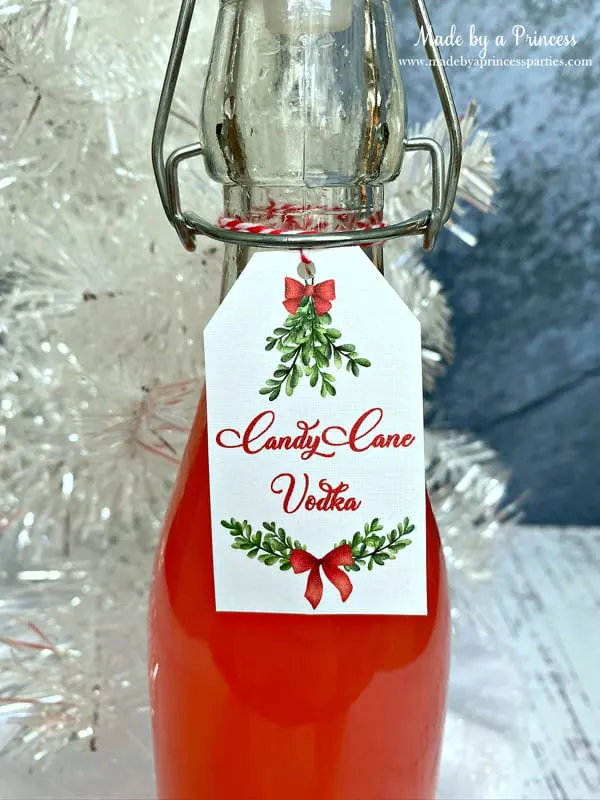 Add Pink Brew Glitter from Bakell
Of course I had to kick this up a notch and make it sparkle! You know me, I want to glitter #allthethings and that includes food. I'm completely serious. I added about a 1/4 tsp each of Pink Brew Glitter and Red Brew Glitter.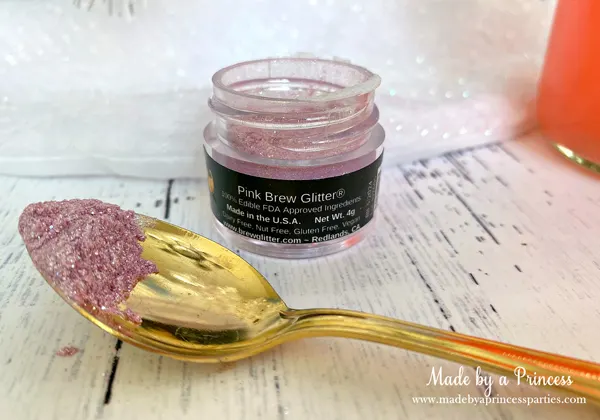 This was before adding Red Brew Glitter. The final result was a much richer shade of pink once I added the red.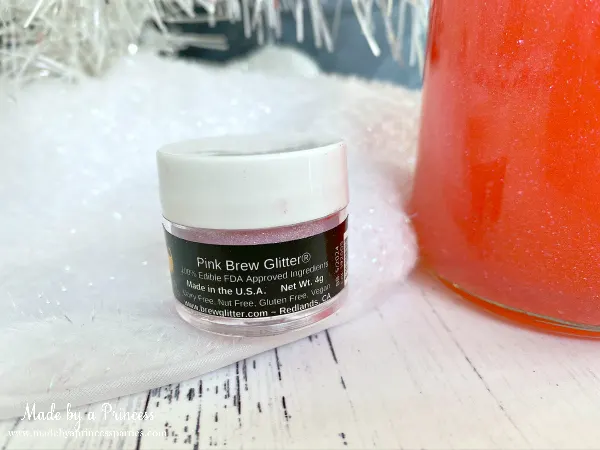 You can see the specks of glitter in the mini shot glass ornament. The addition of Red Brew Glitter really makes it pop.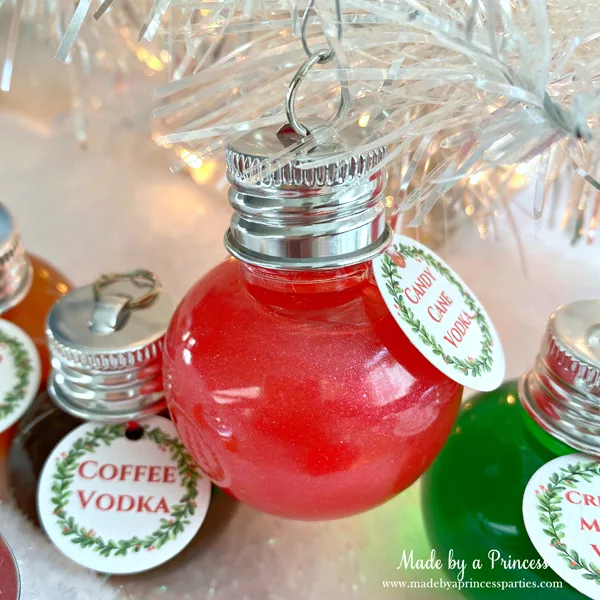 See the swirls of pink and red glitter?! I just love it!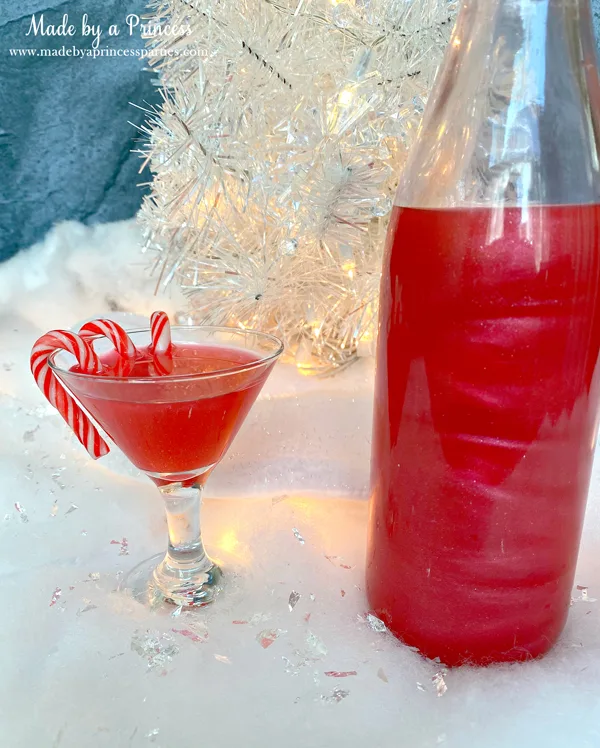 Candy Cane Kiss Cocktail
This red holiday candy cane martini is made with equal parts Candy Cane Infused Vodka and Peppermint Schnapps. If you want to make a Candy Cane Kiss in the Snow cocktail just add a little cream. Garnish with whipped cream and crushed candy canes.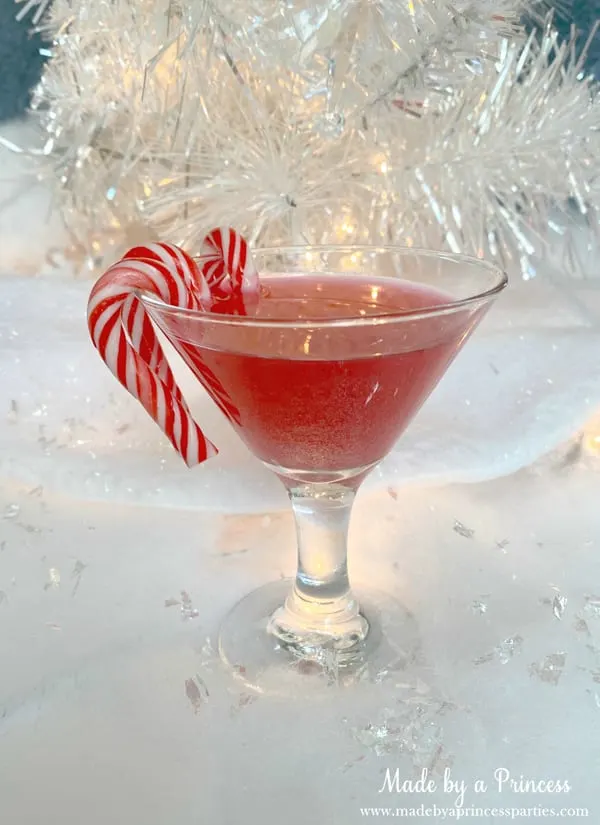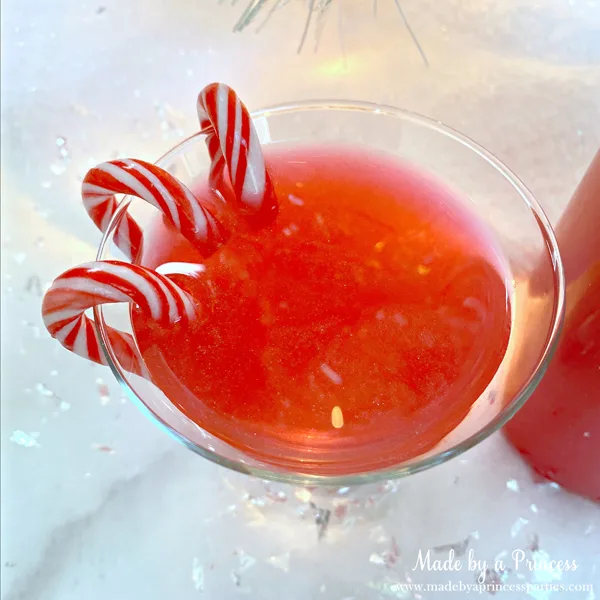 I hope you enjoyed my Candy Cane Vodka recipe and are inspired to create a batch for yourself or to give as a gift!
Candy Cane Vodka Recipe
Candy Cane Kiss Cocktail Recipe
Drinks Made with Candy Cane Vodka
Candy cane infused vodka is perfect as a chilled shot or mixed in your favorite holiday cocktail. Here are some other recipes you can add this candied vodka to:
Peppermint Martini – add vanilla vodka, peppermint schnapps, and white creme de menthe
Peppermint Chocolate Martini – add chocolate milk and chocolate liqueur
White Chocolate Peppermint Martini – add Godiva white chocolate liqueur and vanilla vodka
Spiked Hot Chocolate – add hot cocoa and a pinch of salt
Peppermint Eggnog – add eggnog and tsp of honey
Peppermint White Russian – add Kahlua and cream
Irish Peppermint Martini – add Irish Cream and half and half
Pink Peppermint – add white Creme de Cacao and cream or half and half
*this post contains affiliate links. Brew Glitter was sent to me by Bakell. I received no monetary compensation. All opinions and ideas are my own.