If your favorite part of s'mores is the toasted marshmallow then you will love this toasted marshmallow vodka recipe. Real marshmallows toasted with a kitchen torch make this concoction rich, creamy, and delicious!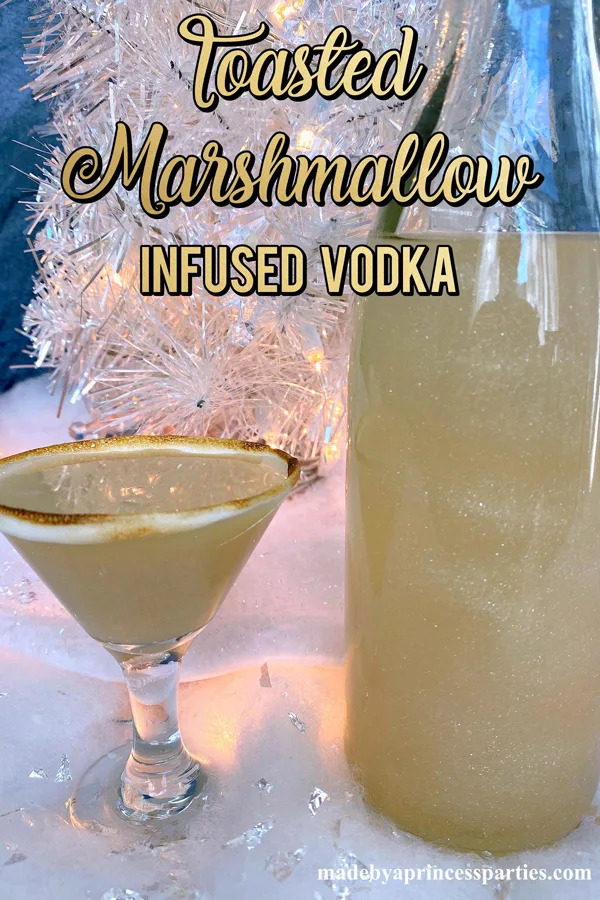 You've heard of marshmallow vodka right? Well, how about toasted marshmallow vodka with actual toasted marshmallows? It takes a little work but it's so worth it! Make this decadent and delicious infused vodka right at home with my toasted marshmallow vodka recipe tonight.
Marshmallow Vodka Recipe
If your favorite part of a s'more is the toasted marshmallow part then I think this is the infused vodka recipe for you. Truth be told, I could do without the graham cracker and chocolate and just have a plate of gooey and slightly burned marshmallows.
When I was deciding on vodka flavors to create this holiday season I was going to go with straight marshmallow. The more I thought about it though the more I realized it just had to be a toasted marshmallow vodka recipe. It takes a little work but it's definitely worth it.
FYI there are ten infused vodka recipes in this holiday series including homemade Creme de Menthe vodka, DIY Candy Cane Vodka, (strongly flavored) Coffee Vodka, Toffee Vodka, Holiday Cranberry Orange Vodka, Hot Cinnamon Vodka, Spiced Pear Vodka, Amarena Cherry Vodka, and my personal favorite, Gingerbread Vodka.
How to Make Marshmallow Infused Vodka
To make this marshmallow infused vodka recipe you will need the following: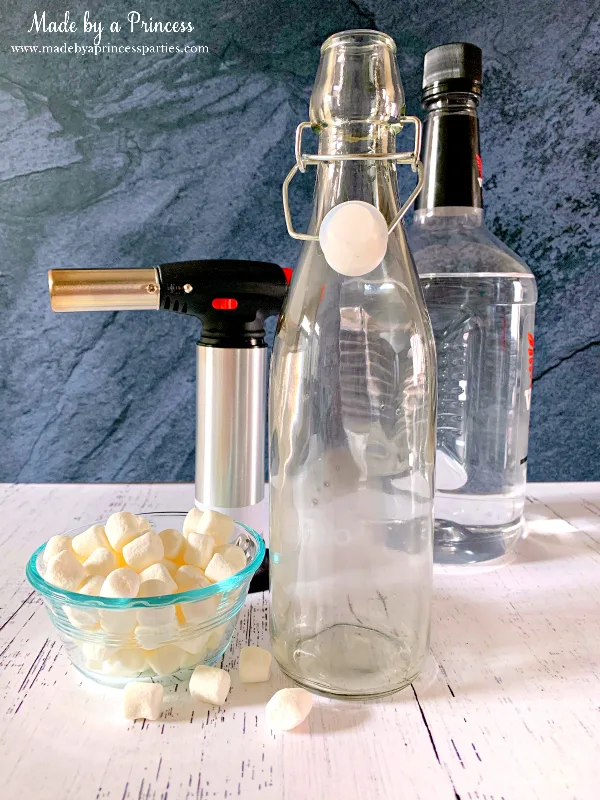 Place mini marshmallows in a pie tin lined with tin foil. Torch the marshmallows until all sides are golden.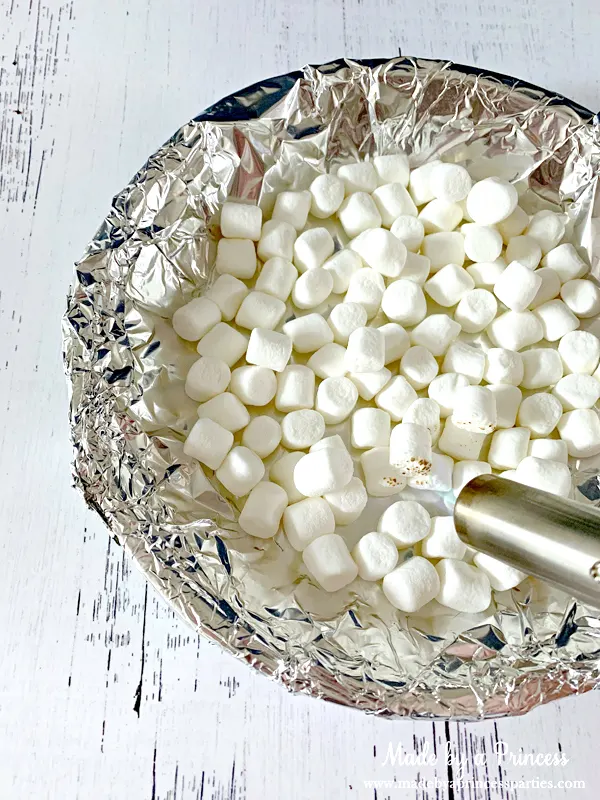 I highly suggest putting the toasted marshmallows in a glass or bowl before putting them in the bottle. The mouth of the bottle I chose was just too small and it was a pain trying to stuff them in. I don't know what I was thinking to be perfectly honest.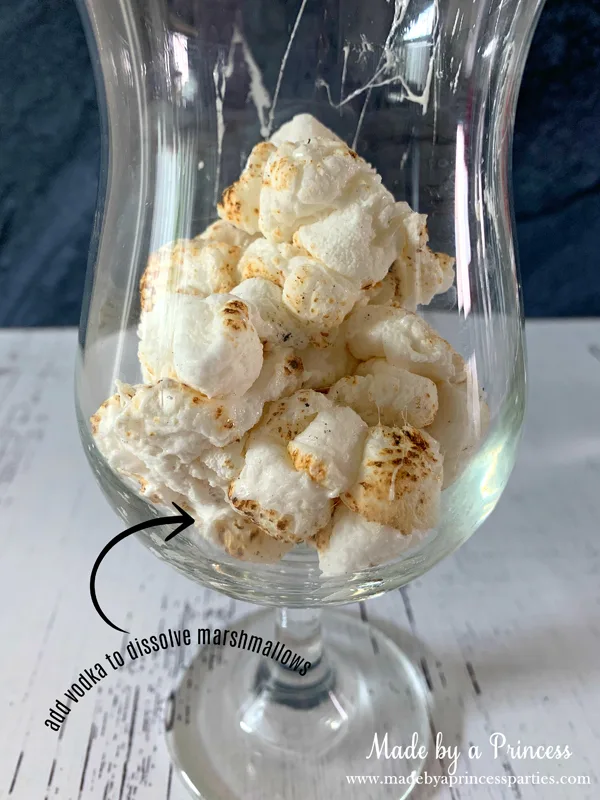 Pour vodka in the glass and stir occasionally until the marshmallows have mostly dissolved.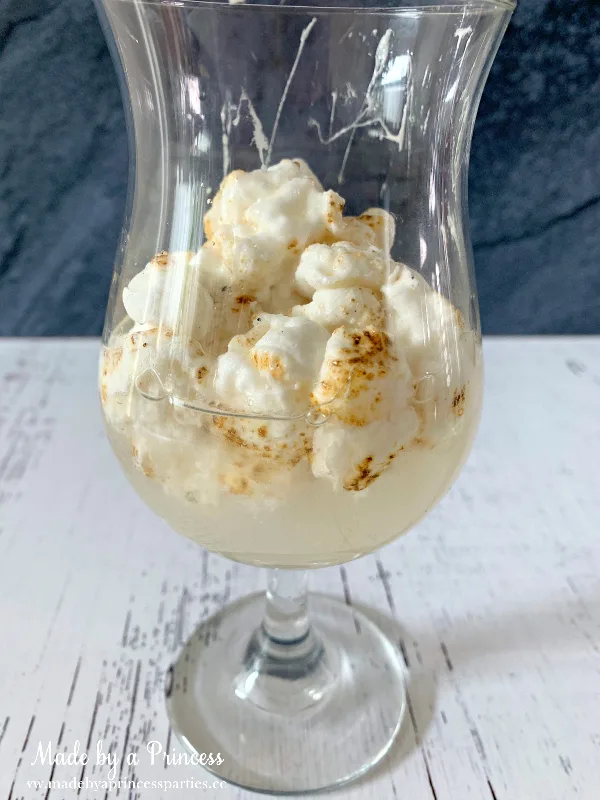 Pour the mixture in your bottle and top off with remaining vodka.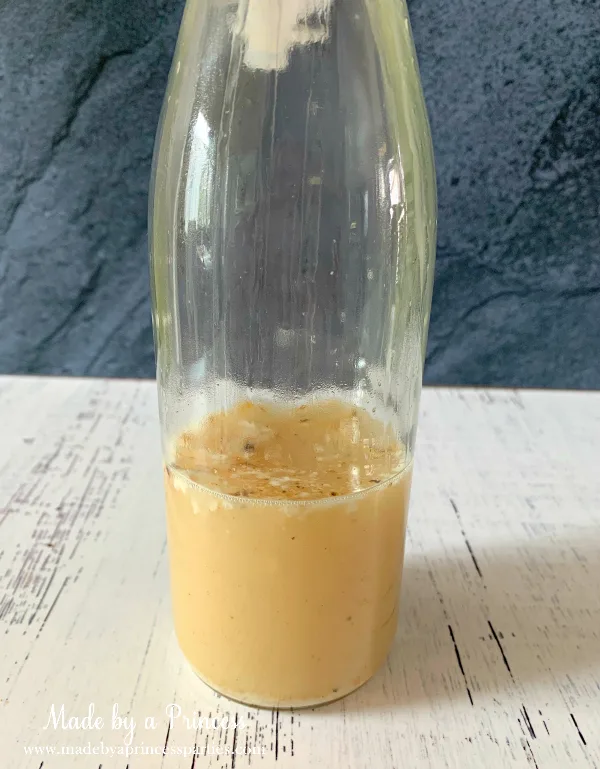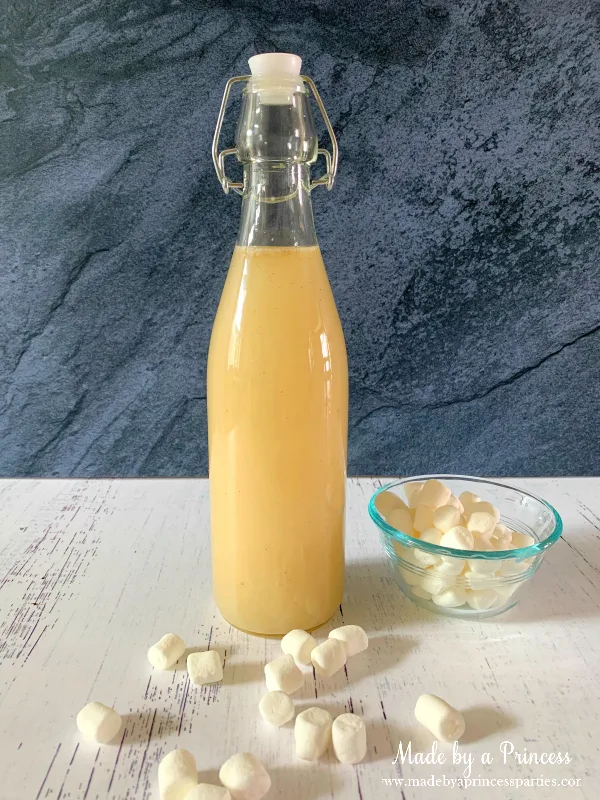 Strain Marshmallows
This is an important step. If you don't strain the vodka it will look milky and kind of gross with bits of burnt marshmallow floating around. Use a fine mesh strainer (like a coffee filter) or a nylon straining bag. Wash strainer or bag out each time.
Pour vodka into strainer over a large bowl until all the bits are strained out. You will repeat this several times. Once you are satisfied with the results pour back into the bottle with a funnel.
Store in a cool dark place and make sure your lid is sealed.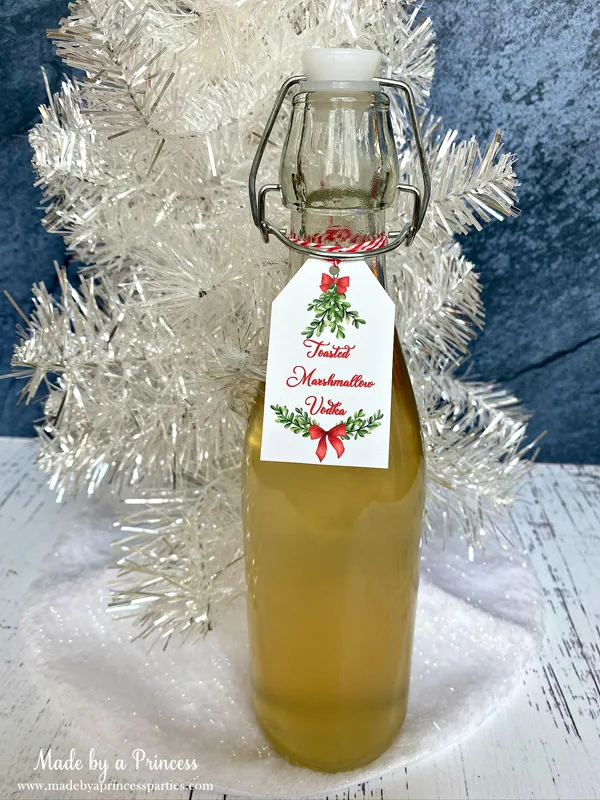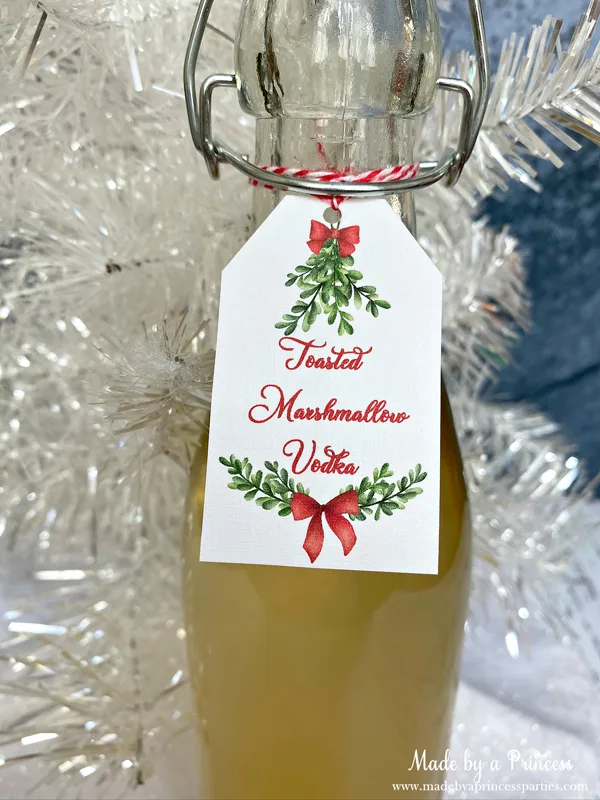 Add White Brew Glitter from Bakell
This is my favorite part! Now add the glitter! Did you know there really is such a thing as edible glitter? The Brew Glitter from Bakell is 100% edible unlike some other glitter on the market that are purely decorative.
Add about a 1/4 tsp of White Brew Glitter to your toasted marshmallow vodka recipe, seal the bottle, and shake well.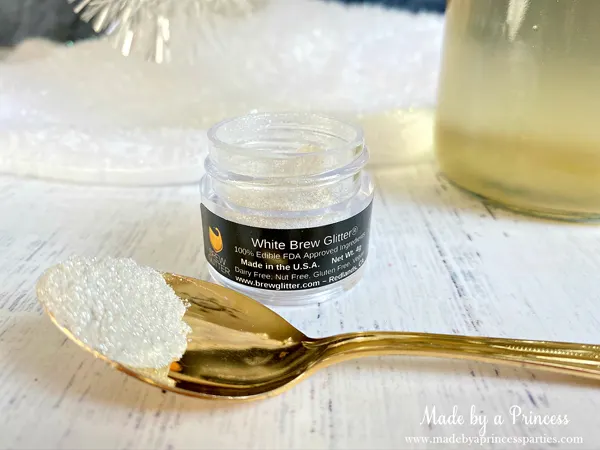 See how that bottle shimmers?! Edible glitter is just amazing.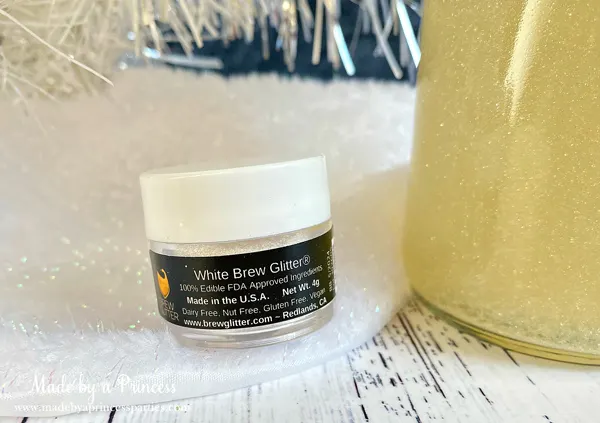 I found these mini shot glass ornaments at Target and plan to give sets of my infused vodka to friends.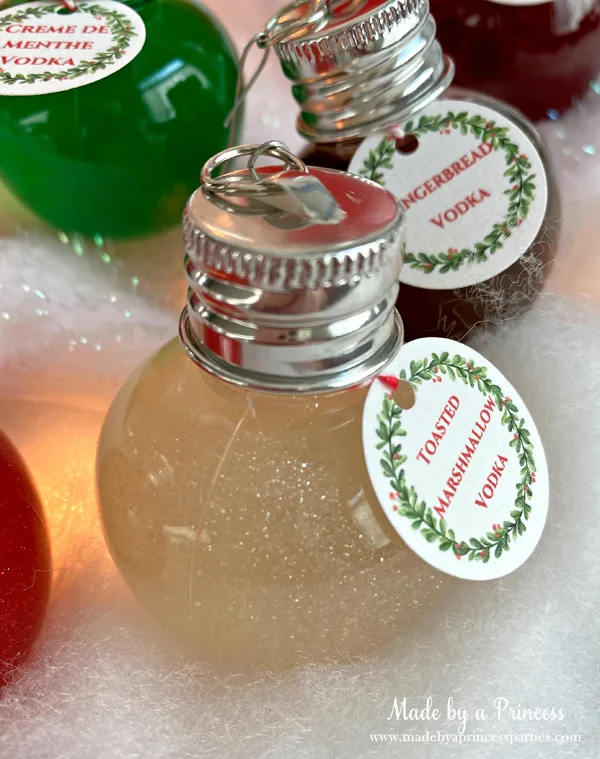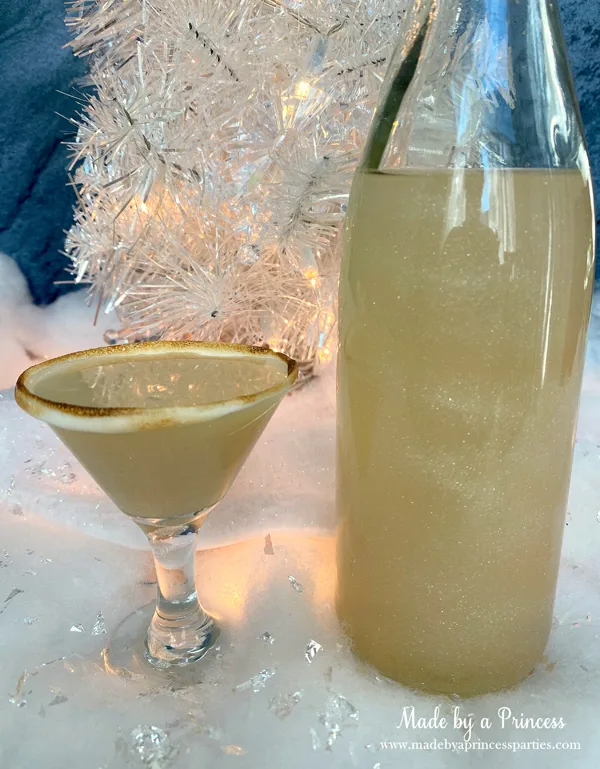 Toasty Marshmallow Martini
This decadent marshmallow martini is made with Toasted Marshmallow Vodka, cream soda, Amaretto, and half and half. Dip the rim of the glass in marshmallow Fluff and scorch with your kitchen blow torch. Garnish with a big toasted marshmallow!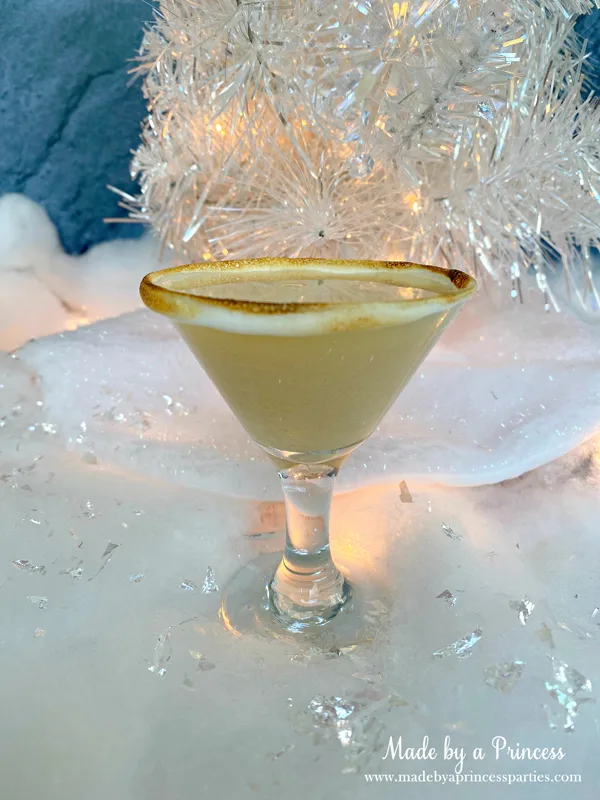 I hope you enjoyed my Marshmallow Vodka recipe and are inspired to create a batch for yourself or to give as a gift!
Toasted Marshmallow Vodka Recipe
Toasted Marshmallow Martini Recipe
Drinks Made with Marshmallow Vodka
You can make a variety of cocktails with marshmallow vodka.
Toasted S'More Martini – add chocolate liqueur, heavy cream, graham crackers, and chocolate syrup
Marshmallow Shooter – add Vanilla Royale and cream
Tropical Marshmallow Martini – add pineapple and a splash of lime juice
Marshmallow Float – add root beer
Spiked Hot Cocoa – add hot chocolate
Mellow Berry – add raspberry vodka, sour mix, and club soda
Marshmallow Margarita – add tequila, lime juice, and triple sec
Lemon Meringue Martini – add Amaretto, simple syrup, and lemon juice
S'mores Champagne Cooler – add champagne, chocolate vodka, and cream soda
Mississippi Mudtini – add chocolate liqueur, cream, nut flavored liqueur, and chocolate syrup
*this post contains affiliate links. Brew Glitter was sent to me by Bakell. I received no monetary compensation. All opinions and ideas are my own.