Can you drink Creme de Menthe straight? Well yes you can! You can also make your very own Crème de Menthe infused vodka right at home. With just a few ingredients you can make homemade Crème de Menthe tonight!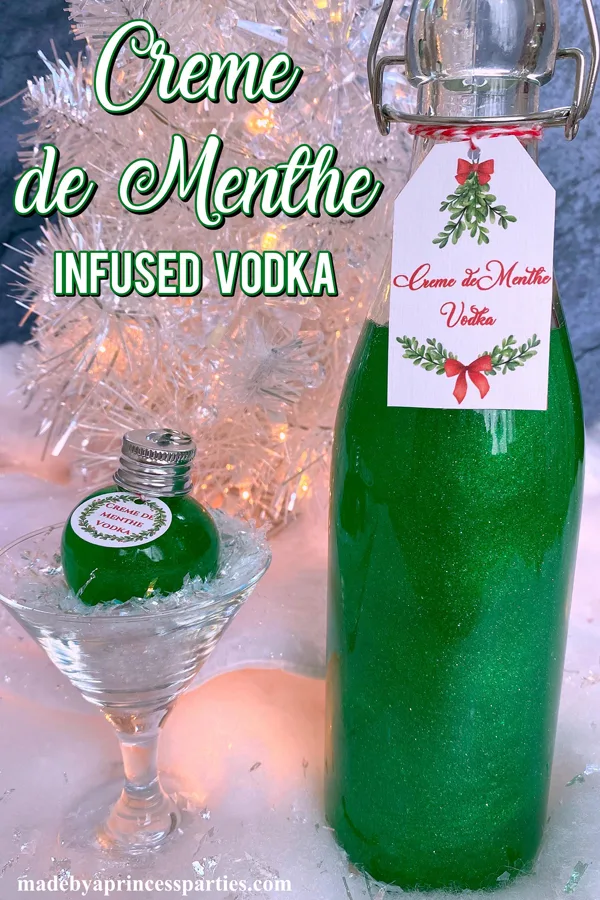 Whether you enjoy it on ice cream, on the rocks, or in a Grasshopper, Creme de Menthe is simply delicious. You can make your own Creme de Menthe Infused Vodka for yourself or for gift giving this holiday in just a few simple steps.
DIY Creme de Menthe Infused Vodka Recipe
When I was little one of my favorite restaurants was a place called "Taylors". Four generations of my family enjoyed meals there and we wept when it closed. Our favorite waiter, Ricky, used to bring us a bowl of ice cream with some a tiny bit of green sauce and whipped cream…it was such a special treat. It wasn't until I was in college that I realized that mint flavored delicious green sauce was Creme de Menthe.
The smell and taste of Creme de Menthe liqueur brings me back to that happy place in my childhood and having dinner at "Taylors". It's probably why I couldn't stop drinking Creme de Menthe Italian Cream Sodas. I miss those days!
I'm kicking off my series of infused vodka recipes with this Creme de Menthe recipe in honor of Ricky and my favorite childhood restaurant.
How to Make Flavored Vodka
One of the many wonderful things about a liquor like vodka is that it can be paired with just about anything. It is clear in color so it won't taint your cocktails and it really doesn't have much of a smell so it won't interfere with your recipes. There are many ways you can make flavored vodka from adding fresh fruit to food coloring and extracts. If you can dream it you can probably make it. Well, not every dream can become an infused vodka reality…I wouldn't create a pizza flavored vodka or anything like that. Ew. That's just too gross to even think about it.
Ingredients for Creme de Menthe Vodka
Before you get started here is what you are going to need:
Green food coloring
Pure peppermint extract
Simple syrup (made with water and sugar)
Vodka
Glass jar you can seal
Mint leaves (garnish)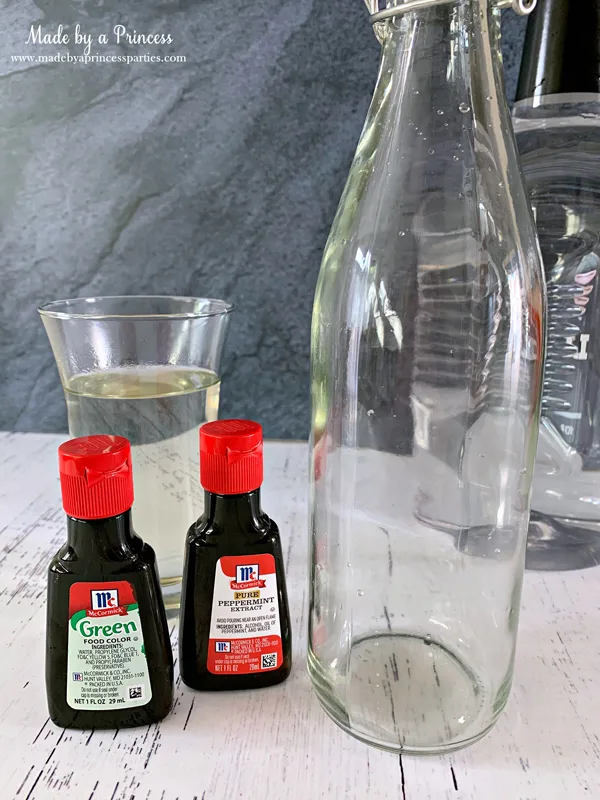 How to Make Creme de Menthe Infused Vodka
It is so easy to make Creme de Menthe infused vodka. You will need about 1/2 cup of simple syrup, green food coloring, and pure peppermint extract.
Put all ingredients in a sealable jar and add vodka. Shake well and store in a cool dry place. Serve over ice cream, on the rocks, in a Grasshopper, or give as a gift.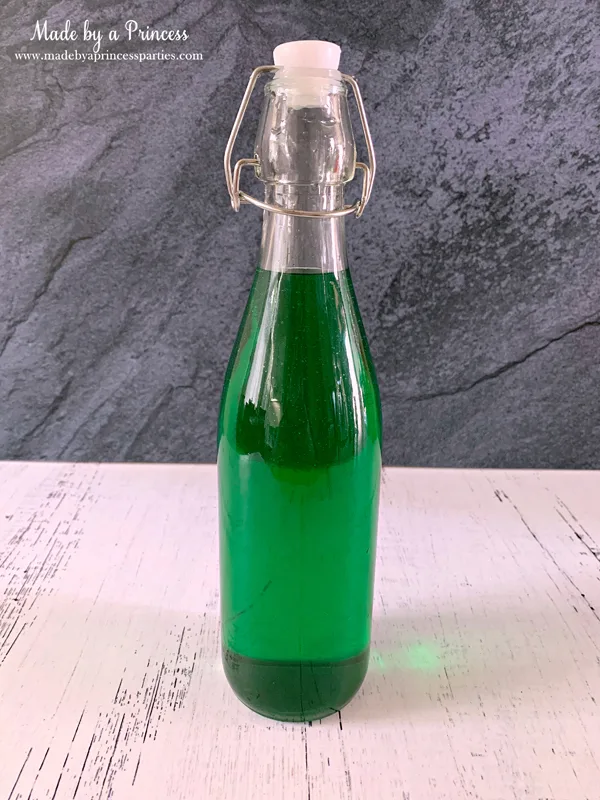 Creme de Menthe Infused Vodka as a Gift
A bottle of homemade infused vodka is a great gift idea. Pair your infused vodka with a pretty glass, a bottle of Creme de Cacao, and some Andes Mints and present to someone you love…or at least someone who will appreciate how you spent hours infusing the vodka. They never have to know it only took you 15 minutes!
Note: Simple syrup is made with equal parts water and sugar. Stir over low heat until sugar has dissolved and set aside until cool. Simple syrup is also great in sweet tea.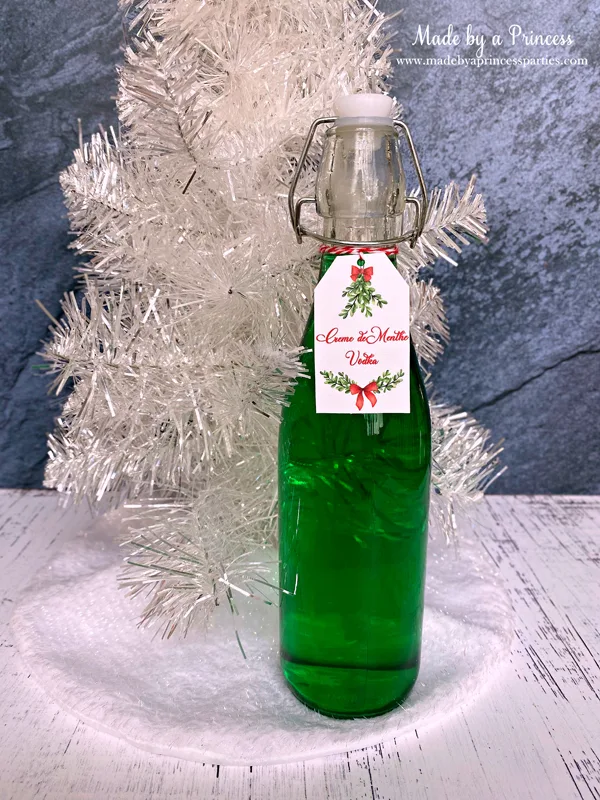 Green Brew Glitter from Bakell
Y'all know how much I LOVE glitter so of course I had to sparkle this up. If I can bling it, glitter it, or sparkle it I'm gonna! Bakell was kind enough to send me a whole collection of edible glitter and let me tell you friends I'm a little obsessed. I even put my some in coffee. I mean…why not? Coffee? Good. Glitter? Great!
You don't need a whole ton of it either because a little goes a long way. I didn't measure how much I used, I just sort of eyeballed it. It's probably about a 1/4 tsp.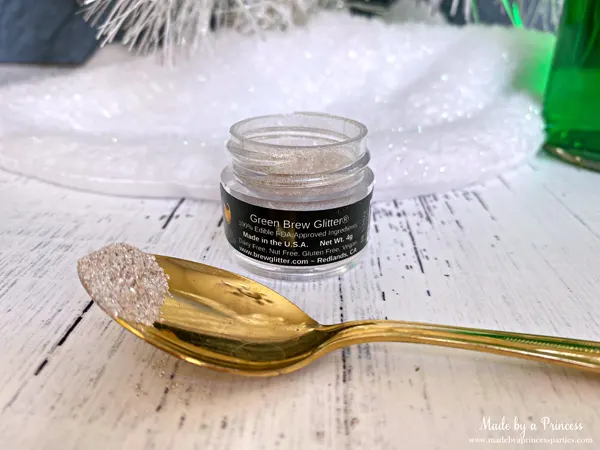 Just pour Brew Glitter in the bottle and shake. You can see the flecks of glitter in the bottle. It's sooooo pretty!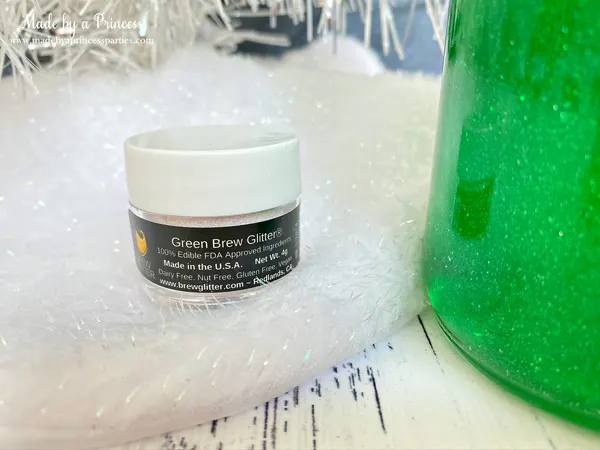 Now shake it or swirl and watch the glitter dance around…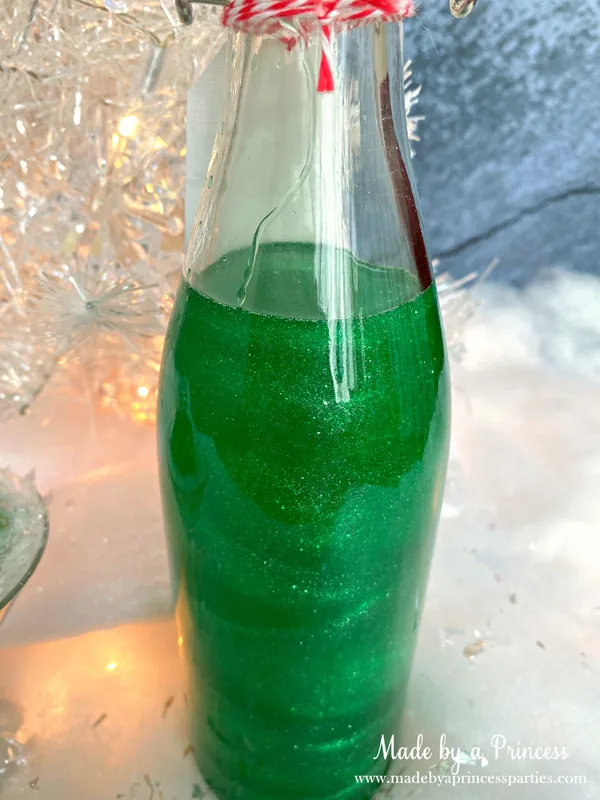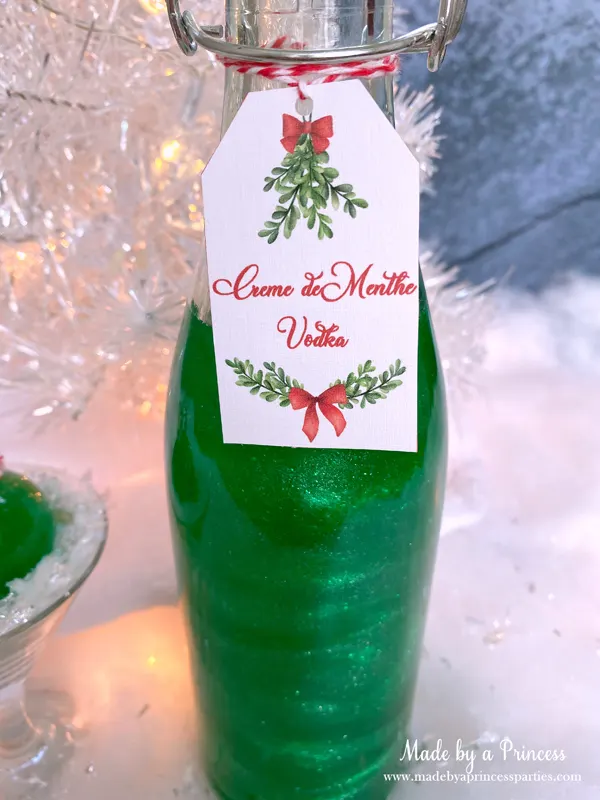 I found these mini shot glass ornaments at Target and thought they would be perfect to give in a set to some friends. I think they would even be cute as present toppers actually.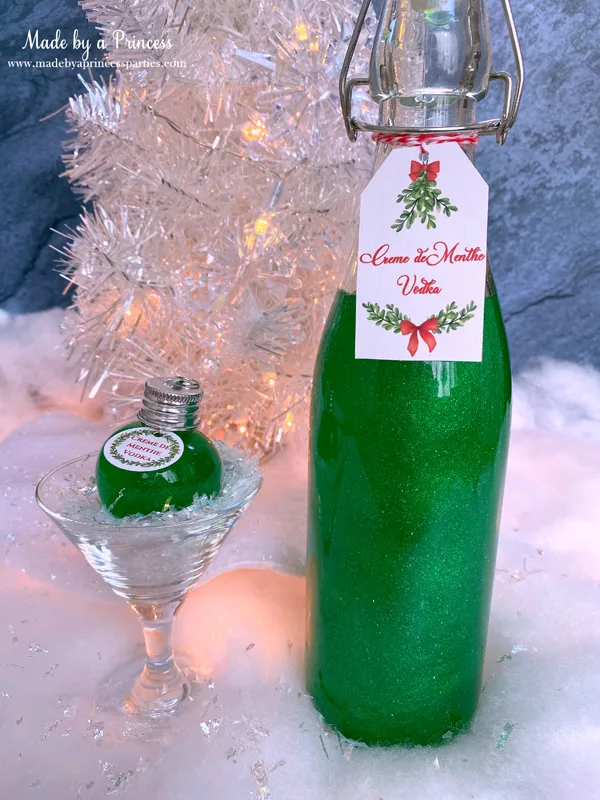 Mistletoe Peppermint Patty Cocktail
This green Christmas cocktail is made with equal parts Creme de Menthe and Creme de Cacao. It's basically a Grasshopper without the cream. It is so pretty and such a gorgeous green color! I just love the specks of edible glitter swirling in the glass. Garnish with a sprig of fresh mint or a piece of Andes Mint.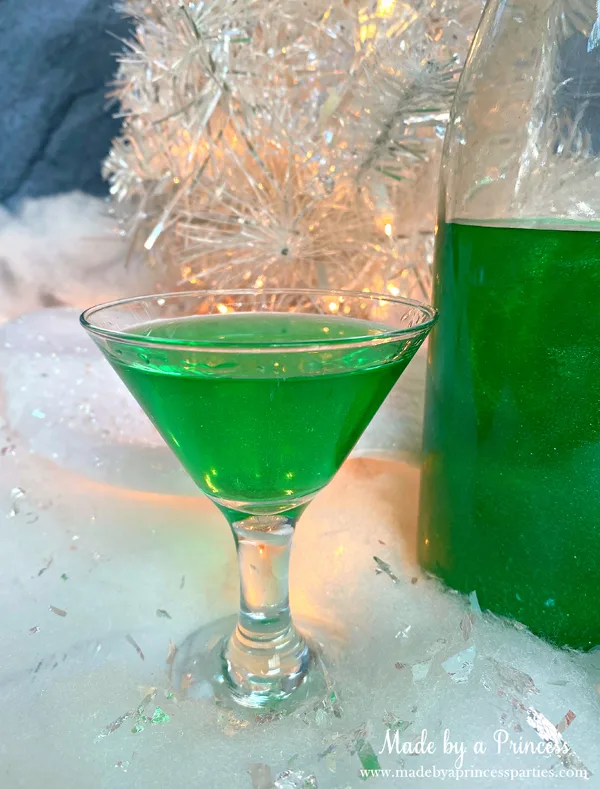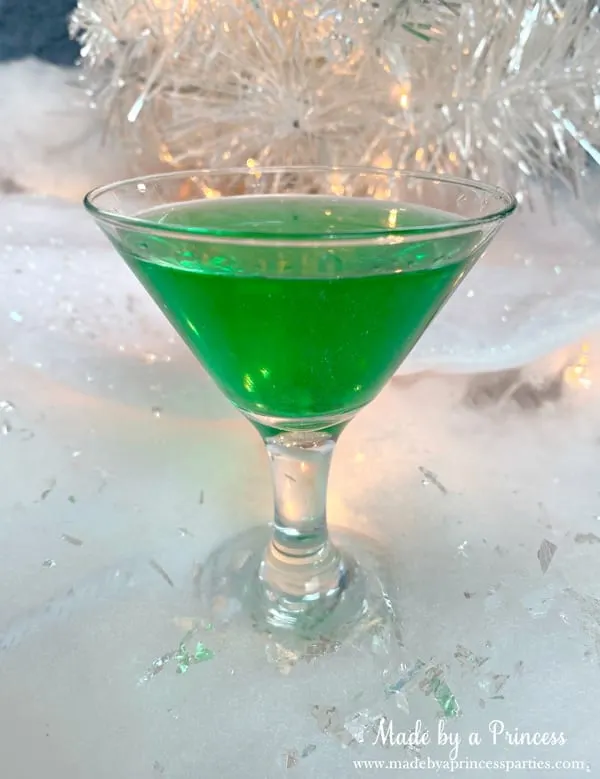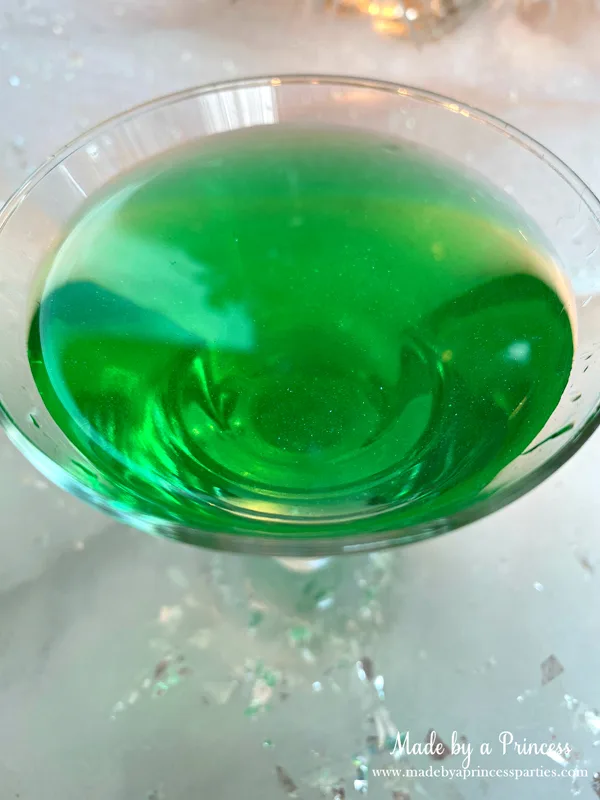 I hope you enjoyed my Creme de Menthe Infused Vodka recipe and are inspired to create a batch for yourself!
Creme de Menthe Infused Vodka Recipe
Mistletoe Peppermint Patty Recipe
More Drinks with Creme de Menthe
Try some of these other drinks using Creme de Menthe
*this post contains affiliate links. Brew Glitter was sent to me by Bakell. I received no monetary compensation. All opinions and ideas are my own.