Want to know how to make an Italian Cream Soda? It's easier than you think!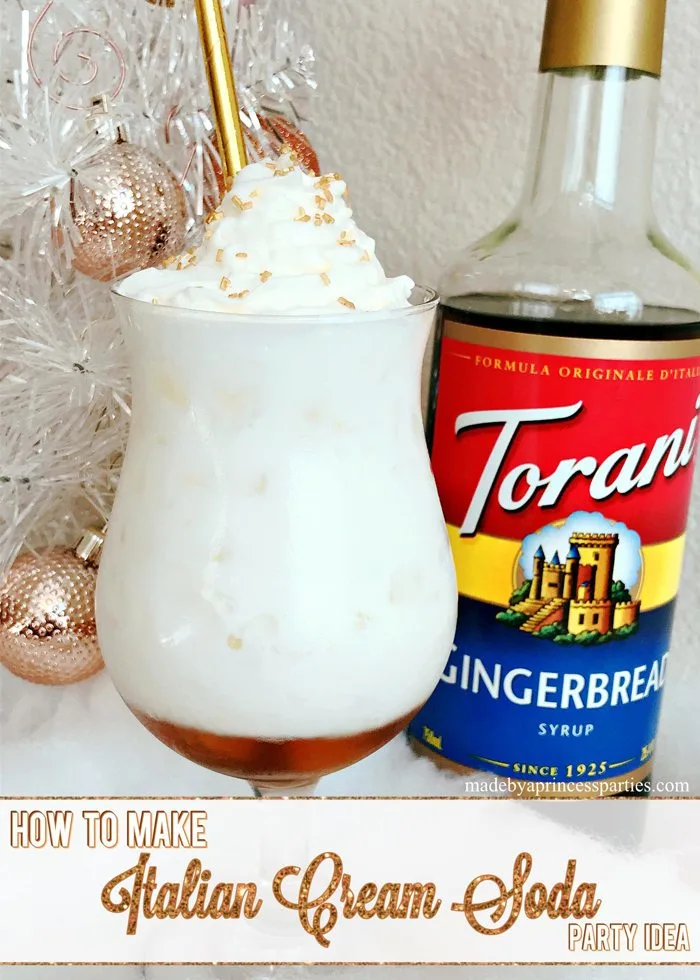 Want to know how to make an Italian Cream Soda? It's a little too easy to be honest because they are so so good! I'm going to show you step by step how to make one and tell you what you need to set up an Italian Cream Soda bar…it's a perfect party idea!
How to Make Italian Cream Soda Party
I was introduced to Italian cream sodas in college. There was this cute little coffee cart in one of the courtyards (where I had my Italian class coincidentally). It was a hot day and I really wasn't feeling a cappuccino so I asked the coffee cart girl what she had that was cold. She suggested an Italian Cream Soda. I had never heard about these let alone tried one but I was game to try something new.
Torani Creme de Menthe Syrup
Let me tell you friends, I became a little obsessed with them. For reals. Ohmygoodness. It was so good. I had a Creme de Menthe Italian Cream Soda every single day that semester. It was bad. I didn't care if I was late for class either because I had to have my drink. It was Italian class so I figured if anyone was going to understand it would Signora! I actually registered for the later Italian class the following semester so I could wean myself off of them. They are just so so good though!
I couldn't remember the last time I had an Italian cream soda but when I was talking to my friends at Torani about my Winter WINEderland party I had a lightbulb moment…Italian Cream Soda Bar. Yaaaasssss! With all of the yummy winter flavors I knew it was going to work perfectly with my theme. Most people think of just adding the syrups to your morning latte but it is really great for cocktails and cooking too. I have made several cocktails with the syrups and, according to my friends, they are really good.
Torani Creme Toasted Marshmallow Syrup
I can tell you from personal experience that the Toasted Marshmallow one is To. Die. For. I'm not kidding. I think that is my favorite flavor of all time. I really love that it's all natural too. No funky sweeteners, just pure cane sugar. When I bake I use the best ingredients I can find because it really does make a difference. You can have a great recipe but if you use bad ingredients it's not going to come out right at all #aintnobodygottimeforthat. They do also have Sugar Free which my mom was really happy to find out. I had a bottle of Torani Sugar Free Chocolate Syrup in my cupboard that I sent home with her to put in her morning breakfast shake.
Torani Syrup Bar Selections
After spending about an hour on the Torani website I finally narrowed it down to Torani Creme de Menthe Syrup, Torani Italian Eggnog Syrup, Torani Gingerbread Syrup, and Torani English Toffee Syrup. You can see the picture at the end of the post how I set it up at my party. I had a couple friends over for a spontaneous breakfast and decided it was just what we needed with our pancakes. We all know how great Torani Syrup tastes in coffee but I wanted to show my friends how easy it was to put something like this together with no prep or planning. I literally grabbed the syrups and club soda from the cabinet, the half and half from the frig, and some glasses and that was it. I already had the tree and table runner out so with a little shifting the whole thing came together in 5 minutes.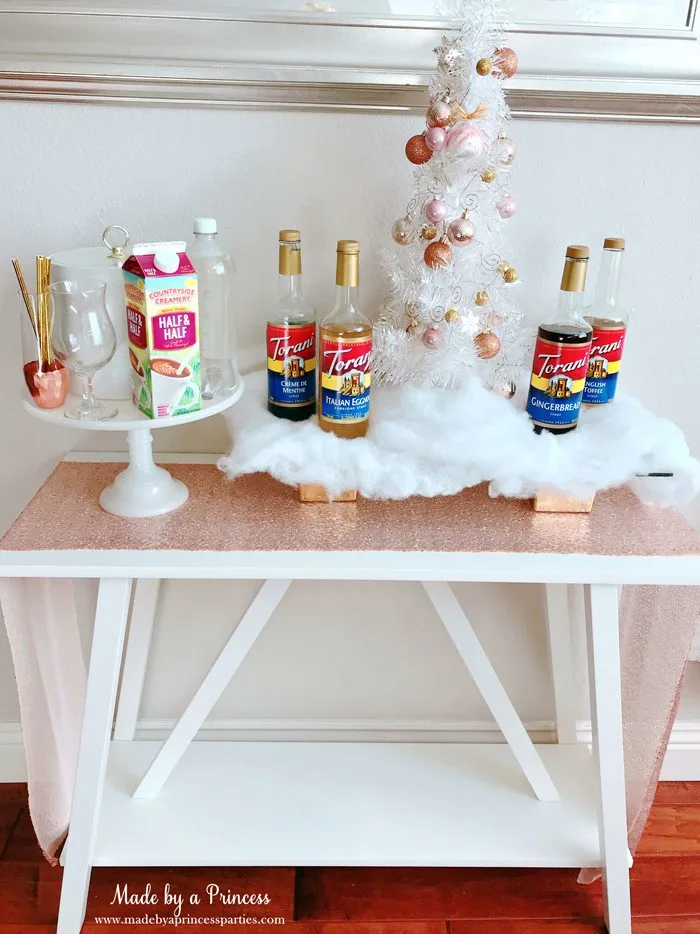 Quick Party Tip: Cake stands are not just for cake….they make great trays too. I like to add height to my tablescape which is why I tend to use them quite a bit in my set ups.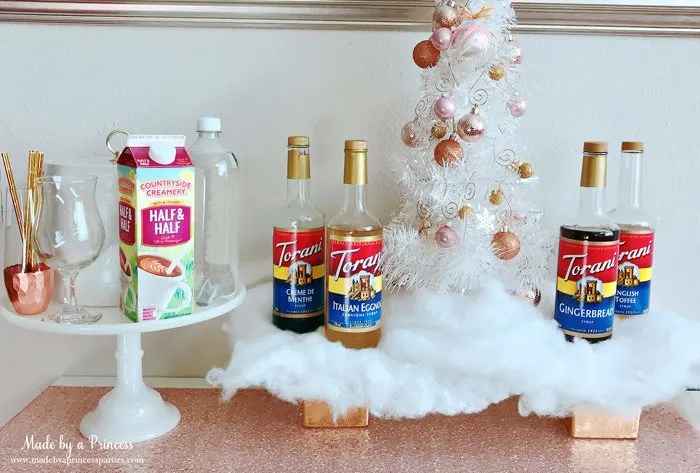 You can see that the Creme de Menthe and English Toffee syrups were the most popular at my Winter WINEderland party.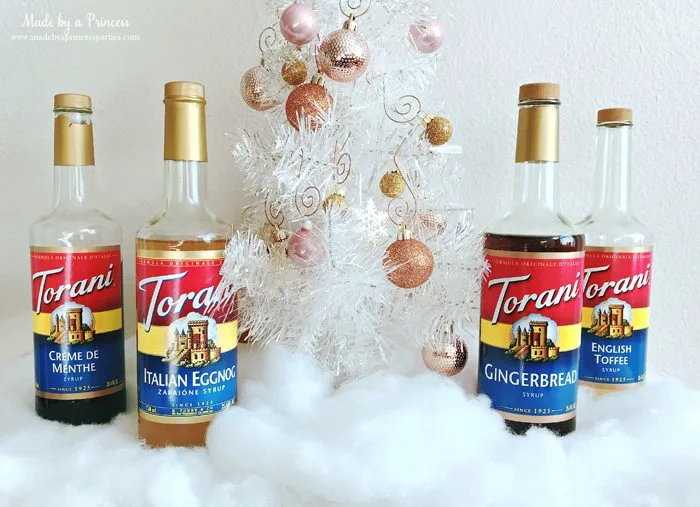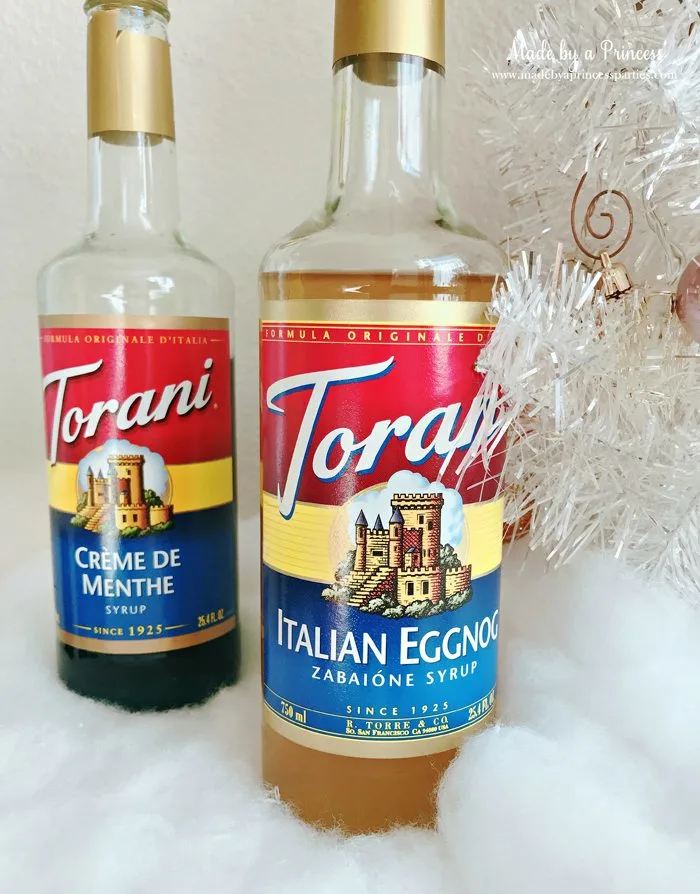 I loooooove Gingerbread! If you do too then I think you'll like my Creamy Gingerbread Cookie Holiday Cocktail Recipe with a side of Gingerbread Cheesecake. Just sayin.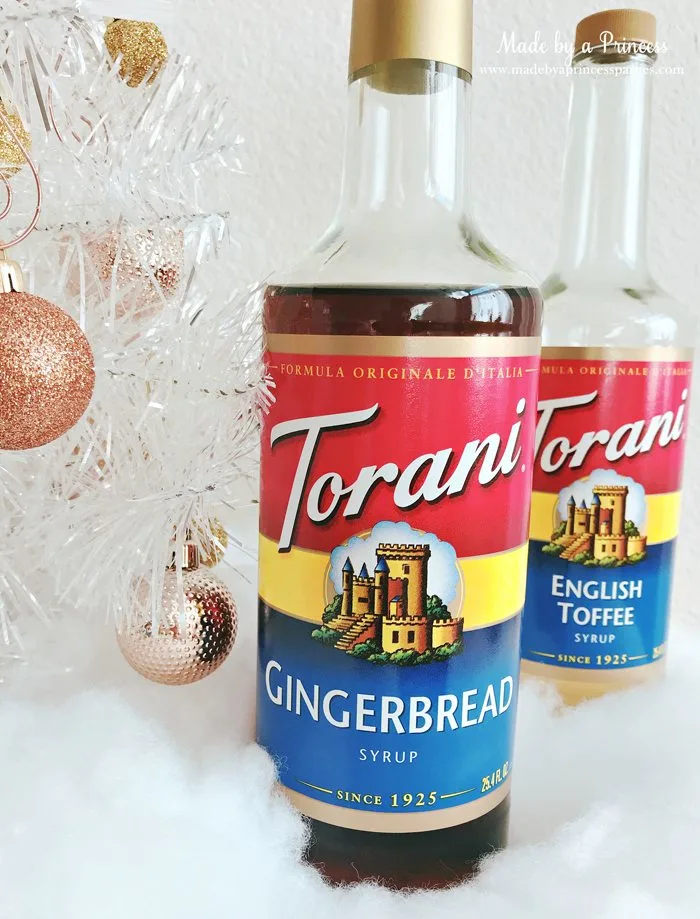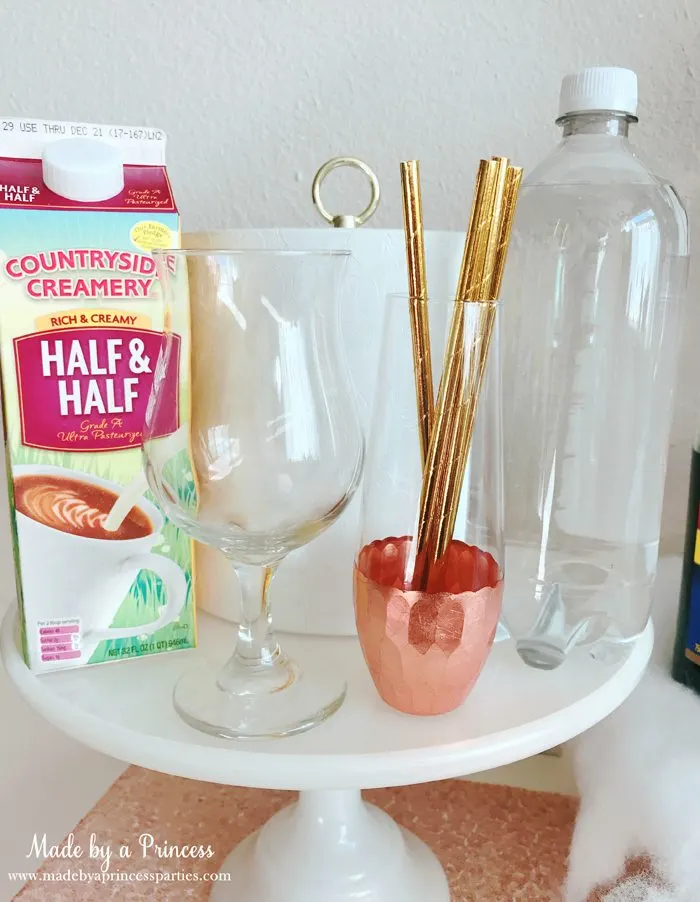 How to make an Italian Cream Soda
Here we go…fill your glass with ice.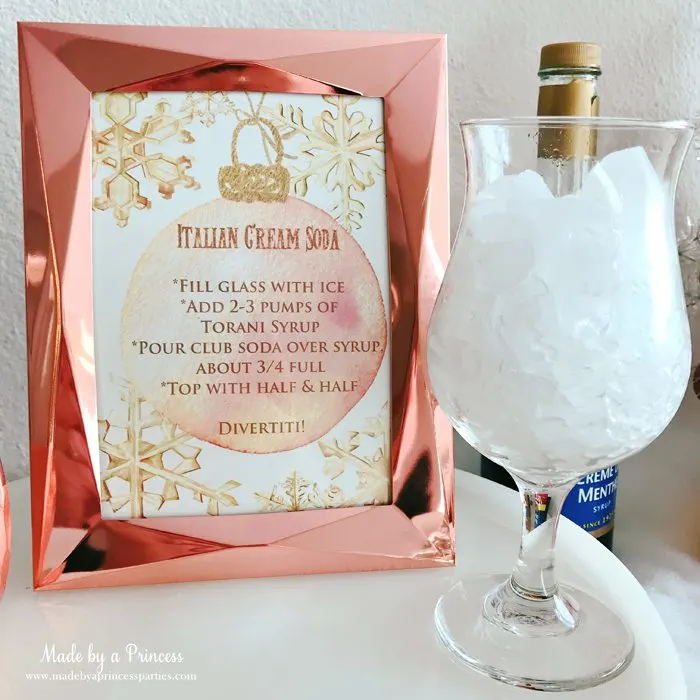 Pour syrup over the ice or if you have the pump, add 2-3 pumps in your glass.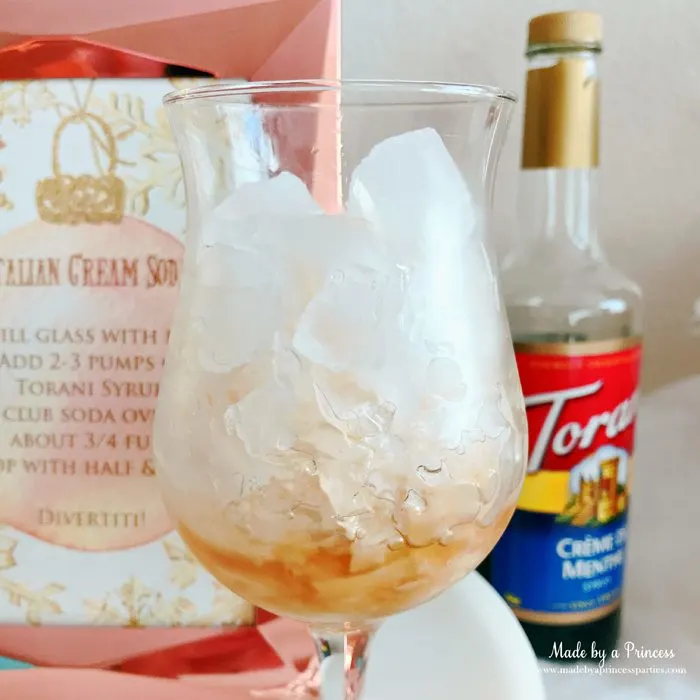 Pour club soda over syrup but leave room at the top for cream.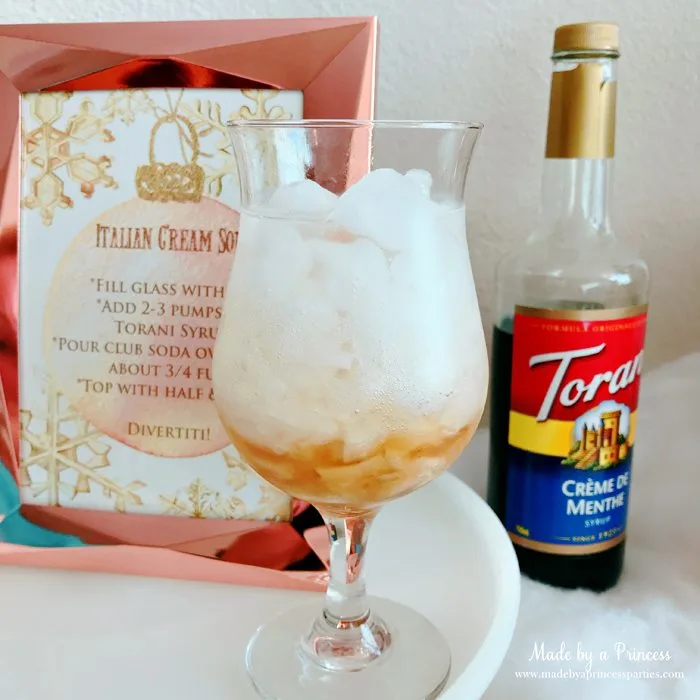 Add half and half cream.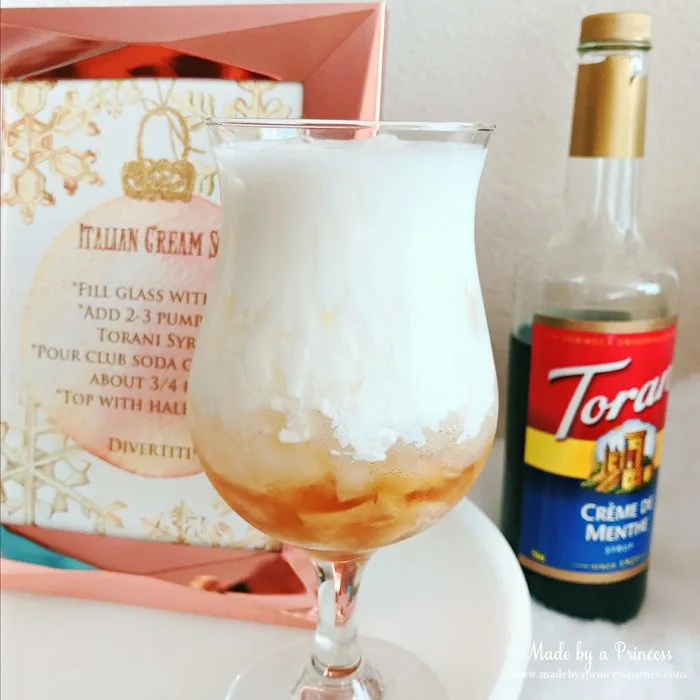 Just for fun you can add whipped cream and sprinkles. I have an obscene amount of sprinkles so lots of stuff gets sprinkled around here!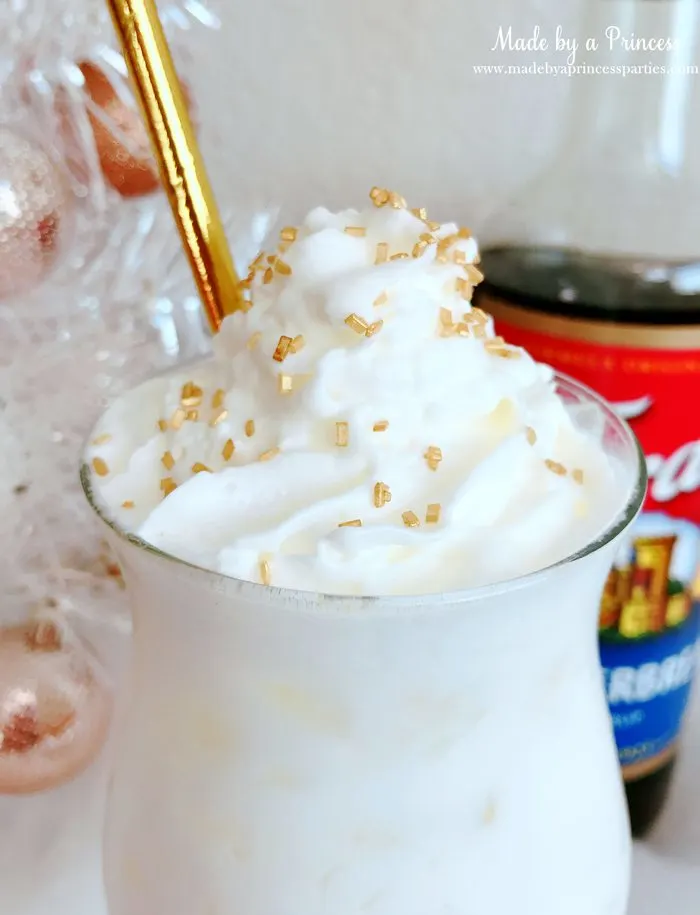 That's it. That's all there is to it! So easy and so tasty. I bought a few extra little bottles of club soda to have on hand so I can offer my guests one when they come visit. Doesn't that sound so fancy? "Can I get you something to drink? Water, sparkling juice, champagne? Italian cream soda?" Try it!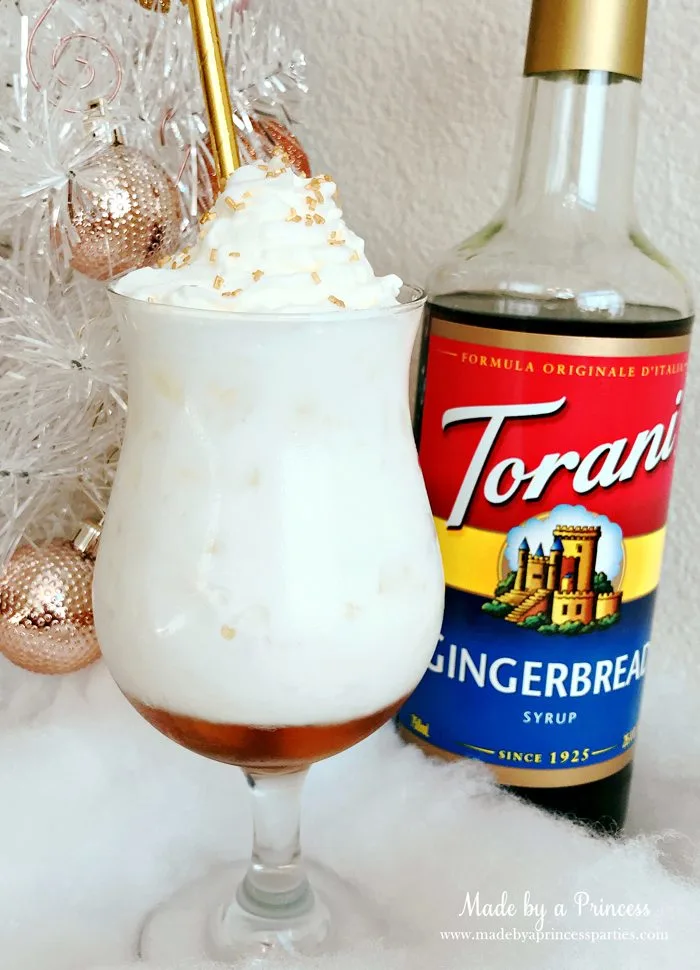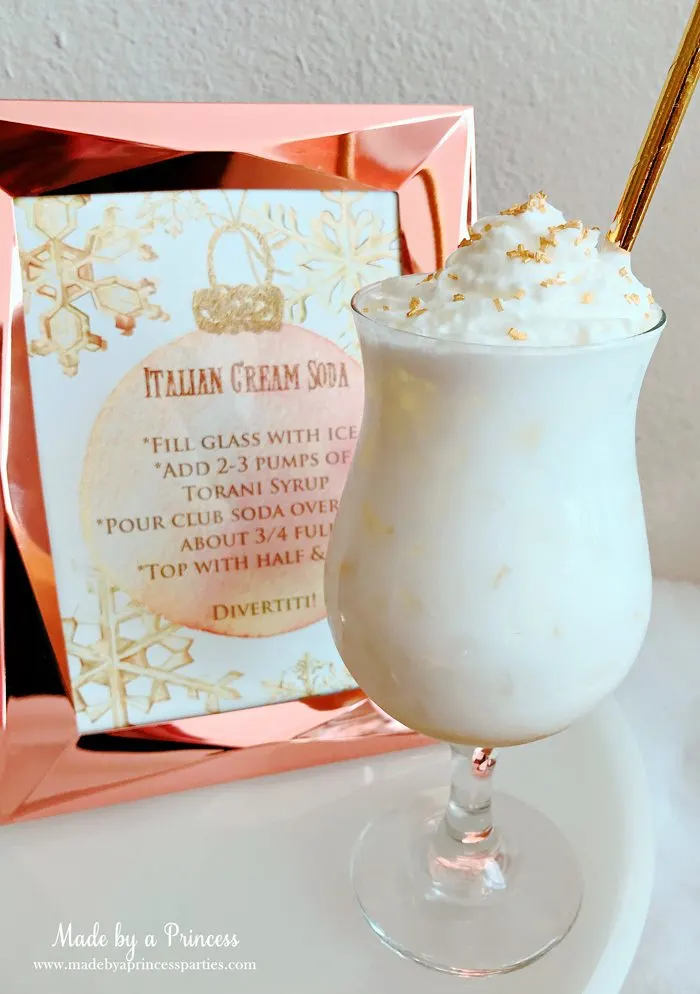 Here is a sneak peek of my
Winter WINEderland party
I hosted for some girlfriends last Saturday. None of my friends had ever had an Italian Cream Soda and everyone commented on how good they were. I had small glasses so they wouldn't feel guilty about trying ALL the flavors!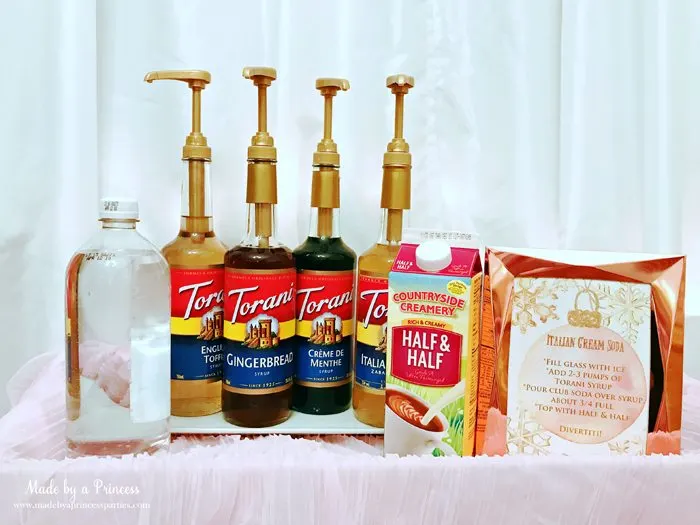 Just in case you would like to host your own Italian Cream Soda bar I created a printable for you to print and use. Click the image or the link to download my, "Make Your Own Italian Cream Soda" printable.
This post sponsored by Torani. Monetary compensation and product has been provided by Torani. All opinions are my own.