This post sponsored by World Market, Le Grand Courtage, Oriental Trading Co, Torani, & Expressions Vinyl. All opinions are my own.
Grab some girlfriends and a glass and celebrate with Winter WINEderland Holiday Wine Tasting Party!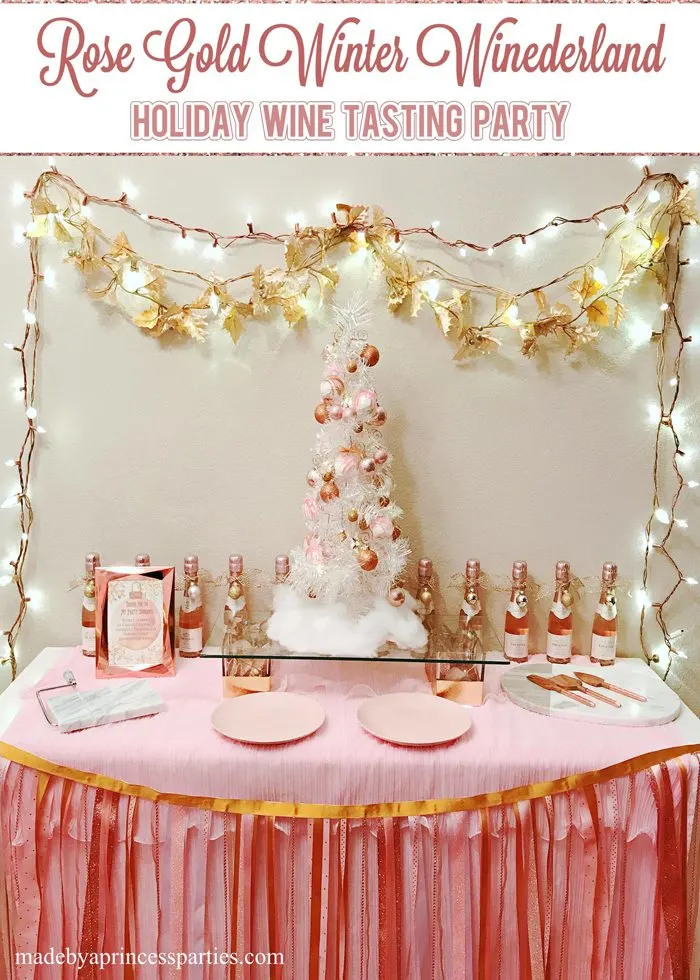 Looking for something to do this winter? Grab some girlfriends and a glass and celebrate with Winter WINEderland Holiday Wine Tasting Party!
*this post does contain affiliate links
I am slightly obsessed with rose gold so I went all out with the rose and the gold. I partnered with some of my favorite companies to bring this to life and I'm so happy with the way it all turned out. I am so pleased to bring you my Rose Gold Winter WINEderland Holiday Wine Tasting Party!
I created four areas in my dining room: the cake, glasses, and utensils table, the food table, the wine tasting table, and Italian cream soda bar. This kept my guests moving around and didn't cause a bottleneck as can easily happen with one main table.
I hung a metallic copper tassel garland above the cake table, used a gold sequined overlay I had in my studio over a white tablecloth, and hung tissue snowflakes from the chandelier. I found the rose gold disposable utensils at Target which complemented the rose gold rimmed plates so well. I had rose gold dessert plates in my stash for just such an occasion!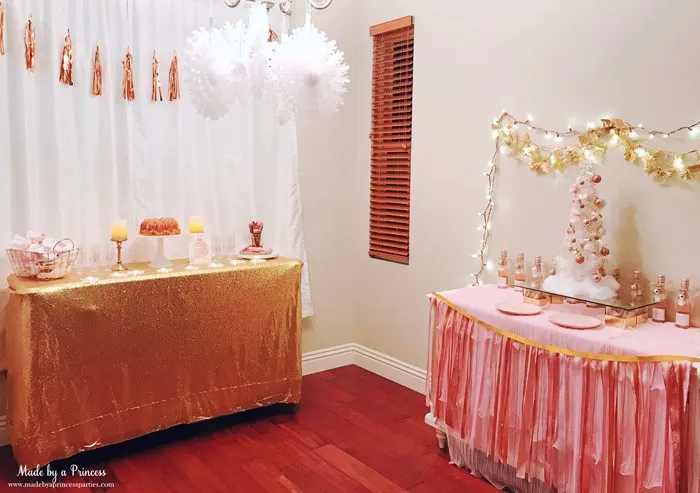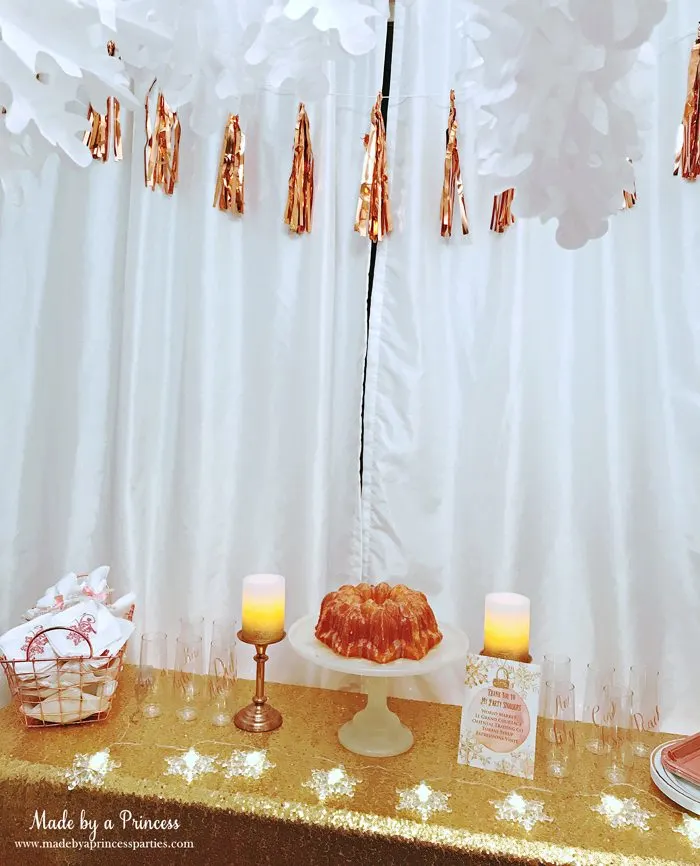 Unfortunately, World Market has sold out of these copper candlesticks and metallic flameless candles because I think they're so darn pretty. I am regretting not getting the other copper candlesticks when I had the chance. Isn't that always the way?!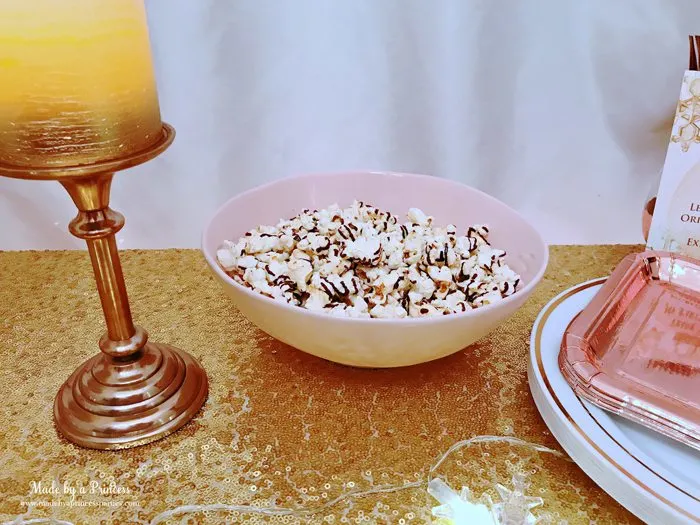 I also created quite a few personalized DIYs that I was super happy with. I was struggling to figure out what I was going to cover the wine bottles in that would hold up in ice. While attempting to clean up my studio I had my hands on a stack of felt and realized that would work perfectly!
It's hard to tell in this photo since everything has such a pink hue to it (what happens when you have a pink party and virtually everything in the room is pink!) but the numbers are a beautiful shade of bronze. Expressions Vinyl sent a bunch of gorgeous vinyl sheets to play around with so you're going to see several things I created just for this party. I used Bronze Glitter Heat Transfer with my Silhouette machine for this project.
I love this wine bucket from World Market. I've had my eye on it all year and finally broke down and got it. It was exactly what I needed to hold the white wine and champagne and it didn't leak. A little condensation did form after several hours along the bottom but it didn't make a mess. The silver party bucket underneath is from World Market as well.
Table runners don't just have to be used on the table. You can use one to wrap around a party bucket as well like I did. The silver didn't really go with the decor so I used a metallic one I purchased earlier this year. It is very subtle but I think it works really well. I have found that with this particular bucket you need to put something underneath it so I used a piece of white terry cloth to soak up any condensation.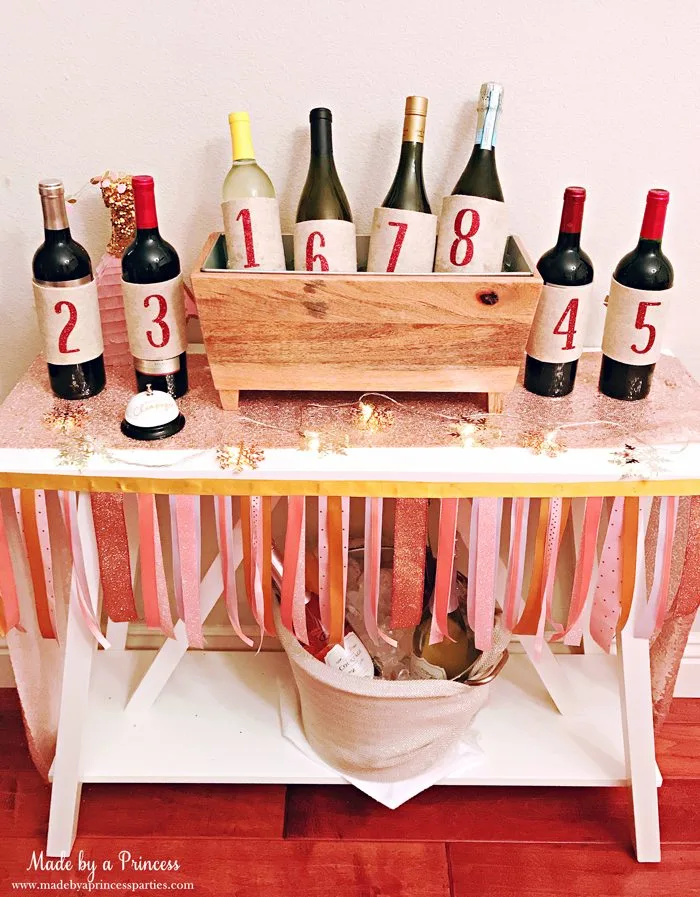 These took a bit of time but I really love the way they turned out. I found a bunch of different rose gold, copper, pink, gold, and white ribbon at my local craft store to make this ribbon garland. The one pictured below was meant to be used on this little table specifically so I cut it to fit exactly. The great thing about ribbon garlands is that you can make them in any colors to match any theme.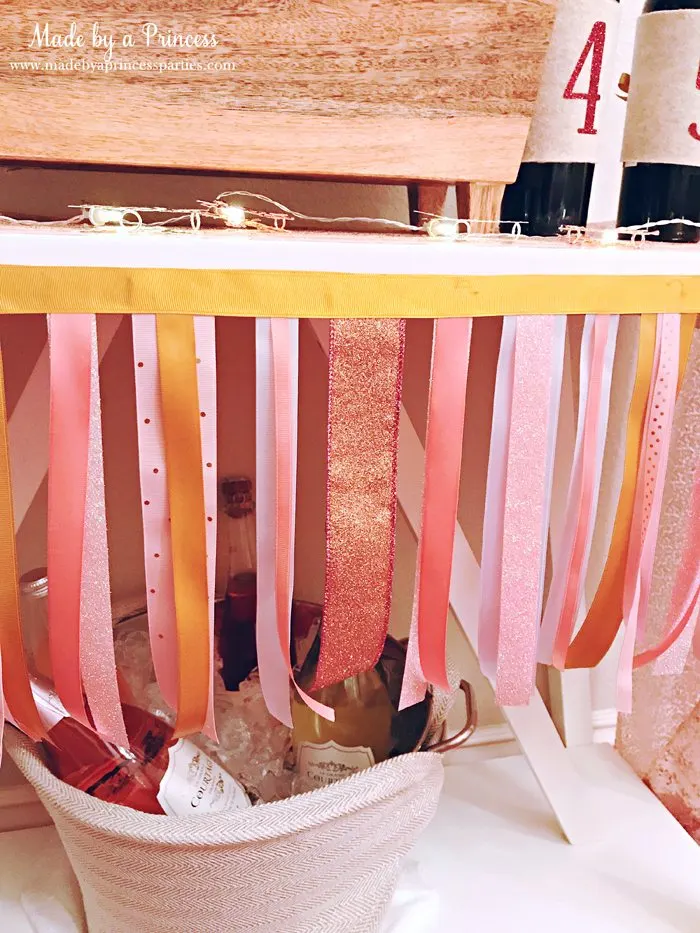 One of my besties, Keisha of Cupcake Wishes and Birthday Dreams, sent this to me as an early Christmas present so I could use it for my party. I adore it!! You can find it at World Market but it might be in store only since I don't see them online. The rose gold sequin table runner is from Oriental Trading.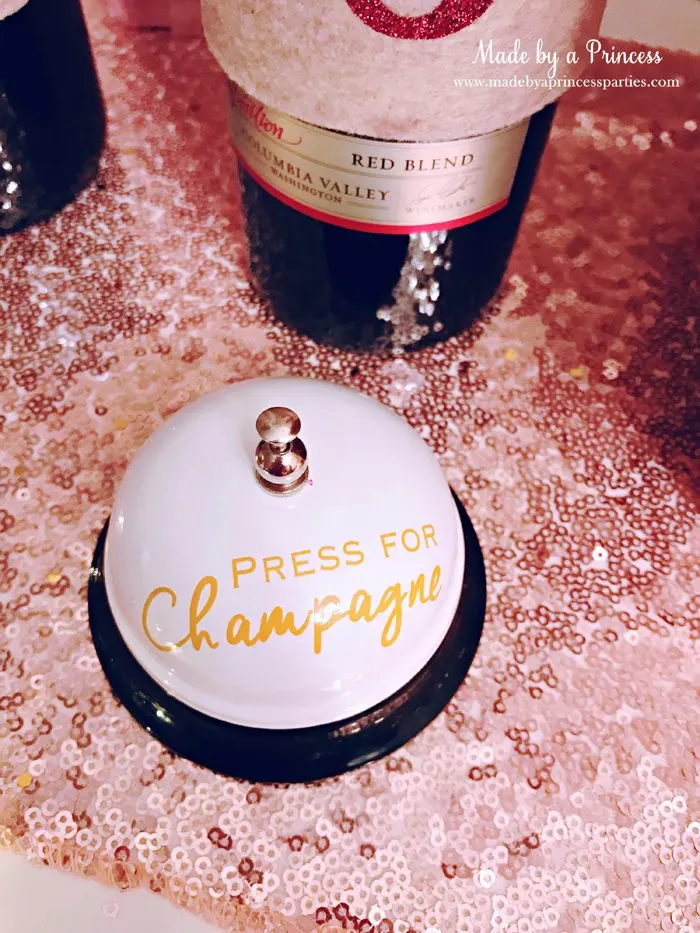 So…these lights… I really wanted rose gold string lights but couldn't find what I was looking for so I made them myself. Yep, with a can of Rustoleum Metallic Copper spray paint and a string of little white lights I had just what I was looking for! I did the same thing with another string but made them gold.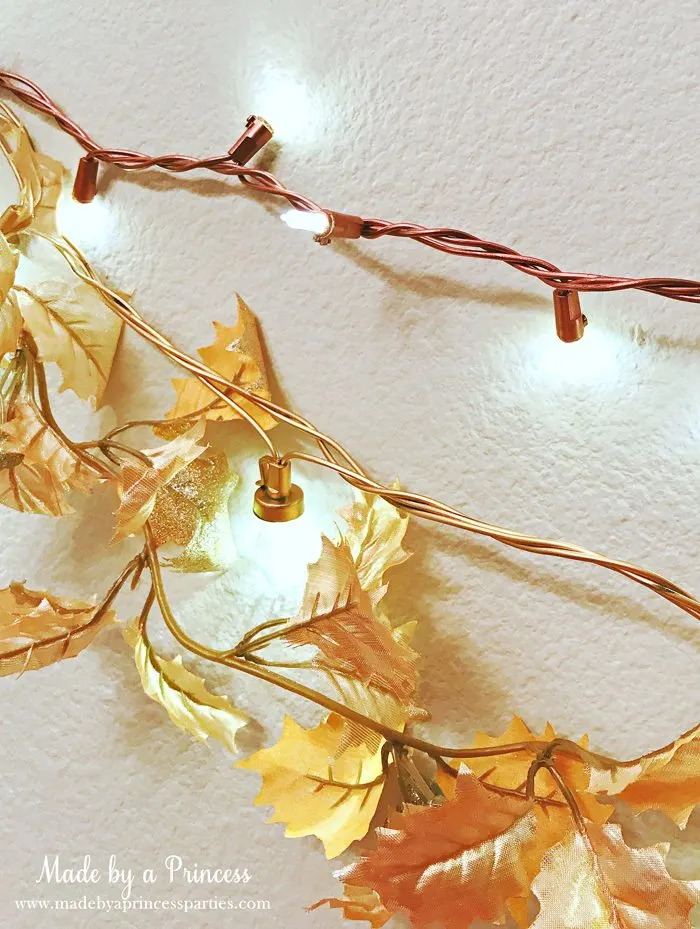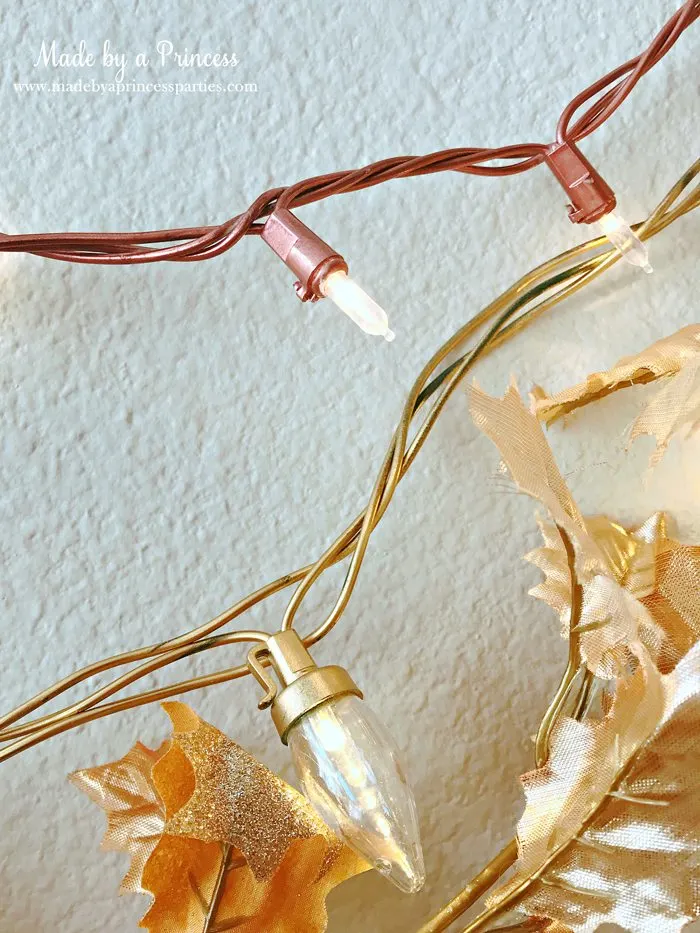 I used clear 3M Command removable hooks on the wall so I would't have to drill any holes for nails.
I was able to find all of my serving pieces at World Market including a copper cheese knife set (which really looks more rose gold). I picked up blush stoneware, marble cheese board, and a marble cheese slicer as well. The little white tree came from Hobby Lobby and the metallic ornaments were a mix of ones I found at HL and Michael's.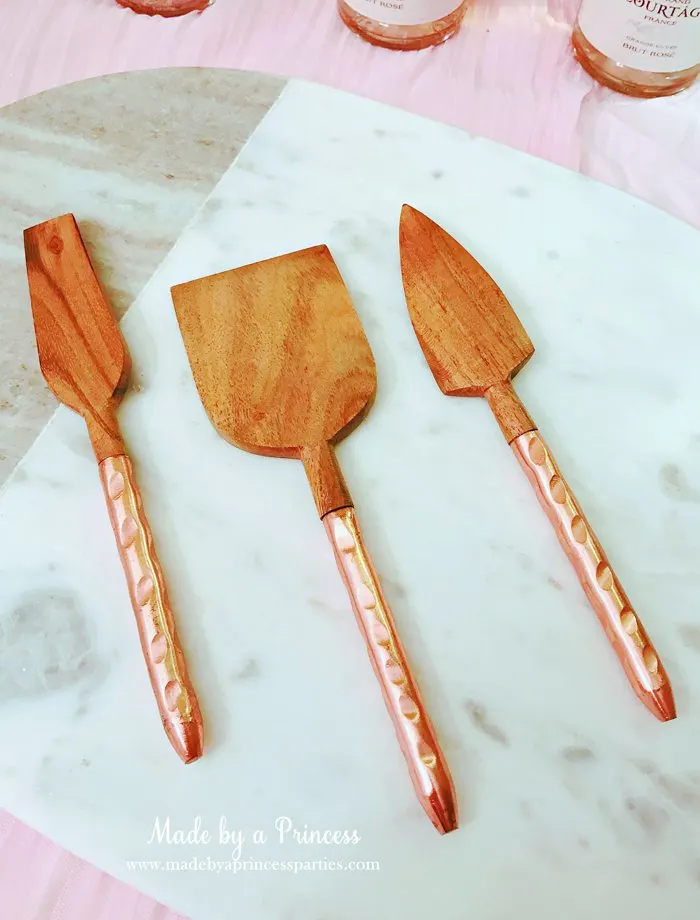 The ornament hooks were silver but I spray painted those with the Rustoleum Copper since silver didn't go with my theme.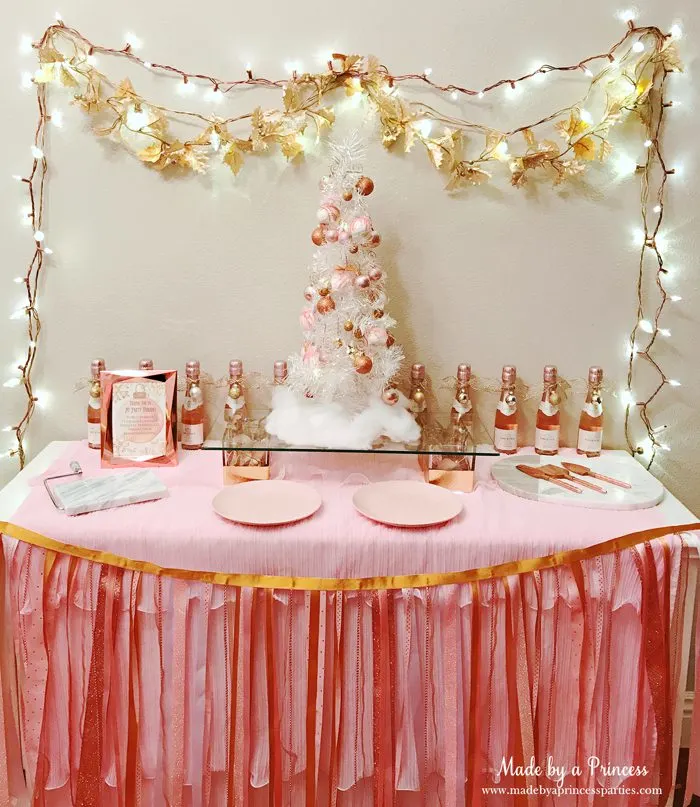 These vases were a DIY I did for Oriental Trading Co. I loved how they came out! I created a Rose Gold Foil Leaf Vase tutorial to show how to make your own pretty vases. The piece of glass came from a shelf we no longer use. I kept it specifically to use for parties. I filled the vase "pedestals" with battery powered tea lights and some rose gold florals from Michael's. I've had these hanging around for a year…I knew I would use them eventually!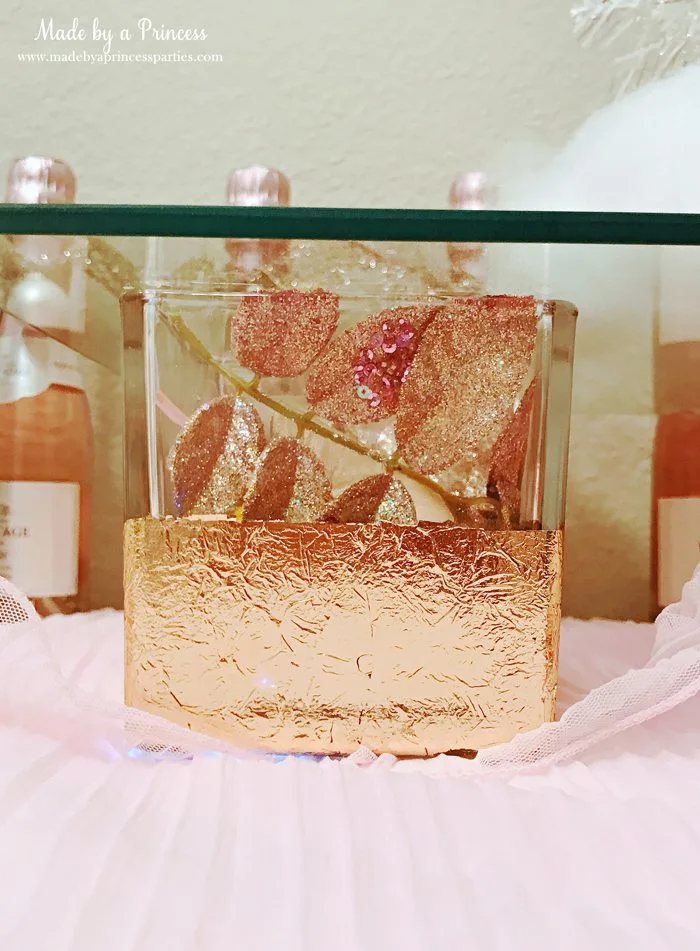 My super talented friend, Maegan, of Maegs Bakes Cakes created these totally Original "Bauble Bites". They are adorable! They come with hooks ready to put on the tree for guests to find and then take home as a party favor.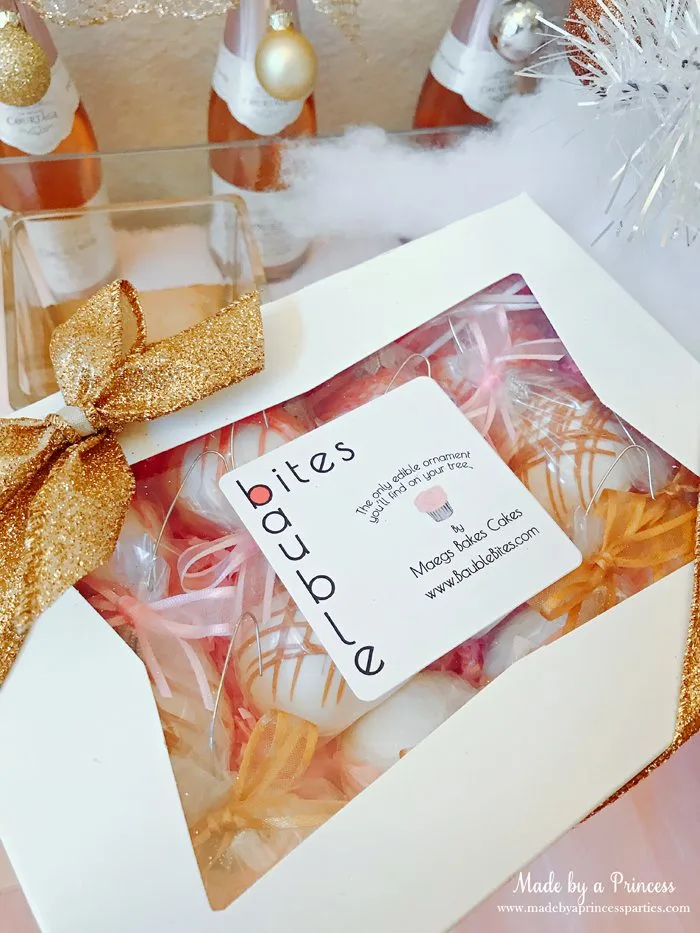 How cute are these?!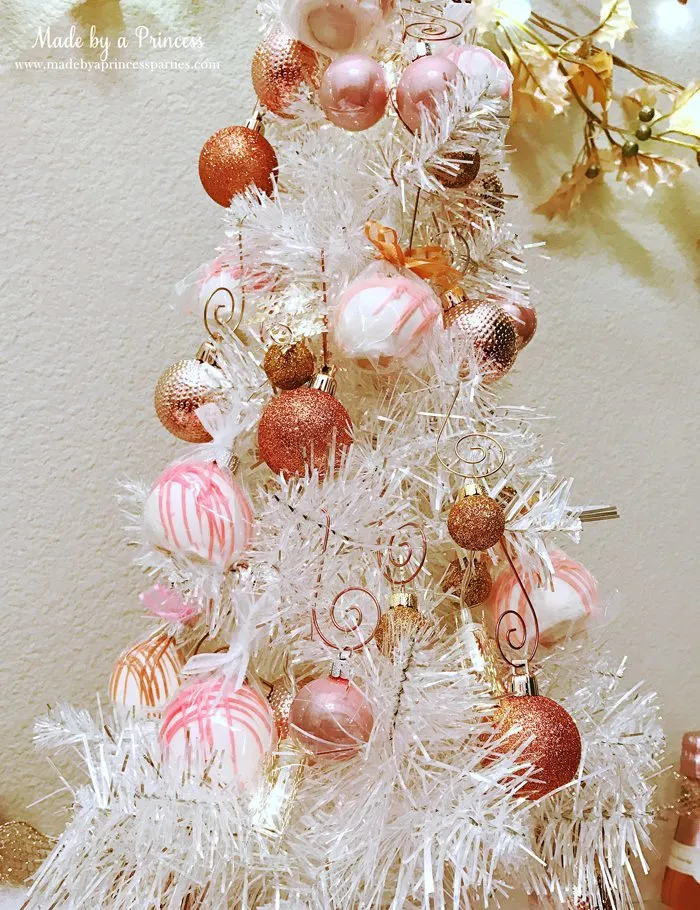 Oh champagne…how I love thee. It's not a party without the champs. I love love love Le Grand Courtage. Their instafeed is totally on point and their Brut Rose…come to mama! I cannot tell you how excited I was that they offered to send me bottles for my party. Like squealing excited. I used the big ones to serve my guests and the little ones were decked out as party favors. Who doesn't want to go home with Bauble Bites and a bottle of champagne? No one I know!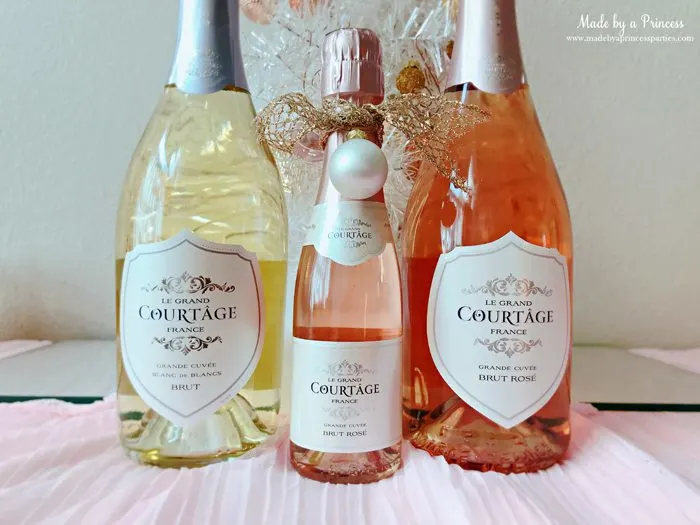 I mean…they're pink…#enoughsaid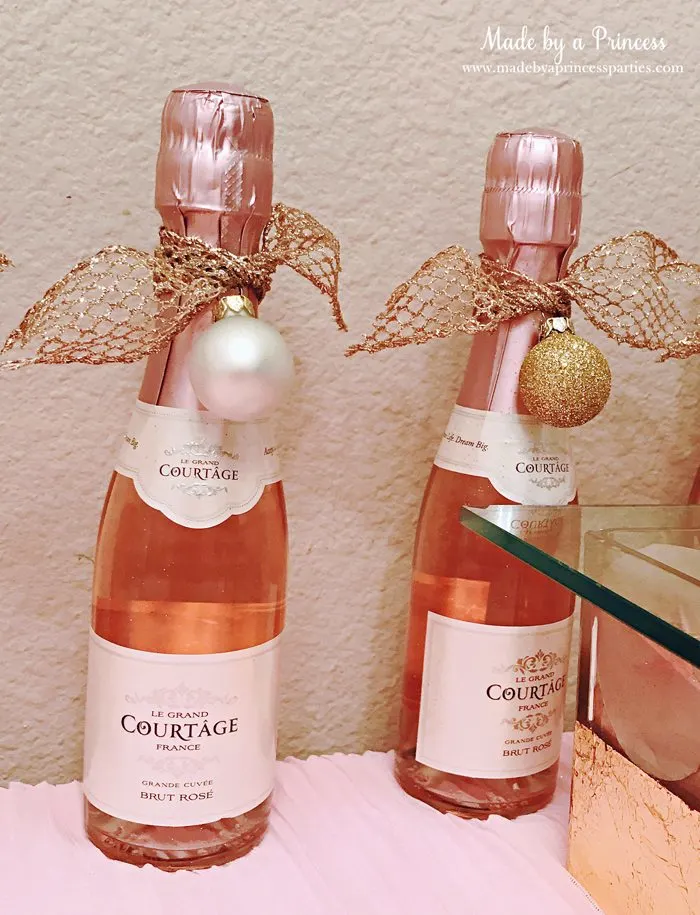 Speaking of champagne…have you ever had a champagne cake? It basically took my rum cake recipe and swamped out the rum for champagne and added edible glitter. This is my very own Champagne Poke Cake with Glitter Champagne Glaze recipe. I will definitely be making one for New Years Eve…and my birthday…and Valentine's Day…and next Sunday. Any day really. Any. Day.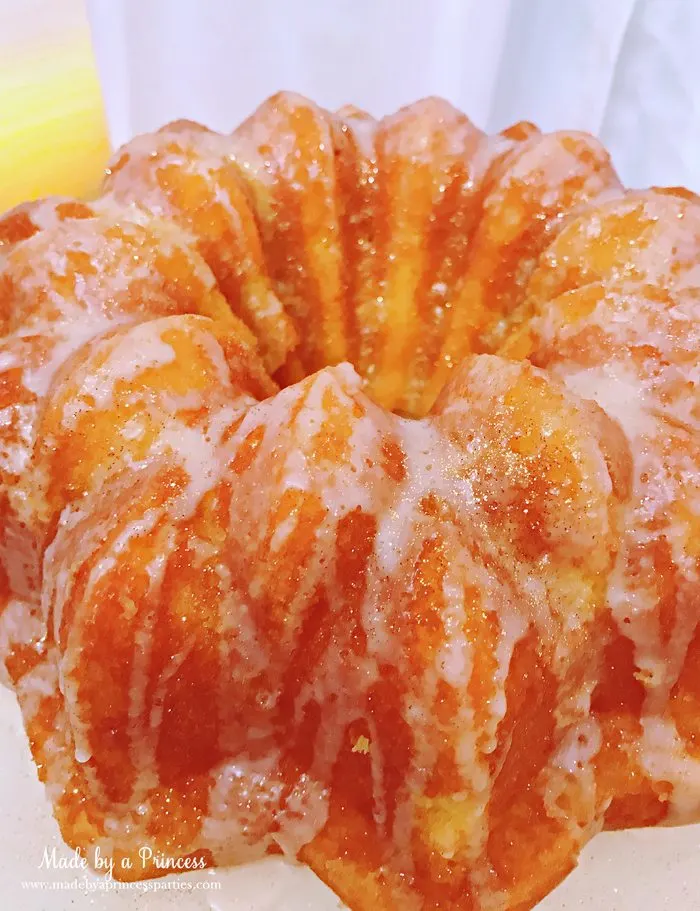 I had so much fun designing these custom napkins. Little things like this are so appreciated by your guests because they are unique and unexpected. My friend, Peach, didn't even want to use it because she was afraid of getting it dirty. I kept telling her they were intended to be used but she said they were too pretty. I sent her home with three (one for her, one for her mom, and one for her little girl who happens to be one of my daughter's besties) so she could enjoy them again and again.
I used Expressions Vinyl Rose Gold Glitter Heat Transfer for this project on my Silhouette machine. I played around with a number of different images but settled on this one because it tied in the snowflakes and wintery theme so well.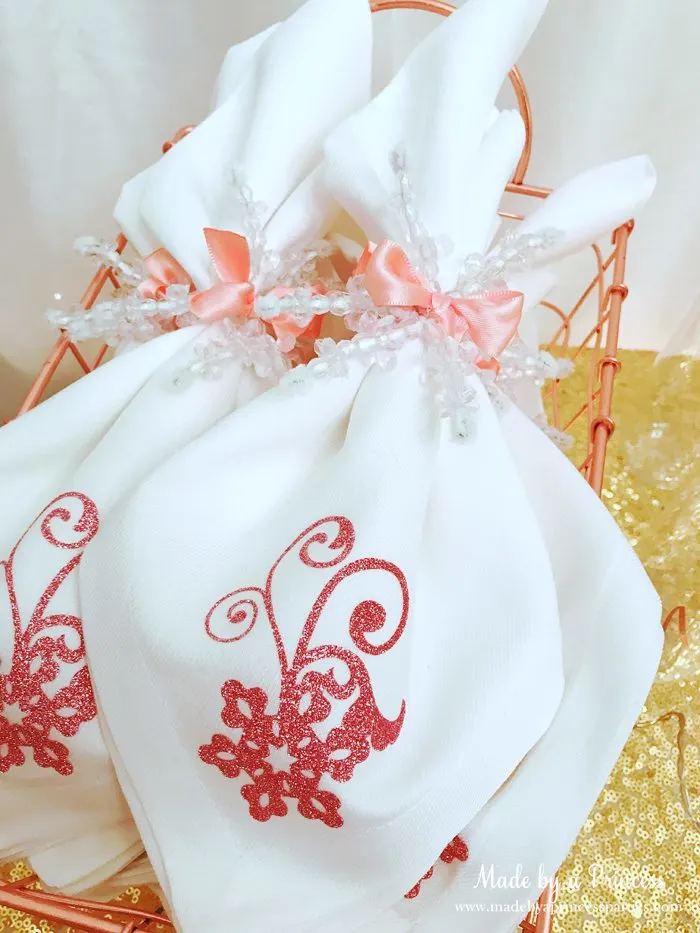 The napkins and basket are both from World Market. It's actually a copper gift basket kit but I thought it would be perfect to hold napkins instead.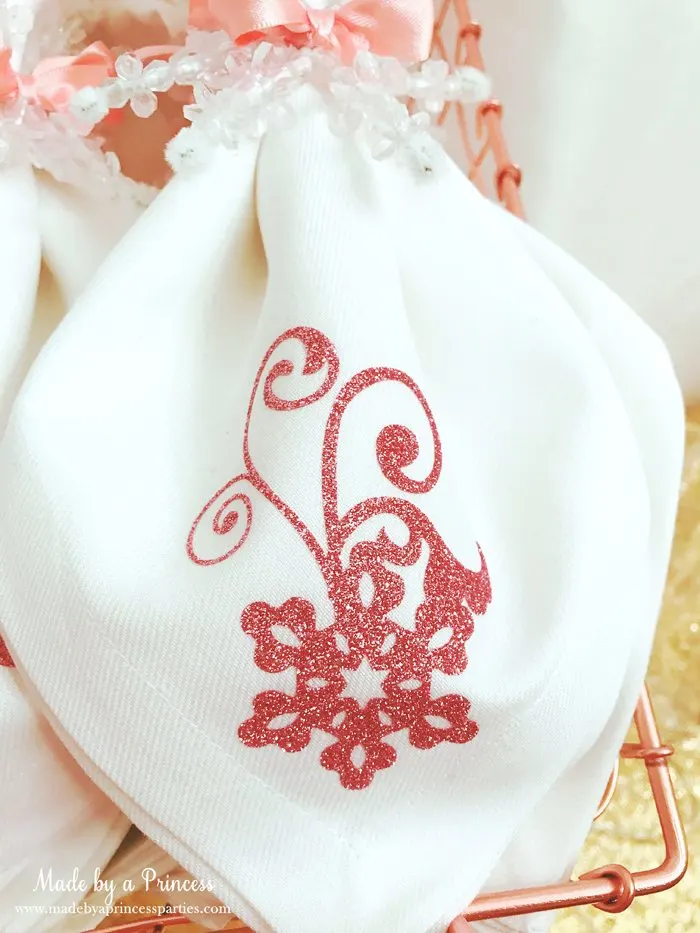 Another really cute DIY I created were these snowflake napkin rings. They are actually snowflake ornaments from Oriental Trading Co. I didn't add the ornament string but instead wrapped ribbon through it and around the napkin.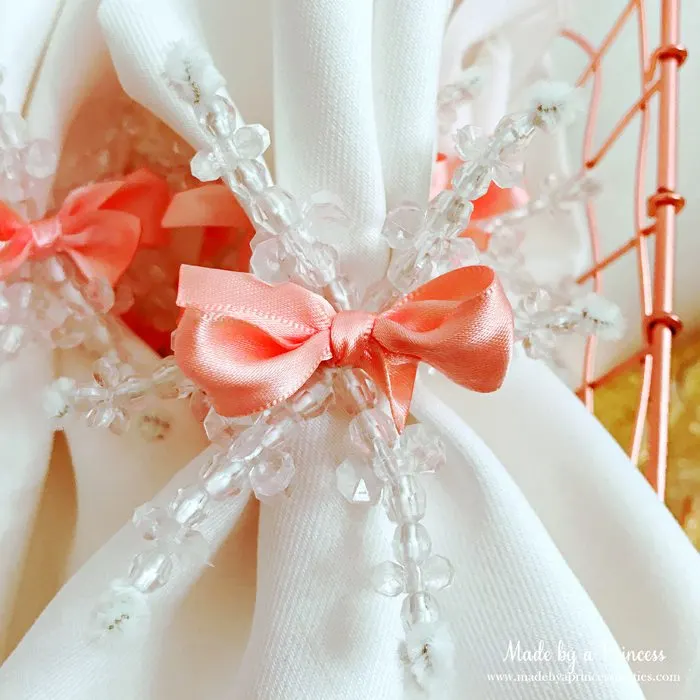 Wouldn't you love getting your own personalized glass at a party? I've created custom glasses for parties before but this is the first time I personalized them. I used Expressions Vinyl Rosy Polished Metal for this project. You can't really tell just how pretty the color is in these photos but I promise you they're so shiny and the perfect shade of rose.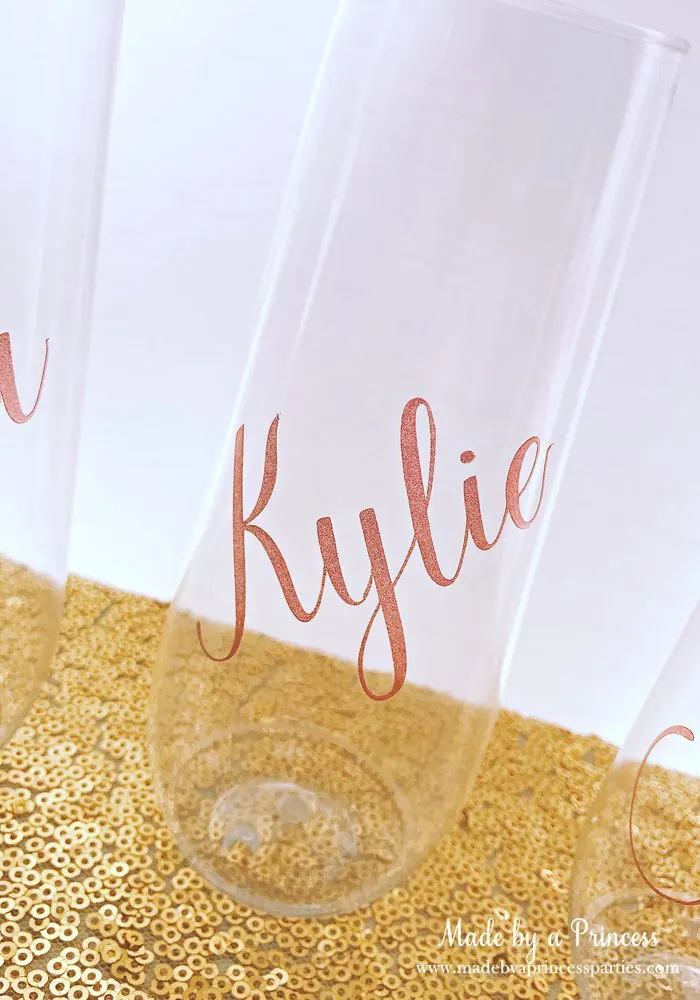 Since these can double as party favors they are super affordable to make. Each glass cost less than $1.25 to make. You can't beat that.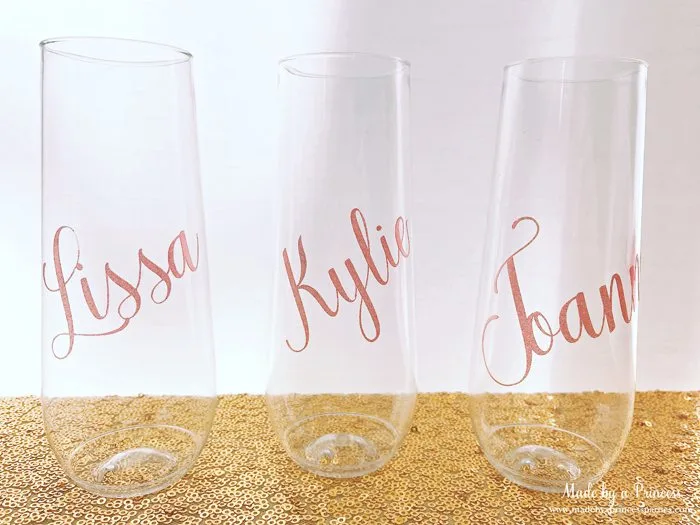 I've got one more DIY up my pink sleeve here. Guest hand towels. You don't give them much thought do you? Maybe you pick up a pack on sale once a year and bring them out on those rare occasions you remember you have them? You don't have to do that anymore because you can make your own disposable hand towels to match your party. Yes, I said disposable. Trust me. As I was setting the Thanksgiving table last year I came across some personalized disposable napkins I received as a thank you gift eons ago. They kind of feel like fabric but they're not at all. They are just really nice heavy duty paper napkins.
As I am looking at these napkins that voice in my head starting talking, "Can I vinyl these? I wonder if I can vinyl these. I bet I can. I think I can. Can I? I will. Yeah, I can totally vinyl these. I am going to vinyl the heck out of these and they're going to be amazing!" Guess what friends? It worked and they were beautiful! I used Expressions Vinyl Rose Easyweed Electric Heat Transfer and premium linen feel guest towels and set them in a simple clear towel tray.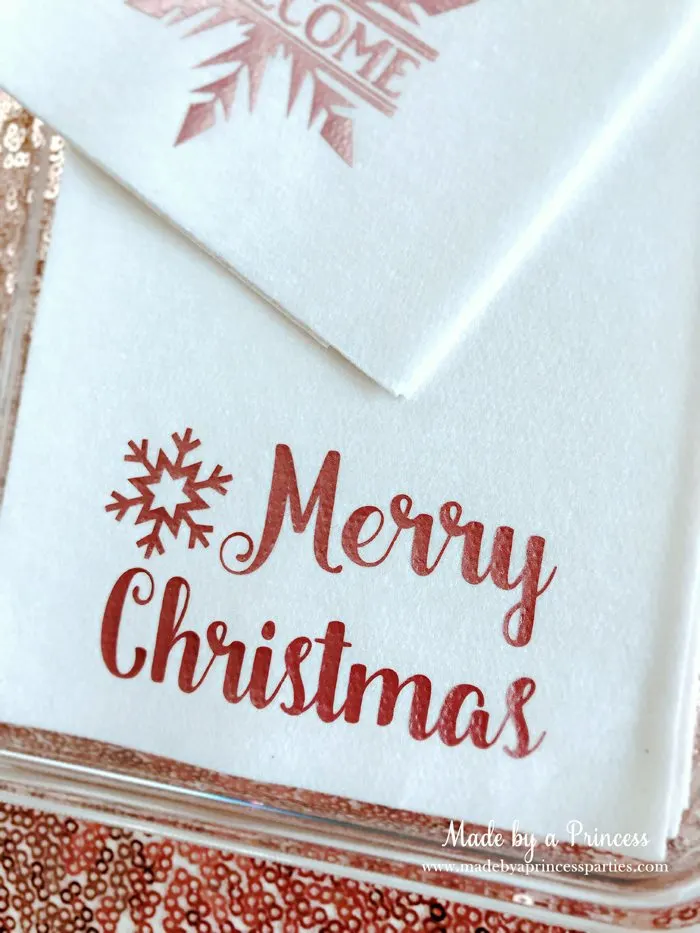 Now for our Italian Cream Soda Bar. (You can read about why I was obsessed with these in college in my How to Make an Italian Cream Soda Bar post.) None of my guests had ever had an Italian cream soda which made this even more fun because they had no idea what to expect. They loved it! I purposefully offered smaller glasses so they wouldn't feel guilty about trying every flavor. This is something you could do for just about any party or any theme because there are so many Torani flavors to choose from.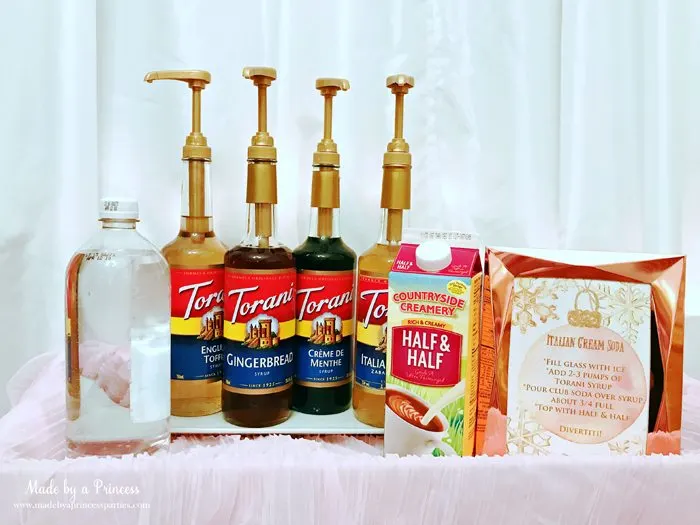 Here's my friend, Lily…doesn't she look so happy creating her own drink? Another Italian cream soda lover right here!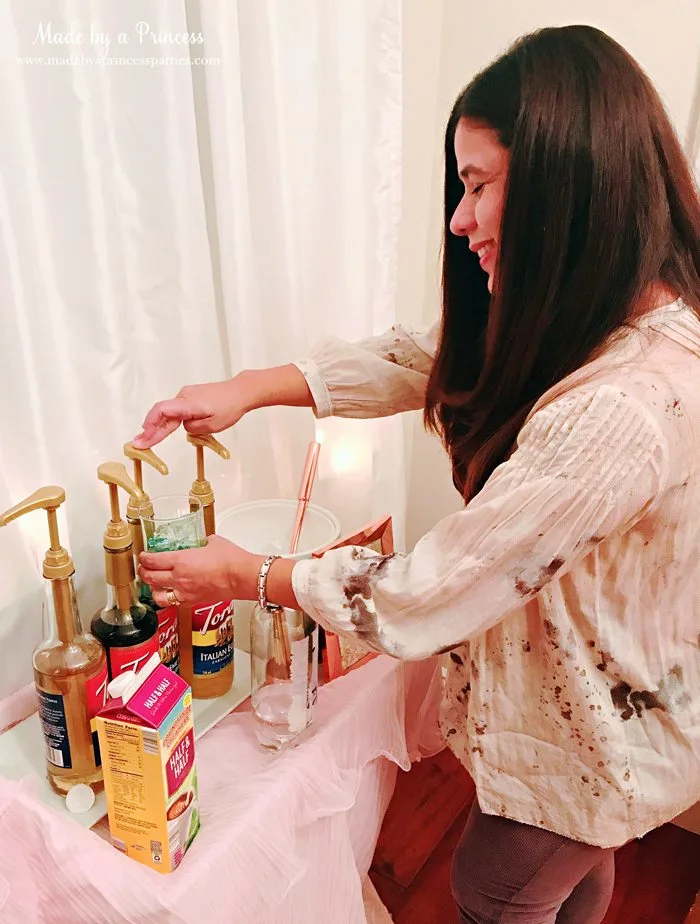 Ok friends…you've come to the end. Phew! That was a long one. Thank you to World Market, Le Grand Courtage, Oriental Trading Co, Torani, & Expressions Vinyl for sponsoring my Rose Gold Winter WINEderland Holiday Wine Tasting Party. My friends and I had a lovely time catching up before the craziness of the holidays really began.
Happy Holidays, Party Princesses!