Decadent Gingerbread Cheesecake with fresh cinnamon whipped cream is like taking a bite of Fall.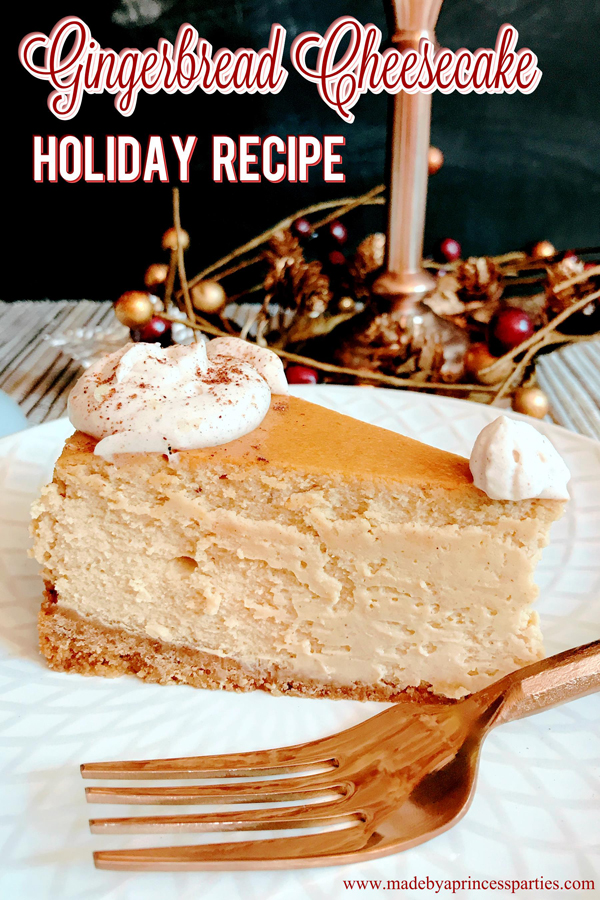 The smell of gingerbread takes me right back to when I was a child and my mom baking gingerbread house pieces in the kitchen. I love all things gingerbread and I love cheesecake so I thought it was time I brought the two together. I'm so excited to be sharing my original recipe for my gingerbread cheesecake today. If you love the taste of gingerbread I think you're really going to like this. 
Gingerbread Cheesecake Dessert Recipe
Gingerbread House Family Tradition
I used to love making gingerbread houses at Christmas time. My mom and her friend, Diane, would bake these amazing houses for us to decorate and I remember the most difficult part was waiting for the houses to dry so we could load them up with candy. I can still picture the houses on the kitchen table with soup can on the inside and out to prevent the walls falling over before the royal icing had time to set.  Oh the agony of waiting all night for the icing to dry…it felt like sheer torture!
Now, so many years later, whenever I smell gingerbread I can't help but think of those fun afternoons piling candy on our houses and saying a silent prayer that the houses didn't cave in. I haven't made a gingerbread house in ages but I still crave that taste and smell.
Gingerbread cheesecake is our new favorite thing
Last year I made a gingerbread creme brulee that was absolutely sinful (recipe for that coming soon) so this year I decided I needed to go all out and come up with a gingerbread cheesecake recipe. My son loved it so much that he said he no longer wants pumpkin pie at Thanksgiving, he might even want this to be his new birthday cake (in June), and that I should take orders. That is quite an endorsement. Thank you, Glenn!
Pick up supplies at Cost Plus World Market
Before you get started you are going to need to head to Cost Plus World Market and pick up some baking products like Saigon Cinnamon, Ground Ginger, Allspice, Vanilla Extract, Nutmeg, Ginger Chips, and Bahlsen Butter Biscuits. I use these spices pretty regularly but I like to stock up around the holidays so I have plenty when I started my Christmas baking.
TIP: Save money and make your own vanilla extract. It's so easy and only takes two ingredients.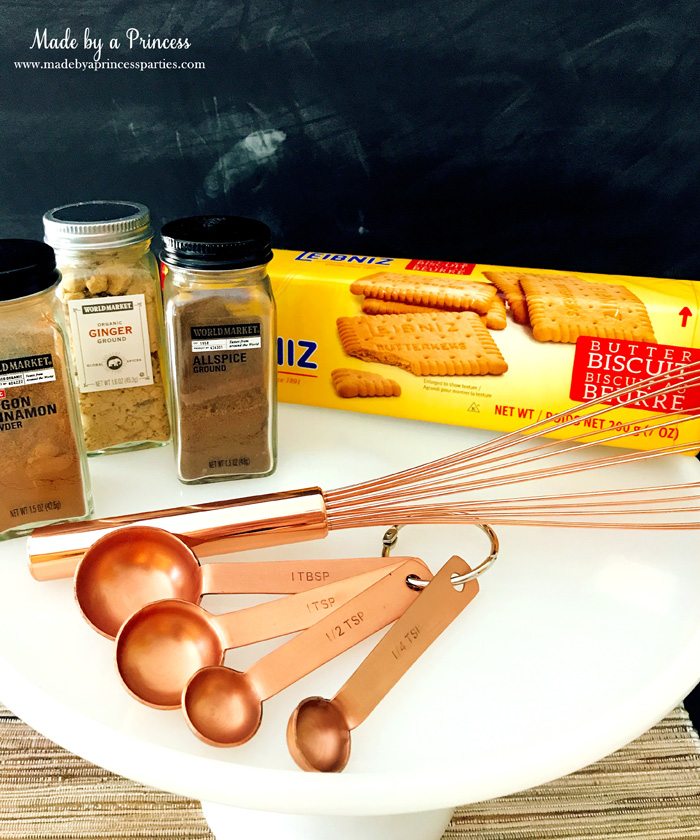 Rose gold baking supplies at Cost Plus World Market
I'm obsessed with rose gold right now. I ditched some of my old bowls to make room for these beauties…aren't they so pretty?! I actually need to go back and get the cute little prepping bowls. *Update* I totally went back and bought those cute prepping bowls! My local store, Oceanside, has a great selection of rose gold items…I might just have to complete the set! Call your local store and see if they have them in stock because come Christmastime these babies are going to be flying off the shelves. If you need to find a Cost Plus World Market around you check out the store locator on their website.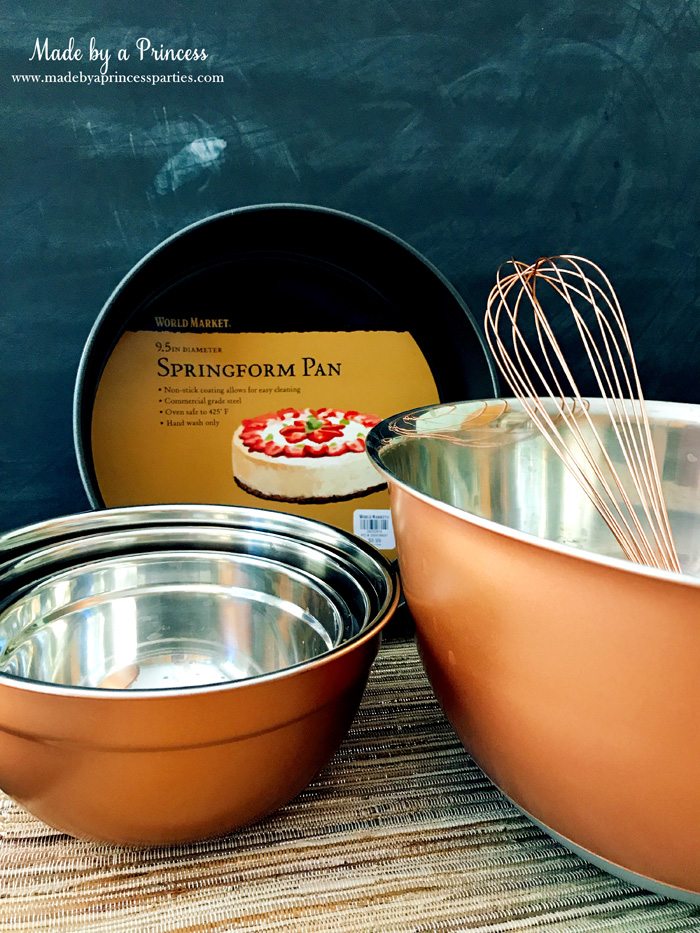 How to make a cheesecake
Let's get baking! The crust for this gingerbread cheesecake is made just like you would a traditional graham cracker crust but we're going to use Bahlsen Butter Biscuits instead. First, put your cookies in the food processor and pulse until the cookies are tiny crumbs. Do this with the whole package. It should make about 2 cups.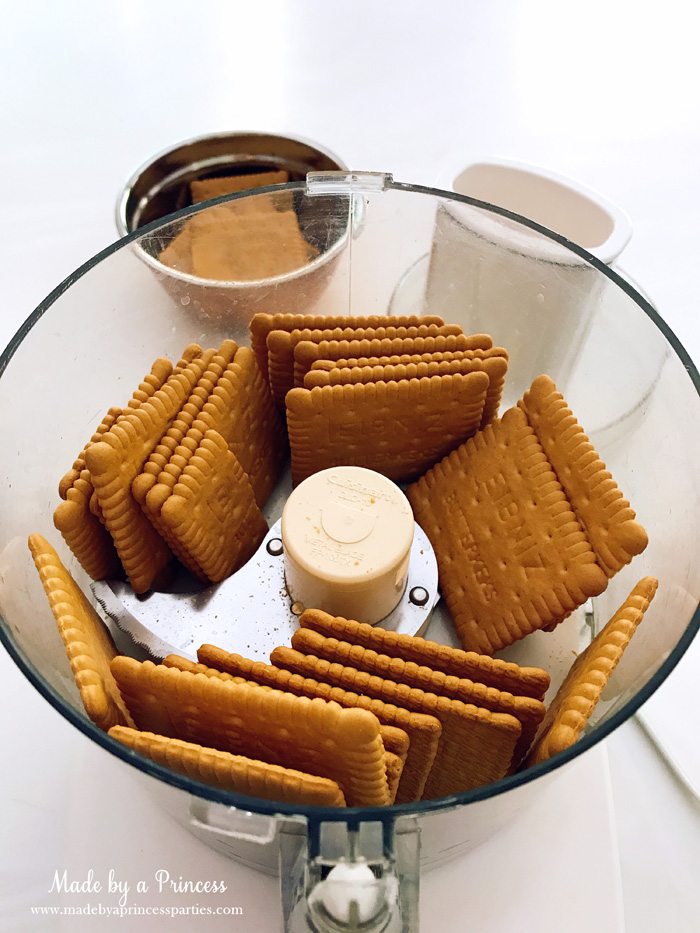 After combining the melted butter, sugar, molasses, and salt press the mixture in the bottom of a springform pan like this 9.5″ springform from Cost Plus World Market.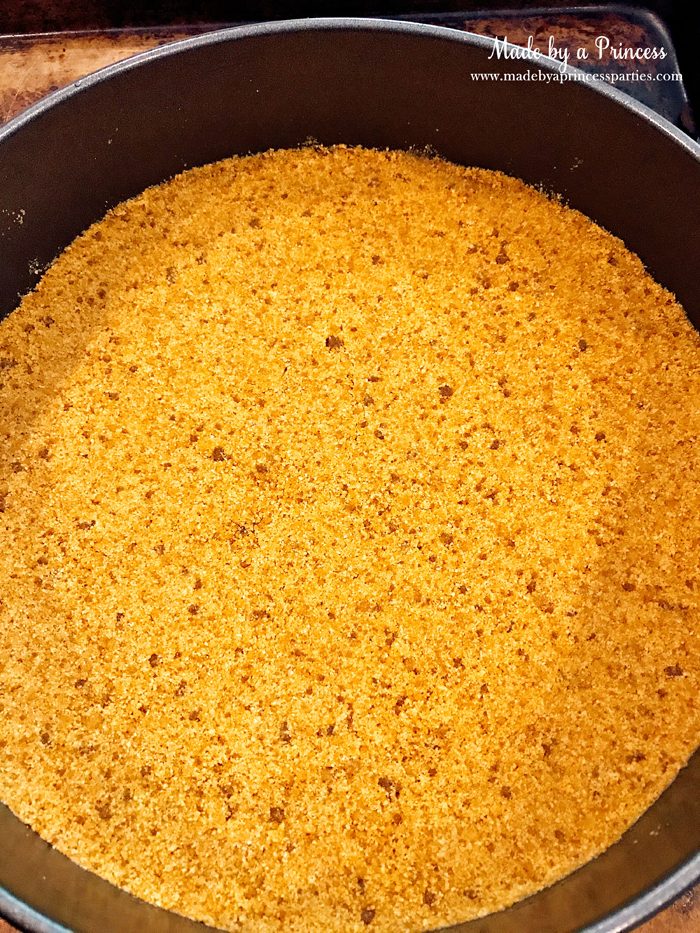 Next, while the crust is baking make the cheesecake filling in a standing mixer (recipe below) and then pour on top of cooled crust.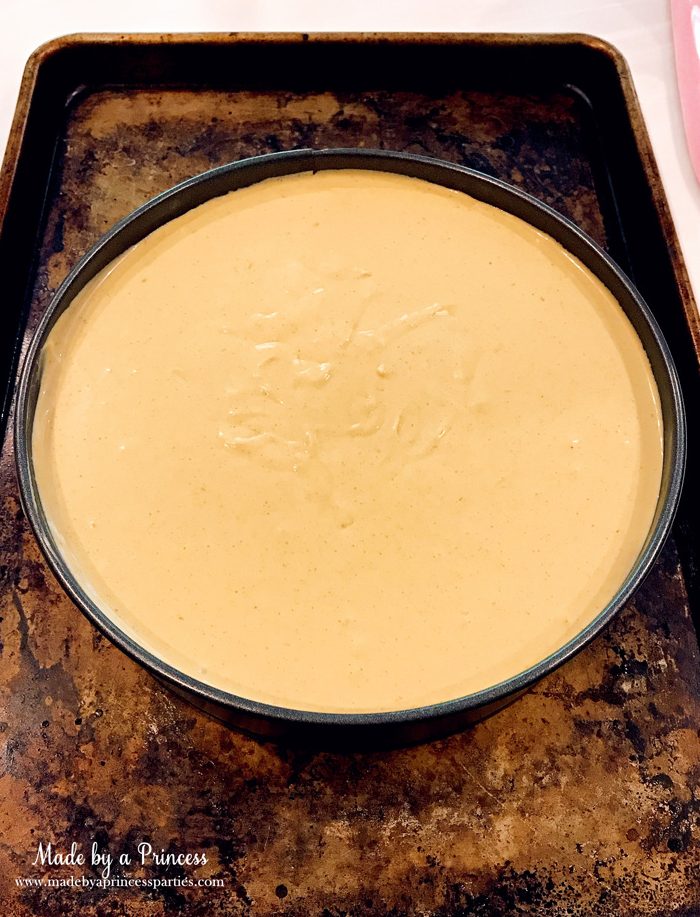 I know I have a 10″ cake pan somewhere but of course I couldn't find it. I did the next best thing and wrapped my 10″ springform with several layers of heavy duty foil. Worked like a charm! After I placed the cookie sheet in the oven I added warm water to prevent spilling all over my floor. There are a number of different ways to bake a cheesecake but I chose the water bath method because it helps with preventing cracks when baking.
*UPDATE* I have made many cheesecakes since this gingerbread cheesecake last year and the only method I now use is putting the springform in a slightly bigger round cake pan not another springform. It works much better than wrapping the springform.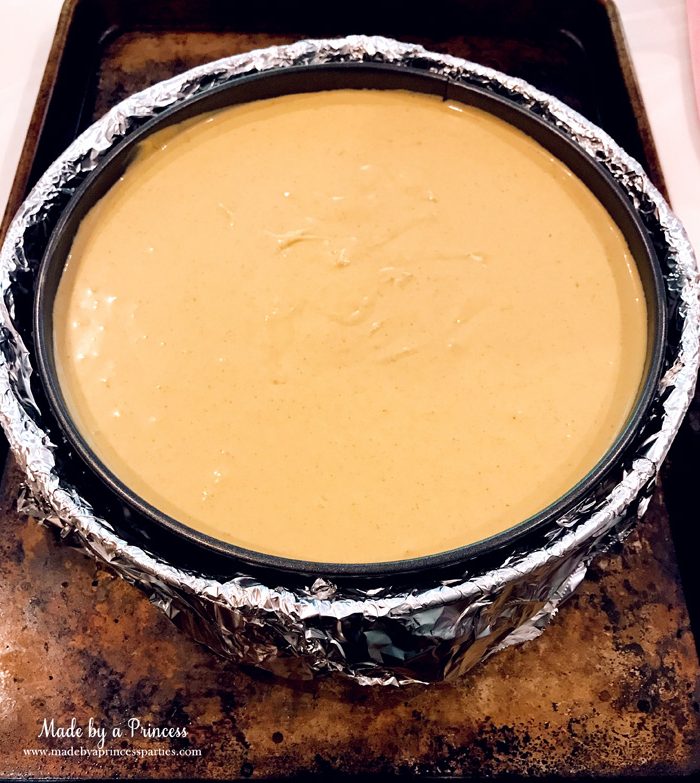 A beautiful golden brown cheesecake with no cracks…yes! Put the cheesecake, while still in the pan, in the refrigerator to chill overnight.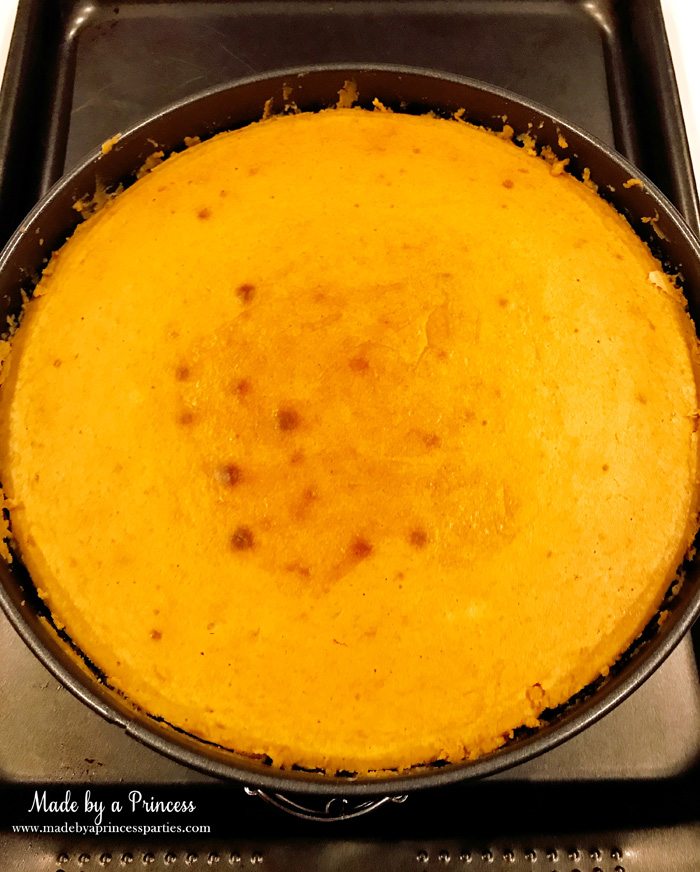 I invited my friend, Andrea, over to try the cheesecake today so naturally I had to set the table with some new pretty things. Those copper champagne glasses are beautiful and those rose gold candlesticks? Love love love! They even have rose gold cutlery at Cost Plus World Market. It's like they knew I was coming!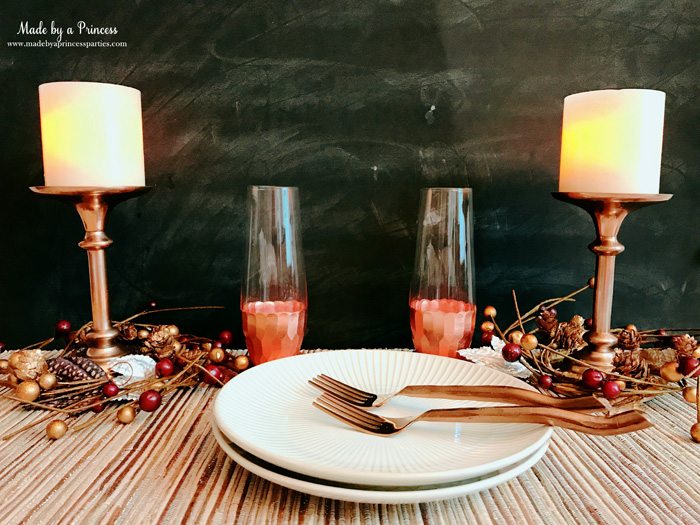 I suggest making sure your pan is well greased so the edges pull away from the pan a bit more easily.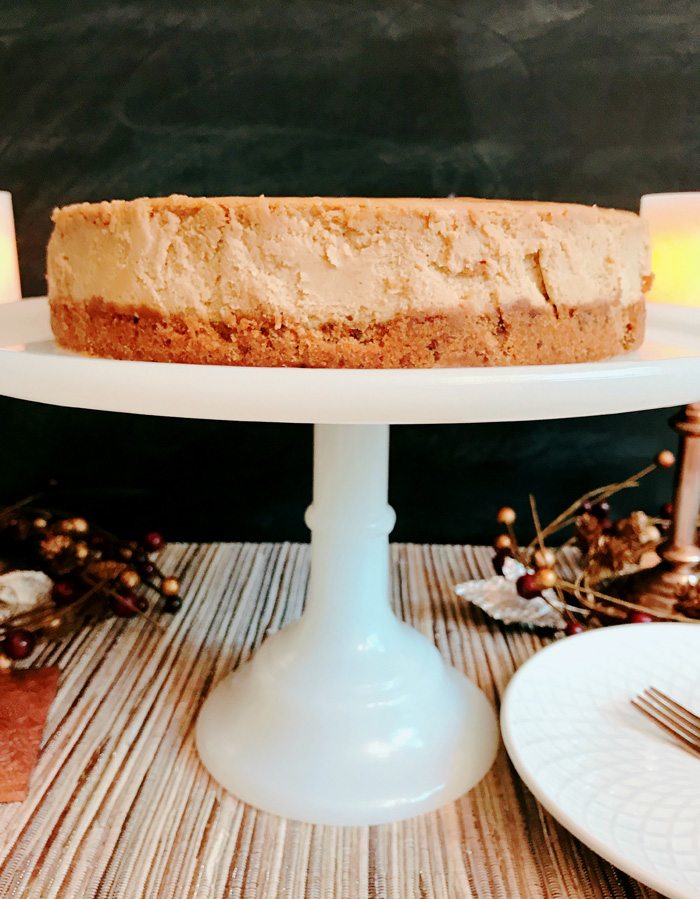 Make a batch of fresh cinnamon whipped cream and sprinkle some Allspice and grated Ginger Chips on top.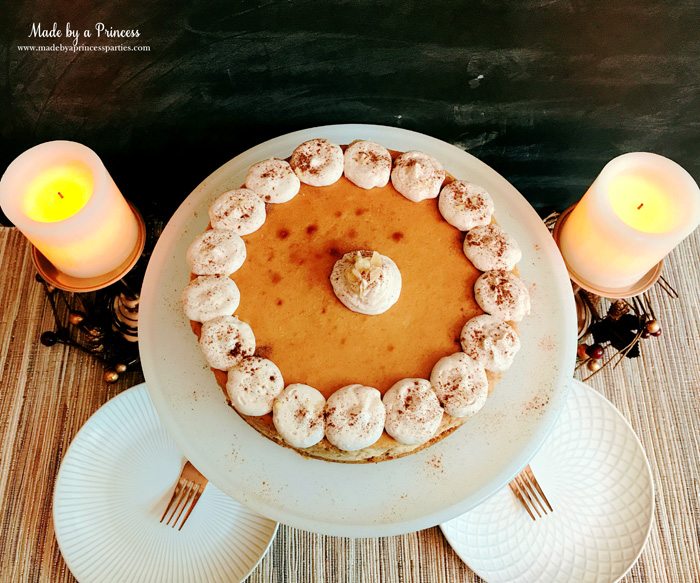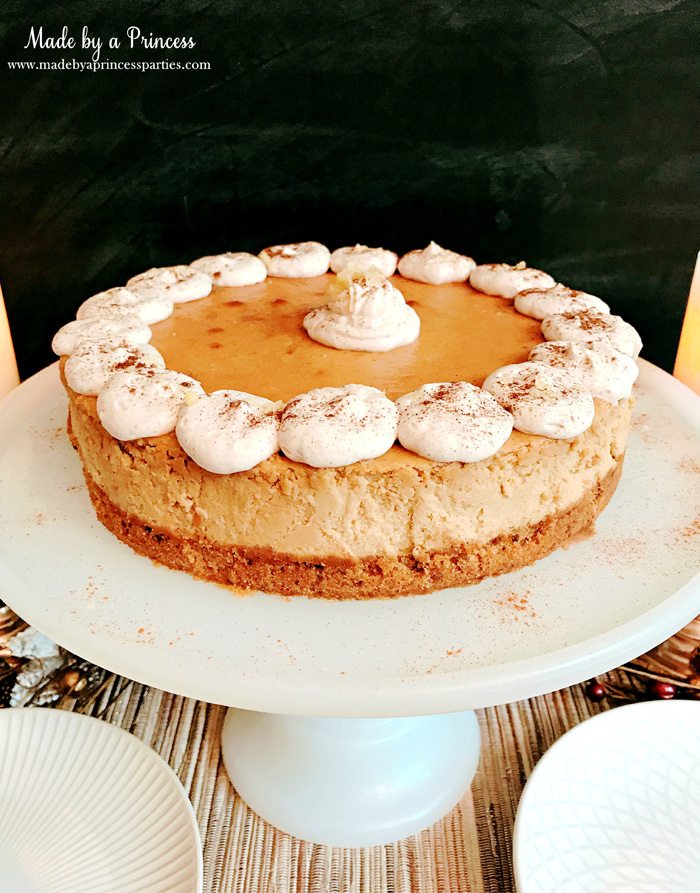 My friend took one bite and said, "It tastes like Fall. I'm biting into Fall." That made me so happy! You get a gingerbread cheesecake! You get a gingerbread cheesecake! Everybody gets a gingerbread cheesecake! This is my new signature dessert and I really hope you enjoy it as much as we do.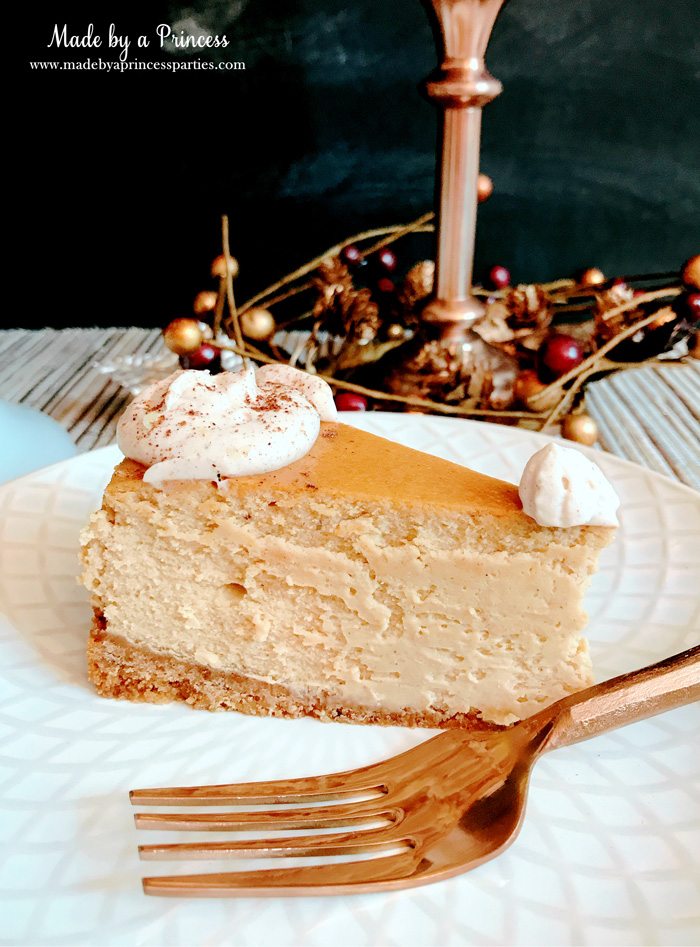 Smooth and silky just like a traditional cheesecake is supposed to be…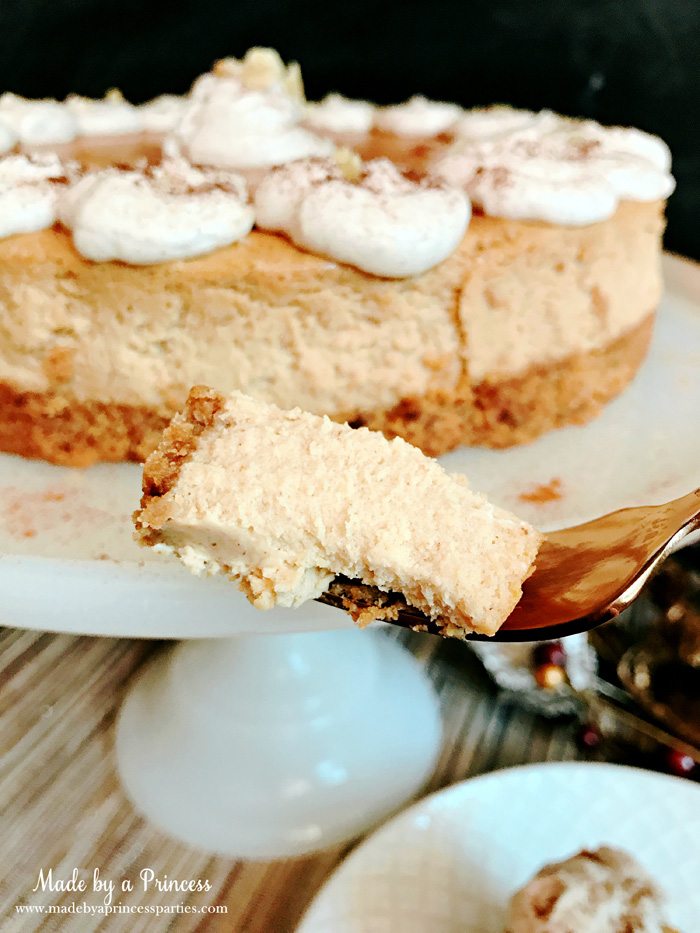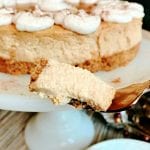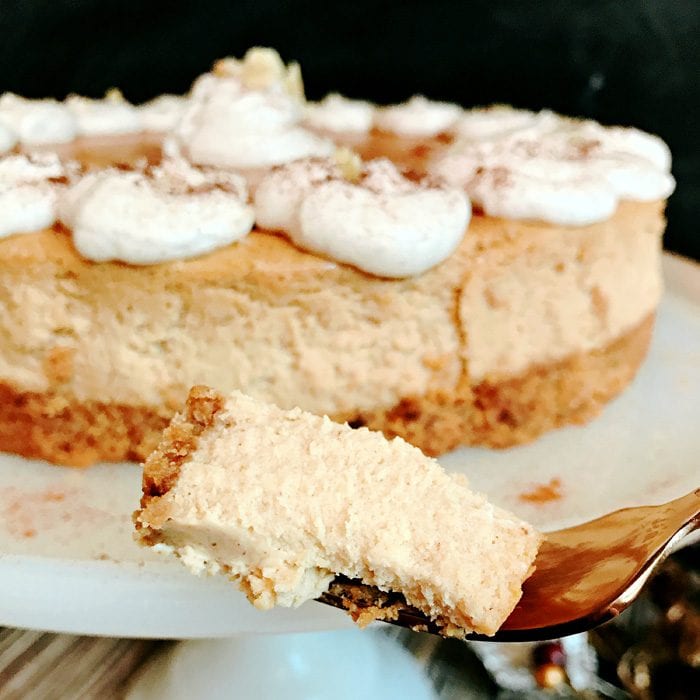 Gingerbread Cheesecake Dessert Recipe
Keyword:
gingerbread cheesecake
Ingredients
Crust
1

package

Bahlsen Butter Biscuits

6

tbsp

melted butter

1

tbsp

dark brown sugar

1

tbsp

Robust molasses

1/8

tsp

salt

1/4

tsp

Saigon cinnamon
Filling
32

ozs

cream cheese

(4) 8 oz pkgs, softened at room temperature

1 1/4

cups

dark brown sugar

1/2

cup

sour cream

2

tsp

vanilla extract

3

tbsp

Robust molasses

2

tbsp

ground ginger

1

tsp

Saigon cinnamon

1/4

tsp

freshly grated nutmeg

3

tbsp

ginger paste or "squeeze ginger"

1/2

tsp

salt

2

tsp

Crystallized Ginger Chips, grated

from World Market

3

tbsp

cornstarch

4

large eggs

room temperature
Instructions
Crust
Preheat oven to 350 degrees

Crust: Crush cookies in a food processor until they become fine crumbs. You should get just about 2 cups out of the Bahlsen package.

Pour crumbs into a medium sized bowl.

Melt butter in microwave and stir into crumbs.

Add sugar, molasses, cinnamon, and salt and mix with a whisk until well incorporated.

Press crumbs into heavily greased springform pan.

TIP: Turn the base of the springform pan over so that the lipped side is on the bottom. This helps when sliding the cake off the pan.

Bake crust in oven at 350 degrees for 8-10 minutes until golden brown.

Let crust cool completely while you make the filling. You can put the crust in the refrigerator to speed up the cool time.
Cheesecake
Reduce oven to 325 degrees.

Filling: In the bowl of a standing mixer cream together cream cheese, sour cream, sugar, spices, molasses, ginger, cornstarch, and salt until smooth.

Remove bowl from mixer and whisk eggs in one at a time. Do not over whip as this will cause too much air to get into the egg whites which causes cracking.

Pour mixture over cooled crust and carefully place in a slightly larger cake pan. You may use a slightly larger springform but make sure to seal it by wrapping in heavy duty foil several times to prevent water seeping in.

Warm at least 4 cups of water on the stove or microwave.

Place pans on a large cookie sheet with "walls" or a large roasting pan and put on rack in oven.

Carefully pour water in cookie sheet until it is just about full. If you are using a roasting pan, fill the pan to about 1"-1.5" up the sides of the pan.

Bake at 325 degrees for 1 hour 10 minutes for 9.5" springform pan. If you are using a 9" add 5-10 more minutes and if you are using a 10" decrease time by 5-10 minutes.

Once the cheesecake is done baking turn the oven off and let sit in oven with the door ajar for one hour.

Remove from oven and let cool about 45 minutes. Place cheesecake in the refrigerator for at least 4-5 hours. Overnight is best.

Remove springform ring and slide cheesecake on to a serving platter.

TIP: It will probably not slide very easily right after removing from the frig but you can help it along. Turn a stove burner on low and place cheesecake on the burner for 30 seconds. This warms the butter in the crust just enough to slide off the base.

Serve cheesecake cold and garnish with cinnamon whipped cream.
Nutrition Facts
Gingerbread Cheesecake Dessert Recipe
Amount Per Serving
Calories 414
Calories from Fat 234
% Daily Value*
Total Fat 26g 40%
Cholesterol 122mg 41%
Sodium 419mg 17%
Potassium 208mg 6%
Total Carbohydrates 33g 11%
Protein 5g 10%
* Percent Daily Values are based on a 2000 calorie diet.
I love pairing cocktails with my food whenever possible so naturally I had to create a drink to go with this. This is my Gingerbread Cookie Holiday Cocktail and it is rich, creamy, decadent, slightly spicy, and very very sinful. These go down way too easily. Seriously. You've been warned!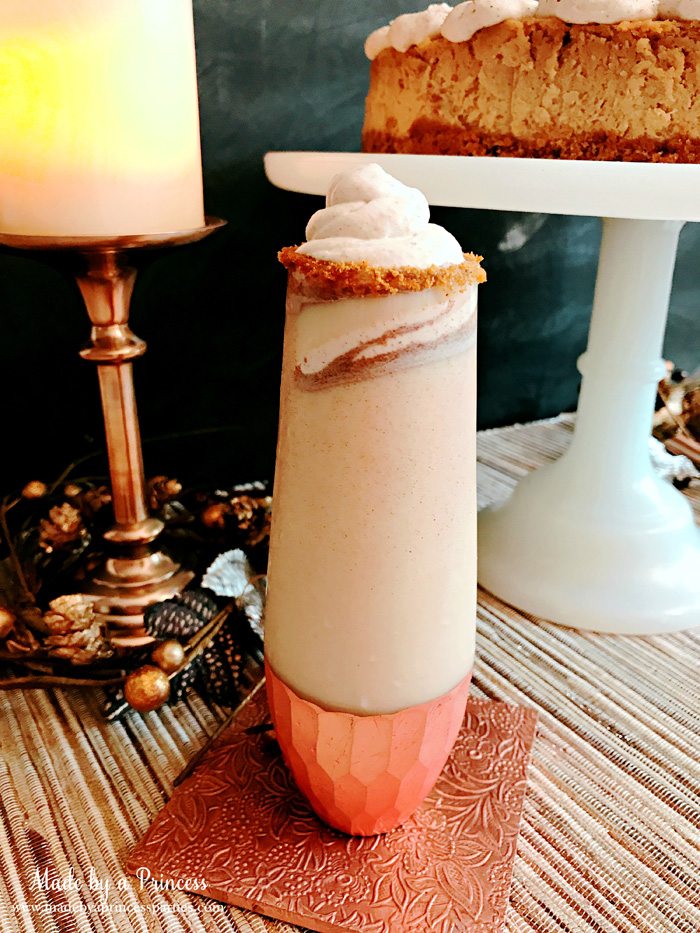 I hope you enjoyed my Gingerbread Cheesecake Recipe! What is your favorite holiday flavor?

This post is sponsored by Cost Plus World Market and does contain affiliate links. All opinions and ideas are my own.