Every unicorn needs a colorful and pretty tail. Check out how in my Unicorn Pony Tail Party Idea Tutorial.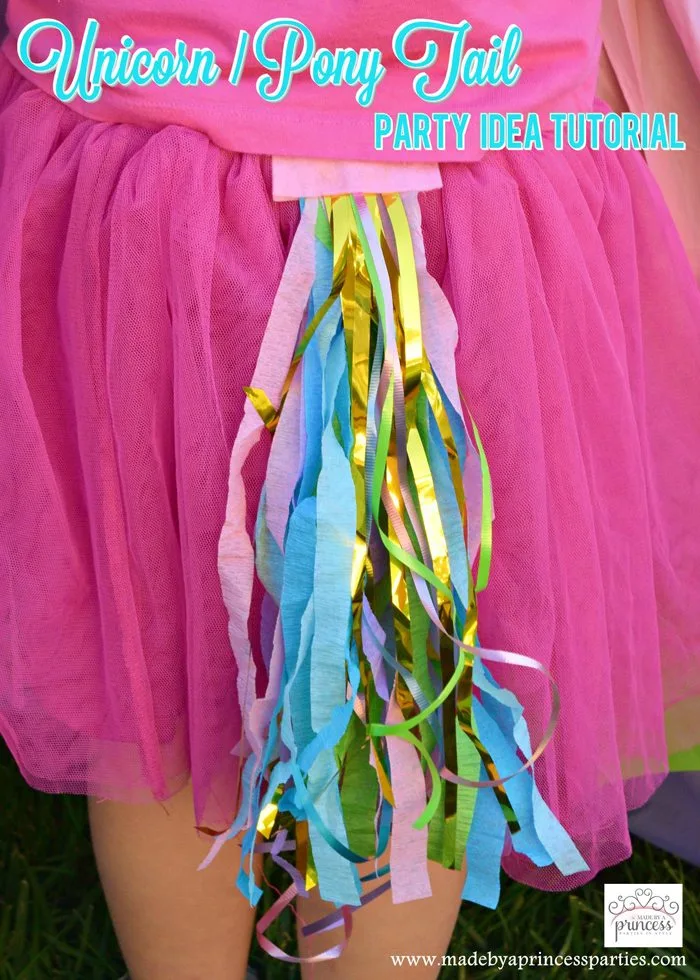 It's hard to be a magical unicorn without a tail! With just a few items you can create these fun and colorful unicorn tails that your little guests will love. When I was planning this unicorn photo shoot my daughter said, "What about our tails? Unicorns have tails." I couldn't argue with her so I assured her she and the other little unicorns would most definitely have tails. I had already made the unicorn princess party hats and had plenty of supplies left over. Before you get started here is what you need:
Needle & thread
Felt sheets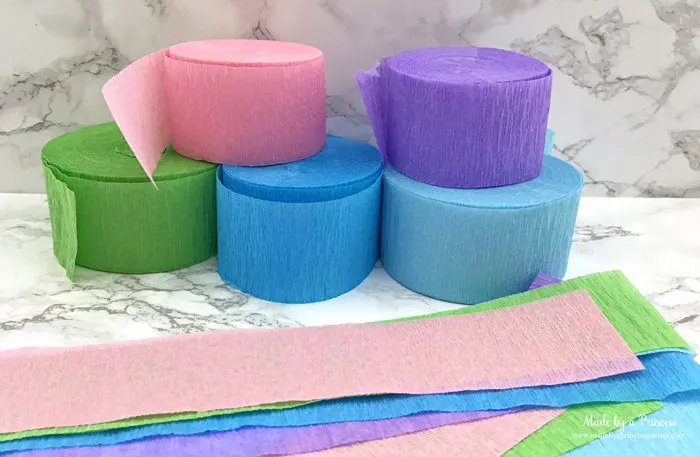 Cut streamers in desired length (I made mine 15″ but you might want them shorter or longer depending on the age of your guests). Cut two of each color.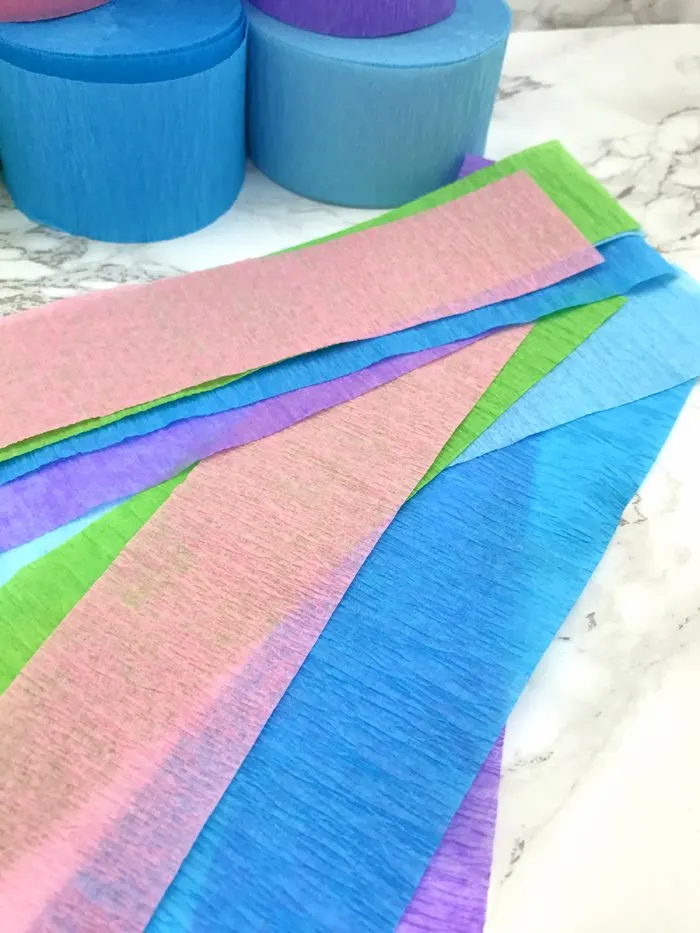 Stack streamers in alternating colors.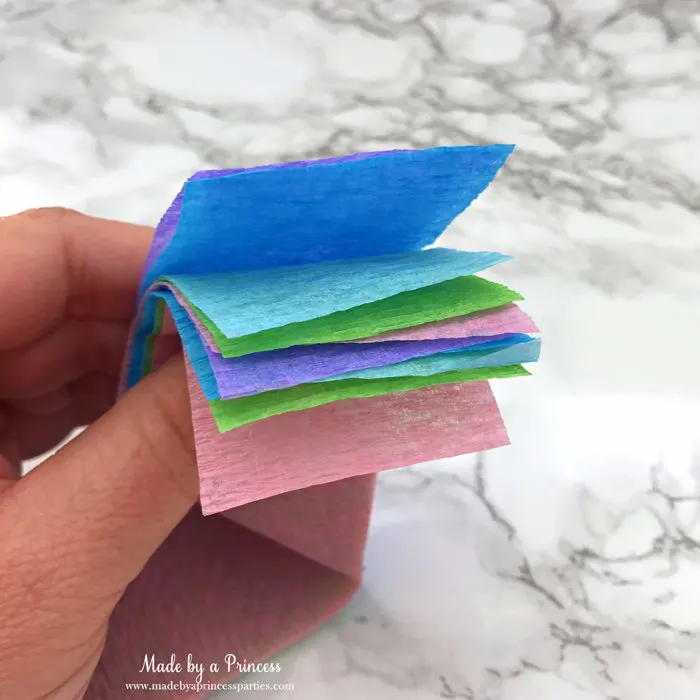 "Sew" stack together.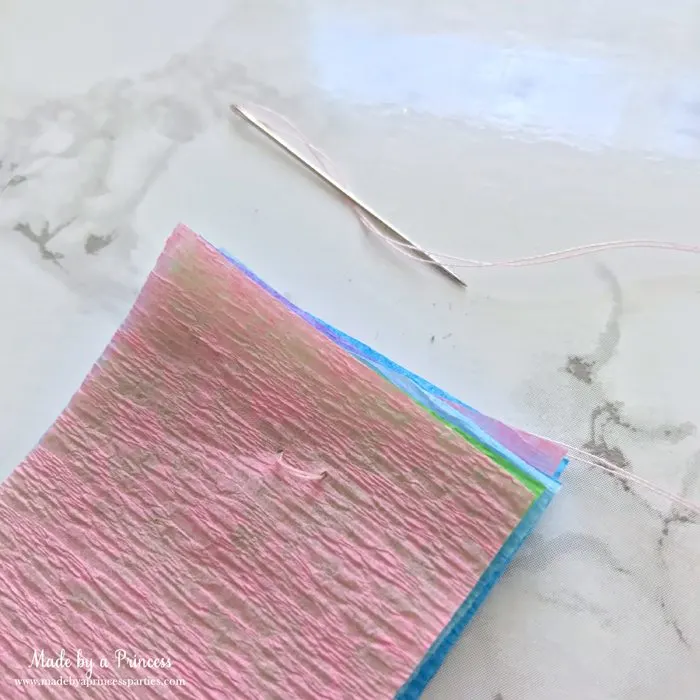 Cut strips into thirds. Make sure to leave at least 2.5″ at the top so your layers stay together.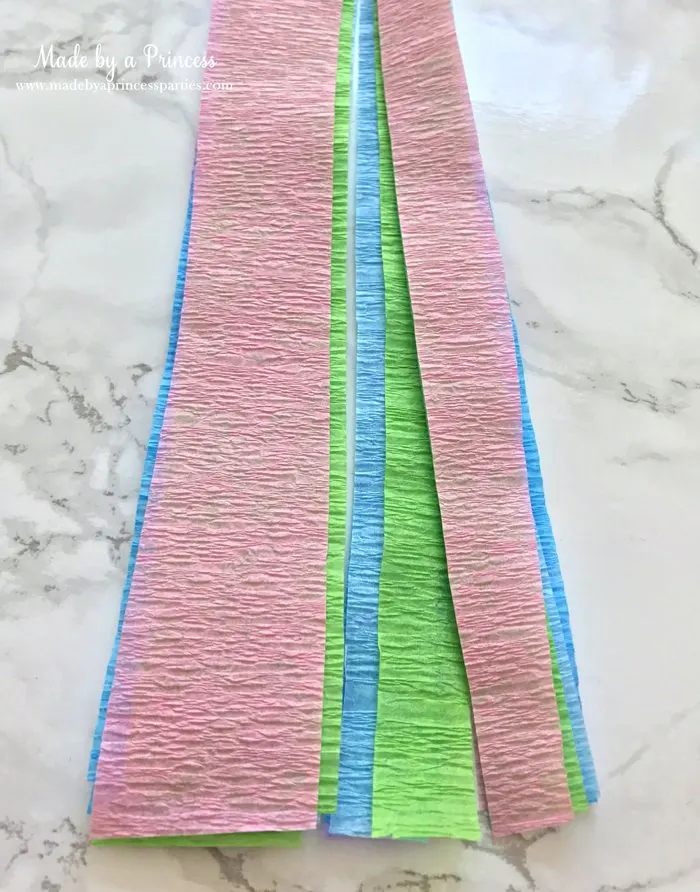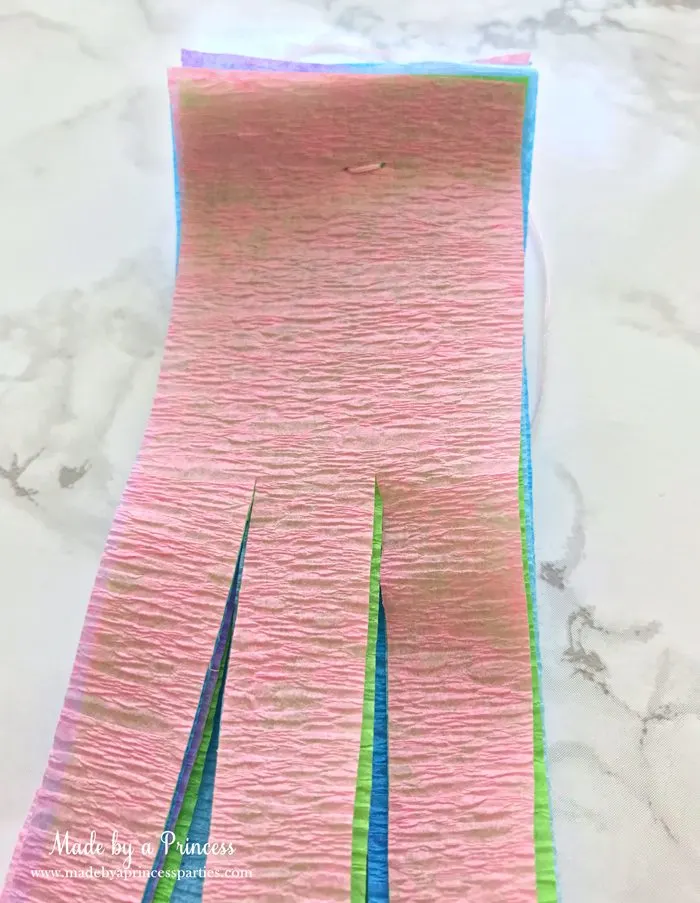 Starting to look like a tail!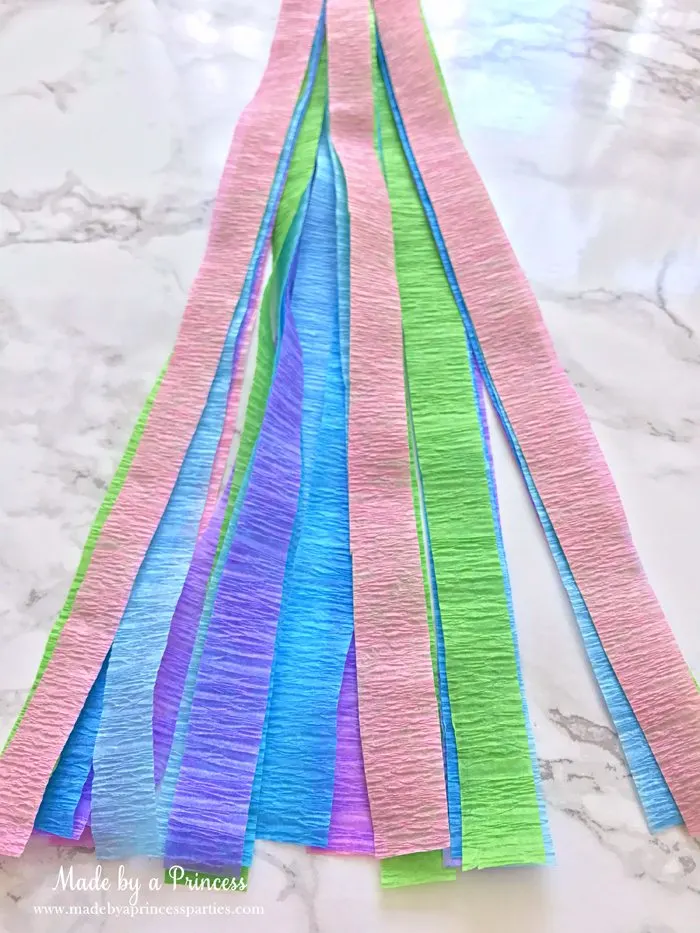 Cut a small section from the gold fringe curtain and trim to 15″.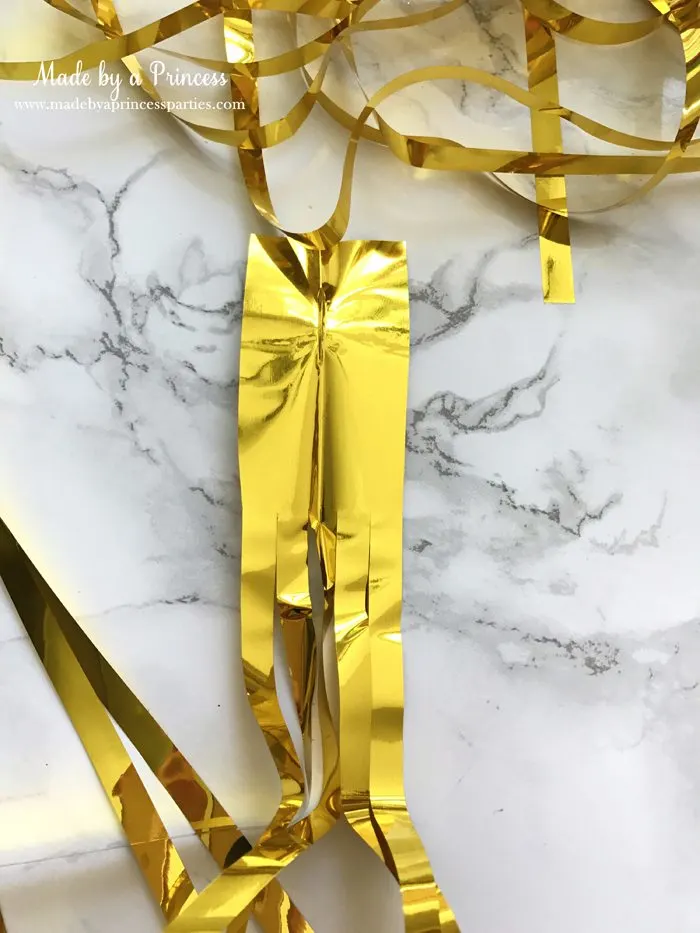 You can also tape gold fringe curtain pieces together.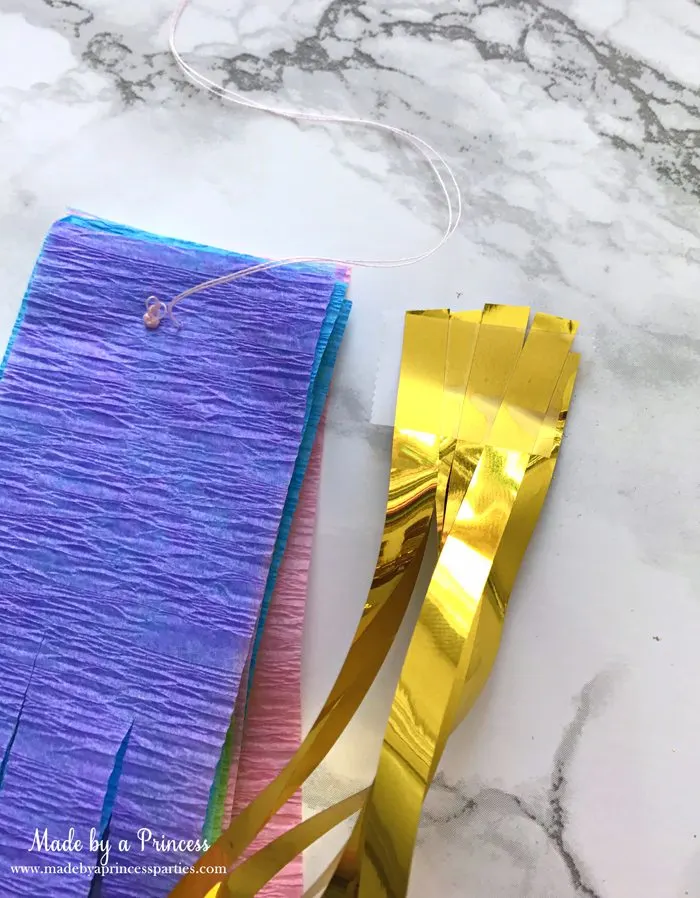 "Sew" gold fringe pieces to the stack of crepe paper streamers.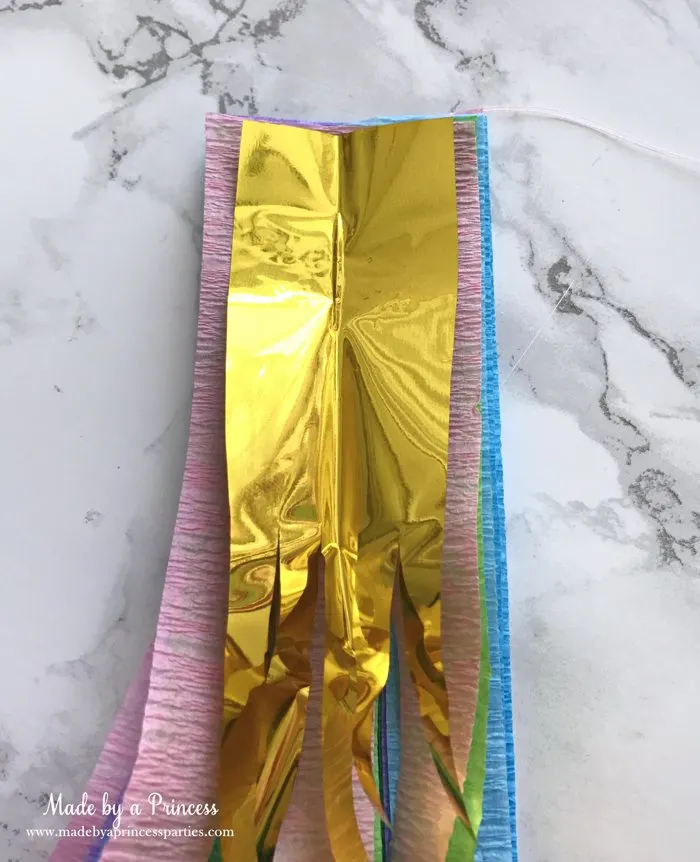 Now cut your curling ribbon in 25″ strips and tie together.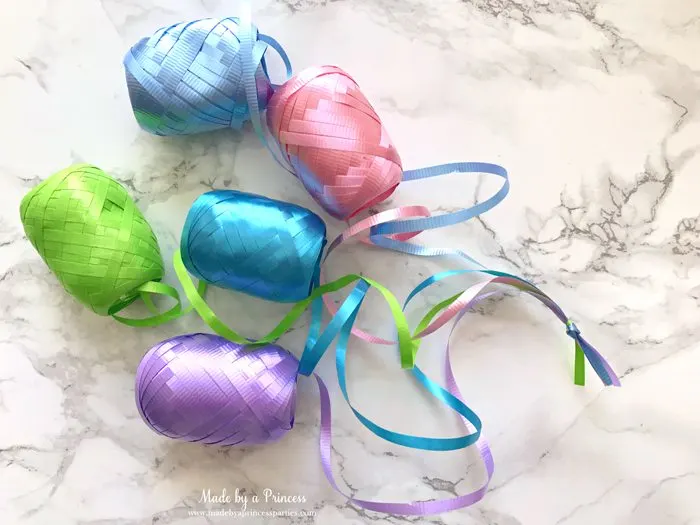 Secure curling ribbon to crepe paper.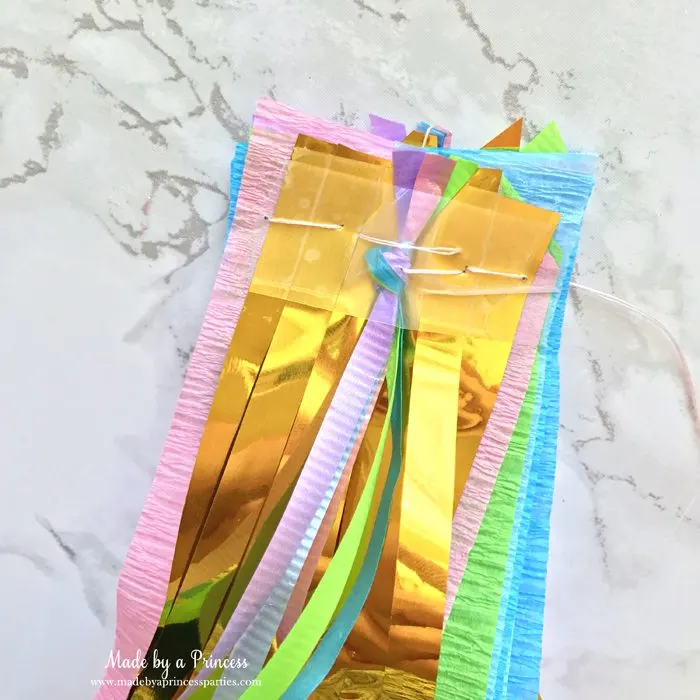 Cut a piece of felt and glue to stack of crepe paper, gold fringe, and ribbon with glue fun.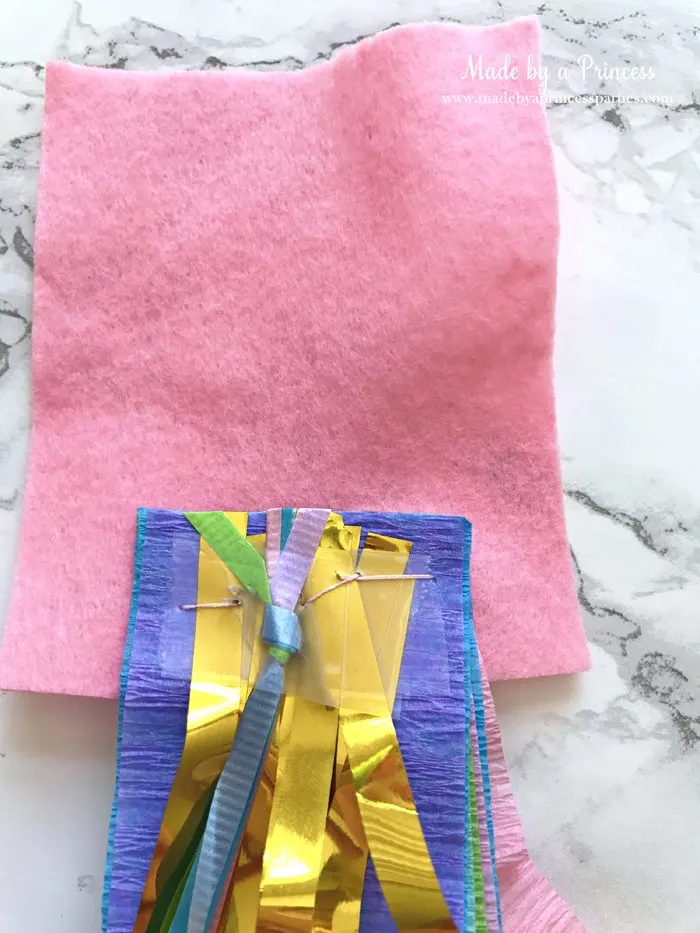 Fold over and glue, leaving the top of the fold open so you can run a ribbon through.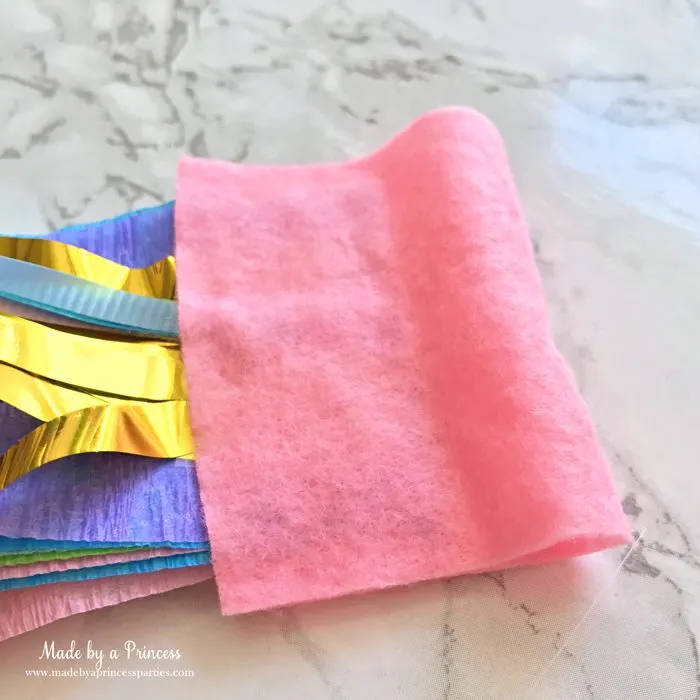 You can either secure with ribbon or string and tie around the waist or you can attach the tail with a safety pin.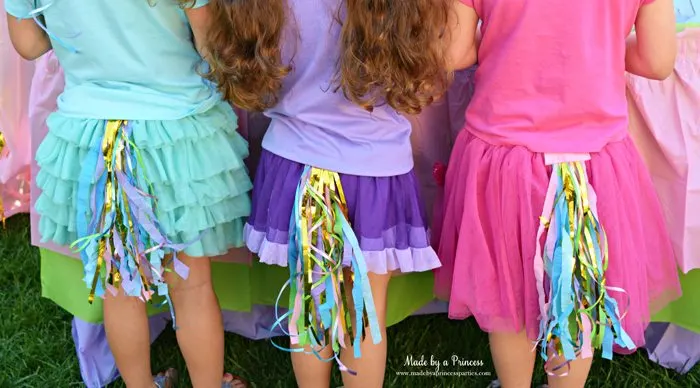 I attached them to the top of their skirts with a safety pin.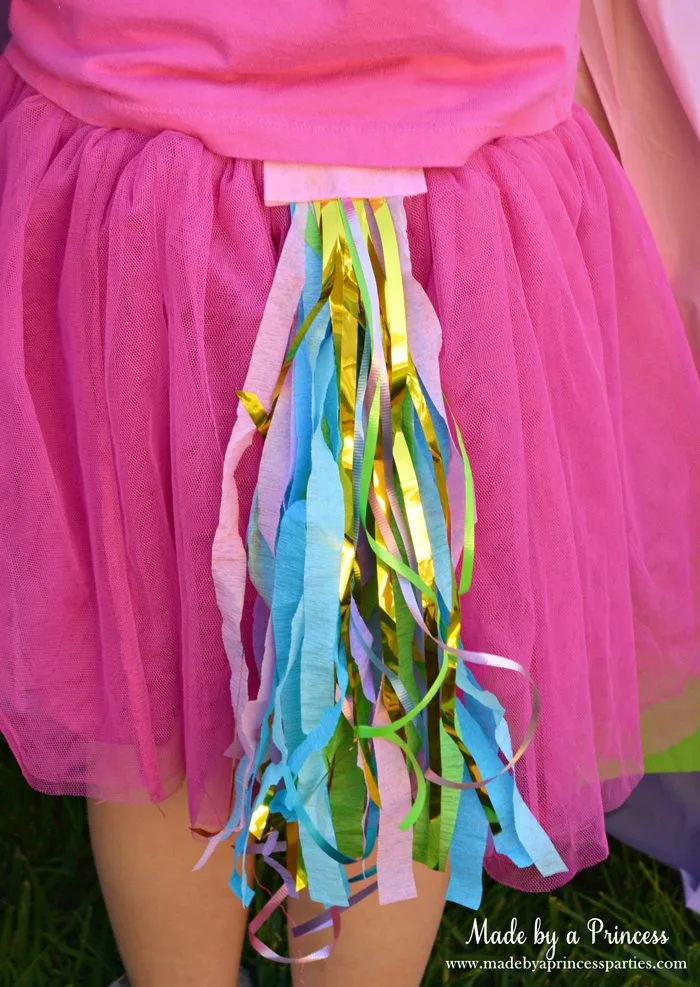 My little party guests adored their tails and I was so happy my little one made sure they had special unicorn tails. I hope you enjoyed my Unicorn Princess Party Hat Idea Tutorial!
If you like this you might also like these other Unicorn Party ideas:
Unicorn Princess Party Hat Tutorial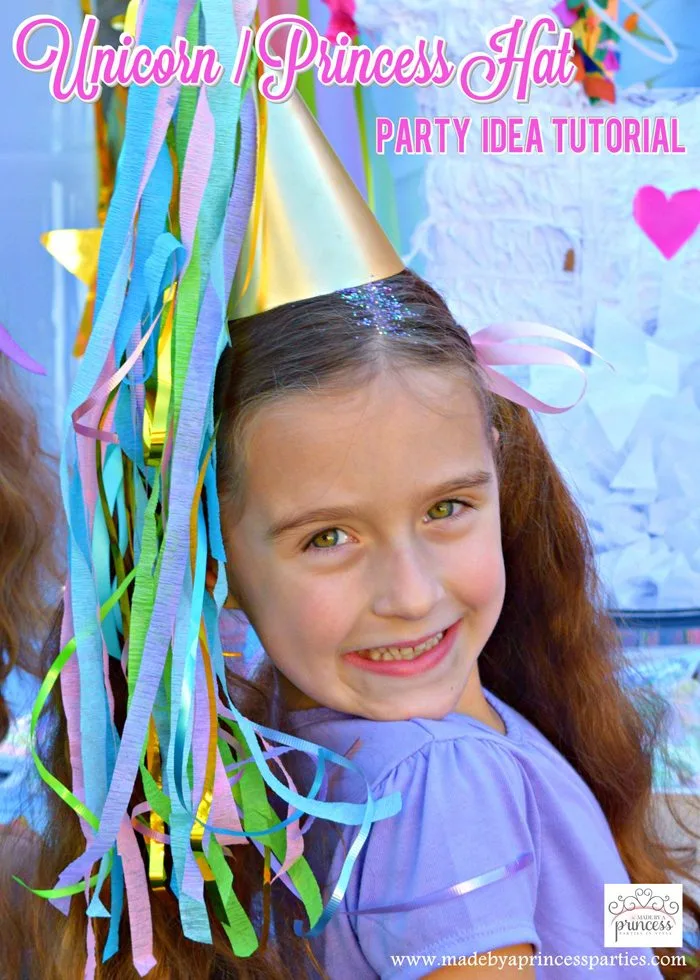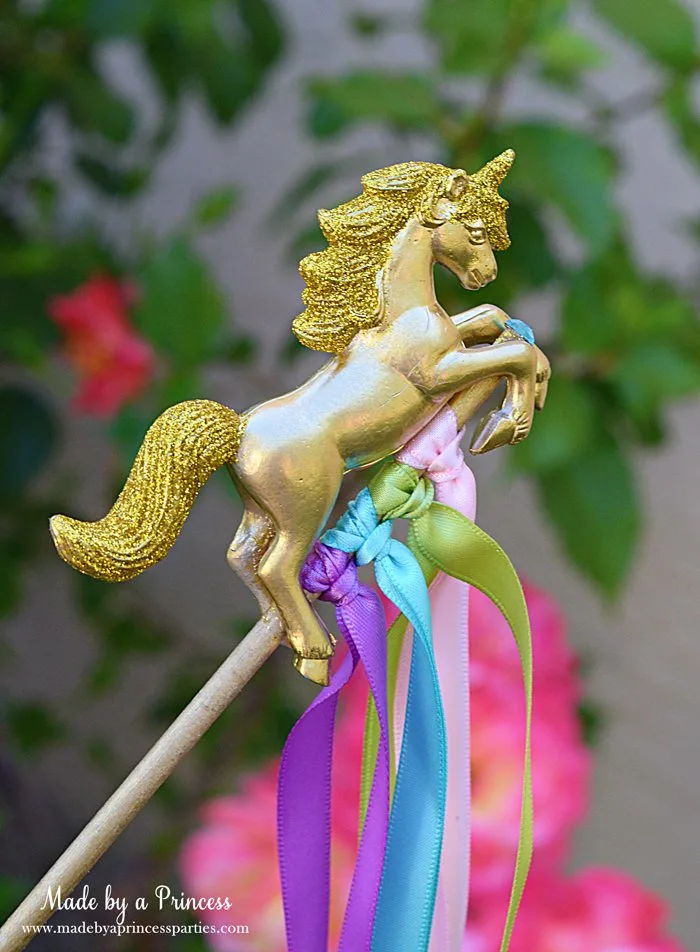 Rainbow Marshmallow Cream Cheese Dip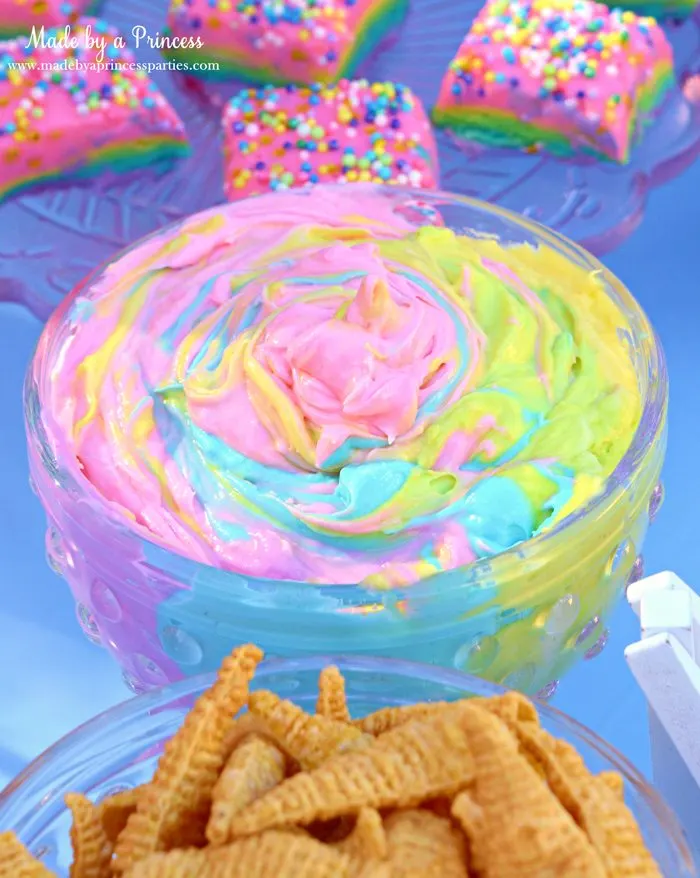 Cotton Candy Unicorn Milkshake Recipe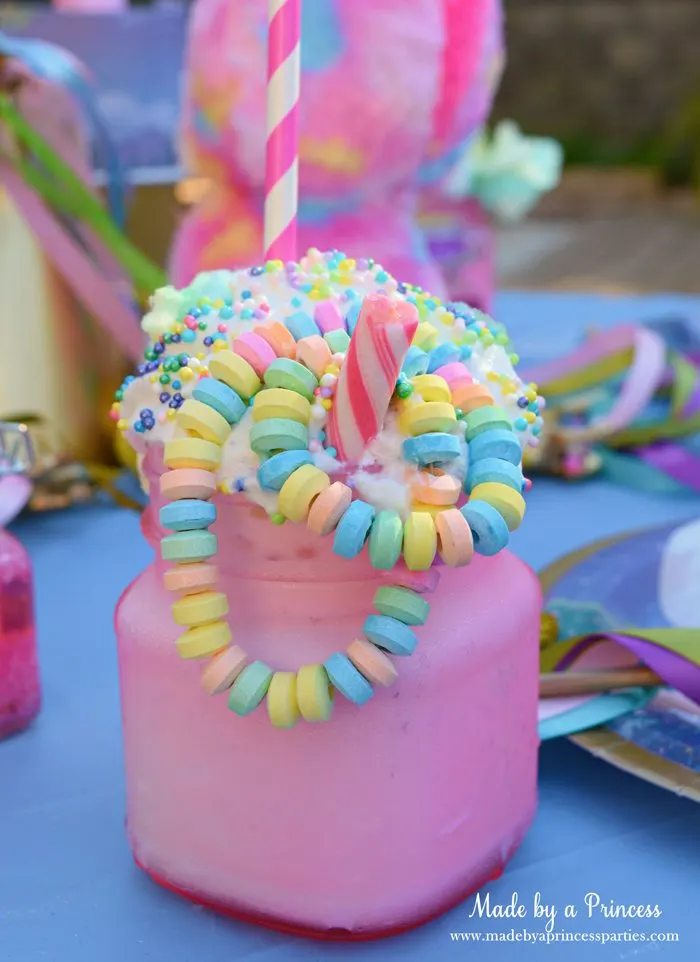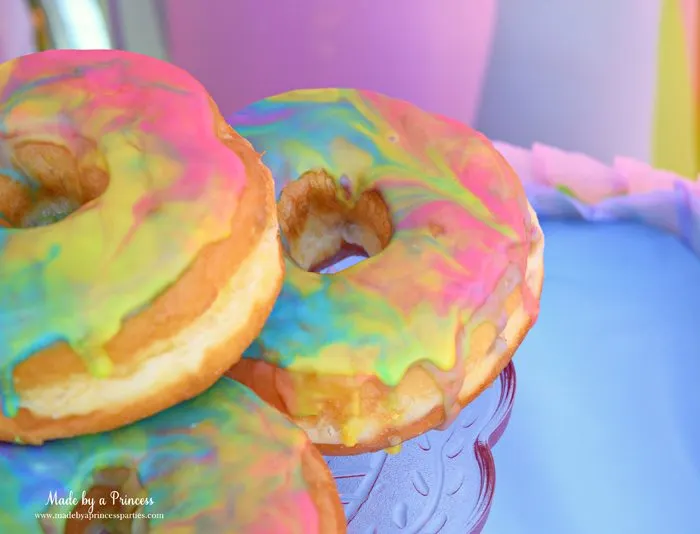 Original Rainbow Rock Candy Tutorial