Your guests will go crazy for this fun marshmallow dip! Just two ingredients is all you need to make this Unicorn Party Rainbow Marshmallow Cream Cheese Fruit Dip recipe.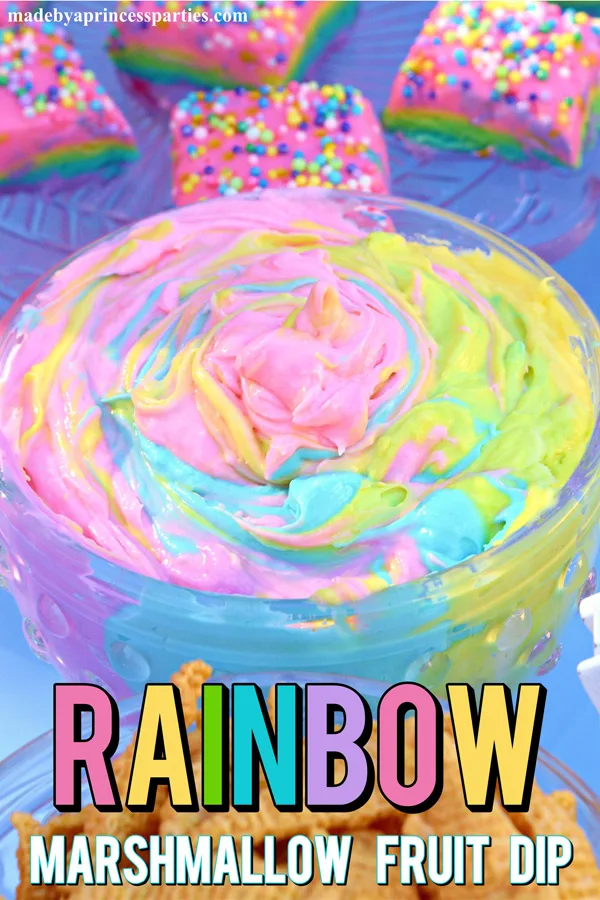 I cannot get enough of rainbow food lately! There are just so many things to love about them…they're pretty, happy, usually sweet, and just so darn fun to eat. My Unicorn Party Rainbow Marshmallow Cream Cheese Fruit Dip Recipe is not only tasty and easy to make but it's just so darn cute on the table. I think you're going to like it…
#post does contain affiliate links
What is fruit dip?
Fruit dip or cream cheese fruit dip is made with cream cheese, marshmallow fluff, and a little vanilla extract. In my house we call this recipe Fruit Fluff but for this unicorn photo shoot I changed it to Fairy Fluff to keep in line with the whole magical theme.
This is a great summer time dip and tastes so good served with strawberries. I was going to use strawberries actually but then I saw Bugles and thought they looked like unicorn horns so changed my mind. I know it's a little hard to see from the pictures but I did spray the Bugles with Wilton Gold Color Mist to make them sparkle. They looked so pretty in the sunlight.
What you need for marshmallow fruit dip
Before you get started here is what you are going to need:
Block of cream cheese, jar of Marshmallow Fluff, & salt
Bugles, graham crackers, or fruit
Wilton Gold Color Mist (if you plan to spray the Bugles or crackers)
Set of small mixing bowls
How to make Fruit Dip recipe
This fruit dip recipe is quick and easy and can be made ahead of time. There are a number of variations on this fruit dip recipe including some that call for brown sugar, powdered sugar, whip cream, or Cool Whip. I prefer the rich and creamy cream cheese and marshmallow creme version.
Mix up your ingredients using a hand mixer or stand mixer until you have reached the desired consistency. It should be smooth with little if any lumps. Evenly distribute the marshmallow cream cheese dip into mixing bowls. Add food coloring until you have reached the desired colors and then place the fluff mixture into a serving bowl.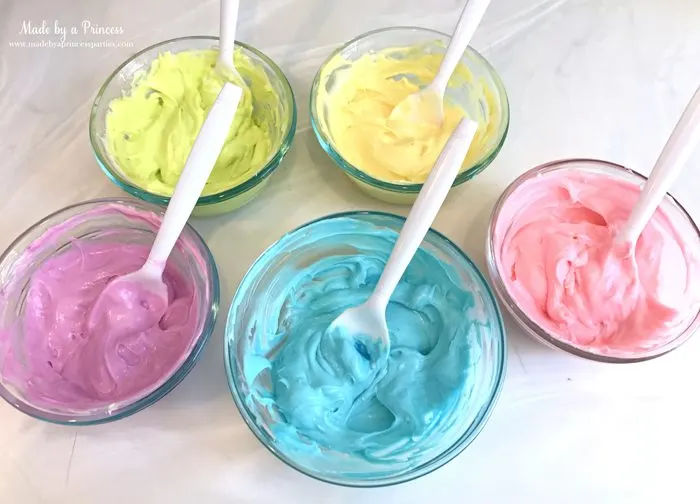 Swirl the fluff around until you are happy with the look. Place dollops of each color in the bowl so pink is next to yellow, yellow is next to green, green is next to blue, blue is next to purple, and purple is next to pink. Used a large skewer and mix in circular motions until you reach the desired effect. Pretty right?
The unicorn food trend doesn't seem to be dying down anytime soon so bring on the unicorn desserts and the unicorn inspired food…I want it all!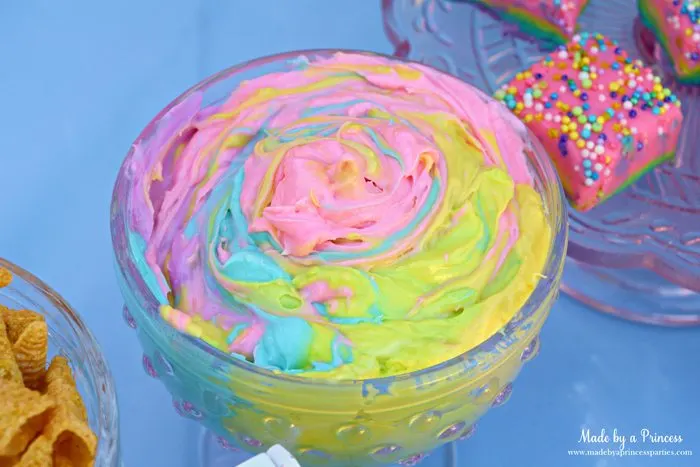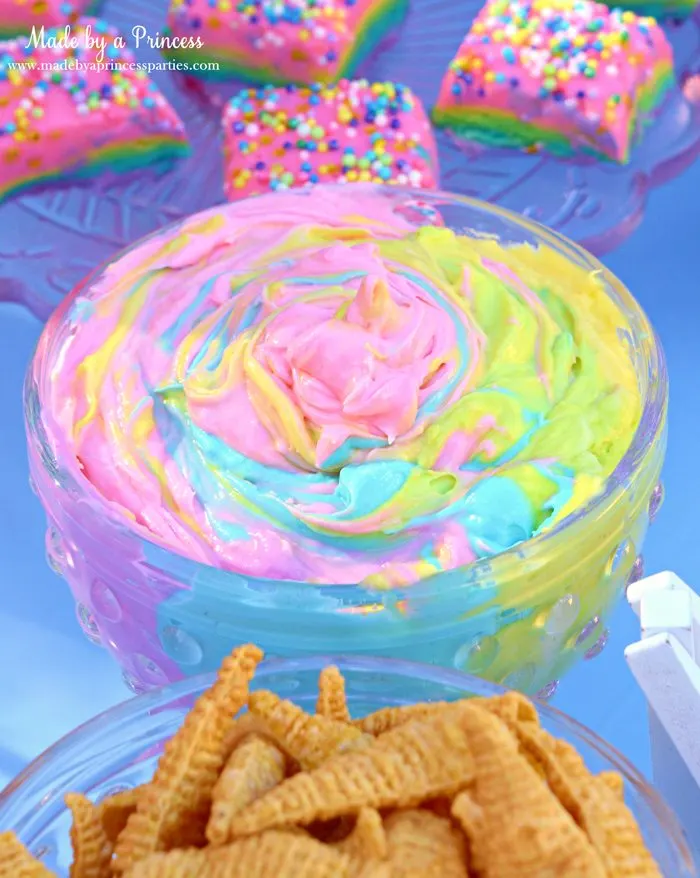 What to Serve with Unicorn Party Cream Cheese Fruit Dip
If you want to spray your Bugles too I suggest spreading them out on a wax paper lined cookie sheet and spray them outside. Let dry and then turn over to spray again. Leave the cookie sheet out to dry for a couple hours and then serve with your fluff.
If you are a traditionalist you can also serve with fruit, fresh fruit of course, like strawberries, pineapple, or mango…it's very tasty. This fruit dip recipe is perfect for serving at a baby shower, bridal shower, birthday party, or graduation party. I've never had anyone turn away this fruit dip!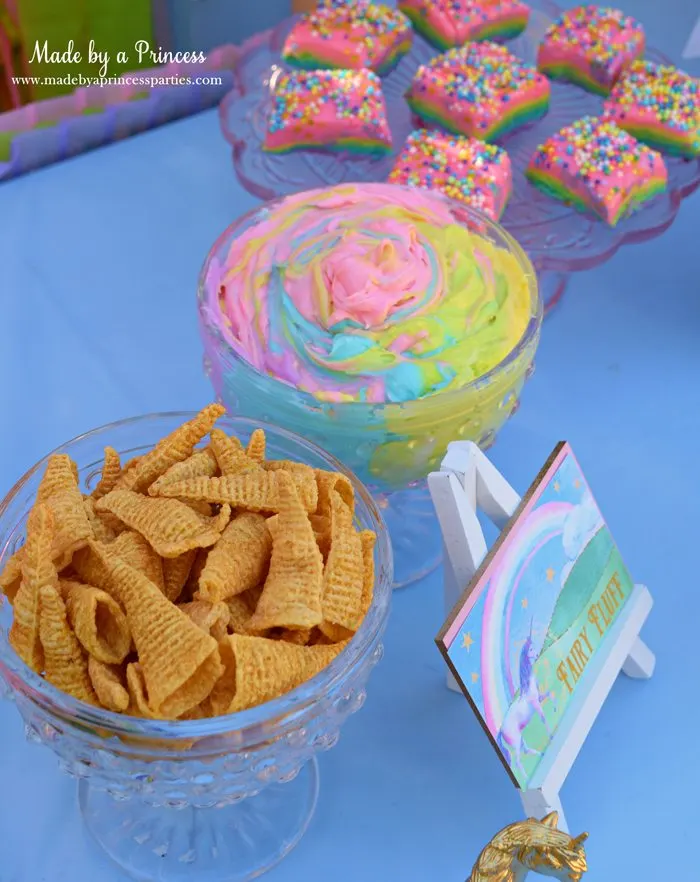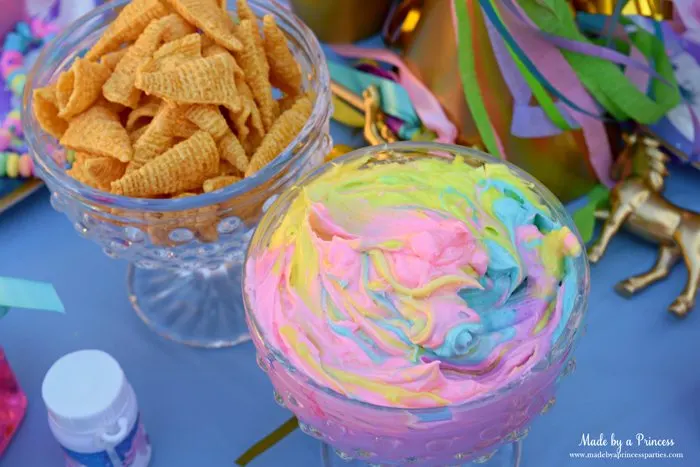 Can you melt marshmallows to make marshmallow cream?
Yes, you can do that, it just takes a bit of prep. There are a number of recipes online you can try but in a nutshell you need a double boiler, sugar, corn syrup, and vanilla extract. I will play around with some recipes and post my own version.
Need more unicorn food ideas?
MORE UNICORN & RAINBOW IDEAS YOU'LL LOVE
Tipsy Rainbow Champagne Slushie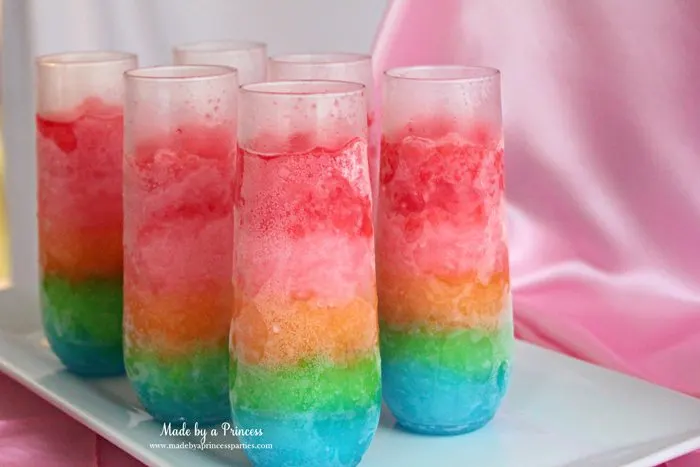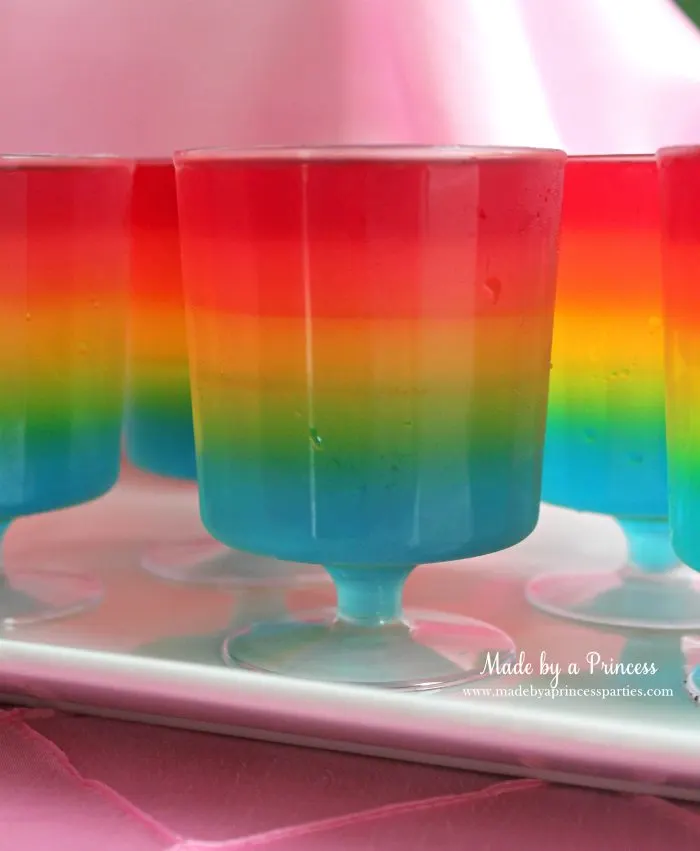 I hope you enjoyed my Unicorn Party Rainbow Marshmallow Cream Cheese Fruit Dip Recipe. Don't forget to check out all of my other unicorn party ideas!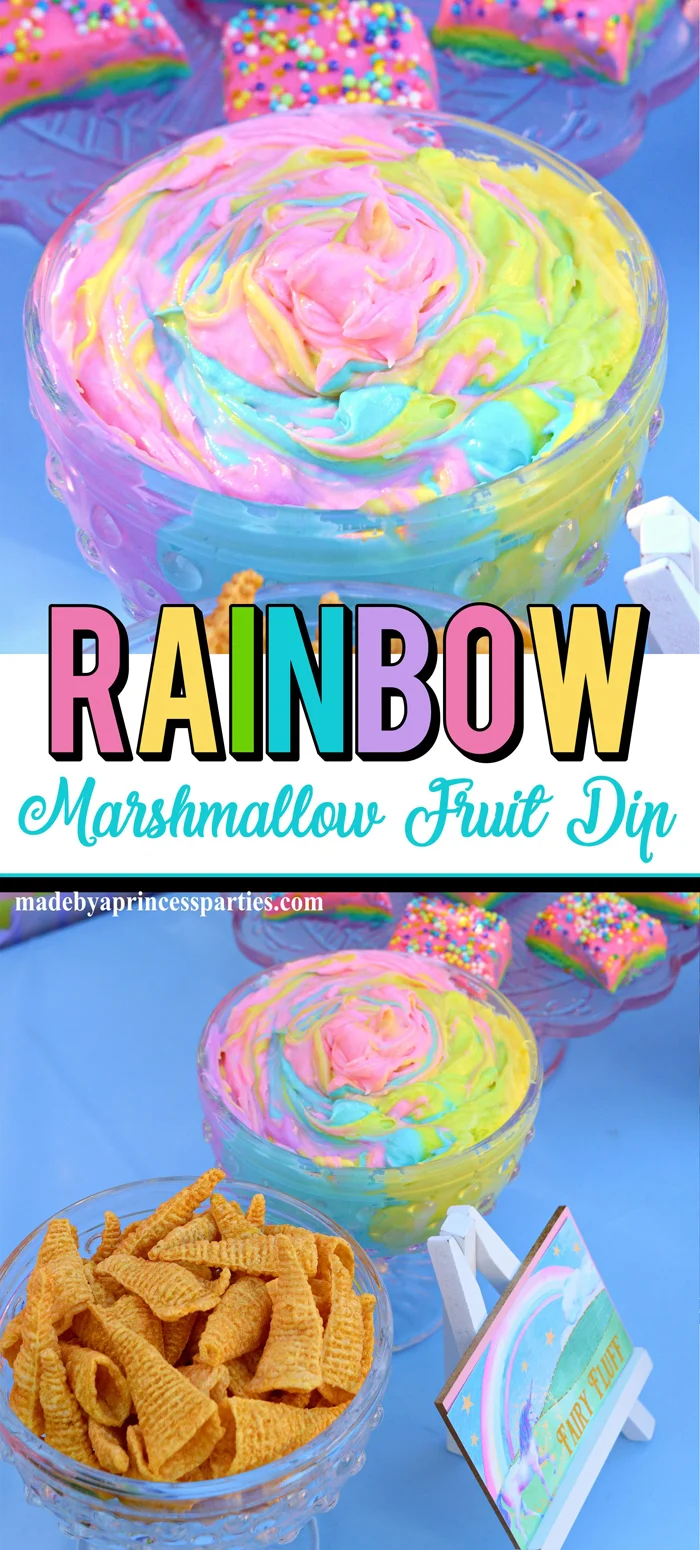 Originally published May 4, 2017
Updated 2019 & April 14, 2020