It's Hug Time! Get ready to party with Poppy and sing, dance, and hug the day away with these Trolls Birthday Party Ideas!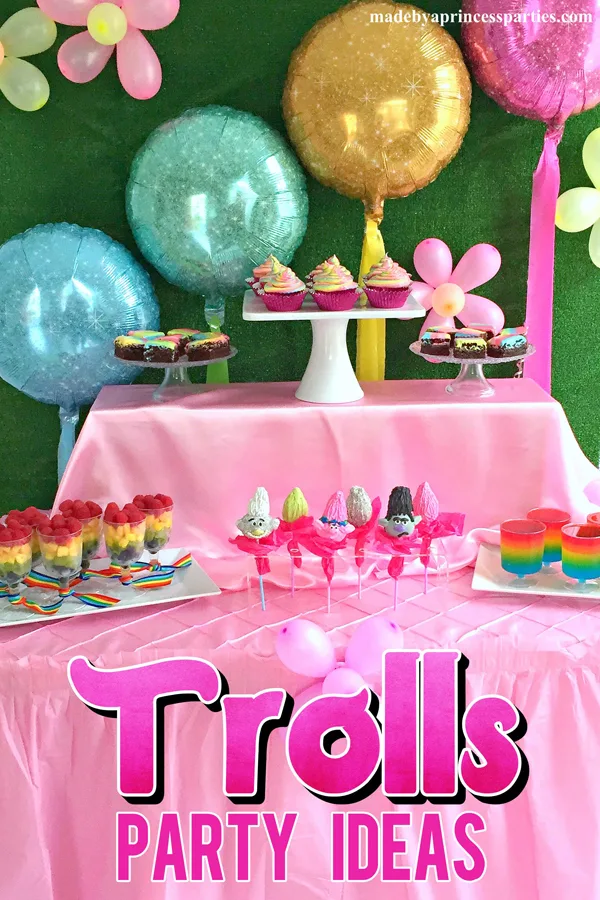 The trolls are led by their fearless pink leader Princess Poppy who believes the world is made of cupcakes and rainbows. Trolls love to dance, sing, and hug so make sure you leave lots of time for dancing, singing, and Hug Time at your Trolls themed party! Grab your karaoke machine, dust off that disco ball, and get the Trolls party started! Check out all my Trolls Birthday Party Ideas including easy rainbow food fit for a pink princess!
*post contains affiliate links. Amazon Prime members can take advantage of that free shipping too!
Trolls Birthday Party Ideas
I styled this party back in October 2016 for Birthday in a Box when the first "Trolls" movie came out and thought it was time to share all my Trolls Movie party ideas. If you haven't seen "Trolls the World Tour" I highly recommend it because all of our favorites are back singing, dancing, and yes, hugging. We can't decide which "Trolls" movie we love better because they are both so good and the music is so darn catchy!
This "Trolls" birthday party was styled with Princess Poppy in mind so it's very girly and pink. It's probably no surprise that Poppy, the preternaturally peppy and pink troll, is my favorite. Poppy also loves scrapbooking and glitter so I'm pretty sure we'd be best friends in real life.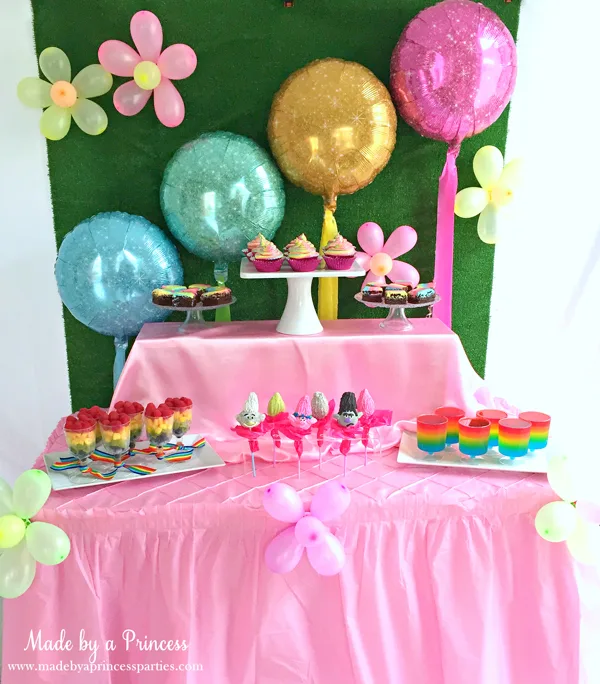 Trolls Party Invitation
Since every party begins with an invitation why not make it really stand out? Add some hot pink confetti to give it a little something extra when your guests open the envelope!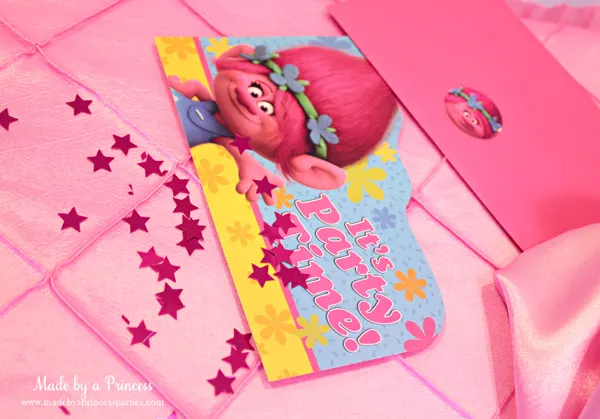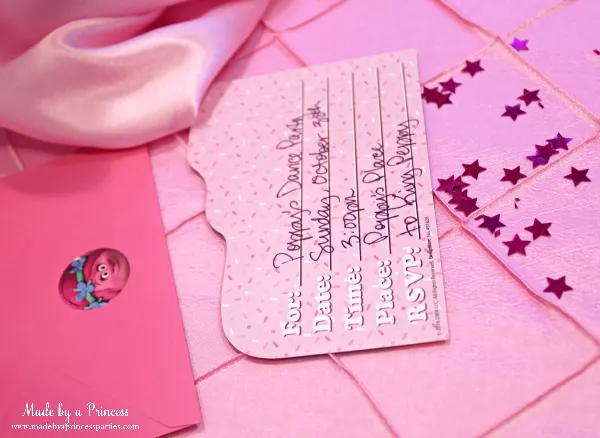 Trolls Birthday Party Decorations
Rainbows are a big part of the movie which makes decorating even more fun. Attach sparkle balloons with matching streamers to a grass rug to create a stunning backdrop.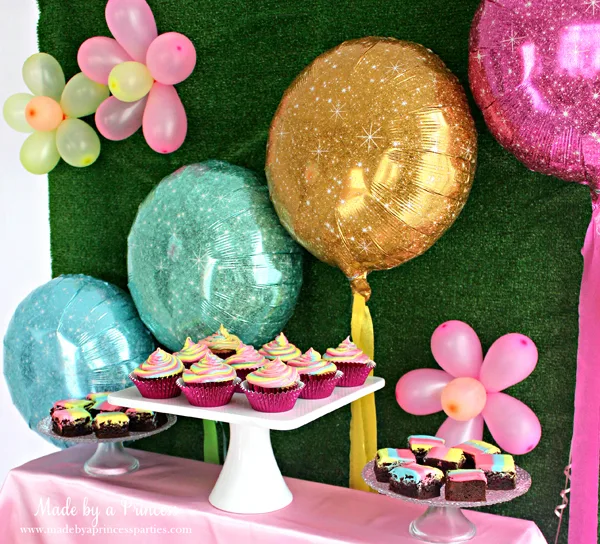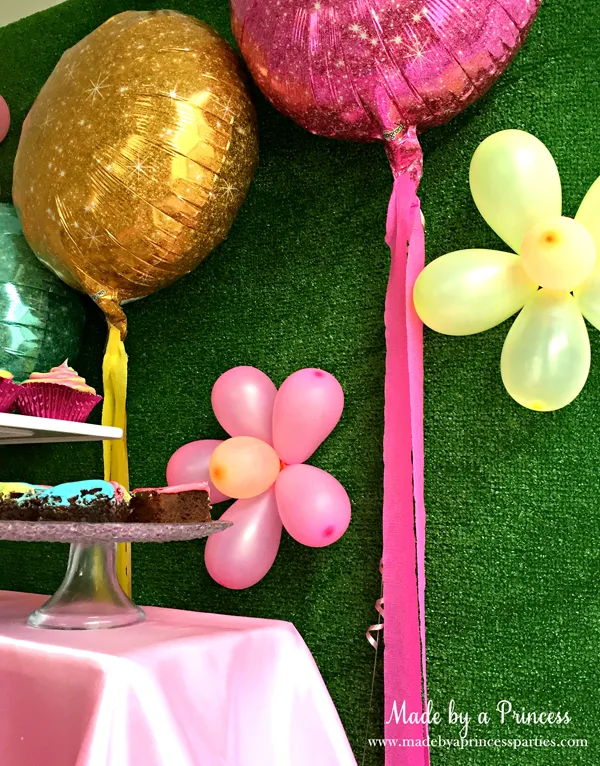 Small balloon flowers can be made out of water balloons and attached to the backdrop and the table for added color and whimsy. If you can't find water balloons you can also use giant paper flowers.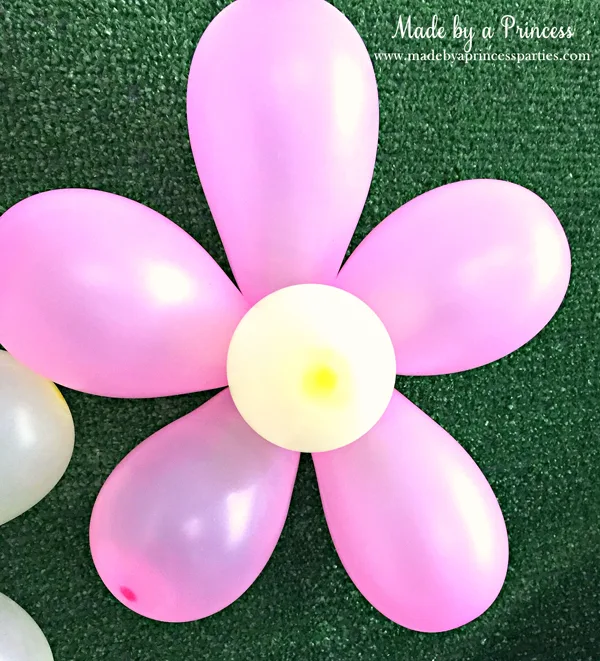 More Trolls Party Ideas
Keep your table simple with Trolls party supplies from places like Party City or Birthday in a Box.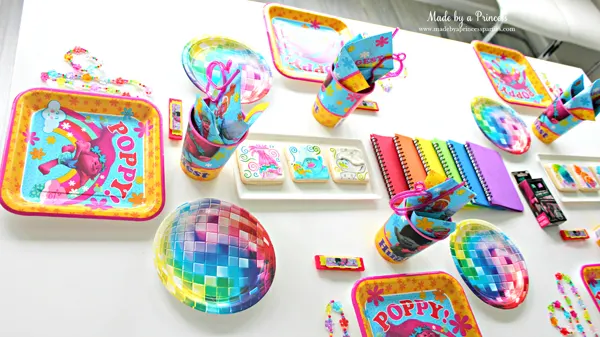 Cups are great for holding crazy straws, napkins, favor bags, and treats.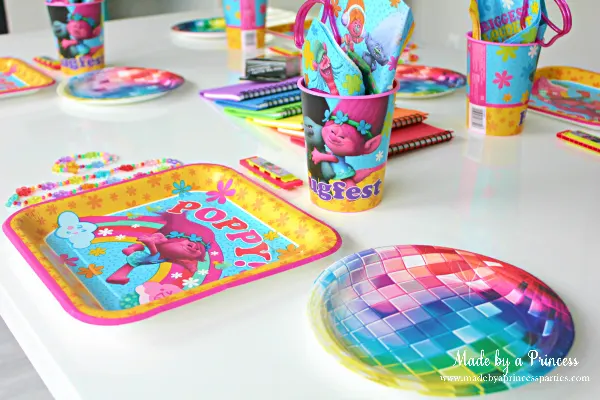 Trolls Birthday Party Food Ideas
My favorite part of any party is the food. It was easy to go a little crazy with Trolls party food because there is so much you can do with rainbows!
Rainbow Brownies
Rainbow brownies are surprisingly easy to put together. Want to know how to make these colorful brownies? Check out my post for the full tutorial.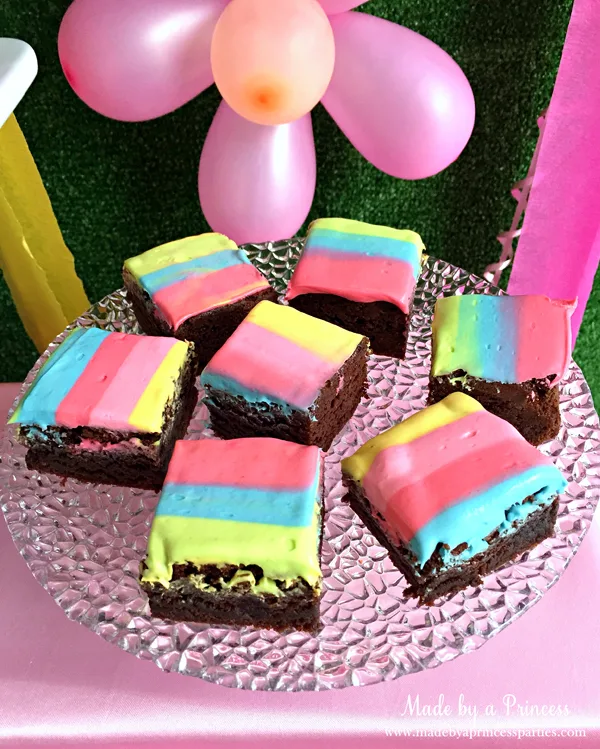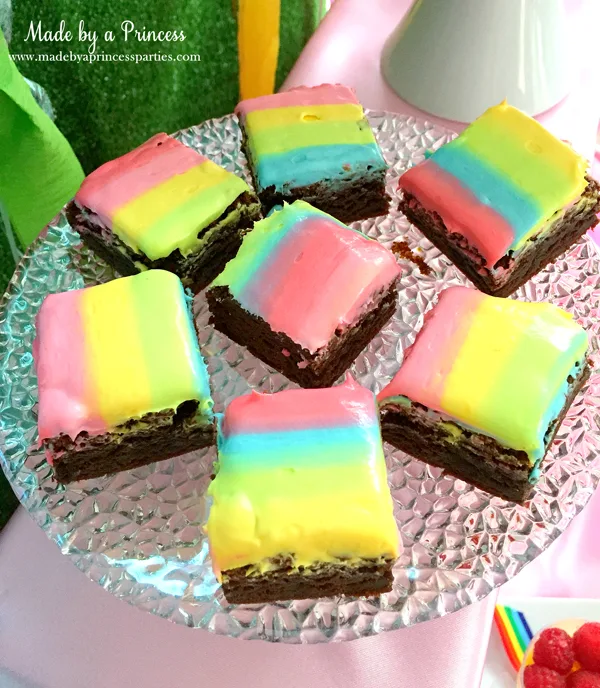 Rainbow Jell-O
Ever wondered how to make layered Jell-O? It's not hard but it does take awhile. Once you see the looks on your little guests faces when they spy these rainbow Jell-O cups you'll know it was totally worth it. Learn how to make perfect Jello layers with my easy to follow tutorial.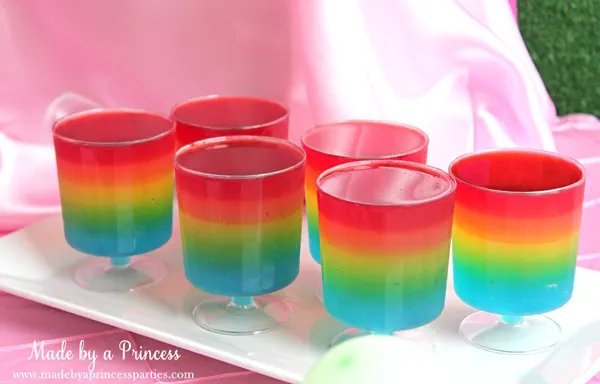 One of the best things about rainbow Jell-O cups is that you can create them in just about any colors you want!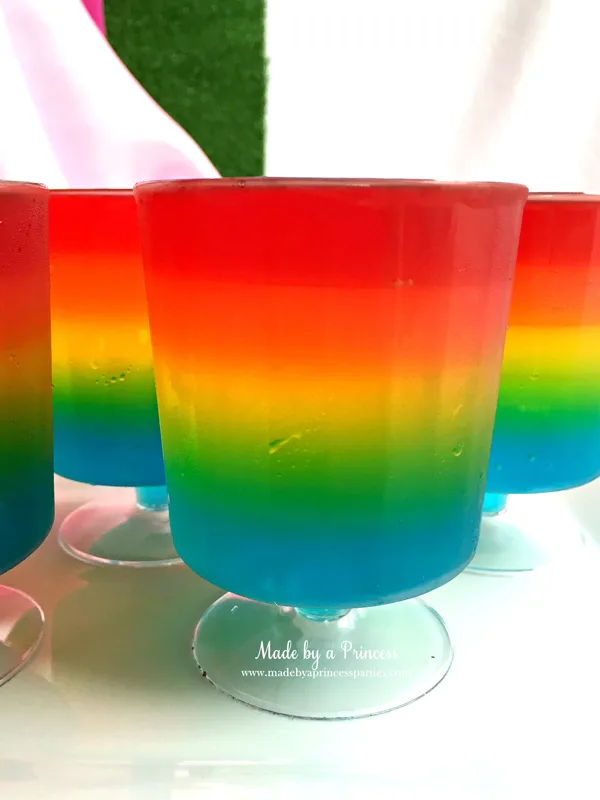 Rainbow Cupcakes
Would you believe me if I told you these took me about 15 minutes to decorate two dozen cupcakes? Creating rainbow cupcakes is a lot easier than you think. All you need are bowls of different colored frosting, plastic wrap, and a frosting bag or plastic zipper bag.
To make a rainbow swirl, create lines of frosting on a sheet of plastic wrap in the order you wish your rainbow to appear. For instance, here I did dark pink, light pink, yellow, green, then blue and repeated this one more time. Once your lines of frosting are done, roll the plastic wrap like a sausage, and twist the ends. Snip one end and drop it in a pastry bag or Ziploc bag then start decorating your cupcake. Finish with some edible glitter.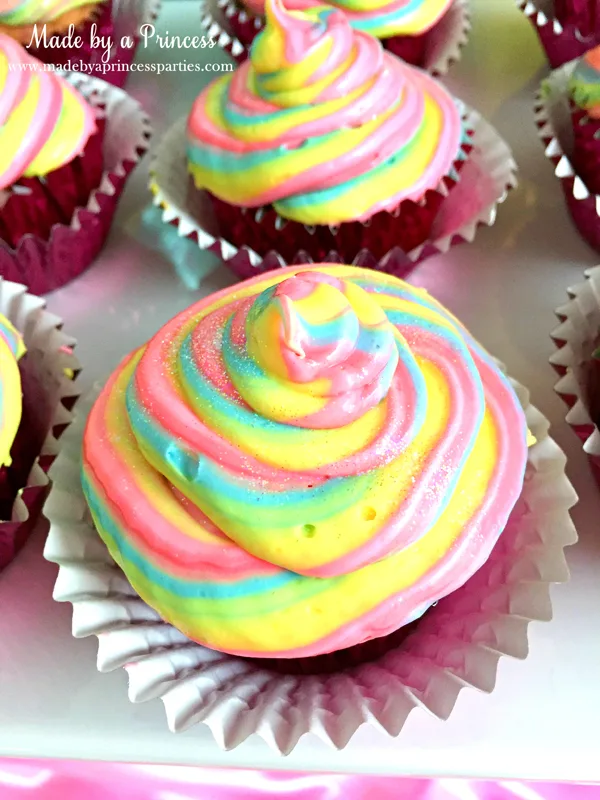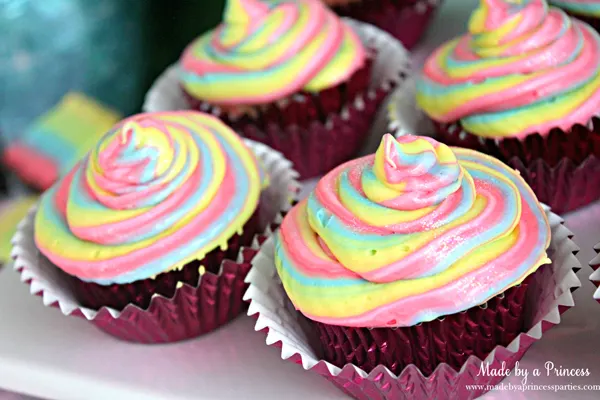 Rainbow Fruit Cups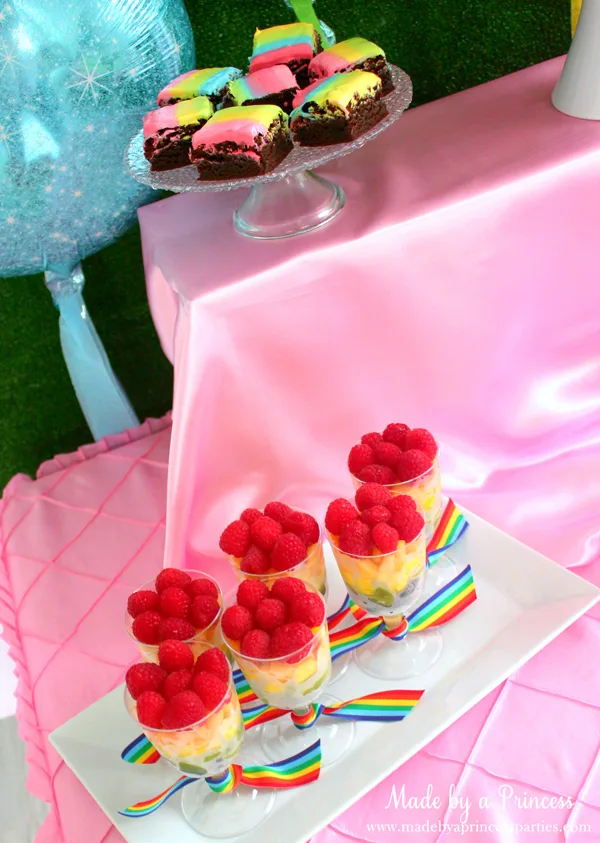 Use fresh fruit to create a cup of rainbow color fruit. Some ideas for rainbow fruit cups snack mix include:
Red Fruit: raspberries, watermelon, strawberries, cherries, dried cranberries
Orange Fruit: oranges, cantaloupe, apricots, peaches, mango
Yellow Fruit: pineapple, yellow kiwi, pears, bananas, dragon fruit
Green Fruit: kiwi, green grapes, honeydew
Blue Fruit/Purple Fruit: blueberries, elderberries, grapes, blackberries, dried raisins, plums, currants
These should be prepared the day of the party if possible. If prepped too soon the juices from fruit will collect in the bottom of the cup and it just won't look as fresh.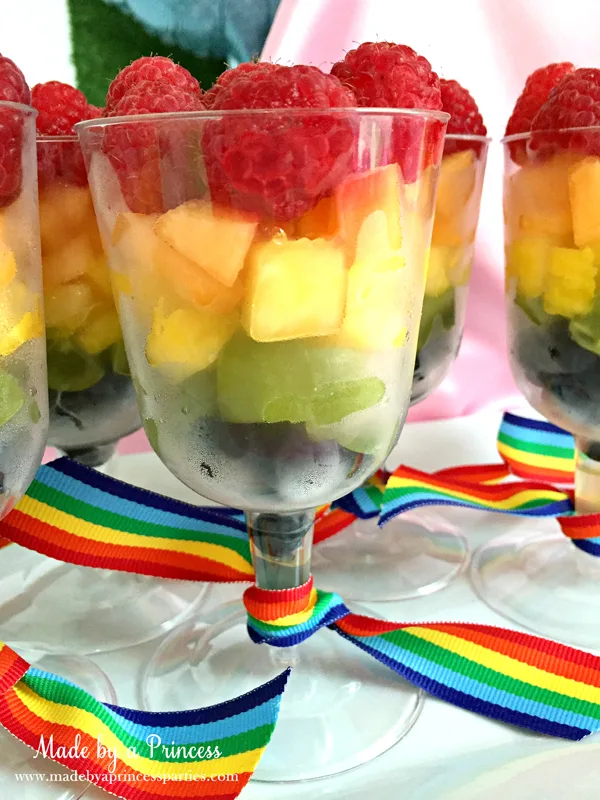 Custom Trolls Treats
I typically make almost all of the food for my parties because I love to cook and bake. I do however, know my limitations and that includes custom boutique cookies and cake pops. Luckily, I know some really talented people to call on to make me the perfect party treats.
My friend, Katherine, made these uh-mazing custom Trolls cookies for me and they are positively perfect!
Creek, DJ Suki, and Branch cookies…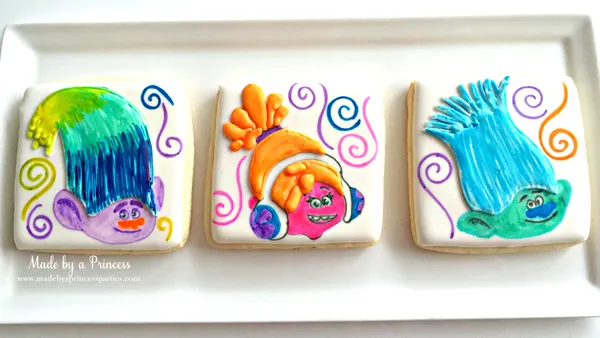 Princess Poppy, Biggie & Mr Dinkles, and Guy Diamond cookies…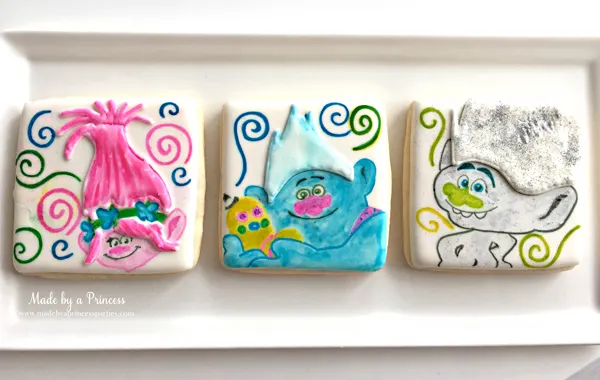 Is this not the cutest box?! Charm Baked did such a great job with these cake pops! Which one is your favorite? Guy Diamond, Poppy, or Branch? I just love the expressions on Poppy and Branch!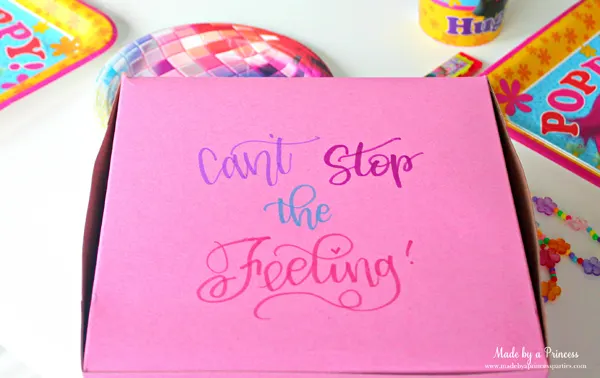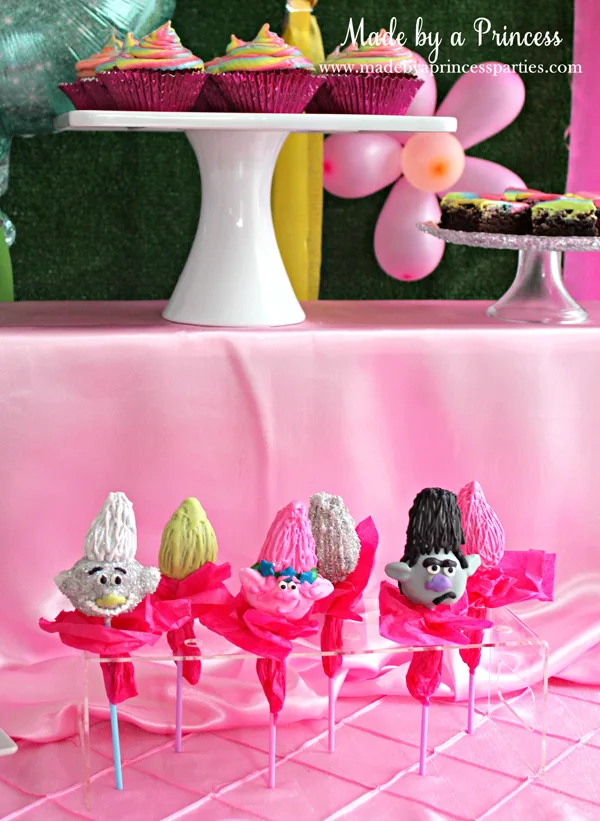 Rainbow Slushies
I made these rainbow slushies for the kids but the day of the party I decided to go in another direction. What you don't see from these photos is that it was raining buckets outside. This photo shoot was planned for my backyard. The day before we had gorgeous weather, the sun was shining, it was nice and warm, perfect shoot day conditions. As our friends arrived the sky opened up and ruined our outdoor plans. My friend and neighbor two doors down was kind enough to offer up her home because, unlike our house, she had great lighting.

My friends helped carry the table, the food, and all the decorations down the street, in the rain. They were amazing. By the end of this photo shoot the girls were hopped up on sugar and completely over being photographed so I grabbed a bottle of champagne and poured it over the slushie cups. I had a jar of Fireball Whisky cherries that had been marinating for about a month so decided to throw that on their too. The straws I think came from the dollar store? Maybe?

Cheers to awesome friends who helped pull this off!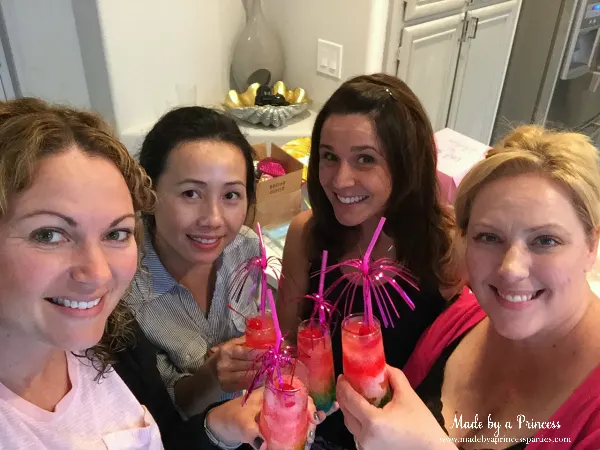 Trolls Party Favors & Trolls Birthday Party Activities
Poppy really loves to scrapbook so creating a scrapbook is a great activity. If you have a portable printer like an HP Sprocket you can print pictures on the spot and give each child a picture to remember the day.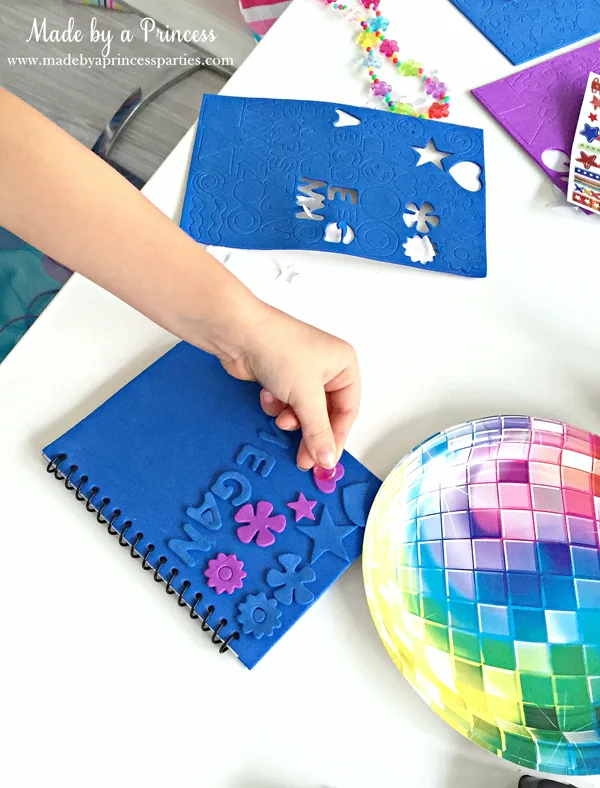 Kids love crazy straws and they make great party favors.
Small bags of cotton candy are also great party favors…you can call them "Troll Hair Wigs" to stay in theme.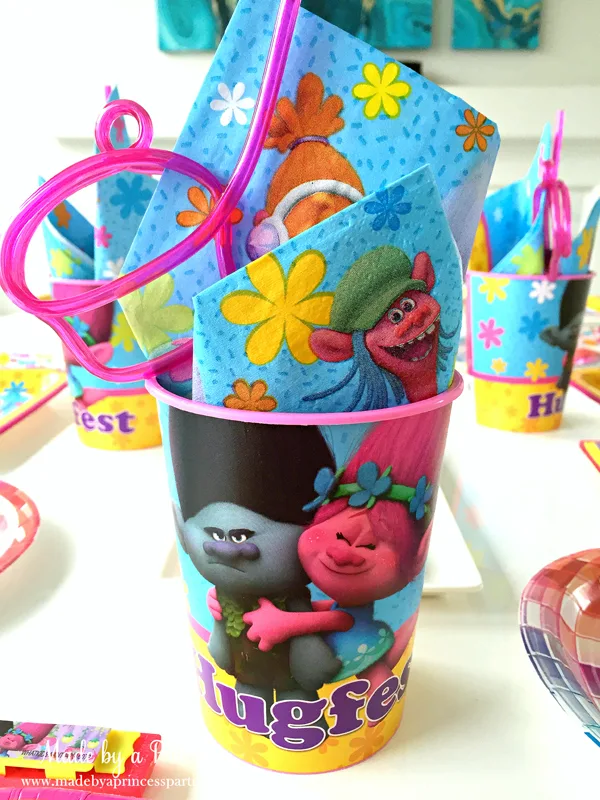 Give each guest their own "Hug Time" bracelet and necklace set. At certain times during the party call out, "Hug Time!"…it's pretty cute and produces lots of giggles.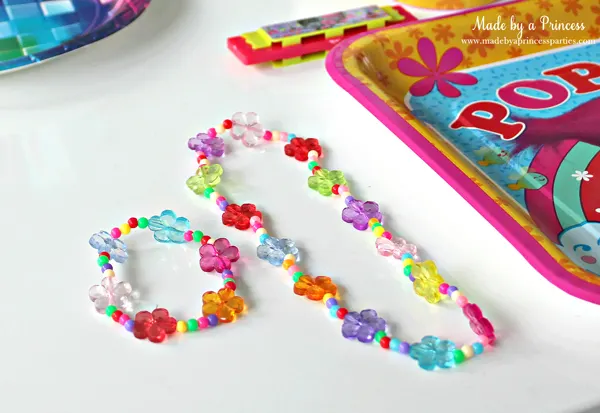 Hair chalking is also a really fun activity and one that the kids can do for each other. These five year olds were having lots of fun!
Poppy would approve.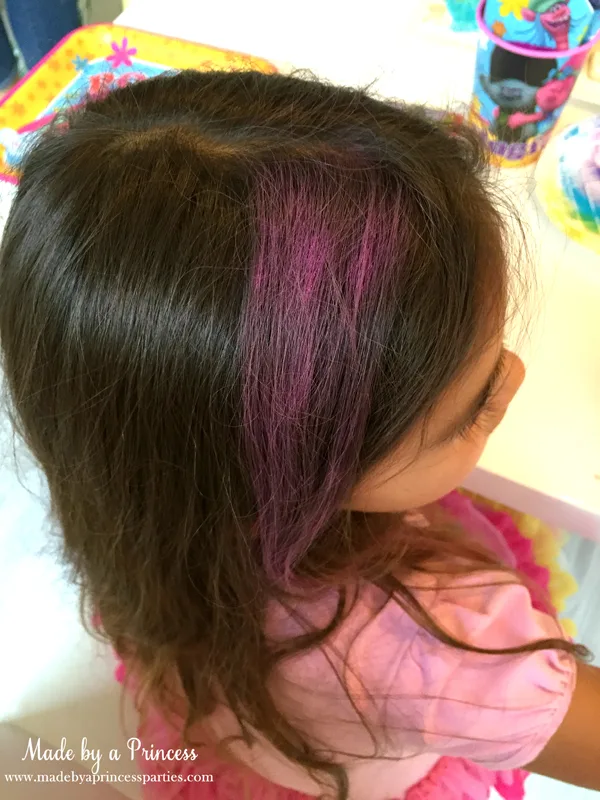 Pinatas are always fun! If your guests don't want to hit the piñata you can always choose the pulling string type. At this party in an effort to avoid any hurt feelings the girls were told to pull the strings at the same time. They loved this idea! No one knew who broke it and everyone ends up winning.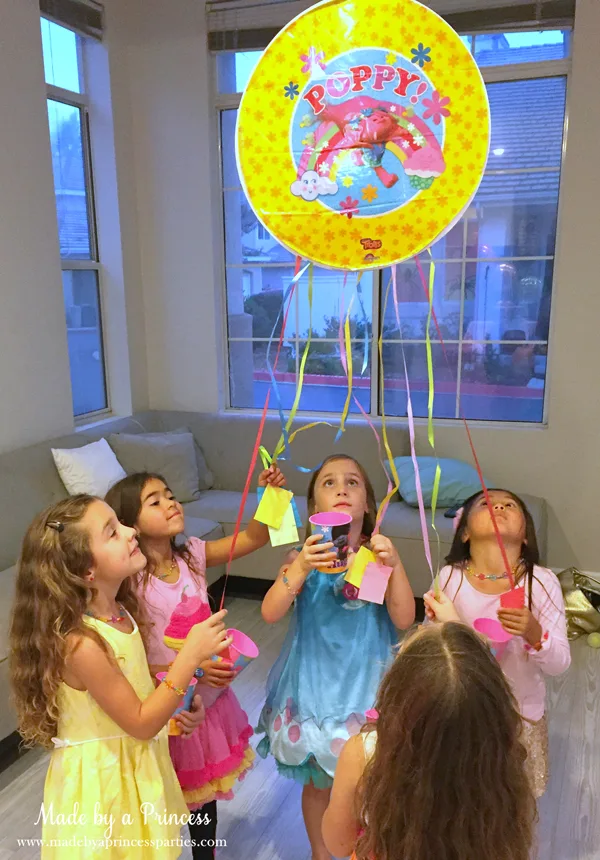 I hope you enjoyed my Trolls Birthday Party Ideas post!
Have you seen "Trolls"? Who is your favorite character? Tell me below!