Ever wondered how to make those beautifully swirled rainbow frosting cupcakes? It's a lot easier than it looks! Find out how with my easy Rainbow Frosting Tutorial!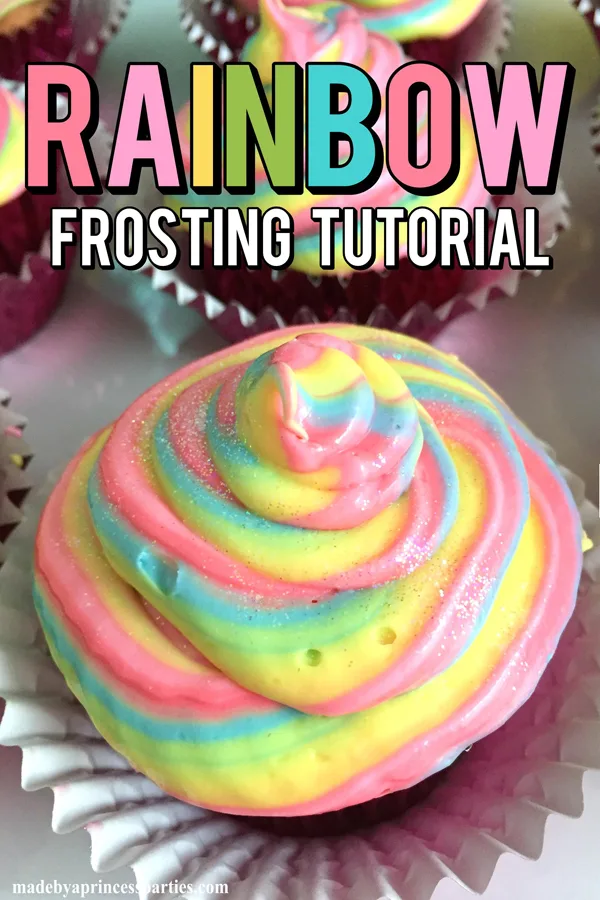 You've seen them on Pinterest and Instagram and wondered how they make those pretty rainbow swirl cupcakes right? It's actually a lot easier than you think with my easy to follow frosting guide.
*post contains affiliate links
Rainbow Frosting Cupcakes
Have you looked at pictures of rainbow swirl cupcakes and cakes and wondered how the heck they did that? Well, my Party Princess friends, it's really easy and you can totally do this! I made these rainbow cupcakes for a Trolls photo shoot I did years ago and can't believe I never shared this frosting hack.
Before we get started here is what you need:
Buttercream frosting
Plastic wrap
Cupcakes
How to Make Rainbow Swirl Cupcakes
To make this classic rainbow swirl buttercream frosting you will need:
Powdered sugar
Milk
Meringue powder
Vanilla extract
Salt
Unsalted butter (you can also use Sweetex if you prefer)
You can find my tried and true buttercream frosting recipe below. After you have made your buttercream frosting, divide frosting evenly into bowls. I chose five colors for these cupcakes so I divided the frosting into five bowls. Next, slowly add food coloring, one drop at a time, until you get the desired color. Spoon buttercream into disposable pastry bags.
Pro Tip: Pastry bag ties are really helpful! I didn't have them when I made these rainbow icing cupcakes but I highly recommend them.
I did not use decorating tips since I wasn't going to actually be decorating the cupcakes, I was only piping lines. You can easily snip the ends of the bags or if you prefer, drop the tips in the bags before filling with frosting.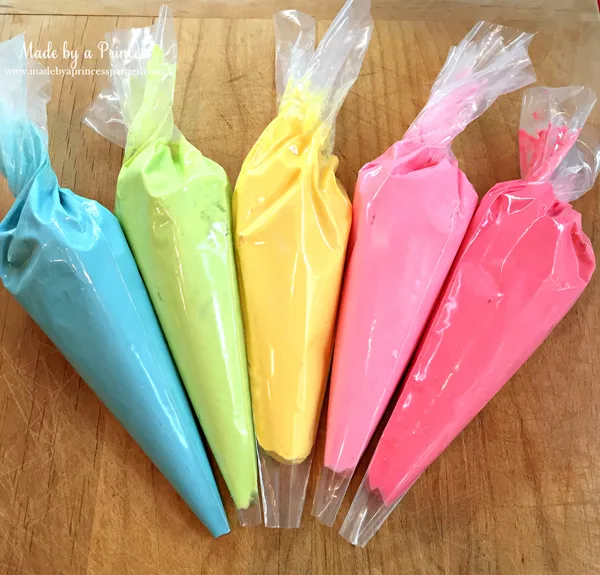 Now that your bags are loaded with frosting, pipe frosting line by line on a large sheet of plastic wrap. I wouldn't do more than two lines of each color.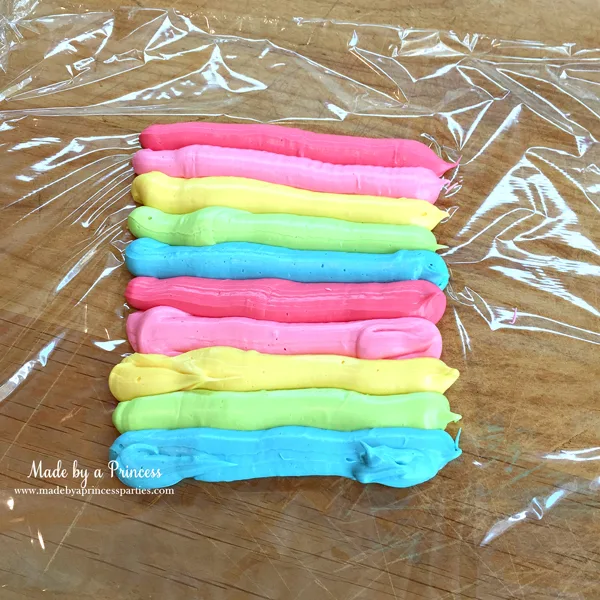 Rainbow Swirl Frosting
Carefully roll the plastic wrap so it looks like a sausage then twist the ends.
I don't have a picture of the next step, but once your frosting roll is ready, prepare your 16″ pastry bag. Choose your preferred decorating tip and drop in decorating bag.
Next, snip one end of the frosting roll and place in bag, snipped end down. For the cupcakes below, I used an 8mm round. Don't forget to use the coupler too. If you want a "ruffled" look use a star tip.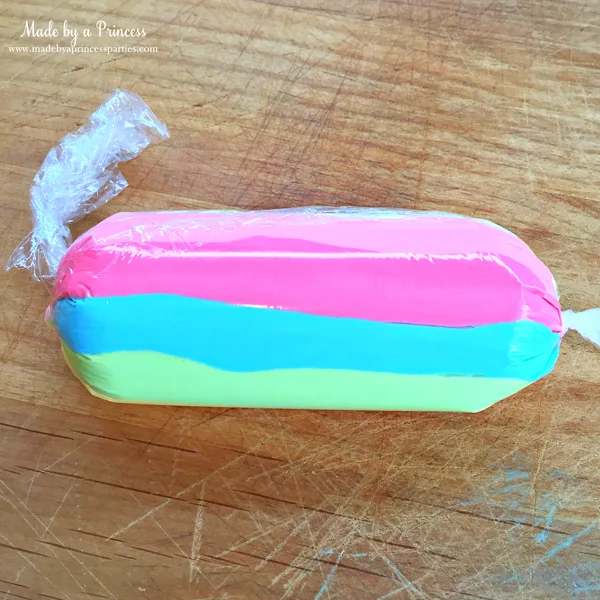 Starting at outer edge, pipe around the top of the cupcake working your way towards the middle. I go around three times.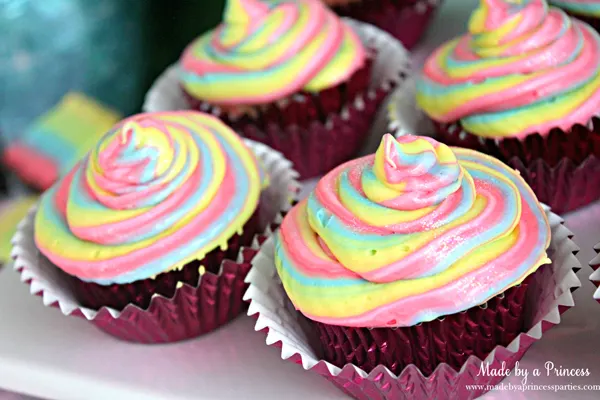 Once you have decorated all of your cupcakes, sprinkle some edible glitter on them and serve on a pretty platter.
These would be perfect for rainbow unicorn cupcakes, St Patrick's Day, or even a Pride event.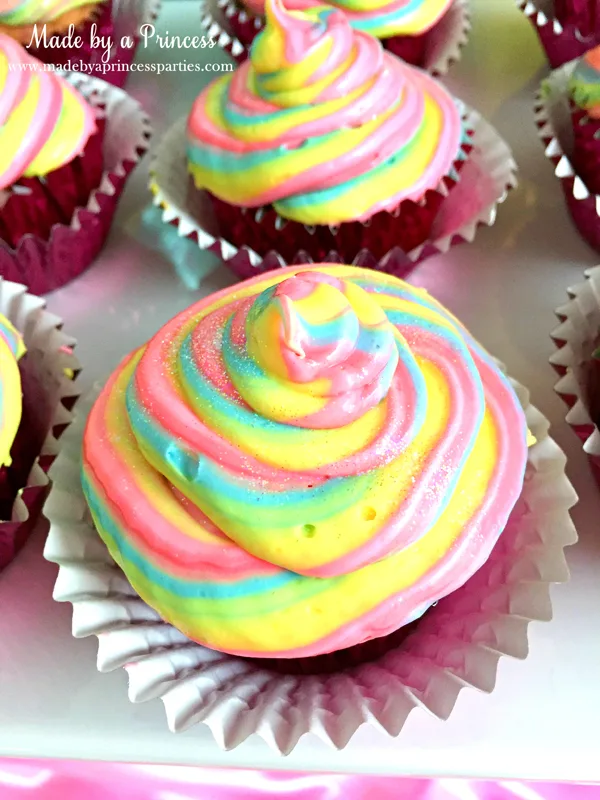 How do you swirl two colors of icing?
If you just want two colors instead of multiple like these rainbow cupcakes, you can put two piping bags in the bigger pastry bag and swirl as described above.
How do you decorate cupcakes without a piping bag?
Ziploc bags make great decorating bags! Fold the top over, fill with frosting, twist or seal the bag, and the snip one of the corners. Start with just a small snip and trim bigger if necessary.
Classic Buttercream Frosting Recipe
Looking for more Trolls party ideas?! Click the link for all the details.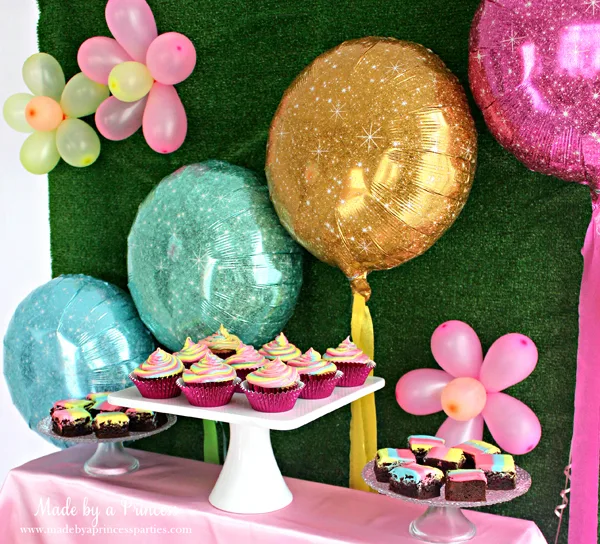 Learn how to make rainbow brownies using the same frosting…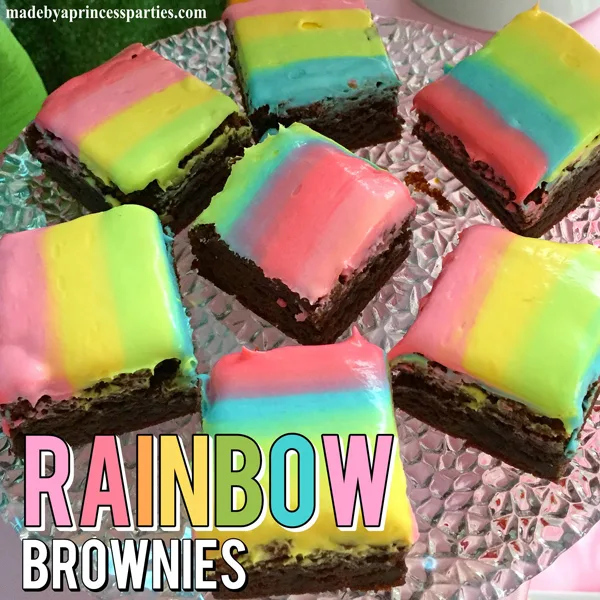 Wow your guests with rainbow layered Jell-O!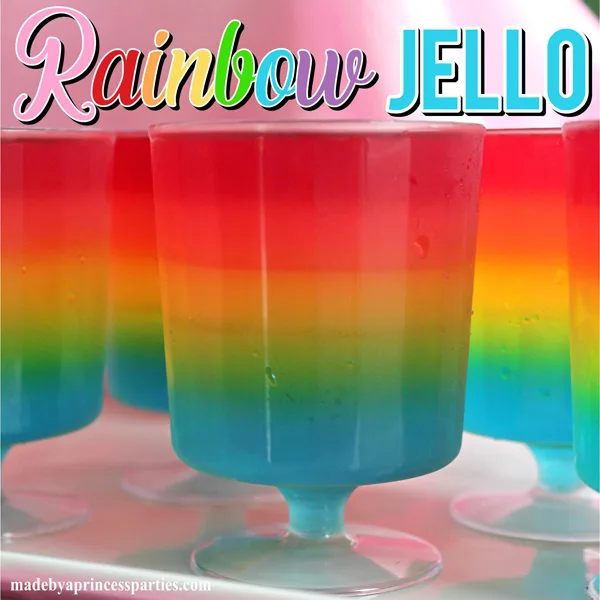 Need a colorful cocktail? Try my rainbow slushie tutorial topped with champagne (for a non-alcoholic version just don't add champs)…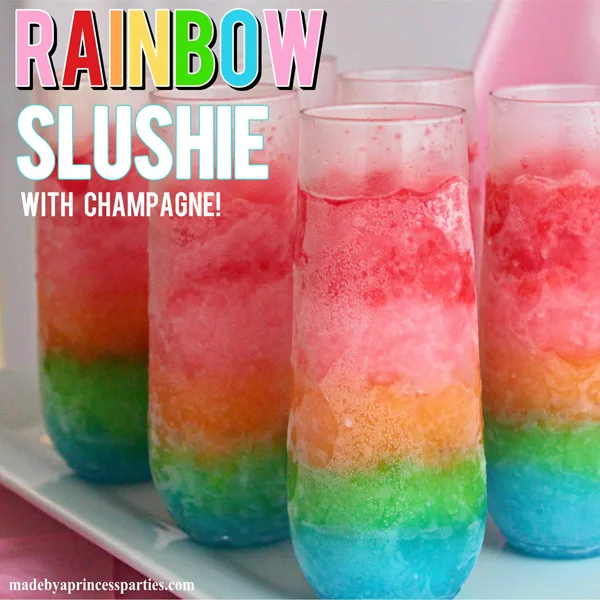 I hope you enjoyed this easy rainbow frosting cupcakes tutorial. I will work on recreating these so I can show you better step by steps.