Cheesecake Strawberry Bites are the perfect party food or snack. Made with fresh strawberries and cream cheese…you just can't go wrong!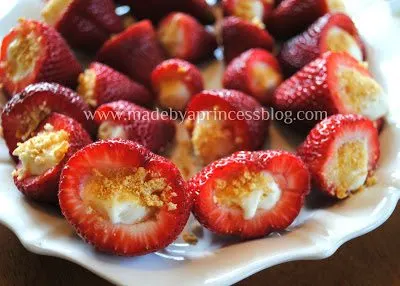 Last minute party? No problem!
As you Princesses who follow me on Facebook know, I was having a pretty quiet Memorial Day until one of my besties and I figured out we should probably make some plans. Hmmm. What to do? Well, hubby did plan to take our boy to the beach but other than that, it was going to be a pretty mellow day here in our little Paradise-by-the-Sea. So, a few texts back and forth, some phone calls to some other friends, it was game on, I mean party on! Do I love a party?! It didn't matter that I was still in my robe and my hair was sopping wet, I needed to figure out a quick, easy, and yummy menu. I love you Paula D but today I need something a little different.
Make a batch in no time
I had some things pinned in my Party Foods – Finger Foods that I thought would be perfect. So many fantabulous things to choose from…decisions decisions! Ok, at this point I have 3.5 hours before my guests arrive so I better get my booty in gear. I ended up created five dishes (including dessert) in two hours. Took me a half hour to pull myself together and make a list, an hour to go grocery shopping (two stores), and two hours to prepare the following: Cheesecake Strawberry Bites, Goat Cheese Fig Spread Prosciutto Crostinis, Fresh Herb Cream Cheese Cucumber Bites, Cheddar Cheese Biscuits, and Angel Pie. We had burgers, homemade tortillas and salsa with pollo asada, hot dogs for the kids, and my friend's signature salad with strawberries, goat cheese, pine nuts, and Pear Gorgonzola dressing. One of my all time fave salads. I was hoping she would bring that. She knows me well. Have you ever made fresh tortillas? My friend Jim made them and brought them over still warm along with his fresh salsa. OMG. He swears it's easy and has shared the recipe with me. I'm going to have to try this out. I may, or may not, be nibbling on one right now…
How to Make Cheesecake Strawberry Bites
That's it! Super easy and really yummy. My friend's honey told me they should be illegal and I should be locked up for serving them. When I saw him again today I told him I was going to make a platter of cheesecake strawberries the next time I come over and he threatened to call the cops. Criminal. He called me a criminal! You know you have found a good recipe when your friends love them so much they won't let you make them anymore because they are afraid they'll eat the whole platter. I think I'll take my chances my friend.

I hope you enjoyed my super easy Cheesecake Strawberry Bites recipe. If you're looking for something everyone will love and that you can whip up in a few minutes…this is it!