Yet another recipe from Memorial Day weekend. I had actually never made these before but looking over the recipe could tell they were pretty quick and easy. I found this recipe on Pinterest and pinned it to one of my Party Foods board.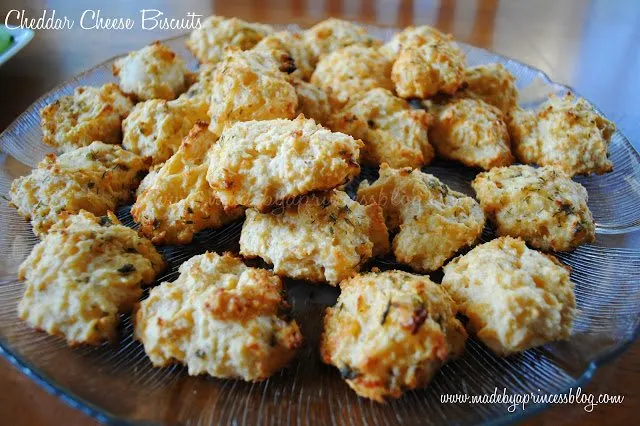 The original recipe comes from LettucePray. I changed just a couple of things:


Ingredients for Biscuits:
1 cup shredded sharp cheddar cheese
1 tsp salt (I used sea salt)
Ingredients for Butter Glaze:
3/4 tsp dried parsley flakes (or your favorite dried herb mix)
Preheat your oven to 400 degrees. Lightly grease or line one cookie sheet with parchment; set aside. I used to like using the spray but I tossed all of that stuff for a number of reasons 1) it's just a bunch of chemicals – eeeeww; 2) it's expensive, & 3) it leaves a sticky yucky mess on my pans. I have gone back to the old fashioned method of greasing with butter and dusting with flour. Works like a charm.
Cut butter into big chunks and place in bowl with Bisquick. Use a pastry cutter if you have one to combine but if you don't you can use forks. Loosely combine butter and Bisquick, there will be chunks but that's ok. Add cheese, milk, garlic powder, and salt. I added the salt because the Bisquick is kind of sweet and I wanted the biscuits to be more salty. Mix by hand but don't over mix.
Drop about a large spoon's worth of batter onto your lightly greased (or parchment lined) cookie sheet. Bake for 11-13 minutes or until the tops are slightly browned.
While the biscuits are baking, melt butter is a small bowl in the microwave. Stir in garlic powder and dried parsley flakes. I didn't have parsley flakes in my cabinet so I used an herb mix I purchased from Tastefully Simple awhile back. Tasted great!


Once the biscuits have come out of the oven, using a pastry brush, brush the tops with your melted butter mix and sprinkle with a little sea salt. Served best warm but they will fly off the platter no matter what.