Bring the family together and celebrate the holidays with Christmas movies. Stumped on what to watch? Create your own movie schedule with my big list of Christmas Movie Night Ideas!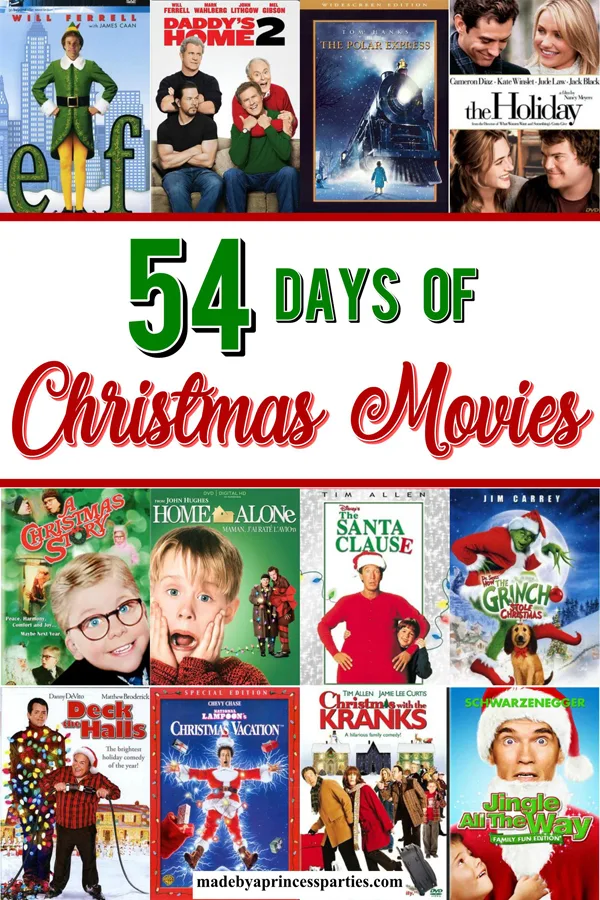 Grab your hot cocoa, a big bowl of popcorn, cozy blanket and celebrate the holidays like you're at the North Pole with a Christmas movie. Can't figure out what to watch? Create your own holiday playlist with my huge list of Christmas Movie Night Ideas!
*post contains affiliate links
Now that Halloween is over it's time to jump in and start watching holiday movies. Some of you might not agree but the minute Halloween is done, I am ready to move right on to Christmas decorations, Christmas music, holiday themed snacks, and Christmas movies every night.
I love that everyone is home for Christmas and that my kids still love to decorate the Christmas tree while singing, "I'm Dreaming of a White Christmas" together.
Christmas Movie Night
One of my favorite things to do as a family is watch movies. We watch a movie together at least three times a week. During the holidays we watch one Christmas movie on DVD nearly every night.
There are certain movies we watch several times leading up to Christmas. Our family favorites are Elf, A Christmas Story, Christmas Vacation, Jingle All the Way, The Santa Clause Series, How the Grinch Stole Christmas, and Christmas with the Kranks.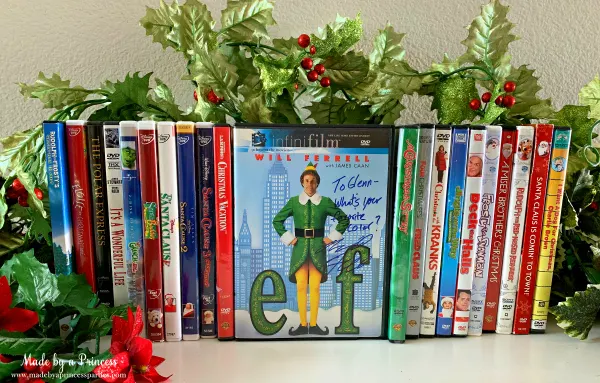 One of our newer favorite holiday movies is Daddy's Home 2. The first movie, Daddy's Home, is hilarious and the Christmas version is just as funny. I'm super excited to see the newest Christmas movie in theaters now called, Last Christmas with Henry Golding and Emilia Clarke.
Christmas Movies on DVD
We have a decent Christmas movie library am try to expand it a little every year. My all time favorite Christmas is Elf. I just love Will Ferrell in this role. I used to work for GOLF Magazine and had a chance to meet him at a charity golf tournament and he is truly a lovely person. He signed our DVD as Buddy the Elf…how cute is that?! Every time I pull the Elf DVD out on Christmas Movie Night I smile.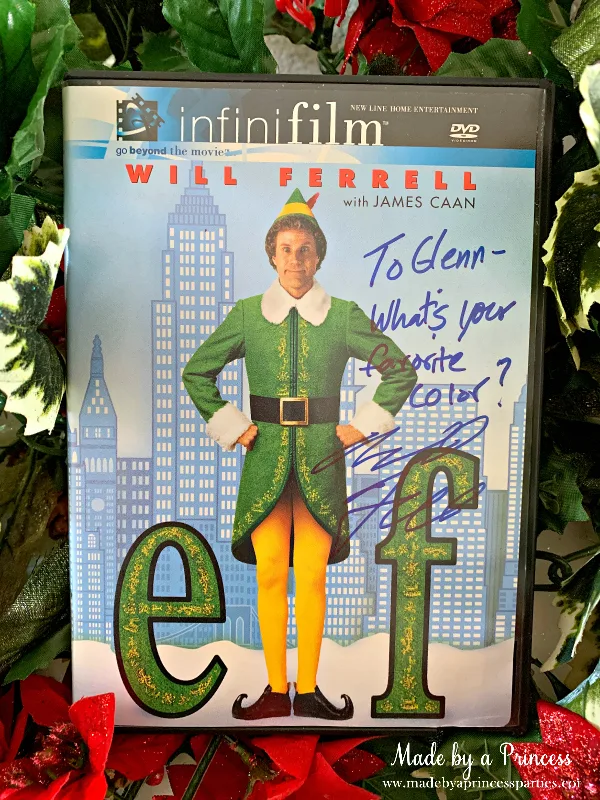 My husband always chooses those stop motion Christmas classics animated features like, Frosty the Snowman, Rudolph the Red Nosed Reindeer, and Santa Claus is Comin' to Town. My daughter counted our Christmas DVDs tonight…we have 22. I actually thought we had more than that! I guess we must have supplemented our own library with ABC's 25 Days of Christmas Movies on TV. There is a site called "Christmas TV Schedule" and they have the full line up of movies this holiday season including all the Hallmark Christmas movies.
Christmas Movie Schedule
We've never kept to any kind of movie schedule but I thought it would be fun to create a master list of movies. Everyone can pick their favorites and the night they wanted to watch them.
My daughter and I chose Elf the night after Halloween which I personally think is the best way to kick off Christmas season! Buddy the Elf puts me right into the holiday spirit. I even made a pot of homemade hot chocolate made with a bar of chocolate and topped with mini peppermint marshmallows. How Christmasy is that?!
You can download my Christmas Movie Schedule printable and use the list below to create your ultimate holiday movie lineup.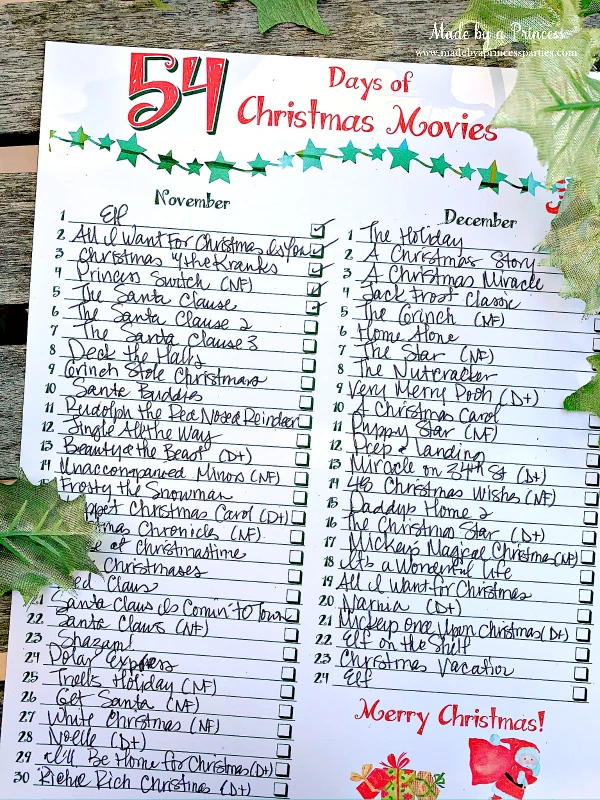 Christmas Movie List
There are several types of lists here for you: Best Christmas Movies of All Time, Kids & Family, Comedy, Romantic, Hallmark, Action, & Classic. Some of the ones listed under Comedy Christmas Movies may not be appropriate to watch with kids so make sure you look at the rating. Bad Moms Christmas is awesome but no way in heck would I watch that with my kids!
Christmas Movie Night List
Get ready to make your Christmas Movie Night schedule as we countdown to Christmas! With over nearly 150 movie titles you are sure to find you something you and everyone else in your house will agree on...and love!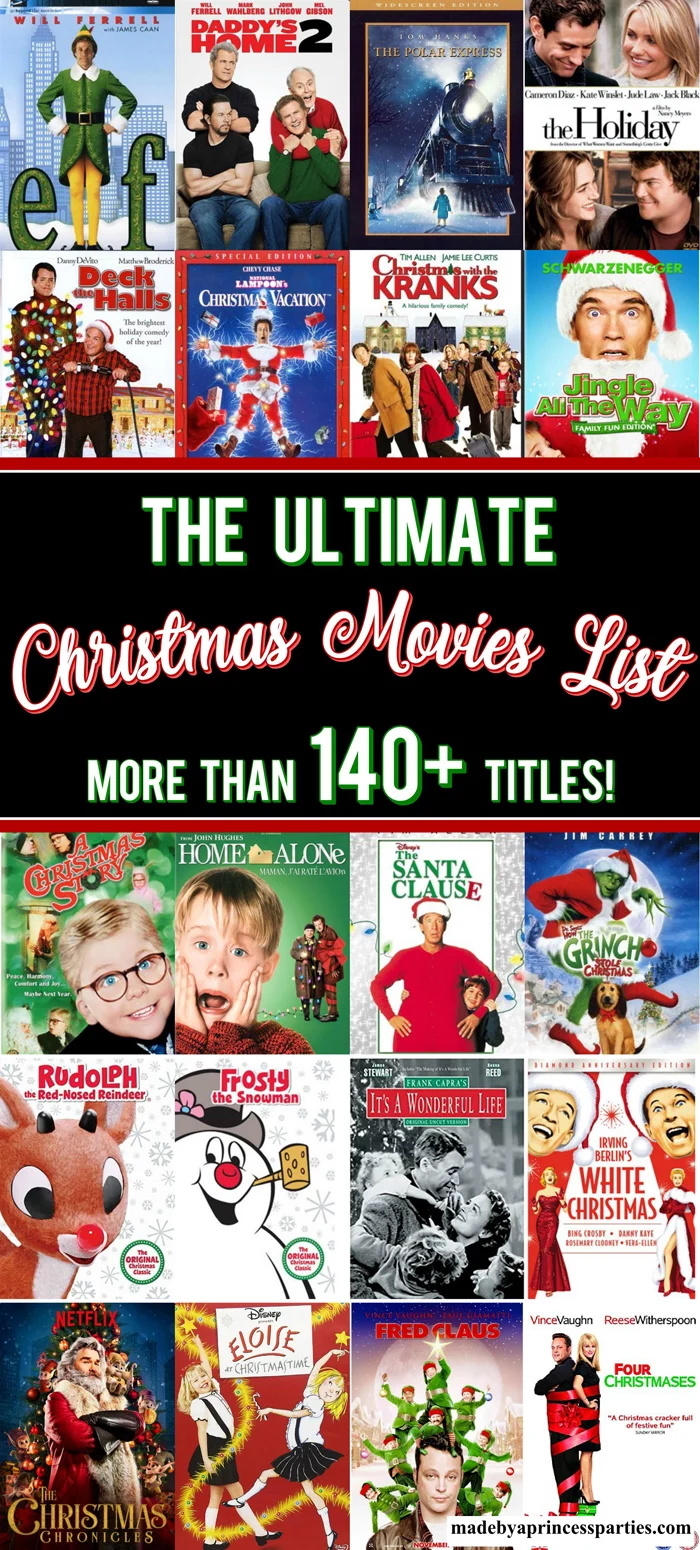 Related