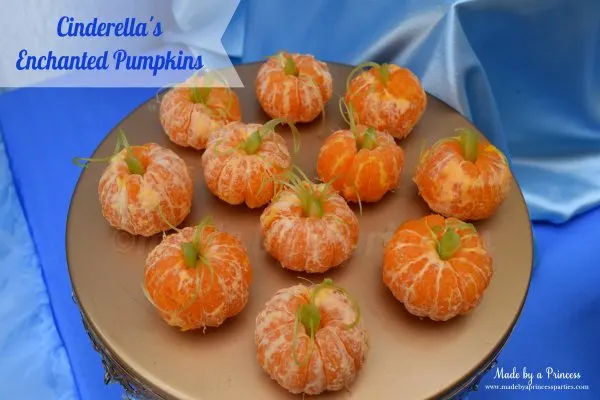 For almost a year my daughter had said she wanted a Super Girl birthday party this year. I sketched it out, started planning the food, the activities, the backdrop…then Cinderella the movie happened. Bye bye Super Girl…hello Cinderella! We are all about princess around here so it was no problem at all. I quickly got to work on figuring out the food and one thing I knew we had to have were pumpkins. Not very easy to find pumpkins in April so whilst in the produce aisle, bag of Cuties in hand, I realized I had found a solution!
Since this was a tea party style Cinderella party all of the food was hand held and small. The little Cuties were perfect for our preschool party guests and they were really easy to make. All you need are small oranges and celery. I cut small pieces of celery to make the stem and then pulled a piece from the top of the stalk down to make a celery curl. I did experiment with orange wedge wheels but ultimately decided on keeping in simple with just the "pumpkins".
Here is a close up I shared on Instagram…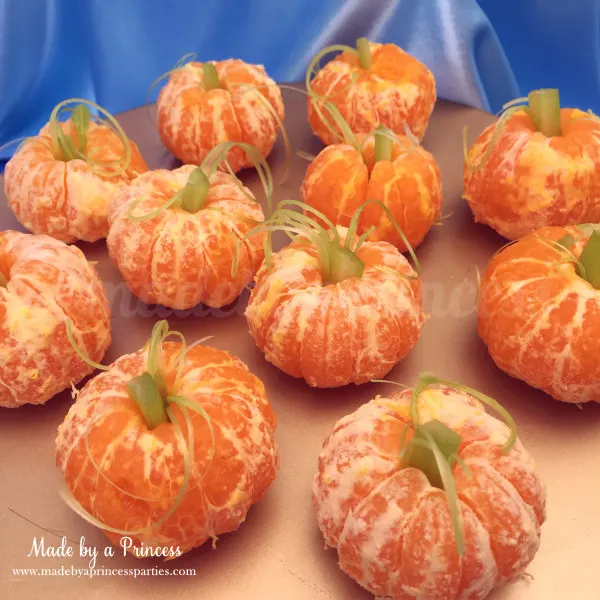 [tweetthis]Enchanted pumpkins are a #healthy and easy #Cinderella #partyfood idea![/tweetthis]
I really love themed food at parties and usually have at least one signature food item. Last year I created the original Melted Olaf made with Greek yogurt, an orange Mike and Ike, royal icing eyes, and chocolate twigs for my daughter's Frozen birthday which ended up being a huge hit.
I hope you enjoyed our Cinderella's Enchanted Pumpkins party food idea. Next week I will be sharing all the details of our Cinderella and the Palace Pets Tea Party. Here's a sneak peek of the table full of goodies!