I was sponsored to write this post on behalf of Weight Watchers®. This Crunchy Skinny Stuffed French Toast recipe has been compensated by Collective Bias, Inc. and is sponsored by its advertiser. All opinions are mine alone. #SmarterTreats #CollectiveBias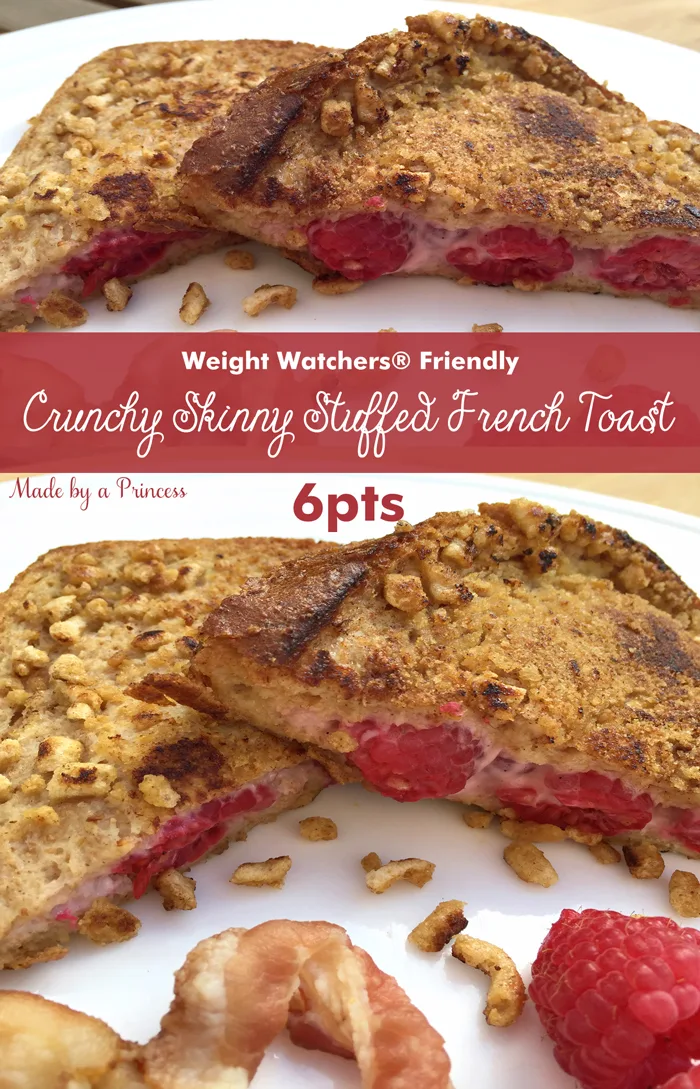 I was so excited when Weight Watchers® asked me to create a recipe for them because I am a big fan of the program. I have always struggled with a little extra junk in the trunk and the older I get the harder it becomes to keep those curves from getting a little too curvy. Making good choices isn't difficult but it does take incredible will power at times. I have found that allowing myself indulges here and there, all within the guidelines, is key to my current success. I really love to cook and I really really love to eat so I look for ways to enjoy all the things I love but with fewer calories (or points). One of the things I used to love to make was stuffed french toast. Traditional stuffed french toast is loaded with calories but this lightened up version is so much better and does not come with all the guilt, or extra pounds! I am so happy to be sharing my Crunchy Skinny Stuffed French Toast Recipe with you today!
So here's my confession: I have actually been on Weight Watchers® for the past four months. I have done the program several times over the years, with success, but always ended up going back to my old ways. Not this time. I love the way my clothes are feeling, I love getting rid of clothes that are too big, and I am so much happier. Making good choices without sacrifices is so important and I am loving all the time in the kitchen with my kids cooking lighter meals.
Weight Watchers has a ton of great products, including cereal. For this recipe I picked up some Weight Watchers Whole Grain Honey Nut Toasted Oats and Weight Watchers Reduced Fat Cream Cheese Spread. Once I had all my ingredients ready I started scanning the bar codes on the products I purchased to figure out how many points each was and then used the Recipe Builder in the Weight Watchers phone app. I love these features! I don't go to meetings but I do "check in" on the app throughout the day. If I am grocery shopping I can scan the bar code right on my phone and find out just how many points the product has. You will be shocked at how many points some of your favorite products have! Some things that I used to love just aren't worth it anymore now that I see what diet killers they were.
This is what it looks like when you start building your recipe…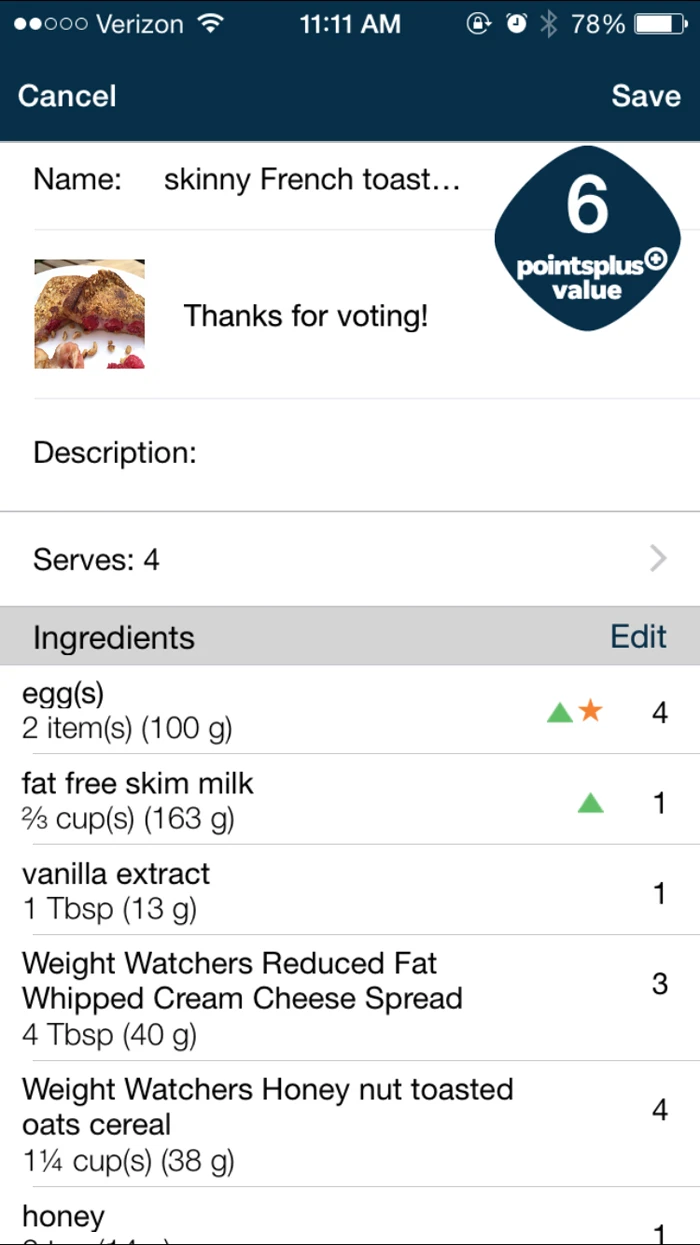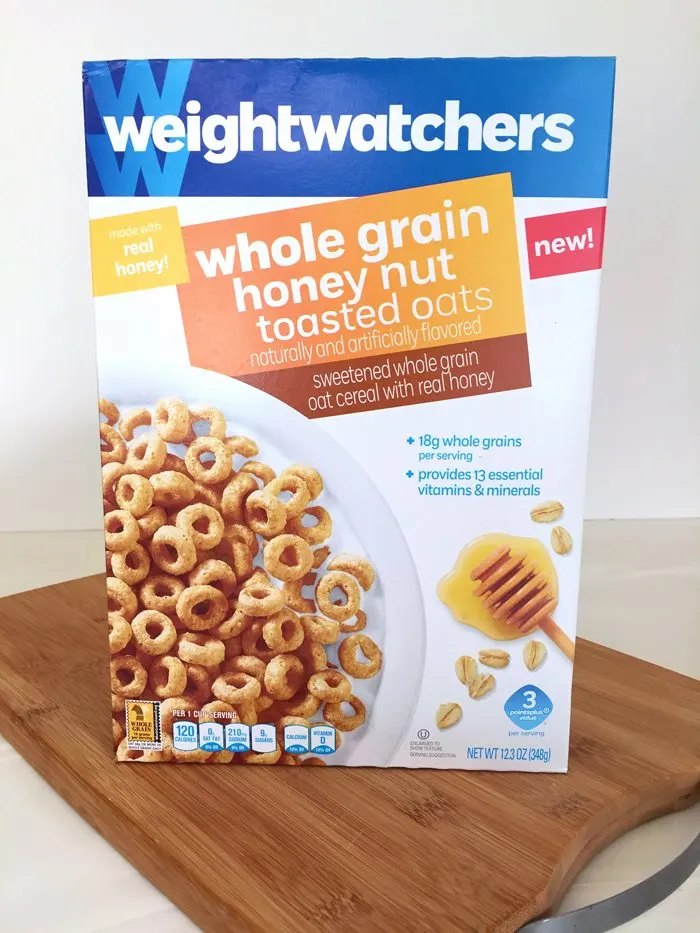 Now that we have our ingredients and we've built the recipe let's start cooking! The full printable recipe can be found below the pictures.
Take 1.5 cups of cereal and place it in a baggie and then smash into small pieces.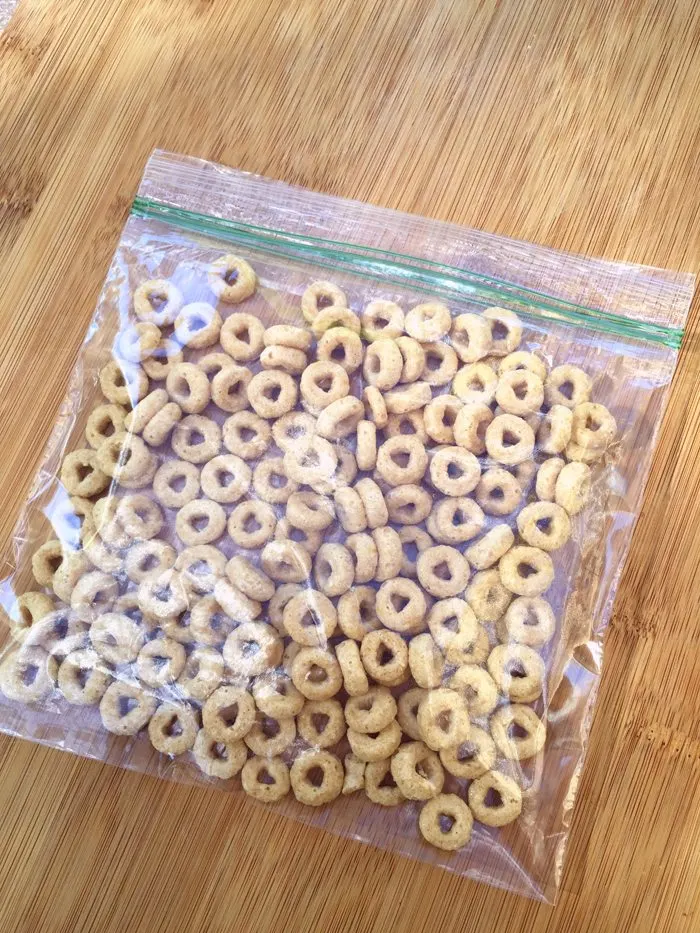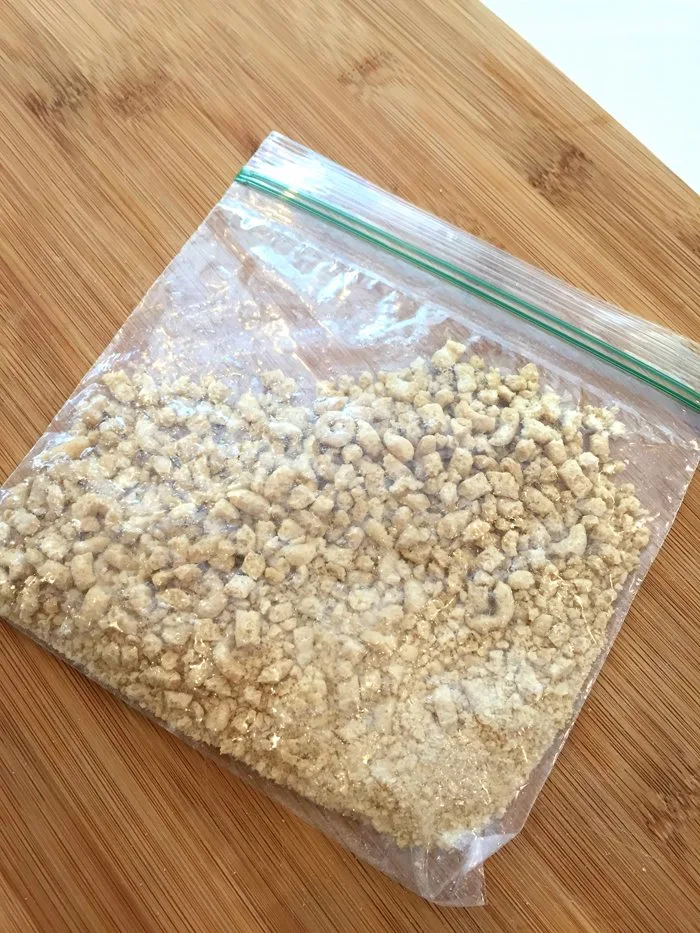 In a small bowl combine the 4 tbsp cup cream cheese, 2 tbsp sugar free jam, 2 tsp honey, and 1-2 tsp vanilla extract and mix until smooth. *I add a pinch of salt but that's up to you.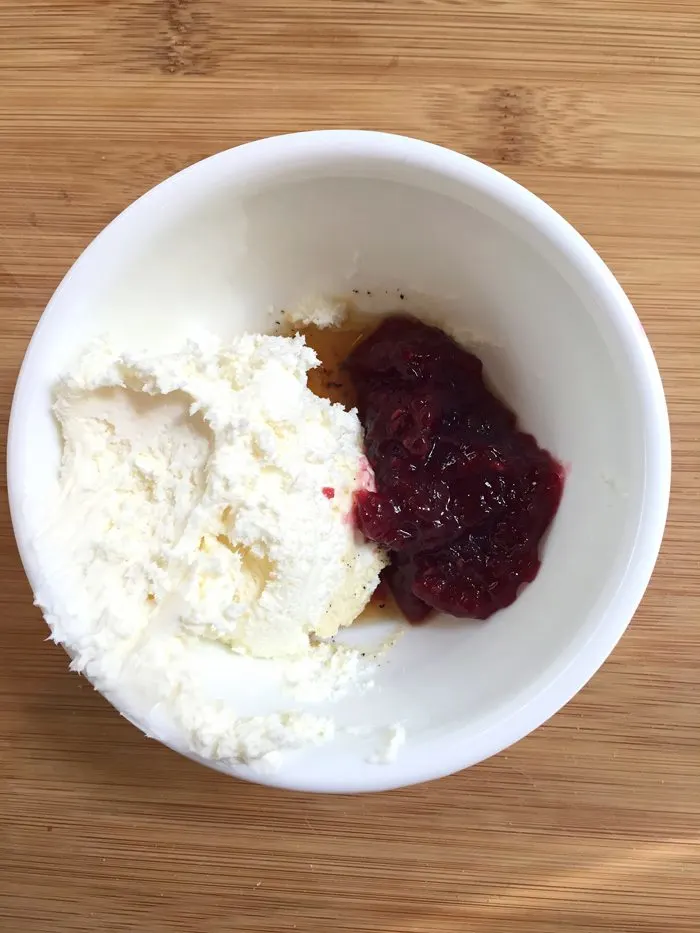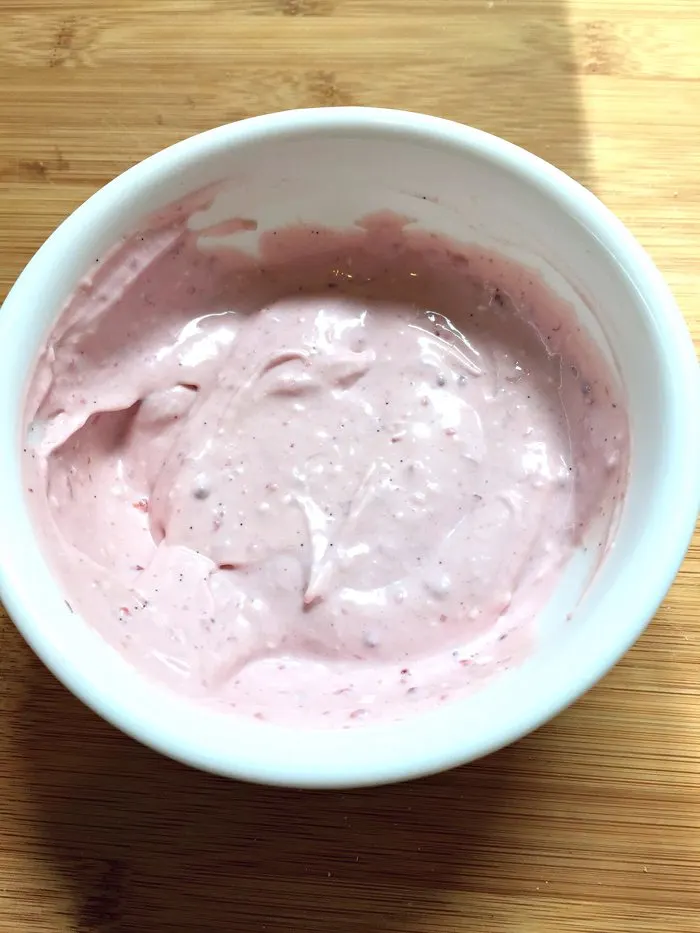 In another shallow bowl hand whip 2/3 cup fat free milk, 2 eggs, 1-2 tsp vanilla extract, and 1-2 tsp pumpkin pie spice. This is your milk wash.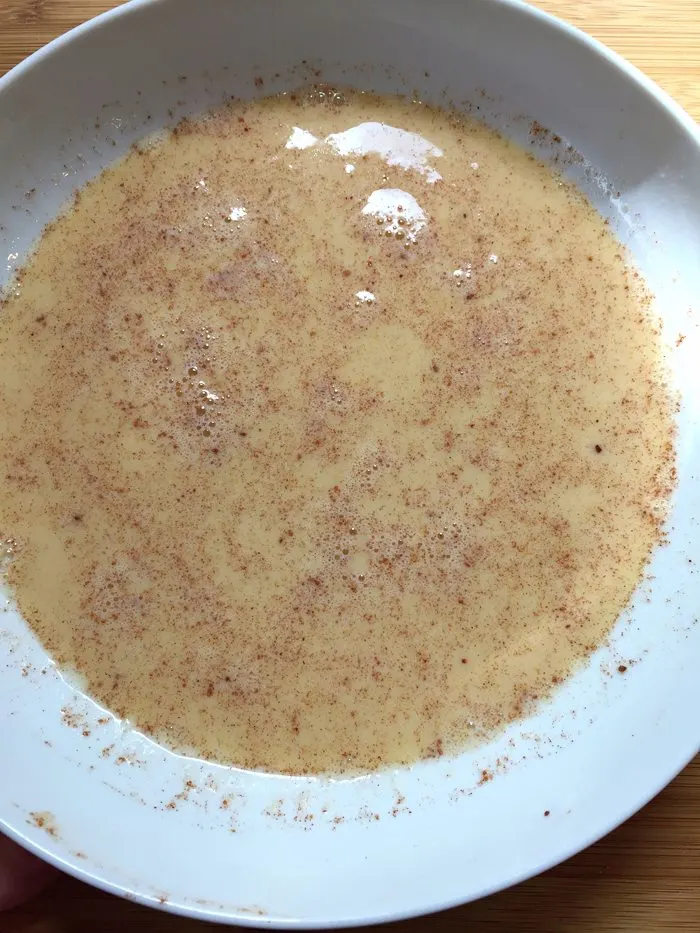 Now build your toast pouches. Use 1 tbsp of cream cheese mix and spread on one half of your sandwich. Add fresh berries if you like. Put the other piece of bread on top and then pinch the edges to form a pouch. You want the edges sealed so the filling doesn't spill out.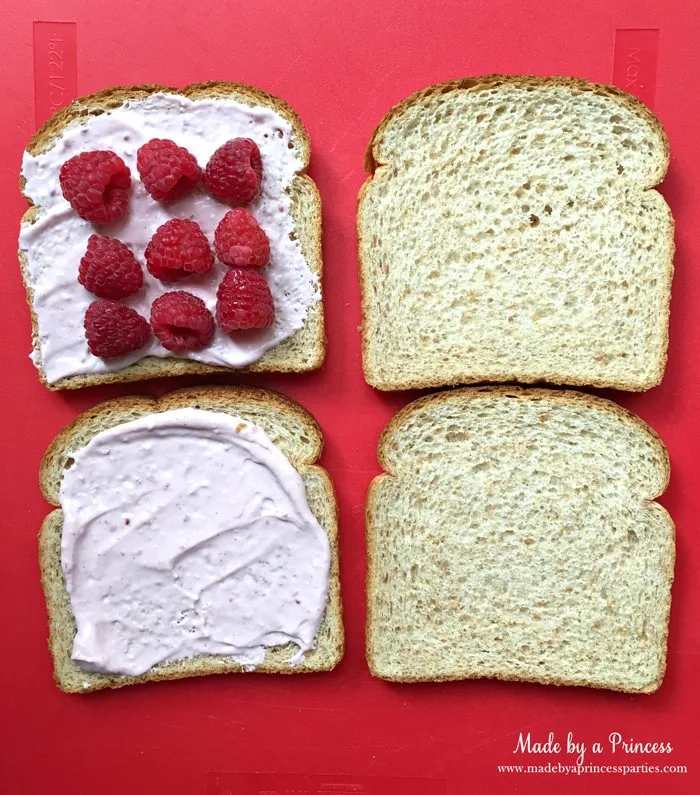 Dip the sandwich in the milk wash on both sides and then dip coat with crushed cereal crumbs. I spread the crumbs out on a plate and dipped both sides. Place the sandwich in a pan and cook until both sides are golden brown. You can use 1 tsp of butter but you will add another point to your meal. I used Pam Cooking Spray, Butter Flavored instead because I didn't want to use another point in that way (I'd rather have a piece of bacon!).
Doesn't this look wonderful?! I added a piece of bacon for protein, only 1 point, some fresh raspberries, and had a cup of coffee with creamer. (2 tsp of sugar free non dairy creamer is 1 point). I love the crunch the cereal added and did not miss regular cream cheese at all. This french toast doesn't need any syrup but if you wanted to add something to it you could sprinkle some powdered sugar on top. (1 tsp of powdered sugar has no points but 2 tsp will bring you up to 1 pt).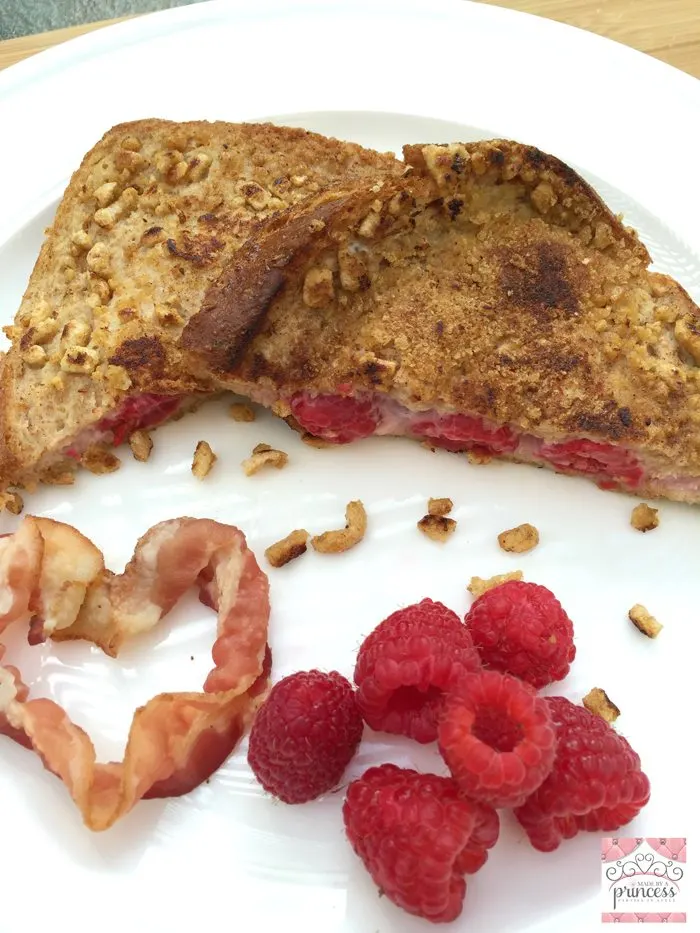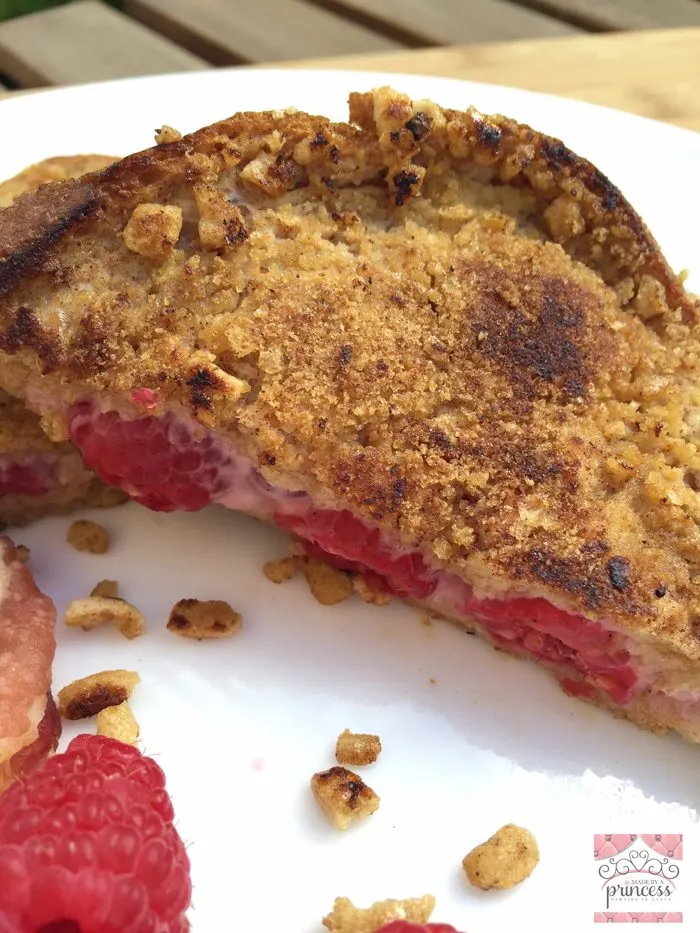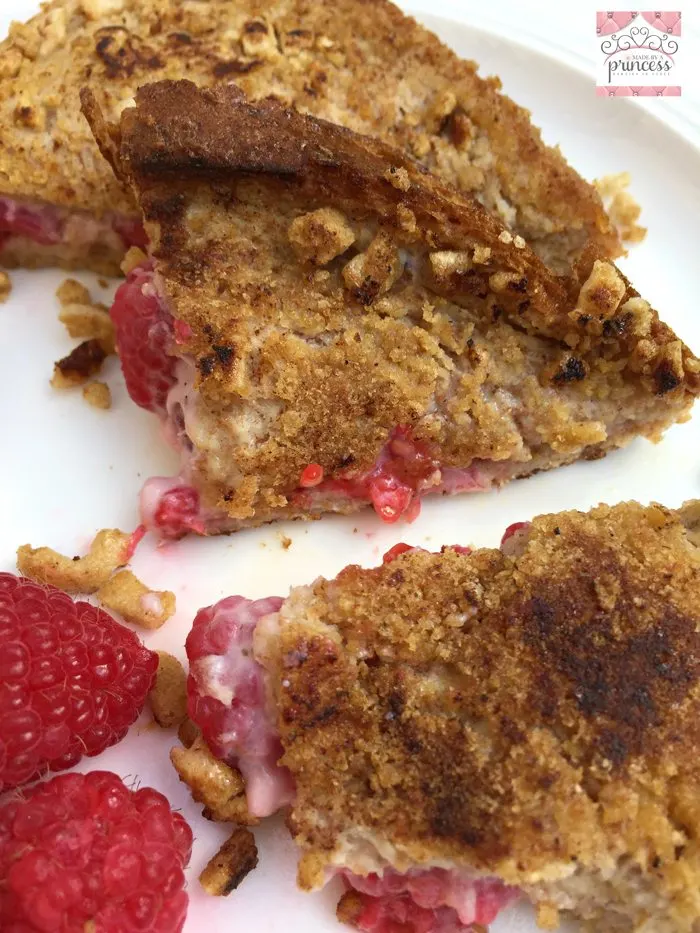 When you go to Walmart look on the cereal aisle right up on the top shelf to find the Weight Watchers cereal. My Walmart had two choices but each store is different. There are a bunch of cereal choices but any one of them would make a great crunch.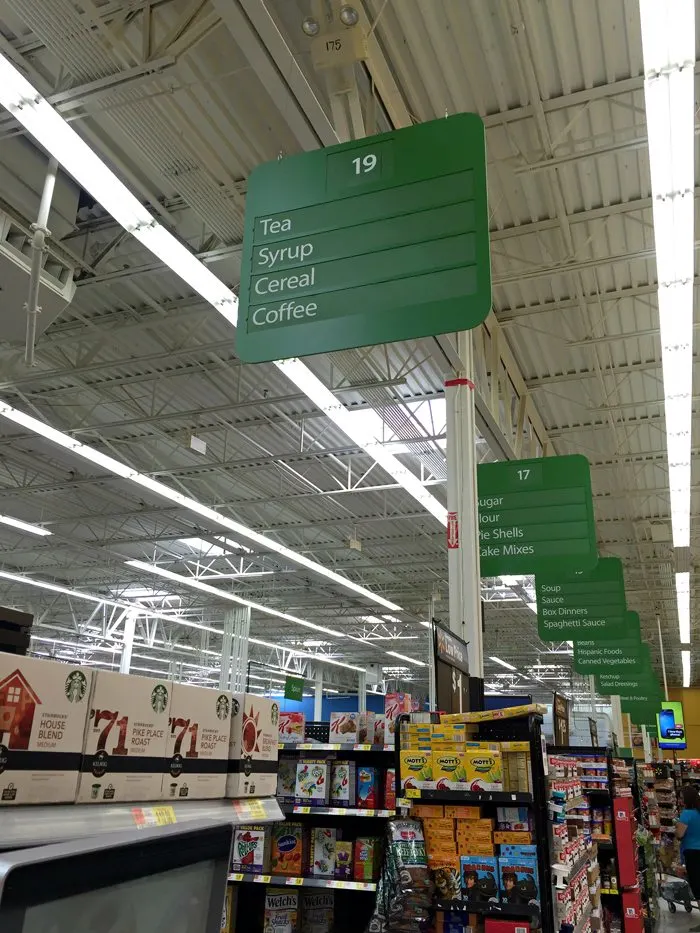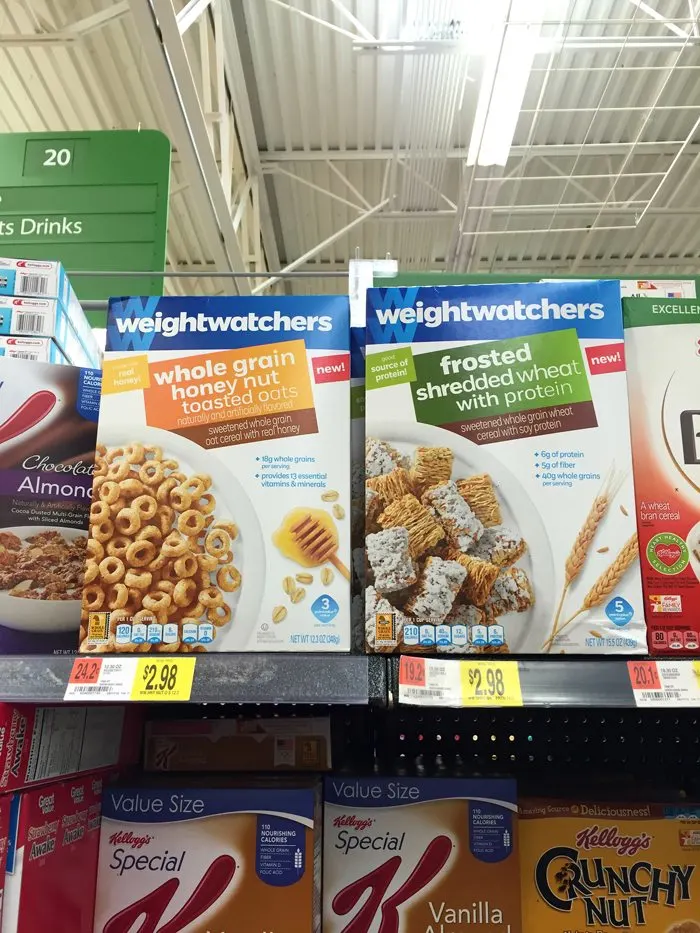 Don't forget to PIN this recipe to SAVE FOR LATER!
Be sure to check out more delicious Weight Watchers recipes HERE and share your favorite. Which of the #SmarterTreats is your favorite?