Oriental Trading Co provided me with some products. All ideas and opinions are my own.
Strong girls are the best girls! Save the world like Wonder Woman this Halloween!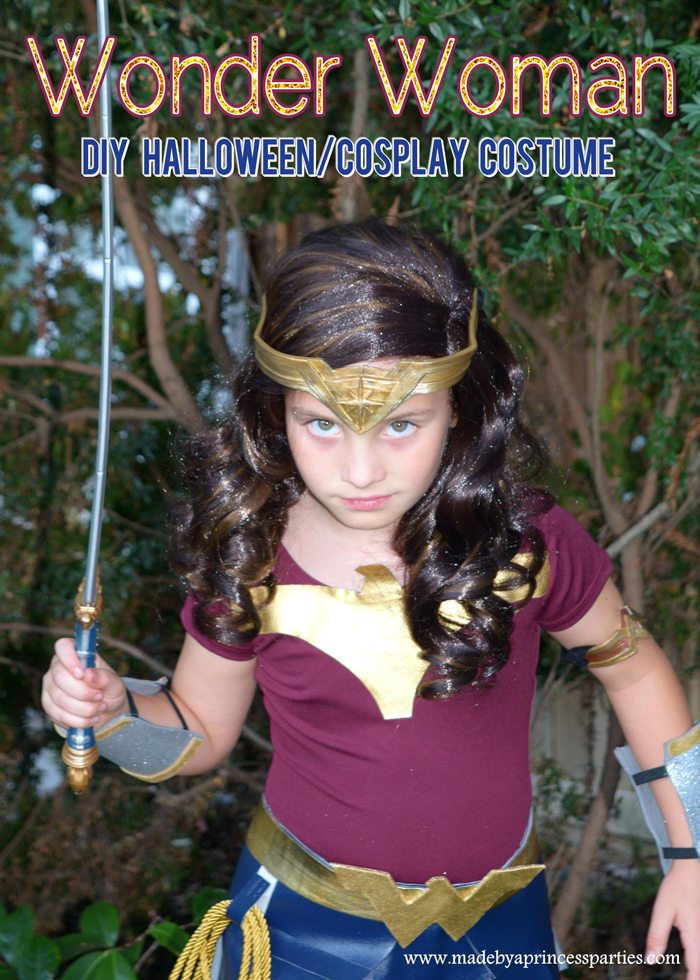 I love strong, fierce, independent women so when I found out that Wonder Woman was getting her own movie I was so excited! I think I was more excited than my daughter about it really. It was everything and more and when the movie was over we both wanted to be her for Halloween. Since my daughter is way cuter than I am I decided she most definitely needed to be the one to dress the part. Today I'm sharing my DIY Wonder Woman Movie Halloween Costume tutorial so you too can get your warrior ready to save the world!
*This post does contain affiliate links*
Before you get started let me just tell you this is not an overnight project. It's going to take some prep, mostly because this is a no-sew costume and the Fabrictac has to have a chance to dry. With that said, my daughter is thrilled with the way it came out so it was totally worth it!
Below is what you are going to need to make this costume. My daughter is six and wears a 7/8 so keep that in mind and adjust accordingly:
Navy blue vinyl fabric
Gold stretch metallic (slightly stretchy) fabric
Foam (grey, silver, and gold)
Gold metallic pleather belting
Gold metallic twisted cord
Elastic
Velcro
Scissors
Poster board (for templates)
Maroon Leotard (runs on the small side)
Boots
Wonder Woman Costume Cape from Oriental Trading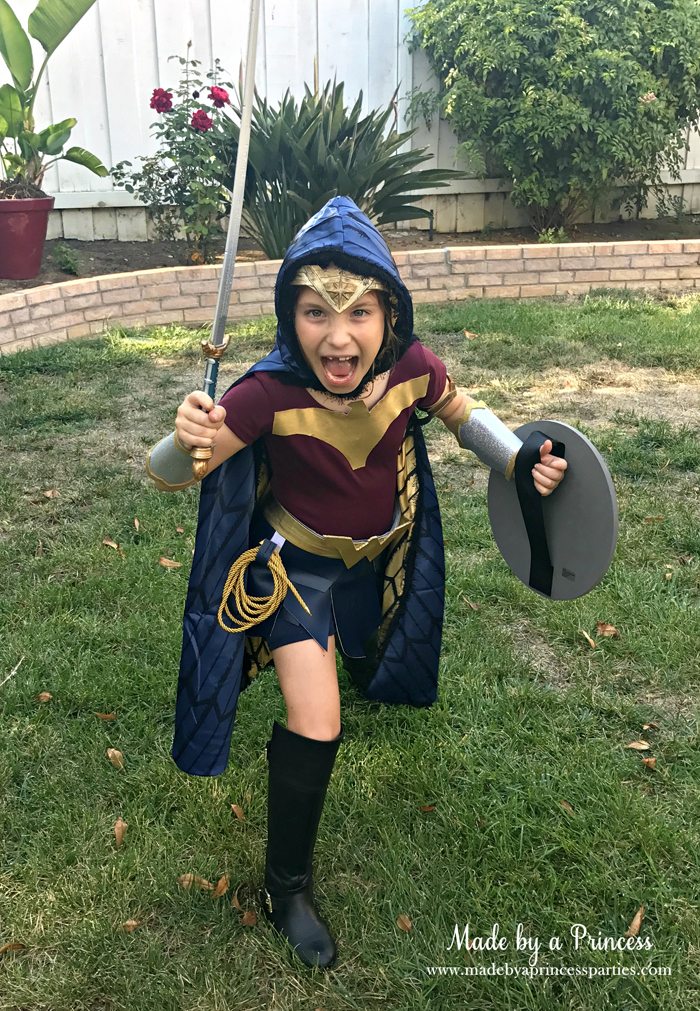 First, I'd like to apologize for the pictures. I was making this costume up and creating the templates as I went along which is why there is some inconsistency in the backgrounds and lighting. Before I got started I sketched out what the gladiator skirt looked like and then made the templates for the panels. Wonder Woman's skirt is very very short so I elongated the pattern to make it child appropriate. I thought about putting the skirt over a tutu but it just didn't look right so I opted for navy blue biker shorts. My daughter loved it and felt very comfortable…which is just what a warrior needs for a night of battle (trick or treating).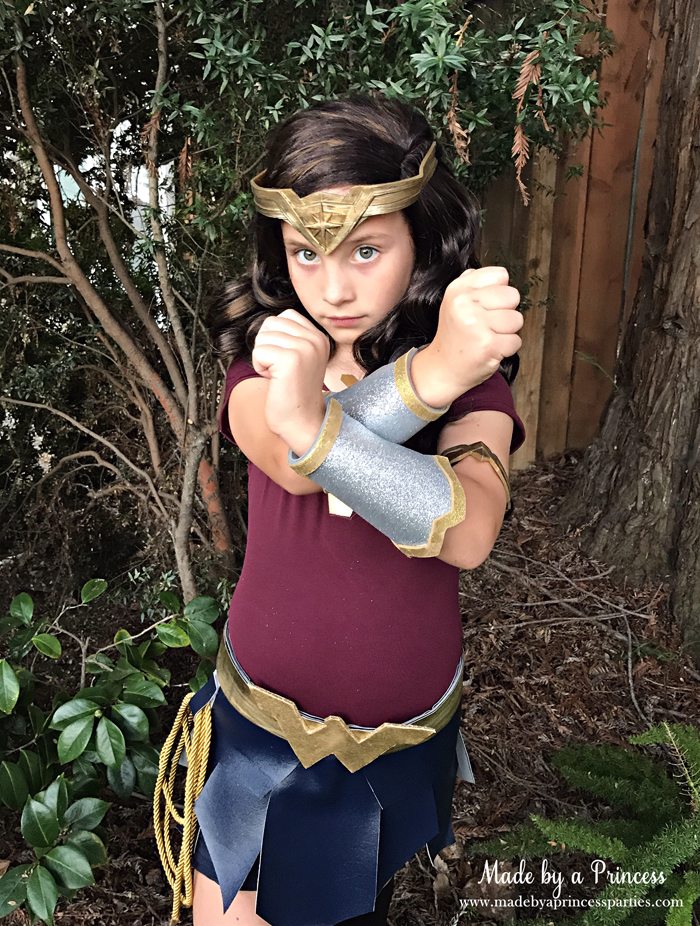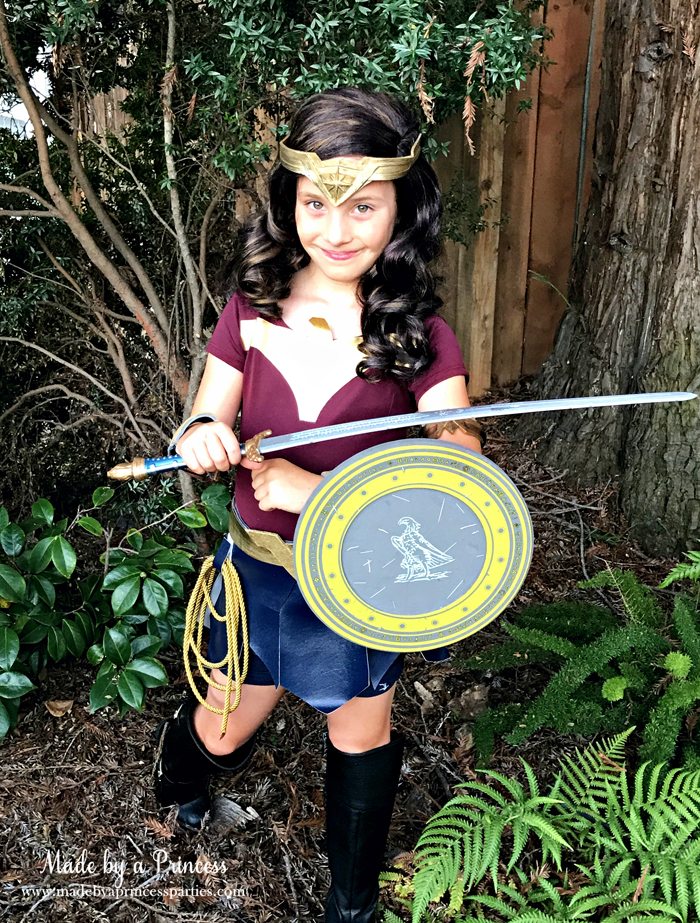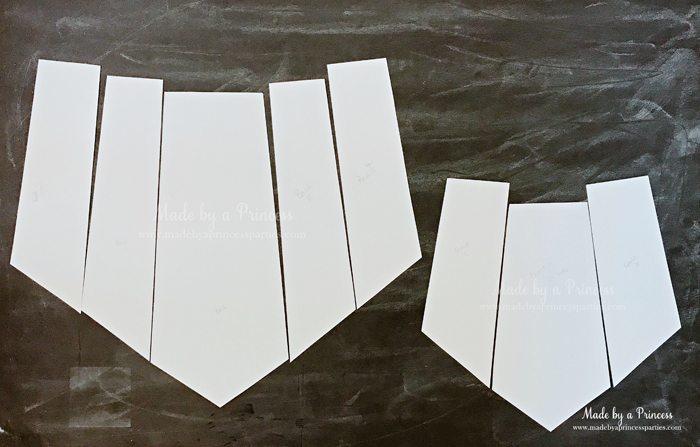 Once my templates were cut I traced them on the backside of the vinyl fabric and then cut them out. I also cut a waistband from the vinyl which is about 1.5″ wide and 2.5″ longer than my daughter's waist.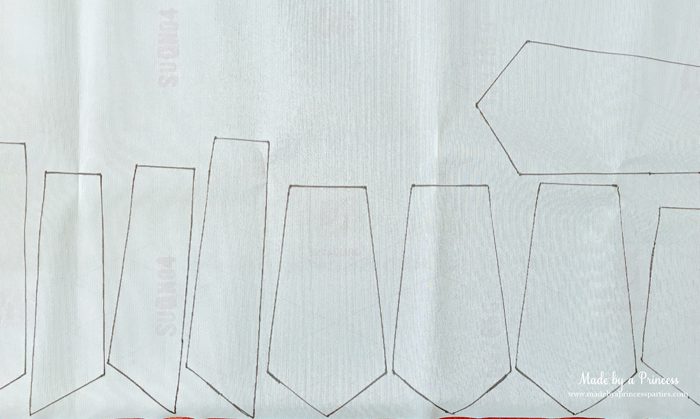 I wanted to make sure all the pieces were going to work together before I glued them so I placed them on the waistband with paper clips.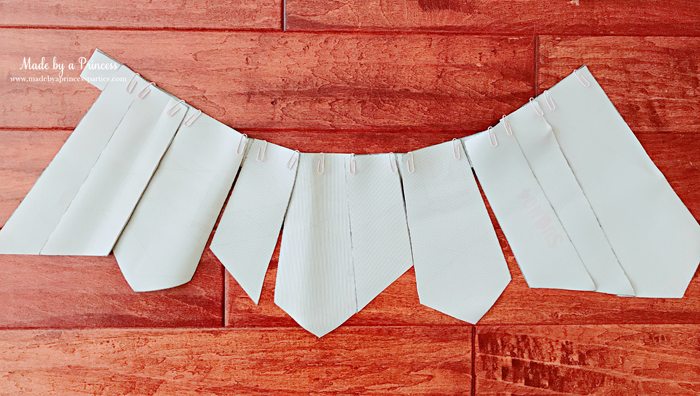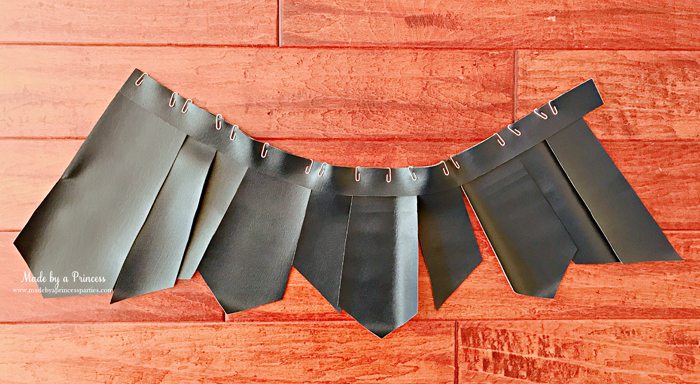 Once I was happy with them I glued them together and laid the skirt out on a piece of white poster board on my floor. You definitely want to put a stack of books on the skirt and let dry several hours or overnight. Air pockets between the glue and fabric will weaken the bond so it's really important you don't miss this step.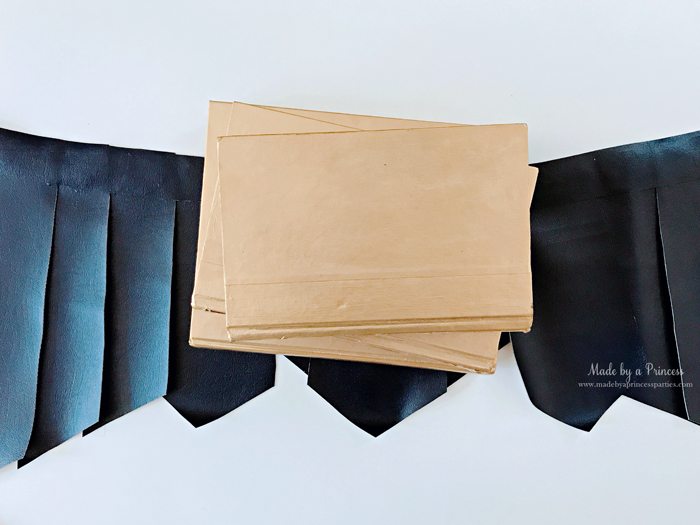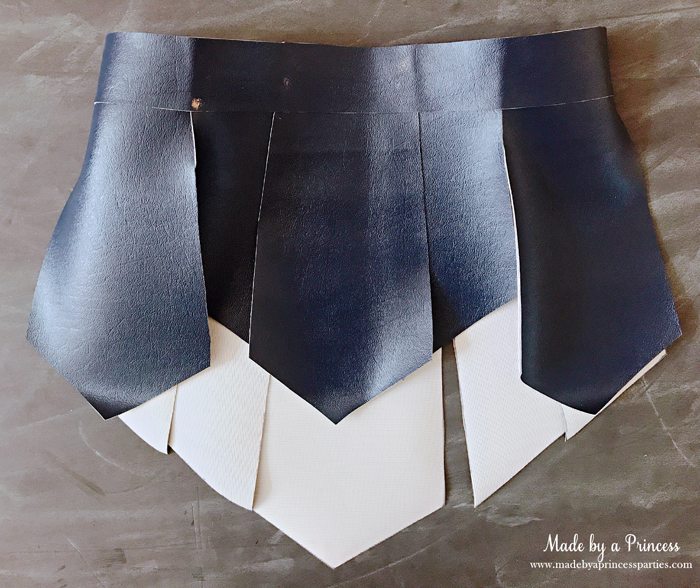 I decided I wanted to add the inside panel and a couple more flaps to look more like Diana's skirt so I made a few more templates.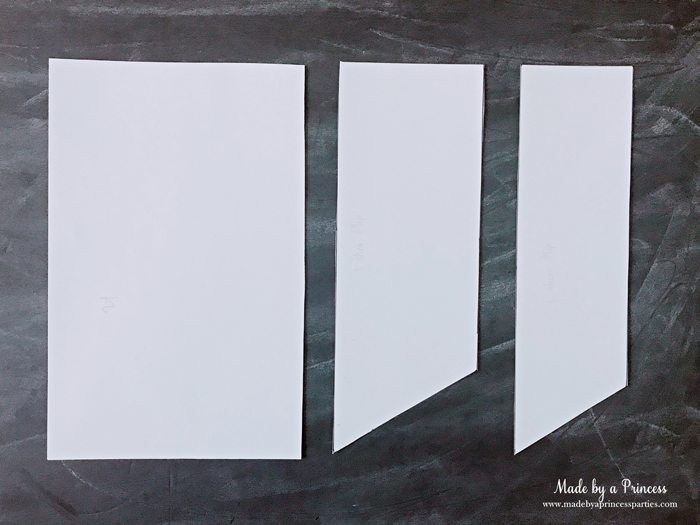 I waited to glue the velcro on because I wasn't sure where it needed to be. Once you know where you want it glue it on and then place back under the books. The vinyl does stretch a little so make the velcro long enough so that it can be adjusted if you need to make it tighter.
Glue the smaller panels to the sides and then the rectangular piece over that. Place books on the skirt and leave to dry.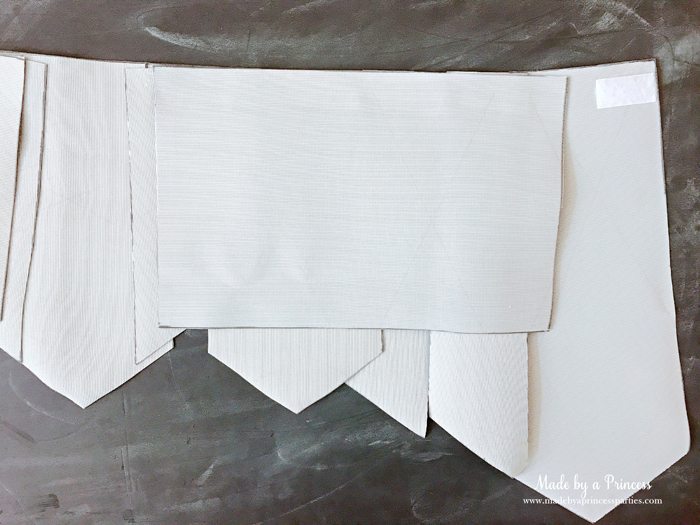 While the skirt is drying you can make the eagle for the top. I know Wonder Woman's top is strapless but this is a family channel so I had to make an age appropriate adjustment to this costume detail. I found a maroon leotard on Amazon (not easy I might add) and created a template for this eagle. I used gold metallic (slightly stretchy) fabric, interfacing, and fusible webbing so I could iron it on the leotard. Do not try to glue it. Glue does not adhere to leotards because it is porous and if you did get it to stick it will pop off…not a good look.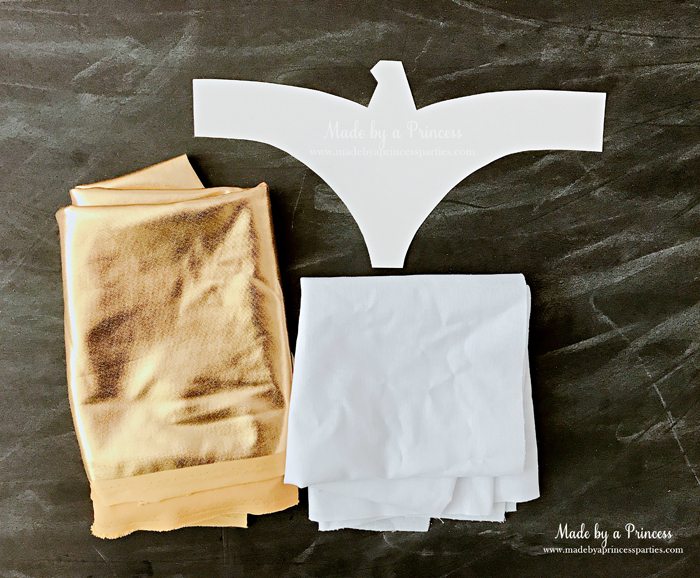 Cut a small piece of metallic fabric, larger than your template, and place your interfacing, bumpy side down, and iron on medium heat. Use a towel or Teflon ironing sheet to prevent burning. Pull paper off interfacing after it has cooled. Now iron your fusible webbing, bumpy side down, over the interfacing. Use the towel or ironing sheet. When it has cooled pulled off the paper.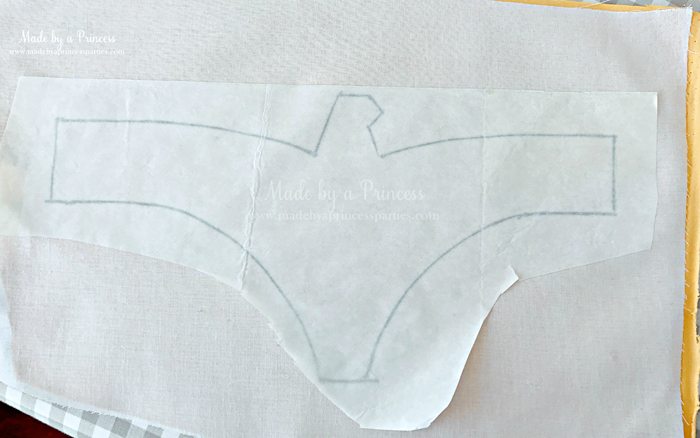 Since you aren't ironing the eagle head you want to cover up the fusible webbing on this part only. Iron a small piece of interfacing on just the head.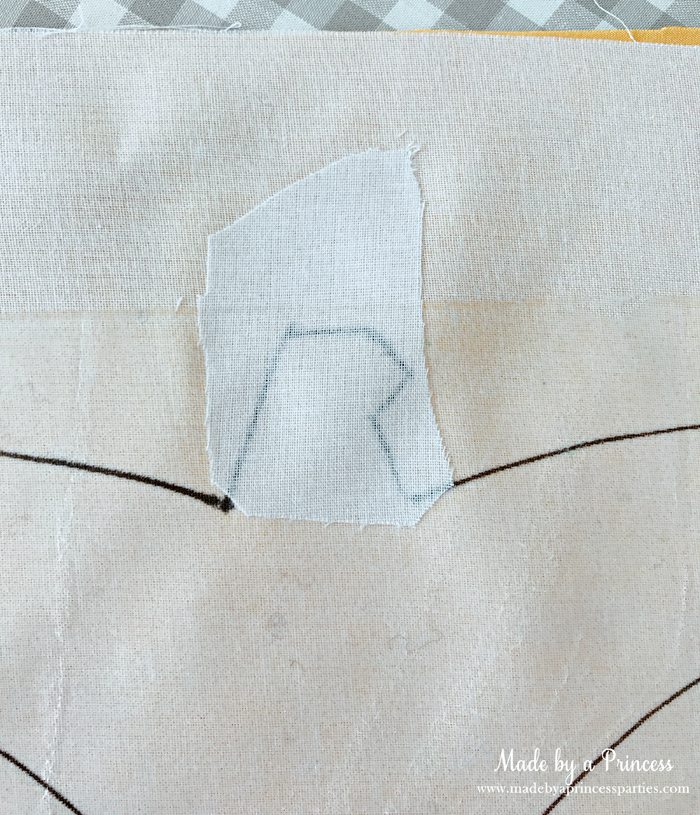 Cut the whole thing out.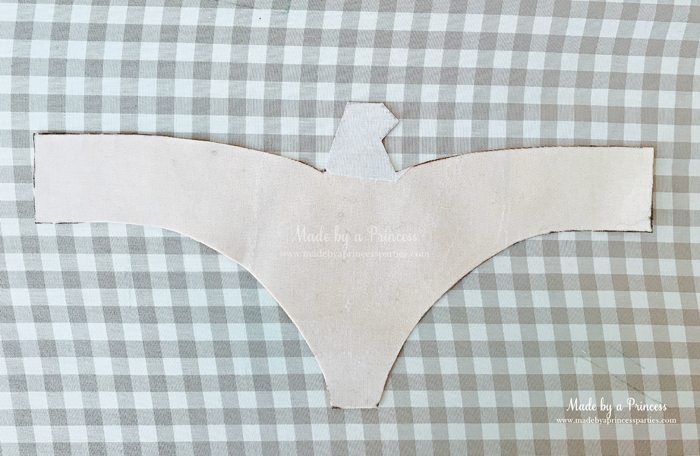 You now have a beautiful eagle plate ready to iron to the leotard.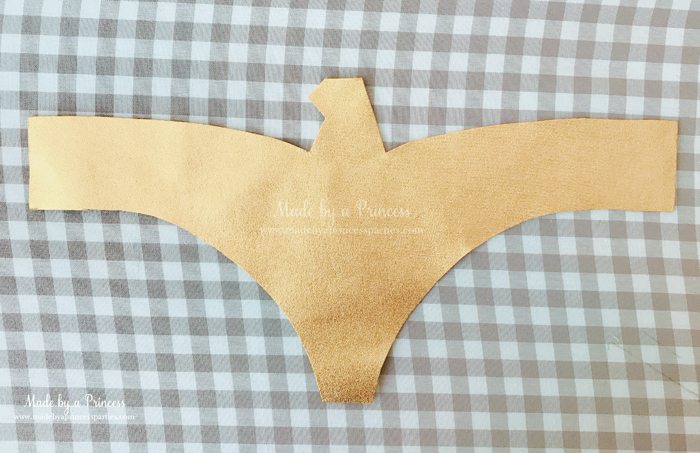 Iron the eagle to the leotard on low heat, definitely use a towel or ironing sheet because the metallic fabric can easily burn. Don't iron the edges though as you will want to trim them to be flush with the arm seam.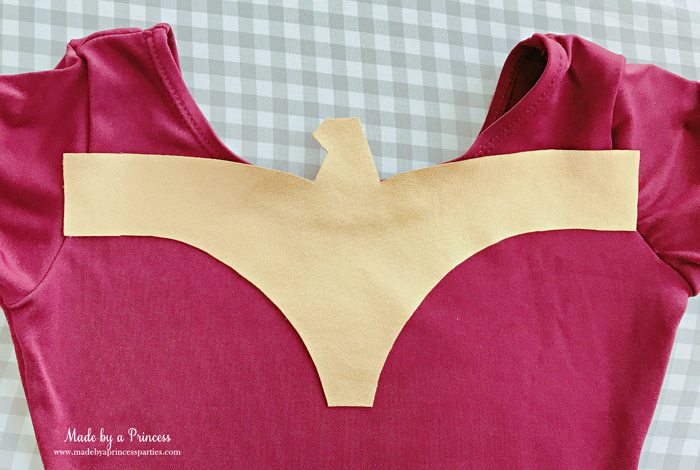 Here is what it looks like trimmed.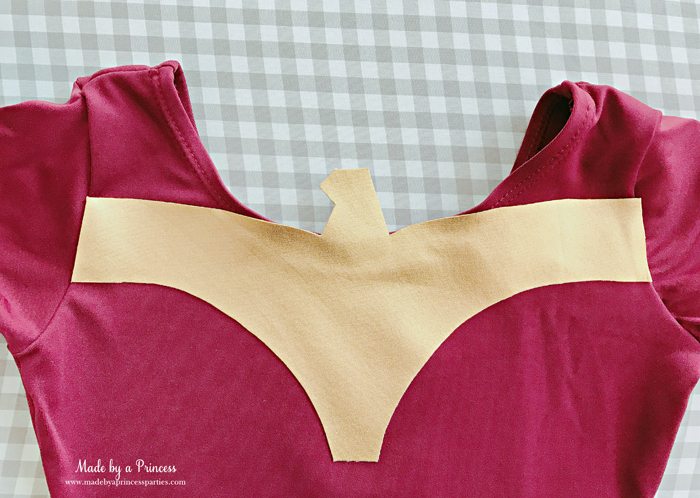 The wig from Oriental Trading is perfection! It does not come with the headband so you will have to purchase that and the arm band separately. I was going to make them but it was easier to buy them.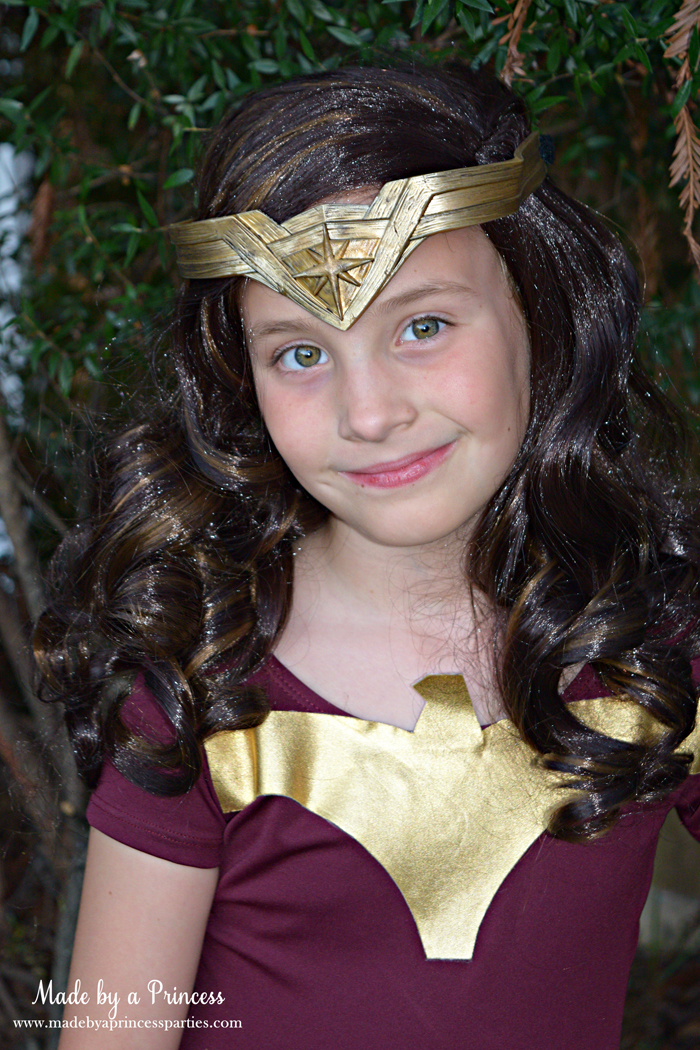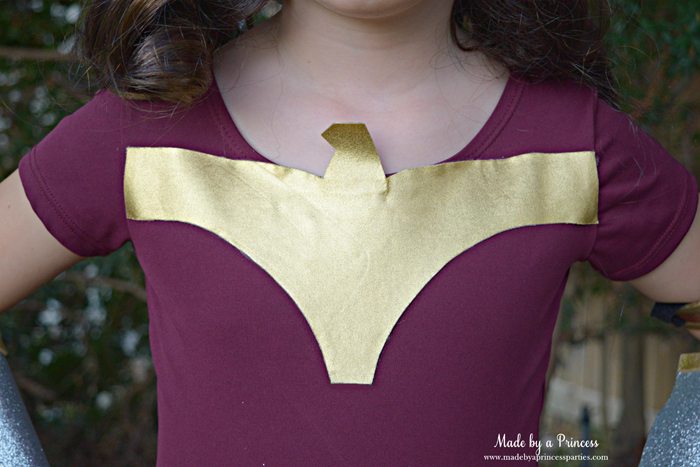 Here is the costume from the back. The belt was a little tricky, I have to admit. The "W" is made with two layers of Fusible Stabilizer and an interfaced backed gold metallic fabric "W". You use the same method as above for the eagle by ironing the interfacing to a patch of fabric, peeling off the paper backing, and then cutting it out. Use FabriTac to glue the "W" to the stablilizer and place under books to dry. When it is dry you can use gold glitter glue to finish off the edges so you don't see the white stabilizer.
I played around with the belt a lot and ended up gluing it to the top of the skirt almost all the way around. I did leave about 2.5″ on each side on the back so I could adjust it as necessary.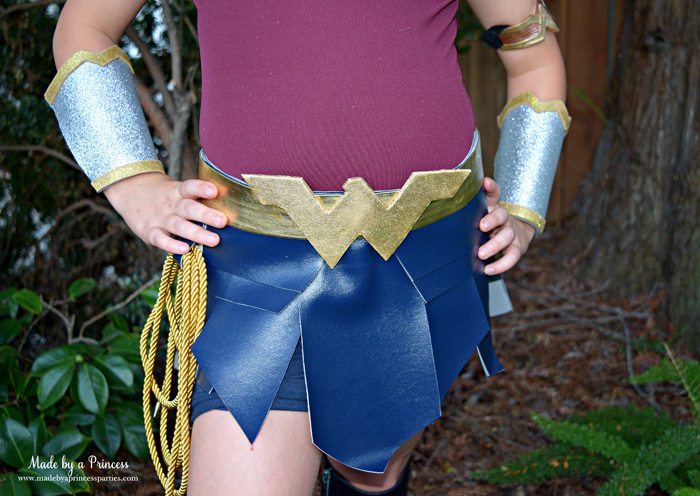 Here is the costume from the back. You can kind of see where the glue stops. (That discolored part is where I pulled off the velcro to readjust. If you get it before the glue sets you'll be fine.)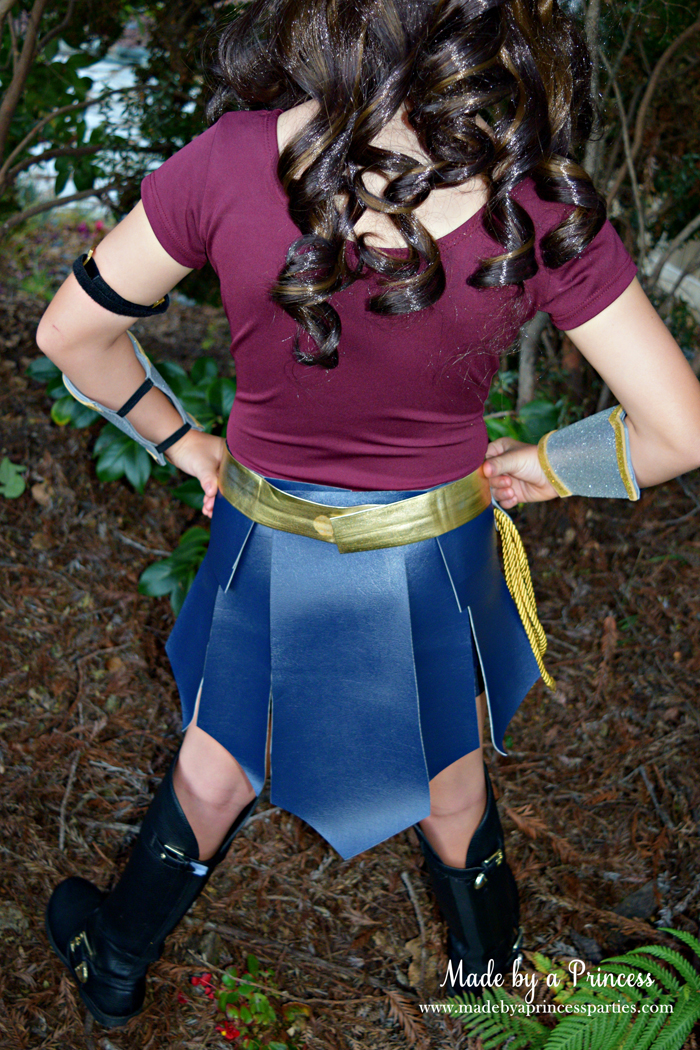 Take a little piece of vinyl and glue it to the skirt then add velcro. Those ridges are from binder clips. I first tried securing the velcro to the vinyl using mini binder clips…don't do this…just use the books!
Twisted cord will fray so take a little piece of gold metallic fabric and glue it to the ends of the cord. It ends up looking like a metal bracket which really completes the look.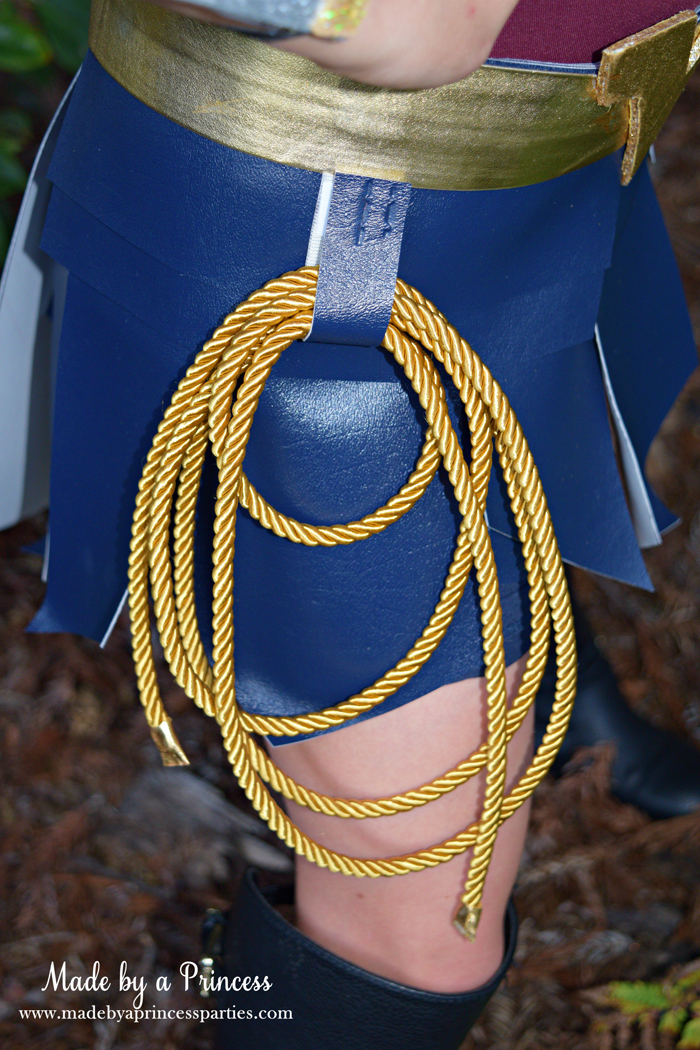 I wrote a mini tutorial for the arm bracers but basically you need grey, silver, and gold foam, a few pieces of elastic, and FabriTac.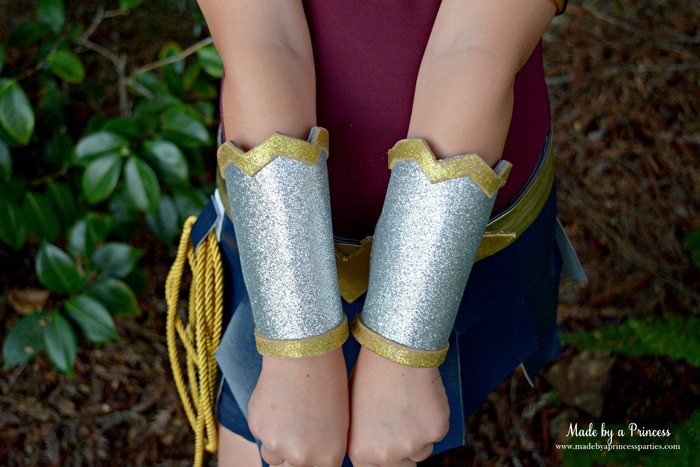 Now add a sword and a shield and your girl is ready to take on the world!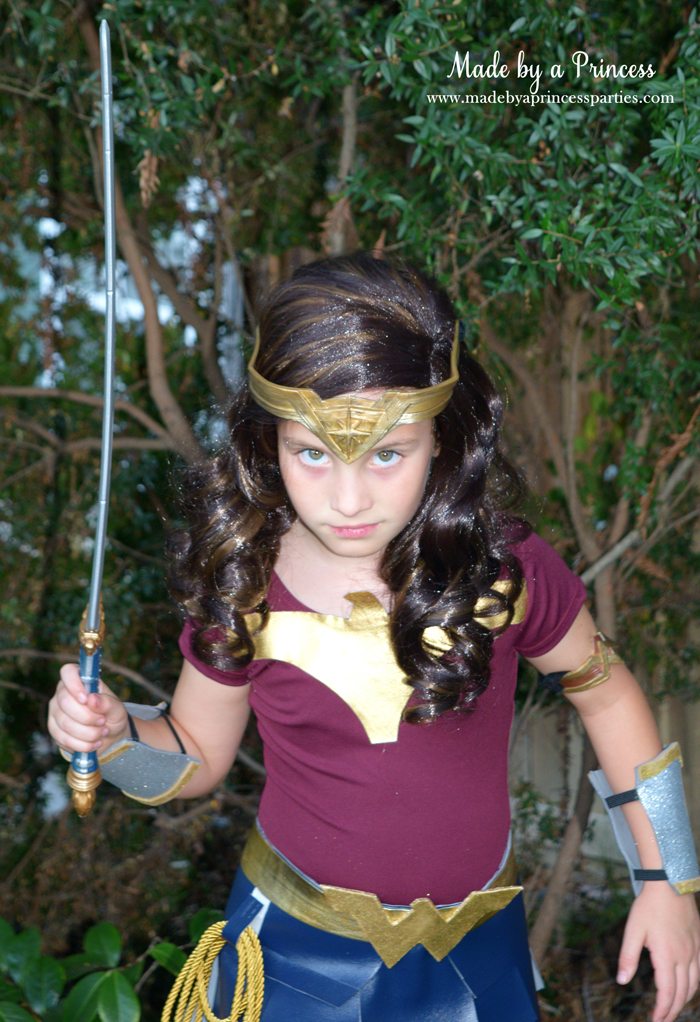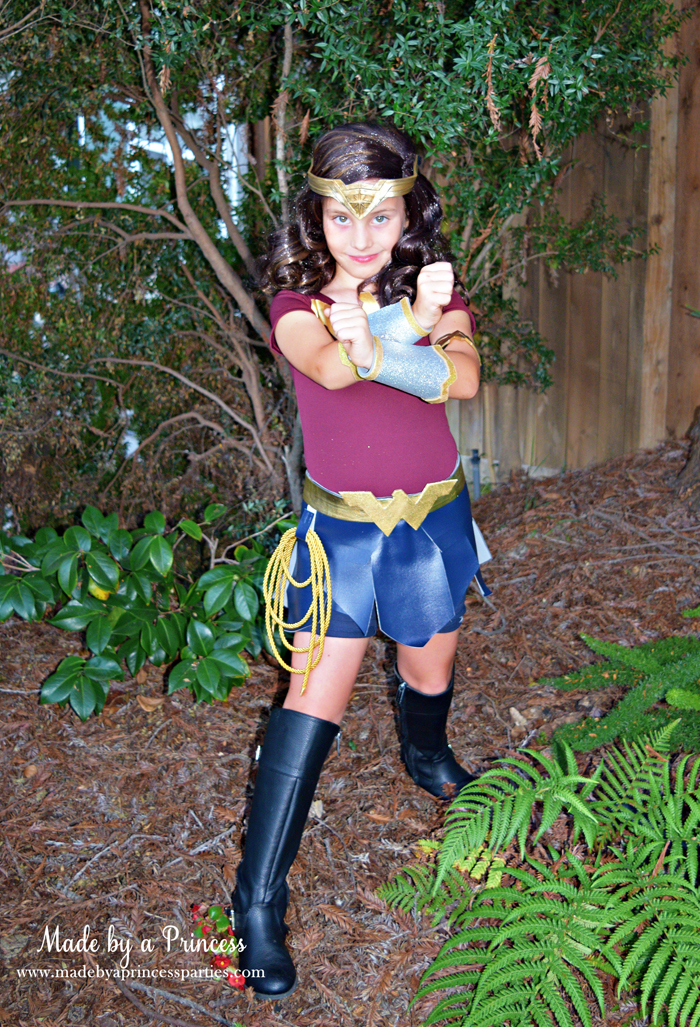 This fabulous cape is from Oriental Trading.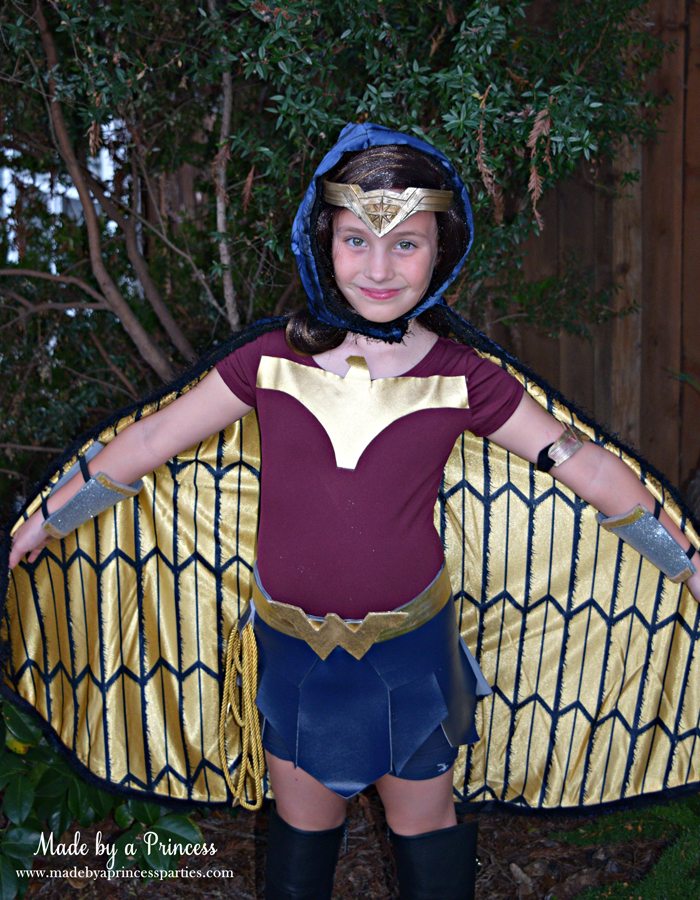 I hope you enjoyed my DIY Wonder Woman Movie Halloween Costume tutorial. It takes some work but the result is so worth it!