Find out how to make roasted Brussel Sprouts in the oven that your family will love.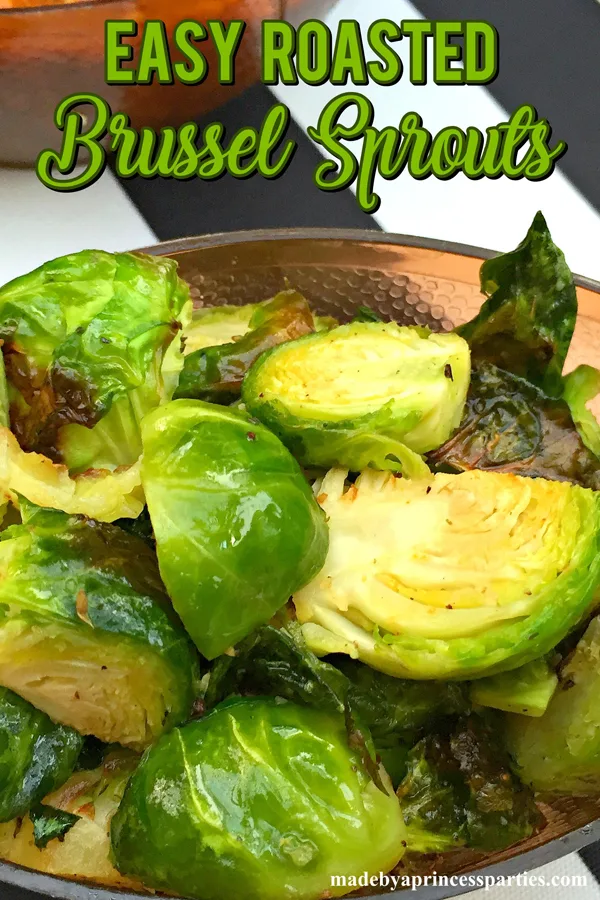 Brussel Sprouts really get a bad rap and I don't really know why because they are so good. Learn how to make roasted Brussel Sprouts to serve for dinner tonight!
Brussel Sprouts Recipe
How Do You Make Roasted Brussel Sprouts?
To make roasted Brussel Sprouts start by cutting the ends off and quartering them and then place them in a medium bowl. Next, melt butter in the microwave, add seasonings, salt and pepper, and pour over sprouts. Toss until well coated. You can also use olive oil but I prefer the taste of butter on my Brussel Sprouts.
Once your sprouts are well coated, spread them face down evenly on a greased cookie or baking sheet. You want them to lay in a single layer on the sheet and not overlapping one another.
Preheat the over and bake them at 375 degrees for about 25 minutes (longer if you want them crispier). Add some bacon bits and you could have a whole meal of just Brussel Sprouts! It's not just a side dish 🙂 I served them with Coca Cola BBQ Chicken Hand Pies and they were delicious!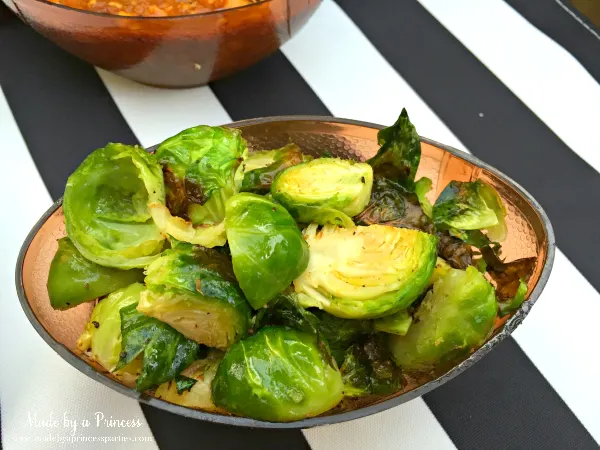 Top Questions About Roasting Brussel Sprouts Answered:
Are Roasted Brussel Sprouts Good For You?
Yes, Brussel Sprouts are really are good for you. They are high in fiber, minerals, antioxidants, vitamins, and can help maintain healthy blood sugar levels.
How Do You Clean Brussel Sprouts?
Trim ends, rinse sprouts off in sink, soak in a cold water for about five minutes, then remove any loose or discolored outer leaves from the outside.
What is the Best Way to Reheat Brussel Sprouts?
Reheat roasted Brussel Sprouts by laying them face down on a greased baking sheet and cook for 10 minutes at 350 degrees. You can microwave them but they will taste much better if you pop them in the oven.
How Do You Know When Brussel Sprouts Are Done?
When they are tender and brown they are done. Also, another telltale sign of them being ready to eat is if you can easily cut through the sprout.
Should You Rinse Brussel Sprouts Before Roasting?
Yes, you should absolutely rinse Brussel Sprouts before roasting them. They are not a particularly dirty vegetable but sediment does get in between the leaves. Give a quick cold rinse and soak and let dry before prepping to roast.
What Temperature Should Brussel Sprouts Be Roasted At?
You will find recipes that say to cook at 450 for 15 minutes and others that say roast at 350 for 30 minutes. Here is a quick cooking guide you might find handy:
Caramelized outside/soft inside: 375 degrees for 25-40 minutes (check at 25 minutes and cook in 5 minute intervals based on preference)
Slightly crispy/soft inside: 400 degrees for 35-40 minutes
Crispy outside/slightly crispy inside: 425 degrees for about 25-35 minutes
Super crispy/charred: 450 degrees for 15-25 minutes
I personally like them slightly crispy on the outside and soft on the inside.
Easy Roasted Brussel Sprouts Recipe
Brussel Sprouts Variations You Will Love