This shop has been compensated by Collective Bias, Inc. and The Coca-Cola Company. All opinions are mine alone. #GameDayGreats #CollectiveBias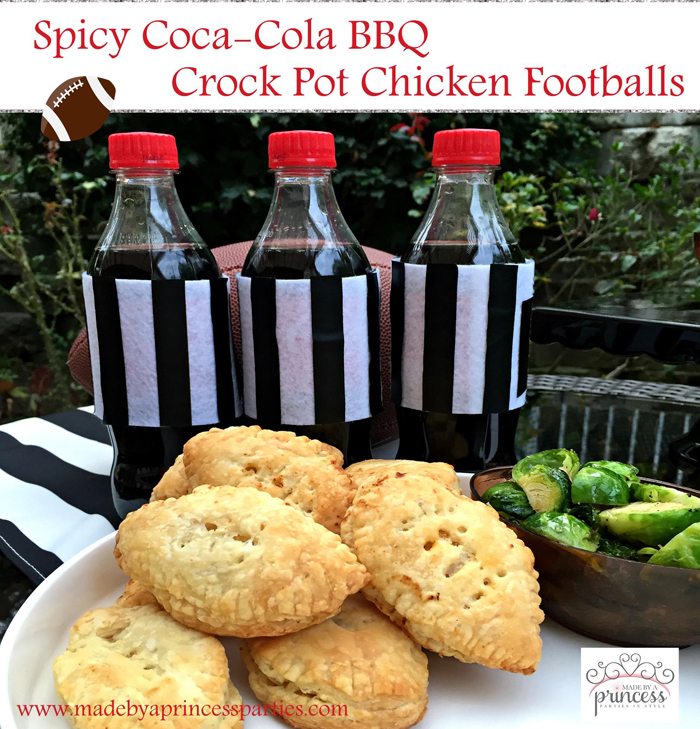 Some of my family's favorite meals are created during football season. One of our new favorites are spicy Coca-Cola BBQ crock pot chicken puff pastries shaped liked footballs. They don't have to be shaped liked footballs but they are a lot more fun that way! Keep reading for the recipe that will have your team cheering for more!
We really love football around here. If our team is playing it's a sure thing we're home watching the game. We're in 1st place too so we're feelin' pretty good lately! I like to serve easy to eat munchies on game days which means I use my crock pot a lot. One thing I started cooking recently is this spicy Coca-Cola BBQ crock pot chicken. I was serving it on a Hawaiian roll which tasted really good but I wanted to make it a little more handheld…and I really like themed food. Walking through the aisle at Ralphs a couple weeks ago it hit me that I could make a football shaped pocket out of a puff pastry sheet…oh yeah! It was so good! I'm going to walk you through how to make them but they are pretty easy. You can make them any size you need. For this post I made small ones but you can make bigger ones which means yours will have more meat in them. The smaller ones are cute but they don't have very much chicken in them. We ended up dipping our footballs in the extra chicken which was really good!
I made it easy on myself and bought two packages of pre-cooked chicken and chopped it up. I also used about 1/2 cup of uncooked bacon that I chopped into little pieces and a 1/2 cup of onion. Throw this into your crock pot along with all of your other ingredients. (Full recipe below.)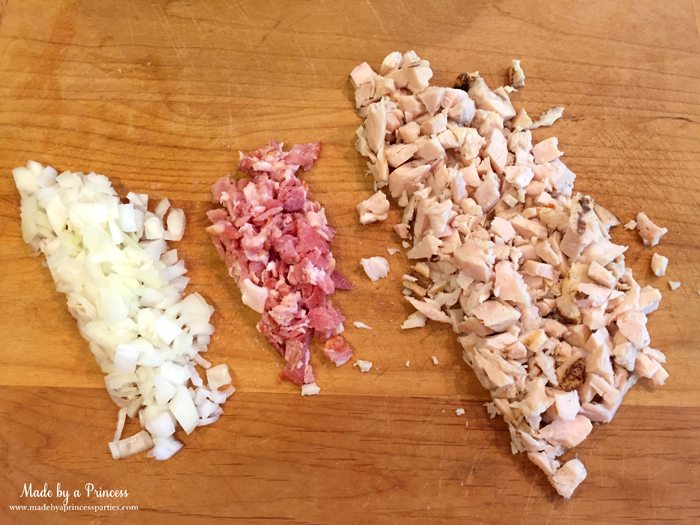 Find a football shape you like online and then create a document (you can use Word) and then cut out your template.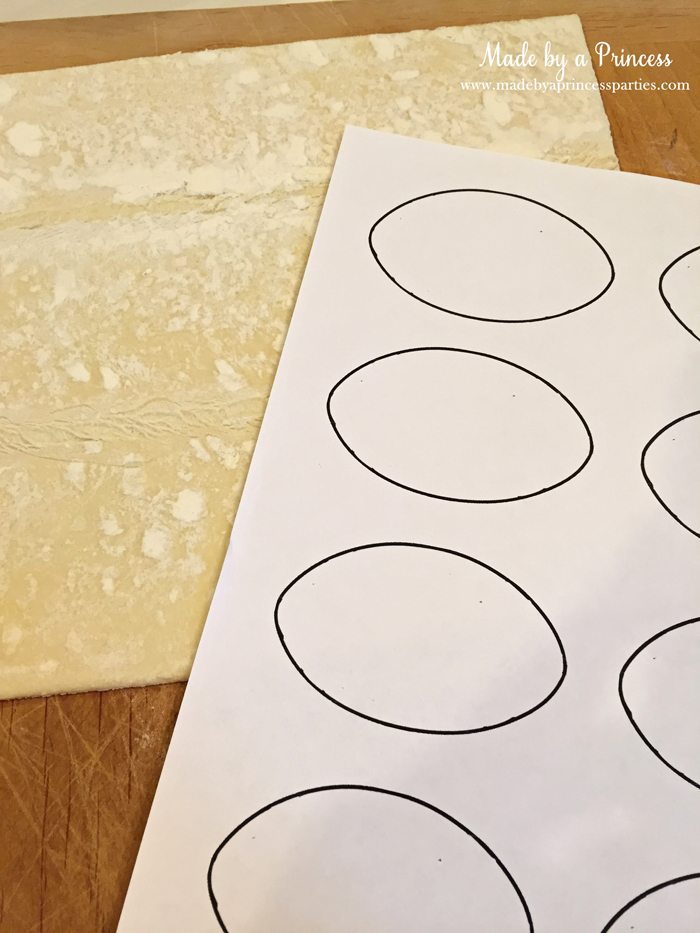 Use a knife to cut around your football template. Do the same with the other sheet in the package.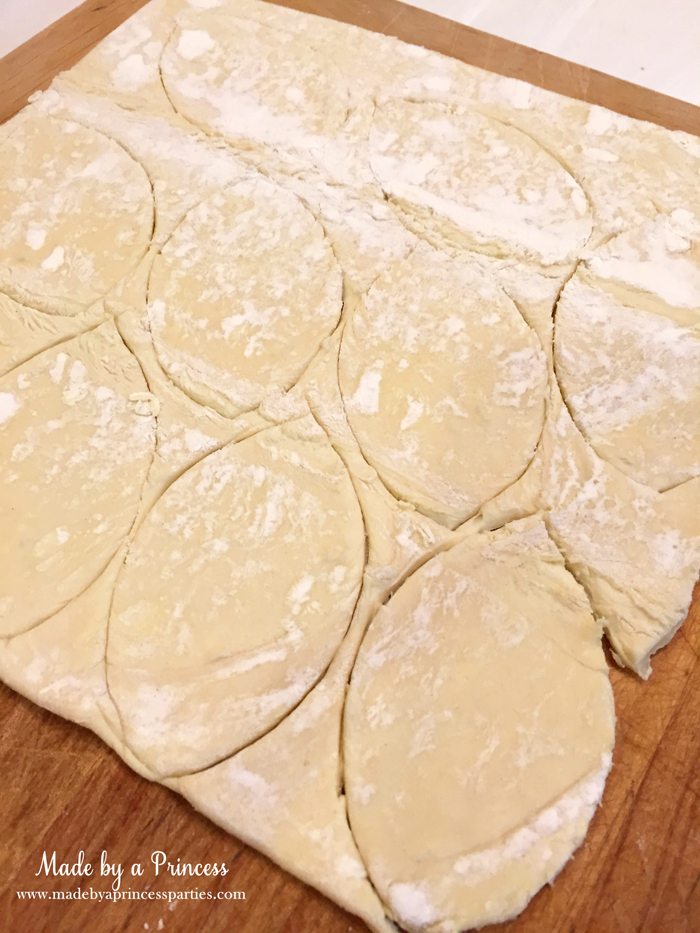 Brush your football shapes with melted butter and place a spoon of chicken in the middle. Put the other football puff pastry on top and seal closed by pinching with a fork.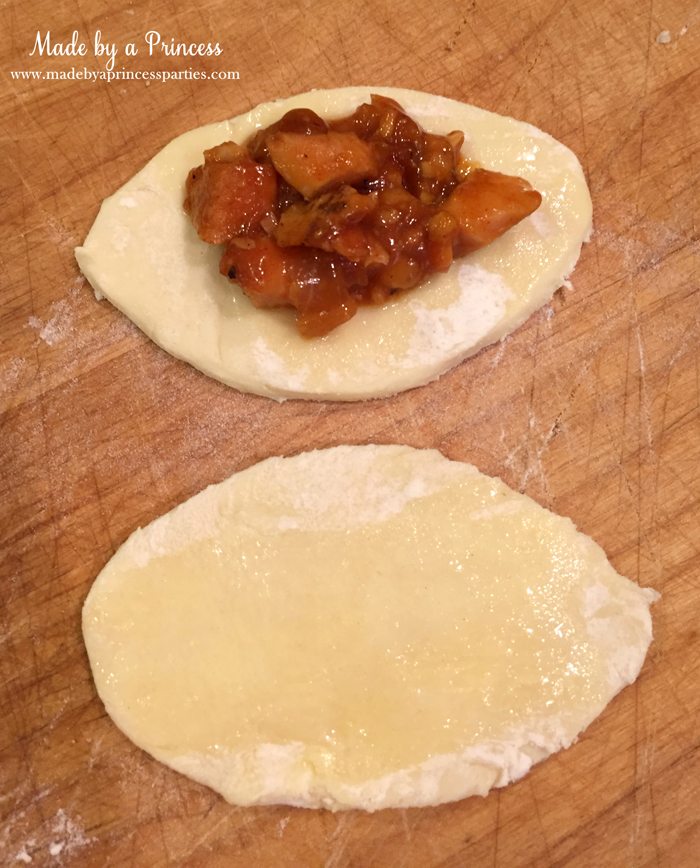 Place sealed football puffed pastries on a greased cookie sheet and cut slits on the top to resemble football laces. Brush with melted butter. Bake at 375 for 15-20 mins.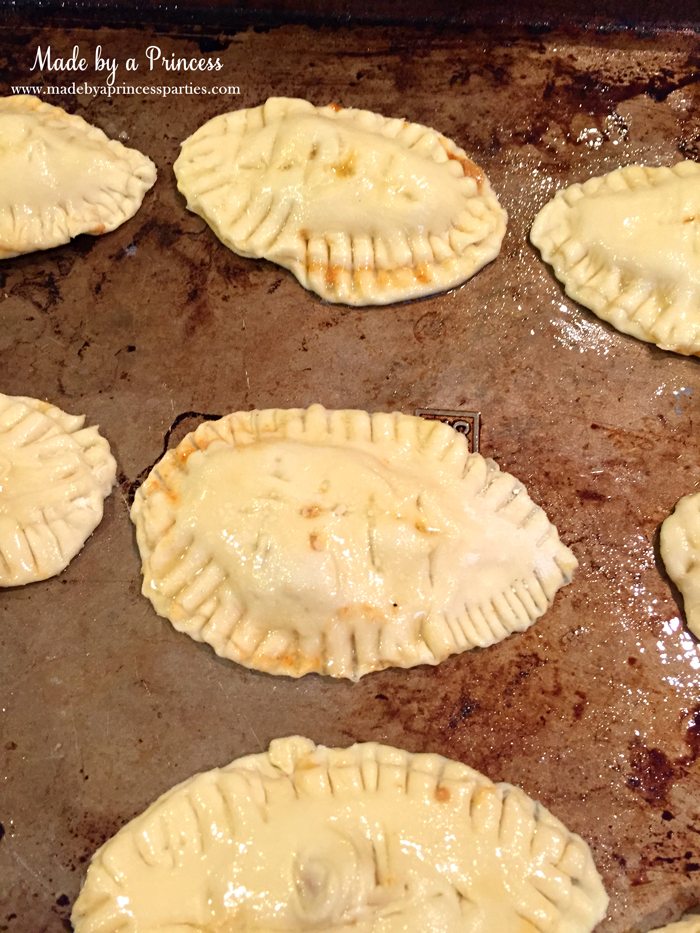 While the puff pastries were cooking I grabbed some white felt and black washi tape and decorated my Coca-Cola bottles to look like referees. Last year I made footballs and fields to go along with my Cheesy Buffalo Chicken Crock Pot Dip so it was only fair to give some love to the refs.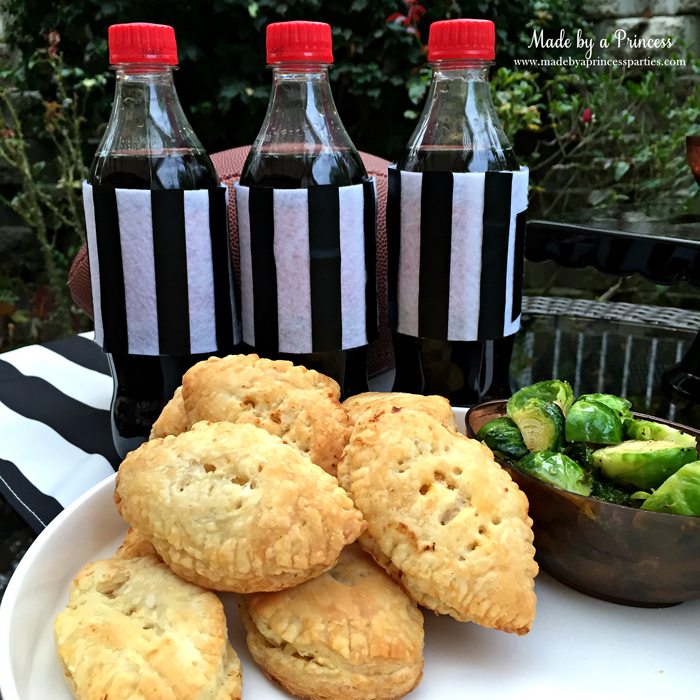 Didn't they puff up so nicely?! Golden brown and so yummy! We are one of those rare families that actually likes Brussels sprouts so I popped a batch in the oven while it was still hot. Roasted sprouts are so good!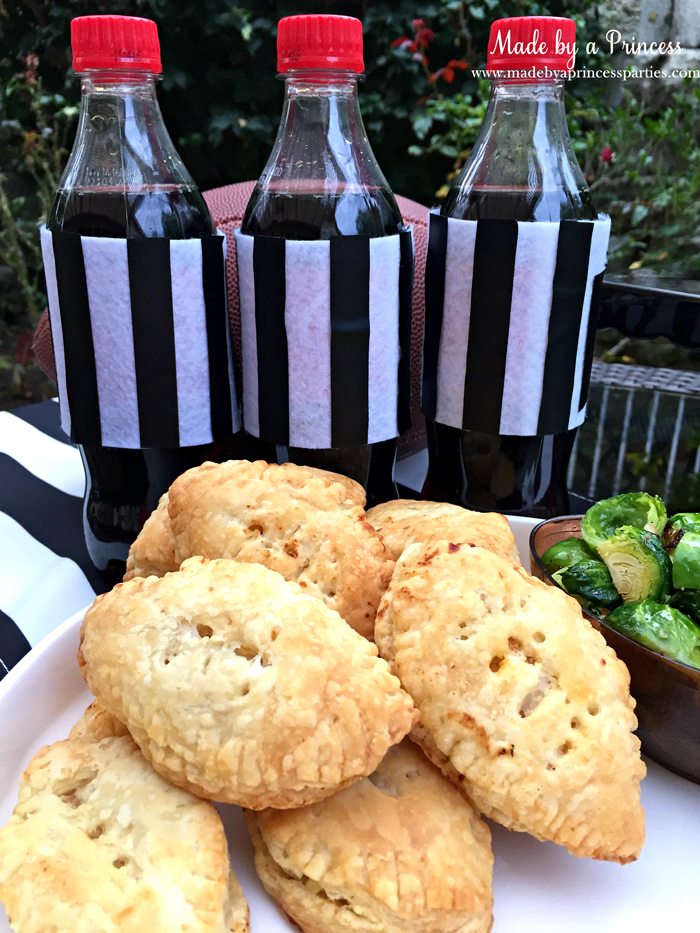 Since these are smaller than I normally make we ended up dipping them in the extra chicken…will definitely do that again!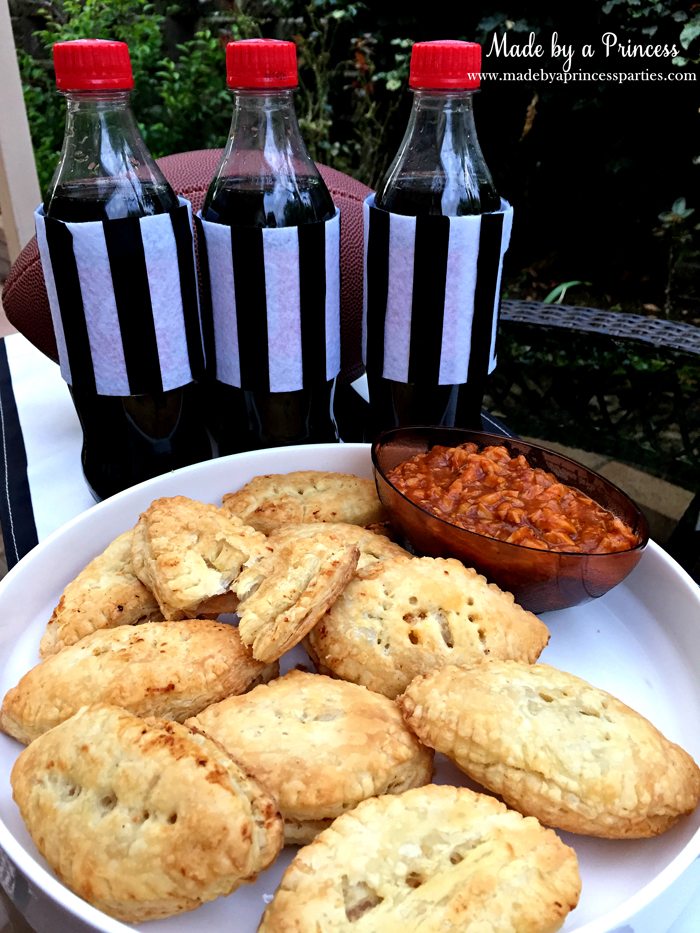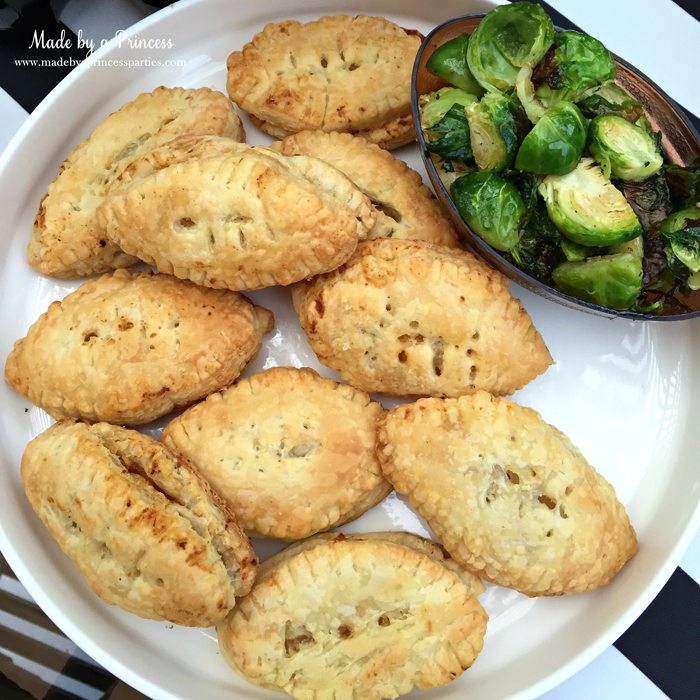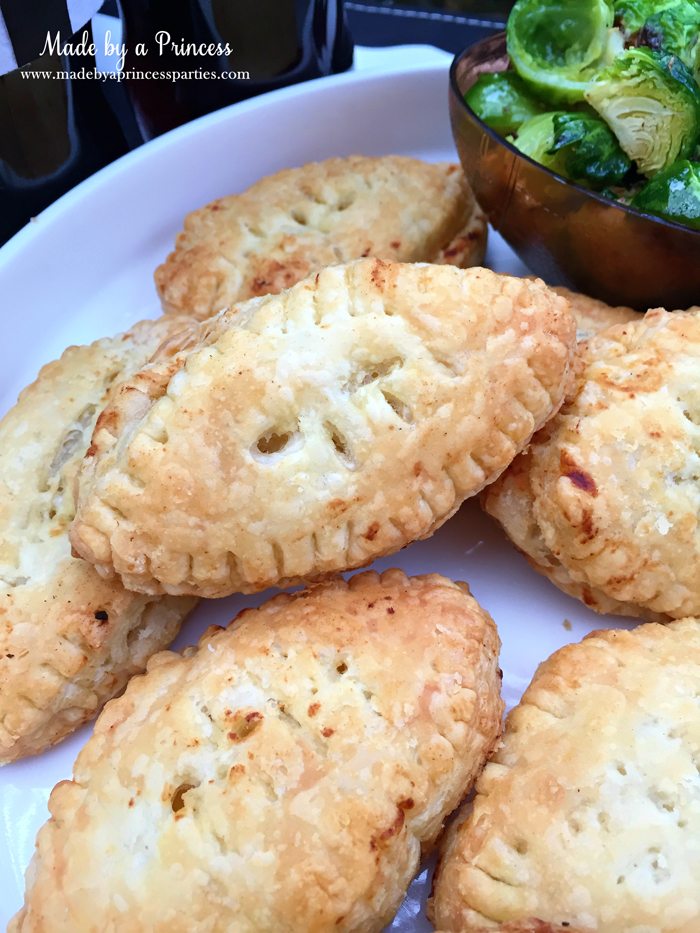 Buttery flaky goodness!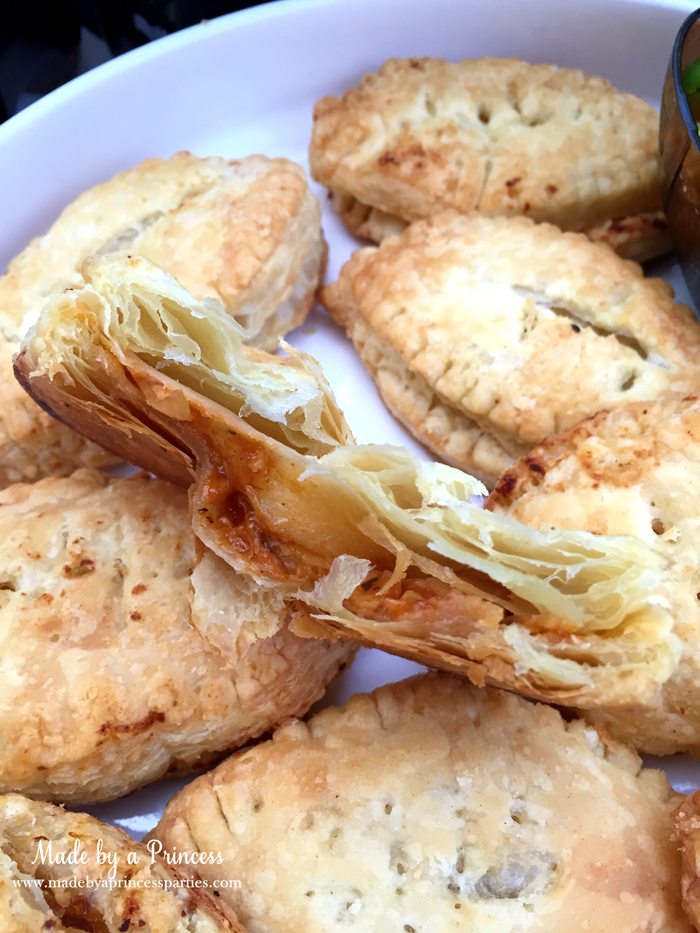 The Coca-Cola in the sauce added the right amount of sweetness without being too sweet. Everyone loves this recipe!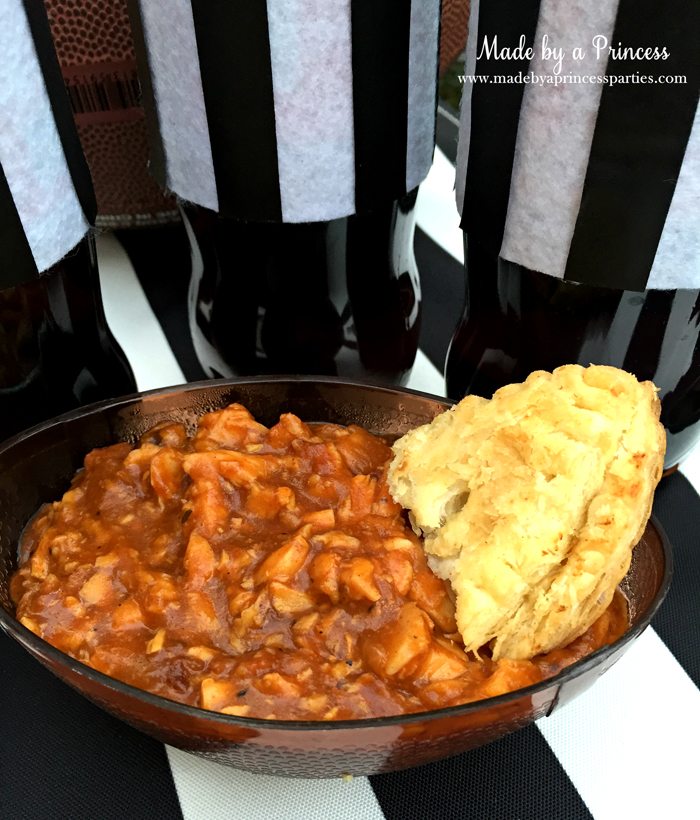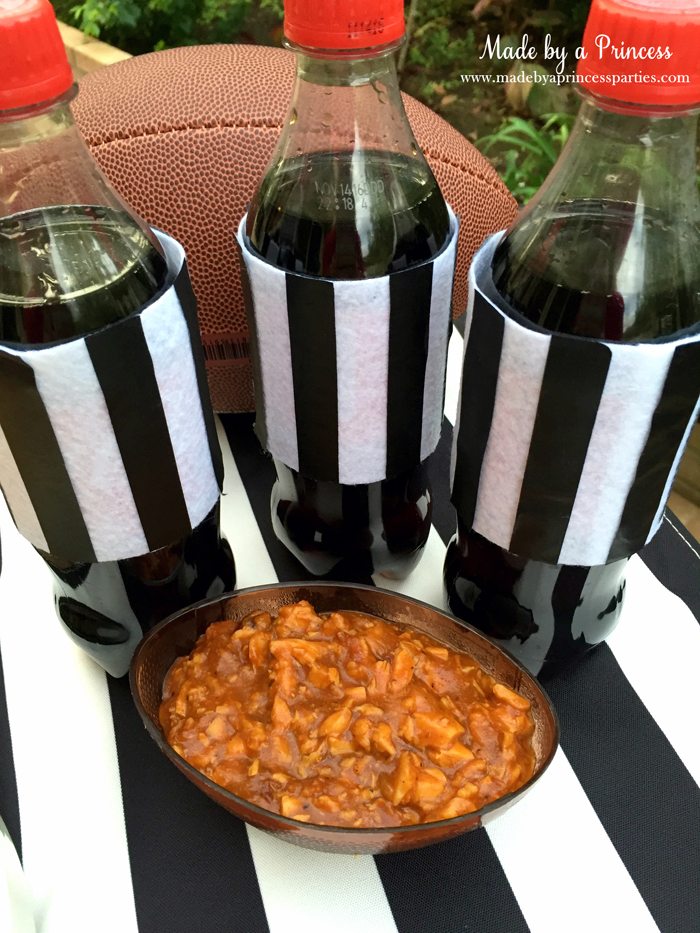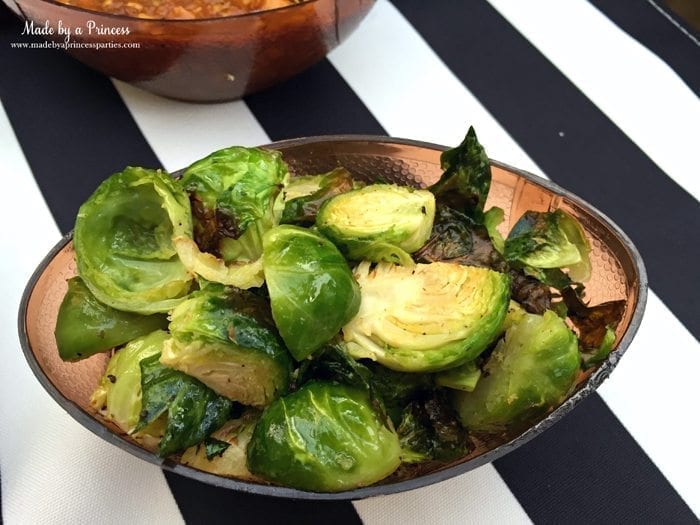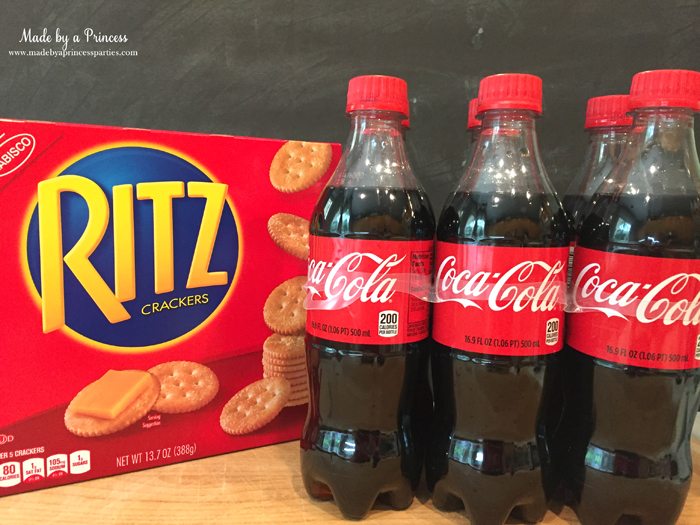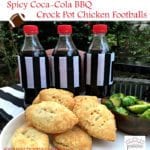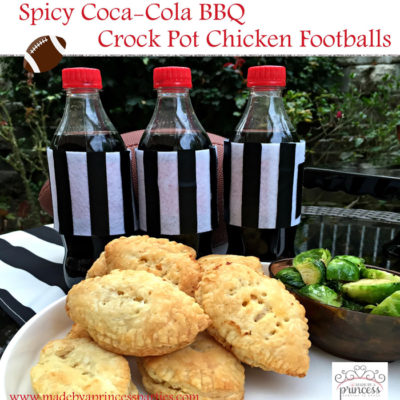 Spicy Coca Cola BBQ Crock Pot Chicken
Ingredients
1

cup

Coca-Cola

1

cup

ketchup

1

tbsp

soy sauce

1

tbsp

Worcestershire sauce

1.5

tbsp

mustard

1

tbsp

brown sugar

1

tsp

salt

1

tsp

pepper

1

tsp

cayenne

1

tsp

paprika

1/2

tsp

garlic powder

1/2

tsp

onion powder

1/2

tsp

chili powder

1

lb

cooked chopped chicken

1/2

cup

chopped bacon

1/2

cup

chopped onion
Instructions
Add everything but chicken, bacon, and onion to the crock pot and stir well.

Chop cooked chicken, bacon, and onion and place in crock pot.

Cover and place on high for 2-3 hours or low for 4-5 hours.

*if needed you can use about 2 tbsp cornstarch and 1 tsp water to thicken the sauce. Do not add directly to the crock pot. First mix in small bowl and then add to crock pot. If not thick enough add a little more. Don't add too much.
Roasted Brussel Sprouts
Author:
Ingredients
1 package brussel sprouts, quartered, end chopped off
3 tbsp melted butter
1/2 tsp salt
1/2 tsp pepper
1/4 tsp garlic powder
1/4 tsp onion powder
Instructions
Cut ends of brussel sprouts off and then quarter each one.Place in a bowl.
Pour melted butter over sprouts, add seasonings and toss until well coated.
Spread on greased cookie sheet.
Bake at 350 for 10-12 mins, careful not to overcook. Halfway through baking move the sprouts around and toss.
Serve hot.
We can't forget dessert! Sweet Salty S'mores Dip…soooo good! I love the sweet and salty combo so when using a RITZ cracker instead of a sweet cracker for my s'mores dip was not odd at all. I honestly like it so much better. I also wanted to give my family some choices since I like dark chocolate, my kids like milk chocolate, and my husband like butterscotch. This ended up being the perfect game day dessert.
I put a little butter in the ramekin, then the chocolate, then the marshmallow, set them on a cookie sheet, and baked them on 325 for about 10 mins. Check on them after 6 minutes. Every oven is different so if the marshmallows look roasted and the chocolate is melted you are good to go. Serve with RITZ crackers and you're done!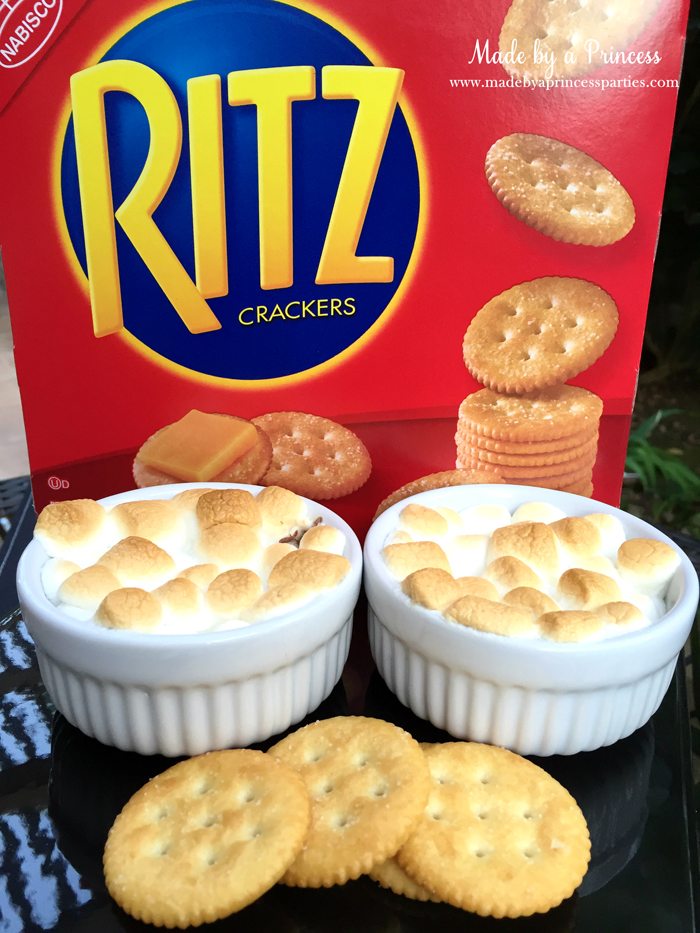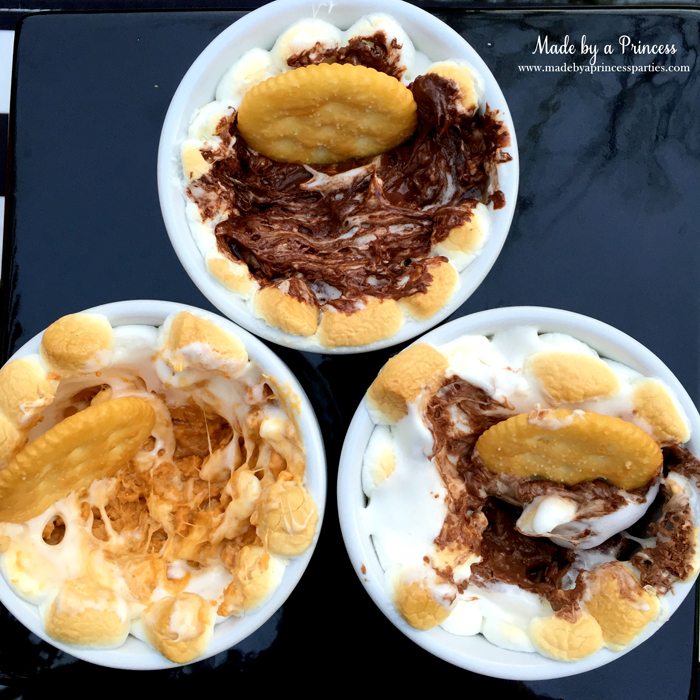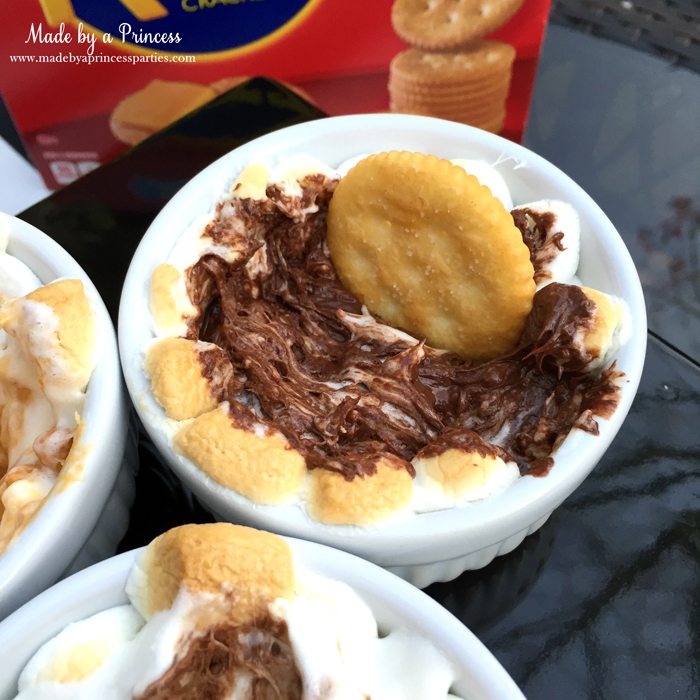 You can find all you need at your local neighborhood Ralphs…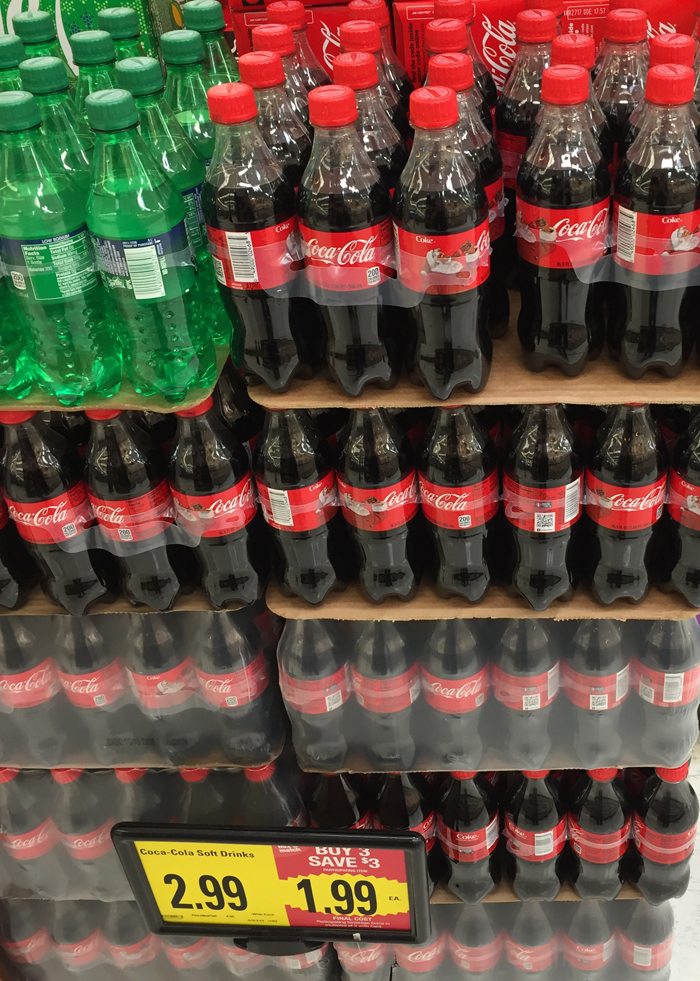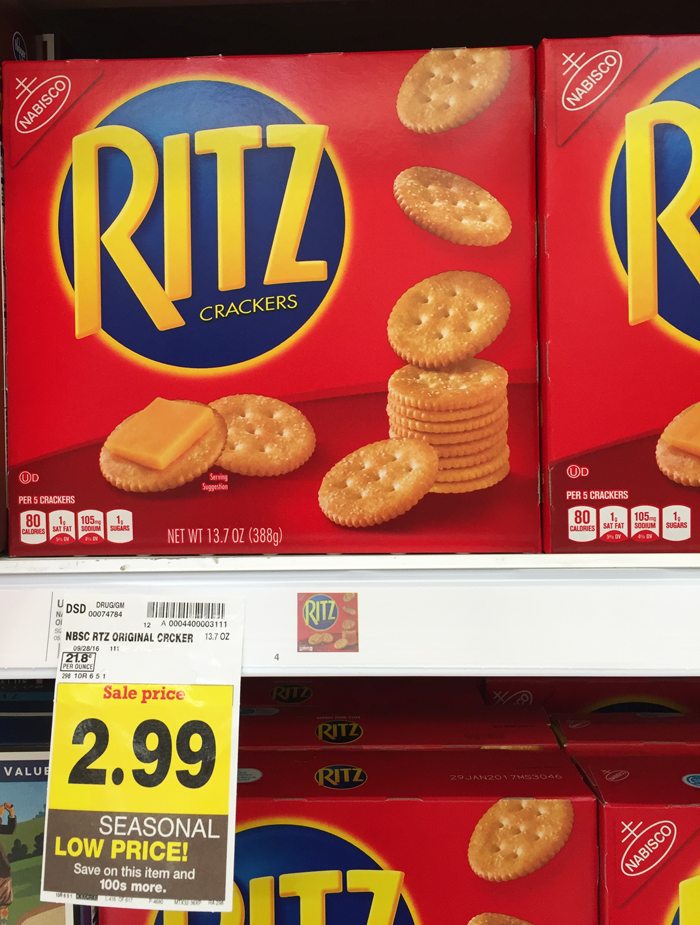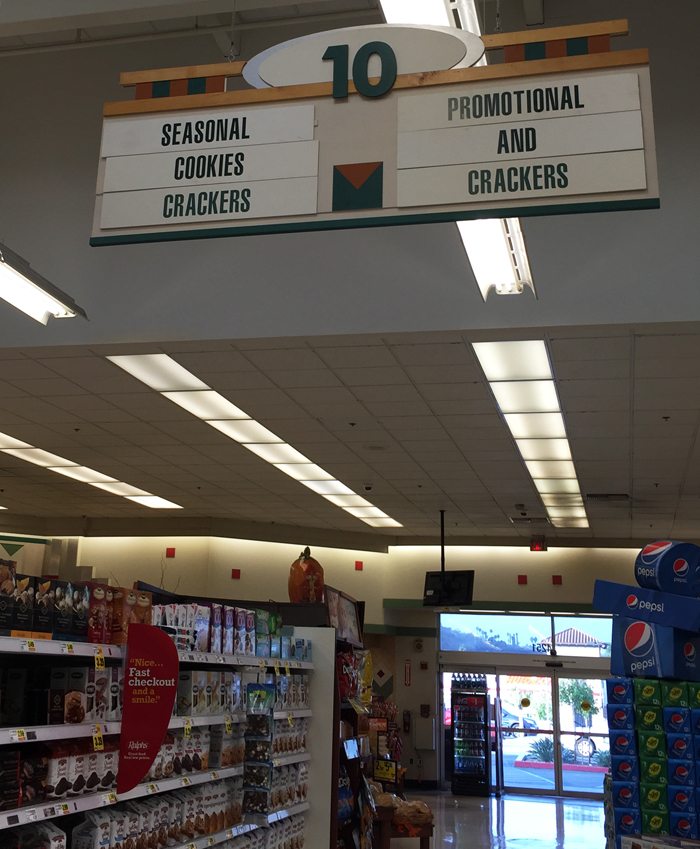 Check our store locator for the one nearest you.
[wysija_form id="3″]