Score big with this Crock Pot Cheesy Buffalo Chicken Dip Recipe! Easy to make and oh so easy to eat. Throw all the ingredients in a crockpot, heat, and enjoy the game with a crowd pleasing yummy munchie!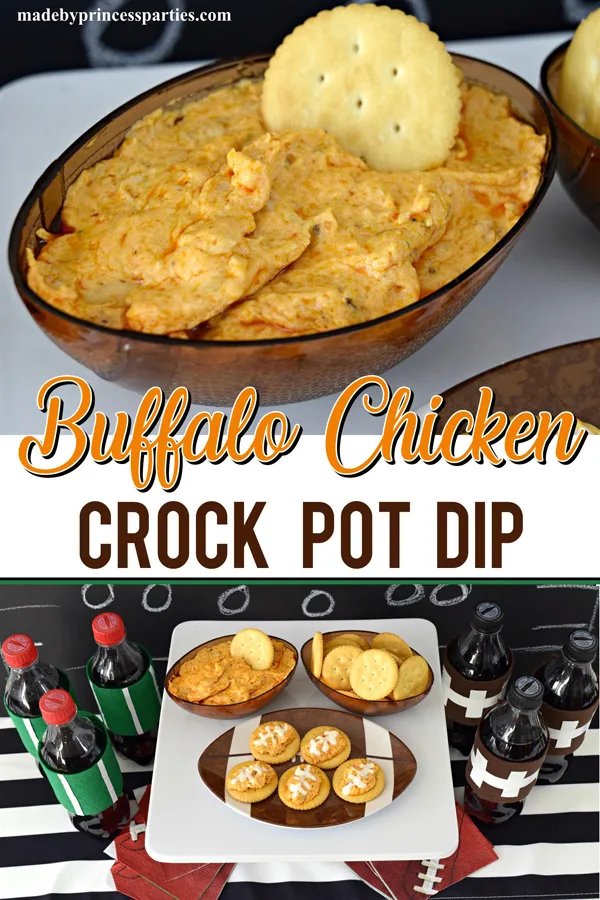 Are you ready for the Big Game?! We are big football fans in this house and even though our team didn't make it this year we are really excited about watching it together with family and friends. The game itself is usually pretty exciting but to be honest, it's all about the snacks. Well, and the commercials…and Puppy Bowl…but mostly the snacks! I am sharing my recipe for Game Day Crock Pot Cheesy Buffalo Chicken Dip today and I'm pretty confident you are going to #ScoreMoreFans if you show up with this!
Crock Pot Cheesy Buffalo Chicken Dip Recipe
This cheesy buffalo chicken dip is great paired with RITZ® crackers. It only takes a few ingredients so get out your slow cooker or crockpot and get ready to score with your biggest fans! I also picked up some Coke Zero because there is just something about buffalo chicken dip and a nice cold soda that sounds soooo good!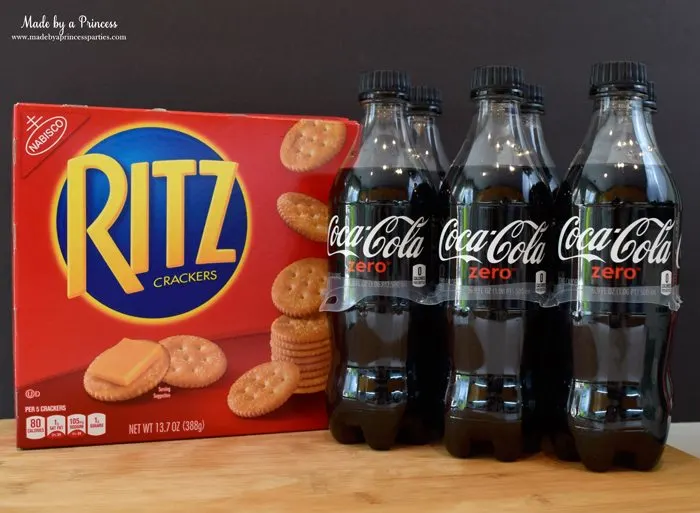 Cheesy Buffalo Chicken Dip is best served hot. You can keep dip in the crockpot on low during the game or serve in small bowls and replenish as necessary.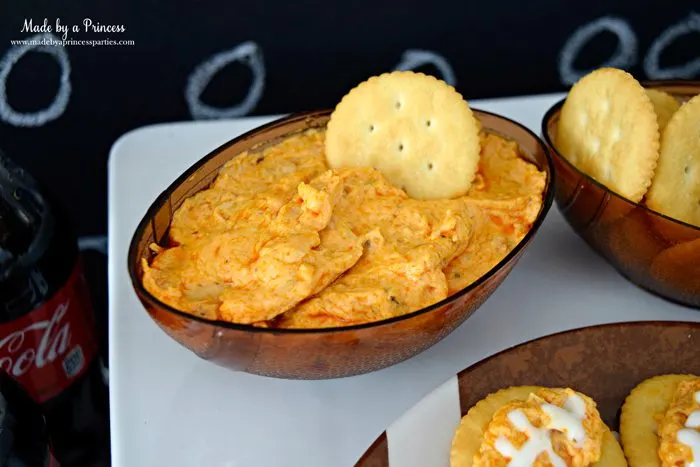 Ingredients for Cheesy Buffalo Chicken Dip
You will need shredded cheese (Fiesta blend and cheddar cheese), buffalo wing hot sauce like Frank's Red Hot, chicken (rotisserie chicken works great), blue cheese dressing, ranch dressing, blue cheese crumbles, celery sticks, and crackers.
I placed some of the dip on RITZ® crackers and then created "laces" with blue cheese dressing.
You can pick up some cute themed bowls and plates and take your party on the road either tailgating or to a friend's house. Prepare at home and then pack up in an airtight container and keep it warm by wrapping in tin foil. A couple minutes in the microwave and you're back in melted cheese buffalo business!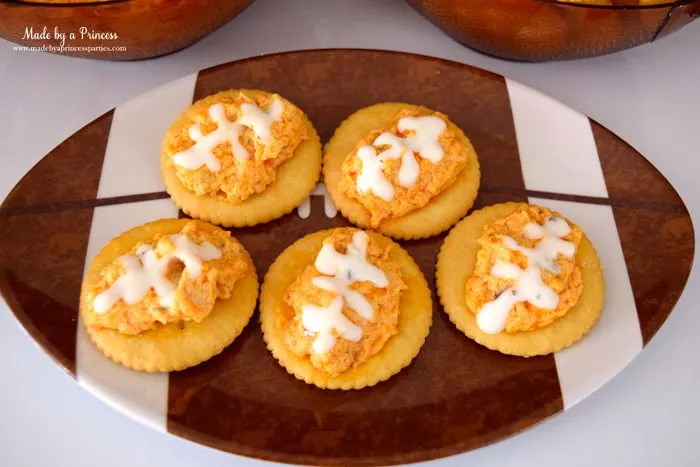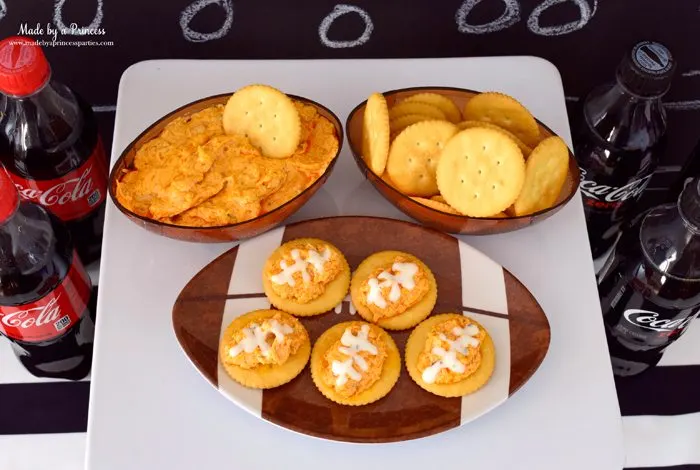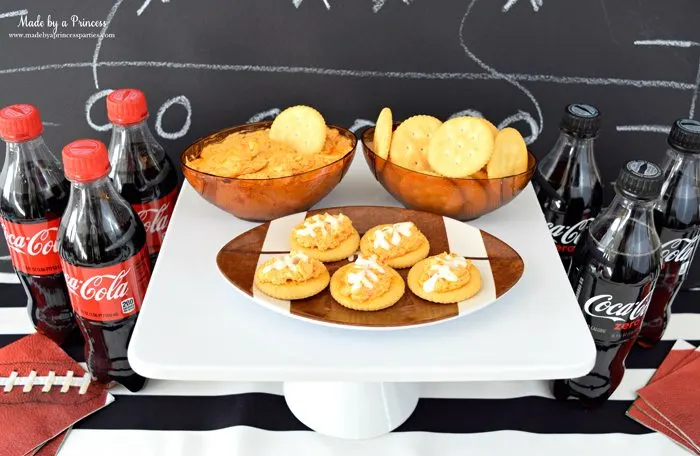 Can I let you in on a little secret? That backdrop took me all of about a minute to put together. While I was at Walmart picking up supplies to make this dip I grabbed up a black foam board and some chalk. I found an image online of a football play and chalked it right on the foam board. You can create any message you want or use any play you want. Would be great for those football pool games as well. When you're done you can either toss it out, use it for another party, or turn over and use the other side for a new project. I love foam boards and use them a lot as backdrops.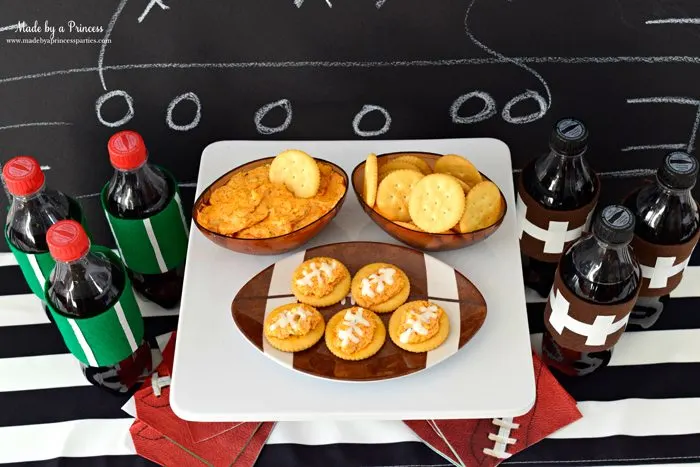 Here's another quick party tip: take some felt sheets, cut into strips, and cut pieces of white duct tape to create football laces or field lines. You could also decorate your bottles in your favorite team colors. I love using felt because it is really inexpensive and is easy to cut.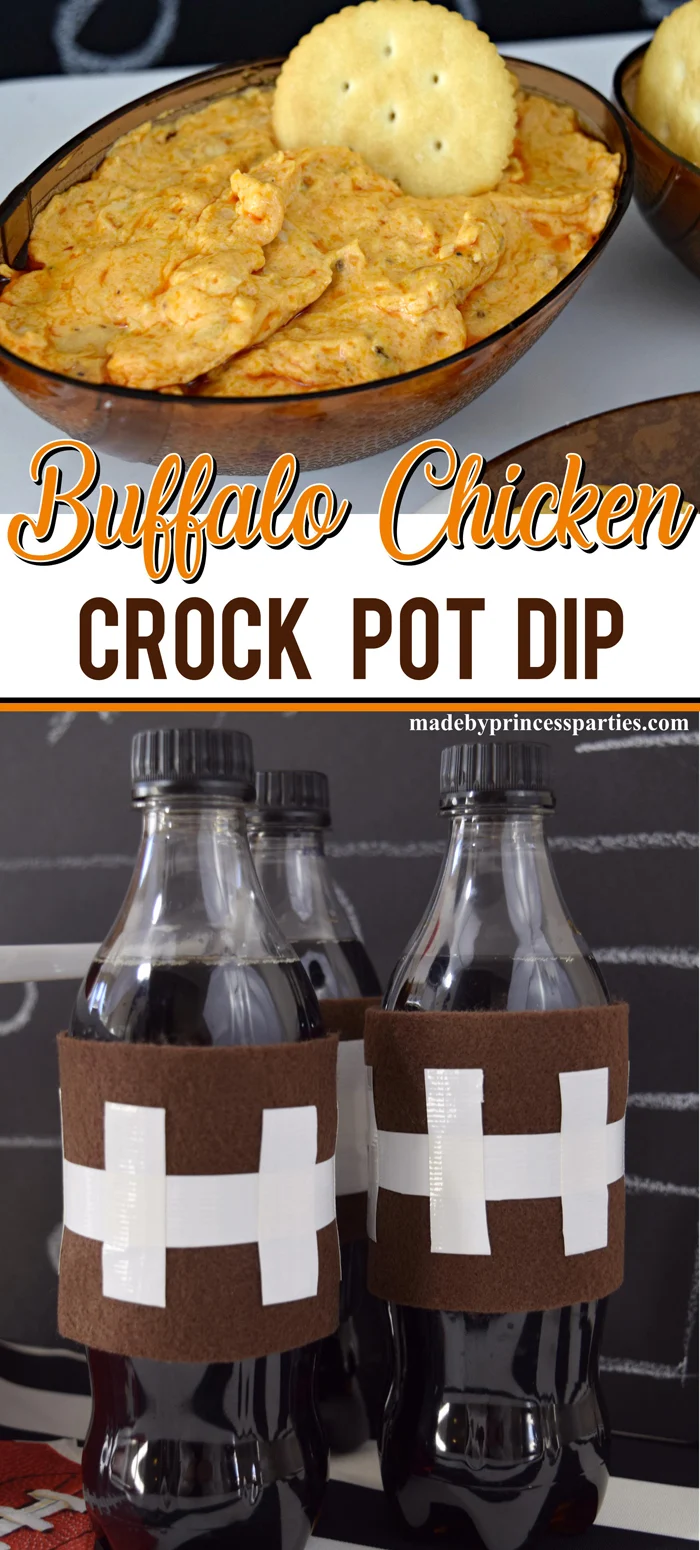 Originally published: 2/2/16
Updated: 1/29/20