After seeing so many adorable banners on Etsy I decided I must make one for my daughter's Christening last month (more on that later). I searched and searched for just the right fabrics and finally found Cindi at Dreamy Vintage Sheets on Etsy. First of all, she is a lovely lady…you must check out her shop…secondly, she is a mom (like me), and she lives in San Diego! Oh, and she has beautiful products and great prices. Done and done! She had several sets I loved so she set up a custom order and in a few days this is what I received…
They were so beautifully packaged and she used double sided satin ribbon. Will be using that for another project…thanks Cindi! Ok, so now what? Well, I had to figure out how big I wanted the triangles to be so I made a template and the decided to just keep cutting triangles until I didn't have and fabric left. Below is my nice pile of triangles. You can use a rotary cutter but I think mine is in storage so I just used a new pair of scissors.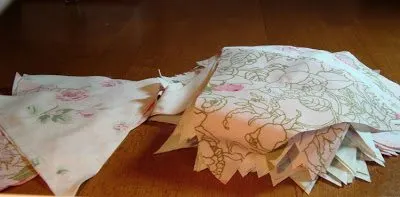 With right sides facing I am off and sewing. Took me a couple hours to sew about 100 triangles. I didn't do this all in one night though. When everyone is tucked away in bed is when I really get creative.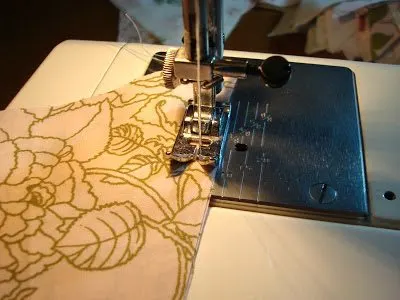 Once I had finished sewing I sat on the couch and turned them out. I did iron each one so that I had nice clean pressed seams and a pretty point.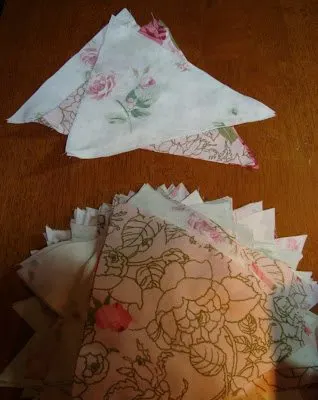 I found that the best way to handle these was to keep them all together. I would leave a little gap in between each triangle so they weren't sewn together corner to corner. This made sewing the bias tape on so much easier. I didn't have to measure or fuss with each on individually.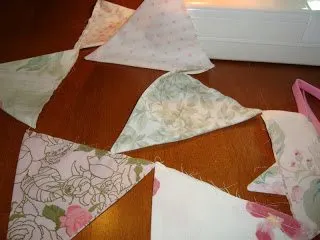 The finished product! I ended up with 5 fabric banners. Three were hung outside in the big macadamia nut tree and two were inside in the dining room. This project did take awhile because I worked on it only in the evenings but it is not a hard project at all. Everyone asked where I got the banners and how I found one that went so well with the party theme (shabby-vintage-southern-tea party – whatever that is!) so I was feeling pretty good about this DIY. I would definitely do one again; they're kind of addicting. Leave plenty of time before your event to start this project. Like a few weeks ahead. So glad I did. That's one more "I want to learn how to do that" off my list!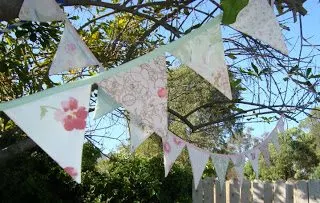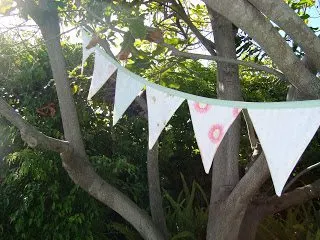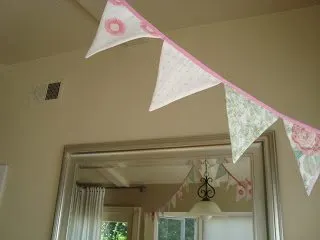 Like this post? Please let me know!

Don't forget to "Pin Me"!