How To Make Homemade Limoncello with just a few ingredients. If you love Limoncello you are going to love making your own batch of this delicious Italian lemon liqueur.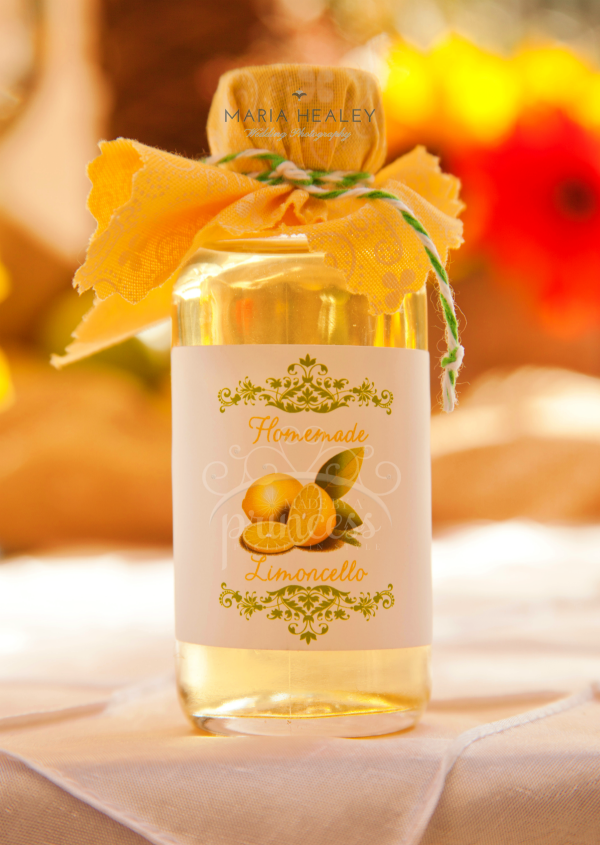 Why limoncello?
Ever since my husband and I traveled to Italy for our honeymoon I have had a love/hate relationship with Limoncello.  Love because it tastes so dannatamente bravo (that's damn good in Italian) and hate because it is so easy to drink that I tend to drink a little too much.  My BFF and I call it "getting hit by the Limoncello truck" because in the morning it literally feels like you have been run over by a truck.  Lesson learned…don't drink too much Limoncello.  Anyway, I wanted to make some myself because that stuff is expensive!  Ok, now I know why.  It is pretty time consuming to make for starters.  Have you ever shaved 40 lemons?  Probably not.  I am here to tell you it takes a long time.  Seriously.  You better have a good knife too. However…making your own homemade Limoncello is so satisfying and your friends will really really love you for it.
What is Limoncello?
Limoncello is a lemon flavored Italian liqueur. It is mainly produced in Southern Italy using fresh lemon zest or peels and vodka. It is traditionally served cold after dinner is small chilled ceramic glasses. It is pretty high in alcohol content so you don't want to guzzle it. Or maybe you do…la tua scelta.
What alcohol is use in Limoncello?
Everclear, just so you know, is not cheap.  When did this become so expensive? I'm pretty sure that one of my college friends smuggled this stuff into my room at my high school graduation party and created what he referred to as "Jungle Juice" with this and grape Kool-Aid.  I know he didn't spend $18 for that bottle!  I digress.  So, now that I have my vodka (no particular brand was desired…I went with what they had on sale) and Everclear and my 40 fresh lemons I am ready to go.  (Side note, I felt like a complete lush buying two bottles of vodka and Everclear so I explained to everybody within hearing distance that I was making Limoncello.  Hear that people? I-am-making-Limoncello. Not…repeat…not, having a hardcore drinking party. Carry on.)  I know that Everclear is not sold in all states so if you can't find it, your state has probably banned it.  In addition to Everclear you will need to pick up a bottle of vodka.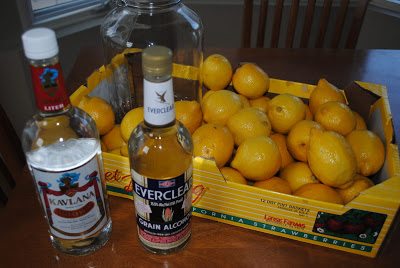 How to Make Homemade Limoncello
Wash the wax off of your lemons…This is a VERY important step.  Wash thoroughly and make sure you get all of the soap off.  My FedEx guy, Reggie (who is retiring this week after 25 years with FedEx and opening his own vineyard), just told me that if you don't wash thoroughly it will taste soapy.  Nobody wants soapy Limoncello.  I got this at Trader Joe's I think but you can use any fruit/vegetable wash.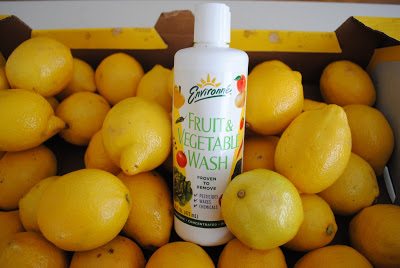 I washed several at a time in a big pot.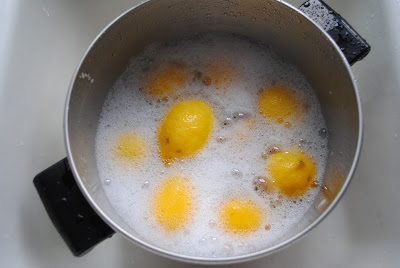 Now for the shaving part.  I tried using a vegetable peeler and found that it took off entirely too much pith so I opted for this method.  Be very careful with this step.  If you get too much pith (white part) your Limoncello will taste bitter.  If that happens no one will want to drink it and all this work and expense will be for naught.  I tell my son all the time, "Follow directions.  There is a reason we do what we do and why."  Don't get lazy with this step!  It is time consuming but well worth it in the end.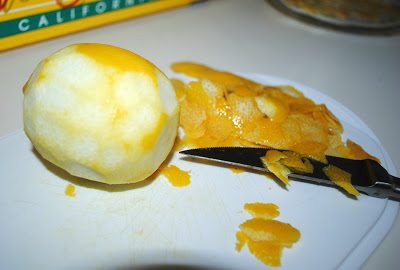 How to store your Limoncello
Toss your shavings into an air tight container.  I bought this one at Home Goods for $5.99.  As you can see there is still some room left over which is perfect because we are going to need to add sugar and water in a few weeks.  I poured the vodka and Everclear into the container with the lemon rind shavings, closed it up, gave it a few swirls, and there you go.  Somewhere between now and the next four months (which is recommended for a truly authentic tasting homemade Limoncello) I will be sipping from a rather large wine glass my very own homemade yumminess.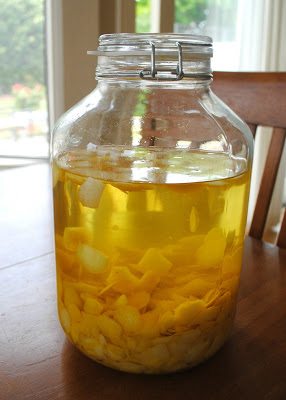 See how it is already turning yellow?  Oh my goodness this is going to be good!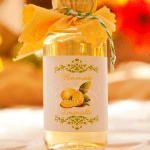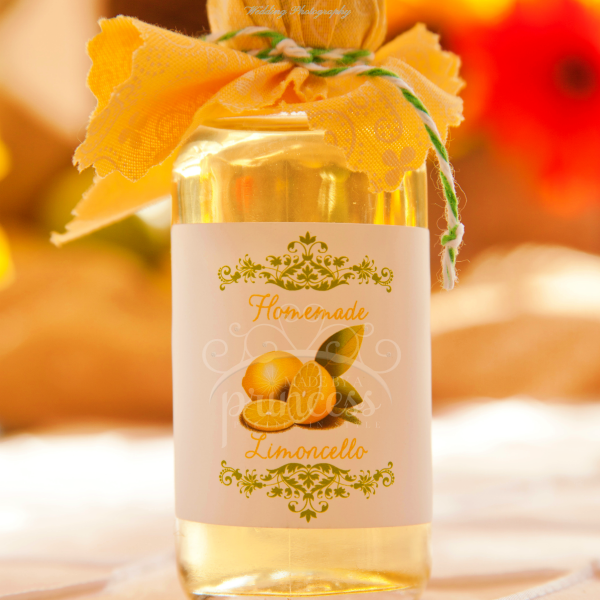 How To Make Homemade Limoncello (aka Lemoncello)
Ingredients
750

ml

Everclear

750

ml

Vodka

20

Meyer lemons
Simple syrup for later
4

cups

Granulated sugar

4

cups

Water
Instructions
Wash all of your lemons thoroughly, preferably with a fruit/vegetable wash. This is to get all of the wax off. If there is wax it is really hard for the lemon essence to be extracted and that is what you need to make a great tasting Limoncello. Once your lemons are clean and dry start peeling, or shaving as I did. Be careful not to peel too much of the pith (white part) along with the rind. Some pith is going to come off, that is inevitable, but take your time and take only the rind as best you can. Toss all of your peelings into an aair tight container. Another tip, don't cut little tiny pieces. You want long strips or big chunks as much as possible. You have to strain this later and smaller pieces will just make your job harder.

Pour the Everclear and vodka into the container and give it a few swirls. Swirl daily. Everyday I take the bottle down from the cabinet and give it a few swirls. I am resisting the urge to open and smell the concoction. It looks so yummy! Now, some recipes say you can finish up your mixture and start drinking in a couple weeks, but Jeff & Natalie at Vino e Vittles suggest the longer the better. I am going to go with that.

Once you have decided your mixture has married and settled in long enough (this could be up to four months) you now need to strain your mixture. Remove the bigger peels with a slotted spoon. Remove the peels and throw them away. Now that the larger pieces have been removed you will need to strain the rest. Take a wet coffee filter (one you have run through water) and strain the mixture into a big pot. You want to remove as many little pieces as possible. Ideally you want your mixture to be clear and free of any impurities. No one wants to drink a chunk of lemon rind.

To make simple syrup pour the water and sugar into a pot, bringing to a boil for about seven minutes. Keep stirring so sugar crystals don't form on the sides, thereby burning. Let the syrup cool completely. It doesn't have to be cold, just room temperature is good.

Pour the simple syrup into the alcohol lemon mixture and gently stir. Funnel your Limoncello into pretty bottles you have collected or purchased and seal. In order to really give the sugar and lemony alcohol mix to properly marry, you should wait about a week before opening and serving. Of course, you need to keep one aside for yourself for research purposes. In about a week your bottles of lovely Limoncello will be perfect for gift giving or consuming.
Nutrition Facts
How To Make Homemade Limoncello (aka Lemoncello)
Amount Per Serving
Calories 8765
% Daily Value*
Sodium 65mg 3%
Total Carbohydrates 801g 267%
* Percent Daily Values are based on a 2000 calorie diet.
Limoncello Drink Recipe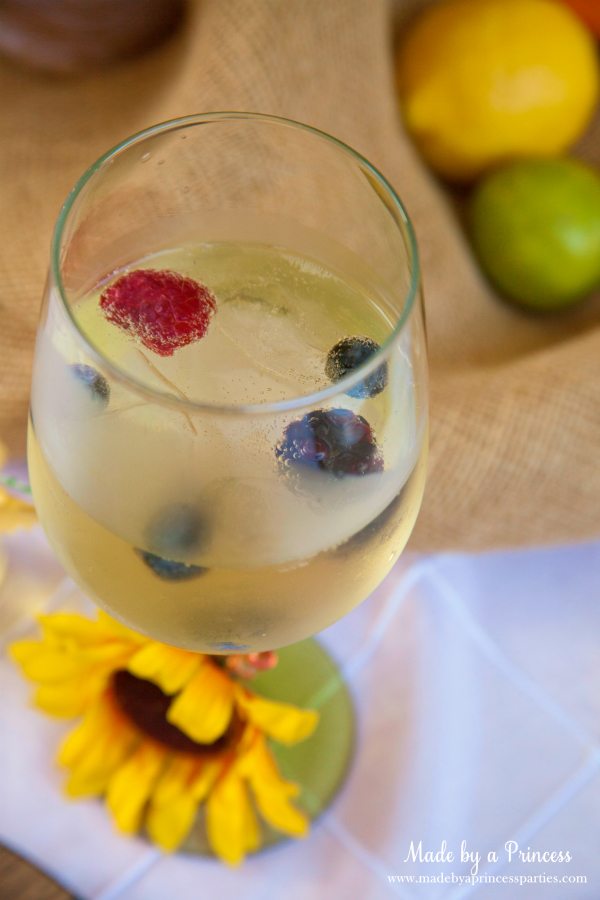 I hope you enjoyed this How To Make Homemade Limoncello tutorial. It does take a fair amount of time to create but it is so worth it!