This shop has been compensated by Collective Bias, Inc. and its advertiser. All opinions are mine alone. #SendHallmark #CollectiveBias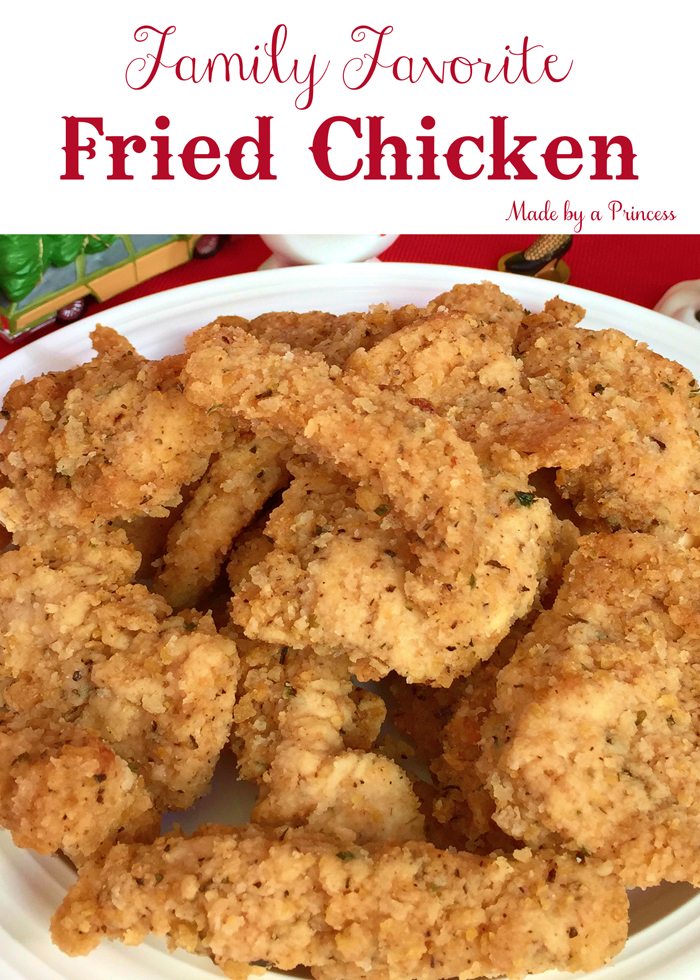 If you have been around my blog for awhile you know that I really love to cook. I offer a lot of recipes and love to share what I've come up with. I fix a few things that my family considers my signature recipes: cornbread casserole, rum cake, macaroni n'cheese, Christmas casserole, and fried chicken with honey mustard dipping sauce. Creating family memories and experiences is why I started planning parties and sharing recipes and ideas in the first place. As a family, Christmas is our favorite time of year because it means lots of yummy homemade food, baking cookies, and watching our favorite Christmas movies. This year I managed to find a new Hallmark ornament for each of that represents some of our favorite movies to watch together. Family Favorites Fried Chicken, Christmas Movies, and Hallmark Ornaments are what it's all about!
Growing up in Los Angeles the only fried food I ever had was from Kentucky Fried Chicken. I used to drive by Rosco's Chicken & Waffles on Gower everyday on my way to school and then again on my way home but I have never once been there. LA isn't exactly known for fried foods. Now, if you want good Mexican food, like really really good Mexican food, I can tell you where to go. When my husband and I were first married I was talking to his grandmother about family recipes and she told me about her fried chicken. When I asked her what I would fry the chicken in she said, "Well, you get out your cast iron skillet…" I said, "Granny, I don't have a cast iron skillet." She then exclaimed, "Well, how do you fry anything then?!" When I told her I've never fried a thing in my life she said, "Well, bless your heart. If you lived closer I would give you mine." Tennessee was just a bit too far for me to travel for her cast iron skillet but I love that she wanted me to have it. I told her I would use my electric skillet and she agreed that it would probably do just fine. Her only words of advice about knowing when they were done were, "Well honey, you just know. When they start to turn golden, they're done." I have to admit that I was terrified the first time I made fried chicken because I was convinced I didn't have that Southern Sense for when fried foods were done. I watched that first round of chicken like a hawk and waited until I thought they were sufficiently golden to take them out. My husband, born and raised by two Tennesseans going generations back, took a bite and said, "Granny would be proud." Never in my wildest did I ever think a 6th generation Angelino, a true Southern California girl, would ever get the thumbs up for frying chicken from a Southern boy. It's been many years now and I've got this fried chicken thing down…I'll even throw in some pickles for good measure once in awhile.
Today I am sharing our family recipe for Southern Fried Chicken which I've never shared before! When my family gets home from the beach today they will find their favorites on the table…Mommy's fried chicken, honey mustard dipping sauce, cornbread casserole, new Christmas ornaments, and four of our favorite Christmas movies ready to watch. You can find these cute ornaments in the holiday section at your local Walmart. You can also found at-shelf coupons for Hallmark products in your Walmart stores.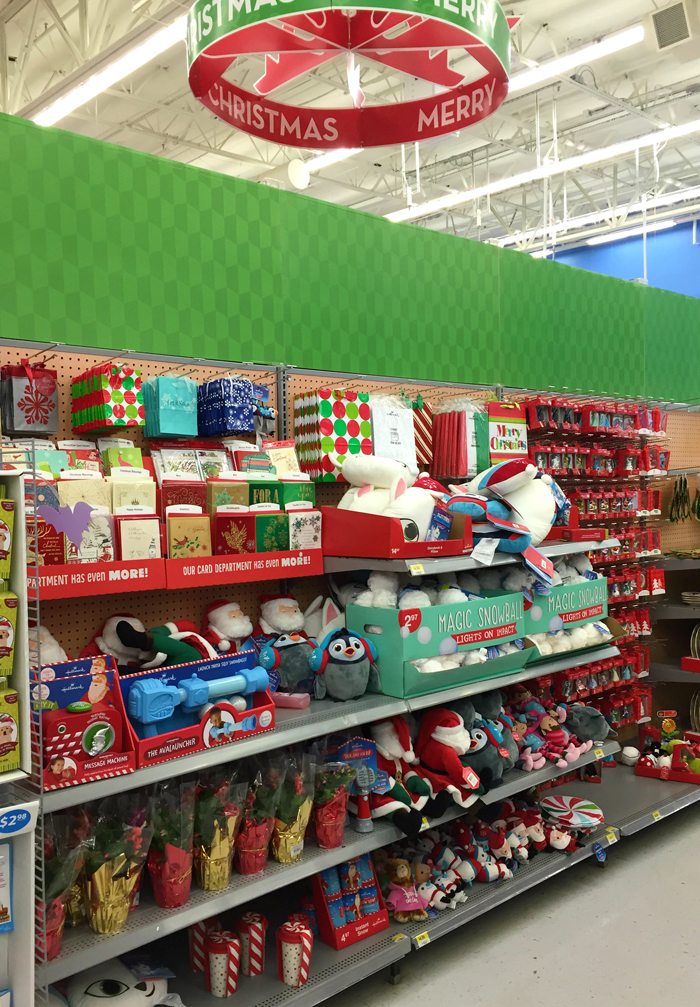 So many fun choices! My daughter is hoping to find the whole Disney Princess collection, including that Palace Pet, on the tree this year. There are 16 Walmart exclusive, resin figurines, Holiday Barbie, and new deco figurines as well. If you really want to get into the holiday spirit while you're shopping download the Pandora app on your phone and listen to the "Hallmark Holiday Favorites" custom audio channel.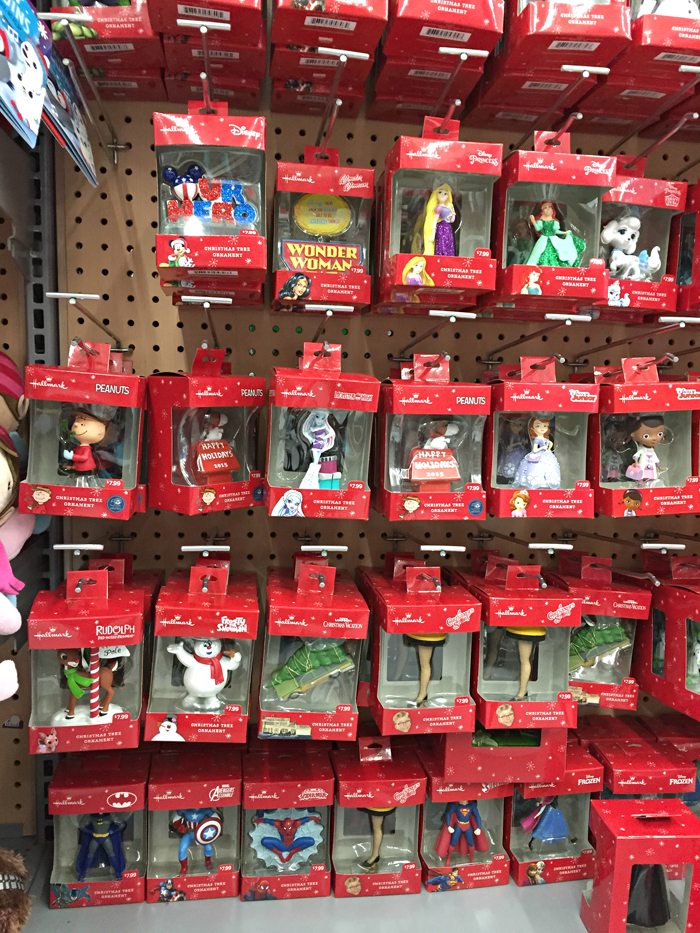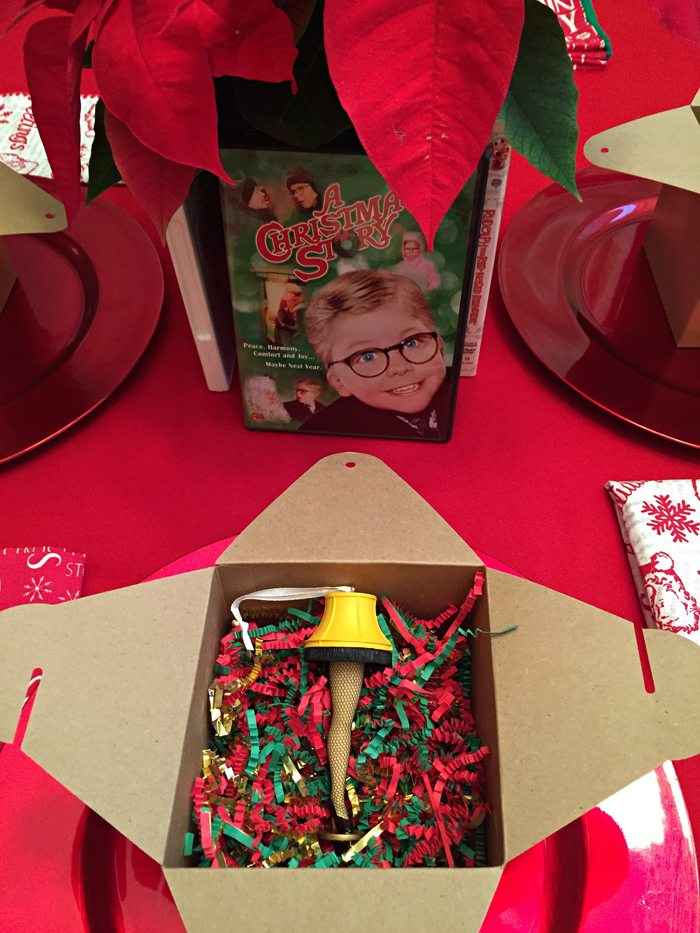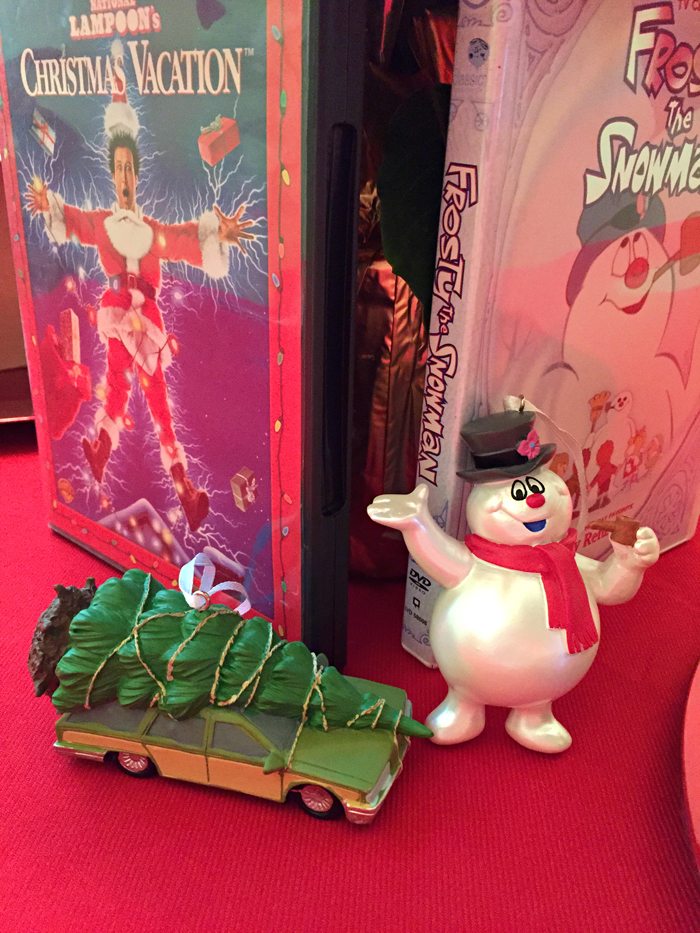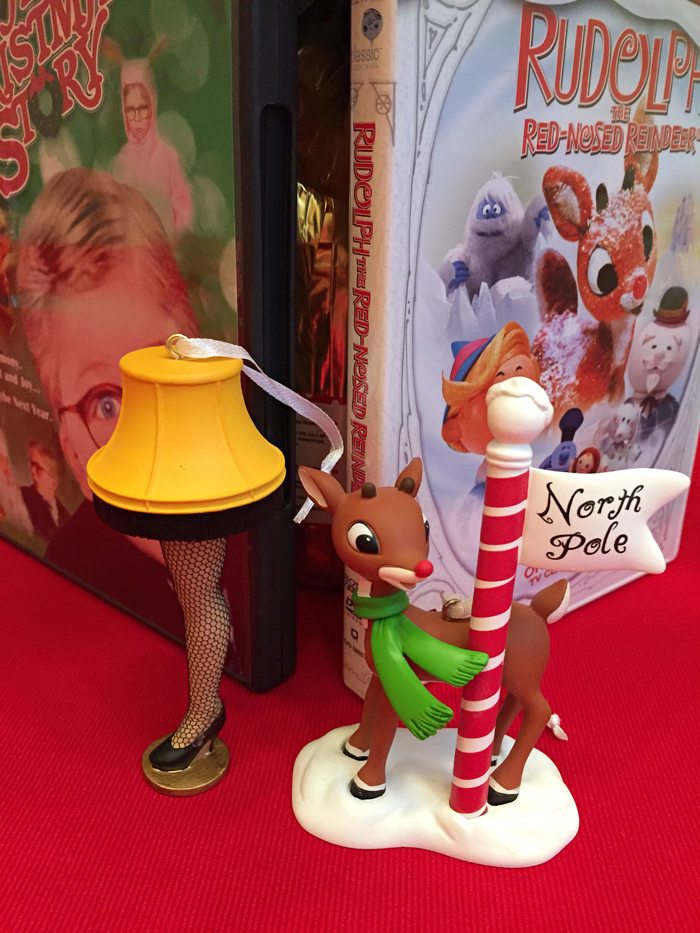 My stepson is in Austria with his mom so I picked up this Hallmark card for him to let him know that he's missed this Christmas.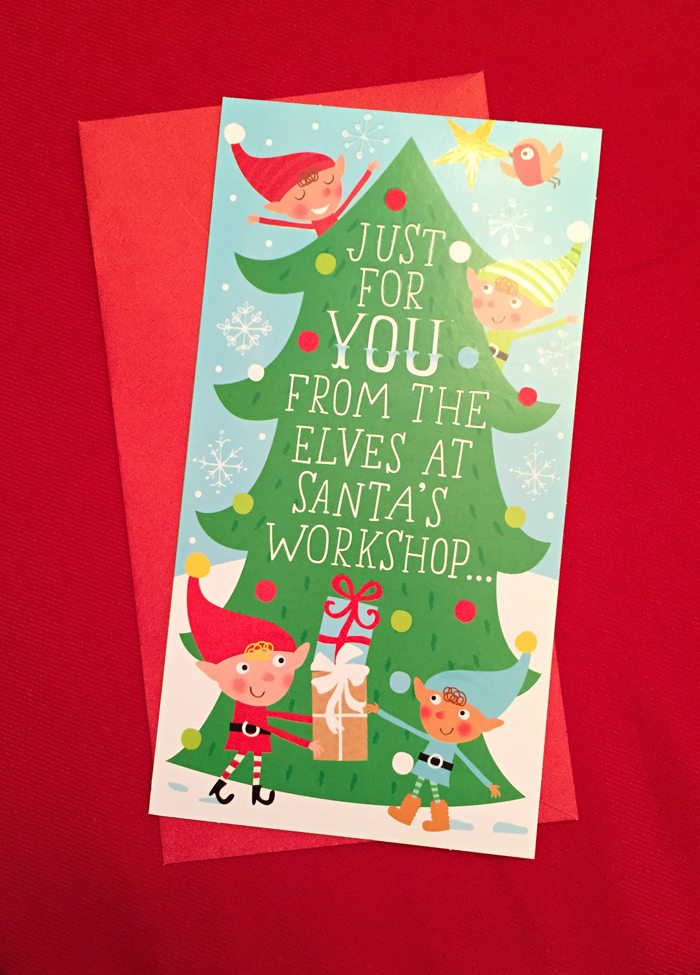 Now let's get to making some fried chicken! You can be find at the bottom of this post for your convenience but I will walk you through a few of the steps…
I buy a big package of chicken breasts from Walmart, rinse it off, and then cut into small bite sized pieces. While preparing the dry mix I let sit in a large bowl with a salt and pepper seasoning.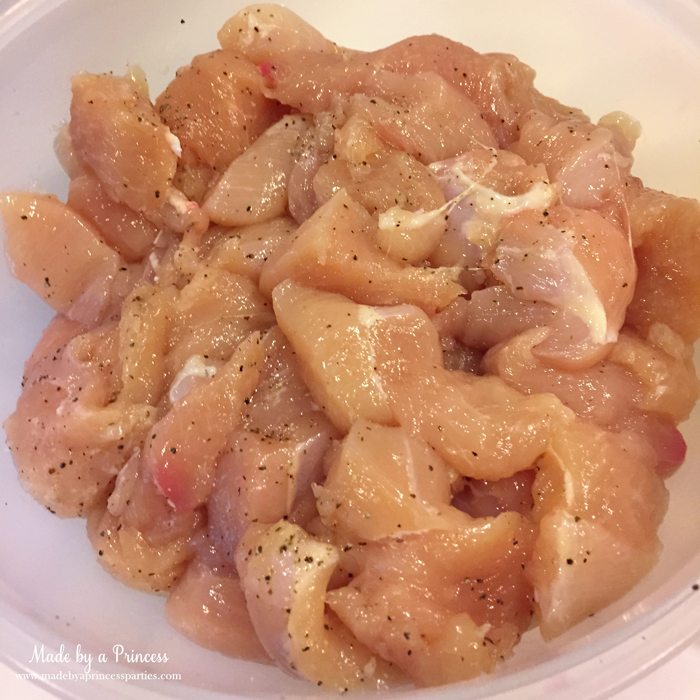 I always put my dry mix together in a Ziploc bag so I can easily save what I don't use for another day. Throw it all in the bag, seal, and shake until well mixed. If you like a lot of salt or a lot of garlic for instance, you can add more than the quantities I've listed.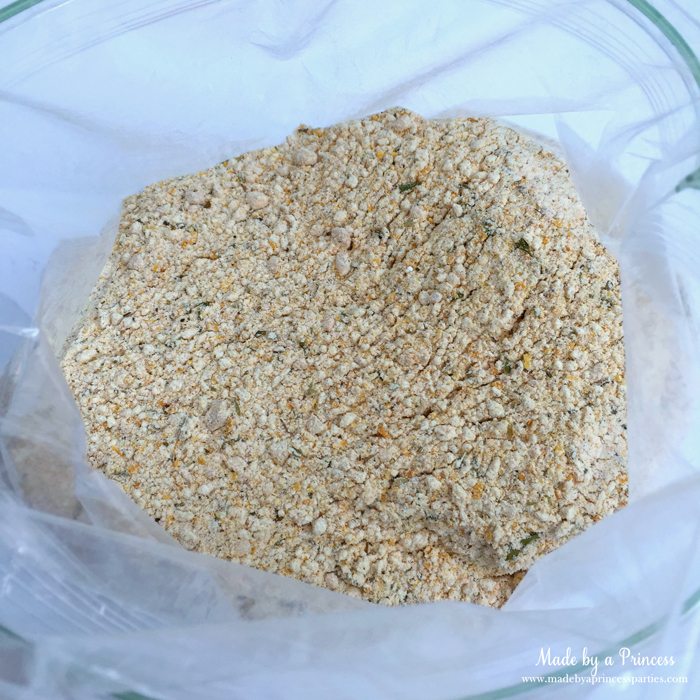 Once you've mixed up your milk, eggs, orange juice, and seasonings, pour into the large bowl of chicken and let sit for about 5 – 10 minutes. While this is soaking get your skillet or fryer ready to go.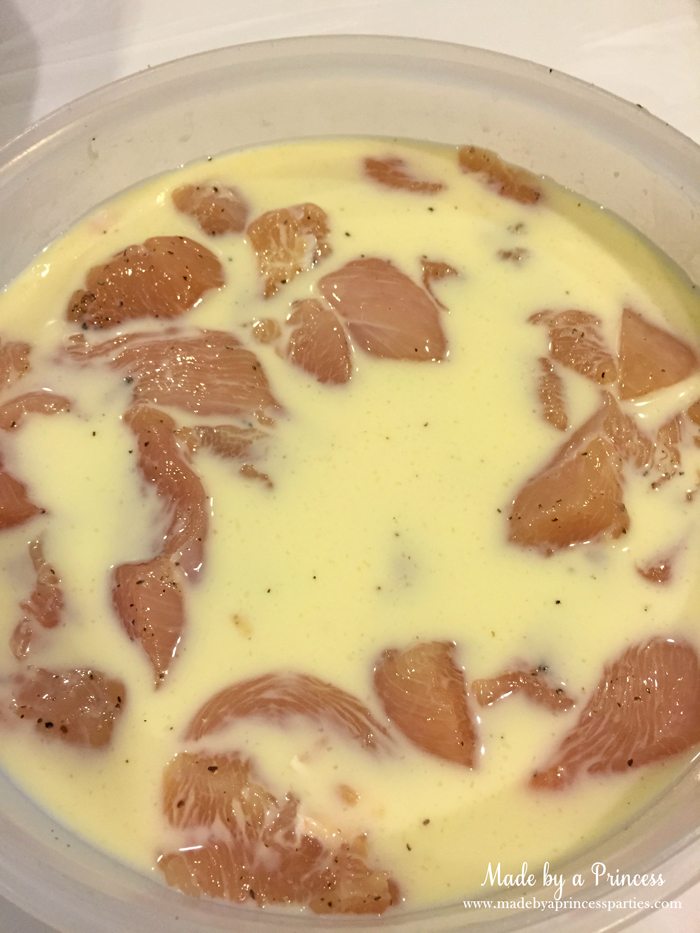 Now that your oil is ready start battering the chicken. I gently roll the chicken in my dry mix until well coated and then put in my electric skillet.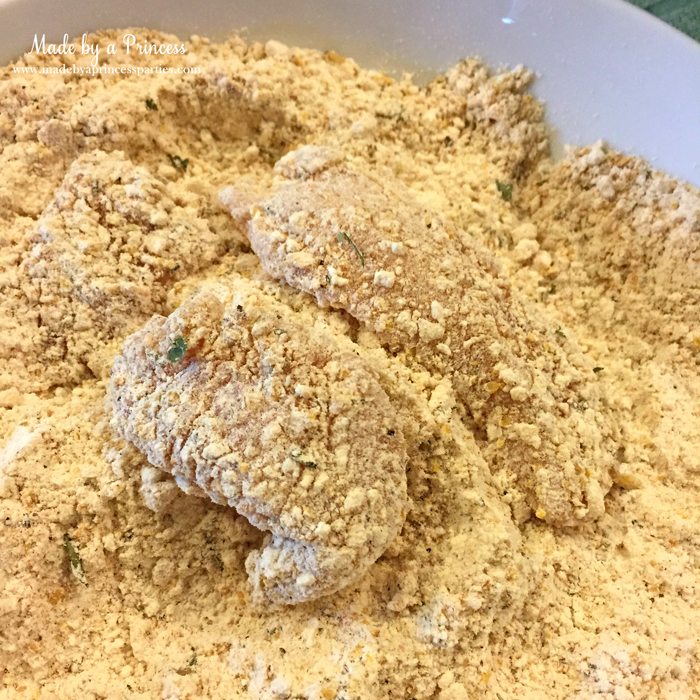 You can see that the chicken is well coated and frying up nice and golden! Cook about 10 minutes on each side. Watch it carefully, especially your first time, until you get a sense for how long they need to cook in whatever you're using.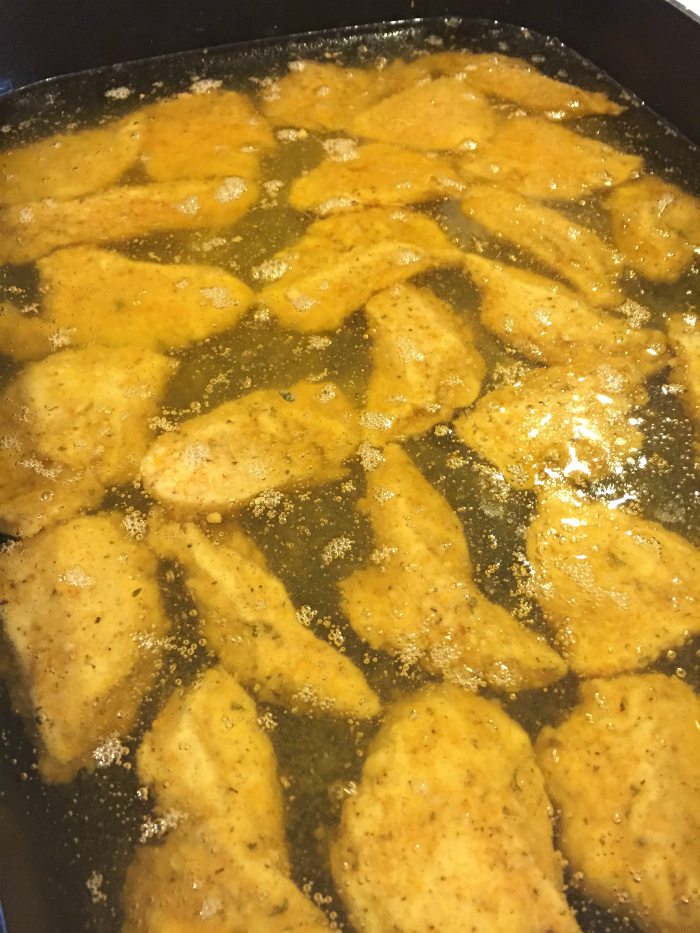 Once your chicken is nice and golden use tongs to take out of the hot oil and place on a plate with paper towels to soak up excess oil. You are now ready to plate and serve!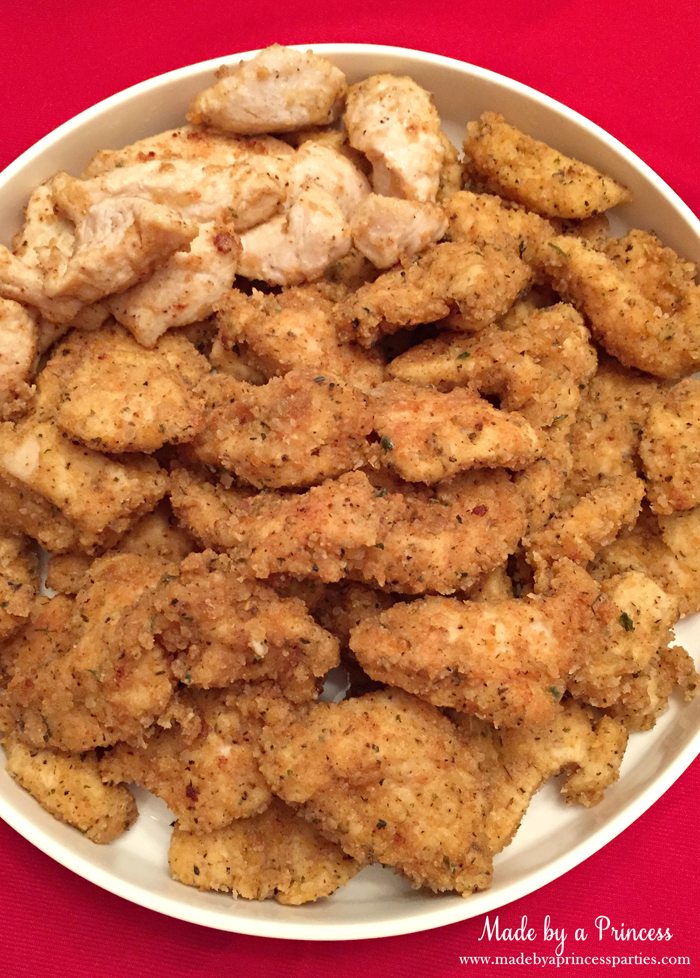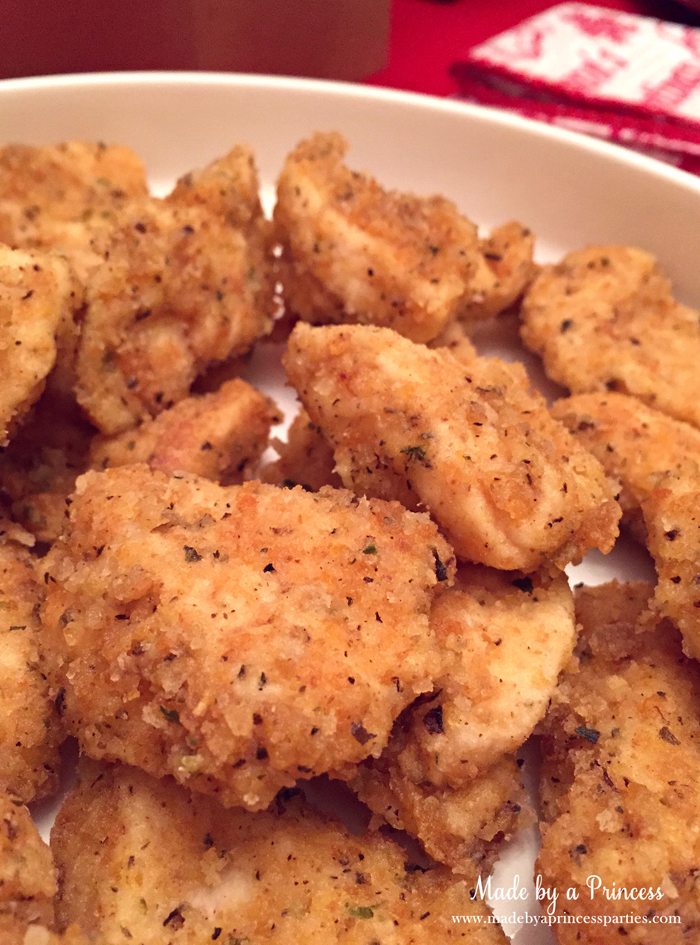 I always serve fried chicken with cornbread casserole. It was a recipe that a Facebook fan gave me a few years ago and it has become another family favorite.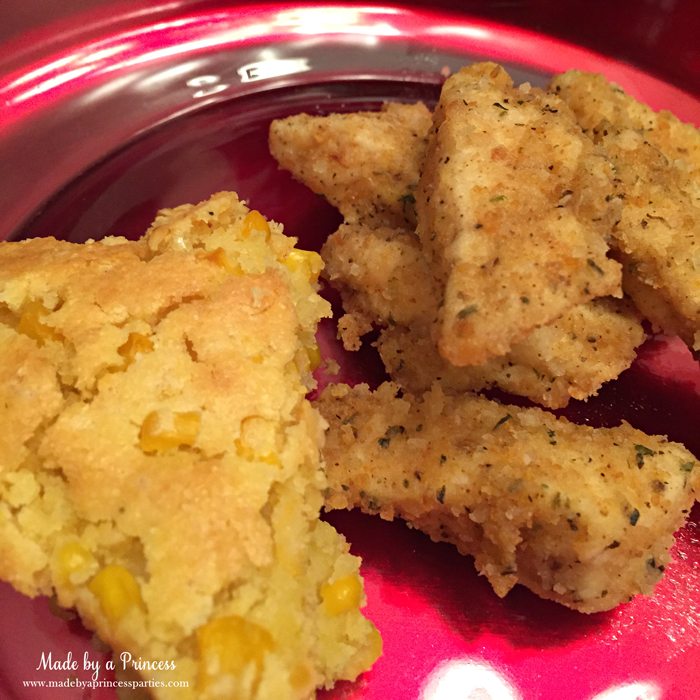 My family is going to be so excited when they walk in the door and smell fried chicken and they are going love the Hallmark ornament selections I chose for them!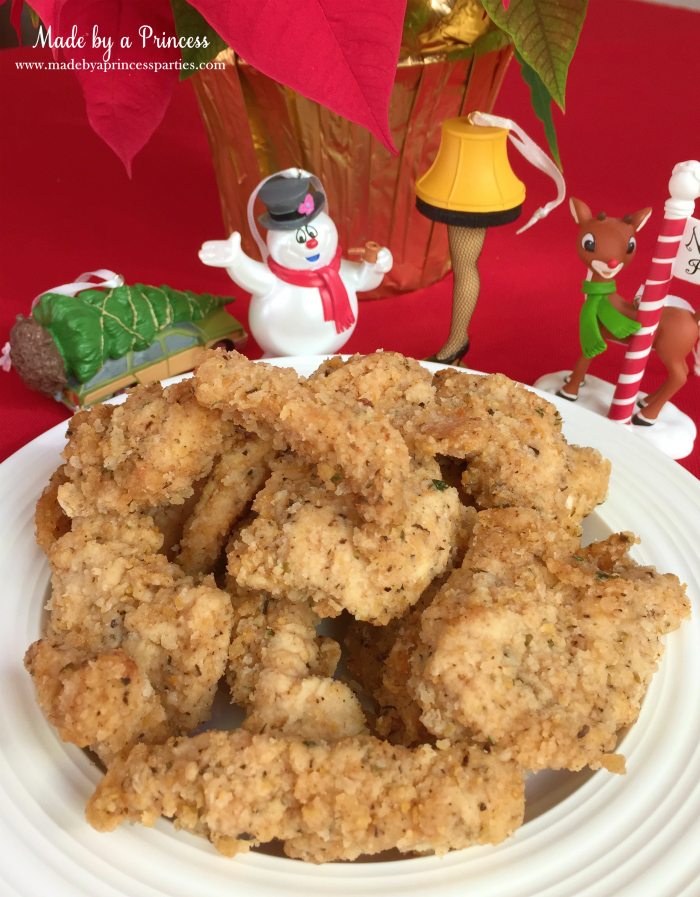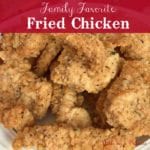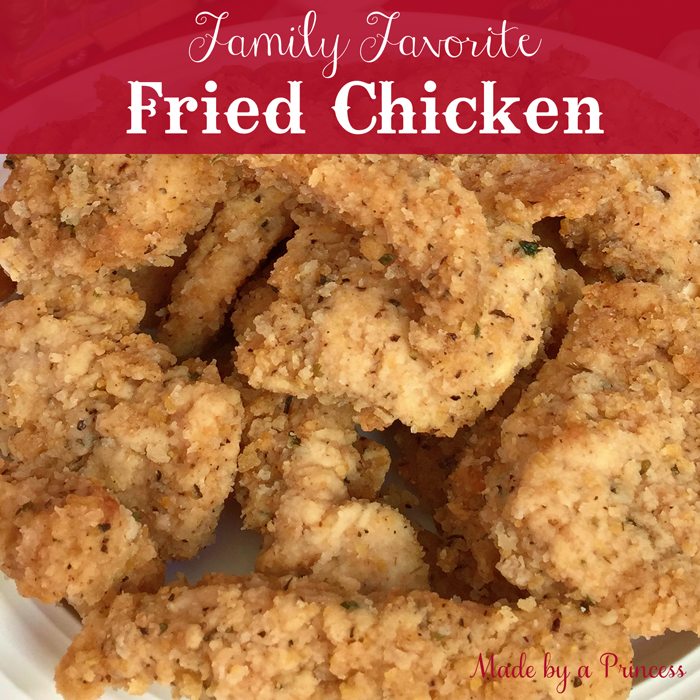 Family Favorite Fried Chicken
Ingredients
6-7

large chicken breasts

cut into bite sized pieces

3

cups

flour

3

cups

panko

1

cup

ground corn flakes

1/3

cup

powdered sugar

1

tbsp

+ 1 tsp salt

1

tbsp

+ 1 tsp pepper

2

tsp

onion powder

2

tsp

garlic powder

1

tbsp

dried parsley

1

tbsp

Italian seasonings

1

tbsp

dried basil

1

tsp

oregano

1

tsp

chili powder

1

tsp

paprika

2

tsp

cayenne

1

cup

milk

2

eggs

2

tbsp

orange juice

1 - 2

bottles of canola oil

depending on the size of what you are using to fry in
Instructions
Rinse off chicken, pat dry, and cut into bite sized pieces. Season with a bit of salt and pepper. Set aside in a large mixing bowl.

Pour all dry ingredients (except for 1 tsp salt, 1 tsp pepper, and 1 tsp cayenne) into a Ziploc bag.

Seal and shake until well incorporated.

In a medium bowl whisk milk, eggs, orange juice, 1 tsp salt, 1 tsp pepper, and 1 tsp cayenne until well mixed.

Pour into large mixing bowl of chicken. Let soak for about 5 minutes.

While your chicken is soaking start to heat up your oil. I use an electric griddle and set the heat on about 225 degrees. When I'm ready to cook I bump it up a little but no more than 250 degrees.

Spread dry mix out on a large plate but don't overfill the plate.

Place chicken pieces in dry mix and gently roll to coat.

Carefully set coated chicken into hot oil.

Cooking times will vary depending on how big your pieces of chicken are, how hot your oil is, and how big your pot is but the general rule is, according to my husband's Southern Granny, "When they start to turn golden they're done." I usually cook about 10 minutes on each side.

Serve with homemade honey mustard dipping sauce, cornbread casserole, and vegetables.

This will feed 6-8 people.
I hope you enjoy my Family Favorites Fried Chicken, Christmas Movies, and Hallmark Ornaments ideas. Have you seen Hallmark ornaments at your Walmart? Which one is your favorite? See more great holiday ornament ideas and tell me which ornament you're most looking forward to this season. I'd love to hear about your favorite family traditions!
Happy Holidays!