Hosting a gender reveal baby shower but forgot all about the games? I've got the perfect gender reveal party games for you to download today.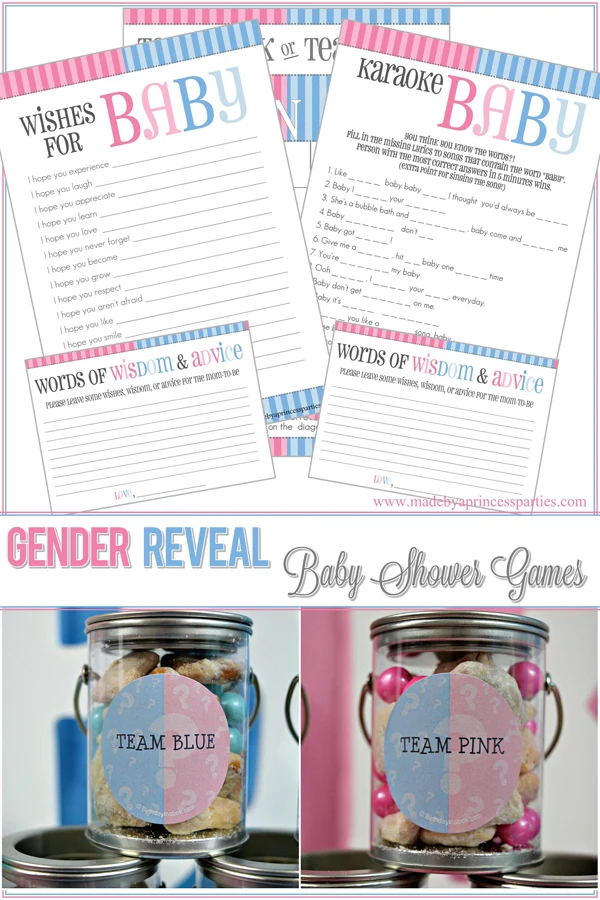 Are you hosting a gender reveal party but forgot to plan the games? I've designed some free printable games for you including Baby Gift BINGO, Karaoke Baby, Wishes for Baby, and Words of Wisdom & Advice. Follow the links below to download FREE Gender Reveal Party Games.
*post contains affiliate links
Gender Reveal Party Games
Baby shower games don't have to suck. Yep, I said it. I have quite a few friends that are on #teamnobabyshowergames and I totally get it. I personally am on #teambringonthegames. It's a great way to get all the guests involved and they really can be a lot of fun. You can have your games customized to match the shower theme as well, if you're into that kind of thing.
Baby Shower Bingo
Baby Shower BINGO is probably the most well known and popular game and is still the top seller on my website. It's an easy game to play and does not take a lot of time. There are a couple of ways to play this game.
Baby Gift BINGO
The first one, and the easiest, is to play baby gift BINGO. Guests write down what they think the mom-to-be will get on their blank BINGO cards. As she opens her gifts, they check off or place a marker on the square with that type of gift. The first to get five across, down, or diagonally wins the game. I think one of the reason this game is so popular is because it is something everyone can play and it's not embarrassing and no one ends up with a poopy diaper like the dirty diaper game. Yuck. Never liked that one. If you sign up for my newsletter you will get the baby shower BINGO printable for free.
Traditional Baby BINGO
The more traditional way to play BINGO is to have a different BINGO card for each person. As the mom-to-be opens her gifts, guests place a game piece on their card if the gift opened is on their game board. You can find a number of sites that offer free versions of this game but they may not be within the same theme as your shower.
Karaoke Baby Shower Game
Karaoke Baby is a newer game and was one I originally designed for a custom rock star baby themed shower. For this game guests have 5 minutes to fill in the missing "baby" song lyrics. Want to up your Karaoke Baby game? Have your guests sing the lyrics!
Wishes for Baby Shower Game
Wishes for Baby party game has been around for awhile and is one that is moms and parents-to-be love. Each guest completes the sentence about what they wish for the new little bundle of joy. Unlike games like What's in Your Purse or the Baby Animal game, this is one the parents will treasure long after the shower. You can also ask guests to fill them out and then present them to the new mom after baby arrives.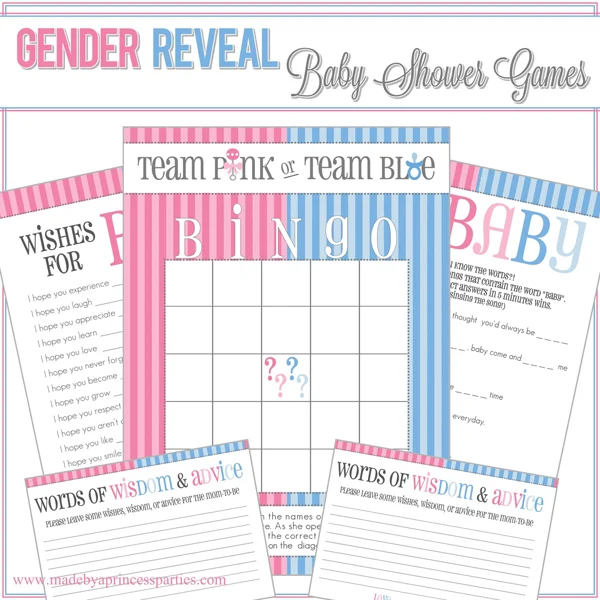 Words of Wisdom Baby Shower Game
Words of Wisdom & Advice is sort of the anti-game game. Some people don't like to play games at parties but still want to have some meaningful activity. This is a great game alternative and one the mom to be will cherish.
Words of Wisdom & Advice is also really fun. Of course everyone wishes for a sweet little healthy baby but this is a chance for guests to offer pearls of wisdom like, "Never wake a sleeping baby" or "If your child says they are going to throw up…believe them!" I still have all of the Words of Wisdom my friends and family gave me at my daughter's baby shower….they're so special to me.
If you're undecided on how to decorate for a gender reveal party you can do what I did and split it down the middle! Guests can take their pick and decide if they want to be TEAM PINK & TEAM BLUE.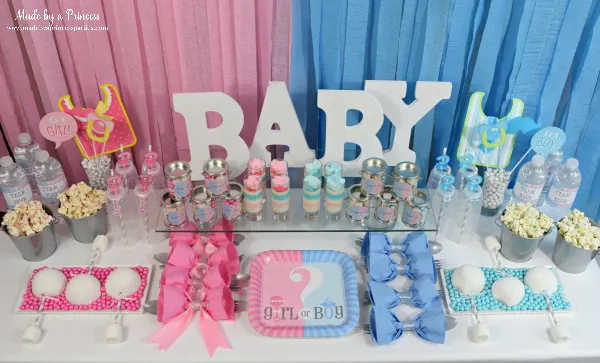 I hope you enjoy my Gender Reveal Party Games and have fun with them at your baby shower. These "Girl or Boy" baby shower printables were designed to match the baby shower party supplies found on the Birthday in a Box website.
If you want to make the snacks pictured above check out my Baby Shower Muddy Puddy Puppy Chow Snacks Recipe.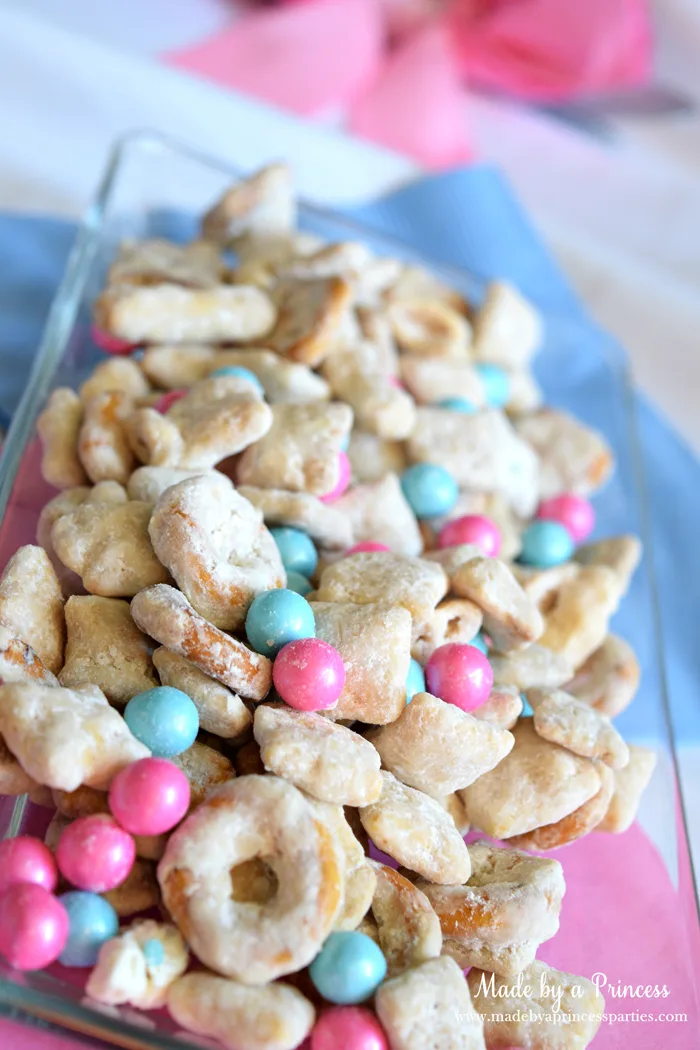 I highly suggest making the Candy Sprinkled Chocolate Covered Popcorn…the bits of pink and blue candy sprinkled throughout make it highly addictive!