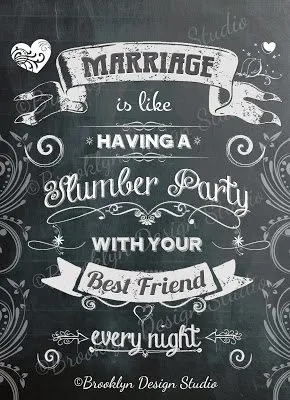 *Copyright belongs to Brooklyn Design Studio.
This is an original piece of art as is the wording.
May not be used without express permission
from Brooklyn Design Studio.
Today we have something really special for you…a free 11″ x 14″ textured linen print from Angela of Brooklyn Design Studio!

Angela is a graphic & web designer based in Las Vegas, Nevada. She specializes in the design and marketing of mixed media art & typography based on quotes, poems, lyrics, and images. Currently the hottest selling items in her shop are custom invitations, wall art and printable party packages.

This print was inspired by an amazing woman named Mandy, who is a great example of what love and goodness is. Angela says, "When Mandy first got married, she was so excited and I remember her always saying that being married was like having a slumber party with your best friend. I always loved it, and knew it could be a beautiful, unique piece of art" It has a chalkboard look for the background and the fonts are fun, chalk themed and whimsical style. This print is 11″ x 14″ in size and will come printed on high quality Endura Metallic paper with a linen textured finish. This is gorgeous! Would be perfect as a wedding gift or you could just keep it for yourself.

In addition to this stunning print, valued at $30, she is also contributing free US shipping. She has never featured her artwork anywhere other than her own Facebook page and her Etsy shop so I am truly honored that she has chosen Made by a Princess to showcase her store AND that she is going to give one of my readers one of these beautiful prints.

Please stop by her Facebook page and say hi and check out her shop on Etsy or her website…I am sure you will be inspired and will love her work.

Please read eligibility requirements below.
Contest is open worldwide from June 10 – June 17, 2013. All entrants must be at least 18 years of age. Winners will be selected randomly via Giveaway Tools. The odds of winning are dependent on the number of people entering. Should the winning entrant(s) not respond within 48 hours of being emailed, another winner(s) will be selected. Please ensure [email protected] is on your safe email list. We would hate to have to redraw another winner! Free US shipping is included. Should an international winner be chosen, that winner is responsible for any and all shipping costs and fees. These costs and fees must be paid prior to shipping. If you do not agree with these terms, you are not eligible for the prize.
This blog was not compensated for being part of the giveaway and all opinions are our own. The prizes will not be shipped by Made by a Princess Parties in Style, we are not responsible. This event is in no way associated with Facebook, Twitter, Pinterest or any other social media network. If you have any questions about the giveaway you can contact Kylie kylie[at] partiesinstyle [dot] com. Good Luck! Made by a Princess is not responsible for prizes (beyond our own) and the shipment thereof. Any issues that arise must be taken up with the sponsoring business directly. Cash prizes are not being awarded. Prizes cannot be turned into for cash. Prize from vendor/s is not transferrable and cannot be traded for another item. Should the vendor offer customization of the product you will be responsible for additional fees.